What can I say... I did tell you Malaysians love their food! Soooo, I'm just completing the (food) story as well as keeping my promise that there IS more to our food encounters in Ipoh.
A little preamble is needed, I think... - we were in Ipoh! Food haven (some say), Ipoh is or was, a tin-mining town about 200km north of the capital city of Kuala Lumpur, where we were travelling from. I have not had a chance to check the town out thoroughly before, other than passing through on the way somewhere else, or making a short stop just for a meal... So, a proper tour was long overdue.
Ok, no wasting time here today - we go hard-core FOOD! And only food talk!!
Day 2 - sometime in the afternoon...
So, picking up from the end of the last post... 
Tea time! We made it from the car to Kong Heng Square while the grey darkening skies above were threatening... Photos first - we had heard much about this place and so had to check it out first hand, of course! And get some photos.... and eat the 'ais kepal'! And it's not just an ice ball... There's history to it! Most adults of a... emmm, 'mature' age, remember sucking on these ice balls from the roadside hawker after school, with syrup dripping down our hands and arms... and since making it to trending lists recently, it's also much coveted by the youngsters!
Kong Heng Square consists of a few old colonial-style buildings, revived in recent years and now has a collection of cafes, little shops, and even a hotel, 'Sekeping Kong Heng' - translated as 'A Piece of Kong Heng'.  Sweeettttt.....
How to eat an ais kepal? The modern day version is conveniently served with two sticks stuck into it, so you can hold it up less messily, then you suck on it! 😙😂 As it melts, you get a pool of syrup at the bottom of the bowl, and you can either re-hydrate the ice ball or slurp the syrup up! Beware, as it melts, the law of gravity applies... the ball can also loosen and fall off the sticks!! 🤣 And you lose your ball! (I can't believe I'm teaching 'Eating Ais Kepal 101'...)
Dinner
We were back at the supper place of the night before - food there was good, lots of stalls and lots of choices... That's the Tong Sui Kai (Sweet Water or Dessert Lane). As usual, we order some dishes to share... As with many food places like this, you grab a table, then go find whatever food you fancy, order, pay and then it's usually self service, so you carry them back to your table.
Let's see what we ended up with... 
Lobak is a  selection of fish paste, minced chicken (or pork) bites! Fish balls, meat and veggie rolls, some are tofu skin wrapped. Unfortunately, I missed getting a shot of the counter with the whole selection. It was raining cats and dogs, (and squirrels and monkeys too!) - very very VERY heavy. Yeah, so I messed up! The main objective was to get the food to the table, so photography was set aside for the moment... sorry! Lobak is usually eaten with chili and sweet black bean sauce. However, they only had chili sauce here.
As usual, hungry hands work faster than camera holding hands.... 😁 someone grabbed a piece before I could take a snap!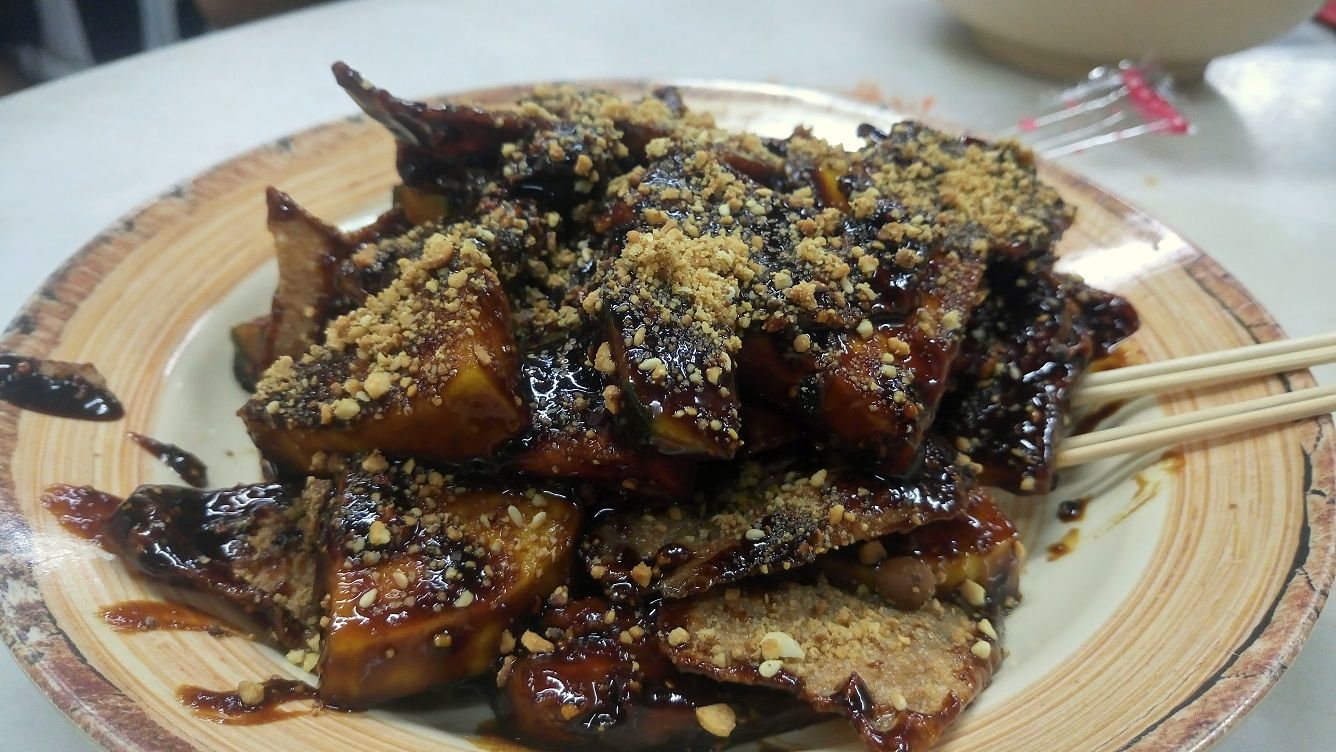 Rojak buah - selection of fruits that include mango (sometimes 2-3 types), pineapple, young (crunchy) papaya, turnip, cucumber, guava, crackers, crispy 'yau char koay' (crullers), water apple ('jambu air' or 'jambu madu' - a honey variety, if in season), drenched with 'rojak' sauce and a generous sprinkling of crushed peanuts & sesame seeds! 'Rojak' in Malay means mix or mixture. The rojak sauce has shrimp paste, dried shrimp, soy sauce, sweet sauce, tamarind juice, sugar. It's so good, you might end up licking the plate clean - trust me, it's been known to happen... 😁 Rojak buah is always a good dish to share.
And if you think the above was enough for the four of us, you're wrong. I missed getting shots of the two plates of noodles - 'char koay teow' and 'wantan mee', and a bowl of 'curry mee'... all woofed down before I got to them! 😒😄
Day 3
Day 3 was a mish mash of food at all hours of day!  Breakfast, lunch, tea, dinner... was all a blur. Let me give some highlights....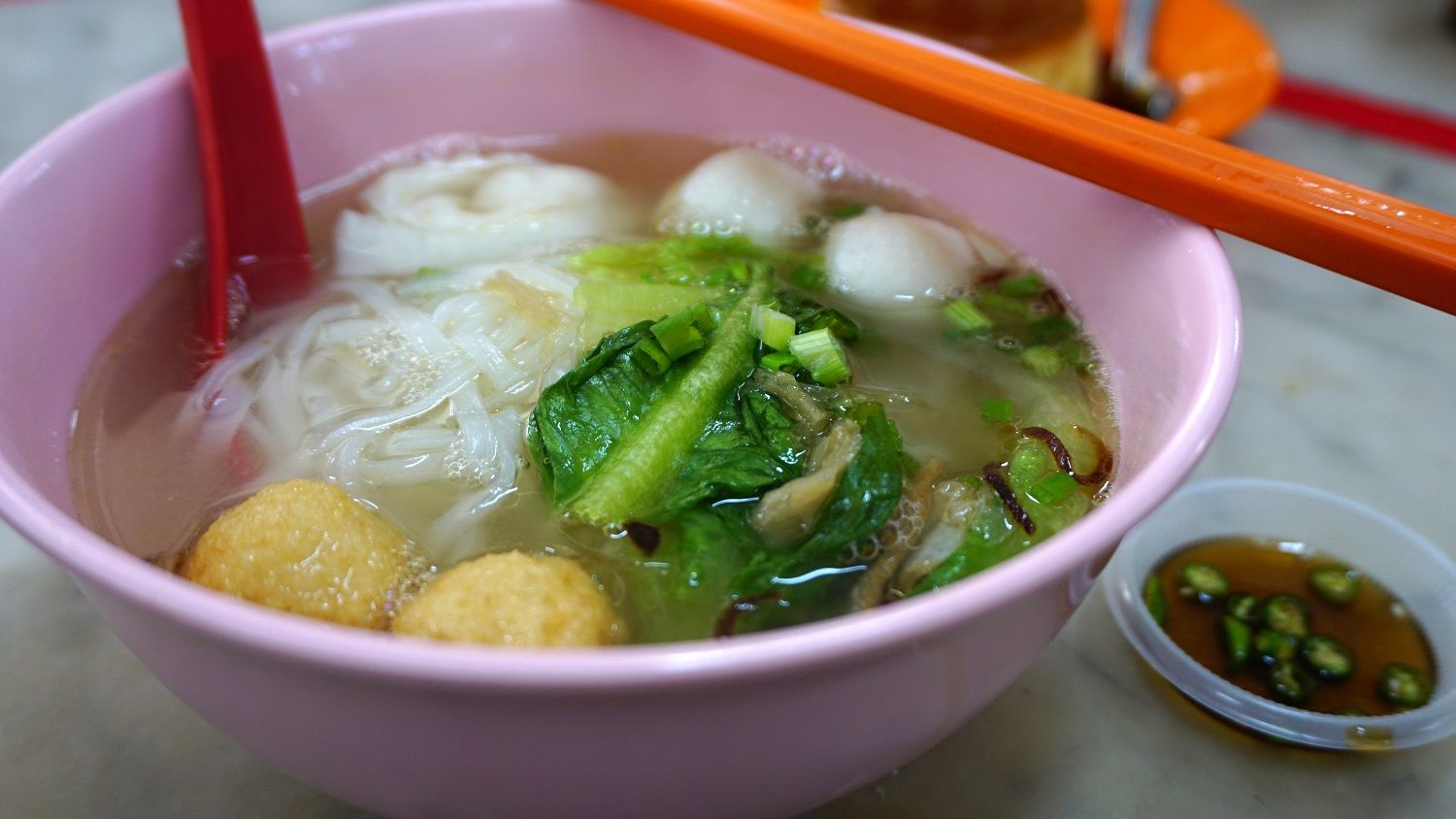 I had never heard of Hor Hee before, so I had to try it... Turned out it was the koay teow (flat white noodles) in clear soup. With fish balls - fried, non-fried, fish cake, fish wantan. Did I mention before... Ipoh boasts of the smoothest koay teow noodles, and they're mighty proud of it! Don't ever challenge them on this.
Satay is usually an evening dish and sold normally by Malays. This seller even had pork satay... 😋  We ordered the chicken satay to try - pretty good, the meat was nice and firm, and well marinated!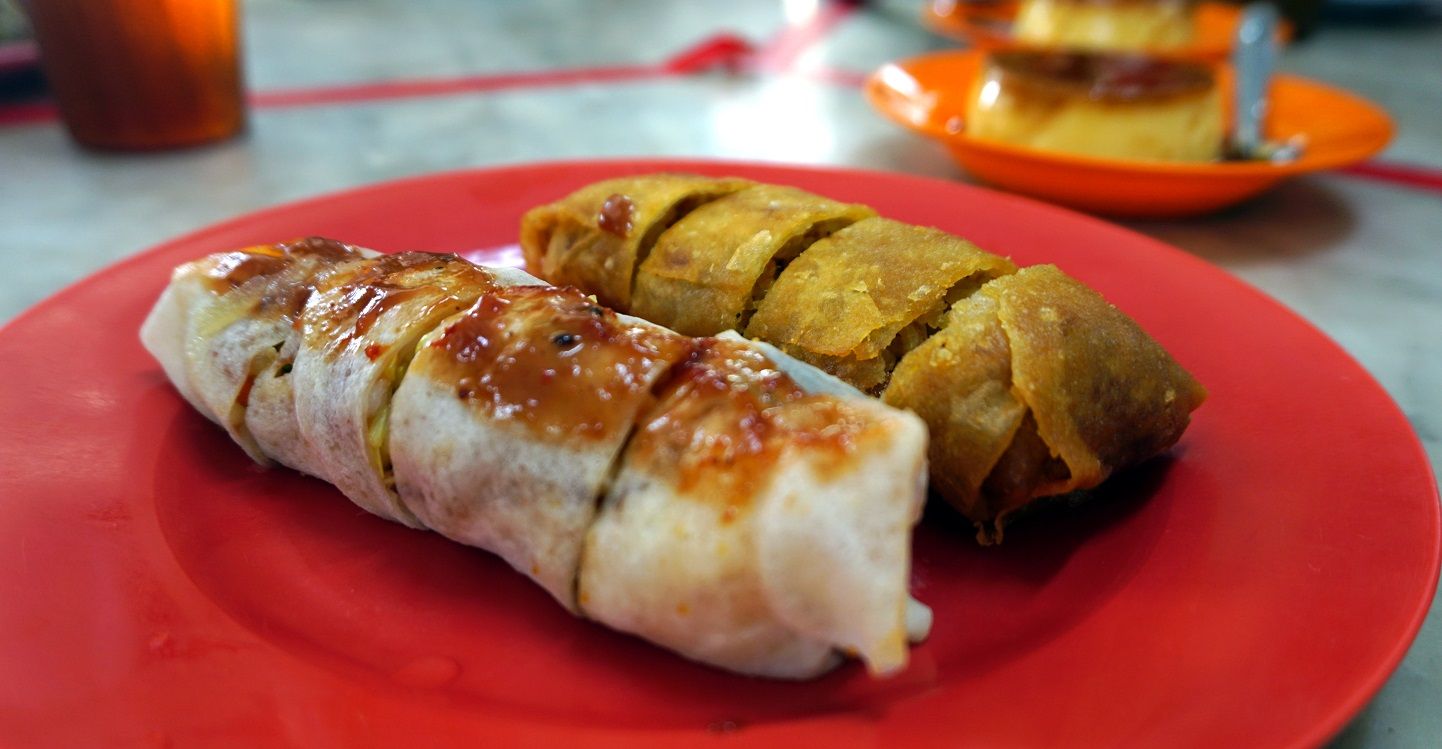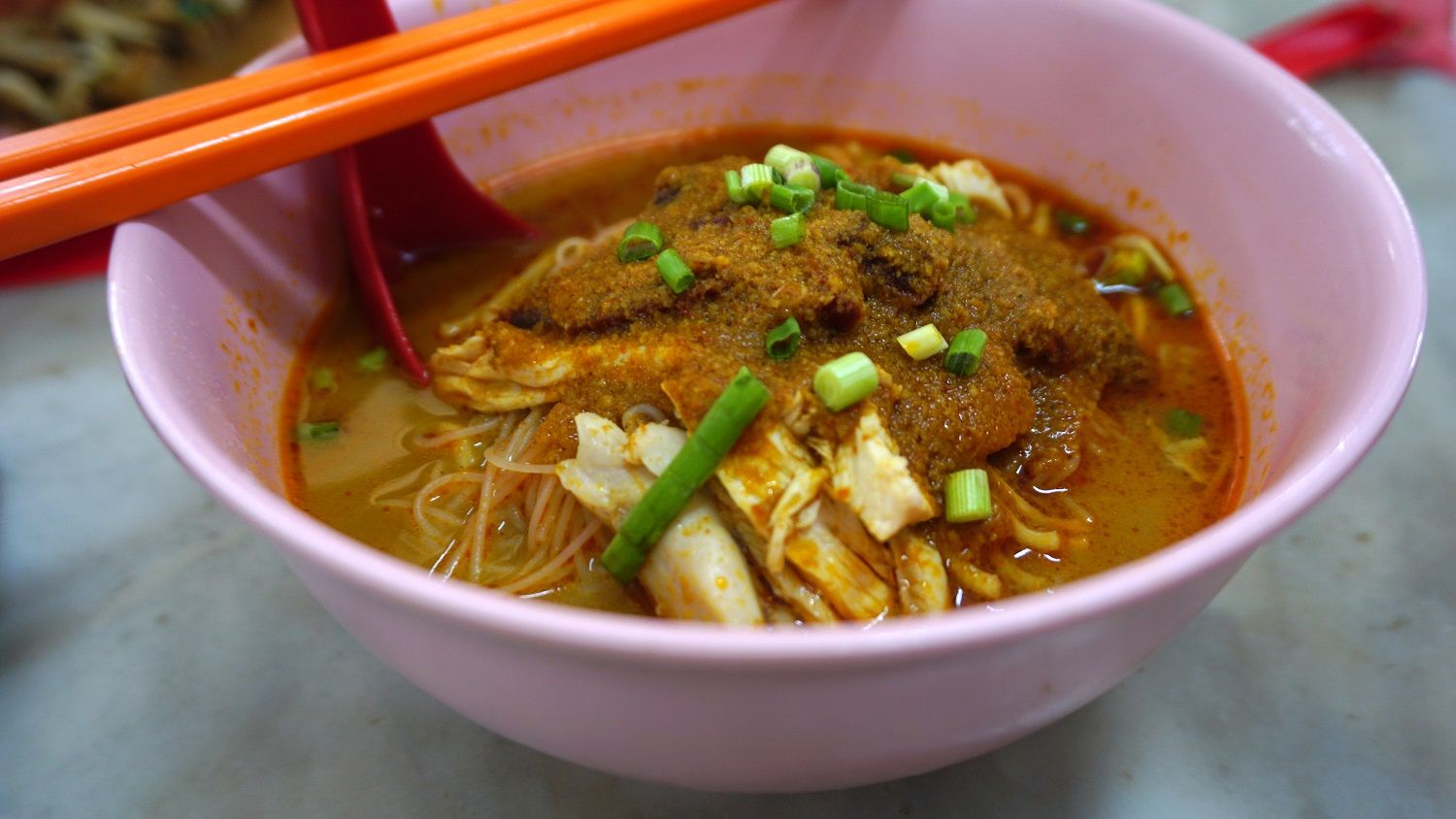 Nephew still hadn't found a satisfactory 'curry mee' (curry noodles) or laksa - the Ipoh version seem to have an extra spice ingredient in it - can't put my finger on it.... Something familiar, but I couldn't detect it. He didn't quite like it even though he did finish it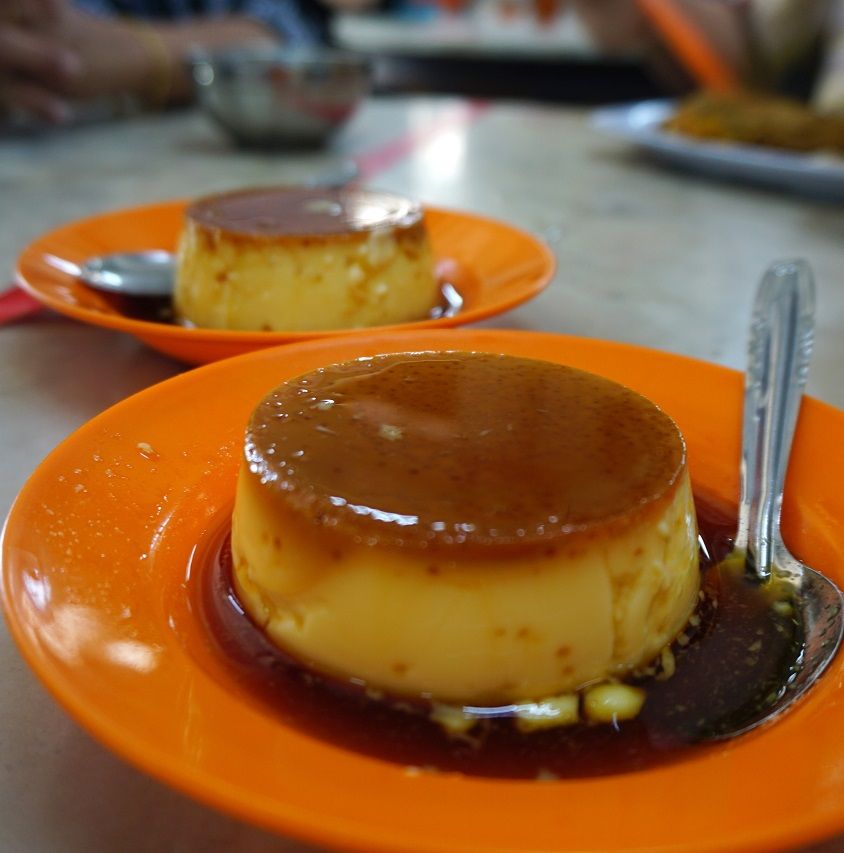 Might seem heavy, but the above was actually breakfast! Malaysians often have noodles or even rice for breakfast. Satay was a difference though - anyway we didn't order many sticks, and it was just to give it a try...
Lunch
With that big breakfast, lunch was automatically pushed til late afternoon. We kinda had a loose list of the recommended food to try when in Ipoh - so it was onward to the next item...
So named as it is soooo good, it's like you've been drugged and come back for more... and more... and more!! It is simply a chicken dish with a half hard boiled egg - that's all! And that's an understatement... The secret lies in the blend of gravies they scoop onto your rice.... it's heavenly! And the chicken is wonderfully done - tender inside, nicely crispy, not hard, on the outside. I'm definitely hooked, and am going back for more soon... 
Where?
The nasi ganja, cendol and caramel, all found at Yong Suan Coffeeshop - no pics, the rain followed us here too! We were mostly drenched but the good food certainly made up for it.
Final day
Brekkie was at a nearby kopitiam. I believe all kopitiams in Ipoh have wonderful food... and you really can't go wrong. 
Look at that... our kopi ais.... ice coffees! Local white coffees, pulled til foamy, topped with ice cubes - yummiest on a hot day! And it's always hot in Malaysia!!! 😏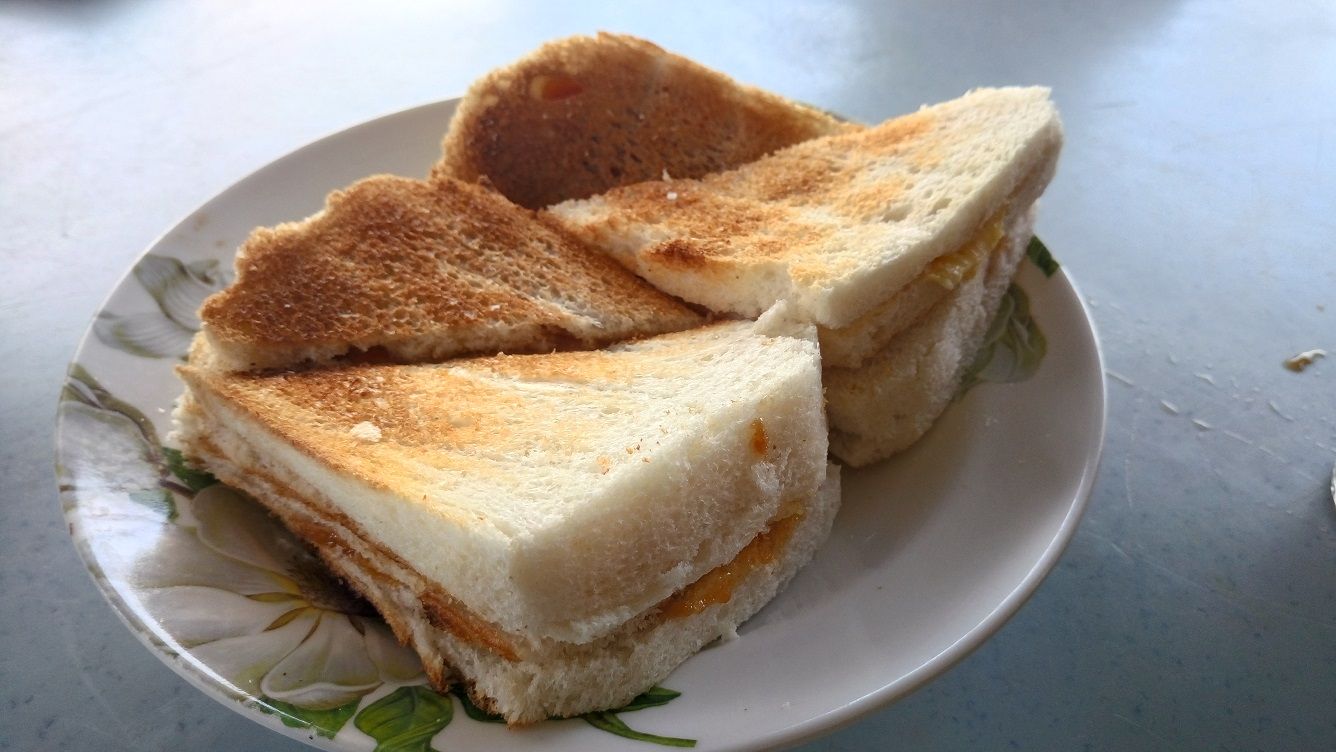 Roti kahwin, 'Married bread' - 'married' as it has a double spread of butter/margarine and kaya (coconut custard/jam, which is made with coconut milk, palm sugar and eggs) The bread is usually toasted over a charcoal grill leaving it lightly crisp on the outside, still soft on the inside. Beats toaster toast anytime! You haven't had toast til you try charcoal grilled toast! You'll be ordering seconds (and thirds) in no time!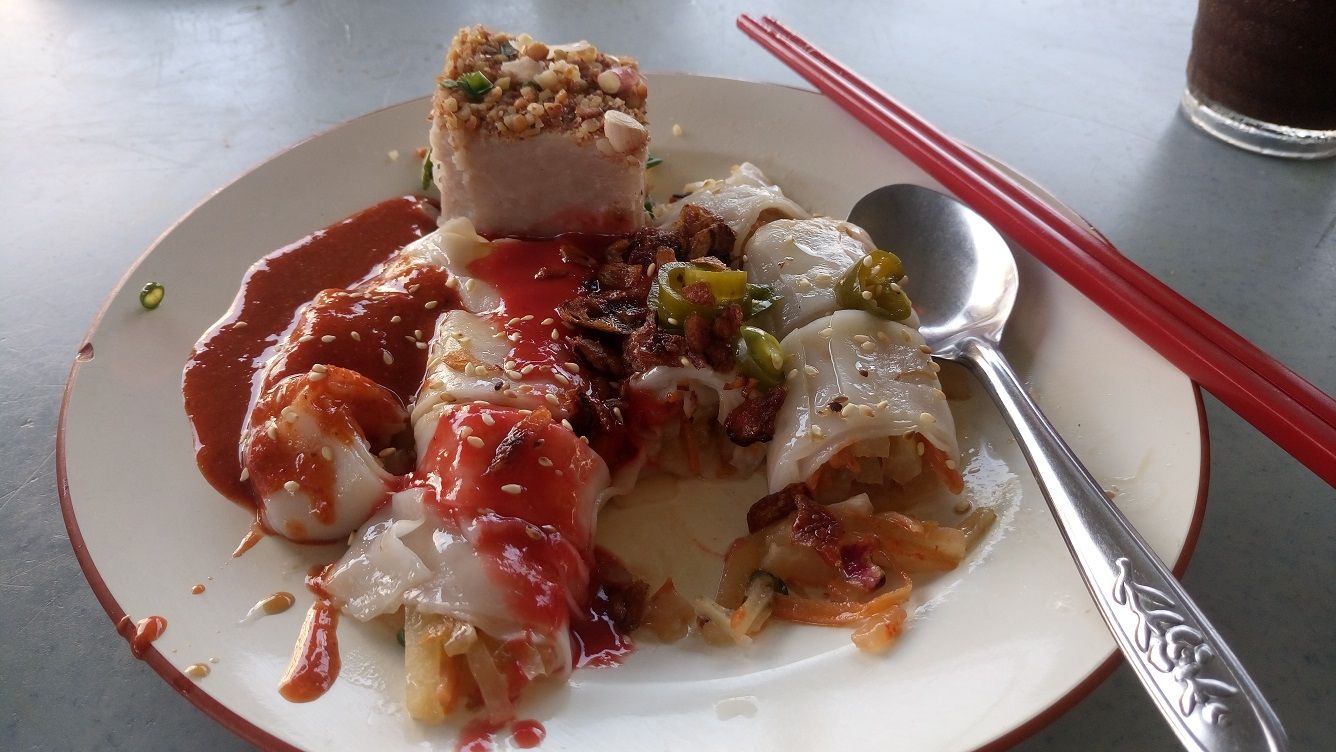 So, that's basically some of the more interesting food we had in Ipoh. Previously, I had always thought Penang was the food haven, I've been proven wrong.... Yikes, sorry, Ipoh, for having doubts about your food status! 😄 Glad to be proven wrong though! 
Ipoh is just a leisurely three hours' drive from KL (where we are) so it's easier to reach than Penang, a good five to six hours drive.
Conclusion: Ipoh ~ we will be back soon!