Since it's Saturday/Caturday, let's start with the kitties I encountered in Penang.
This is the second part of my recent trip to the Pearl of the Orient as it is also popularly called. It's been quite awhile since I last visited...
Hence, I found it to be a multi-faceted pearl with lots of old world charm as well as keeping up with new trendy styles!
Still walking around the Heritage area of Georgetown, I found a kitty street... Yes! A street with lots of kitties living and roaming freely... unfortunately they were all feral and kept well away from the people visiting the street.
I also found a kitty themed shop... I'll say no more and let you discover more about it through the photos below!
I guess most of the kitties here would fall into the "trendy" description...
Wondering what I'm rambling about? Check these cute kitties out with me!
---
This is the 'ear model' from my last post!
Hehe...
I found him sitting safely out of reach, on a rooftop, looking down at us on the kitty street - hoomans taking shots and posing with the street art and trying to capture shots of the many kitties strolling lazing around...
---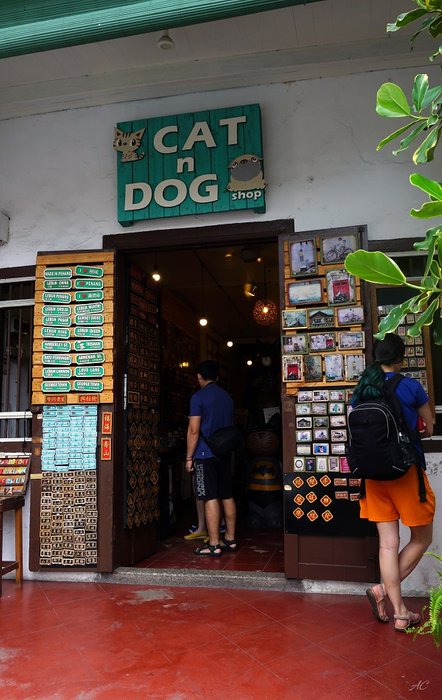 A Cat n Dog Shop!
Well, not selling cats and dogs... but cat and dog-themed souvenirs
As well as little touches based on cats and dogs
But I think they favoured kitties a little bit more...
Look at the following and you tell me!
---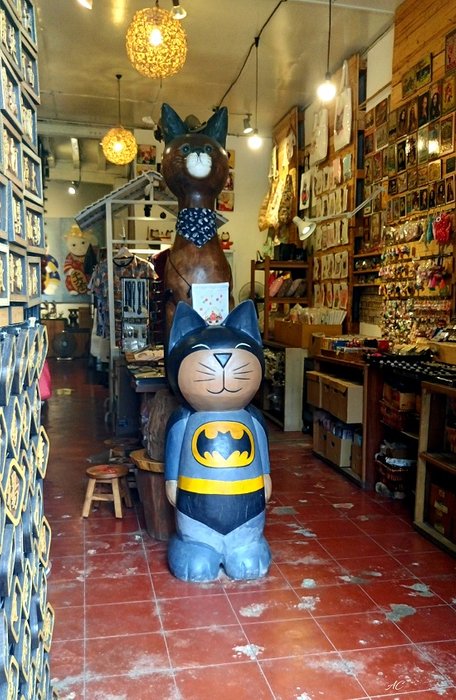 Look at who were on hand to welcome us just inside the entrance...
---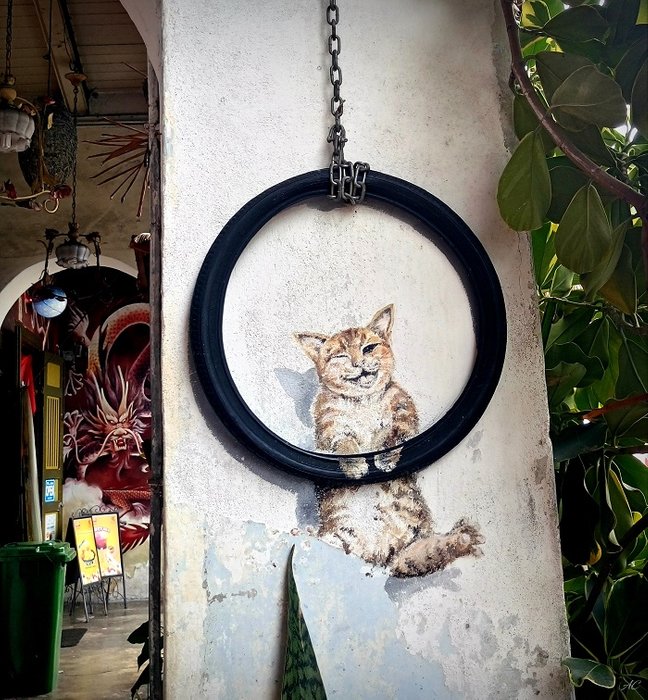 Ohhh, I jumped ahead...
Just outside the shop, on an outside pillar along the corridor
Look at this adorable lil one hanging around to say "Hello"...
---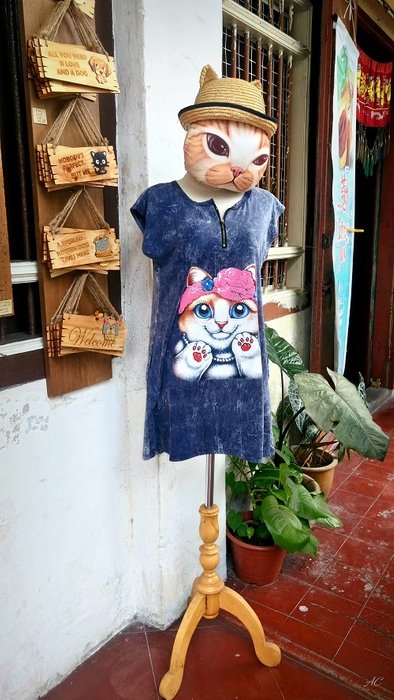 Next to the front door was this figure...
Cute the idea may be...
I don't know about you, but I felt a lil odd about it
It was a kitty cushion or pillow wearing a kitty-themed dress of course but maybe it was the expression on the face of the cushion or just the overall idea itself, somehow didn't sit quite right with me!
---
Ahaaa... these I like!
Super hero kitties....
Up, up and away!!!
Wooden, solid and a good size
There were some others - fishing kitty, kitties in some adorable kitty poses...
Are you tired of kitties yet?
Oh nooo, don't!
I have more... 😂
Afterall it's kitty-day!
---
More cute kitties... and one doggie
on cute draw-string pouches!
---
Fancy keychains and fridge magnets instead?
Have no fear, lots of them around too!
Time did not permit and these were most of what I caught
There were lots more my eyes caught sight of but the shop was pretty crowded and waiting to get more shots would have taken more time...
~ ~ ✻ ~ ~
Anyway, last but not least...
A friendly kitty to end up for today!
Found also around the Heritage area of Georgetown, Penang
---
This was not one of the feral kitties but a friendly I found inside one of the temple compounds
I walked up to it, and meowed to it
(I always meow to kitties... don't laugh!)
And it came and rolled over at my feet,
as if to say, "Gimme me tummy rub!"
---
It's true....!
Scout's honour!!!
Seee.... it was rolling around for awhile....
---
After I petted it a lil and gave it a tummy rub...
It strolled away again!
I was pleasantly surprised to find Penang was not only pretty kitty-friendly, but welcomed and even promoted kitties (and doggies!)
How cool is that?!!
Happy Caturday, kitties & kitty fans!
😸
---
Captured with SONY A5100 and Xperia M5 | © image & text original content | click image for fullscreen view
---
---



I'm with QURATOR... Are you?

Vote for Qurator as a Steemit Witness
via steemit.com or steemconnect