That's what I would like to say... lol
But not true at all... it just sounded good
Ahhh... but as long as it caught your attention! 😄
It's the details, the old and the new, the fascinating and charming...
Looking at some of these photos below, I'm reminded too of my interest in doors of various kinds... so much so I actually started a collection under the hashtag of doorswindowsstairs at a previous site (of a previous life...) but that's another story...
Having said that, I hope some ex-members will remember that!
(You know who you are...)
Anyway, further to my explorations of the Heritage area of Georgetown, Penang... today, I delve into more detail of the gems I found and collected from Armenian Street.
Just one street ~ that was my undoing...
We (I) had budgeted two hours for the entire Heritage area consisting of a maze of narrow streets with street art, clan houses, Chinese temples, little shops, etc etc.
We had an early start (thank goodness) and more than three hours later, we were still on Armenian Street! Arrgghhhh.... darn!
Talk about schedules and time management...
I didn't take into consideration the crowds (in some places later) and another very important thing - the distraction of the architecture and details, and the "other little and not so little stuff" we found along the way... I couldn't give up on the "other little and not so little stuff"!
Oh well, I promised myself this was to be a leisurely exploration/discovery trip, and I wasn't about to give up on that!
Not covered everything? I'll come back another day!
Afterall, that is part of the fun of visiting some place, isn't it? That it makes you want to return again and again to see and experience more of it!
Prior to this, I also wrote the introduction of my trip, A many faceted Pearl and a Caturday edition in Caturday is alive and well in Penang!
Ok, let's get on with the golden gems that I have for today!


---
Golden and filigreed...
Just one bit of the details I found on a cafe door
Pity it was too early and it was still closed
I bet there would be more cool stuff to discover inside...
And look at those door handles
---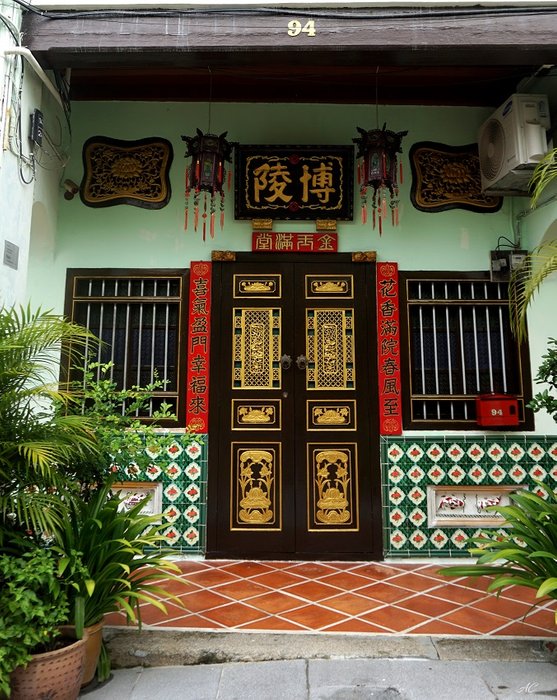 That's the whole front!
Impressive, huh?!
I don't read Chinese and didn't know what shop it was...
Google later told me it was 'My Armenian Cafe'
But, the details....
---
I love the Straits-Chinese style tiles on the lower front wall!
You don't see much of tiles like these any more...
much less are able to get them anywhere easily
Straits-Chinese or Peranakan tiles have these floral or geometric themed repetitive patterns
And something about the way they are made makes the colours something special
Other than Penang, you'll also find them in Malacca and Singapore
---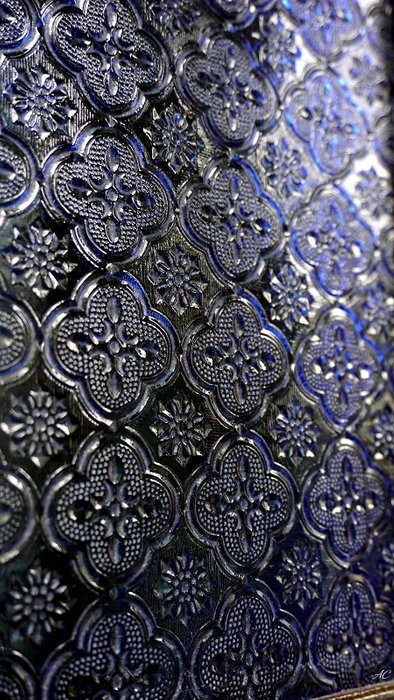 Likely to be missed is this embossed glass which was behind the bars on the windows
The deep blue only showed in the facets that caught the light!
---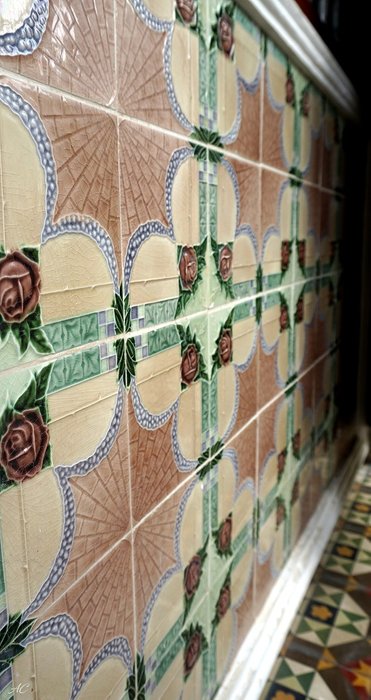 Next door was this other shop with a different set of tile work,
also featuring rosebuds
A coincidence?
Unfortunately, the shop was also closed
---
But their floor tiles were also what caught my attention...
~ ~ ❀ ~ ~
Other than the traditional, there were also these old shophouses restored to their former beauty and charm, from days gone by...
---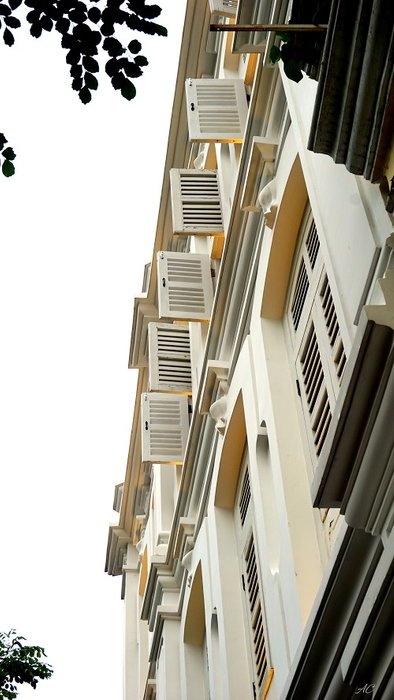 I think I find shuttered windows quite handsome and charming...
Especially when they are smartly done up in stunning white
---
White with sunny yellow accents seem to go well for these...
I don't know about anyone else, especially professionals
But it was photography heaven for me!
And I loved testing out some 'interesting' angles here
---
The entrance façade seemed rather austere and stark in comparison
Which actually complemented the white rather well
---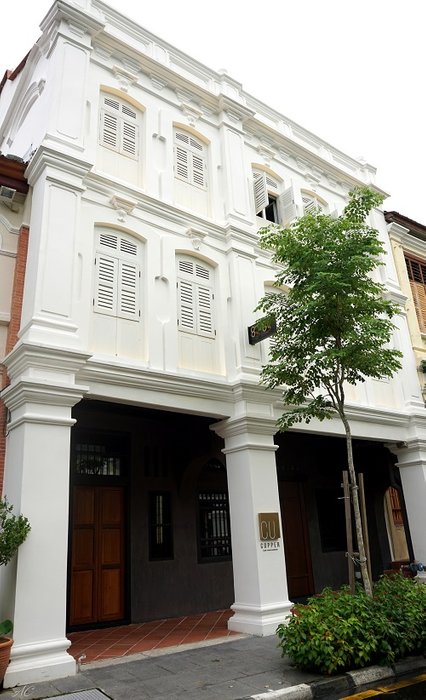 And here... we have the entire building
Yes... you can say I was rather impressed with this place
Unfortunately.... yup, it was also closed
Next trip, I'm going there at a decent business hour!
---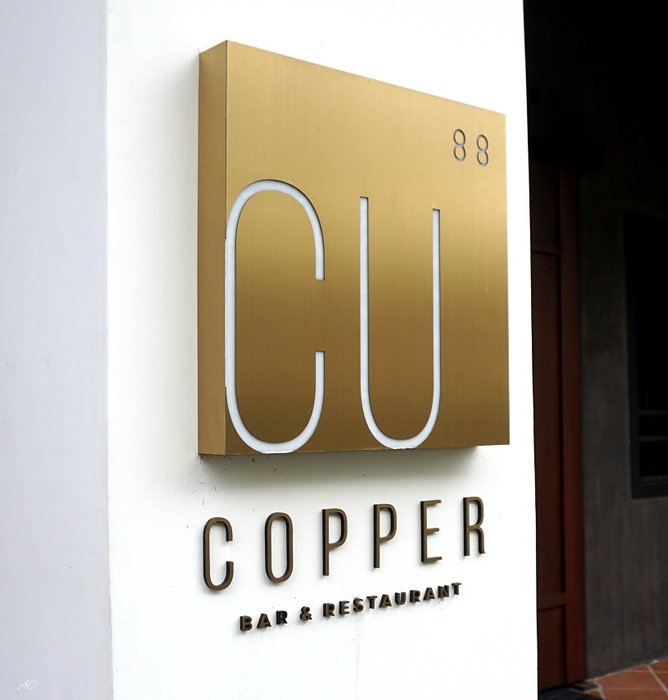 Signboard
Yeah, even the signboard impressed the heck outta me!
And the name!!
---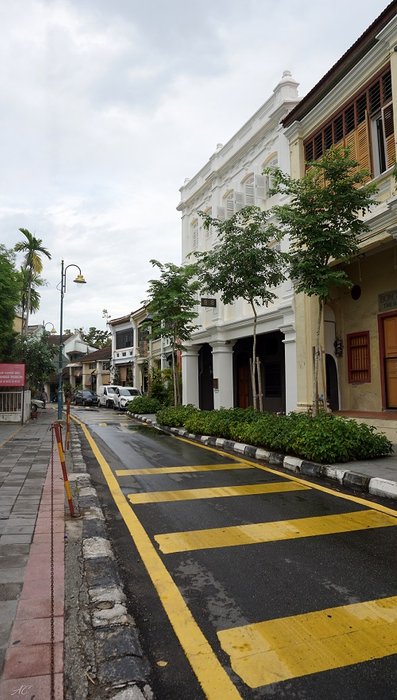 I thought I should also show you the street where these buildings are located...
Armenian Street or Lebuh Armenian itself!
A small narrow unassuming street, with such a lot to discover
Looking left...
---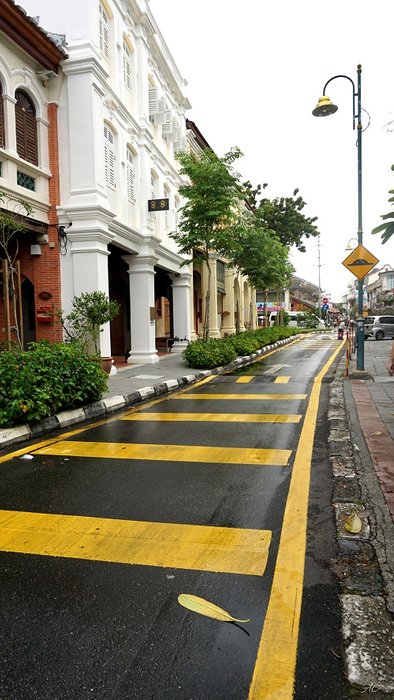 Looking right...
It had rained a little earlier, hence the overcast sky with slightly gloomy light
And everything had a slightly fresher feel and smell too!
---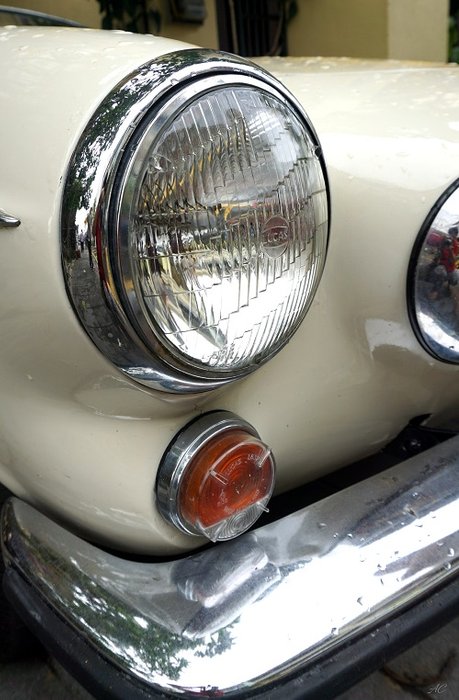 Found this further down the road...
---
...and another part of it...
---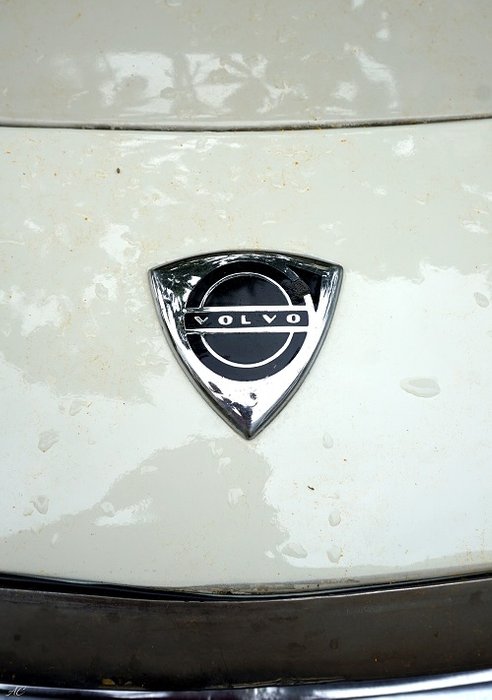 A classic!
---
I told you I'll show you more... from my Intro post...
I guess this car clearly belongs here
---
Nice, huh?!
Totally not out of place there!
---
And to end it all for today, another door, what else!
Or is it three doors....
Just a stone's throw away...
This, I suspect, is the backdoor of the temple we visited...
What a backdoor!
Highly polished and gleaming, with impressive gold (or brass?) handles (knockers?) complete with lion head and ring
What puzzled me was the fact that they stood about five feet from the pavement...
I didn't check when I was there,
and I couldn't find out more about them online
See... there's always enough reasons to go back... 😏
---
Captured with SONY A5100 | © image & text original content | click image for fullscreen view
---
---



I'm with QURATOR... Are you?

Vote for Qurator as a Steemit Witness
via steemit.com or steemconnect