Continuing with some of my Asian antics, having left off last time with Thai Tales #4: The Land of Rai Smiles & White Tiles, and now we discuss, Cambodia!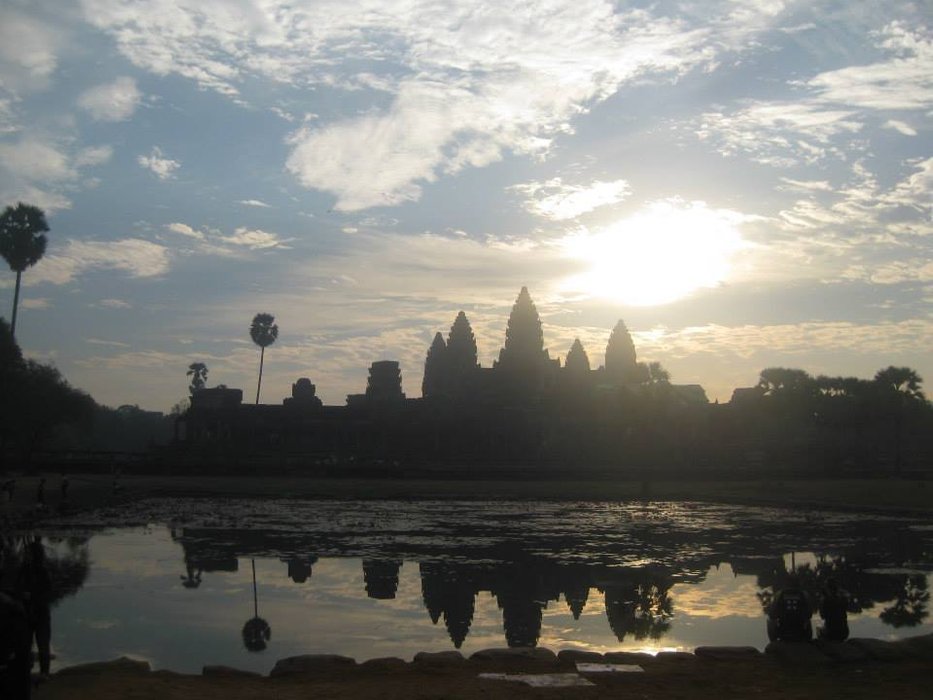 Bangkok --> Siem Reap --> Phnom Penh --> Ho Chi Minh City
So I was in Chiang Rai, and instead of my original plan of going through Laos, I went back to Bangkok and decided to head south, ie. through Cambodia and do it that way round. The reason being, there was a little meet up of digital nomads so I thought it would be cool to show my face and get involved. Bangkok is still quite a hub for location independent entrepreneurs and this particular encounter was at a classic haunt in the city, Cheap Charlie's.
There are some huge opportunities in Asia, and this little meeting opened my eyes a little to a few possibilities and it's always great to meet people in person.
Reap What Ye Shall Siem
Getting to Cambodia was a bit of a palaver. Another long bus ride; 6 hours in a minivan Thai side and another few hours in a bus Cambo side. In between was fun and games sorting visas and crossing the border. Going through the border wasn't as quick as I'd hoped as there was a bit of a queue to negotiate whilst watching people with fruit and chickens on carts stroll on by.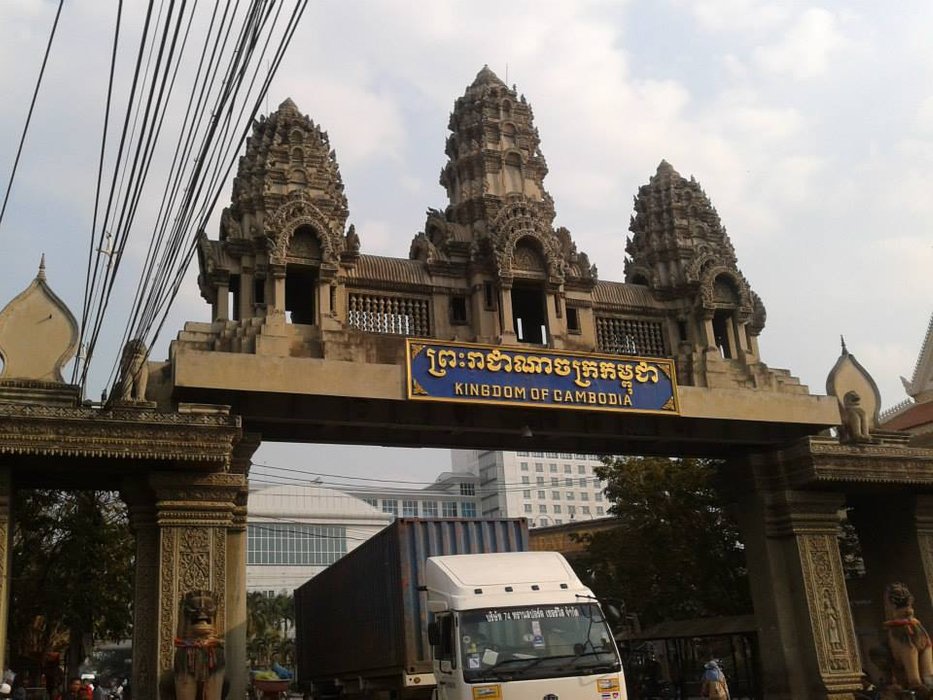 One thing I do like about these parts is that you can bribe your way through anything. For example, I didn't have the required photo for the visa. In Spain, I might have been cast aside and had to come back a week later, photocopies in hand, where the rules may have changed again. In England I would probably have still had to run and find a photo booth to make sure things are done properly, crossed I's, dotted T's and all that.
In Thailand? "Don't worry, no photo, just pay an extra 100 Baht".
Sold! £2 and the problem goes away. Same for Vietnam visa, extra dollar. This is a good system, if you don't have what is ideally required, there's a price to sort it.
Anyway, arrived finally to Siem Reap, stayed at a place called Garden Village. The room was absolutely huge… I think they may have mistakenly given me the Saudi Prince suite. For the grand sum of £4/$6. No bin though. I like to have a bin.
The Breakfast
An important point here for setting expectations. Cooked breakfasts are not quite what you may get back at home, whether that be Britain, America, Australia etc. They can't do a cooked breakfast as such, a fact I was reminded about round the second day in Thailand. Best to stick with where they excel when perusing their offerings.
I thought I'd try again as I was in a new country and it seemed from the menu description that it could be good (have we learnt nothing!).
It was the worst I've seen so far. Firstly it was delivered from the kitchen by zip-line in a rickety tray. Dodgy hard fried eggs, faeces sausage, a small bit of burnt bacon and four beans in a separate bowl. Not forgetting the random piece of lettuce. Never forget the random piece of lettuce with seasoned ant.
The coffee came like it was still being made… the cup in amongst some sort of contraption. A construction that keeps all the granules in the cup for your drinking pleasure. Then the Pièce de résistance, the 'milk'. She actually referred to it as milk so I was a little surprised to receive something somewhat more gloopy that appeared to look like something a little more suspect. I'm sorry, I don't recall ordering the jug o' jizz.
Suffice to say I drunk my coffees black.
Keeping it Riel
Ah, the Cambodian currency – or one of them – the riel. What on earth is going on here?! They also use US dollars which makes for all sorts of fun and games.
We were told by a well meaning (I think) Cambodian to get Thai baht out before the border and change it into riel in order to get a better rate and an overall better deal when in Cambodia. Now I'm not so sure about that.
Firstly, I had over 500 grand of this strange currency burning a hole in my pocket and not really having any idea what it's worth. Next, everyone uses dollars, prices are quoted in dollars. Dollars are also closer to GBP or EUR for ease of conversion.
They counted 4000 riel as $1 USD. So it becomes fairly easy once you know how but an extra stage in confusion. They say $3 and you hand over 12000 riel. The fun continues where you might pay in one currency and receive change in the other. Or mixed change… anything less than $1 is given in riel, there are no coins in this society.
It makes a mockery of the whole monetary system (and should make you question the validity of it), these pieces of paper thrown around willy-nilly and don't mean anything. What about when the exchange rate goes up or down? Doesn't seem to matter… 4000 it is.
It's a little bizarre if you ask me and you need to have your maths wits about you. Extra opportunity to be fleeced for sure. I spent most of the week a little confused constantly trying to work out the equations and looking at the 400 riel I've been given realising it's about 10 cents.
Also, half these things are falling apart and the other half look/feel like fakes.
Locals generally use riel, they don't use cards. ATMs are for foreigners and they stock an international currency. I'm not sure of the ins and outs but it's all a bit much. It gets easier when you realise it's just a matter of zeros and everything is divisible but it does call for a little Carol Vorderman at times.
The problem is, Cambodia is a little more expensive anyway. Add all this currency confusion along with bank charges due to needing to take out extra money a couple of times, means more cash needed and worth taking into consideration.
Angkor What?!
One of the main reasons for visiting (in fact, one of the top 2) is to see Angkor Wat. I won't delve into a description here – Google/Wiki for more info if you would like it – but it's essentially the largest Hindu temple complex and largest religious monument in the world.
I met up with a friend, Simon who I met on a volunteer program in Spain previously who was coincidentally in Siem Reap at the same time as he has been volunteering in the capital Phnom Penh.
A good time to go is at sunrise for the spectacle. So we got a tuk-tuk at 5.00am and set out. There were many other people with the same idea, it appears it's quite the thing to do. It was quite funny actually, everyone scurrying to the site on tuk-tuks and bikes like some sort of pilgrimage… almost like I imagine the solstice or similar event.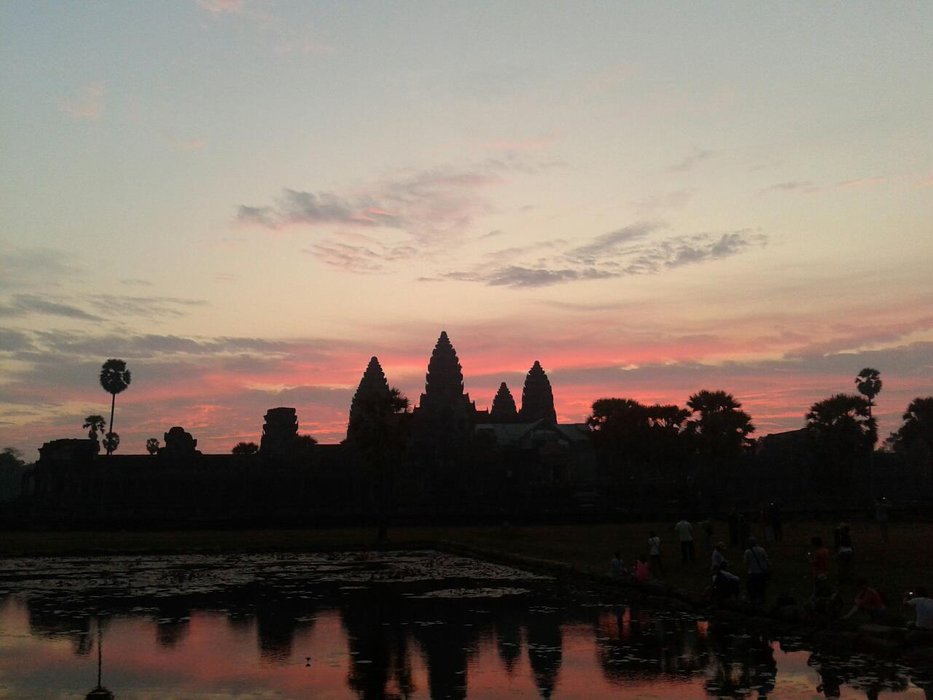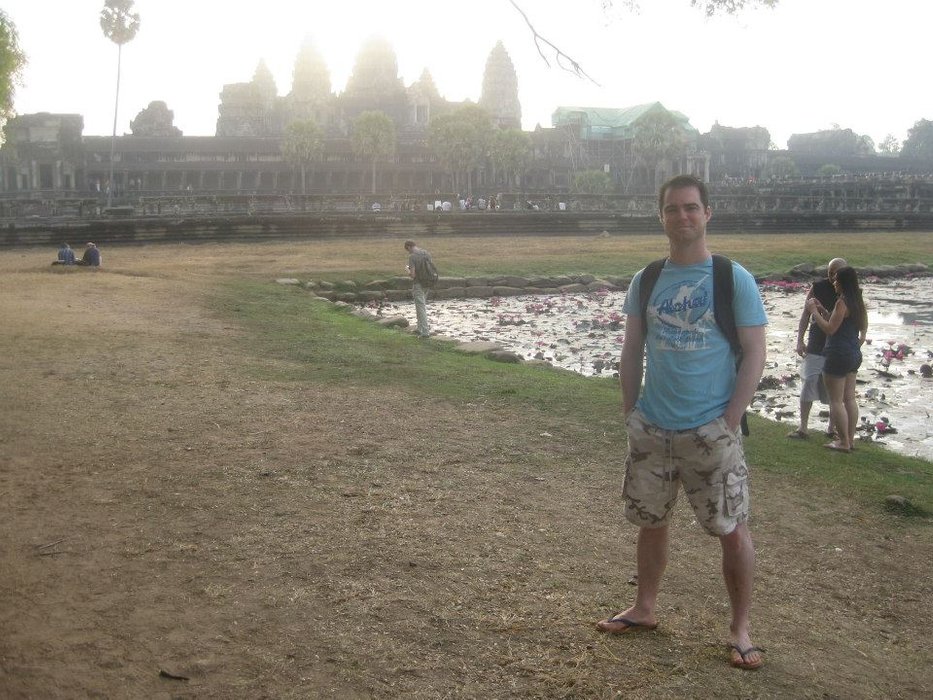 The sunset was cool (a nearby American said something along the lines of "Why, it's the most beautiful thing I did ever see") and the ruins were awesome (in the true sense of the word). We saw some of the other temples too and had a good old walk around.
"You want something to drink?" "cold water" "postcards, one dollar" was what we got the entire day from various kids and adults trying to make a buck… quite literally. I couldn't count the amount of times I said "no thank you" to the point where I was considering getting it tattooed across my head.
One woman offered a slightly different pitch – she had one of the many coffee stands near Angkor Wat vying for business gave her name as Angelina Jolie.
"I am the Cambodian Angelina Jolie… you remember me"
Then as she walked away she said:
"I'm going to call you Brad Pitt…"
I'm not sure if she was talking to me or Simon but it was an interesting approach and I would have happily visited her café on that basis if circumstances were different. Another boy called himself Harry Potter. Certainly beats the 'one dollar whinger' brigade anyway.
I won't get into the ethics of giving to the beggars, or whether it does more harm than good etc., that's for each person to decide. But it does all get a bit trying when you're bombarded by it through your trip.
So, an interesting and hot stroll around the temples where I saw more Chinese tourists than anything else… taking pictures at every conceivable moment. This I can only see increasing as time goes on.
And what about the evening? Well, in Siem Reap there's a road called "Pub Street". What it says on the tin and just around the corner from my guest house…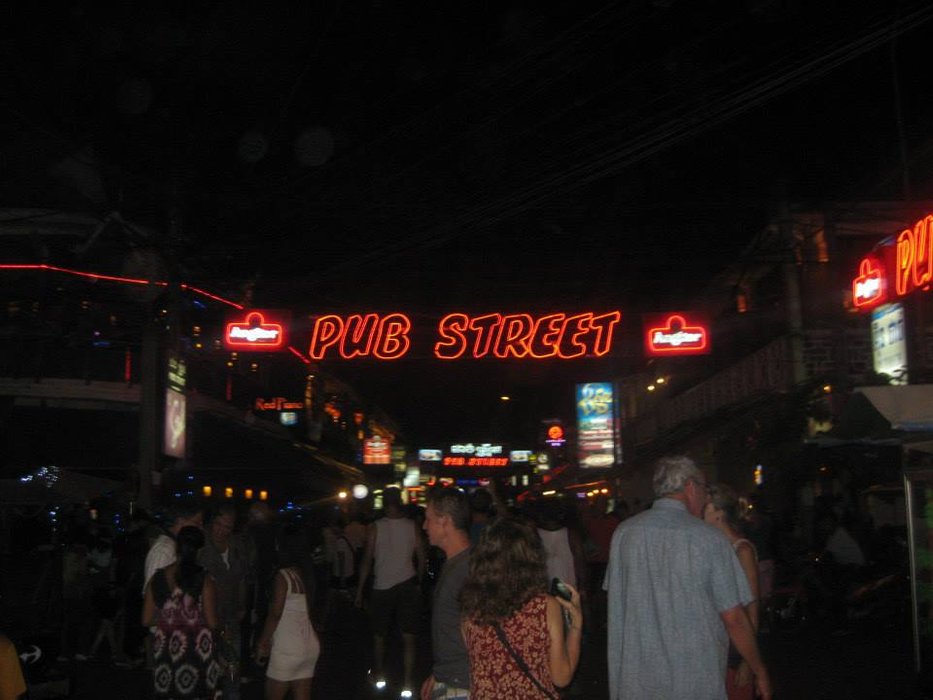 On to the Cambodian Capital
The bus to Phnom Penh wasn't great. Possibly the worst fun bus so far. My attention was first directed to my designated seat that was broken which wasn't a good start. Then I had the world's only fat Cambodian sit next to me.
Add to that, the driver seemed to feel it necessary to beep incessantly for the entire 6 hours. I can only assume he thought the horn was the accelerator or powered the vehicle in some way… perhaps it did for all I know.
I can understand the requirements to alert other road uses of your presence but this was overkill. Something that didn't happen between Phnom Penh and Ho Chi Minh, other than the occasional beep where appropriate.
Anyway, got there and checked in to a place called 11 Happy Backpacker. Great staff, smiley, helpful. There's a good rooftop terrace bar and the room was decent enough although the ceiling fan seemed to have 2 settings: off and rocket propeller. There were times when I thought a helicopter had crashed upside down through the roof.
PP itself offered a lot more than Siem Reap but then it is the capital and the only place really resembling the cities we're accustomed to.
The Killing Fields
The main excursion to do here is visit the killing fields which is where Pol Pot and the Khmer Rouge did their thing… mass murder and the like.
First I had to get there. The tuk-tuk ride was the most hell-raising so far, I've never known anything like it. The traffic is nuts, no discernible pattern, just a mad free-for-all with the ubiquitous beeping as if to say "I'm performing an illegal manoeuvre but this makes it ok". And everyone's at it. You just have to sit back and enjoy the ride and have a little faith that you'll make it out the other side.
So to a spot of Genocide of an afternoon. It was quite interesting, if a little morbid. I was given headphones with the audio which explains the different parts of the site. I have nothing to say about the experience, other than an obvious horrific event in history.
Then I went on to the former prison/museum and had a look in the cells and saw pictures of the various atrocities and the victims.
Worth a visit if you're in the region if you're in to your history.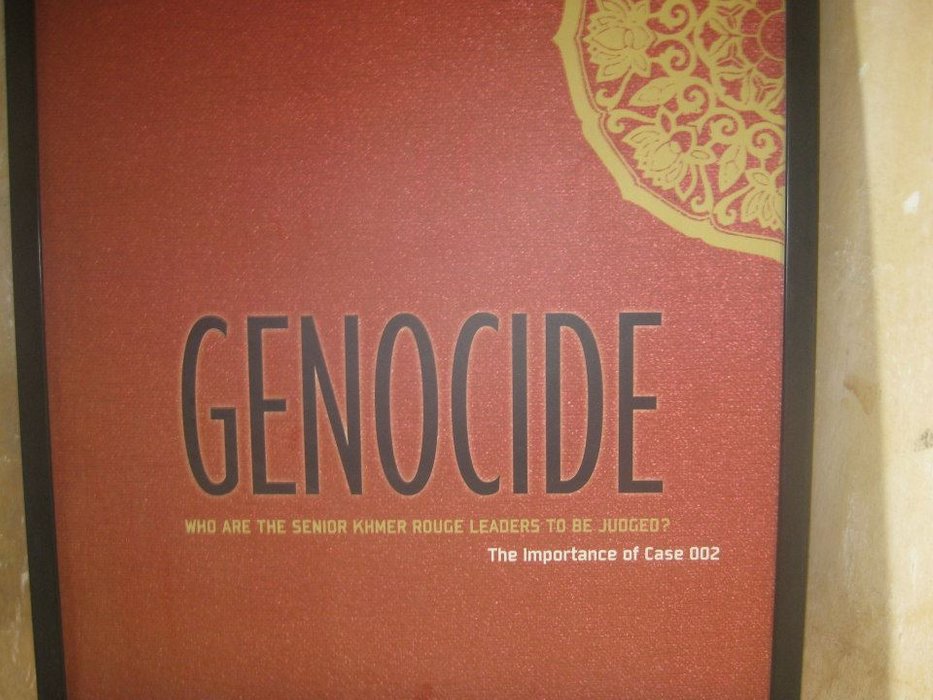 Cambodia Thoughts
Cambodia wasn't really for me, at least based on this experience. You might call it a little 'rustic', not as well developed as its neighbours (although that could also be its charm).
I didn't like Siem Reap or Phnom Penh particularly, other than the main attracctions, and I found a lot of people to be that little more aggressive in selling their wares. I can understand it of course, and I'm all for a little entrepreneurial zeal, but you do notice a difference in how it's approached.
A little disappointing and it also coincided with probably my lowest energy of the trip thus far which didn't help, so some of this was down to not being at my best. Cambodia was my dip…Vietnam was very much my rejuvenation (to begin with anyway. Another story!).
Cambodia is missable in my book, if you're pushed for time in the region. If you're into history and monuments then for sure visit Angkor Wat, the other temples and the killing fields. But if that doesn't interest you so much I'd say give it a miss.
A caveat: I only went to Siem Reap and Phnom Penh and I did the exact things most tourists do so I shouldn't be too surprised. Perhaps if you get to some other places around the country you might fare better.
I did see a bit of a show on National Geographic and the woman went island hopping there and it looked pretty nice so perhaps that would be the way to go. I have also been hearing of a place called Sihanoukville which is a beach town which could be worth a look (which also has the main factory for their Angkor beer).
Then there was the whole WiFi episode. I know, this shouldn't be a deal breaker but that depends on your requirements. If it is necessary for you to be online then this would be a good reason to avoid… it's a little sketchy and frustrating. Go there with no need for internet and it could work out quite well.
On to Vietnam… a whole new world!
~ Adam
* Images my own
***
Get involved! Copywriting, travel, tech & tomfoolery @
Twit | Face | Insta | Linked | Steem | Site | eMail