What better way to while away a morning (or afternoon) then kicking back on a boat and drifting along the majestic coastline of Tenerife? That's exactly how I spent a few hours on a jam-packed weekend…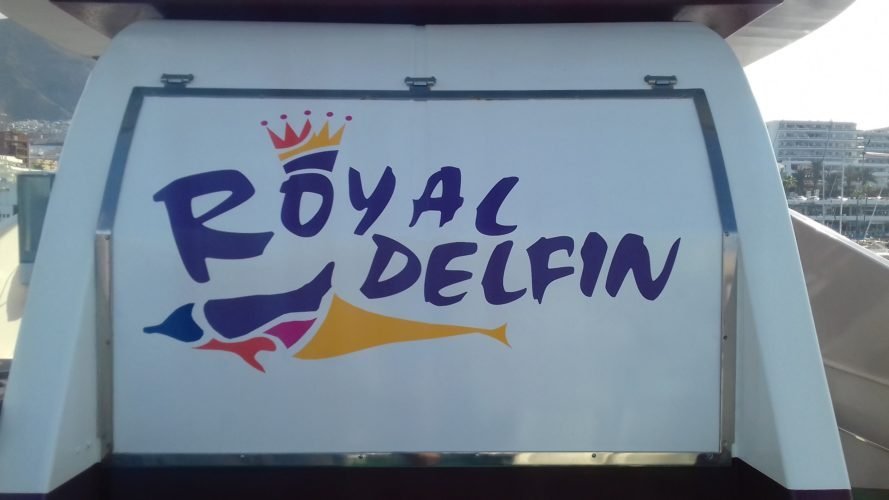 This 4.5 hour trip with Royal Delfin is a perfect way to relax and take in some more of what this island has to offer. My day started with an 8:30am pick up with the boat leaving at 9:30am (if the afternoon is more your thing, then there's a 2pm version).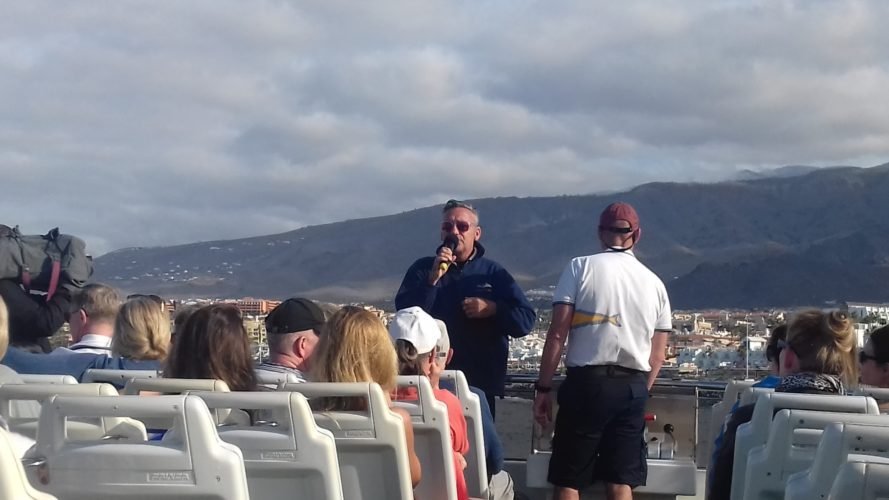 Our captain fantastico for the day was Johan, who delivered a multilingual masterclass in guiding us through the waters. English, Spanish, French, Italian, Dutch… I think there were more, but everyone was covered and knew the drill. Also on board our jolly ship was Javi, filming the entire trip and some other crew making sure things all went 'swimmingly'.
Having been to Masca the day before by bus, this tour also took us past there and gave a fresh perspective of the whole area.
Not long into the trip, we got our first sight of some whales going about their day and of course we all got some photos of these impressive mammals.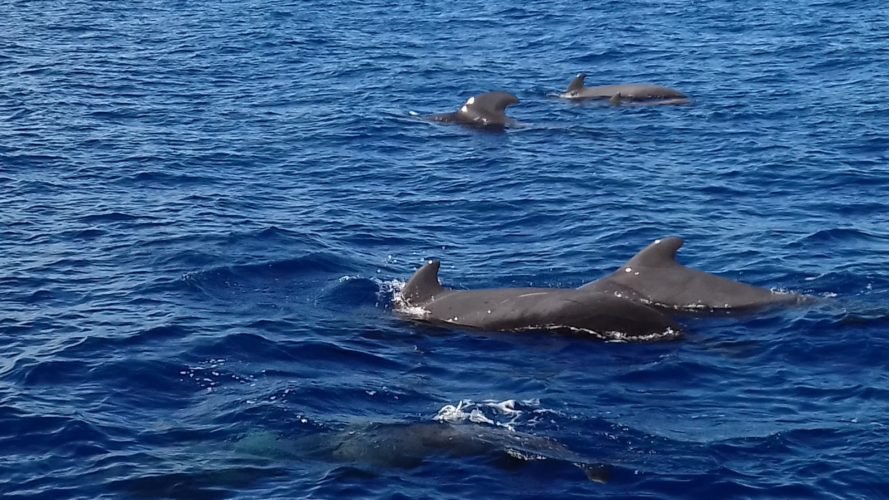 It's important to stay refreshed at these things, and fortunately complimentary soft drinks, beer and sangria were provided. As it was a morning trip people didn't get stuck in to the beer and sangria immediately… although they warmed to it as time went on! This isn't a 'booze cruise' (although who knows in the height of summer for the later trip) but a more family orientated, leisurely pace of taking it all in. There were also further coffees and snacks etc available for purchase.
Lunch was also included, which is always a bonus! That was served as we docked up and several of us went for a swim in the sea. Not quite as warm as you may hope but it was during a 'cooler' part of the year and I suspect a fair few degrees warmer than the shores of England. I was fairly quickly in and out but glad I took a quick dip in the Tenerife waters. Most didn't so don't worry if you don't fancy it, but the option is there and you may just enjoy floating around for a while.
So it was time to head back to base. Another very tranquil section of the trip sitting up top and watching the world go by. Viewing the white houses on the hills of Masca, the rock formations of Los Gigantes, paragliders swooping down to earth and more sightings of our other aquatic friends of the day – dolphins.
All to a backdrop of some chilled out music for a peaceful vibe. My favourite had to be the Titanic theme song… an iconic tune for a floating vessel! ;)
Javi the camera guy was filming most of the trip and you have the option of buying a DVD of the trip, the USB version or having the video emailed to you which is a little cheaper and more convenient. Either way, around 40 minutes of edited footage of that day's trip, along with another 40 minutes of other trips and general Canary Island scenery and activity. A great idea for groups wanting memories of their outing and a fuller flavour of their trip. Also, if you mention at the start, he can focus on you a bit more (if you should so desire).
All in all a real, pleasant few hours and a perfect accompaniment to all the land based action of your visit. Remember to also take a peek downstairs which is underwater level where you can view the sea and all that dwells within. Beats an aquarium and I am told this is one of the only ships that have that feature.
A definite must do in your excursion arsenal!
~ Adam
***
Get involved! Copywriting, travel, tech & tomfoolery @
Twit | Face | Insta | Linked | Steem | Site | eMail