Following on from the Life of Pai episode…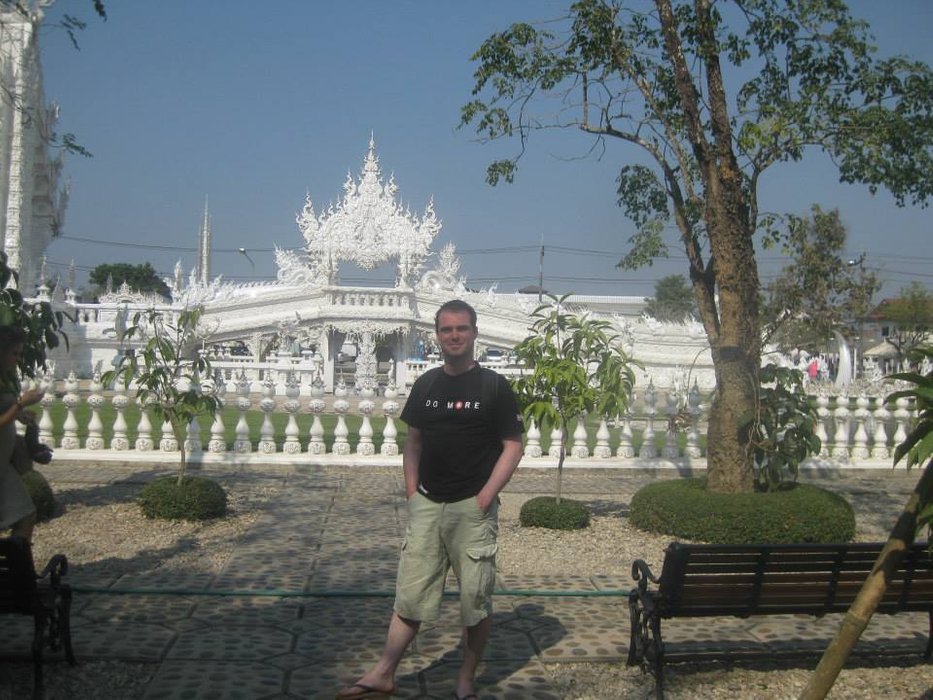 Chiang Rai, Thailand…
The last leg of my journey took me to Chiang Rai (not to be confused with Chiang Mai), this is in the north east of the country and I'll sum up my thoughts here.
What were you really doing in Chiang Rai?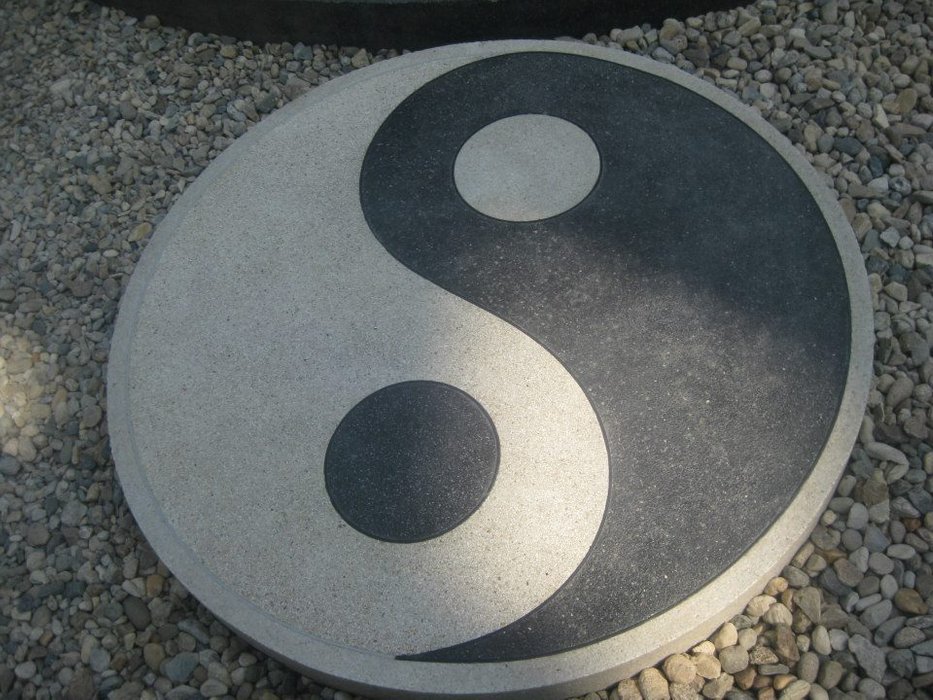 The purpose of my little jaunt to CR wasn't so much to see the place itself, it was more a tactical move. Much like Kasparov majestically maneuvering the chess board.
I had been in Pai which was all well and good but I suddenly felt the urge to move on. I also wanted to get on with a little work and move forward on projects rather than just do the whole traveler/hanging out thing.
In addition, I wanted to get going on some freelance work I'd received so I wanted to somewhere with decent accommodation (and internet!) where I didn't know anyone or feel the need to get to know people and crack on with some work. Hide away if you will.
Pai was nice enough but where I was staying was a bungalow. Not bad but very poor internet if at all. It was very cold at night. Thin wooden walls and the ceiling was separate from the rest of the 'shack' so there were big gaps at the top of the walls for not only the sprightly northern Thai air but also all kinds of wondrous creatures to wander in and out as they please.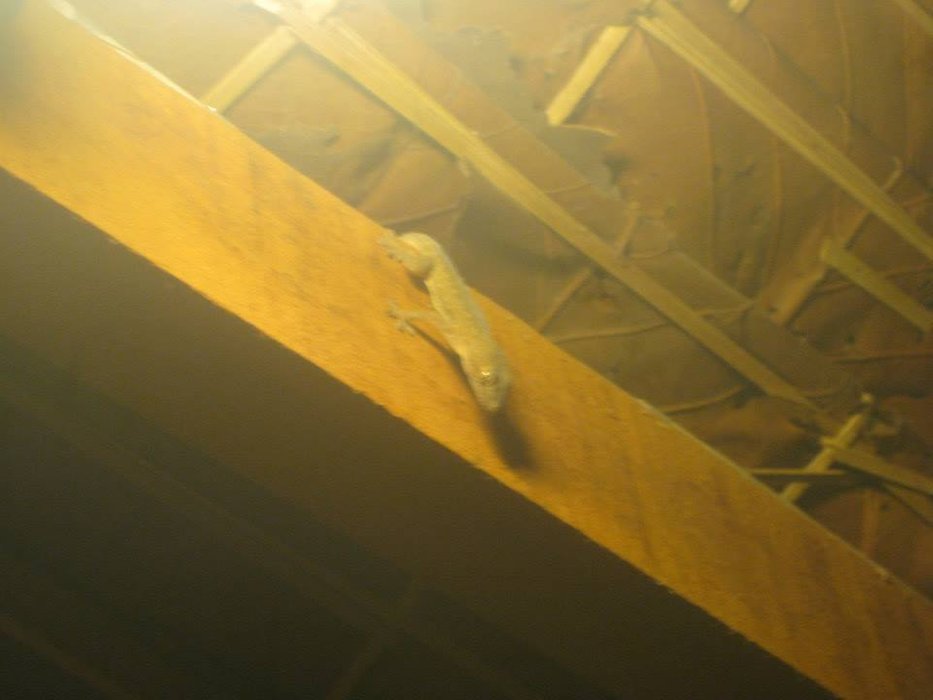 So I wanted somewhere I could go to before the next stage of my journey, get my head down with some work, chill out etc. I'm pleased to say I got it just about right…
The place I stayed is one of the best so far and one of the cheapest. Clean, spacious, double bed, wardrobe, table, TV, fan, private bathroom, western toilet, towel, toilet roll, soap, hot shower and urinal (?!) all for about £5.50 a night.
For some of you reading, you may think most of the things I listed are a given (except the urinal, that's a bit random and gratuitous… I think they're showing off quite frankly) but they're not really around these parts of the world. You have a little moment of quiet celebration when you hit the full package jackpot.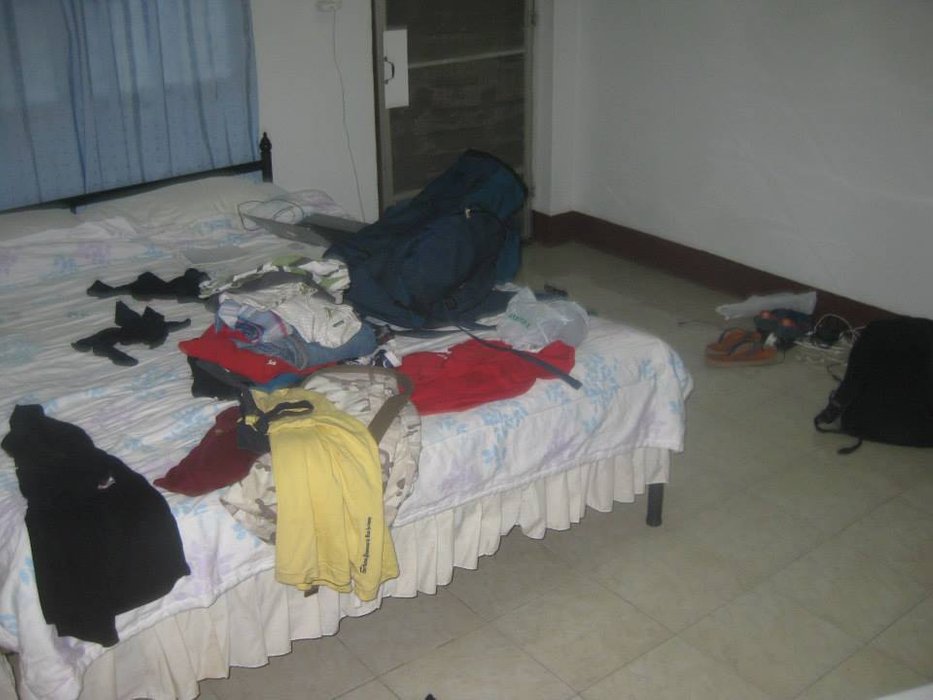 I mean, the tap is almost coming out the sink and there are people watching through the window whilst I'm lathering up, but you take what you can get.
So I had some writing work to be getting on with, got that done and other than that have been drifting around eating and drinking smoothies. That's it really. And to think I used to spend my days working in an office. Oh the humanity.
Not many people have really recommended CR on the travel trail other than the fact it inhabits the white temple… something a little different to your average temple and worth a look.
What did I make of Chiang Rai?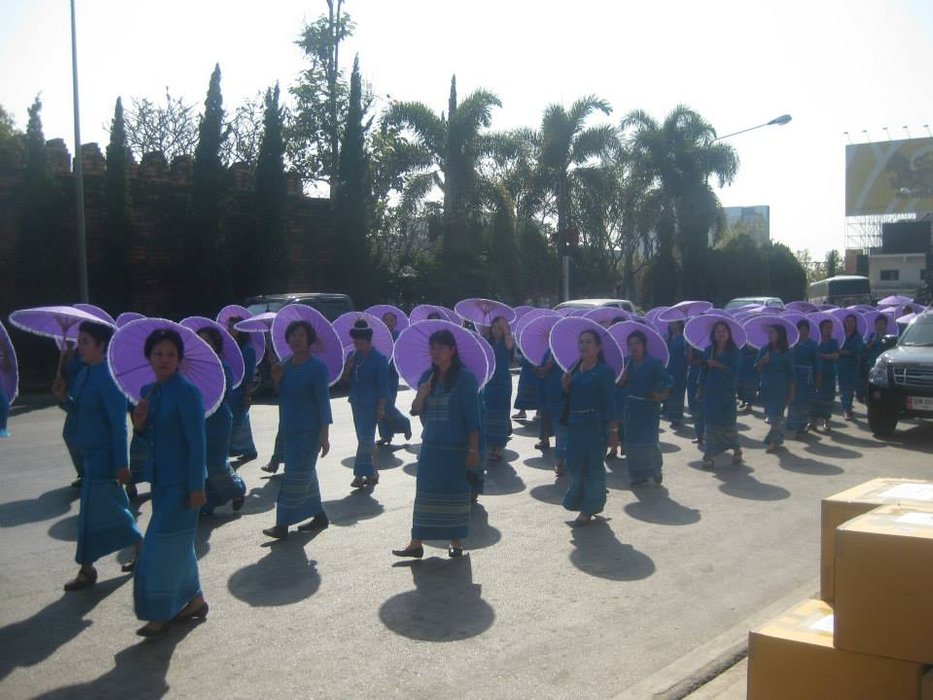 My first impressions of CR weren't particularly great but I warmed to it, simply because it's been a nice, pleasant leg of the journey.
There aren't as many tourists around which is great but there are still a few which is also good. It's more about Thais getting on with their day and the occasional tourists in certain areas… not that mob of people you become accustomed to around here.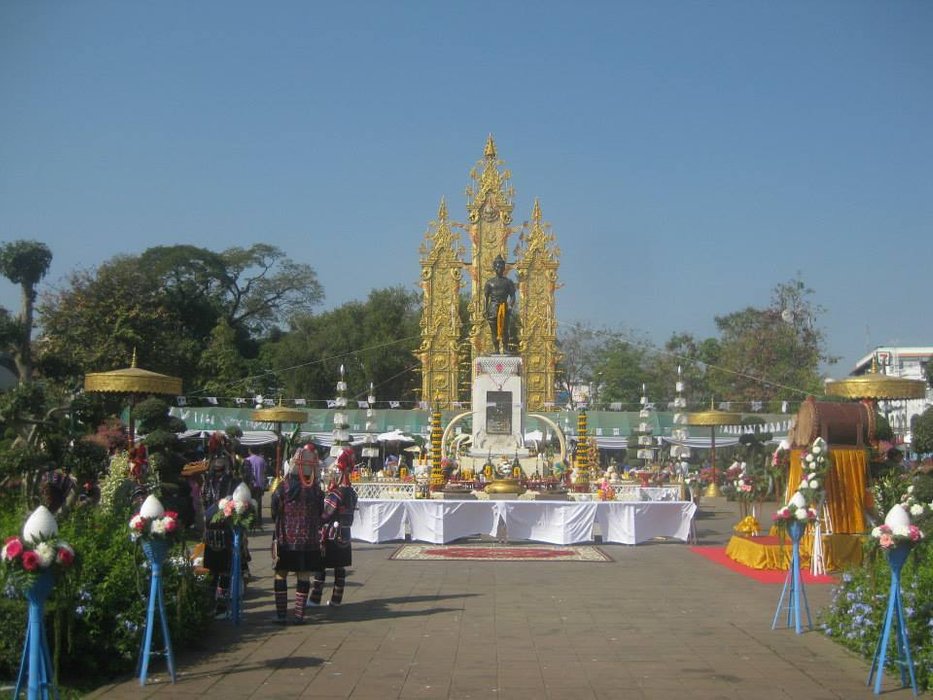 Pai Vs Rai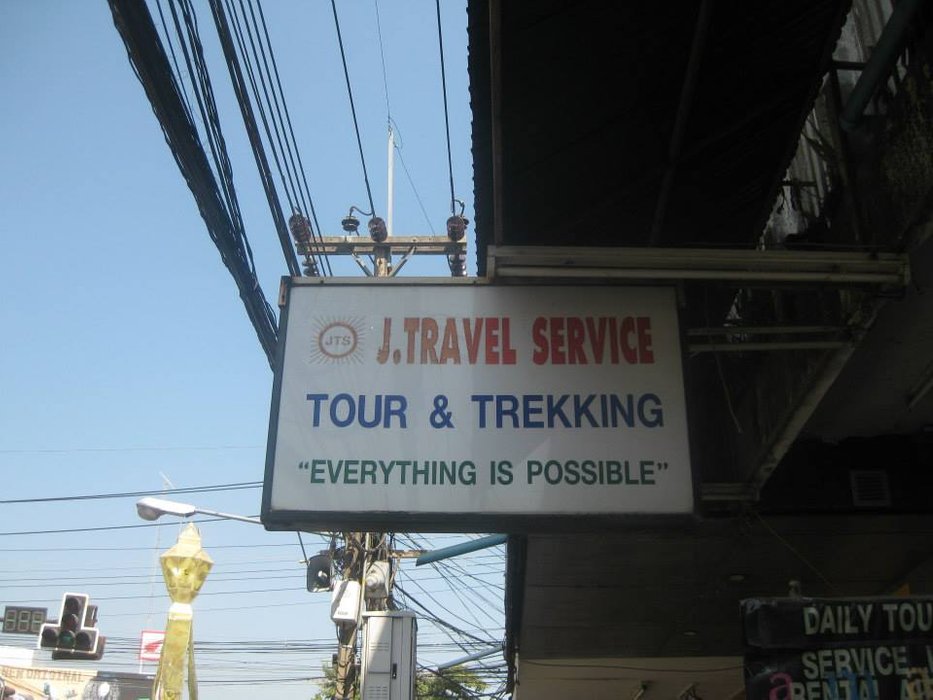 Pai has the kind of fake, wannabe hippy brigade and it's awash with travelers. They're trying to position themselves as hub of activity but it's not quite. It's nice but no Chiang Mai. Pai could well have been a haven 10 or 20 years ago, but now, not so much. Still nice though, but it has a definite shelf life.
Chiang Rai on the other hand is more of an 'is what it is' kind of deal. Not too much. But enough. There are tourist offices, you can book treks and more but it isn't overdone and doesn't appear to try to be anything it's not. I didn't go out in the evening there so I'm not sure how that fares on the richter scale. Once again, it all depends what you're looking for at any given time.
The White Temple
A quick mention about Wat Rong Khun (colloquially known as the white temple… can't think why ;)). I won't give too many facts about it, if you'd like some more info take a look at Google/Wiki but it's a fascinating and intricate piece of architecture started in 1996, designed by Chalermchai Kositpipat, and is estimated to be completed 60-90 years after the designer's death.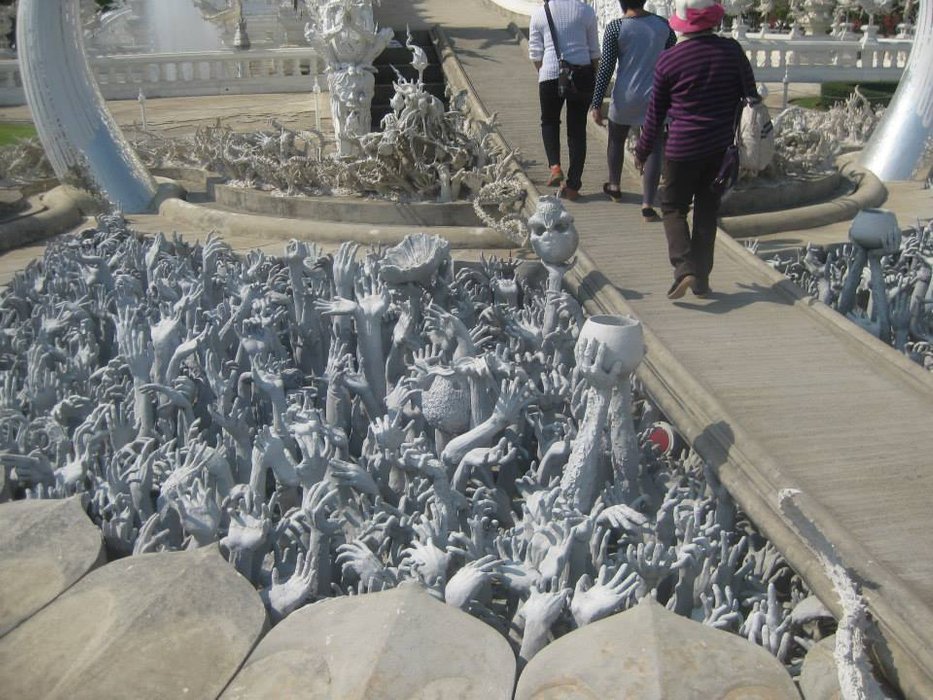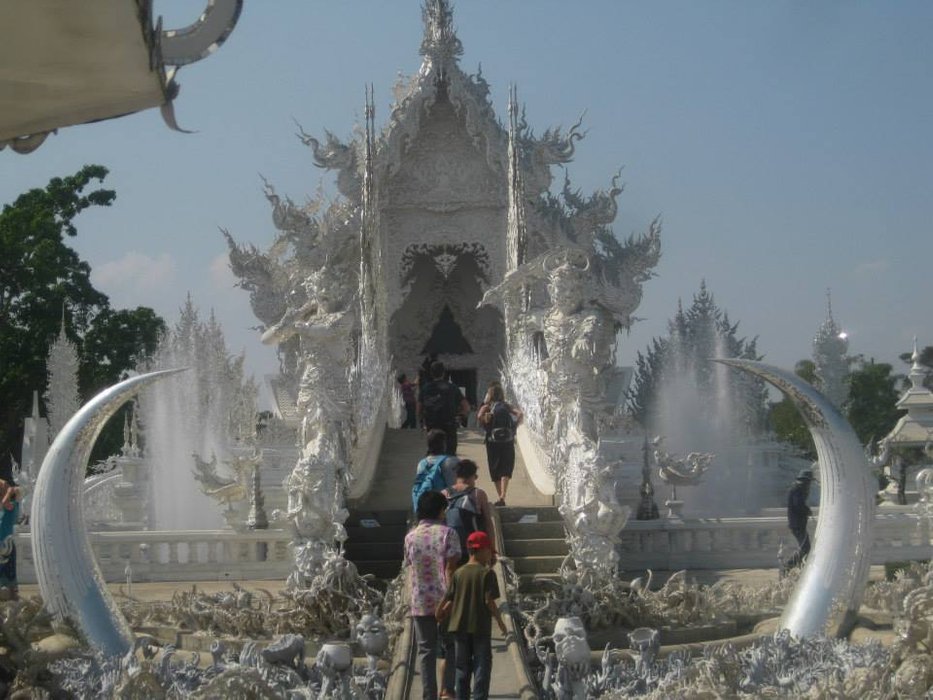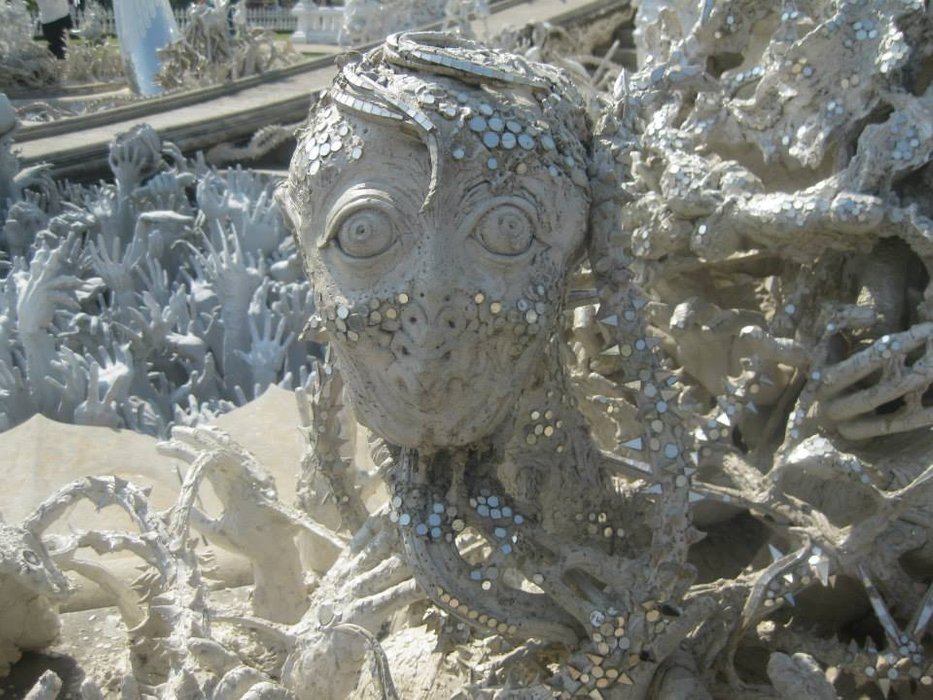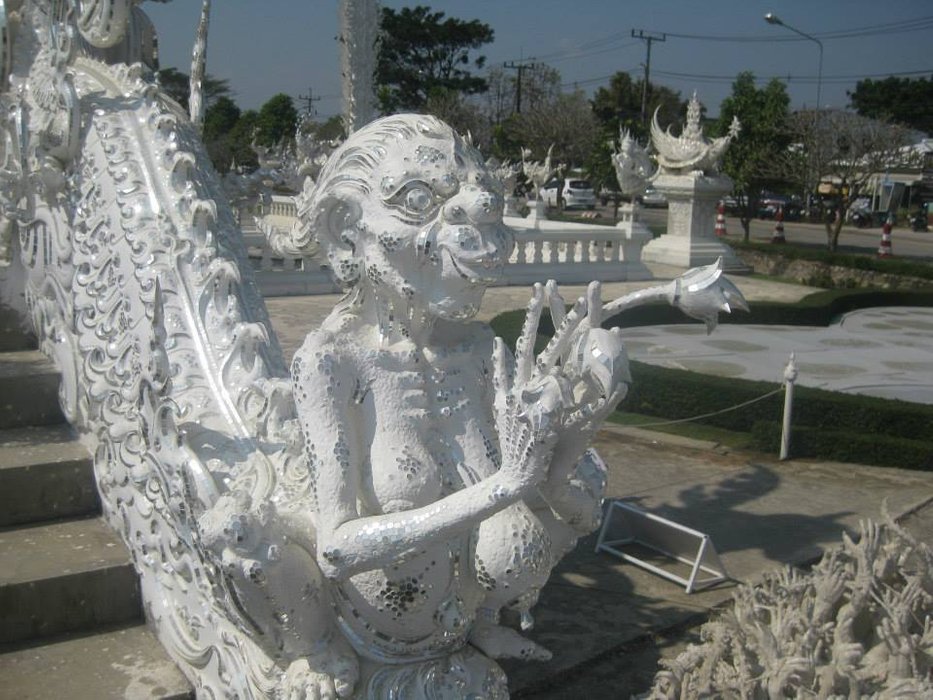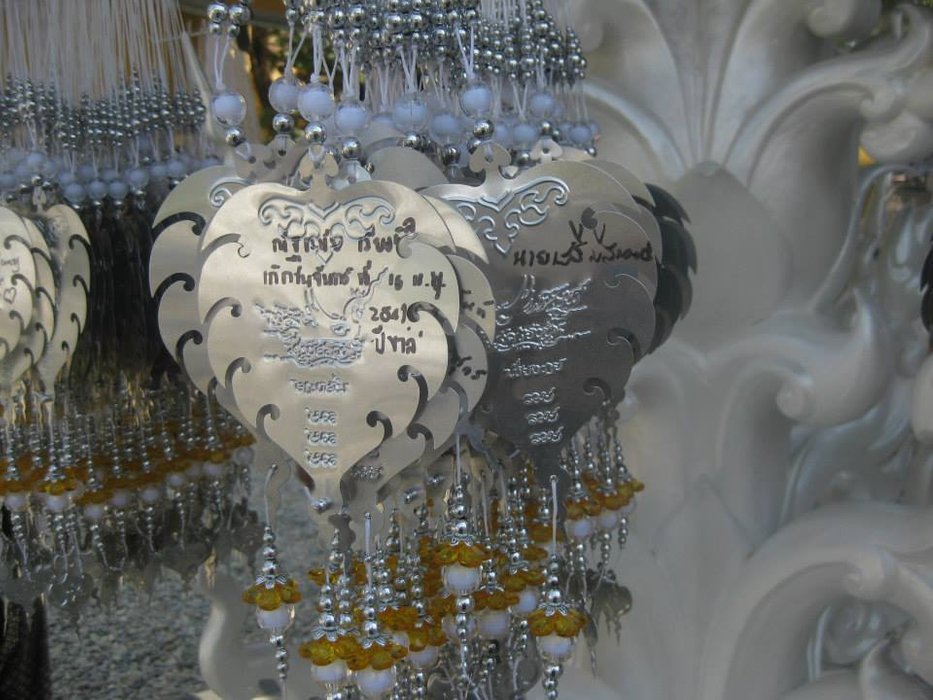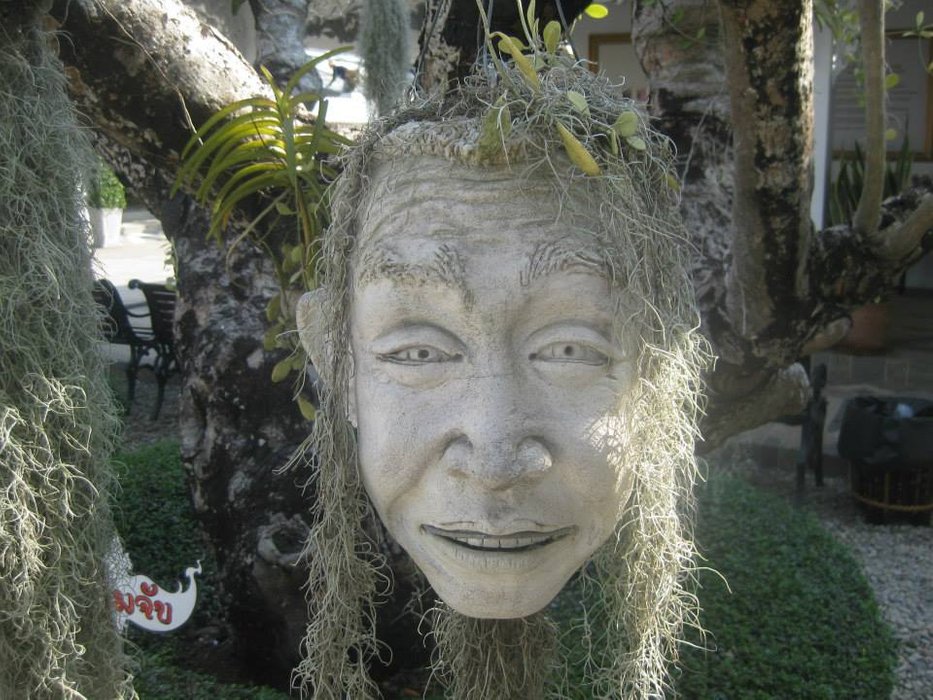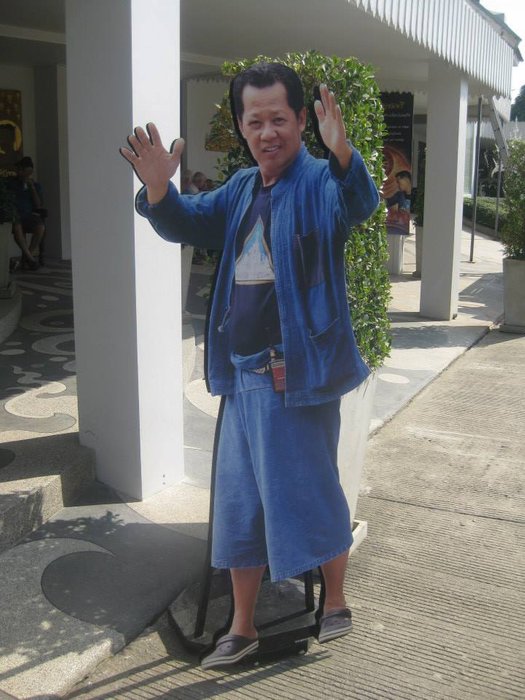 It's a mix of Buddhist monument and modern contemporary art. Various sculptures of heads and references to George W Bush, Twin Towers and Osama B-L along with the creature from Alien and more.
I walked into the Temple itself, having removed my orange Havianas ("take off your shoes!") and there was the ubiquitous sculpture of the Buddha. In front meditating was what appeared to be the Dalai Lama and people kneeling down praying in front of him.
It's doubtful it was the man himself (especially of a Sunday) but a good lookey-likey nonetheless. There was a big sign saying "no photos" hence no photo of that. Me and the big DL made eye contact, exchanged some energy and off I trotted.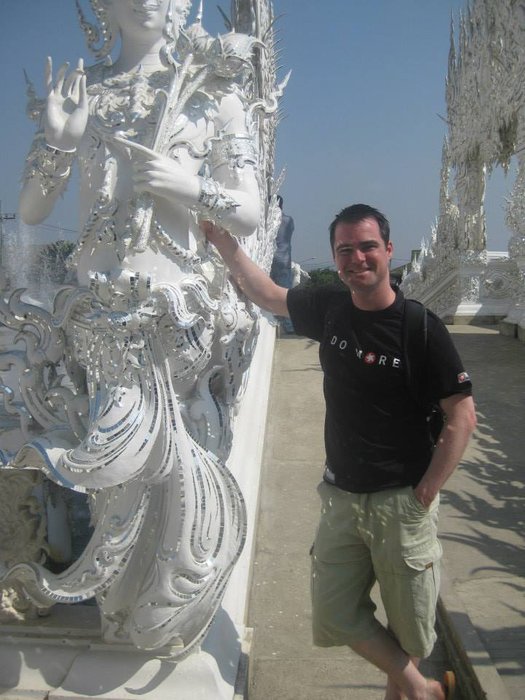 I also kept getting commandeered by an Asian lady to appear in her pictures and she also kept insisting she take pictures of me. Above is one such pic, but apparently you're not supposed to touch the temple. Presumably they don't want your grubby mitts over the pristine finish.
And finally they have possibly the most impressive toilets in Thailand. As you can see below, quite majestic from the outside and impressive inside too…although I didn't take any pics inside as it may have been a little weird.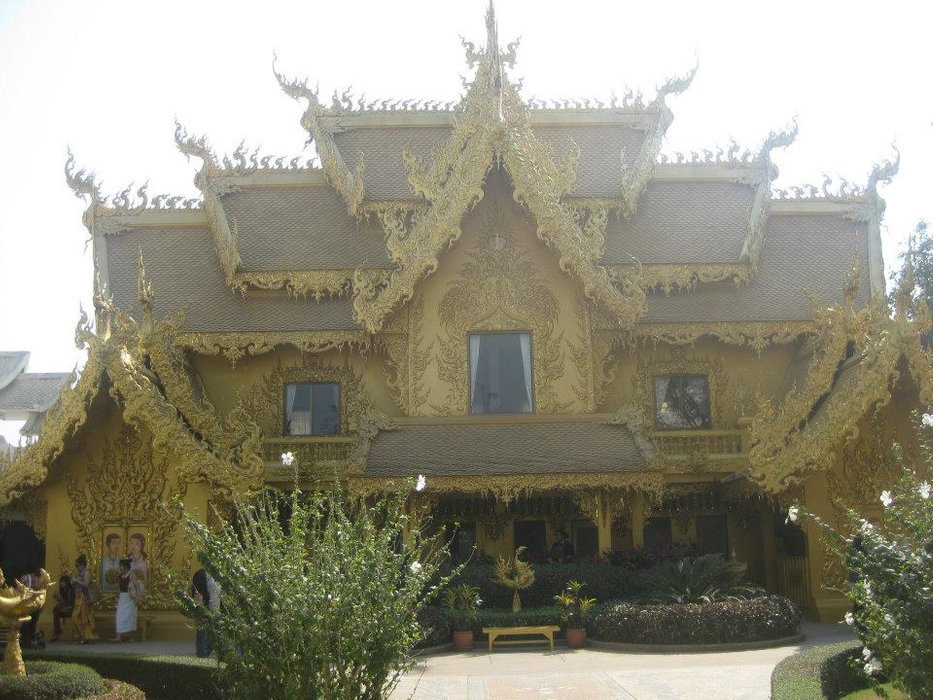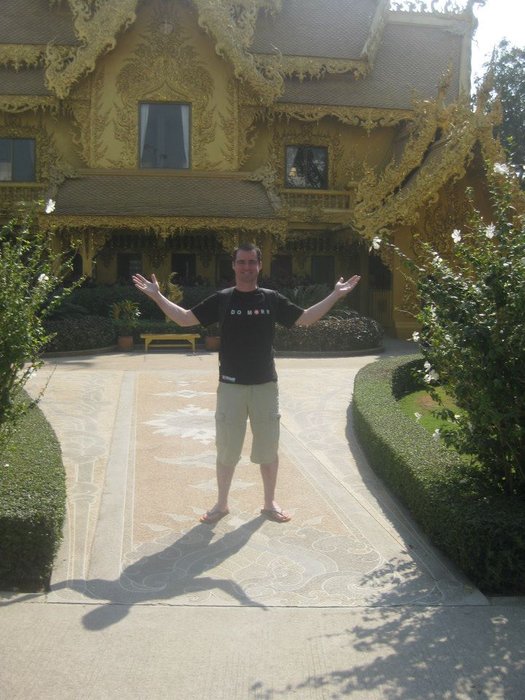 Next up, another 12 hour overnight fun bus from Chiang Rai back to Bangkok (a slight detour on my original plan), and crossing the border into… Cambodia! What will we find there?? For a start, more temples to explore!
~ Adam
* All images my own or otherwise linked to source
***
Get involved! Copywriting, travel, tech & tomfoolery @
Twit | Face | Insta | Linked | Steem | Site | eMail