It's difficult to imagine what it must have been like when this idyllic beach was inundated with millions and millions of gallons of water during the tsunami of December 26th 2004. I recall the day well, images of despair, death and destruction, all from the safety of my own living room thousands of kilometres away. This beach, of course, is Patong Beach, Phuket Thailand.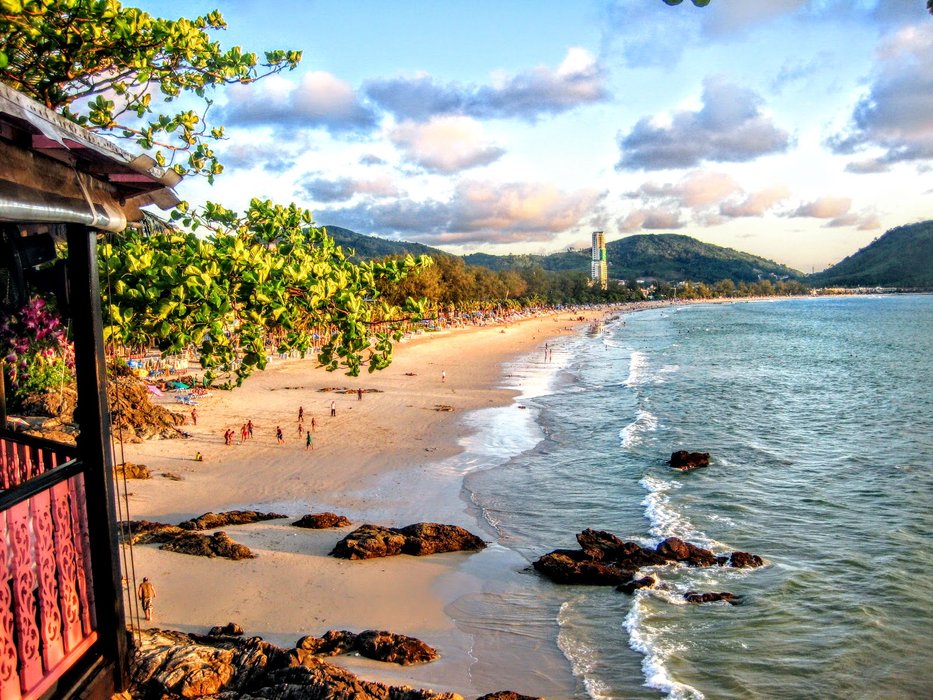 I took this image from the balcony of a restaurant called Baan Rim Pa slightly over 12 months after the devastating tsunami and it seemed quite odd sitting there in beautiful surroundings enjoying amazing Thai food whilst overlooking a beach that was completely destroyed only 12 months earlier.
Some 4,500 people lost their lives in that tsunami and around 13,000 other's were wounded or went missing and yet a brief 12 months later the shops and businesses had reopened, residents had returned and life continued almost as if the tsunami had not occurred.
When working out where we wanted to go for our vacation we hesitated when it came to Phuket however the prices were incredibly attractive. Our entire trip including a deluxe suite at the Novotel for ten nights, buffet breakfast, flights and all transfers costing only $2,600AUD for both of us. Too good to pass up really so we went, and were very pleased that we did.
Our time was split between tourist-type activities, snorkelling, reading or lazing around by the pool, swimming, a small amount of shopping, some massages and exploring the night life...A lot of eating. It was a pretty low-key holiday and one which we enjoyed a lot.
We also took the time to speak with a lot of the locals, mainly whilst shopping at the markets and stalls. They all seemed happy and whilst most didn't say too much about the tsunami many were happy to talk about it, point out the watermark, the high-point of the water, on the buildings which punctuated just how frightening the episode must have been. Many we spoke with had lost someone that day, a family member, friend or colleague as well. One common denominator was the fact that they all thanked us for being there and not choosing another location for our holiday. Our tourist dollars were vital to their economy at the time and they were happy to see us, and to take our money.
We've been back to the area a few times since, the last time for a wedding of a friend of ours which was pretty cool. They had it on the beach in front of the resort with Buddhist monks and all...They followed it up with one of the most amazing Thai meals I have ever had. A good wedding in a great little spot!
We have a habit of lowering our expectations when it comes to travel. I don't mean we go out of our way to choose crappy places to visit, stay or activities to engage in, the contrary actually. What I mean is we don't pre-set our expectations of what anything will be like prior to getting there, we lower those expectations in fact. This ensures that if a place lives up to that lower standard and is indeed shitty we don't get disappointed. On the other hand if a place is better than expected we are pleasantly surprised and suitably amazed. It makes for better holidays and less disappointment.
Phuket was one of those places where we had lowered our expectations to a point that it would have had to be hell on earth for it to meet them...It wasn't. It was full of friendly people, the Novotel Phuket Resort (north of Patong beach) was amazing, the food was cheap and of a great quality and there's plenty to do, or one can simply do nothing...What more could we want for a little 10 day break!