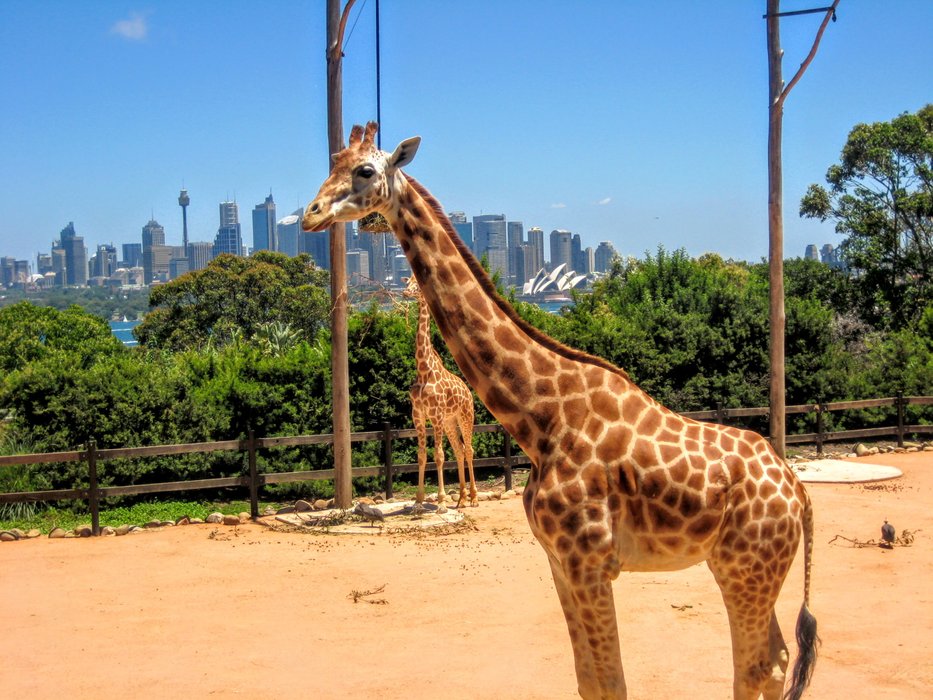 I wrote about Sydney harbour and some of the amazing views it offers a few days ago. For any who have been to Sydney and taken the time to walk around, take a ferry or locate some of the vantage points you'll know what I mean. For those who haven't...Well, you should.
I made a comment about the giraffe's at Taronga Zoo having one of the best views and figured I'd demonstrate, although my photo isn't the best I suppose. It get's the point across though I suppose right?
You can see Garry in the foreground, the giraffe. I have no idea what his name is or even if he is a he and not a she however it's doubtful Garry will ever read this blog and so I'm not fearful of any Garry-reprisals over calling him Garry. So Garry it is. By the way, this is the most times I have ever written the name Garry because I don't know anyone by the name of Garry and have no need to say, or write, the name Garry, except, of course in respect of Garry the giraffe...
So, see Garry? Well ignore him and look in the background. See those buildings? That's the central business district of Sydney, the inner city. See that tall spire? That's the Centrepoint Tower standing at 305m, the tallest structure in Sydney and the southern hemisphere's second-tallest observation tower. I've been up there. It's a nice way to see Sydney. You can also take the skywalk which allows you to look straight down beneath your feet. It's not for the faint-hearted.
You can also see the Sydney Opera House to the right of the city, just above the green bushes and the Sydney Harbour Bridge, the coat hangar as we affectionately call it, is further to the right out of shot. You can actually see it through the tree branches a little.
So, considering a house in Mosman, the suburb the zoo is located in, could cost up to around $19,000,000 that's nineteen million dollars, you'd have to say Garry is sitting on some pretty fancy real estate right? Sold properties Mosman
Sydney is not a very affordable city to live in, it's super-expensive! However Garry makes it work and has one of the best views in the area. He's livin' large, eating his leaves and just kicking back enjoying the view.
So far my trip to Sydney has been great. Nothing too stressful and very relaxing. It's the weekend here and whilst it was a little windy yesterday today the sky is blue. As I've said before, I've been here many times so this trip is all about kicking back. Like Garry