Touchdown, and a chance to stretch our legs. Finally we're here after almost 14 hours in the air. Waiting for our luggage, and to clear immigration, isn't so much of a problem, not if you don't mind that nervous time wondering if your luggage ended up in Russia instead of Singapore...And the stern-eyed scrutiny from the customs and immigration officials.
The glass doors slide back and we take our first step into the Singapore climate which is hot, think and almost chewable. It seems incredibly oppressive after the cool European climate we left behind however we've been here before and expected it. Inside the town-car is cool though and we speed past the beautifully manicured gardens, vibrant with greens, reds, yellow and purple colours, lining the route from the airport to the city where our hotel awaits.
Everyone is polite and solicitous of our needs and even before the driver has time to pull away from the hotel our luggage, which didn't go to Russia thankfully, is piled on a golden trolley and we are handed a refreshing tropical drink whilst being ushered to priority check-in. It's all very civilised and before long we are walking along a quiet, thick-carpeted, hallway towards our room on the 25th floor, escorted by a courteous staff member.
A small tip exchanges hands and we're left alone inside our room, our home for the next 5 days.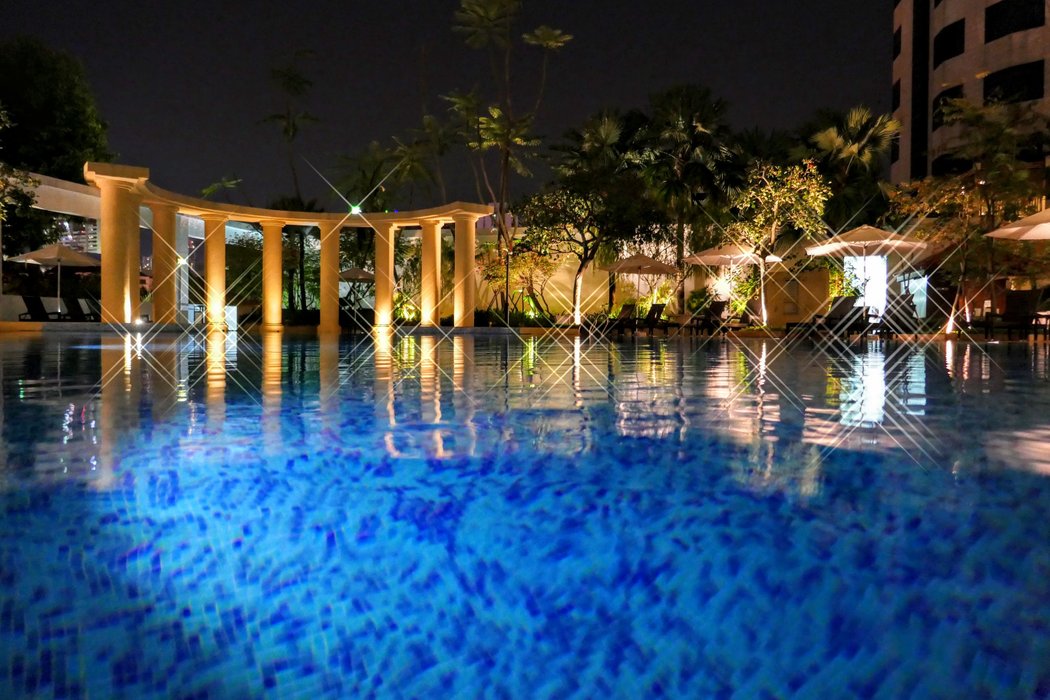 We have only a little planned, just a quiet stay in Singapore before returning home. We'll go to the zoo, do the night-safari there also and wander about the city exploring. We've got a day planned in the Gardens by the Bay though, and will stay for the evening music and light show in the Supertree Grove before we head up to dinner. The flower dome and cloud forest are also expected to be highlights. We have a romantic dinner pre-booked at Cé La vie at the very top of tower three of the Marina Bay Sands, but right now we're thinking swimming pool.
The pool is our close friend over our stays in Singapore. It's always so hot so days spent at the pool offer some respite and much-needed relaxation. It's not unusual for us to spend an entire day in the pool area hopping in and out, reading books, snoozing and ordering food and drinks. Those days are valued, but it's at night when we enjoy the pool area best. There's rarely anyone there as they're out enjoying the multitude of options Singapore has for nightlife. You can see the pool area above...Splendidly devoid of humankind, other than us.
Our trips to Singapore are a valued part of our vacations abroad. It allows us time to relax prior to returning home and to our jobs and breaks up the long haul flight from Europe. We're not usually lay-around-the-pool-all-the-time-people, certainly not when we travel over to Europe and so the lazy days in Singapore offer a respite of sorts and we value our time there greatly. It also gives us time to accept the fact that we're heading home and our holiday must, unfortunately, come to an end.
I know people who prefer to simply go right home from their vacations and we have done that in the past however if time permits we enjoy a slow journey home via somewhere we can commiserate the ending of our holiday. What better place than a secluded oasis in which to drown our emotional sorrows.