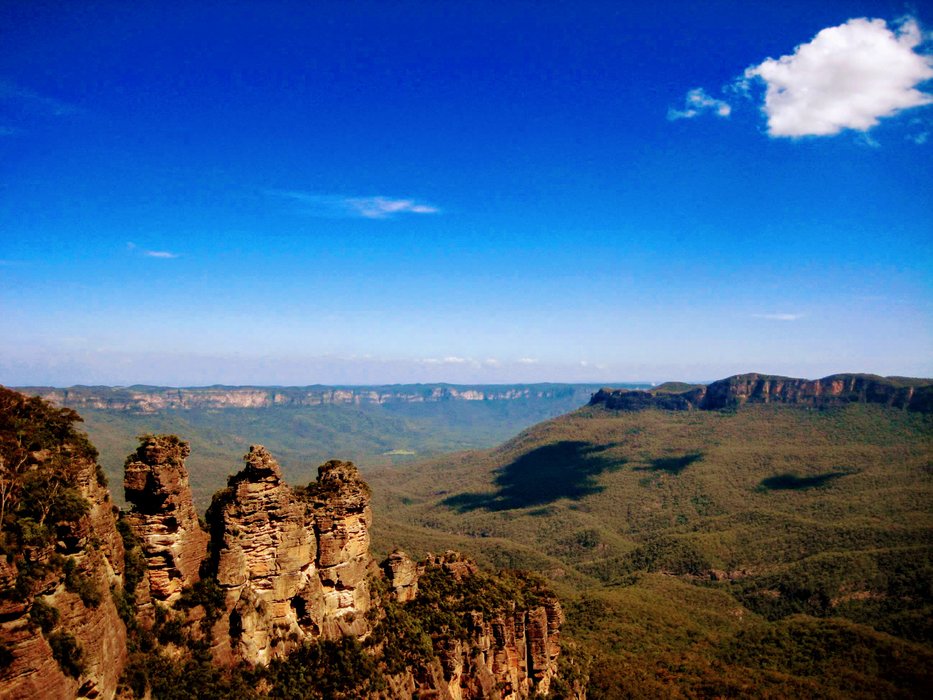 I took this image from Echo Point, deep in the Blue Mountains, overlooking the Three Sisters, those three rock spires you can see. It's a spectacular sight in person, and a very popular spot for tourists. It's also a famous place as a living fossil was discovered there.
The Wollemia Nobilis was only known though fossil-records until 1994 when it was discovered here. The oldest fossil has been dated to 200 million years old and it was considered extinct so finding it here is miraculous. It's commonly called the wollemi pine although isn't a true pine tree I'm told. The tree is listed as critically endangered. Pretty cool huh? I guess the fact the tree went undiscovered for so long it shows how dense and difficult to explore the Blue Mountains are.
Now, back to those three rocks...There's a group of Australian's who believe they are three sisters turned to rock by a witch doctor to protect them from being stolen away by members from a rival tribe for wives. Apparently he turned them to stone during the raid, and battle that ensued, to protect them and was subsequently killed so they remain stone to this day. Personally I think that witch doctor needs to take a good hard look at his strategy because it didn't work that well and there was probably a less-permanent solution available. I think the rocks are simply the by-product of erosion and other earthy-type occurrences that have formed them over millions of years.
Anyway, it's a nice spot to visit, as is the little town close by called Katoomba. It lies up in the Blue Mountains west of Sydney by about 110km. It's possible to do as a day trip from the big smoke however I suggest a few days spent here would be a better way to see the area. At Katoomba you could ride the world's steepest incline railway, suspend yourself on the glass-floored skyway, or explore the Jurassic rainforest far below by foot. Just don't get lost...It might be a permanent vacation you take. It's rugged with loads of cliffs and plenty of room to get lost in. The Blue Mountains National Park is 2,690 square kilometres in size, so...Bigger than Luxembourg which holds around 600,000 people.
Nearby is the Jenolan Caves and the Lithgow glow worm tunnel which are well-worth your time. The glow worm tunnel is a disused rail tunnel and the glow worms are an awesome sight, but once through you enter a hidden world that resembles the Jurassic world. If you're lucky enough to be there when no one else is it's wondrous.
If you're visiting this area autumn and spring is a great time. Winter can be very cold. It snowed the last time I was here and that was in October, so spring time. It was probably quite unusual though. The coldest months are June - September although I like it at that time of the year. All depends on personal choice I suppose.
Unfortunately it would take a long time to explore Australia properly. It's a big country with great distances between civilisation. The good thing is places like Katoomba and the Blue Mountains are easily accessed from Sydney and so can be enjoyed by most tourists visiting Australia's largest city. If you ever happen to get there make sure you walk down to the three sisters and say hello.