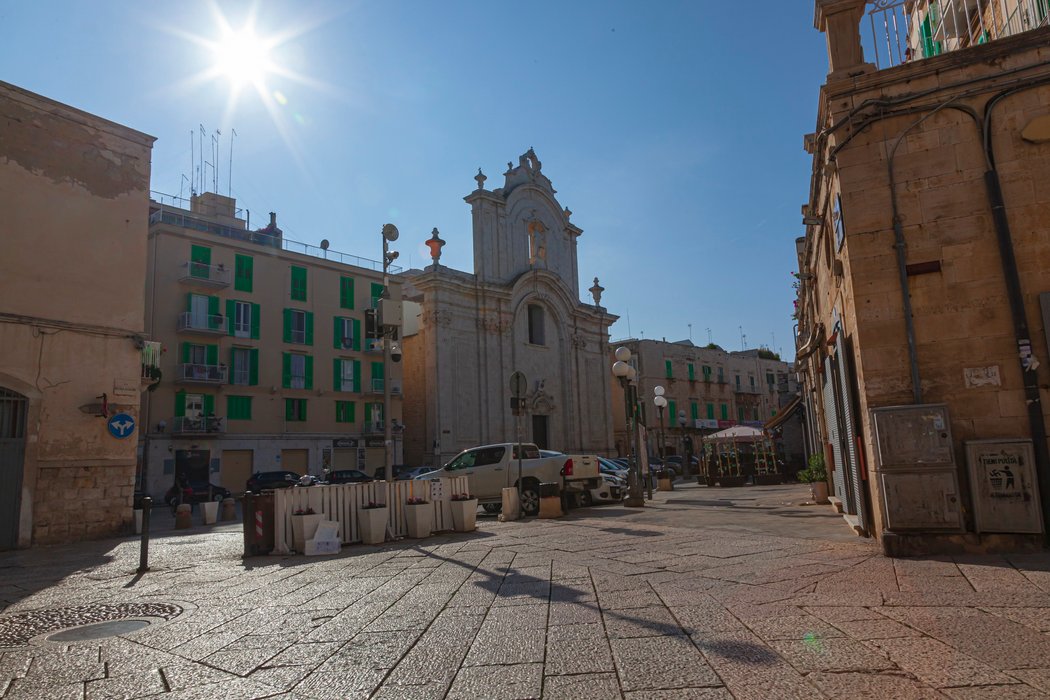 Walk around Molfetta.
After visiting the port, after all these beautiful yachts and boats, we went to inspect the old city. There is also a lot of interesting and attractive.
Those are the narrowest streets of a medieval city. Temple and cathedrals. In a word - a pleasure for a walk.
By the way, among these streets there is one very interesting building - the Cathedral of Molfetta. The Cathedral of San Corrado was built at the turn of the 12th to 13th centuries. The cathedral has a pronounced Romanesque style, and stone was used as the material. The cathedral has one nave connected by two aisles, as well as two domes. In addition, an extension was made to the cathedral in the form of two twenty-meter towers, one of which had the status of a watchtower, and the other - a bell tower. The interior is decorated with furniture of the 16th century. The cathedral was built in honor of one of the crusaders, who later became the patron saint of the city - Konrad Bovarsky.
Incidentally, Conrad of Bovaria is the son of the Bavarian Duke of the uncle of Emperor Frederick Barbarossa.
Everything in history and in the world is interwoven with a fine thread. You come to some small town, but it turns out that events took place in these places, the importance of which is huge for the whole world history. Amazing
Walking along the streets of the old center around the cathedral, we went into one nice-looking cafe. It was funny that going into it from the side of the city, going inside the whole house, I went to the balcony with a view of the sea. The interiors of the cafe were designed in an interesting style with paintings on the walls. It was nice to buy a beer and sit on the balcony overlooking the sea and have a drink.
By the way, beer was not cheap. 6 euros per cup. It's a little expensive, but the pleasure was great.
After a cold beer, a walk through the old center was even more enjoyable.
Speaking about the cathedral, I want to note that this is a simple and concise Romanesque architecture. On the walls you can see interesting bas-reliefs.
By the way, archaeologists found on the territory of Molfetta settlements of people of the prehistoric and Roman period. It is believed that already in the 4th century BC there was a small fishing village, and the first official mention of Molfetta dates back to 925. The city was then under Byzantine rule, then it was conquered by the Normans, who included in its duchy Benevento.
Walking around the old town, I saw wooden struts standing between houses on a narrow street. Time does not spare the old building and the pillars help to preserve the walls, so that the buildings would not collapse.
Here is such a Molfetta.