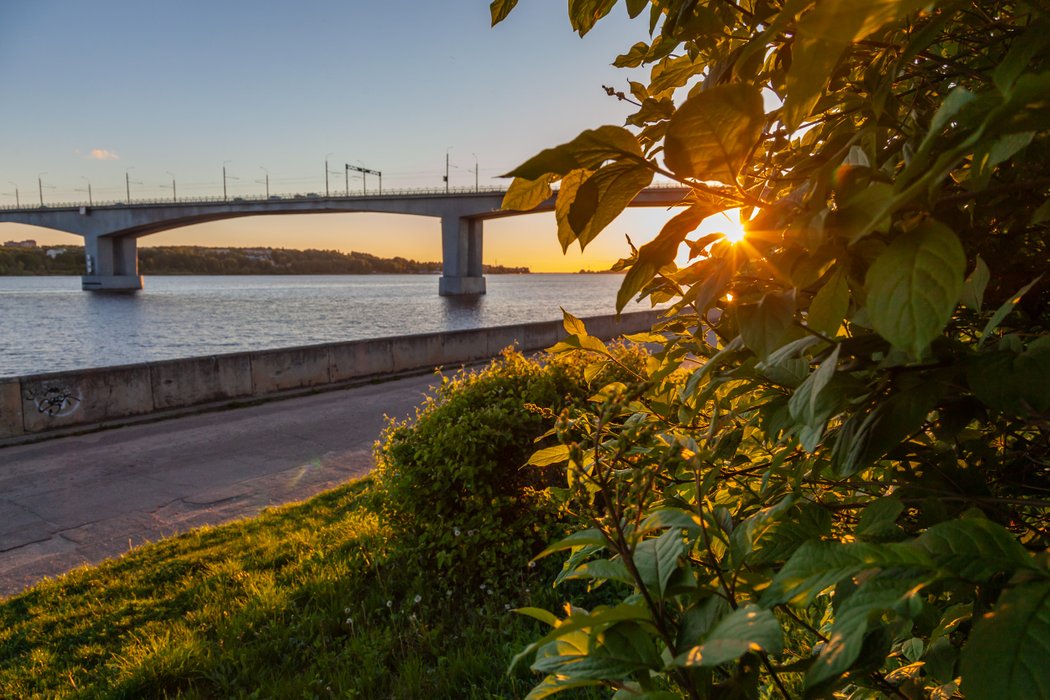 Random May evening plein air
The other day, in the evening I was driving home from work. It was a beautiful evening. The sky was blue-blue. The yellow sun was shining. It was warm and smelled around spring.
My road ran along the bank of the Volga River. It allowed me to see a beautiful sunset. There was nothing left but to stop the car, get a camera and go to the shore, take a few shots.
The road was separated from the river by high bushes. Find a hole in them, I was able to get through the bush to the water.
Immediately behind the bushes, an inspirational picture appeared to me. First, it is the beautiful Volga. The big Russian river is a symbol of Russia. Secondly, the bridge over the Volga. This bridge is a very important part of the infrastructure of the city of Kostroma.
Thirdly, it is a yellow sunset sun. It painted the sky in warm shades and gently warmed my face.
I decided it was worth making a panorama. No sooner said than done. From 6 frames I made a large horizontal panorama that you can see. Here it is, our bridge and our Volga.
Having seen enough of the river and sunset, I returned to the car through the very hole in the bushes. And here, by the way, and she. Perfect framing of leaves for architectural objects.
And already leaving, I turned around and saw how beautifully the sun shines in the foliage. Here they are - the beautiful warm May days.
By the way, on the last photo in this post you can see a dark silhouette of the bell tower. This is a new construction in our city. I think I will make a whole post about this bell tower. This object is the restoration of the old bell tower, which was destroyed in the early 20th century. The sins of Soviet power.
Soon this magnificent bell tower will be restored. It occupies a central place on the Kostroma Kremlin hill.