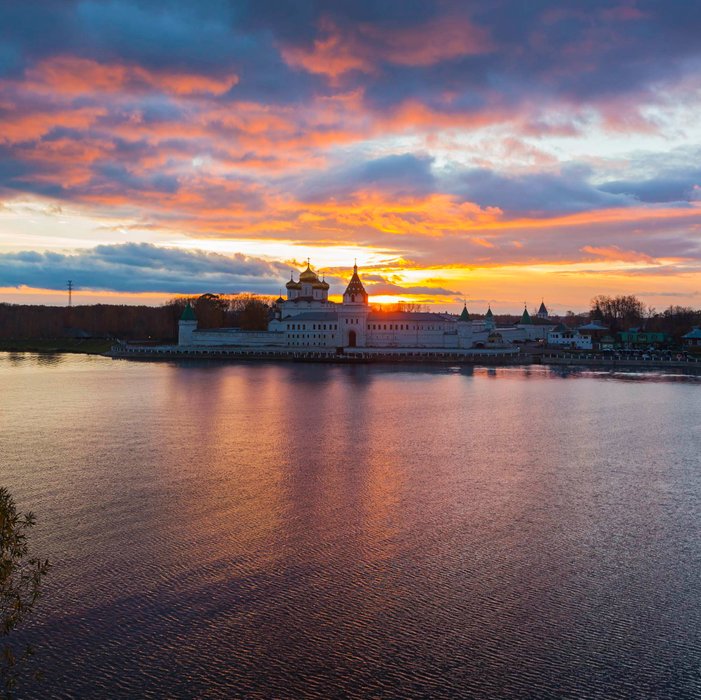 Autumn is an especially beautiful season in Russia
If the sky is not completely covered by clouds, then you can see the beauty of my homeland. Such beautiful sunsets are still worth looking for.
The beauty of native Russian nature goes well with Russian temples. For example, you can see the Ipatiev Monastery on the banks of the Kostroma and Volga rivers. White stone walls, towers and domes look like a real temple-conductor between God and man.
And if the world around is so beautiful, such bright colors bloom in the sky, it becomes clear that God really exists and gives humanity all the beauty of nature.
Ipatiev Monastery is one of my favorite places for evening shooting. The sunset makes the background for the monastery different and very beautiful all the time.
If you are bored with the views of the monastery, then you can move to the city center. Here the embankment of the Volga River passes and along it there are also a lot of picturesque places.
One of the main attractions is the so-called Ostrovsky gazebo. Beautiful white rotunda with columns on a high earthen rampart.
The embankment itself has also become a pleasant place for a walk. Pavement tiles and retro-style lanterns complement the image of the old Russian city.
And all this in the backlight after sunset. Autumn is an interesting season. The weather is already getting cold and the air is becoming transparent. It from the cold becomes less and less microorganisms in the air.
The changeability of autumn weather also makes autumn more picturesque. Clouds and rain, sun and wind, yellow foliage. All this together creates an extraordinary portrait of Russian autumn.