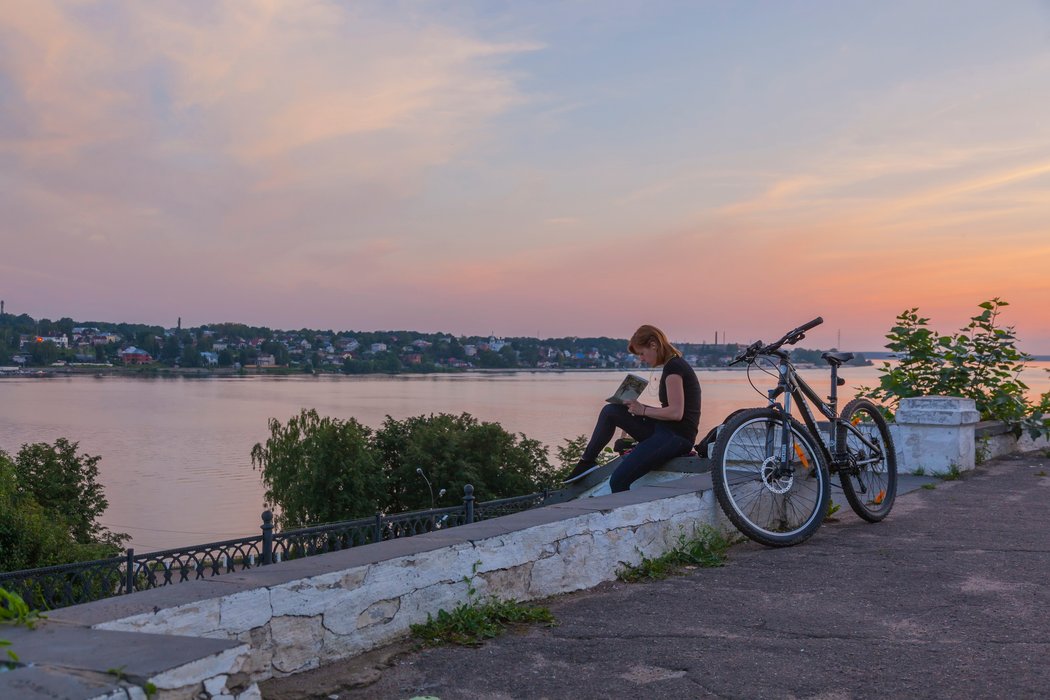 Summer is such a time when it's warm
In the evening I went to the center of Kostroma to just take a walk and breathe in the warm river air. It was already late, the sun was setting. During the day, the sun so heated the air that the evening coolness was by the way.
The road to the coast leads through the most historic center of the city. Here and shopping malls - one of the main attractions of the city of Kostroma. Here and the Church of the Savior in these ranks with a bell tower. This is an interesting cultural heritage site, which was destroyed and then, in Soviet times, restored.
The road also leads through the Kremlin Hill. It was a park, and now the restoration of the temple complex with a beautiful bell tower is underway. Construction is carried out on the money of sponsors and not the state.
Just at the walls of the construction of the temple I met this cyclist. She sat and sketched in pencil.
She did not pay any attention to the people around, but simply sat and painted, listening to music in the player.
In general, I somehow liked her.
Then I went down to the embankment. There are a lot of interesting things here .. Of course, the water, of course, the sky, of course the ships.
Here, for example, the "Moscow" boat departed from the pier. This is a pleasure boat, which carries people to the gardens, which are located just above the Volga.
Right there, next to it, on the quay stands a large three-deck motor ship. Such ships carry cruises along the Volga.
And a little farther along the embankment is the old pier. This is a landing stage on which there is a two-floor building. Previously, there were cash registers and services for riverboat services. Now here is a restaurant on the water. Nice place decorated in the style of a famous old Russian film. A similar landing stage was in that film.
I walked back when it was almost dark. Lights were lit and the city center was beautiful. Our old friend fire tower and the central square of the city.