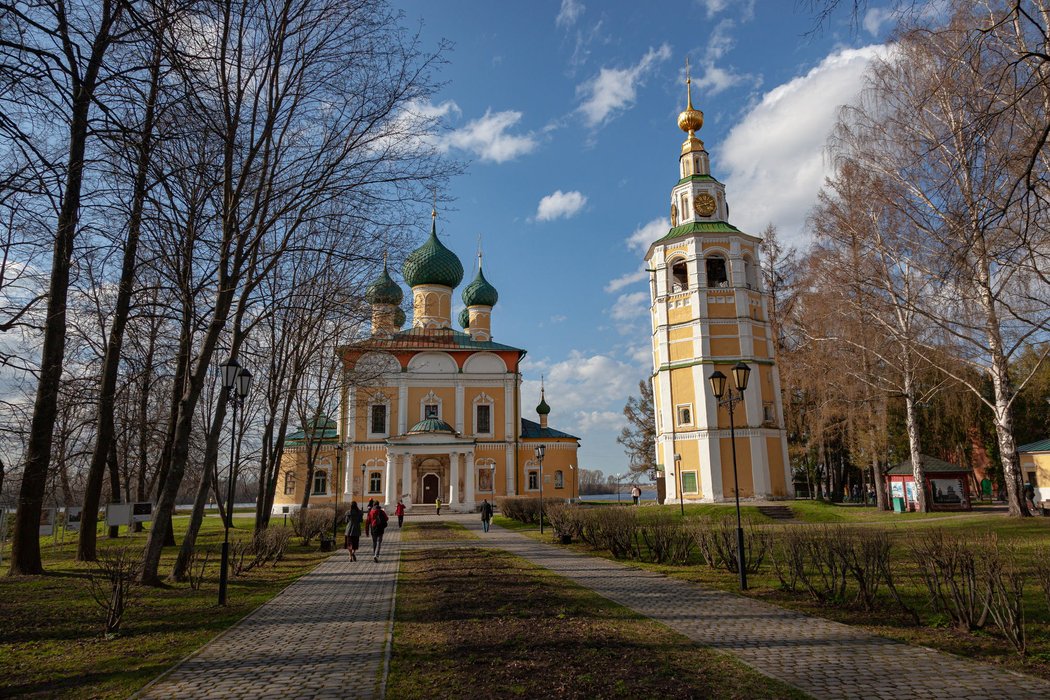 I have a client located in the town of Myshkin, Yaroslavl Region. The town of Myshkin is a very strange place. They want to make this small town a center of tourism. The name Myshkin corresponds to the Russian word meaning that this is a city of mice.
I don't know why this city was named that way, but definitely not because of the mice. The fact is that these places were owned by the princes of Myshkins. It was from their surname that the name of the city went.
But it's not that. It turned out that I will have to go to this city in the near future to make a menu for a restaurant located there. This future trip reminded me that I had been to those places quite recently. Another very famous Russian city is located literally 50 kilometers from Myshkin. This city is called Uglich.
Uglich is known for the fact that the heir to the Russian Tsar Dimitri died in this city by a strange death. This tragic death caused a great resonance in society, and despite the fact that Boris Godunov received most of the benefits from this death, it was not possible to accuse him of this crime, even if the trial was entrusted to his implacable opponent, Prince Shuisky.
The events in Uglich were reflected in the future throughout Russian history. Since there was no mass media in those days, very often situations arose in which impostors took the main role. So it was with Tsarevich Dmitry.
One of the fugitive monks, Grigory Otrebiev, identified himself as the surviving and surviving Russian Tsar Dmitry. Under his flags, the Polish intervention and unrest in Russia began.
By the way, in the Kostroma region, not far from the city of Bui, there is a small monastery in which this very Grishka the impostor was tonsured as a monk.
He became a monk in order to hide from reprisals against the princely house of the Romanovs. He was literate and smart, so he was looking for opportunities to survive and make a career.
All this led him first to Ukraine and then to Poland. From there, the movement of Polish troops to Russia began.
This small fact from the history of Russia came to my mind because of our recent trip to Uglich. The last time before that I was in Uglich in 2015, i.e. 6 years have passed.
Over these six years, a lot has changed in Uglich. The city was tidied up and cleaned up. The facades of the houses were tidied up and the streets were made more attractive. Uglich is ready to receive guests and tourists. Good restaurants and cafes have appeared.
Even the embankment was brought into a decent look.
We came to Uglich just for a walk and look at this old city. The place where Tsarevich Dmitry was stabbed is known. It is next to the red brick boyar chambers. This is the territory of the old Uglich Kremlin.
While I was walking along these paths inside the former fortress walls, I saw a man in a boyar robe and a hat with a staff in his hand walking along one of the paths. I started taking pictures of him. He noticed this and we talked with him. I love such meetings and conversations.
You always learn something new and interesting. So this time I met a kindred spirit. This man worked at the Uglich Museum and today conducted an interactive program for a group of schoolchildren. He, like me, is very passionate about photography and we vividly discussed the news of photographic equipment.
Nice conversation and now we have already said goodbye, like best friends.
Today, thinking about a trip to Myshkin, I think that it might be worth visiting Uglich again. Wander the small streets of this small town on the Volga and admire its sights and temples.
---