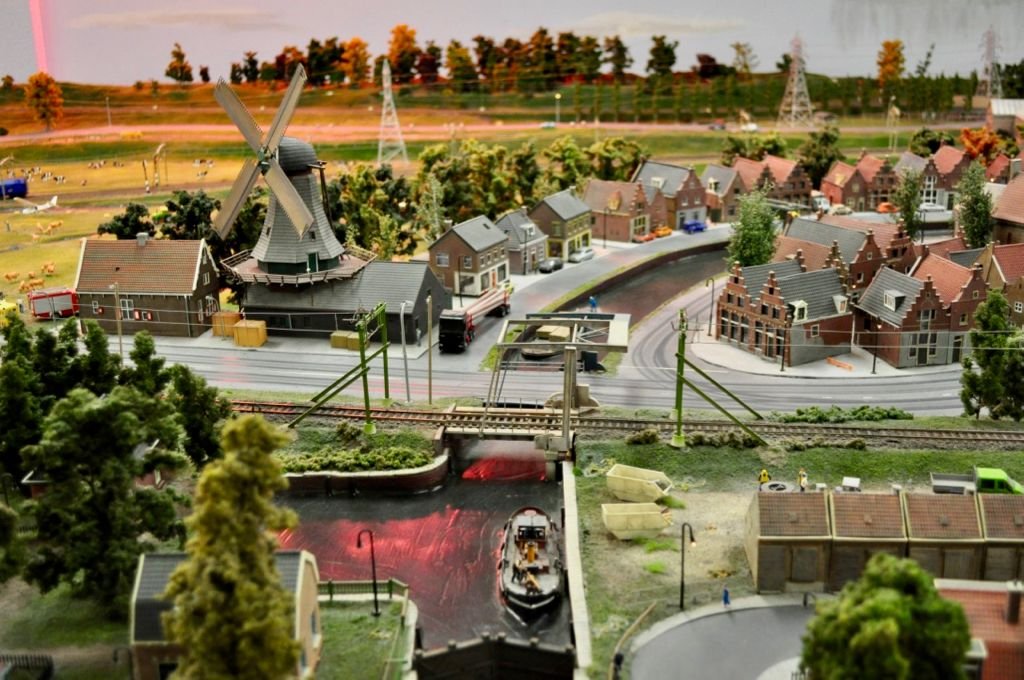 So much to see!
Today I visited Miniworld Rotterdam - a miniature replica Dutch country side and the city of Rotterdam. They have 27.000 miniature people - about as tall as my thumbnail - living in their little villages, getting an ice-cream at the local snackbar, having a picknick in the park, working in the harbours, visiting the zoo, traveling to work, etc etc. There was so much to see! And it was all made with so much care and detail, I really enjoyed my visit.
Villages, windmills and life at the countryside
When you enter the main exhibition area in Miniworld Rotterdam, you first get to look at their replica of the Dutch country side. What makes the scenery in these pictures typically Dutch? I guess the style of housing, the orange rooftops, the landscaping with the canals and little bridges, and OF COURSE - the windmills.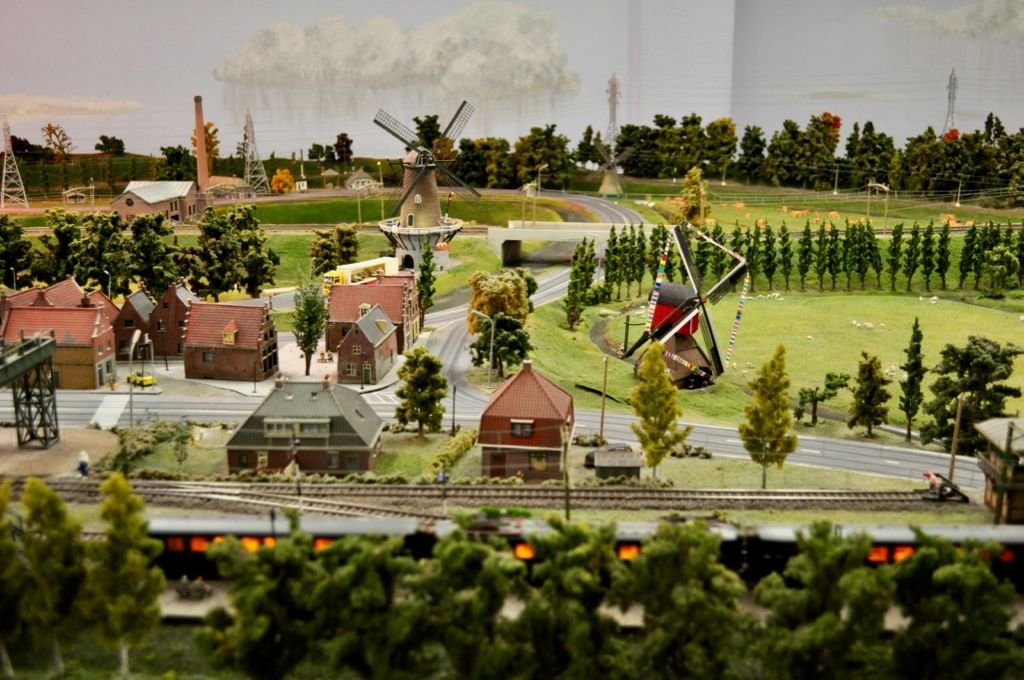 A train passing by in front. They had little trains and buses and trams drive around all over the place.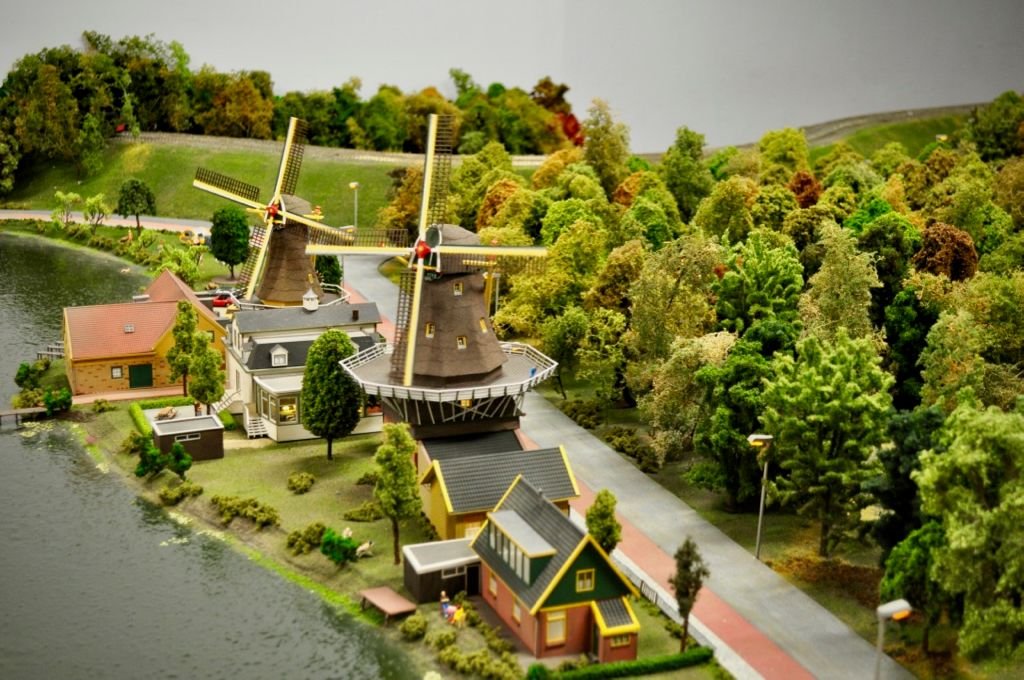 Windmills are of course a signature landmark in any Dutch country side scenery. I added this picture to the country side selection, but to be honest I think they are the two windmills sitting alongside the Kralingse Plas. So, middle of Rotterdam, actually ;).
What's new in town
What I really enjoyed about the setup was how they had so many tiny stories, tiny events happening all over the place, and how the creators had managed to capture a certain mood within those scenes. Just look at this cafetaria or snackbar below. It is just exactly the kind of place you would find when you're driving around a small Dutch town, and it is exactly the kind of place that all the neighbours would be visiting to have a drink and share some gossip when the weather is lovely. I don't know how, but I just feel they caught the essence of it. Those green fences with glass in between to keep the wind out. Those lantern posts, the umbrellas, the two little trees. It's just so cute.
Perfect miniature of a typical local fast food or cafeteria place.
Or look at this local get together, people watching these cyclists crossing the finish line. Remember that the people are maybe just as tall as my thumbnail - they are truly tiny. But they express so much emotion, there's a lot of story being told.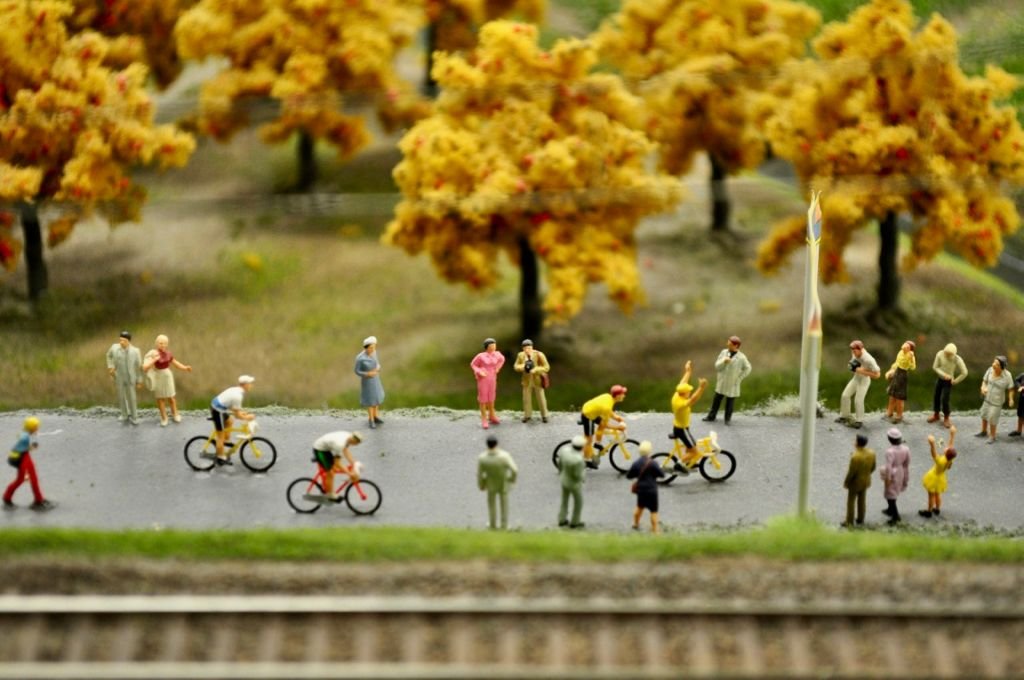 If the people are as tall as my thumbnail, just imagine how tiny those bikes are!
Intimate moments
Taking pictures was actually a great way to enjoy the place. With my camera's zoom lens, I got to see the little sceneries better. The camera captured more detail than I did while just simply looking around. Every time after zooming in and taking a picture and then looking back, I'd be surprised at the quality and detail.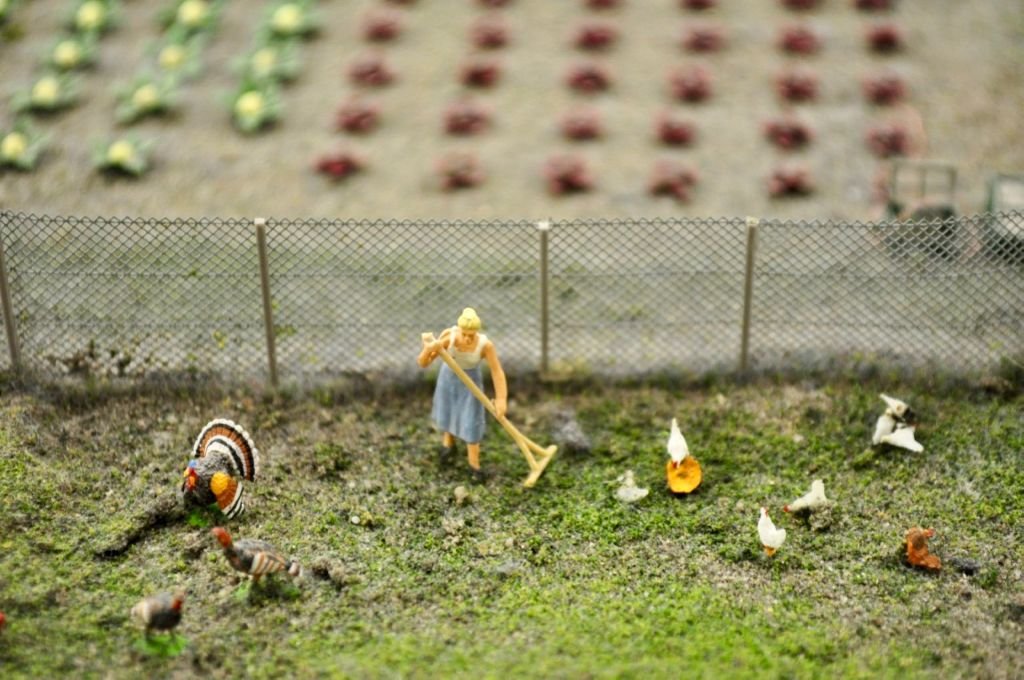 A lady working in her garden, with her chickens and turkey walking around.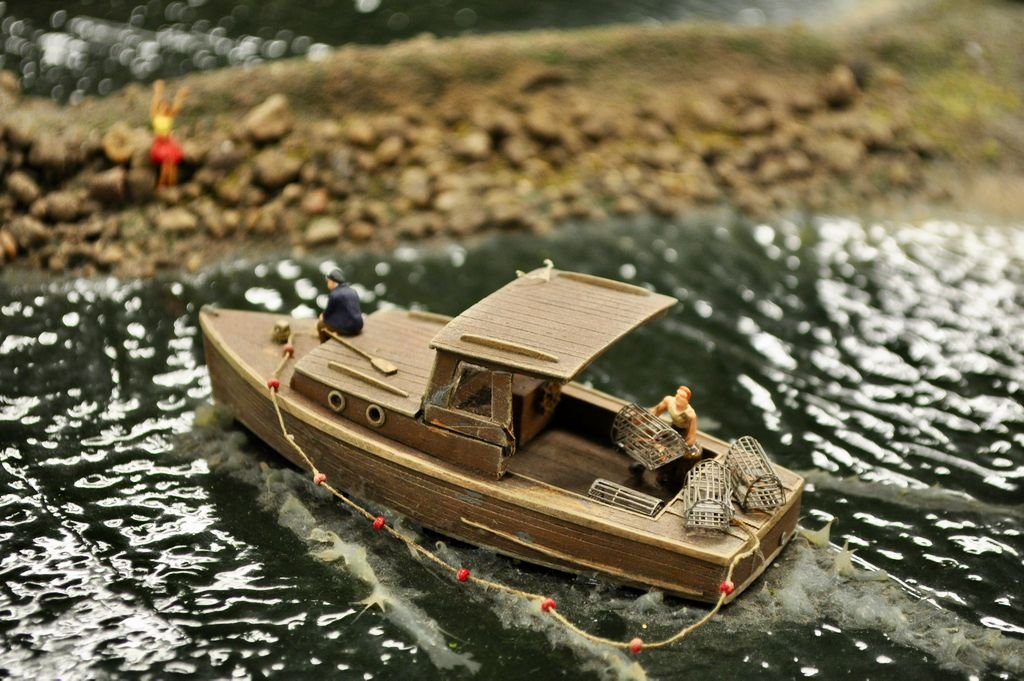 A fisherman working hard on his boat, oblivious to the girl in the back who is desperately trying to catch his attention.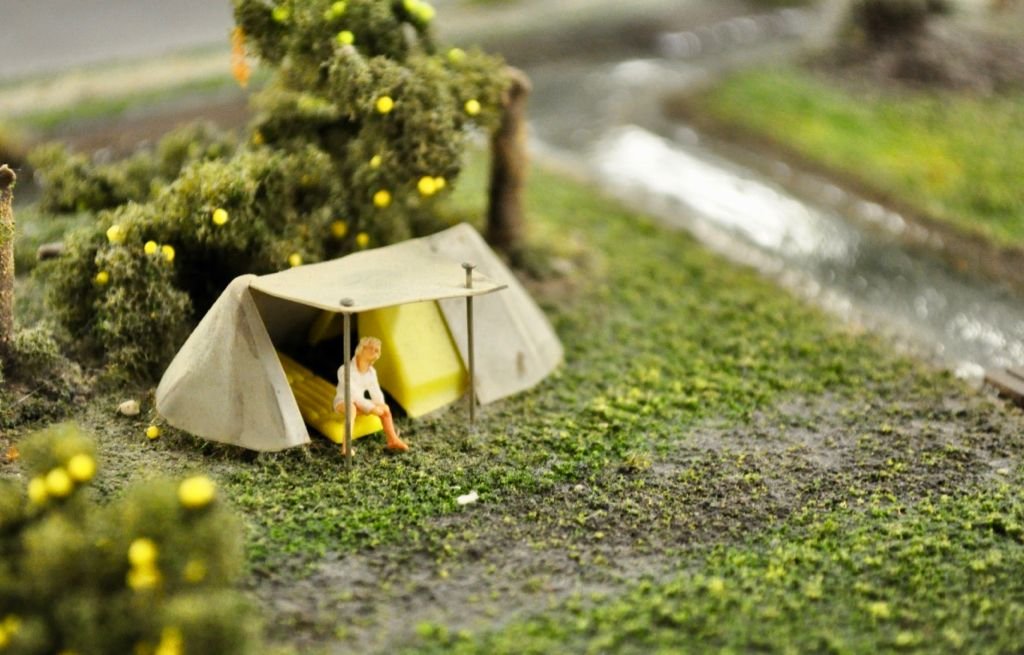 A moment of peace. Enjoying the country side sitting on a tiny air mattress, from below a tiny canvas ceiling.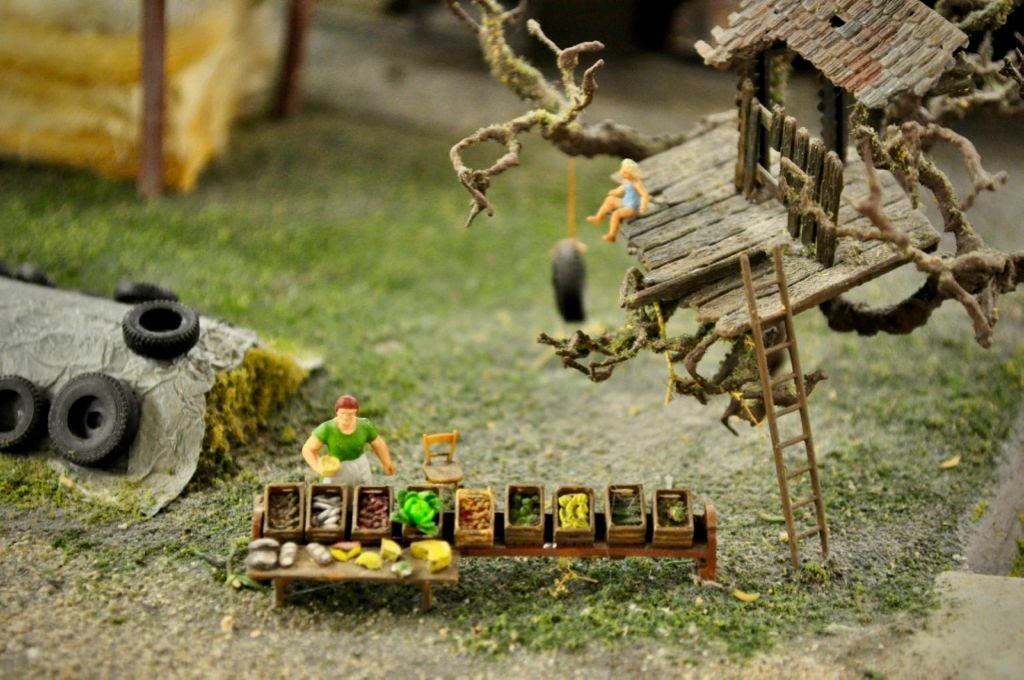 A mom selling some home grown supplies, with the kid hanging out in the tree house.
City outskirts
Then just before I got to the area where they were showing the port of Rotterdam, they had this awesome little festival terrain. Which was well placed I guess - often happening in between country side and city, in some city outskirts, and attracting people from the cities and from the country side alike.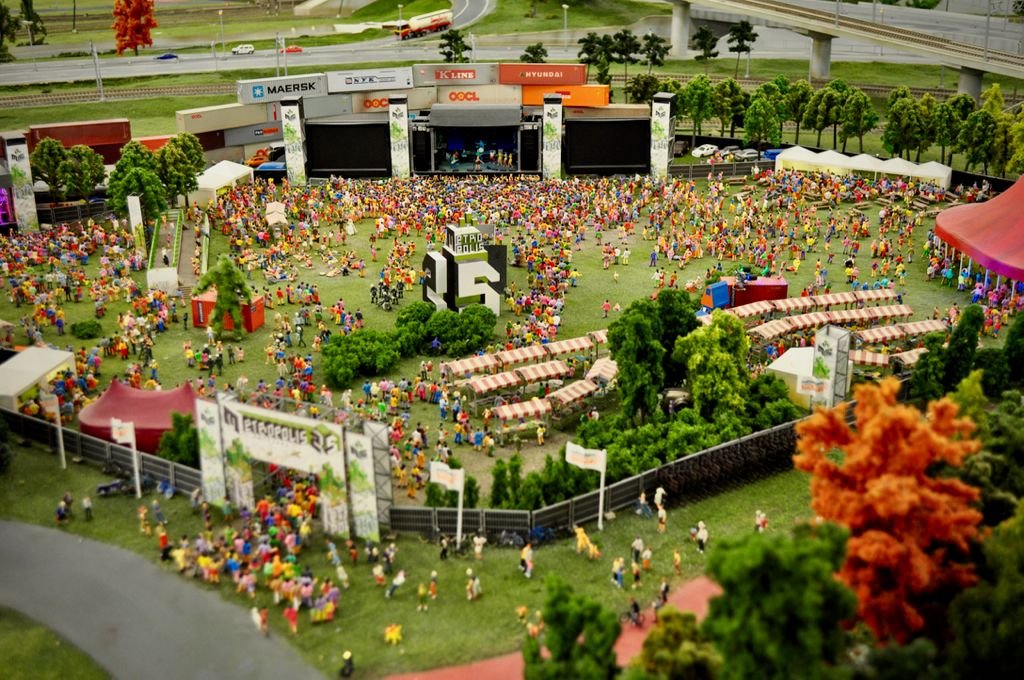 Great replica of a festival crowd.
As it slowly got dark - yes, it gets dark in miniworld - the festival lights stood out even more.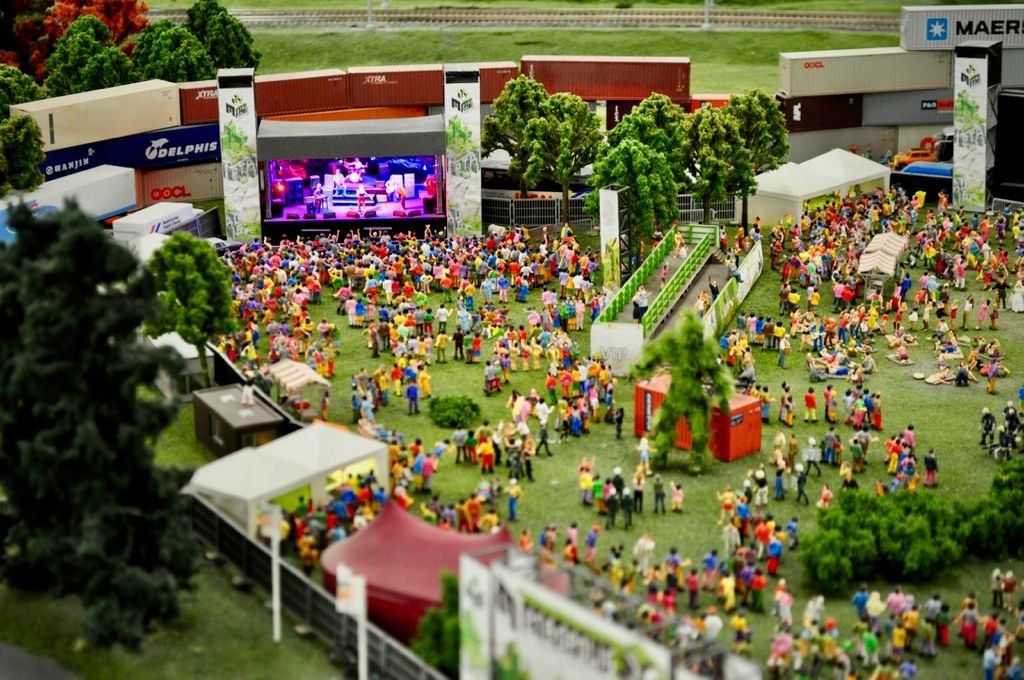 Night is setting, but the party continues.
Day 1
It took me a full day (24 minutes) to enjoy the country side of Miniworld Rotterdam. Then it got dark for a few minutes, and I had to wait before I could take pictures again. The way it happens is that from one end of the exhibition hall to the other, they slowly change the colours of the light. It really gives a bit of an impression of dusk and dawn. You might have noticed that in the very top picture, the lighting is pinkish? Well, that's when the 'day' started and I was able to take my first shots at Miniworld.
To do justice to all there is to see at Miniworld, I'll save my pictures of the Rotterdam harbour and the city's icons for another post. Hope you enjoyed these cute little sceneries as much as I did!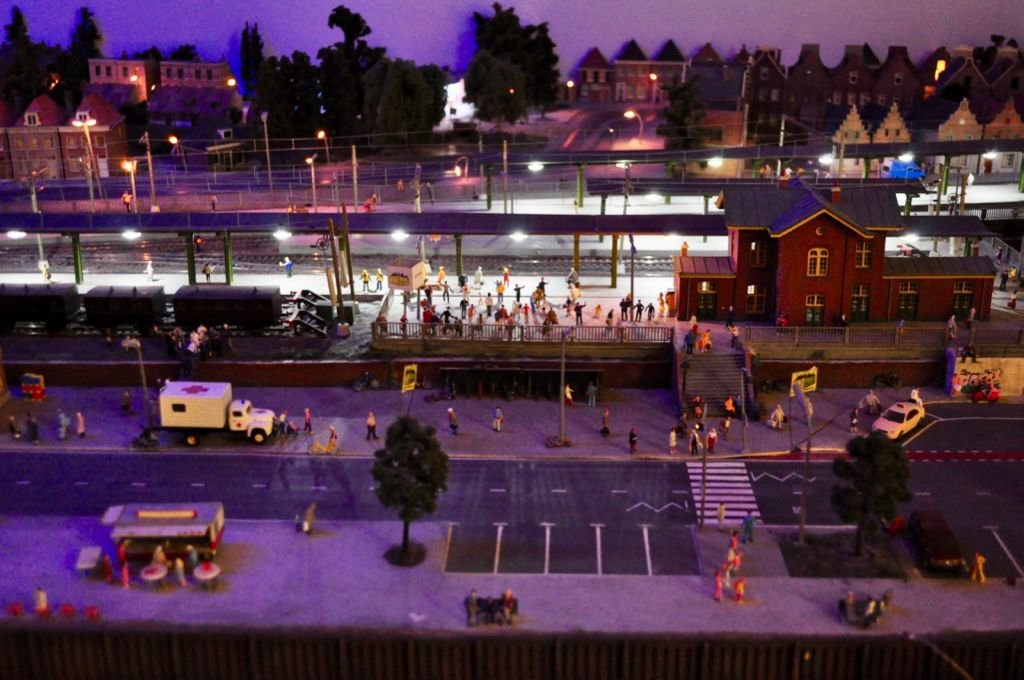 Nighttime at Miniworld.
---
Magical World Series
This is post #13 in the Magical World Series. With these posts, I hope to add a little happiness and light-heartedness to your day. There is magic in every little corner of the world. And if we share it with each other, it does really brighten up the place!
Earlier posts in this series:
All content is created by me, and Steemit original.
Camera used: Nikon D90