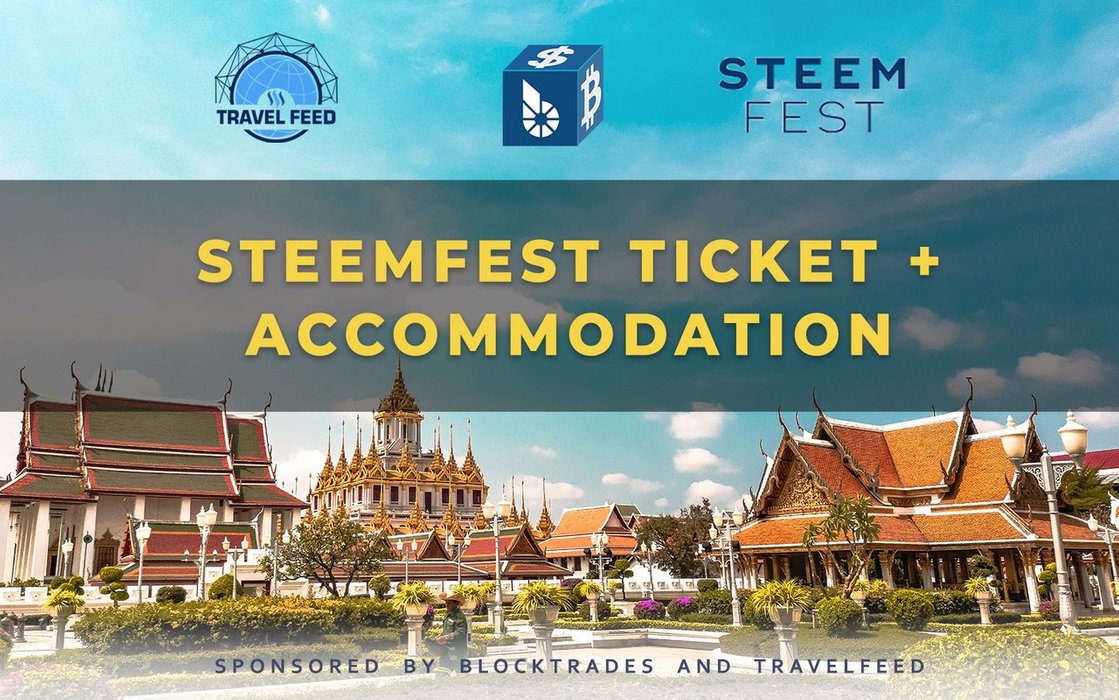 Hey Travelers, nomads, explorers and posh tourists! This contest is for you!
The
@travelfeed
community launched it's Dapp a few weeks ago and it's amazing, I can't believe how far they've come since they began operations last year and it's exactly that why
@blocktrades
decided to partner with them and sponsor a Steem Fest Ticket and accommodation for a lucky Travel Feed App user!
This contest is open to both existing members of the Steem Travel Community, as well as to travel bloggers and content creators currently outside of the Steem blockchain. This is the perfect oppportunity to onboard more people to Steem through the Travelfeed platform/community.
How can you join the contest?
You have to earn raffle tickets. A lot of raffle tickets because on October 18th we'll draw the winner! You can earn tickets until October 17th.
How do you earn tickets you ask?
Step 1: Log in to Travelfeed.io and on the left side at the bottom you will find a Steemfest button. Click on it and then OPT IN.
Step 2: Start using Travel Feed to post your adventure, traveling, nomadic, touristic or exploration posts!
Only two steps away from getting tickets to win the Steem Fest ticket!
The distribution of the tickets is as follows:
10 entries for posting an article chosen by our curation team to be featured on the front page of TravelFeed.io*
3 entries for each article highlighted as an honorable mention by our curation team*
50/40/30 entries for the 1st/2nd/3rd weekly winner, chosen by our curation team and announced every Friday*
1 entry for sharing a TravelFeed post on social media using the new share buttons found at the bottom of every post (limited to 3 entries per day)
Referral program: 20 entries for each new user (non-Steemian signed up through EasySignUp) or 2 entries for each new Steemian signed up via your referral link. On top of that, you earn 10% of the entries earned for posting by users referred by you.
20 entries for excellent posts which promote TravelFeed and/or this contest, either on or off Steem. Send us the link on our Discord to claim your entries!
Only posts posted through TravelFeed.io are eligible, not posts using just the tag.
Users blacklisted from TravelFeed before or during the contest will not be able to participate in the final draw. Entries and tickets are non-transferable. Remember to opt-in to start earning entries!
Good luck to everyone! We're looking forward to meeting you at SteemFest!
---
---
This is a @blocktrades sponsored contest, if you like what they are doing, vote for them as witness!
@anomadsoul is part of the @ocd-witness, if you like what I'm doing, vote for @ocd-witness as witness!