Well it was my first time going on a cruise so I think it was alright. Good thing Super Star Virgo (SSV) decided to port in Manila because finally I experienced going on a cruise! I didn't really know what to expect so everything is bright and shiny for me. Haha.
I did read some of the reviews on a cruise review website. The negative reviews kind of prepared me on what to expect but hey I still enjoyed my time on SSV. There wasn't much to hate about it at all. Even with my despicable smartphone and the corrupted micro SD card, I still had a good time during the whole cruise experience.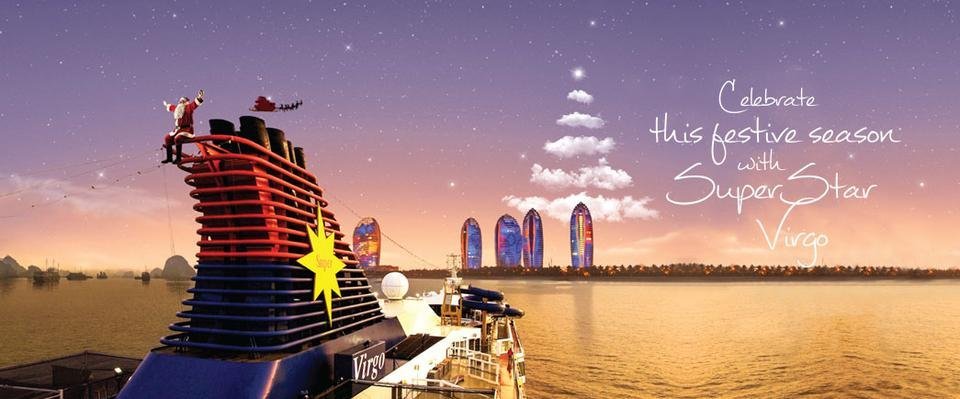 Source
The theme of the trip was Spiderman inspired. Spider-Man: Into the Spider-Verse stickers and posters were all over the ship. Even Spiderman cosplayers were onboard with us. They had Spiderman themed games for kids to enjoy and for adults to do photo ops with the cosplayers. Too bad I didn't meet my college batchmate while she was working. Haha. Good for her and her fellow cosplayers though. Work cruise ftw.
Anyway going back to my review, during embarkation there weren't many people around the port so it was fine. I had thought it would be full of people like in airports but no, it was alright. Not too much lines at all. Imagine my first trip abroad was on a cruise trip. Haha.
As for the staff or the cabin crew, they were all nice and spoke good English. There are many fellow Filipino crew staff too so we could also speak in Filipino when they were around.
---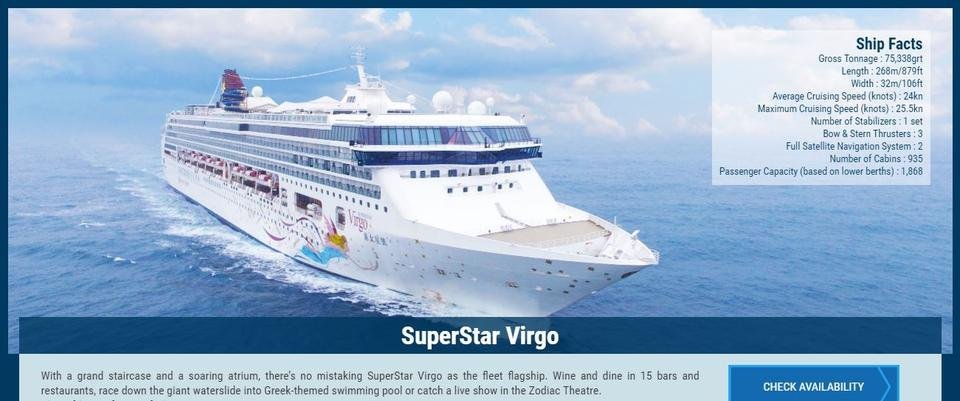 Screencapped from source
♦ Ship:
My first impression was of course just being amazed at being on a cruise ship. I didn't realize it was as big as it was. Inside, the information lobby or the currency exchange area looks amazing. I forgot what it's called but it's the best looking place in the entire ship.
SSV is big but we had fun going around and checking out the nooks and crannies we could. We were almost able to tour the "entirety" of it in one day. Of course only the ones open to the public but not everything in one day. We weren't able to join the initial ship tour though, not sure if it was "free". Subsequent ship tours had fees so meh.
The pool is 7 ft deep so for those who can't swim well, you can enjoy the jacuzzis and the giant slide.
---
♦ Dining & Service:
I love the food. Don't worry about what other negative reviewers say. If you aren't a picky eater and not rich at all, you will enjoy the food. The best is the buffet in The Lido. Mmmhmmm. I love having breakfast at The Lido. Bacon is crispy. There's milk and fruits and veggies and bread and oh it's just heaven for me. Lunch is good too but I wasn't able to try the dinner buffet since we ate at the other restaurants.
In Star Dining we had a bit of an issue the first time we ate there. It took more than an hour for them to inform us they lost our order slip for the main course. Wow. But they were able to resolve it immediately upon us walking out because the Pinay staff outside overheard us talking about the bad experience we had. Good job in "catching" us! Lol.
As for Pavilion, the food was good too.
Overall, I was always full everytime I ate any meal, except for two incidents. Thank you Lord!
---
♦ Entertainment and Activities:
The shows are not so entertaining for me. It was enjoyable for my eyes but if you like a good storytelling like in awesome movies, don't expect much. The best show was the magic show. The rest are just a feast for the eyes. No we did not go to the adult show. We preferred the shore excursions. Lol.
I did enjoy the Basic Chinese lesson. No reading or writing, just basic conversational Mandarin written in alphabet and translated to English like "Ni hao ma," etc. There's also the morning stretch in the gym. I joined once before I went to the shore excursion. Hehe. I thought going up the mountain/cave in Vietnam would be difficult. :P
---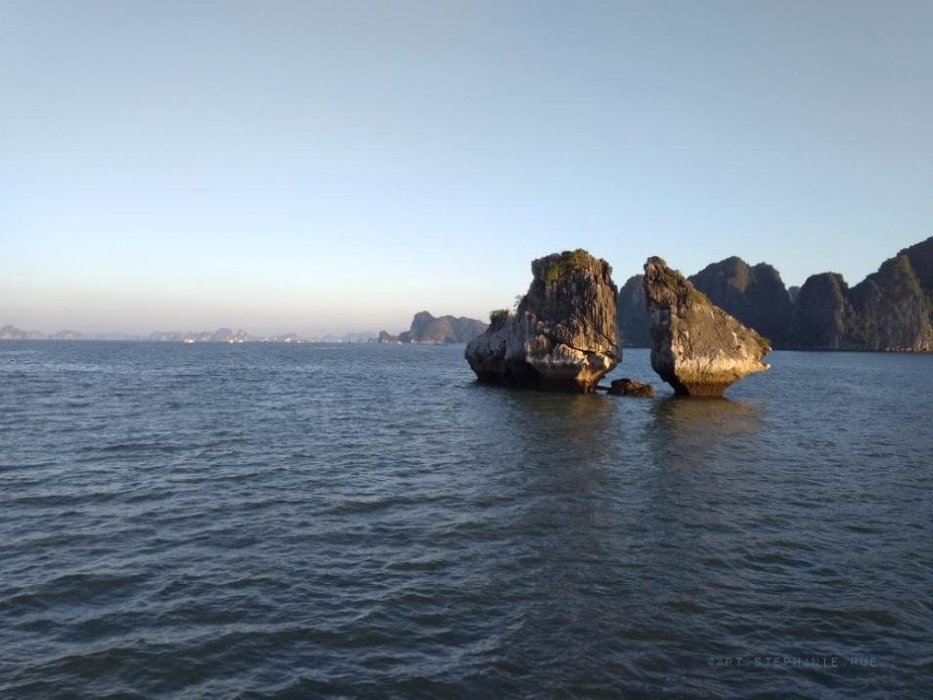 ♦ Ports & Shore excursions:
Cruising into Ha Long Bay port was of course something to remember. There was plenty of time to take pictures before we even got to the port. It was my first time outside the country so seeing the mountains jutting out of the sea was awesome for me. Also the excursion was pleasant and nice. The climb up the steps to the limestone cave was not too difficult at all. Good thing I had my morning stretch that day. The tour guide was nice and thoughtful too. The people speak very little English but are nice and pleasant.
In the Sanya, China trip our Chinese tour guide was always in a hurry and didn't care much about us so we did not enjoy much of it. Disembarking took a long time too as we had to go through the arrival port I think? How else were we gonna get into China? Lol. It took longer than we expected. (And they do not allow you to take videos in there.) Perhaps this was why the tour guide was in such a hurry all the time. And yes we already sent our excursion feedback while we were on the ship.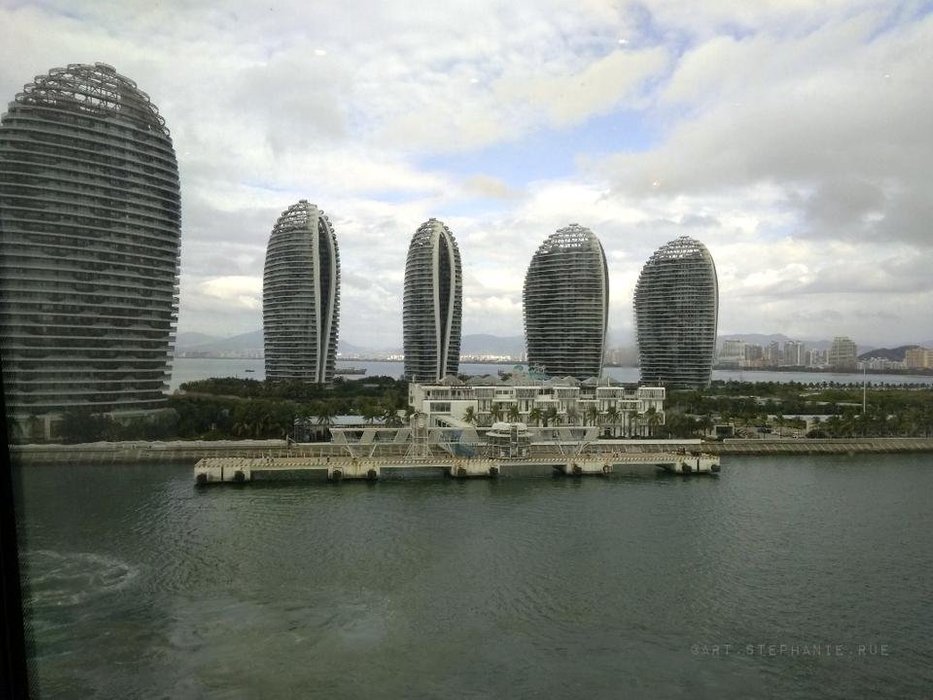 For some reason the people in Sanya, China didn't seem very nice at all. Or maybe Chinese people are normally rude? Anyway, I did not think of using any mobile app to speak to anyone. I'm old school that way. Haha. The places we went to were okay, we were able to take enough pictures. All I can say is it was a stressful shore excursion so keep that in mind when going to China.
---
♦ Recommendations:
Overall I think it's best for seniors and kids or adults looking for a pleasant and nice vacation. It definitely does not have much of a night life. Yes they have ladies nights and such but I heard some parts of it but nah. It's best for families too maybe. My impression of everything on the ship was like being with seniors in their retirement activities. I wasn't bored at all thanks to the shore excursions but for me it may get boring without the WiFi and the food or the pool/jacuzzi.

There are more things to enjoy so just explore the ship and always check the itinerary. There are restaurants you can choose to dine in aside from the three abovementioned which are included in what you pay for.

Before you go to the shore excursions, make sure to exchange your peso or HKD etc., to the local currency. The ship has a currency exchange so this shouldn't be a problem.

Also, if you're not an active person, better take advantage of the morning stretch activity before going to any shore excursion.
Remember to use a mobile app to translate or communicate with people in China. I forgot to and never thought of it so I got stressed and frustrated. It's easier if you have a companion who speaks Chinese too. But even then I still got frustrated because I wasn't with them all the time especially it's not anyone's job to be your personal translator too. The tour guide was not always around at all. (If they are naturally rude and uncaring then it is no wonder China is a bully to neighboring countries. It seems normal for them.)

If you get sea sick easily, ask for Bonamine from the information area or the housekeeping. If the waves get strong like it did when we were cruising back to Manila you will need it. A lot of us were getting sea sick because of the weather and the strong waves.

Oh and open your TV because you will see the ship cruise channel where a live video of the front of the ship can be seen. Plus it shows a map of the ship location too! Cool huh. It would be much cooler if there was infrared or night vision video version at night, maybe so we could see what's out there in the dark? Lol.
---
And that's it for my review. I definitely would go back if I could. Moolah come to mamah! hahaha.
XOXO,
@artgirl
Disclaimer: I have no personal or business affiliation with any establishment and have not been offered any compensation from them to write this review.
---


Last two pictures are mine.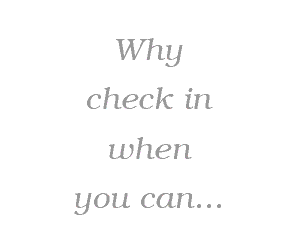 Written by @artgirl for Steemit.
© Art x Stephanie Rue
@artgirl is a freelance artist, writer and an online seller. For property inquiries, art and writing commissions, feel free to contact me.
For business inquiries, you can chat me up on Steem.chat, Telegram or send me a Facebook message. Link in my bio.

---
Click banners below to join

---
Like it?
Upvote, Follow and Resteem for appreciation.
♥ Thanks! ♥