To jest mój pierwszy post na travelfeed.io napisany za pośrednictwem aplikacji mobilnej TravelFeed. Testujemy! Tak się złożyło, że jestem chwilowo pozbawiona dostępu do komputera. Jak dobrze, że są smartfony :) W każdym razie za niedociągnięcia językowe bądź stylistyczne przepraszam - bez komputera jednak jest trochę trudniej.
This is my first post on travelfeed.io written via the TravelFeed mobile app. Let's test this! I am temporarily deprived of access to a computer, it's good that there are smartphones :) Anyway, I apologize for linguistic or stylistic shortcomings - without a computer, the writing is a bit more difficult.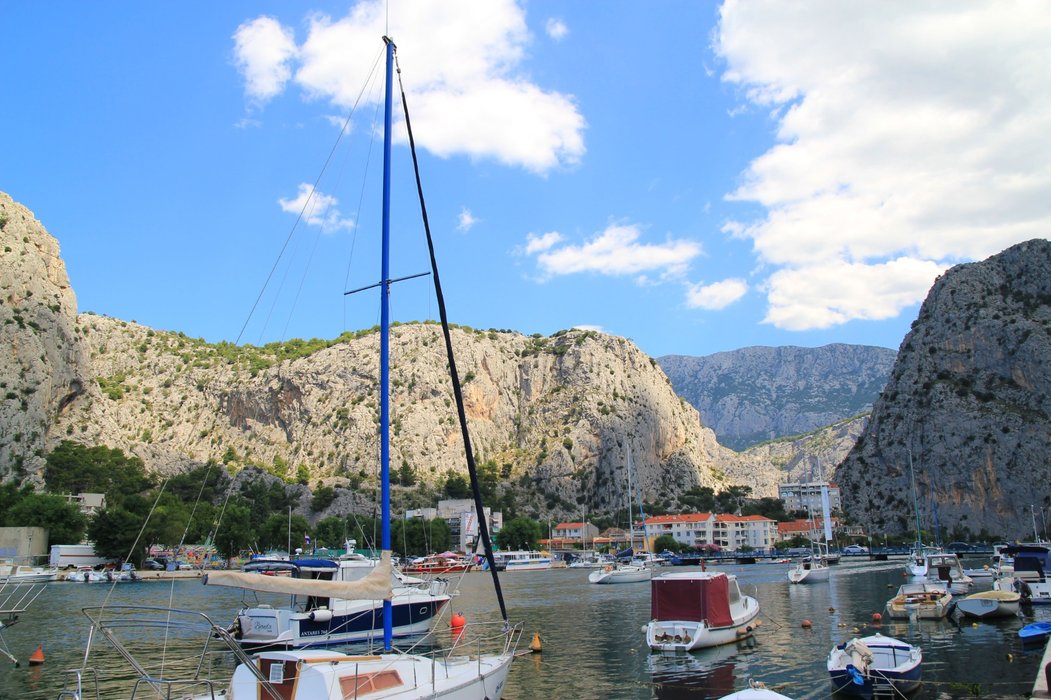 A miejscem, które chciałabym dziś przedstawić, jest urokliwe miasteczko Omiš, położone w środkowej Dalmacji. Co ciekawe, kiedy tam jechaliśmy, znajomi odradzali (że niby beton i ładniejsze są inne okolice). Doprawdy? Inaczej to wspominam i zdjęcia też chyba czegoś innego dowodzą :)
The place I would like to present today is the charming town of Omiš, located in central Dalmatia. Interestingly, when we were going there, my friends advised against it (that it is like a concrete only and other areas are prettier). Really? I remember it differently and the photos probably prove something else :)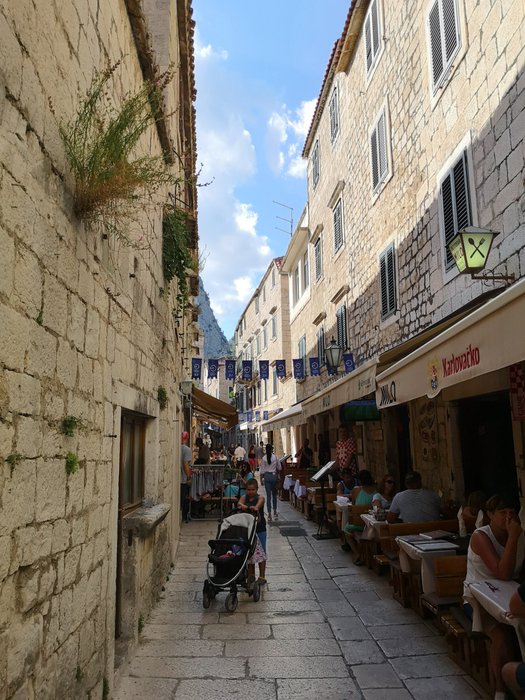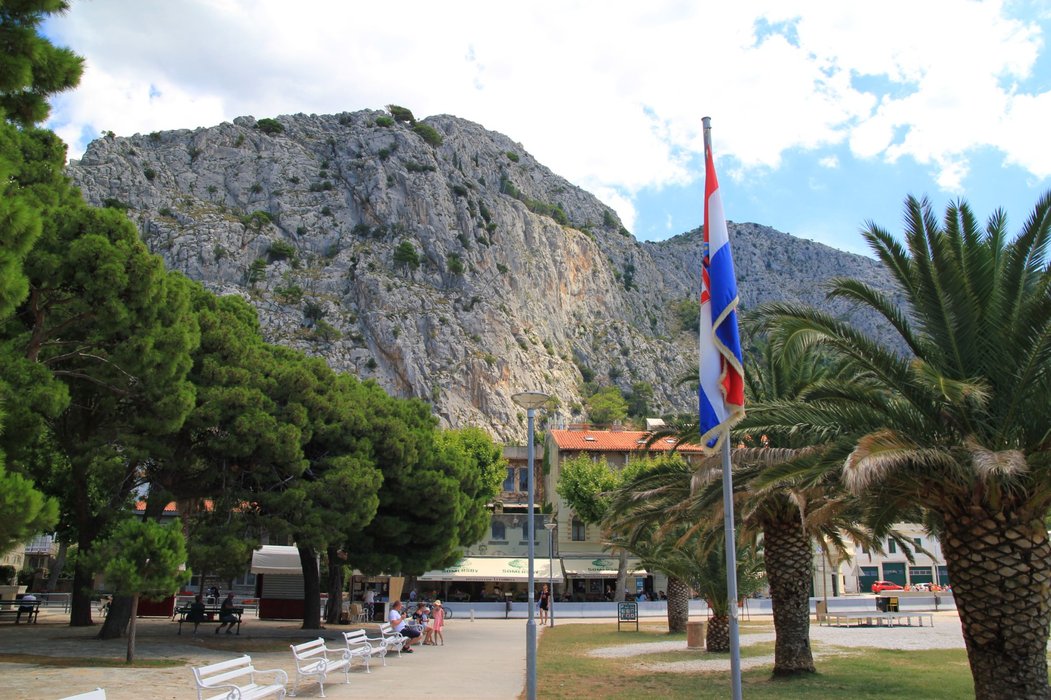 Chorwacja jest bardzo popularnym celem turystycznym Polaków, ale ja byłam tam pierwszy raz w życiu dopiero w 2018 roku, właśnie podczas krótkich wakacji w Omišu. I o ile sama Chorwacja z różnych względów nie jest moją ulubioną destynacją, tak muszę przyznać, że sam Omiš i okolice (Split, Trogir) owszem zrobiły fajne wrażenie. 
Croatia is a very popular tourist destination for Poles, but I was there for the first time in my life in 2018, during a short vacation in Omiš. And while Croatia itself is not my favorite destination for various reasons, I must admit that Omiš itself and its surroundings (Split, Trogir) made a nice impression.
Omiš zamieszkuje ok. 6500 ludzi. Między XII a XIV wiekiem Omiš znany był z siedliska piratów, którzy siali postrach wśród marynarzy przez wiele lat. Krążące legendy głoszą, że to właśnie w Omišu narodziło się piractwo. Omiśkie Piraci byli jednymi z najgroźniejszych na całym Morzu Śródziemnym. Dowody na burzliwą i szczytną historię Omiśa są widoczne na każdym kroku riwiery omśkiej. Starożytne miasto Omiś, kościoły miasta Omiś i fortyfikacje, które go otaczają, są cichymi kamieniami – wspomnieniami siły i potęgi kiedyś notorycznych omiskich piratów.
Omiš is inhabited by about 6,500 people. Between the 12th and 14th centuries, Omiš was known for the habitat of pirates who sowed terror among sailors for many years. There are legends that piracy was born in Omiš. The Omiš Pirates were among the most dangerous in the entire Mediterranean Sea. Evidence of Omis' turbulent and noble history is visible at every step of the Omsk Riviera. The ancient city of Omis, the churches of the city of Omis and the fortifications surrounding it are silent stones - memories of the strength and might of the once notorious Omiš pirates.
Omiš jest atrakcyjnym celem dla miłośników aktywności sportowych, takich jak wspinaczka czy rafting. Wspinaczkę po pionowych ścianach skalnych sobie darowaliśmy, ale z raftingu (rafting po rzece Cetina) nie omieszkaliśmy skorzystać. Super przygoda, a do tego na koniec można odebrać fajne zdjęcia. 
Omiš is an attractive destination for lovers of sports activities such as climbing and rafting. We did not want to climb the vertical rock walls, but we did not fail to take advantage of the Cetina rafting. A great adventure, and at the end you can get nice photos.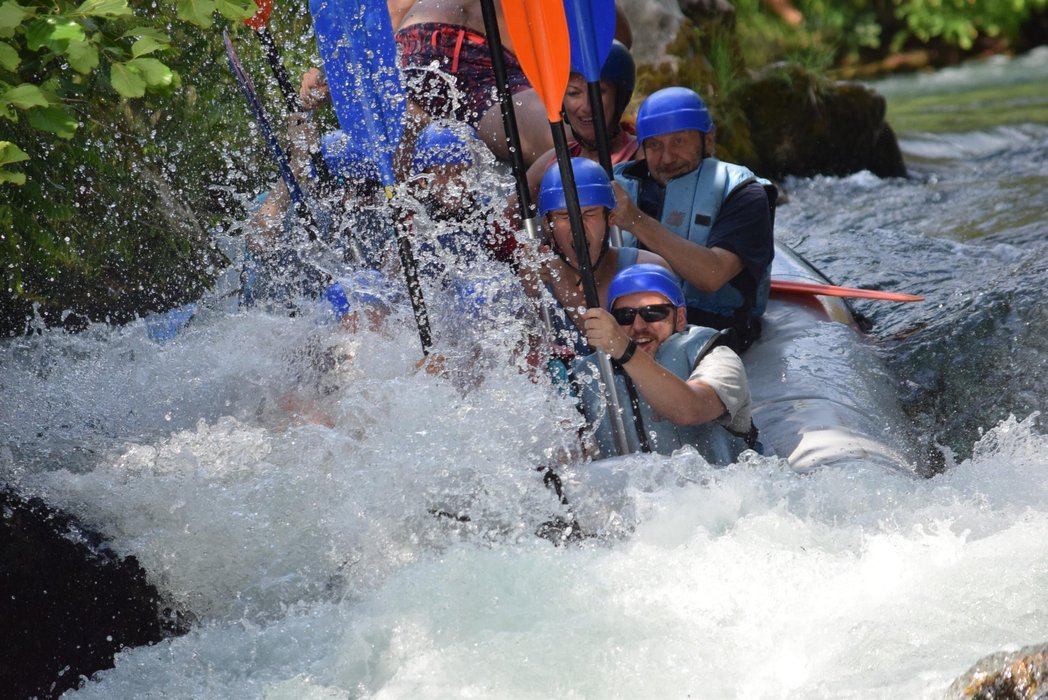 The town itself has beautiful narrow streets, small shops and pubs, but also the proximity of the sea and mountains. And to a freshly stocked fish market every day.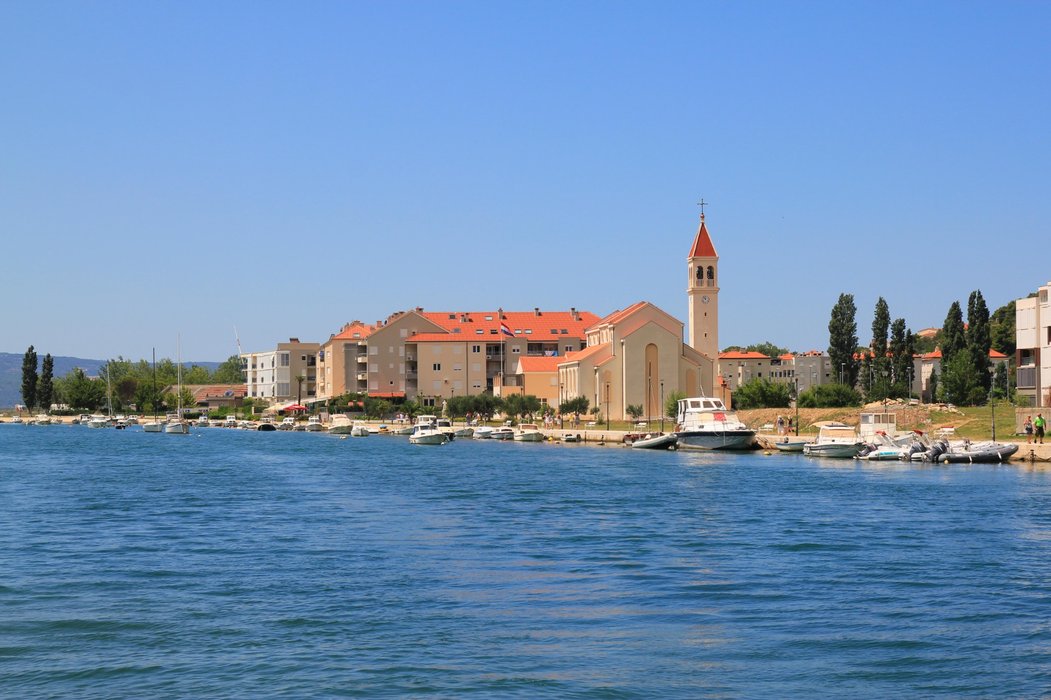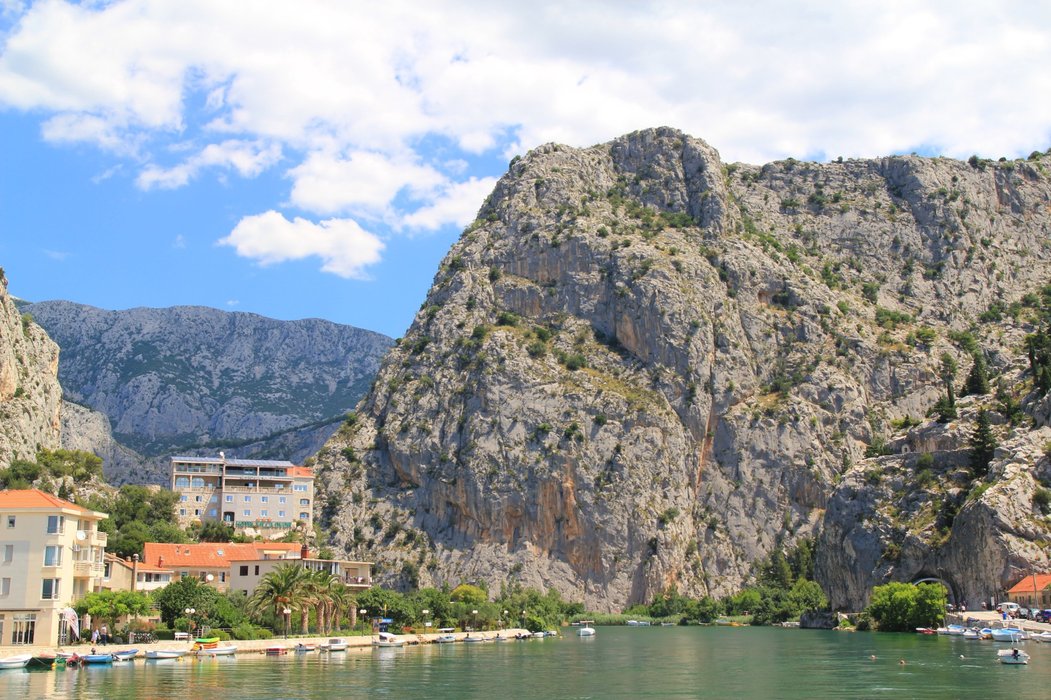 There is an old tower above the town that you can climb to take nice pictures with a view of the whole of Omiš and the bay.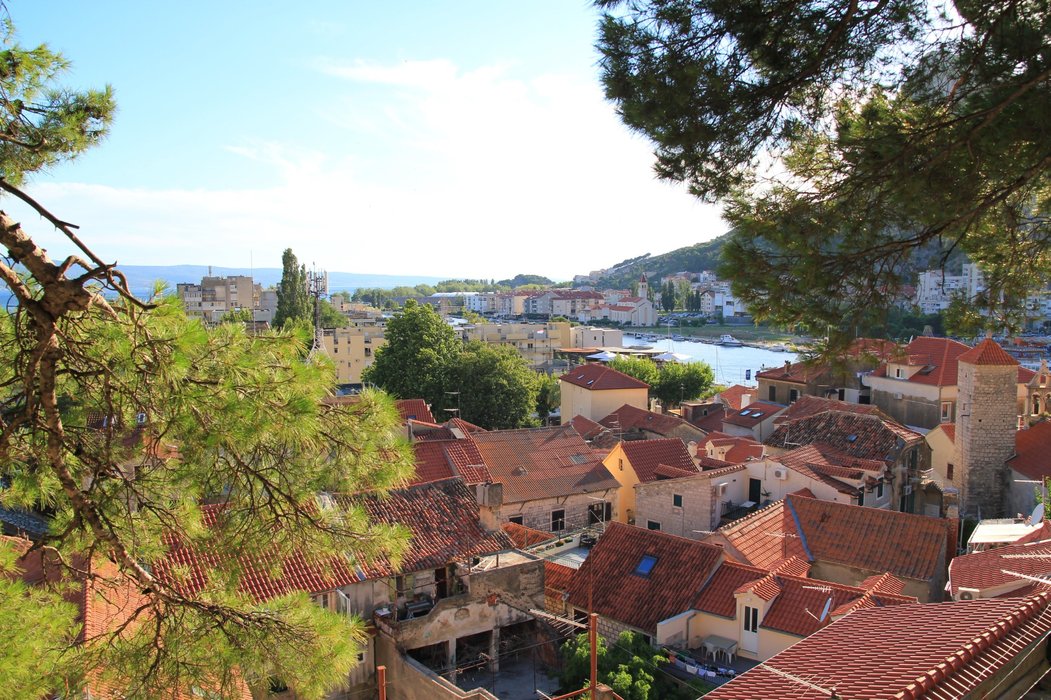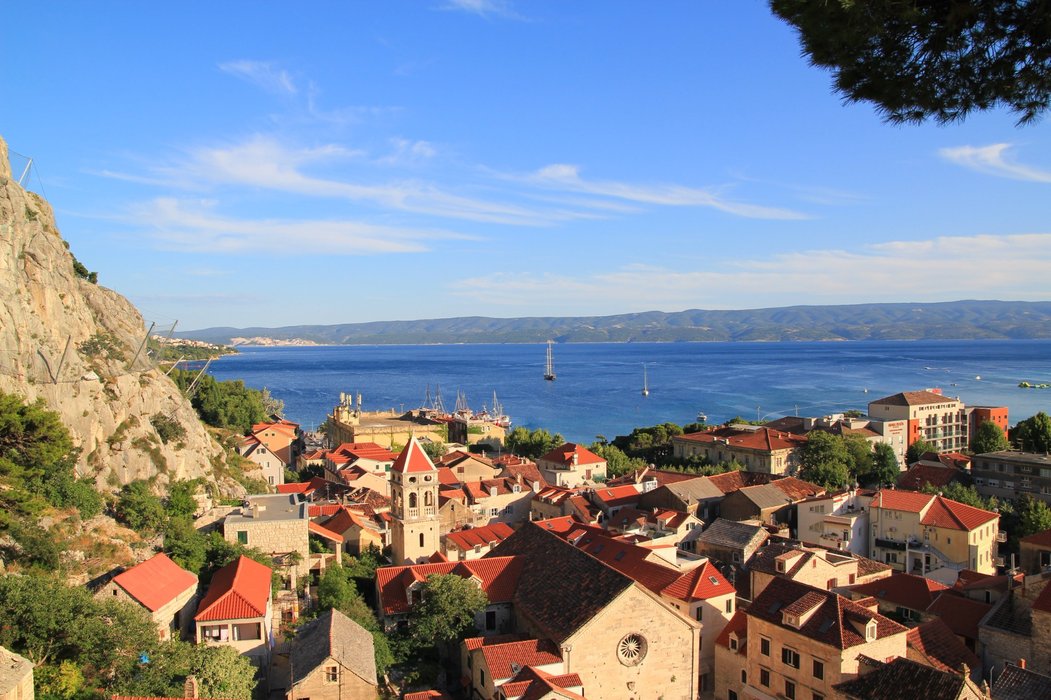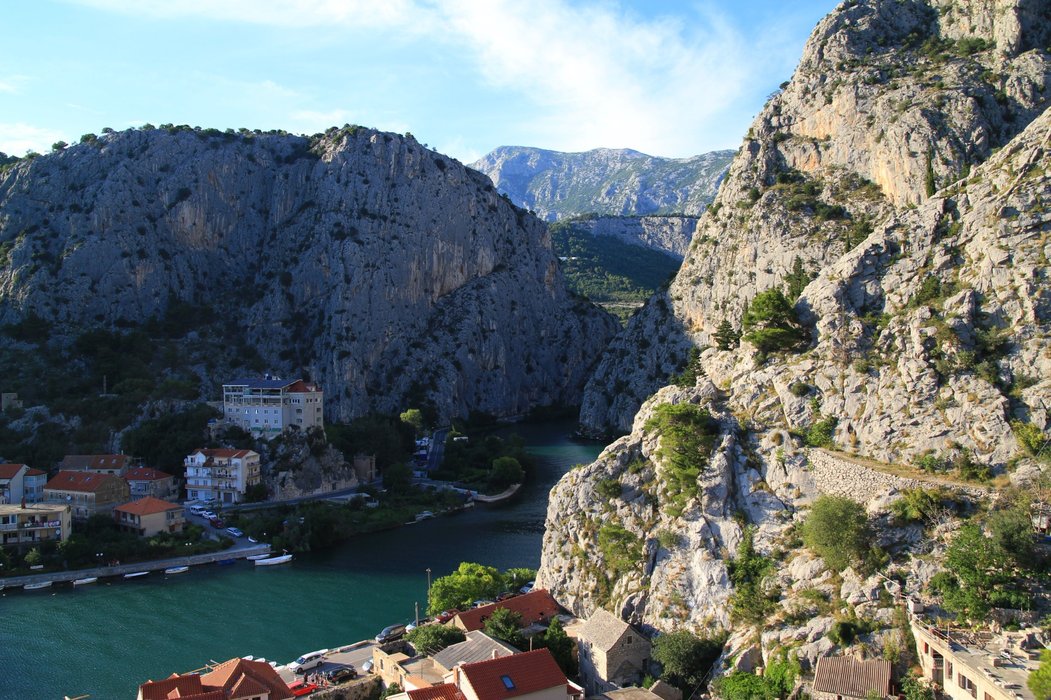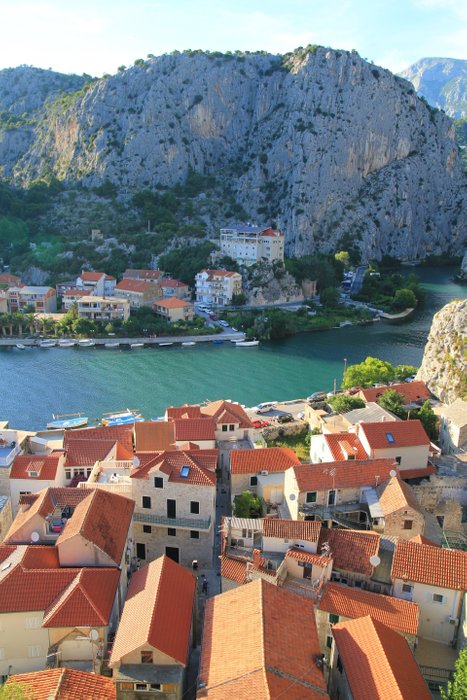 Photos from above - including a view of our family house, rented for the duration of the stay :)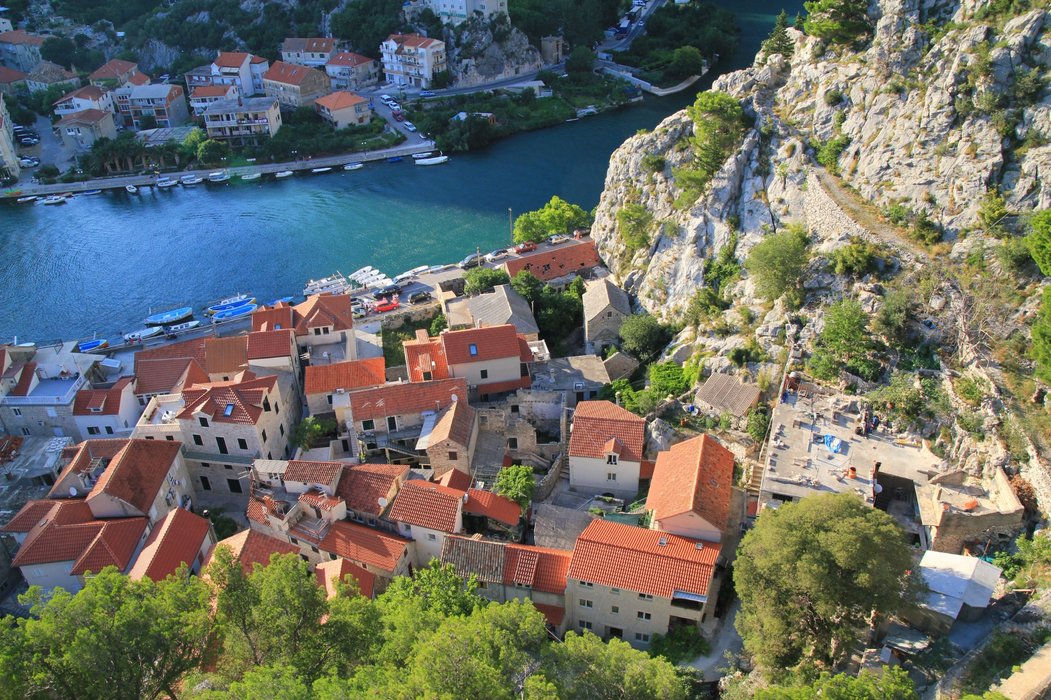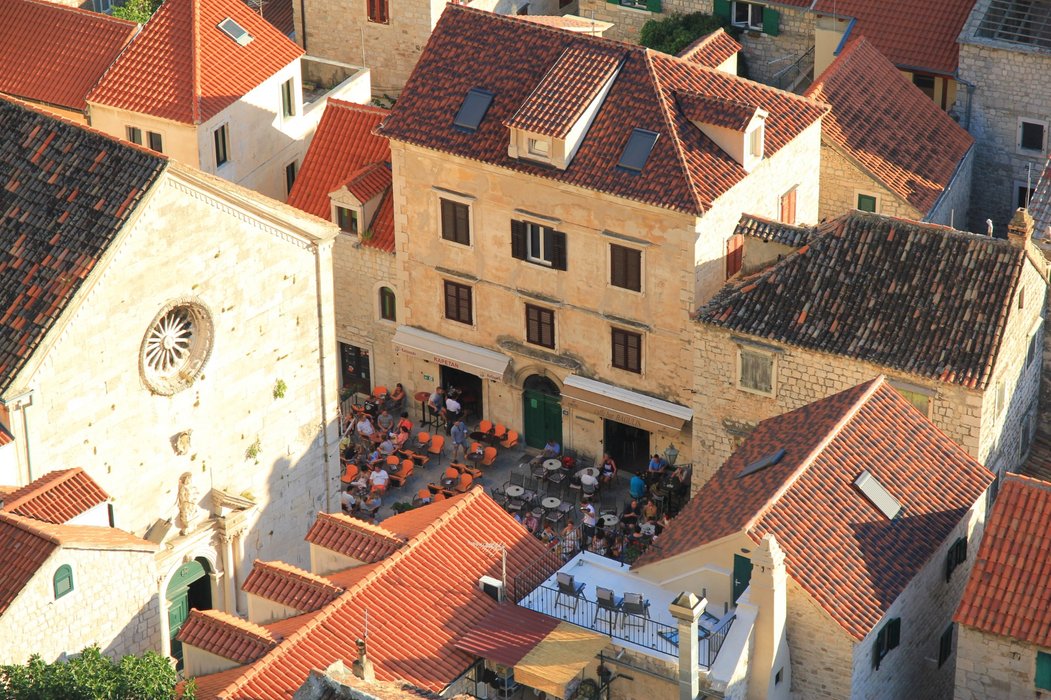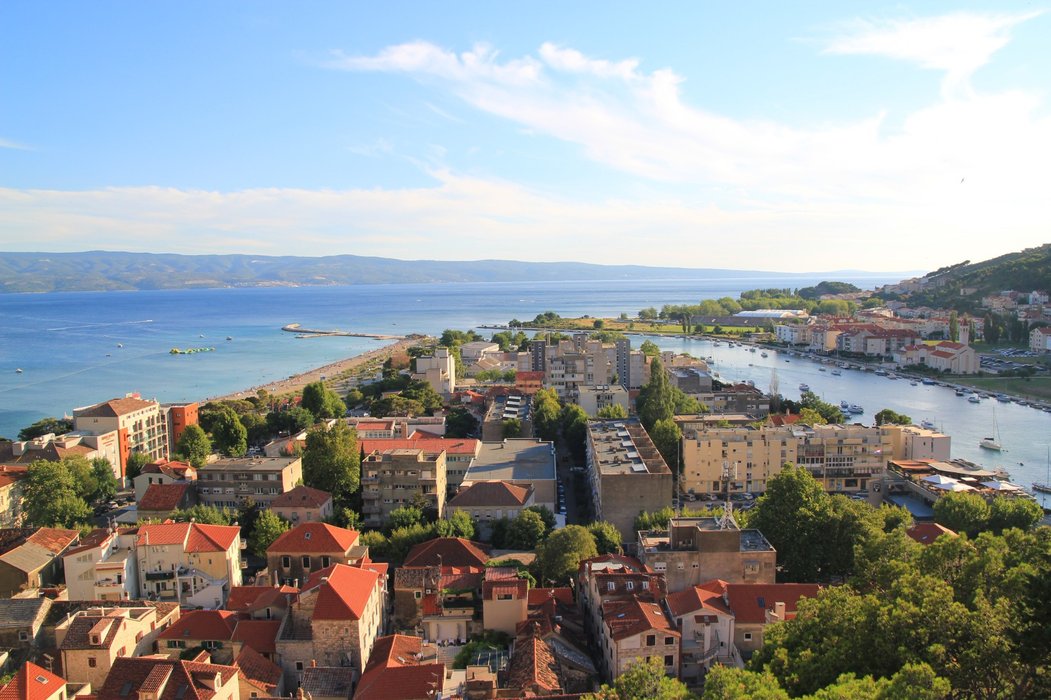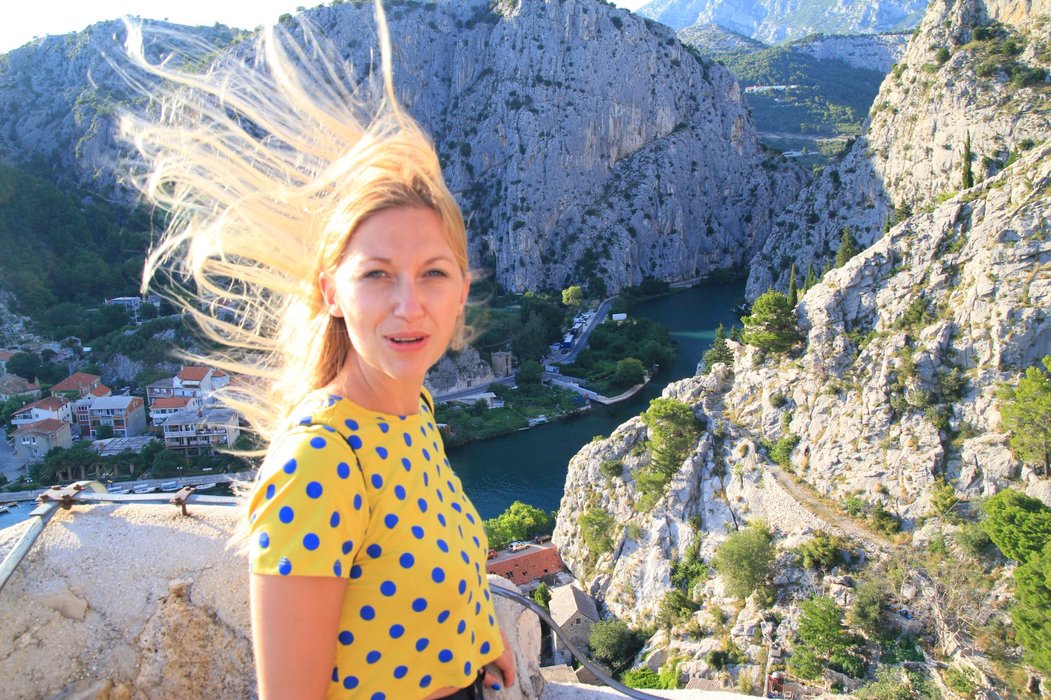 It's a bit windy at the top, so be careful when you go, especially when with a hat, because we had to run to get grandfather's hat back ;)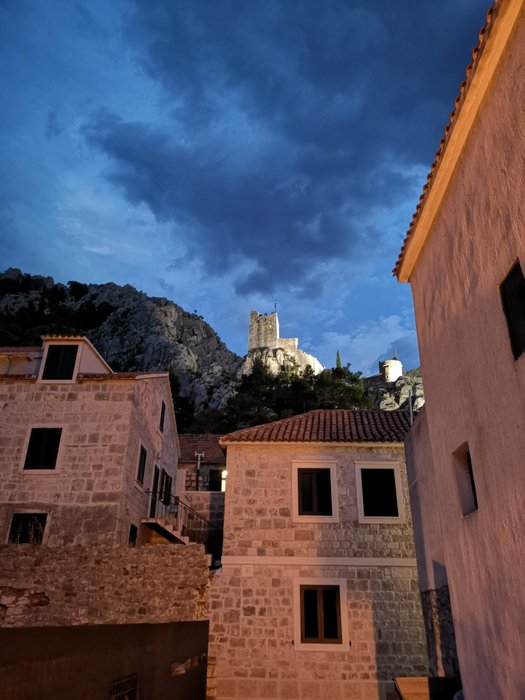 The photo above shows  the tower from below - from our yard.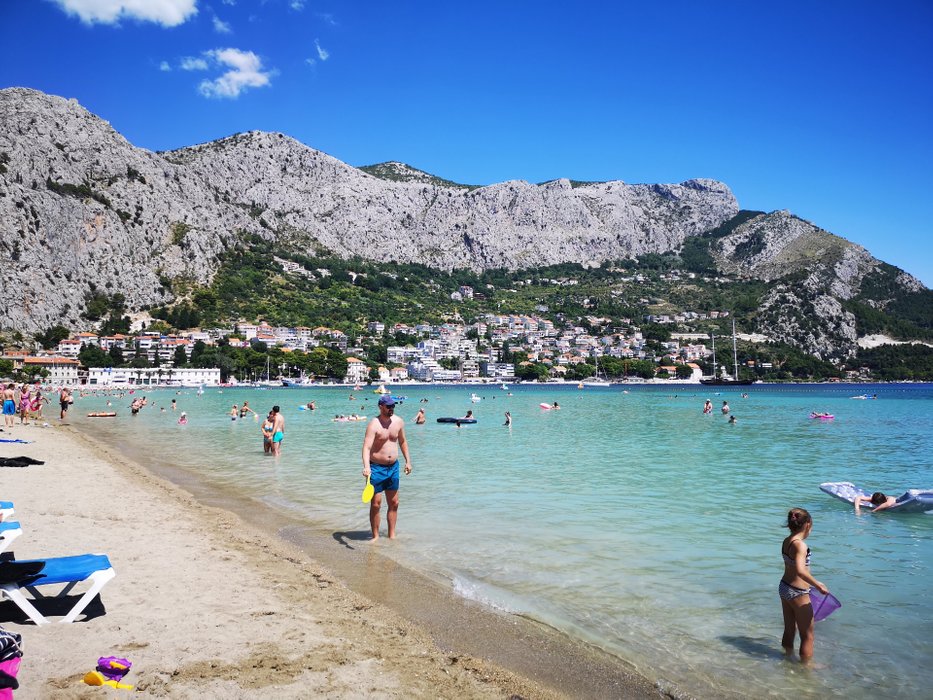 Of course, the great attraction of Omiš is the beach. And as far as it is known that everyone wants to sunbathe in Croatia, Omiš deserves special attention because of the sandy beach and the trouble-free bottom in the sea (you can without water shoes), and at the same time maintains the wonderful color of Croatian water.
---
No i na koniec nie mogę nie wspomnieć o tym, co sprawiło że ten wyjazd był naprawdę wyjątkowy pod względem wakacji. Wakacje trwały od 7 do 15 lipca 2018. Co oznacza, że akurat załapaliśmy się na mecze Mistrzostw Świata Piłki nożnej, w których Chorwacja brała udział i odniosła zwycięstwo. Samego finału, w którym przegrała z Francją, już nie oglądaliśmy, bo wracaliśmy do domu. A zatem mieliśmy okazję świętować zwycięstwo Chorwatów w półfinałach. Rewelacyjne przeżycie i radość tłumu na ulicy. Ah, oby kiedyś i w Polsce doczekać takich chwil! 
And finally, I cannot fail to mention what made this trip really special. The holidays lasted from July 7 to 15, 2018. Which means that we just got the chance to watch 2018 FIFA World Cup matches in which Croatia participated and won. We did not watch the final, in which she lost to France, because we were returning home then. But we had the opportunity to celebrate the Croatians' victory in the semi-finals. A great experience and the joy of the crowd in the street. Ah, let us look forward to such moments in Poland!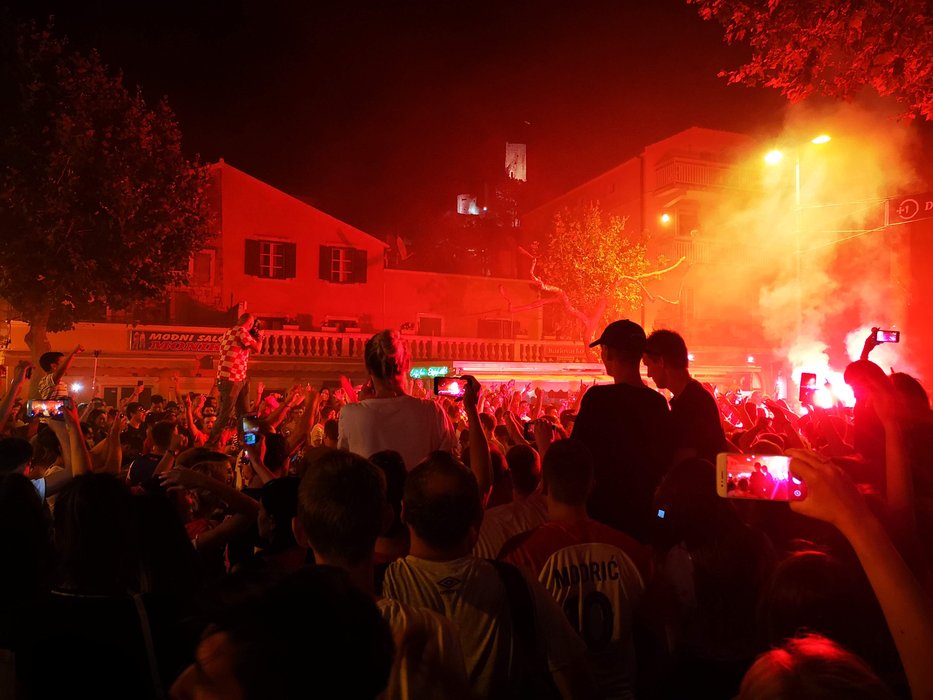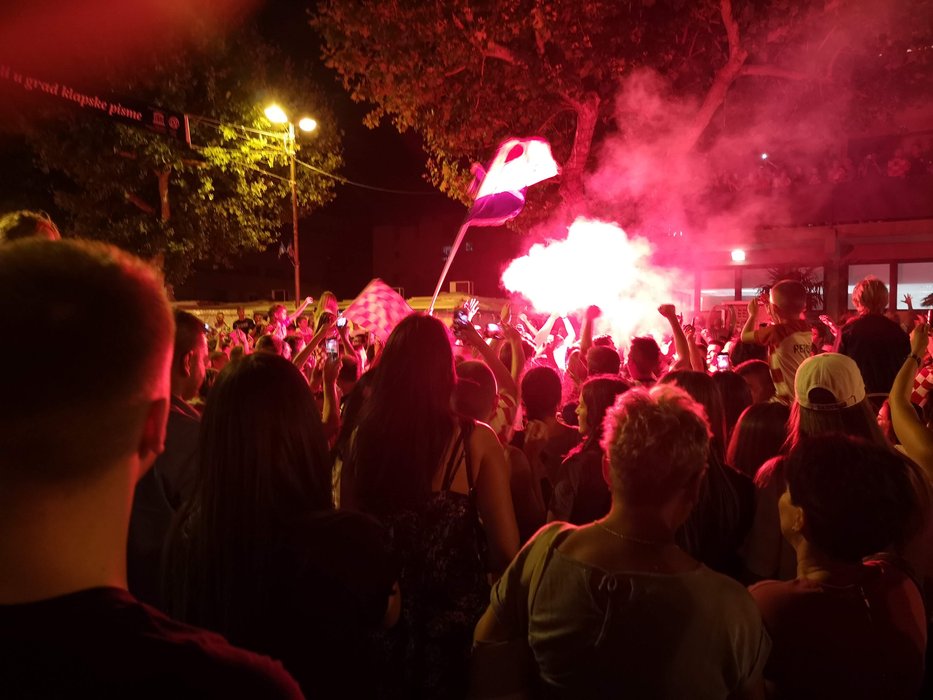 If you want to listen to the song that was played over and over again and sung by the Croatians in the streets after the victories - a kind of anthem of these finals - then I heartily recommend the video below. It is catchy :)