Hello everyone!
I'd like to start a cycle, presenting my visits at the stadiums of the Republic of Georgia. You'll find here both photos, and infos about the clubs' history and achievements.
The stadiums shall be presented in the chronological order of my visits. First of them date back to July 2015, when I visited Georgia for the first time. During my first visit, the stadiums weren't a very important point in my trip schedule, but later this passion escalated quickly ;)
So let's start from Gori - the city located in the Inner Kartli region, being world famous mostly due to Joseph Stalin's birth. Our main targets, when we went there on July 7th 2015, were
J. Stalin's museum
the fortress
the nearby cave-town Uplistsikhe.
The stadium was not included, but anyway I've managed to see it from the fortress hill.
The Tengiz Burjanadze Stadium now is a home place of a team named Dila ('A Morning'). It's been built in 1949, later being reconstructed few times. Its current capacity is said to be 4843 places (all seated), but in its best times it was even up to 10 000 people.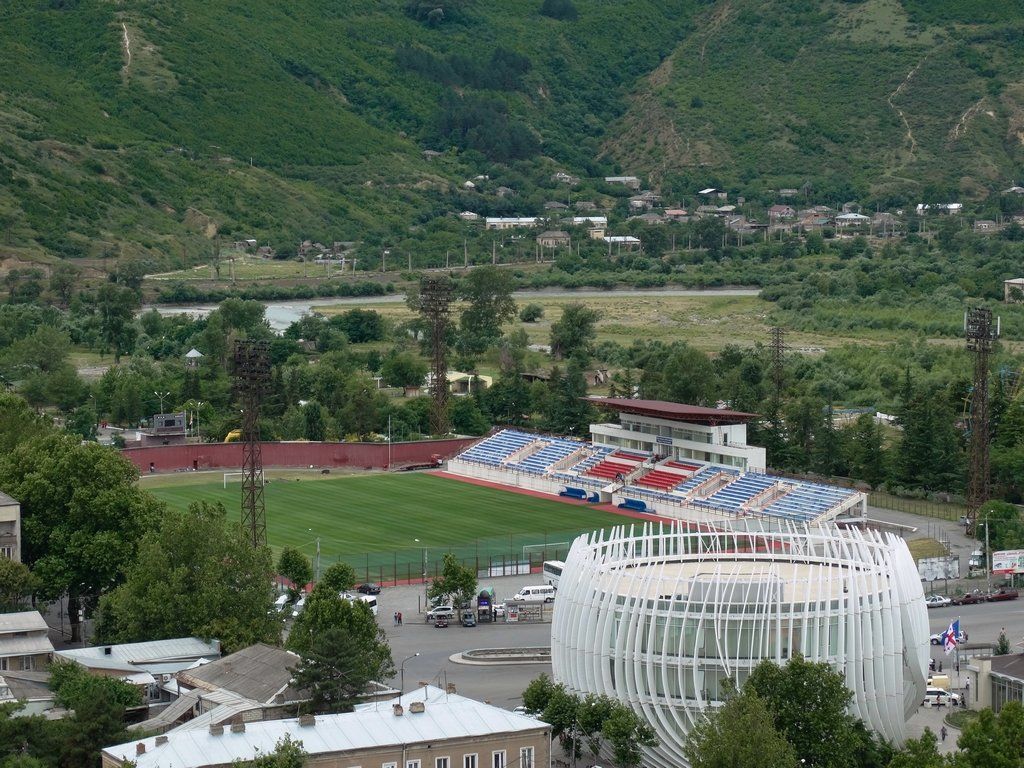 A view of the stadium from the fortress hill.

A little more zoom
Its team, Dila Gori, has been also founded in 1949. In the beginning, it had been playing in the lower leagues of Georgian SSR. It's big career started in 1960, when the team got promoted to the Georgian SSR top division.
At this level, Dila performed quite well, and already in 1965 they took second place in the championship of the Republic, gaining a promotion to the inter-republican level of Soviet league pyramid. Dila has kept its place at this level to the very end of the Soviet Union. Their best result, at this time, was a victory in the Transcaucasian Group of B Class (3rd level) in 1969. Unfortunately for Dila, that meant no promotion, due to the changes in the league pyramid that season.
In the independence era, Dila has started from the highest level of Georgian league pyramid and belonged to this level for almost all the time (excluding seasons: 2001/2 - level 2, 2nd place; 2008/9 - level 2 eastern group, 5th place, but bancrupt; 2009/10 - level 3 eastern group, as FC Gori, 1st place, promoted; 2010/11 - level 2, 3rd place, promoted after play-off).
The biggest successes of Dila in the independent Georgia are:
Champion of Georgia (2014/15 season)
vice-champion of Georgia (2012/13 season)
Georgian Cup winner (2011/12 season)
UEFA Europa League play-off stage (2012/13, 2013/14)