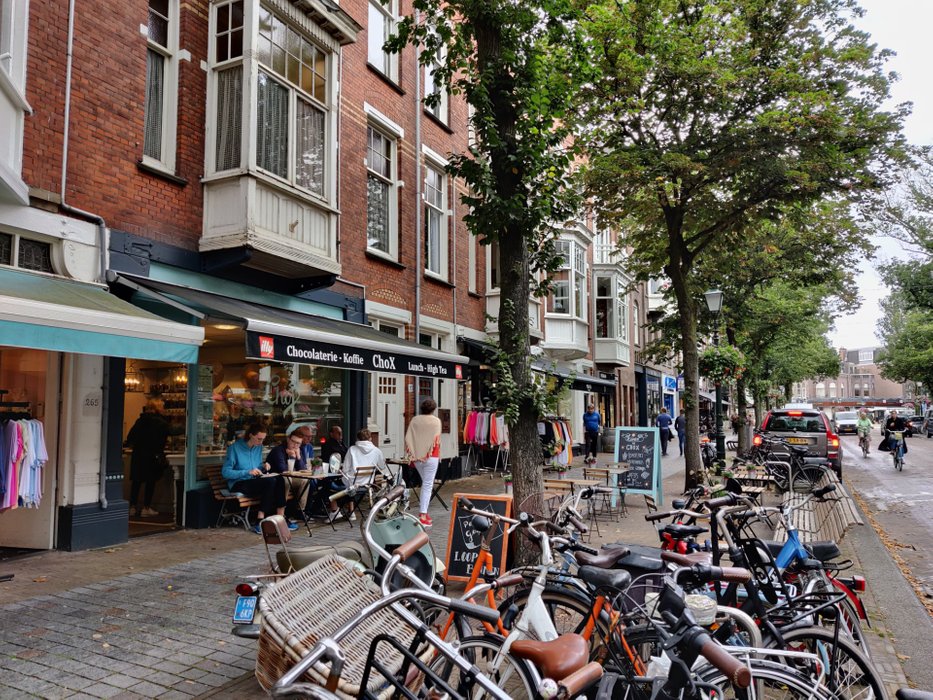 Now that cafes and restaurants have opened up a bit, I can get back to the pleasures of killing time with one of my girls at a nice cafe. I like to test them out with the girls whilst one or the other is at a birthday party or something... so that the one that isn't at the party gets to have a nice treat. On the plus side, I get explore nice places that I might want to hang out in when I am in between work or in between kiddie pickups.
On this particular day, my oldest was at a birthday party in one of the nicer areas of Den Haag, and my little one and I had gone for a movie at the Omniversium. However, we still had over an hour to use up before we could pick up the older girl.... and it was lunch time, so we wandered around looking for a place that might be interesting to a 5 year old and her father.
... we settled on ChoX chocolaterie... after all, who can turn down a chocolate shop that also serves coffee?

The Space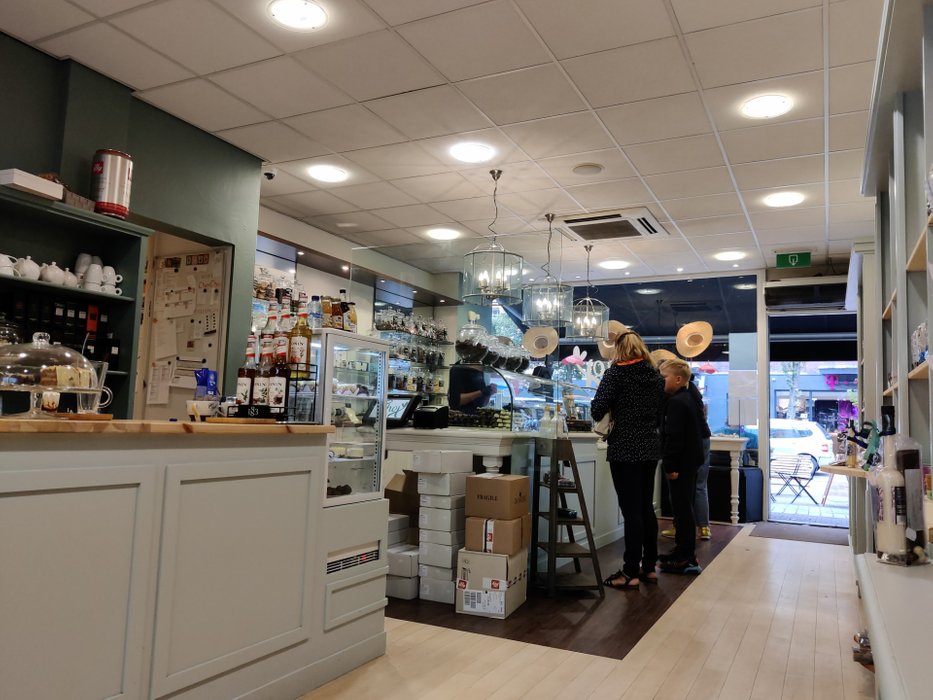 At the front, there is the preparation space for the chocolates and coffees. I wasn't game enough to go right up to the counter and start taking photos... but rest assured, there is an amazing selection of chocolates and other assorted goodies in front and behind and all around you when enter the shop!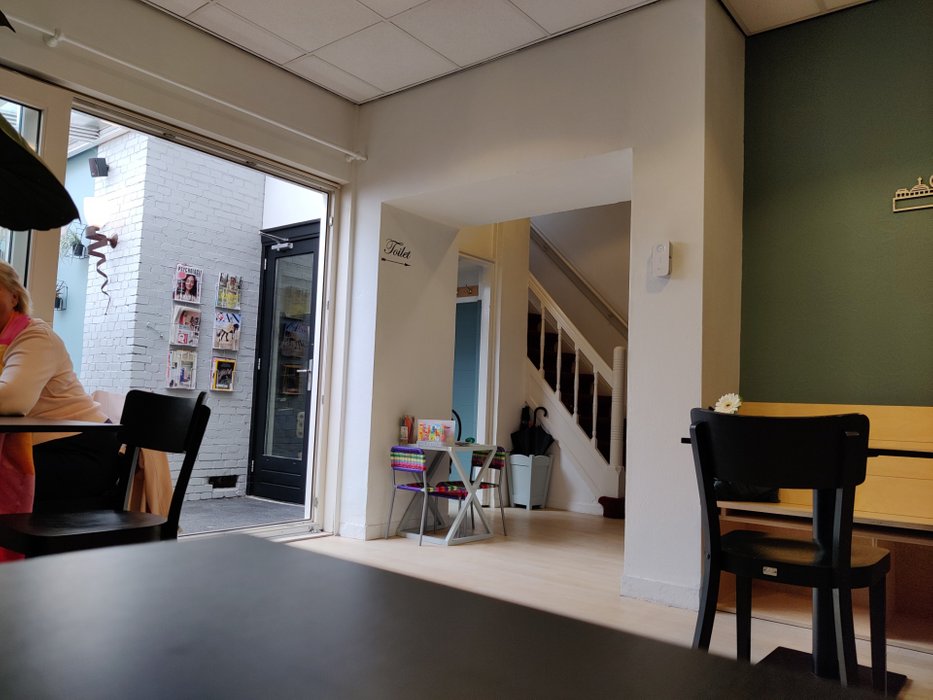 Moving further into the shop, you find that it is a characteristically Dutch style of layout. Thin and long with an outdoor seating area and a little area for kids to play around in. I love these places, as you often get little families gathering here as parents drop in to rest and coffee up whilst the kids get to do some quiet stuff in the kiddie corner.
On the Saturday lunchtime that we were here, there was a steady stream of customers but it was quite rested and not at all loud. There was no sense of hurrying from the staff and it was also possible to sit outside at the tables on the front side of the building. More than enough space for the traffic, and no pushiness at all.

The Food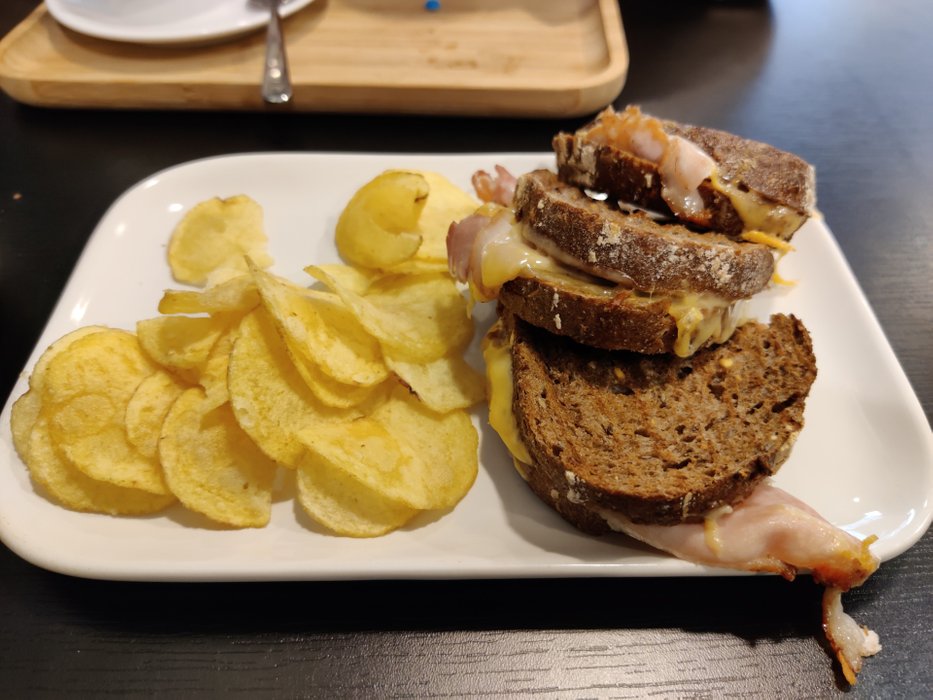 As soon as we came in, my little one was just captivated by the cakes and chocolates and everything that was surrounding her. However, I did have to play the evil dad card... and I insisted that she also eat something that was a bit more lunch-like. So, a ham-kaas tosti... a Dutch classic (without tomato sauce). Surprisingly good bread and REALLY good ham! I love it when I find a place that does the simple stuff really well... it makes a huge difference.
Interestingly enough, it was served up with a side of crisps! I only ever experienced this in Spain one time... and it was a surprise to see it here. I do wonder if they do it for everyone, or just for kids!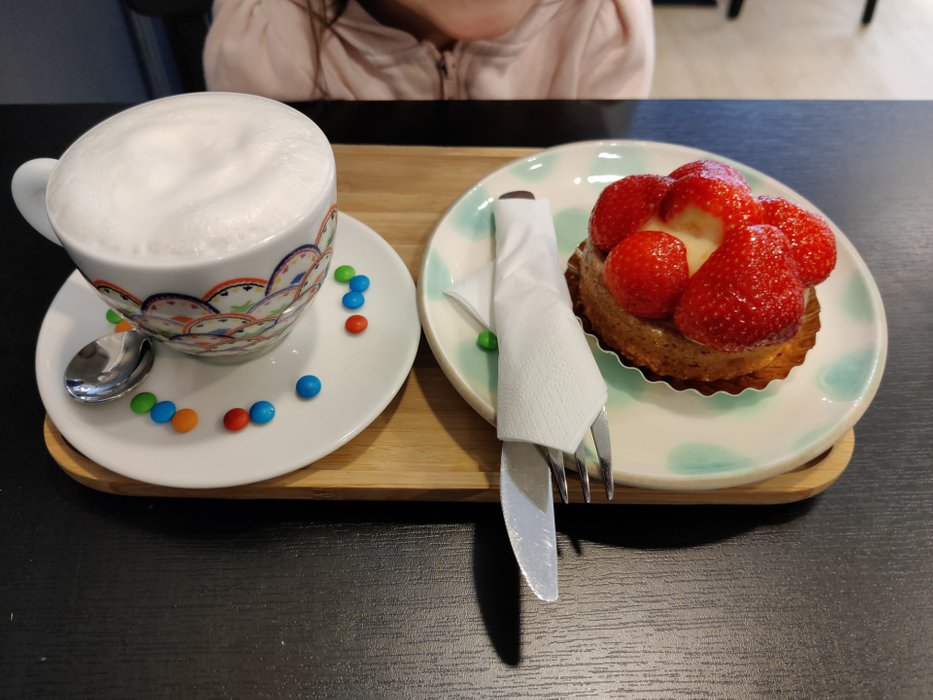 So, the real main event! A kinder cappucino and a Strawberry and Custard tart. Honestly, this was a pretty damn good tart and between the two of us, we demolished it in short order. She was disappointed that we didn't ALSO have chocolates from the window... but she did have lots of little chocolate buttons to make up for it!
I'm not exactly sure why hot milk becomes so much more interesting for kids when it also has frothed milk on it and is served up in a coffee cup... but my kids go nuts for it! Pity that our coffee machine at home has broken down... they have been asking for kiddie coffees for quite sometime now!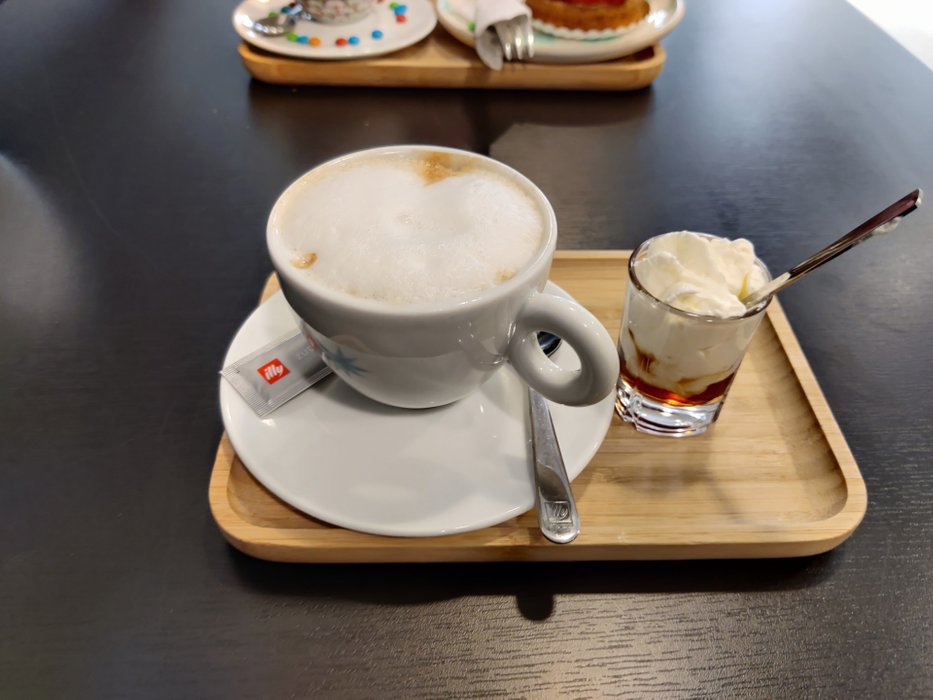 ... and for me, a decent cappuccino. The Netherlands has progressed quite a lot in the coffee and food realm over the time that I have lived here. Now, you can expect to find a decent coffee in some places... not all of them, but more than when I first started here.
The accompaniment was a nice highlight though! Caramel syrup with cream! I'm not sure if you were supposed to eat it or to stir it into the coffee... either would have been fine, but I pigged it! I'm definitely going to make some of these for little desserts at home!

The Experience
ChoX is a great quiet place to take your kids for a quiet Saturday or Sunday outing.... or if you just need a place to rest up or do a little bit of work. Friendly staff that aren't at all pushy about freeing up tables, decent food and decent coffee... plus, as much chocolate as you can possibly imagine. I'm just thankful that I don't live near here... or I would be several kilograms heavier every week!

Opening Times
Monday 12–5:30pm
Tuesday 9:30am–5:30pm
Wednesday 9:30am–5:30pm
Thursday 9:30am–5:30pm
Friday 9:30am–5:30pm
Saturday 9:30am–5pm
Sunday 12–5pm

Contact Details
Address: Frederik Hendriklaan 263, 2582 CD Den Haag
Phone: +31 (0)70 306 0370
Website: https://chox.nl/