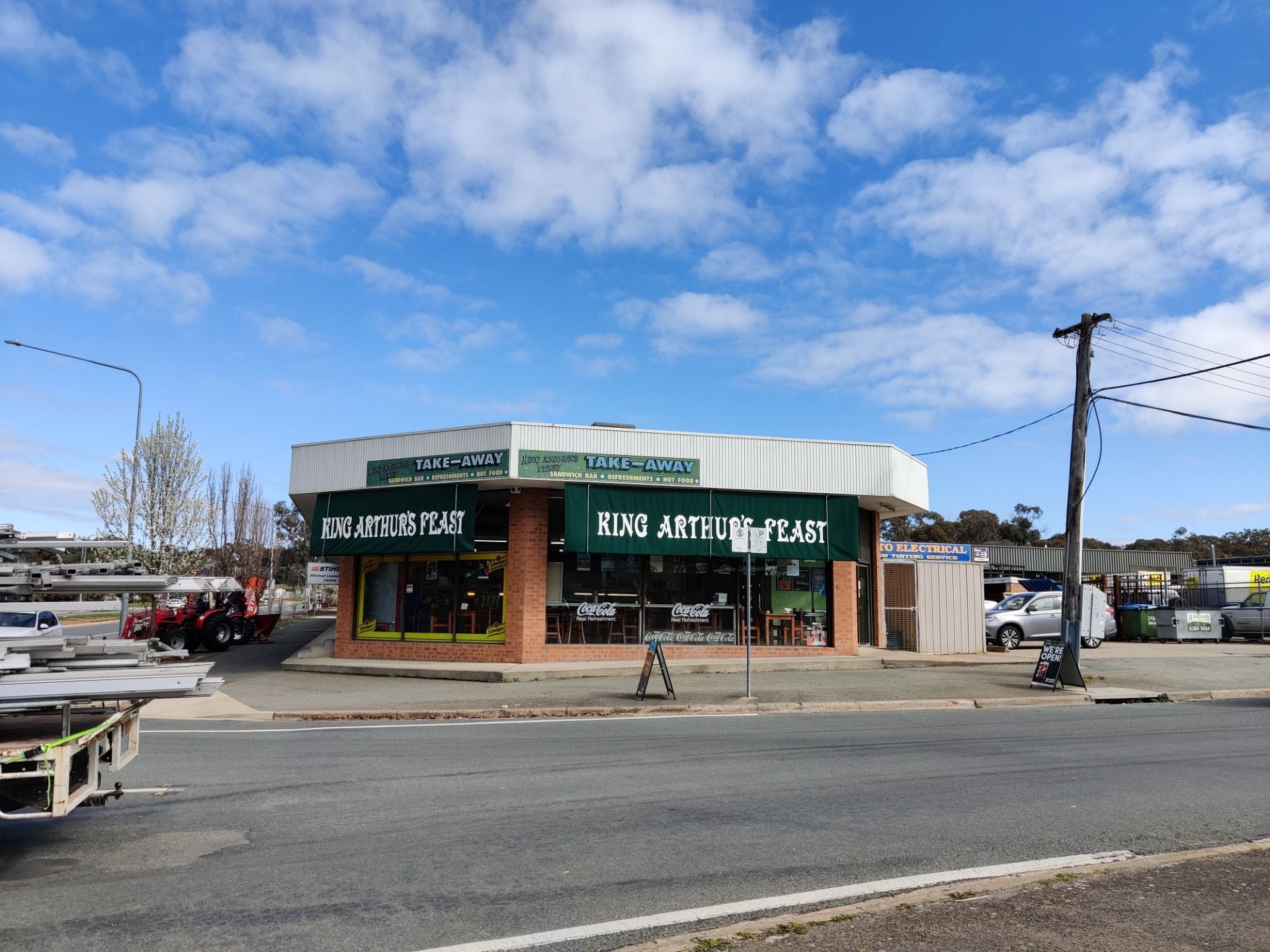 Mitchell is one of the light industrial areas of Canberra... home to many construction companies and car yards.. and most critically for us, a mechanic and repair shop that we had been recommended (and are usually quite a bit!). We aren't using the repair shop because of crashes or anything like that... but more that we like to have our servicing of our cars quite up to date, we like having things well-maintained if possible!
Anyway, this post isn't about car mechanics... but about a place that I dropped in to eat at. When you drop off a car in the early hours of the morning, you are going to either have to take a taxi back home... or wait around until your significant other can pick you up. For me, it is the latter... and given that I skipped breakfast to come and drop off the car... I thought that I deserved to have a coffee and something to eat!
So, the nearest place to sit and wait was the King Arthur's Feast... honestly, I had no idea what to expect after seeing the recommendation on Google. I was sort of expecting... well, definitely something else... medieval, jousting ring, giant hocks of meat?
The Space
The area is pretty spartan... I guess you can just say that it is a very functional sort of cafeteria sort of setting. I had to take this pretty discreet photo... the other patrons were pretty big guys who probably would have objected quite strenously to someone taking random photos of them!
The Food
Well... surprisingly enough, the food was pretty decent! I had originalyl wanted just some sultana toast... but they were out of that. So, I went for the cooked breakfast instead. And I was pleasantly surprised... everything was cooked quite nicely, and the bacon wasn't dripping in fat... which always can put me off that...
The only slight disappointment was the toast.. which was only slightly warmed bread... not really toast! However, despite that... it was a nice sized portion (not too big...), and cooked well... bacon done nicely crispy, and not drowning in oil and fat.
The coffee was also surprisingly decent as well.. it was early in the morning, and I hadn't had my addiction settling cup yet... so, I had accidentally dived straight in before remembering that I should have photographed it!
The Experience
Well... sometimes a good old fashioned deli/takeway can do some pretty decent food as well! King Arthur's Feast was a pretty low expectation place on first impressions.... but when the food came around, well... it was pretty decent! Plus, the staff were really nice and friendly as well.
First impressions and outside looks can be quite decieving... King Arthur's Feast is definitely worth a drop in if you are looking to kill time or if you are in the neighbourhood looking for something cheap and decent to eat!
Opening Times
Monday 6am–4:30pm
Tuesday 6am–4:30pm
Wednesday 6am–4:30pm
Thursday 6am–4:30pm
Friday 6am–4:30pm
Saturday 6am–2:30pm
Sunday Closed
Contact Details
Address: 7/32 Sandford St, Mitchell ACT 2911
Phone: 0434 022 297