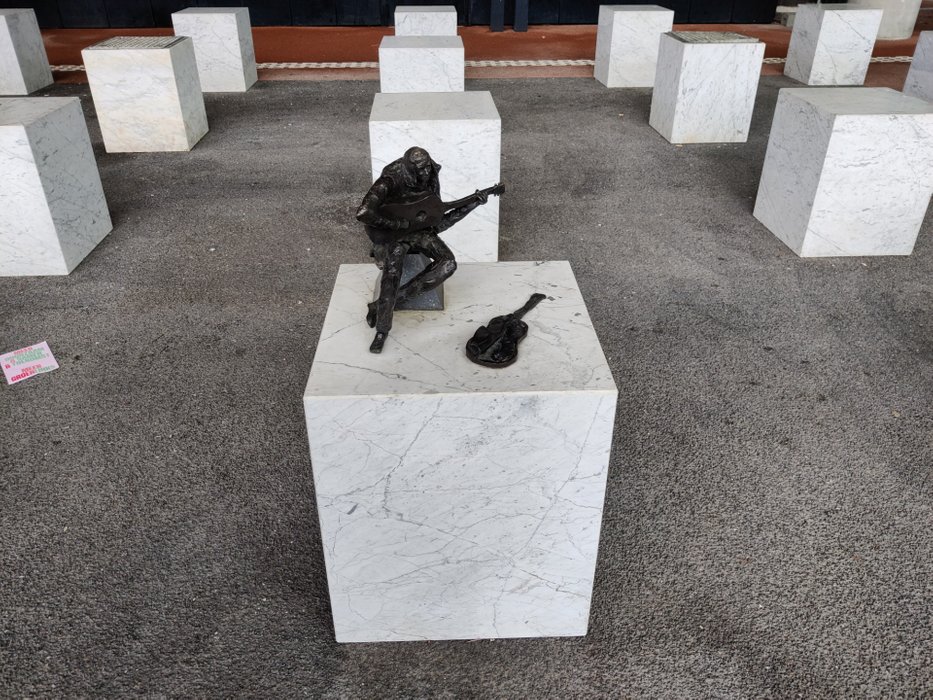 The other day, I was taking my children down to the local IND (Immigration office) in Den Haag (The Hague) to get their biometrics done for their visa documentation. We aren't usually in this part of Den Haag, we have no reason to be near the station most of the time, as we generally will bike through this area and miss all the interesting stuff that is off the bike path!
This time, we were on foot as there it was forbidden to just leave our bikes in the middle of the government buildings! So, we walked past a little monument... a memorial. On the way in, my kids were asking about it (and wanting to climb all over the interesting little marble cuves), but we were in a rush to get inside... so, I didn't take a good look at it.
However, on the way out, I had a good look... and it was a little piece of history with a bit of a personal connection just sitting there. The memorial is a set of marble cubes, with one cube being topped by a little statue of a guitarist.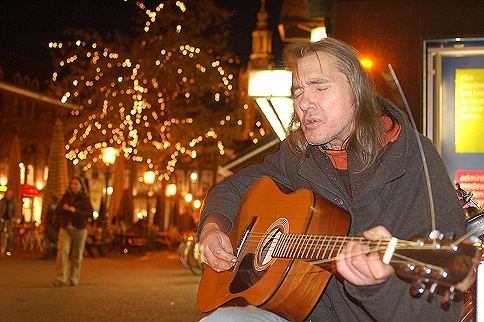 Wikimedia Commons
The guitarist is Chuck Deely, an American who ended up in Den Haag in his later years. When I first arrived in Den Haag (so many years ago...), Chuck was a fixture in the local busking scene. He would be there everyday on the main market street of The Hague, just playing and singing for the pedestrian traffic. In those days, he had bee around for quite some time... and he looked much more like these photos.
So, a little bit scary and a little bit intimidating for someone who has just arrived in the town. I was never really sure if he was homeless, but he always sure looked like it... but he played pretty damn well! In fact, he was known as The Hague's "Neil Young".
He had many admirers, and just as many haters. Musicians and kids loved his playing and his music... in fact, he would just play all day... completely oblivious to the crowds around him, even in the middle of winter. I had friends that would just pull out their instruments and join him... I was never that brave!
However, there were many who either disliked him because he was a foreigner... or because he just looked so... homeless! There were more than a few people who would stand and mock him or laugh whilst he was playing... That said, Europe's welfare safety net was probably much better than what existed in his birth country.
He had quite a tragic family history, including a brother who committed suicide. It was quite amazing how loved in general, he was a town fixture and local celebrity. When the Den Haag Gemeente (town hall) made it illegal for buskers to work in the shopping district (at least without a explicit licence), there was a huge uproar. Chuck was the face of the resistance to the new rules and refused to comply.
He passed away in 2017, aged 62... but he was busking every day. Just doing what he loved, regardless of what others around him thought. But bringing enjoyment to many.
The little memorial from the Den Haag Gemeente (by Sophia den Breems) is a worthy recognition of a local musical legend, even if the Gemeente was not so forgiving of his occupation in the later years. The memorial occupies a well traveled section of the path between the shopping district and Den Haag Centraal station, a place that you would often find Chuck as the covered area would have great acoustics! (and foot traffic!).
It seems just like yesterday that I had first encountered Chuck busking in the late evening after just arriving in the Netherlands... I knew he had passed away, but seeing the memorial just brought back pangs of nostalgia... and a little bit of sadness for the difficult life that he had led.
Years from now, I wonder if anyone will know the significance of this little guitarist statue?
I told my kids not to stand on the cubes... it just didn't seem right.