Tirta Gangga which means Holy water from the Ganges, is a water temple in Karangasem, north of Amlapura on Bali. The Temple was destroyed in 1962 by the eruption of the active Volcano Mount Agung, but was then rebuilt and opened for tourism.
Tirta Gangga, was Heiliges Wasser vom Ganges bedeutet, ist ein Wassertempel in Karangasem, nördlich von Amlapura auf Bali. Der Tempel wurde 1962 durch den Ausbruch des aktiven Vulkans Mount Agung zerstört, dann aber wieder aufgebaut und für den Tourismus geöffnet.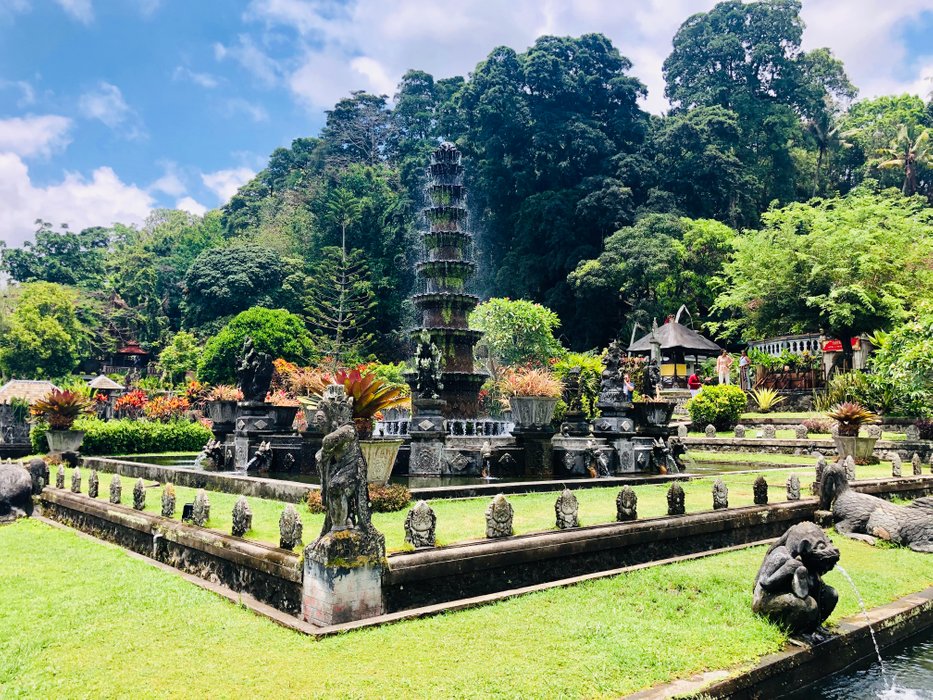 ---
Since we were staying in a Hotel in Sidemen where we arrived with our own scooter, we decided to visit that temple with the scooter. It was less than one hour ride and it´s always fun to ride the scooter through Balis rice fields and the jungle.
The views we had on this ride were spectacular. It was raining every now and then but that is pretty normal for this region.
Da wir in einem Hotel in Sidemen wohnten, wo wir mit unserem eigenen Roller ankamen, beschlossen wir, diesen Tempel mit dem Roller zu besuchen. Die Fahrt dauerte weniger als eine Stunde und es macht immer Spaß, mit dem Roller durch die Reisfelder und den Dschungel von Balis zu fahren.
Die Aussichten, die wir auf dieser Fahrt hatten, waren spektakulär. Es hat ab und zu geregnet, aber das ist für diese Region ganz normal.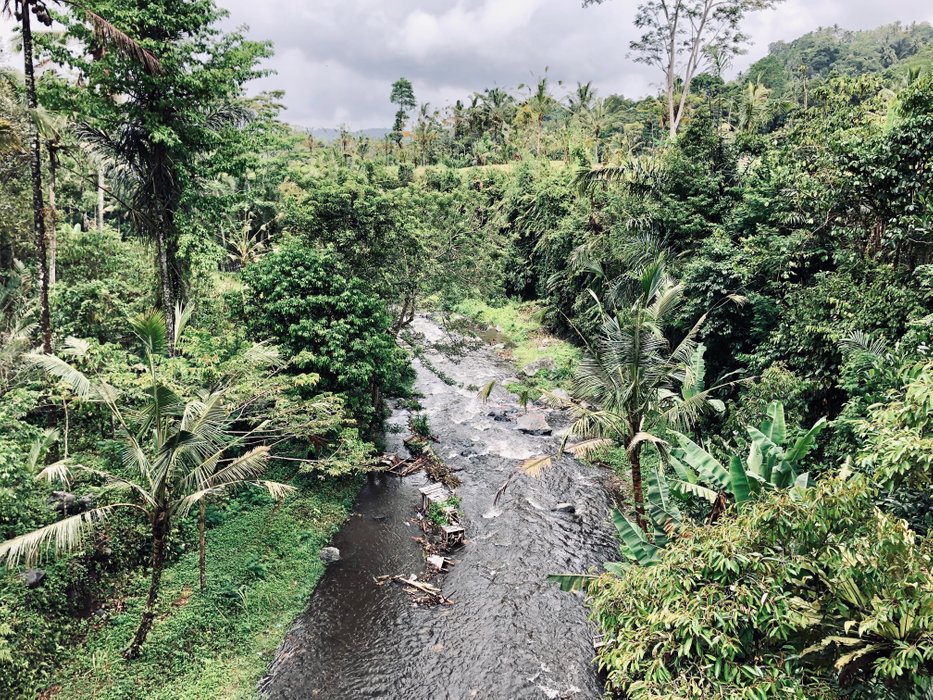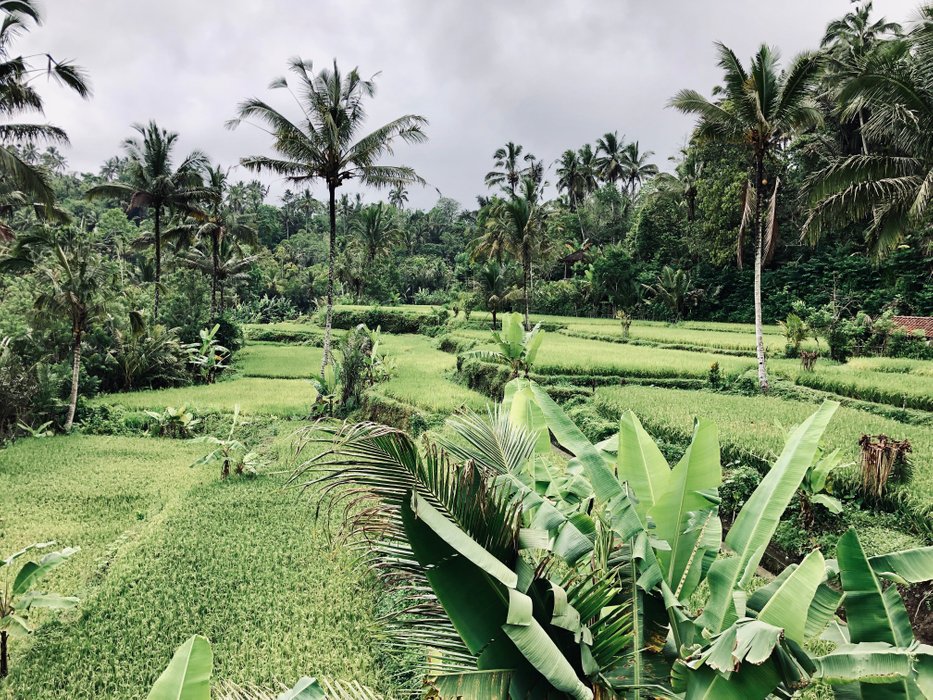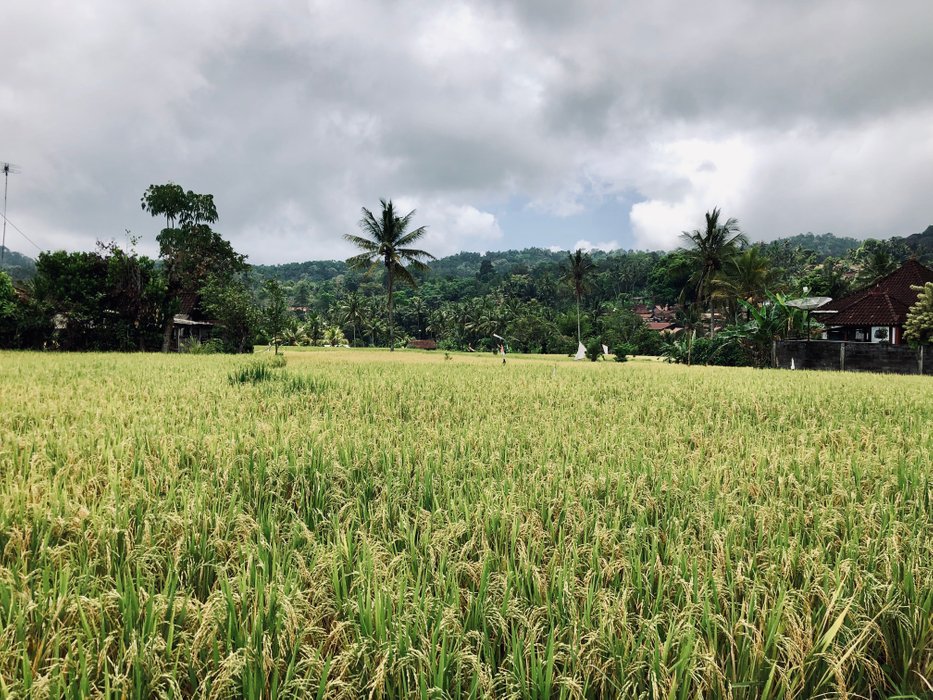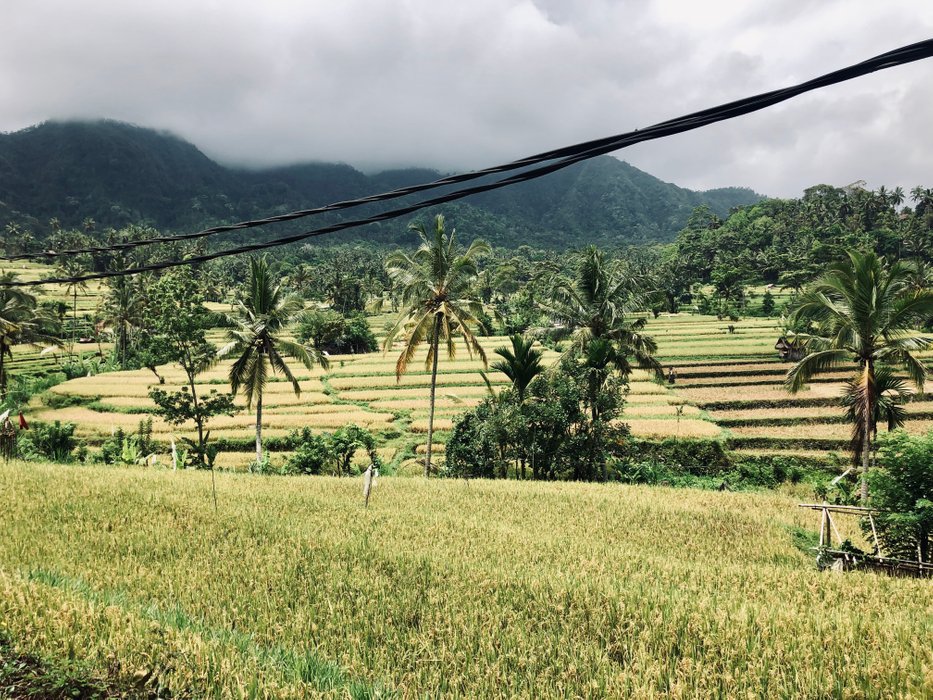 ---
After approximately 1 hour we finally arrived at the temple. The entry fee of the temple is 40.000 Rupiah which is less than 3 Euro, a pretty fair price.
Luckily we were some of the first visitors, but one could already imagine how it will look like in a few hours. Due to the fact that there are some really nice photo motives and the sky which cleared, I expected hundreds of tourists later the day.
Nach ca. 1 Stunde sind wir endlich am Tempel angekommen. Das Eintrittsgeld für den Tempel beträgt 40.000 Rupiah, das sind weniger als 3 Euro, ein ziemlich fairer Preis.
Zum Glück waren wir einige der ersten Besucher, aber man konnte sich bereits vorstellen, wie es in ein paar Stunden aussehen wird. Aufgrund der Tatsache, dass es einige wirklich schöne Fotomotive gibt und sich der Himmel aufhellt, habe ich später am Tag mit Hunderten von Touristen gerechnet.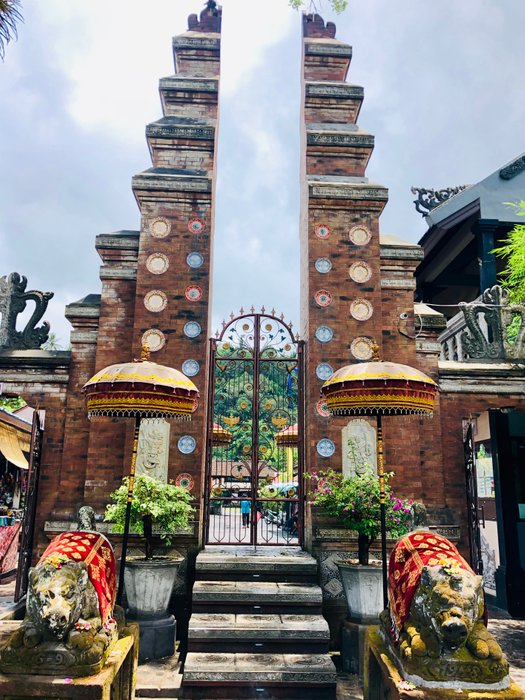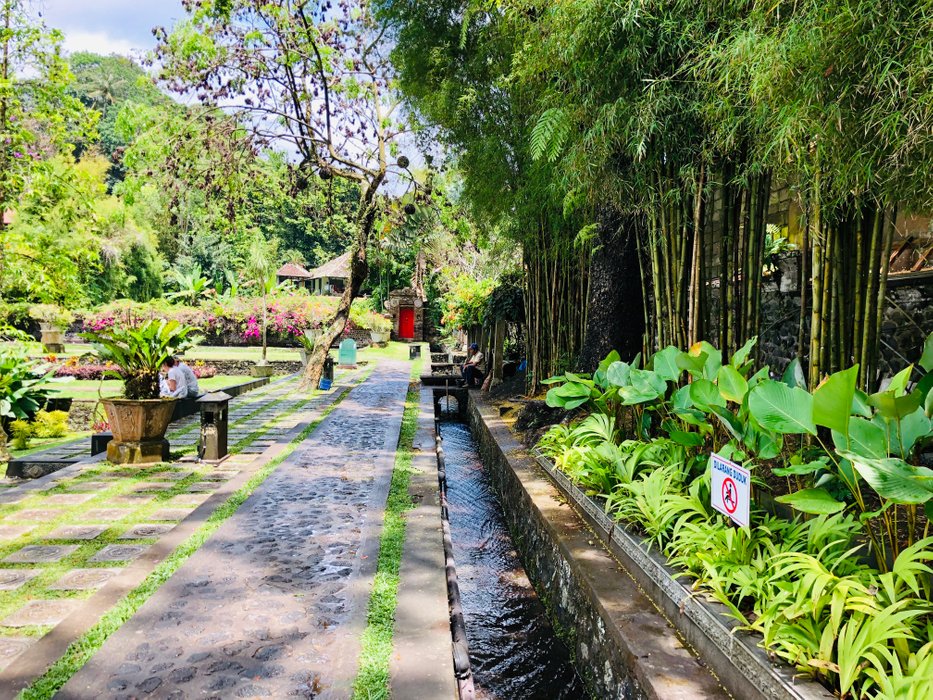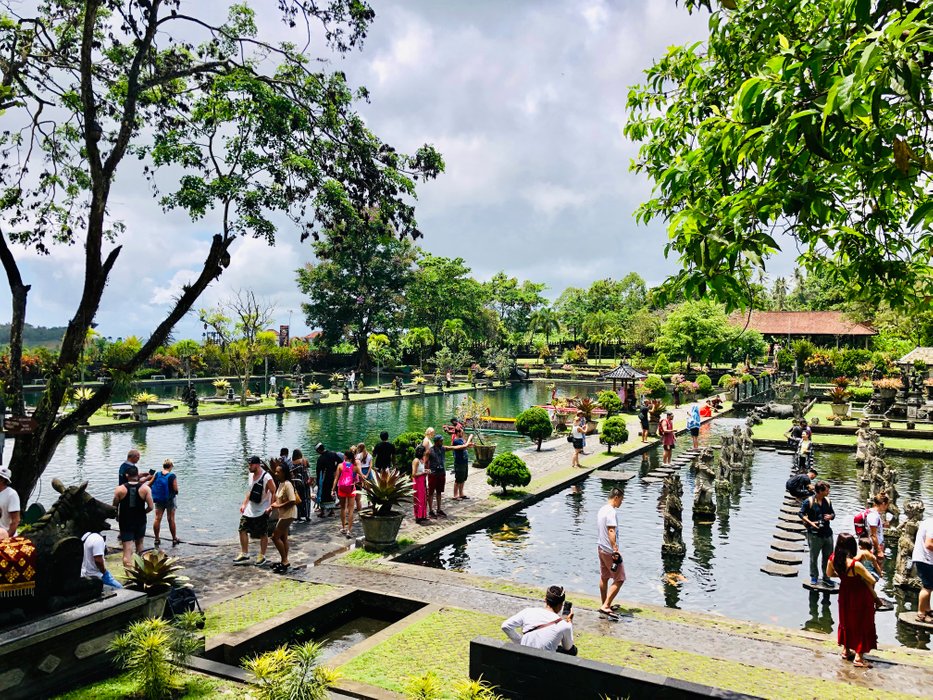 ---
The temple is like a little oasis and is around 1 ha big. It is built on 3 levels and consists of many pools, ponds, fountains, statues and a swimming pool which is also open for public. It contains the same water from the holy springs above the former palace.
Der Tempel gleicht einer kleinen Oase und ist ca. 1 ha groß. Es ist auf 3 Ebenen gebaut und besteht aus vielen Pools, Teichen, Springbrunnen, Statuen und einem Swimmingpool, der auch für die Öffentlichkeit zugänglich ist. Er enthält das gleiche Wasser aus den heiligen Quellen über dem ehemaligen Palast.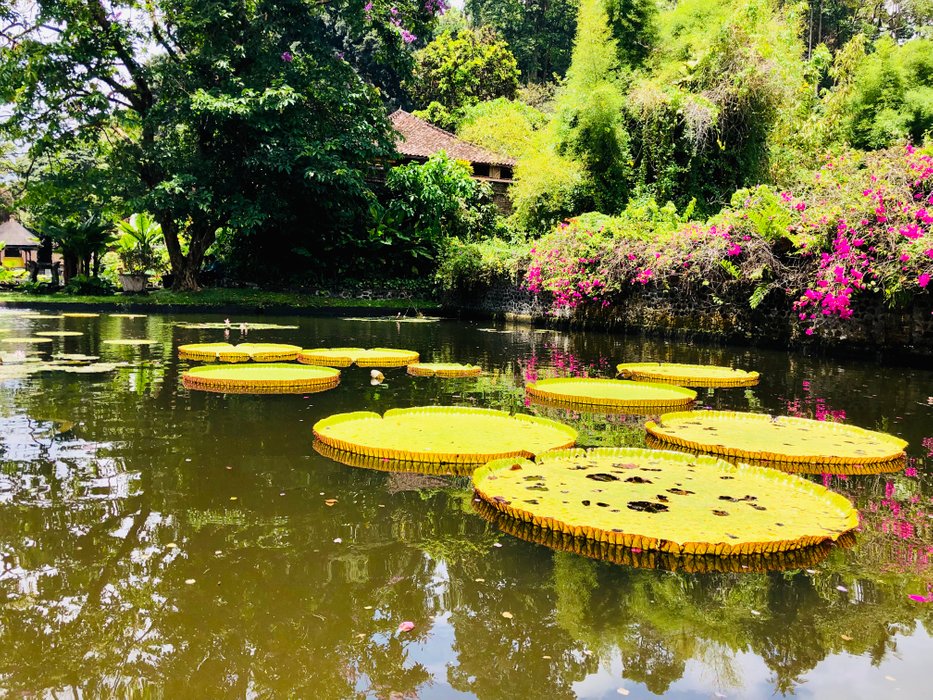 | | |
| --- | --- |
| | |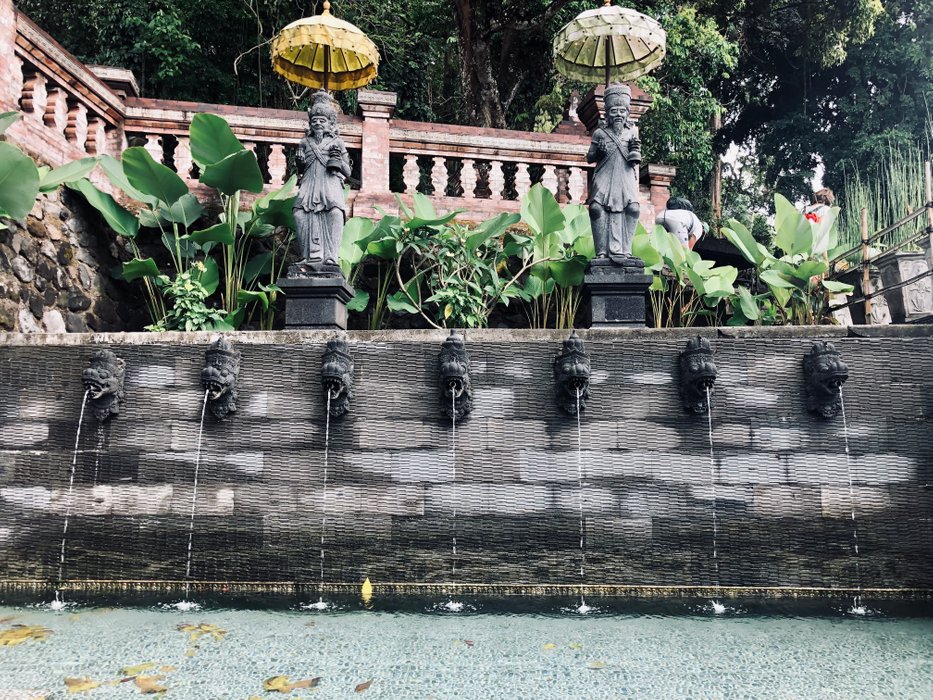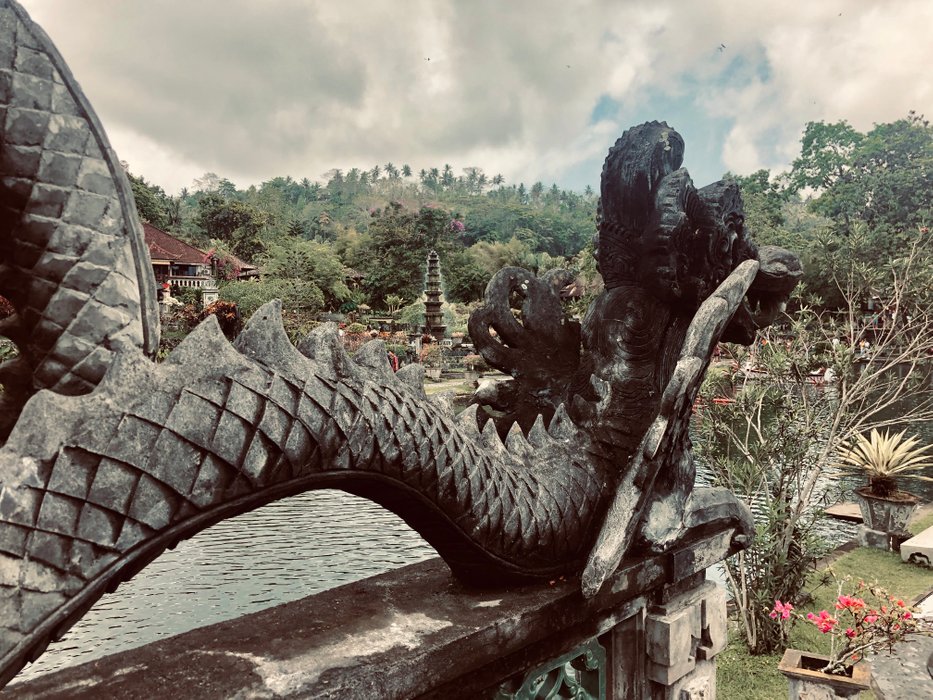 ---
But the absolute highlight of the temple (thanks to instagram) seems to be the big pool in the middle. There are hundreds of Koi in this water and you can buy food at the entrance to attract them.
There are step stones on that big pool which you can use to cross it. By the time we arrived at that pool, it was already to late. Hundreds of people arrived to make their perfect instagram shot and something which actually should be fun turned into a traffic jam on the pool. :)
Furthermore I had the feeling that these Koi fishes are way overfed due to the many tourists who throw in the food. I´ve never seen Koi fish as big as baby sharks before. :)
Das absolute Highlight des Tempels (dank Instagram) scheint jedoch der große Pool in der Mitte zu sein. Es gibt Hunderte von Koi in diesem Wasser und Sie können Lebensmittel am Eingang kaufen, um sie anzuziehen.
Auf diesem großen Becken befinden sich Stufensteine, mit denen Sie ihn überqueren können. Als wir an diesem Pool ankamen, war es schon zu spät. Hunderte von Menschen kamen, um ihre perfekte Instagram-Aufnahme zu machen, und etwas, das eigentlich Spaß machen sollte, verwandelte sich in einen Stau auf dem Pool. :)
Außerdem hatte ich das Gefühl, dass diese Koi-Fische aufgrund der vielen Touristen, die das Futter einwerfen, überfüttert sind. Ich habe noch nie Koi-Fische gesehen, die so groß sind wie Babyhaie. :)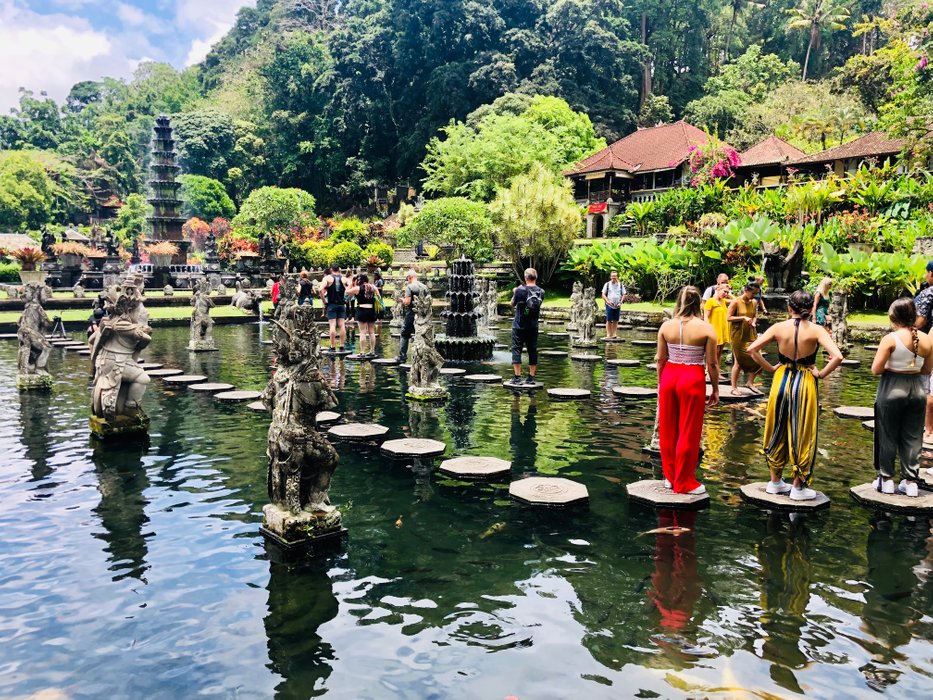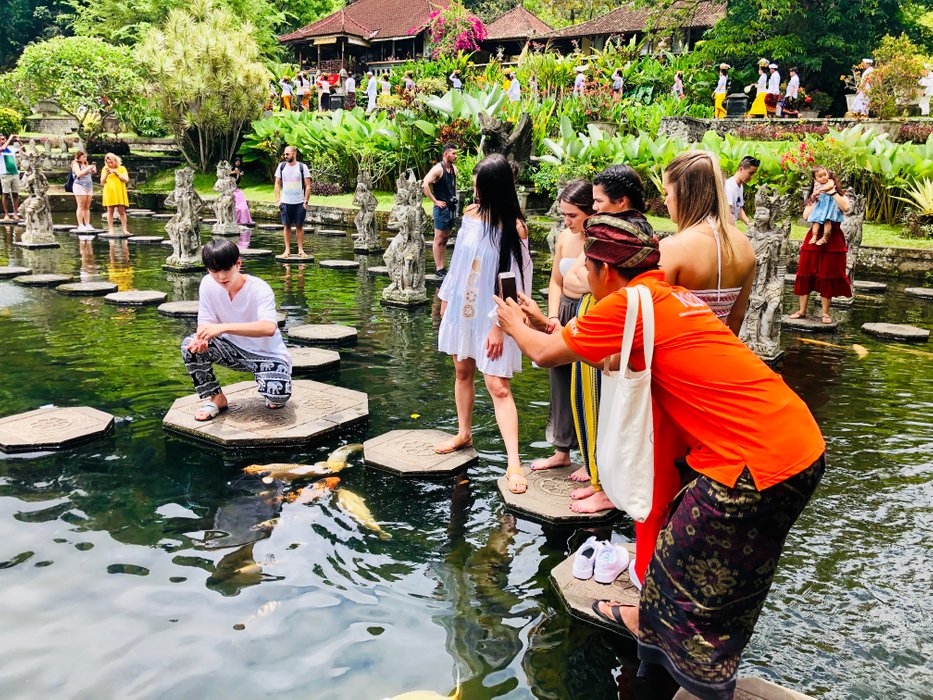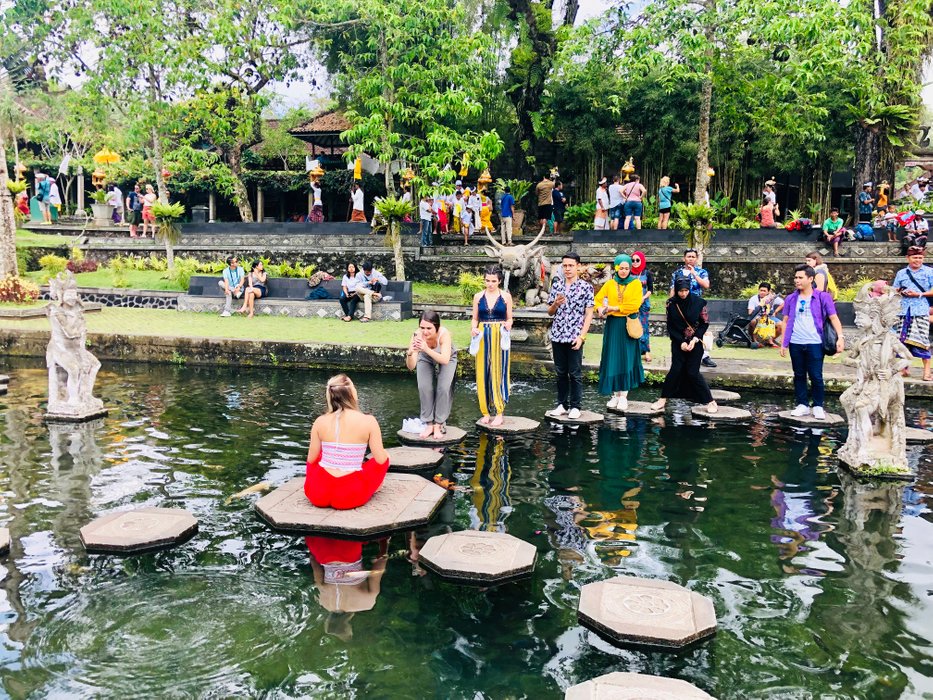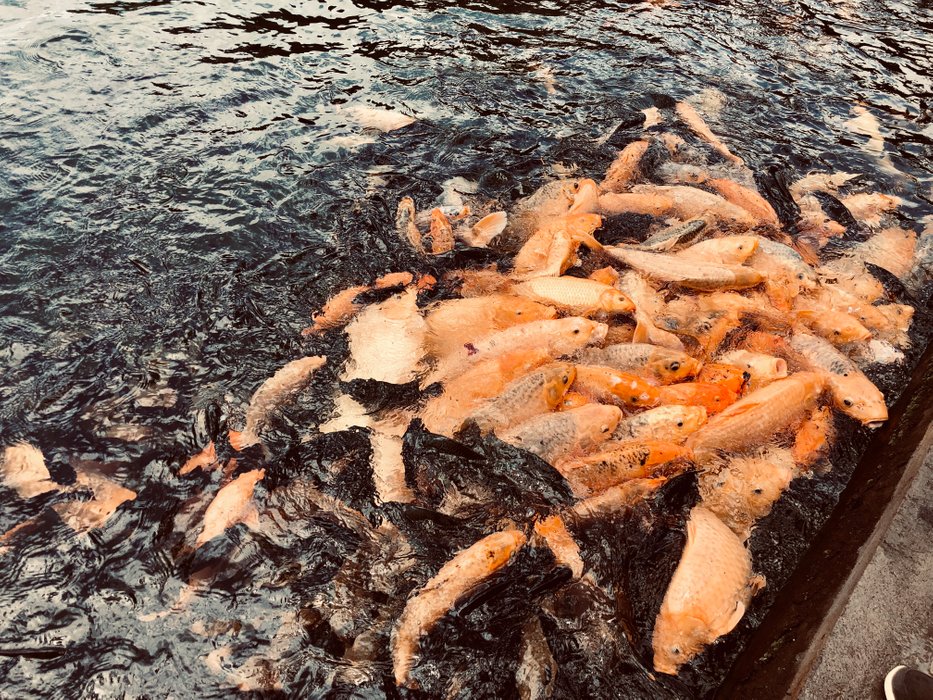 ---
Anyway, each his own. It was a really nice morning and we enjoyed that beautiful temple. Since we did not know about this temple before and decided to go there spontaneous it was even better.
I can highly recommend to visit that temple, but if you don´t like mass tourism and many people, try to come as early as possible and you will definitely not regret it.
Wie auch immer, jeder für sich. Es war ein sehr schöner Morgen und wir haben diesen wunderschönen Tempel genossen. Da wir diesen Tempel vorher nicht kannten und spontan dorthin wollten, war es sogar noch besser.
Ich kann diesen Tempel nur wärmstens empfehlen, aber wenn du Massentourismus und viele Leute nicht magst, versuche so früh wie möglich zu kommen und du wirst es auf keinen Fall bereuen.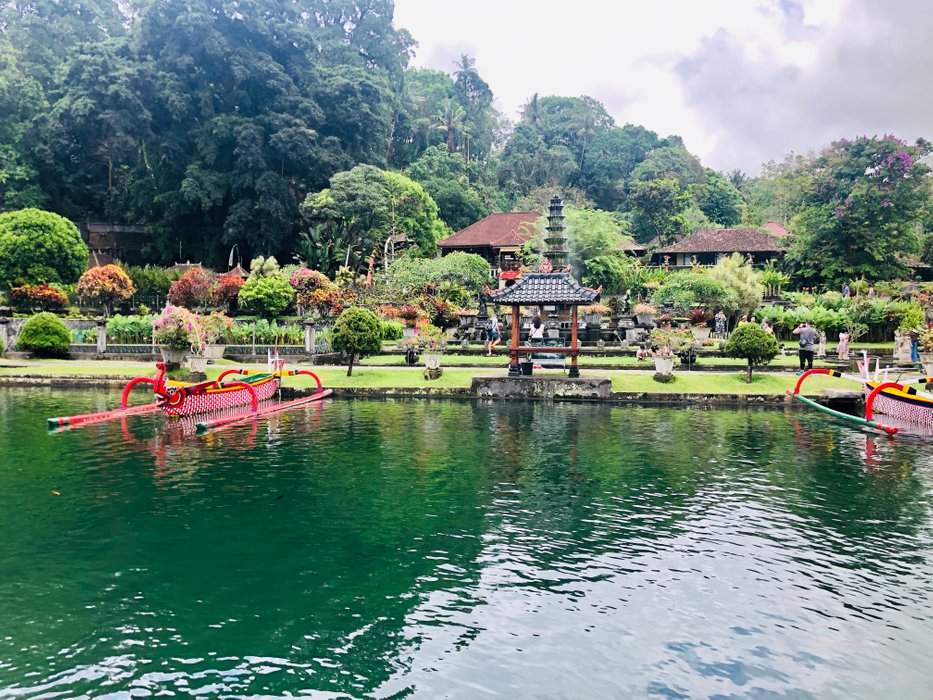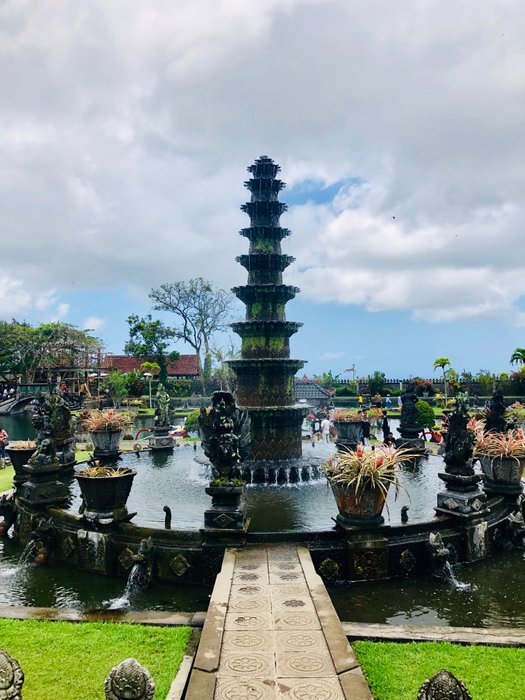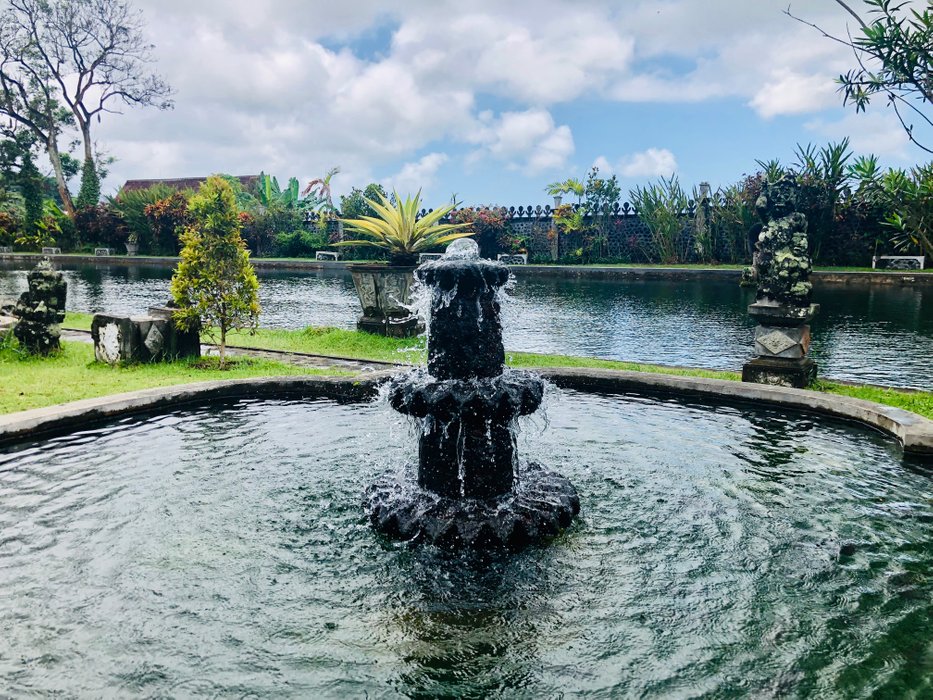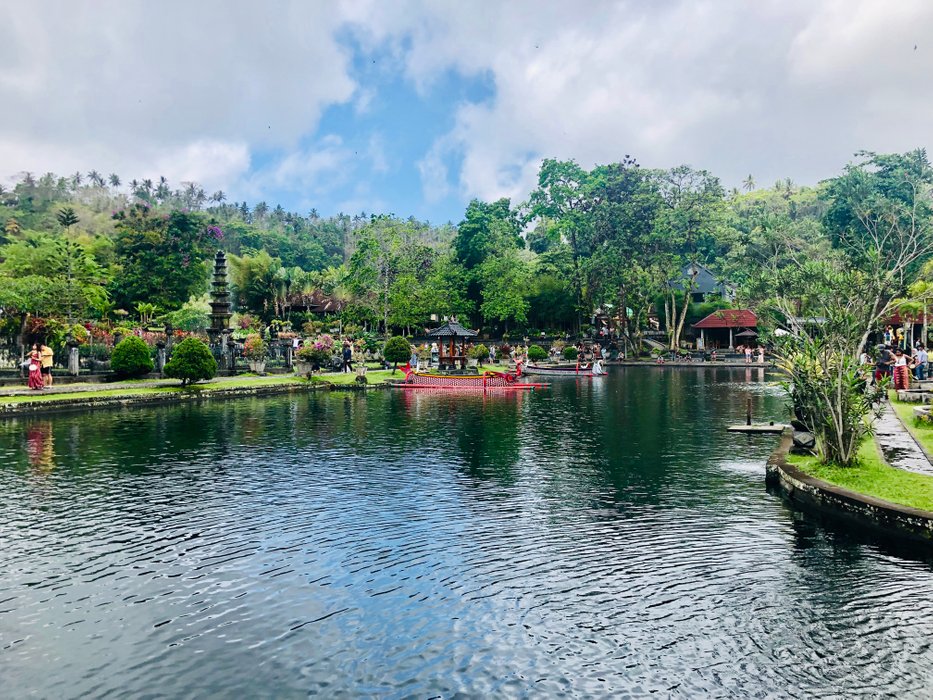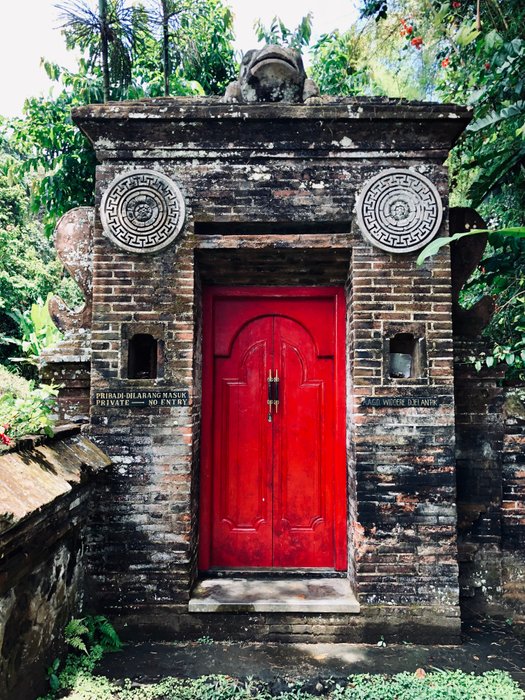 YOU WILL FIND THIS POST ON STEEMITWORLDMAP AS WELL