During our stay in Ubud we also visited the famous Monkey Forest. We´ve been there several times before, but during the last years the made some improvements to the whole forest and it´s even bigger now.
Due to the increasing number of monkeys living in that forest they had to do something. Also, they´re now charging much more for the entry fee than before. Anyway, it´s still worth it and absolut perfect for a nice afternoon stroll throiugh a forest.
Während unseres Aufenthalts in Ubud besuchten wir auch den berühmten Affenwald. Wir waren schon mehrere Male dort, aber in den letzten Jahren wurden einige Verbesserungen am gesamten Wald vorgenommen und er ist jetzt noch größer.
Aufgrund der zunehmenden Anzahl von Affen, die in diesem Wald leben, mussten sie etwas unternehmen. Außerdem berechnen sie jetzt viel mehr für das Startgeld als zuvor. Trotzdem lohnt es sich immer noch und ist absolut perfekt für einen schönen Nachmittagsspaziergang durch den Wald.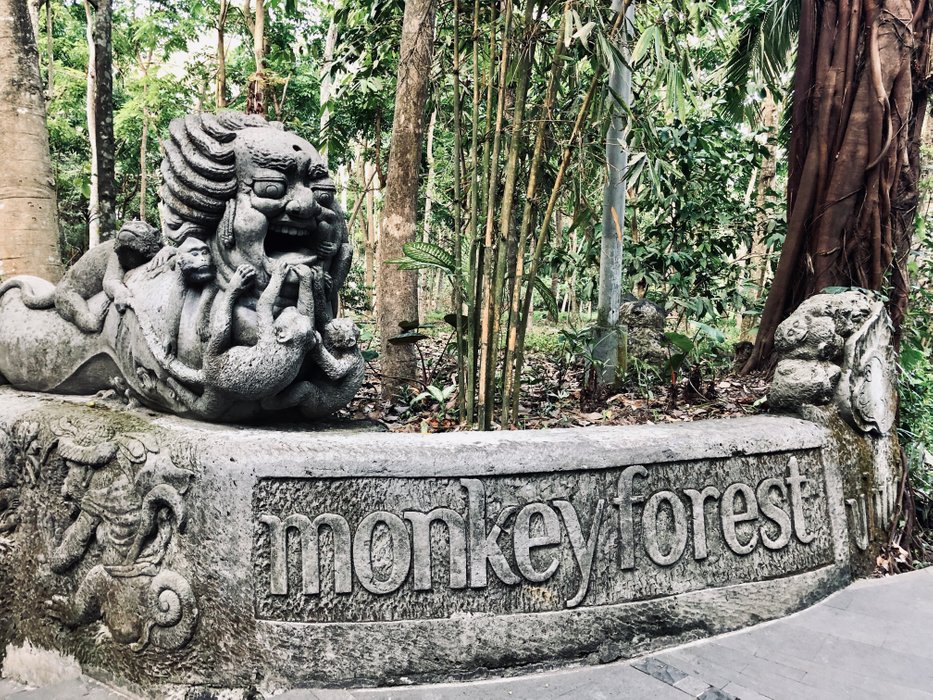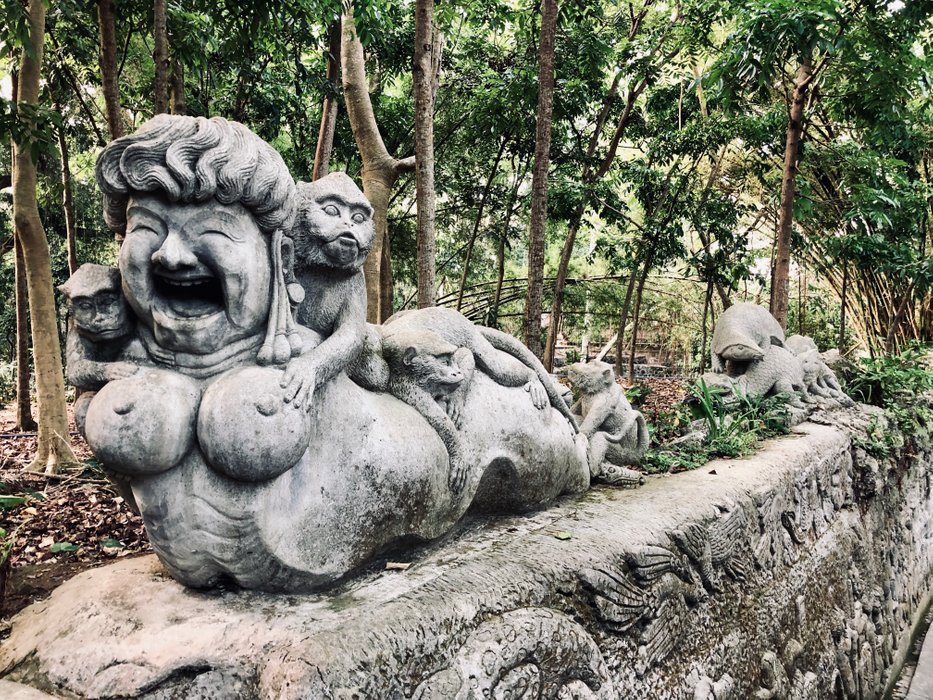 ---
Everything looks a bit more professional now. Of course there are coming more and more tourists to see the monkeys so everything is a bit bigger than before as well as the entrance.
Alles sieht jetzt ein bisschen professioneller aus. Natürlich kommen immer mehr Touristen, um die Affen zu sehen, also ist alles etwas größer als vorher inklusive Eingang.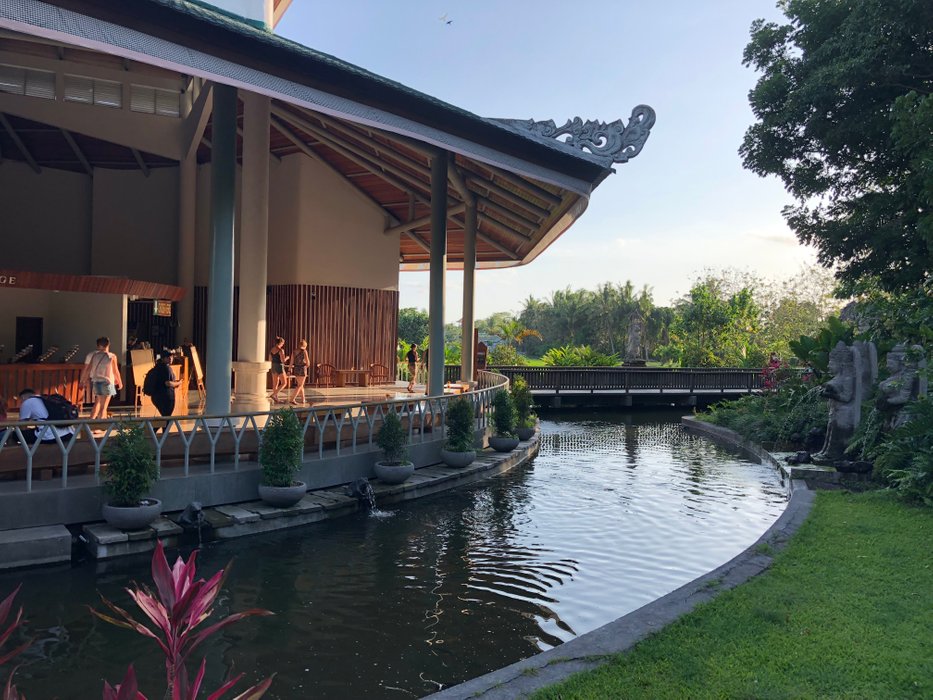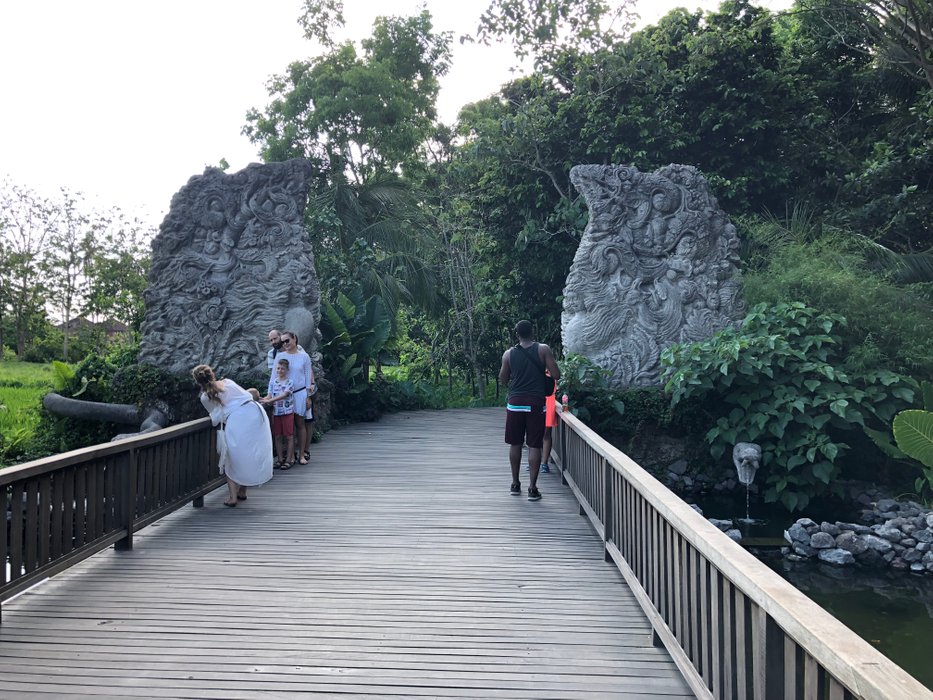 ---
As soon as you enter the Forest there are monkey everywhere. You can already see them outside on the streets but they try to keep them in the forest as good as possible.
On our first visit a few years back the monkey were climbing on you, sitting on your shoulders and trying to steel your stuff. But it seems like that to much bad things happened so it is no more allowed to attract the monkey with food or anything else, which is a good thing. You don´t want to get bitten by one of them since they have huge and sharp teeth.
Sobald man den Wald betritt, sieht ma überall Affen. Man kann sie schon draußen auf den Straßen sehen, aber man versucht sie so gut wie möglich im Wald zu halten.
Bei unserem ersten Besuch vor ein paar Jahren kletterten die Affen auf einen drauf, setzten sich auf die Schulter und versuchten einem seine Sachen zu stehlen. Aber es scheint so, als ob zu viel passiert ist, so dass es nicht mehr erlaubt ist, die Affen mit Essen oder irgendetwas anderem anzulocken, was eine gute Sache ist. Man möchten nicht von einem von ihnen gebissen werden, da sie riesige und scharfe Zähne haben.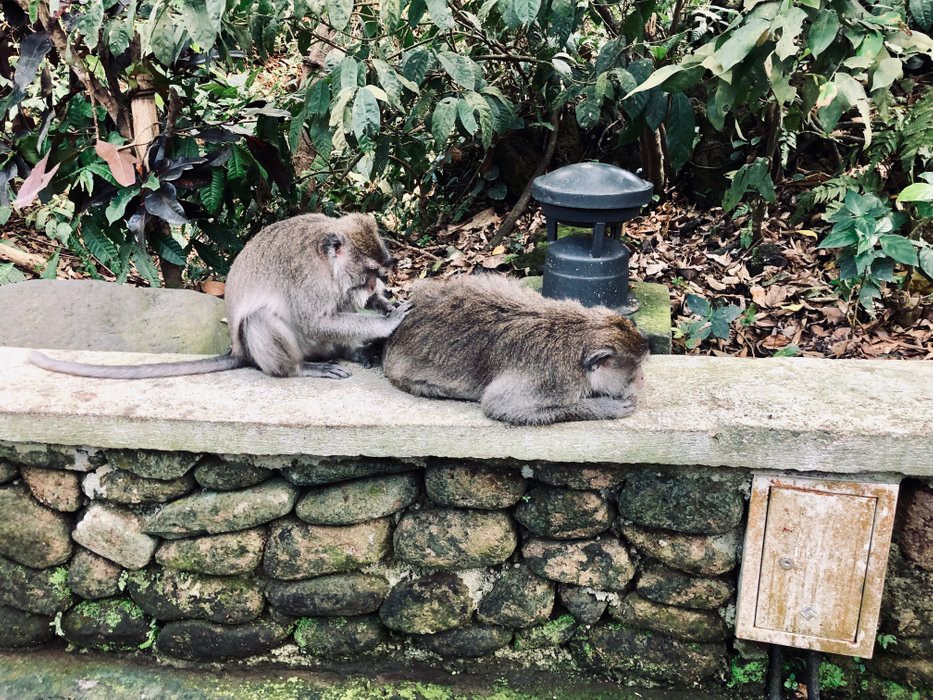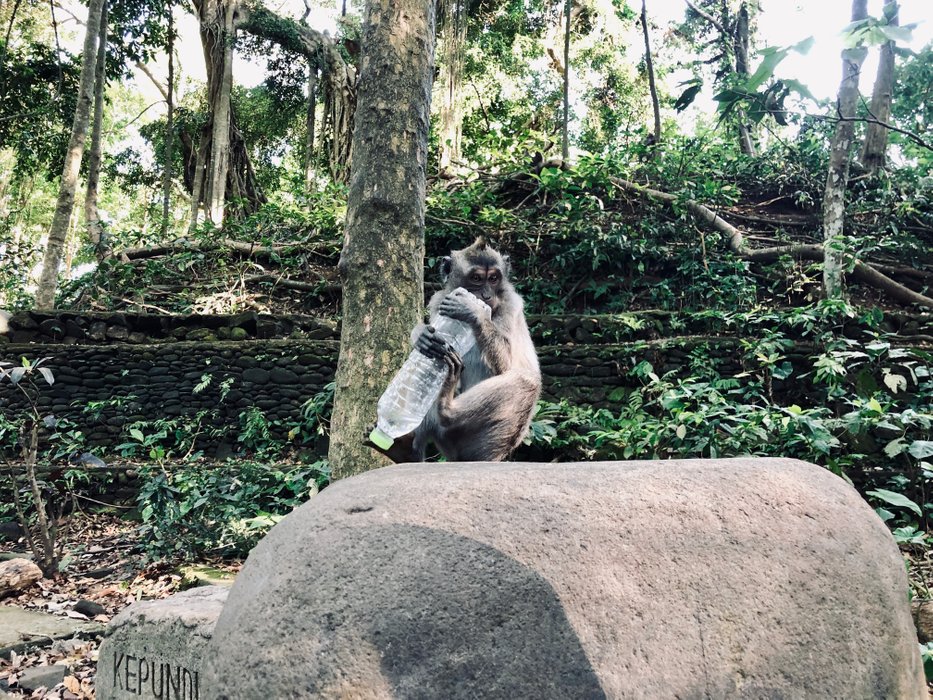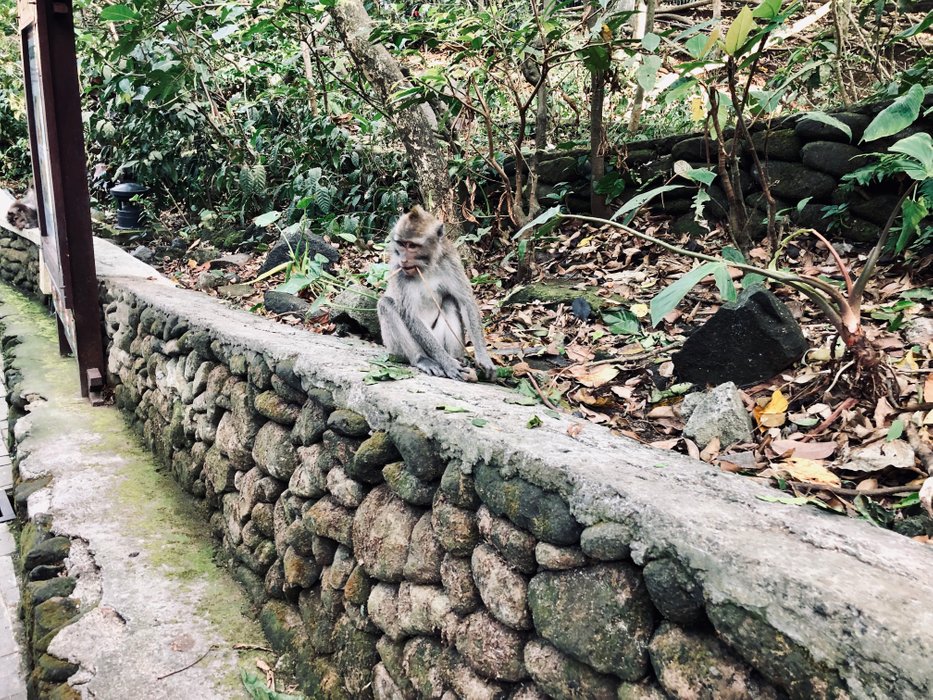 ---
For the safety of everyone there are a few rules in the forest and one of them is to not make eye contact with the monkeys. This is quite hard as they´re literally everywhere.
At the moment there are more than 1000 Monkeys living in that forest. The last time we´ve been here there were less than 700.
The infant blacks are so cute and these were the ones you could play with a few years back. But believe me you don´t want to play with one of the adult males.
Für die Sicherheit aller gibt es im Wald einige Regeln und eine davon ist, keinen Blickkontakt mit den Affen herzustellen. Das ist ziemlich schwierig, da sie buchstäblich überall sind.
Derzeit leben in diesem Wald mehr als 1000 Affen. Als wir das letzte Mal hier waren, waren es weniger als 700.
Die Infant Blacks sind so süß und das waren die, mit denen man vor ein paar Jahren spielen konnte. Aber glaube mir, mit einem erwachsenen Männchen willst du nicht spielen.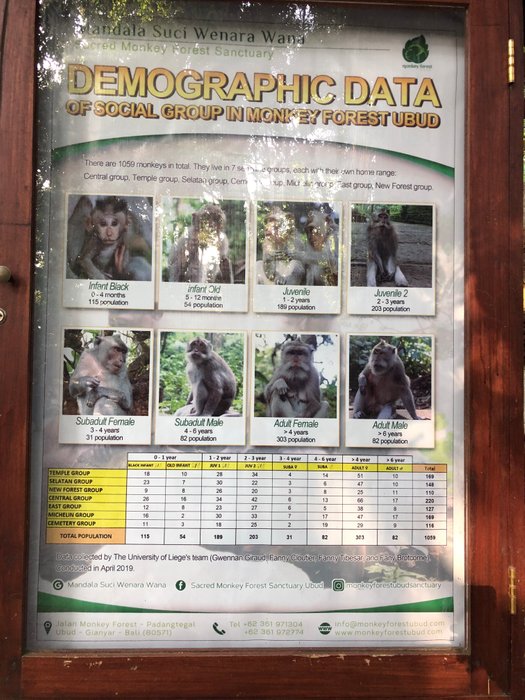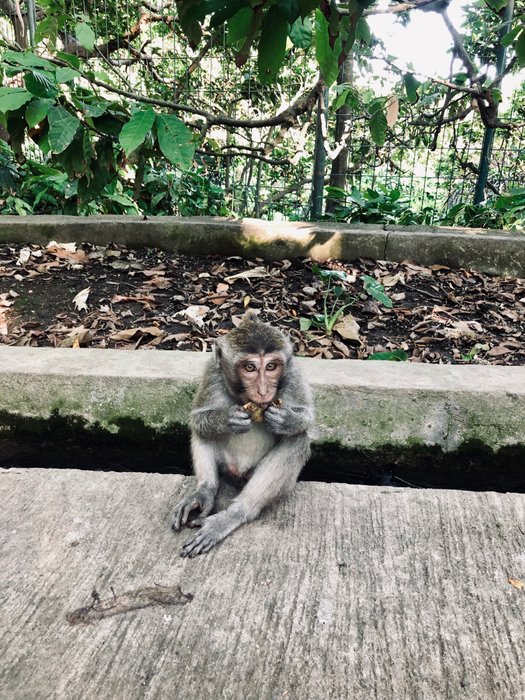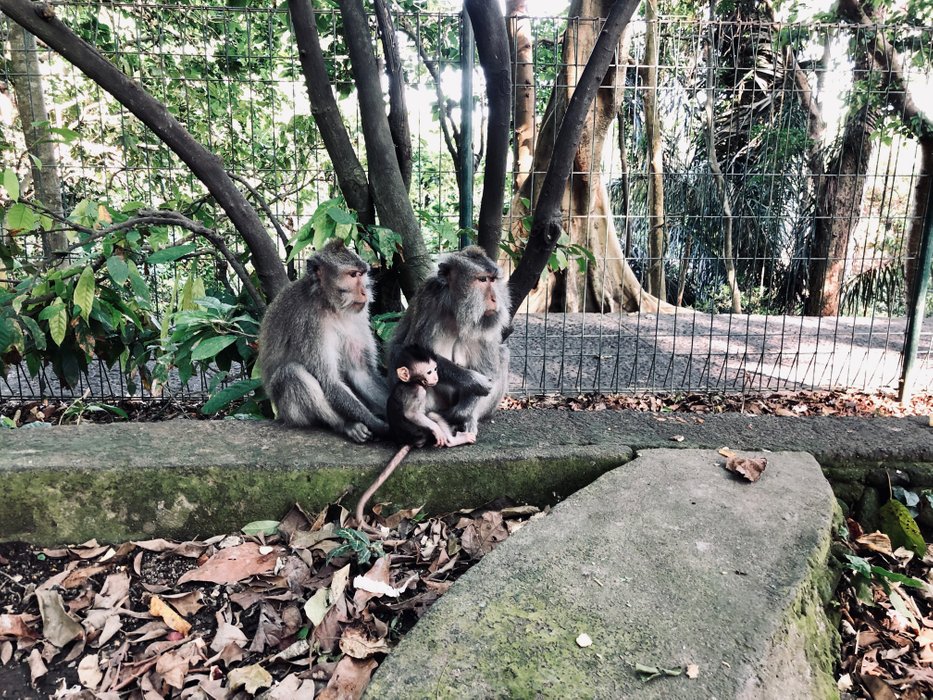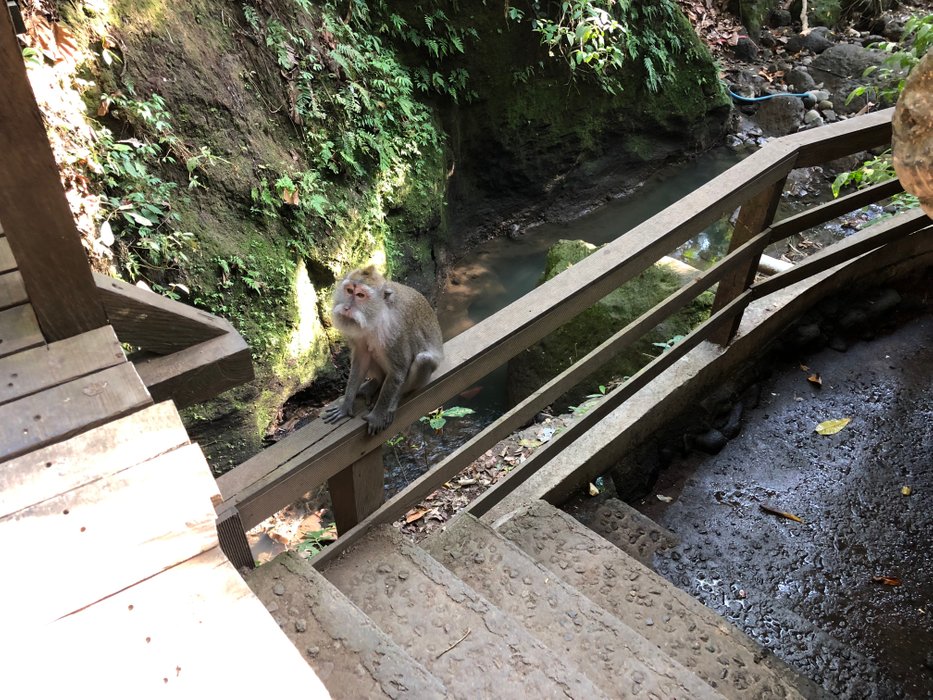 ---
Some of them are so cute that you just want to pet them, but you should definitely resist that. I´ve already seen a monkey biting the calf of a girl. This is not only painful but can also lead to inflammation.
You better enjoy the forest and it´s residents from a save distance.
Einige von ihnen sind so süß, dass man sie am liebsten streicheln möchte, aber dem sollte man definitiv widerstehen. Ich habe schon einen Affen gesehen, der ein Mädchen in die Wade gebissen hat. Dies ist nicht nur schmerzhaft, sondern kann auch zu Entzündungen führen.
Man genießt den Wald und seine Bewohner besser aus sicherer Entfernung.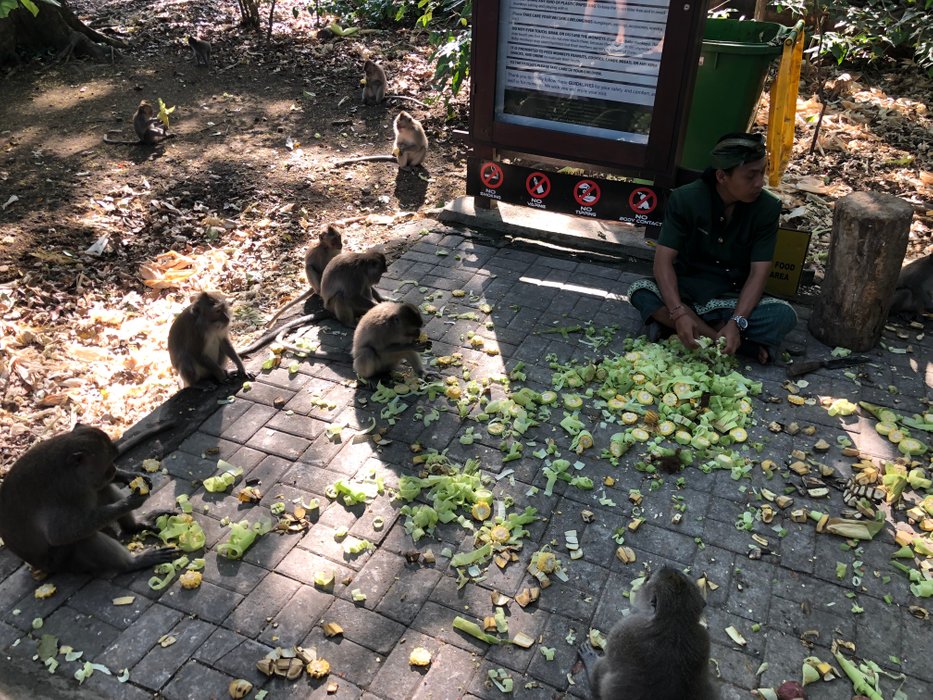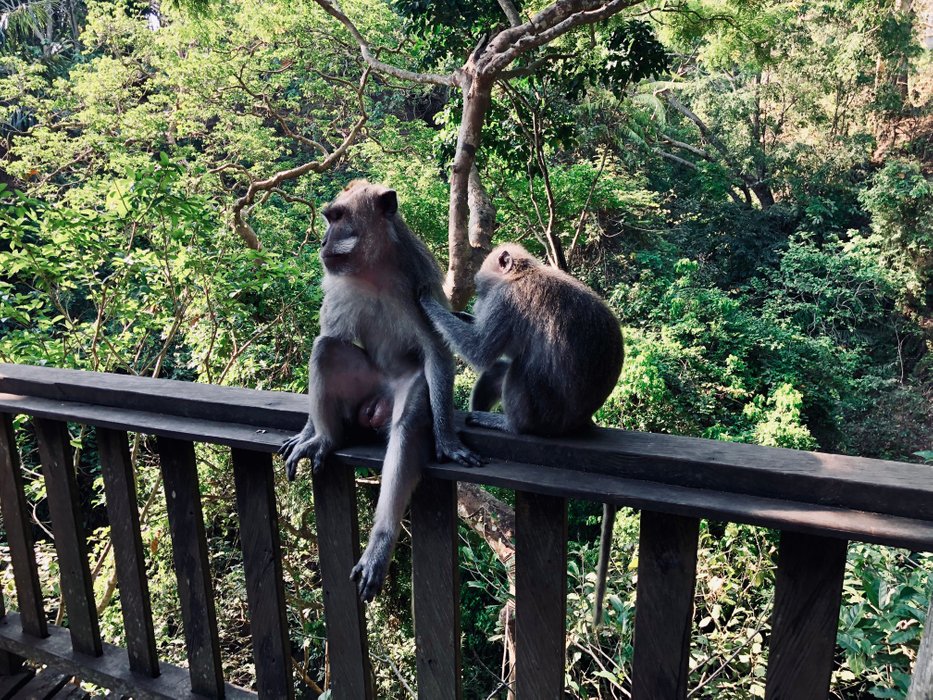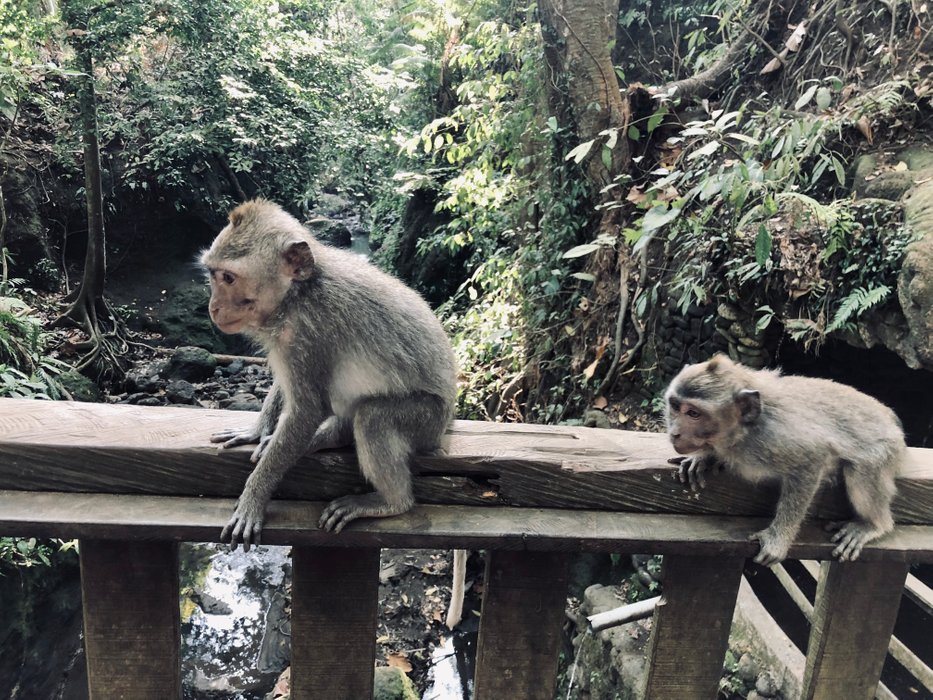 ---
These two monkeys were my absolute favorites. They were sitting there the whole time and playing dumb. I knew that they´re clever and just waiting for the right moment. As a girl was getting closer and wanted to make a picture, one of them took her hair clip. Do not underestimate them, they are way more clever than you think.
Diese beiden Affen waren meine absoluten Favoriten. Sie saßen die ganze Zeit da und spielten dumm. Ich wusste, dass sie schlau sind und nur auf den richtigen Moment warten. Als ein Mädchen näher kam und ein Bild machen wollte, nahm einer von ihnen ihre Haarspange. Unterschätze sie nicht, sie sind viel schlauer als du denkst.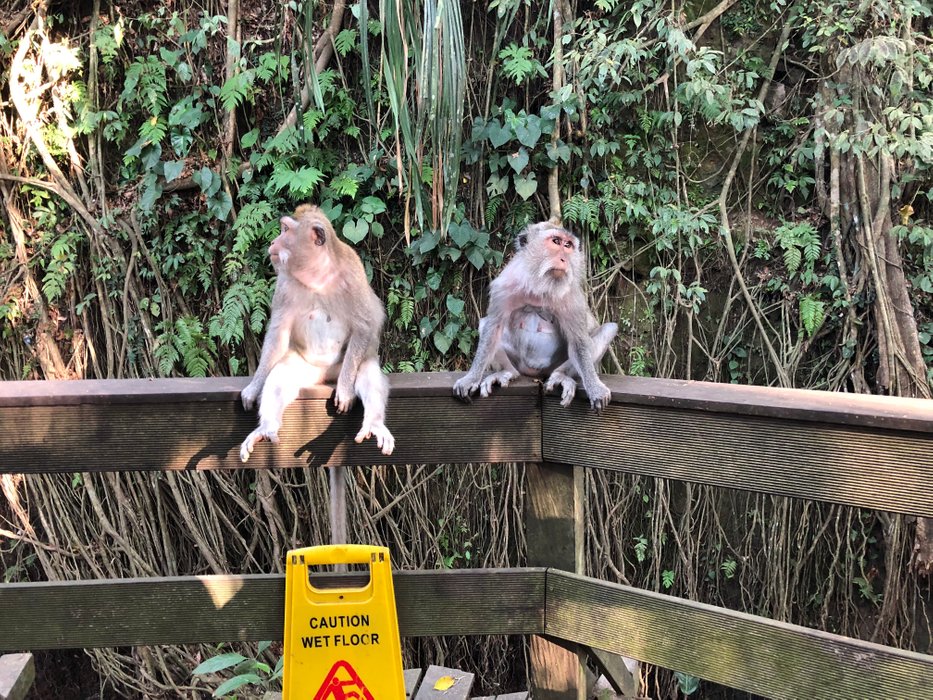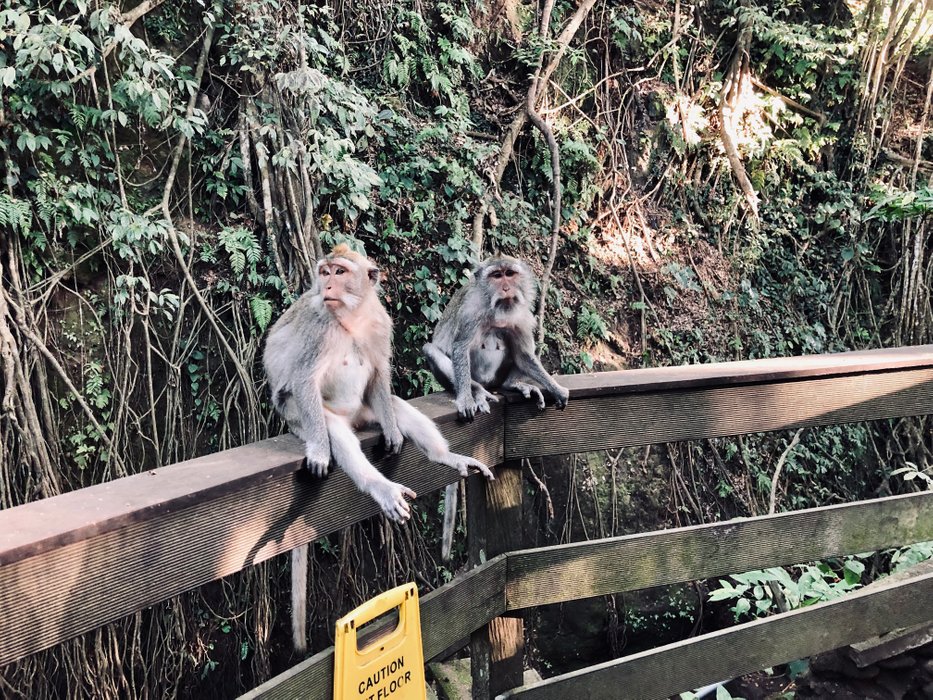 ---
Since this forest is a sacred place there is also a lot of temples to see. If you walk slowly and take your time it takes about 1 - 1 1/2 hours to see the whole forest.
It really is a nice spot to go for a late afternoon walk before dinner. I can recommend to visit that place.
But do yourself a favour and stick to the rules.
Da dieser Wald ein heiliger Ort ist, gibt es auch viele Tempel zu sehen. Wenn man langsam geht und sich Zeit nimmt, dauert es ungefähr 1 - 1 1/2 Stunden, um den ganzen Wald zu sehen.
Es ist wirklich ein schöner Ort für einen Spaziergang am späten Nachmittag vor dem Abendessen. Ich kann wirklich empfehlen diesen Ort zu besuchen.
Aber tu dir selbst einen Gefallen und halte dich an die Regeln.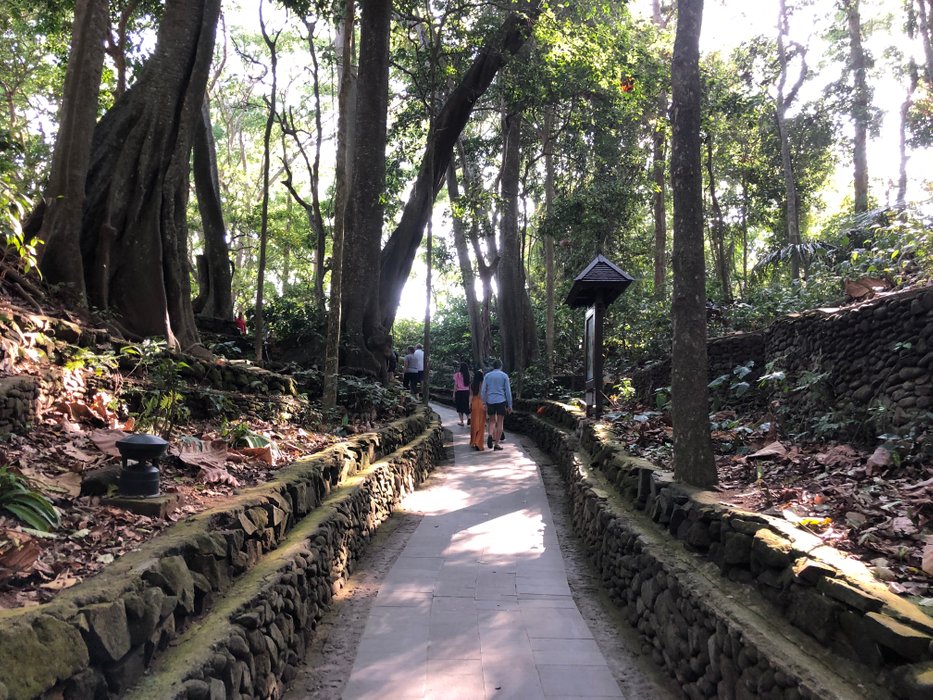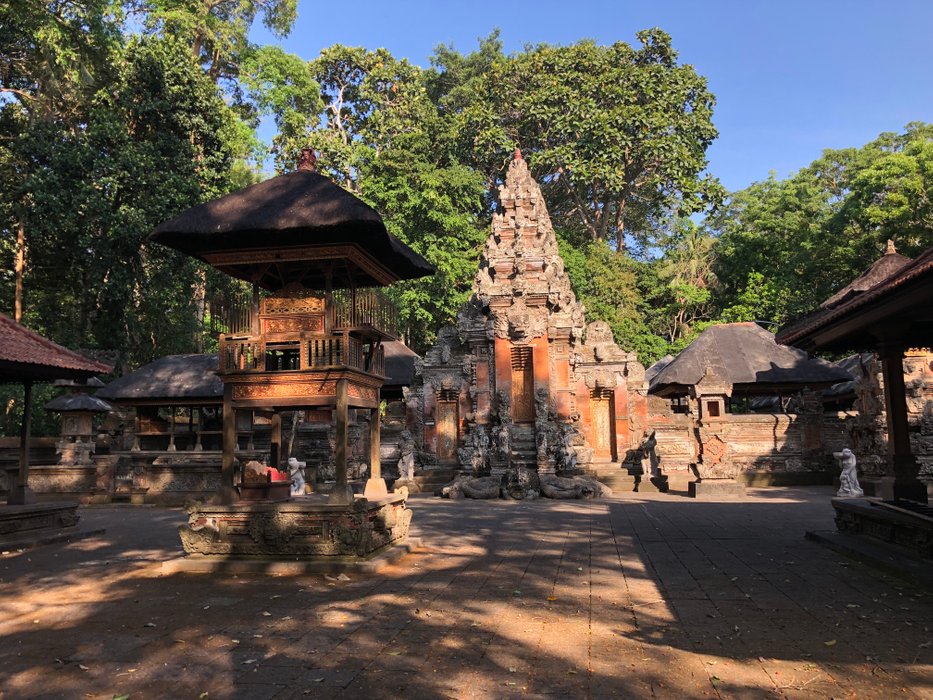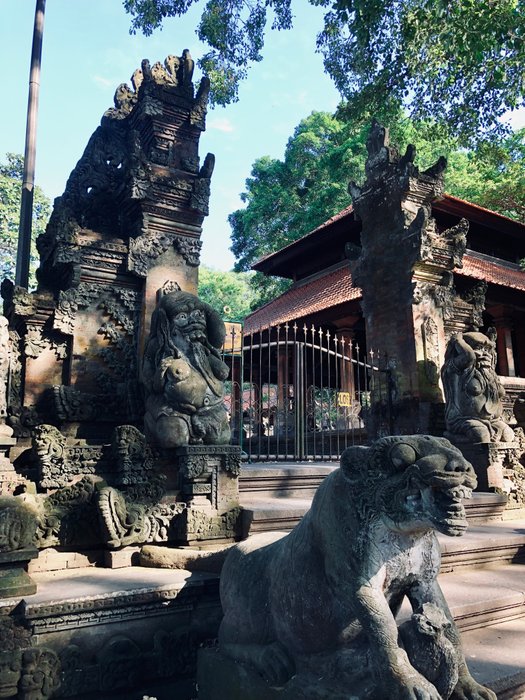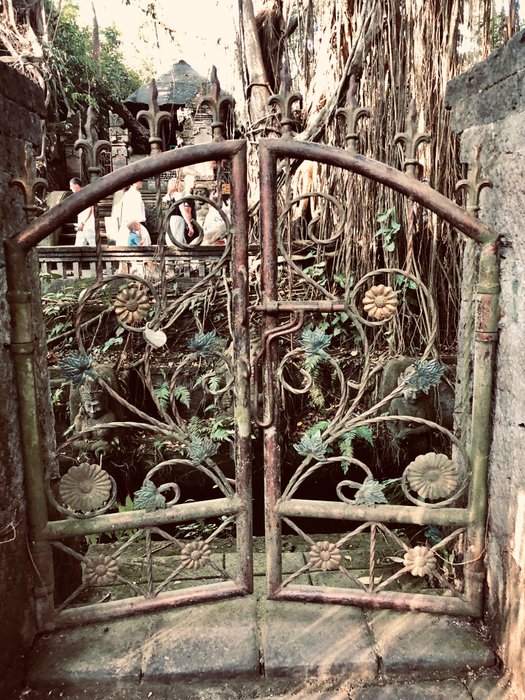 YOU WILL FIND THIS POST ON STEEMITWORLDMAP AS WELL