I've been a member of Airbnb since 2016 and have used their services many times over the years.  I like the idea of helping regular people rent out their space and make extra money for themselves rather than using big corporate hotel chains.
I've had great luck with hosts and finding the spaces as advertised and in most cases, very gracious and helpful hosts.  My beef at this point isn't with any owner, it's with Airbnb itself and their customer support team.
We came to Florida (a 1,200 mile drive) to stay in an Airbnb rental in Key Biscayne, FL that we had rented (and paid for in it's entirety back in December).  This booking was for a month and the price was just shy of $3,000.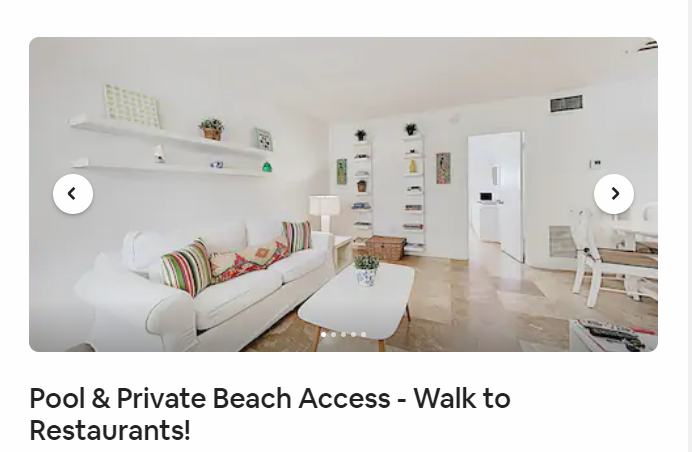 Have you driven I-95 in Miami in rush hour?  Wow, what a nightmare.  After creeping along in traffic for hours, we finally reached Key Biscayne.  We decided that we would get the shopping out of the way first so that we could get out of the car and STAY OUT OF THE CAR for a long time!  There was a nearby Publix and we stocked up with about $200 worth of groceries and staples.  On to the condo, where we carried up luggage, supplies, and groceries for a month's stay across a parking lot and up a flight of stairs to our 2nd story apartment.  The key code provided in our Airbnb email worked fine and the apartment was exactly as shown in the pictures on the website. What a relief to get everything inside and unpacked.  Now time to relax!
We were sitting on the sofa in PJs discussing going to bed when a loud knocking commenced on our front door - this being 11:00pm at night.  A distraught Spanish speaking woman was at the door.  When we were unable to communicate because of the language barrier, she made a phone call and put another woman on the phone with us.  To make a long complicated story short here is the gist:
The woman we were speaking to on the phone was the owner of the apartment (since 2012) and she had NEVER listed this apartment with Airbnb.  She had leased it for one year to a private individual in the prior year but that lease had expired.  This individual had placed the apartment on Airbnb for rent through an agent called Turn Key Rentals.  For some reason, the listing had not been taken down and we were able to rent it.  The door code apparently had not been changed because it worked for us to enter the apartment.
Now the owner is telling us we have to get the (bleep) out because she has the apartment rented to another couple, who were arriving the following morning.  Urgent phone calls to both Airbnb & Turn Key Rentals got us profuse apologies for the "inconvenience" and promises to immediately look for alternate bookings.  The owner did allow us to spend the night since it was so late and we had moved in with everything, but we had to pay her $100 for the night and the cleaning fee to ready the apartment again for the new tenants, and we had to be out by 9:00am.
We received no phone call from either party despite the promises made the night before.  Being a holiday weekend coming up and the last-minute circumstances to rent something for the entire month, the pickings were very slim. I found another listing with comparable amenities but it was 20 miles away in Miami Beach and the listing was $600 more than our original booking.
I sent the link for this booking to Airbnb and asked them to make the alternate booking for us.  I was told by the first service rep on the phone the first night that Airbnb would usually compensate with a 10 - 20% voucher toward the new rental.  20% of our already paid rental fee would be almost $600, so I didn't see a problem with them covering the difference, especially since we were out another $100 for that night's stay.
No one from Airbnb returned our call.  We had to make 4 phone calls during the day, after we were kicked out of our unit and driving around in the Miami heat waiting to hear something.  Each time we called, we reached a different service rep and had to retell the circumstances, each one apologizing for the "inconvenience" and talking about how it takes time to get a coupon authrized.
On the 4th call at about 4:00pm that afternoon with still no place to go, we were advised by this operator that a $200 coupon had been issued for us to us.  I told her that was not acceptable, after all we had been through, they should cover the full difference.  I asked to speak to a manager.  I was told it took 24 hours to get a call back from a manager, there were no direct lines.  Ridiculus!  She advised us that a refund had been issued to our credit account for the original booking and that we should just rebook ourselves with the listing I had found, which meant we paid the entire $3,600.  And she also advised us not to use the $200 coupon because we were holding out for the full amount.  I told her we still wanted that phone call from a manager.
We booked our new place and were able to move in about 6:00pm that evening, after being left hanging all day by Airbnb.  Not one time did they make a call back to us as promised, we had to call them back 4 times and with no good results.
After the fact, it's now 6 days later, and we have been told via messaging that the $200 coupon is the extent of their offer.  And also, it could not be applied to our current booking because that was already completed.  (This, despite the advice of their own service rep not to use it yet).  The only way we can use this $200 credit is if we booked ANOTHER booking by Oct. 16th.  
I have argued consistently with the customer service team about the poor customer service.  The fact that we were thrown out of our apartment after totaling moving in, and had to pay $100 for the night's stay, and had to wander around for a full day while we received NOT ONE RETURN CALL from the team - and they call that an "inconvenience"?  Your TV not working is an "inconvenience" - this was a horrible disaster and an extremely stressful situation!  This was their last answer - basically take the $200 and they are closing the case.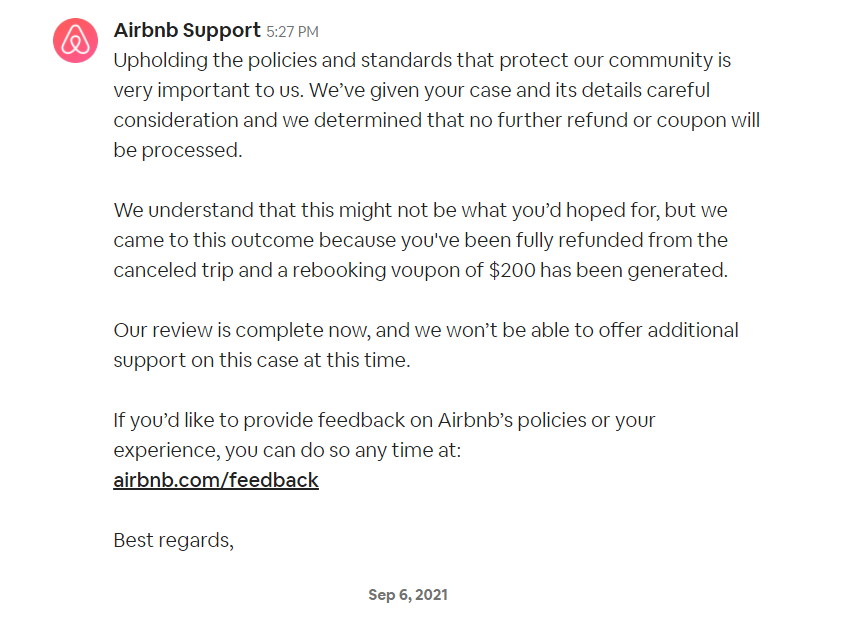 Seriously??  I'm still not giving up.  I wrote back that I still want to talk to a manager.  I also explained that WE are part of that community that they should be protecting.  Plus, we have another booking in January for $5000 and if we were to cancel it for some emergency of our own, we would not receive ANY refund other than the $157 cleaning fee.  So if we cancel, it's perfectly all right for them to keep our $5000 but THEY cancelled on US and they won't even make up the $600 difference in the booking price?
This is another excerpt from our service rep:
In regards with the new booking, I understand that you would like Airbnb to cover the full cost, unfortunately we are unable to process your request as Airbnb did not gain any profit from the canceled reservation since you've been fully refunded.
This clearly shows their only motive is PROFIT and not customer service.