This is the continuation of my last my entry for the @tattoodjay's Wednesday walk challenge.
As I told you last time, I took a lot of photos during my walks in the woods and just do not have time to publish them all on Wednesdays.
So, the last time I stopped at the fact that we went down the hill on snow scooters.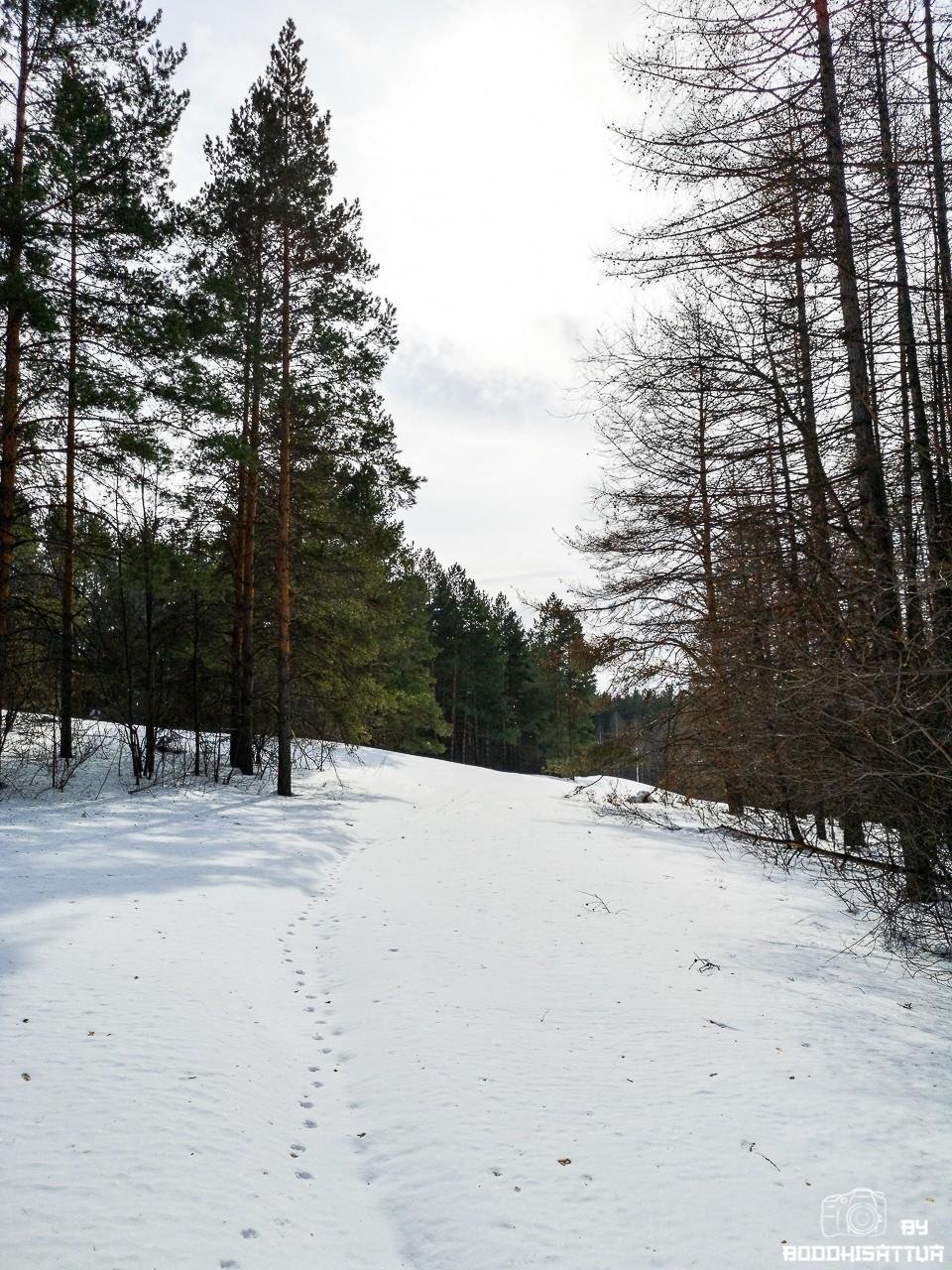 The hill in this place is long and quite steep. We like to ride here, so we made a few more descents.
After that we climbed to the other side of the ravine and went on the usual route.
Going a little further we approached the fork where we planned to go to the new, longest route in this forest. We have never been there and we wanted to go along this route and see it.
Directions to this route in different places of the route are shown by such signs. From here we headed for the ten-kilometer route.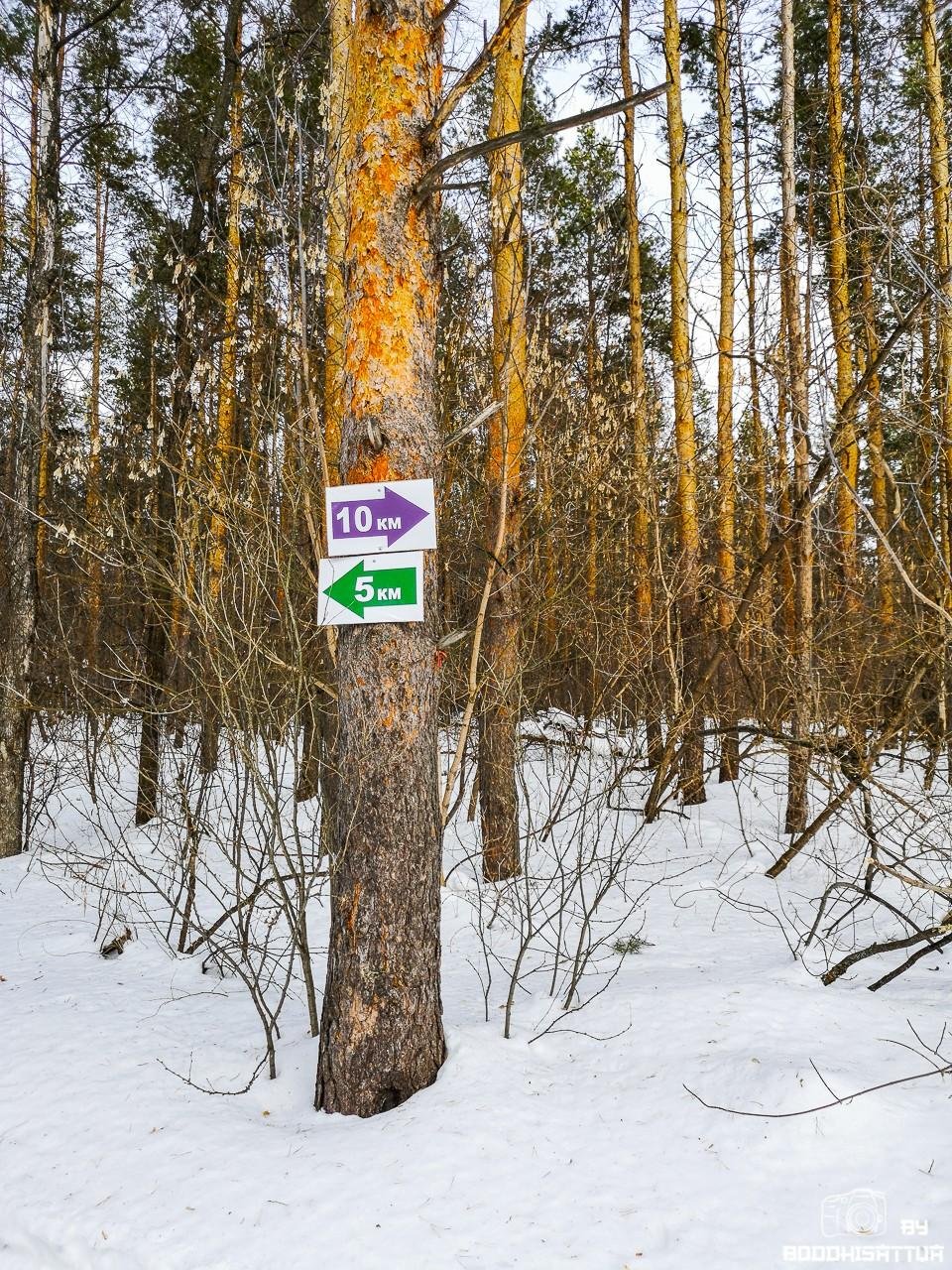 Maples grow in places along the road. They hang last year's seeds. While my company was at a fork in the road and decided to follow the route, I decided to take a picture of one seed. I'm testing the macro mode on the phone.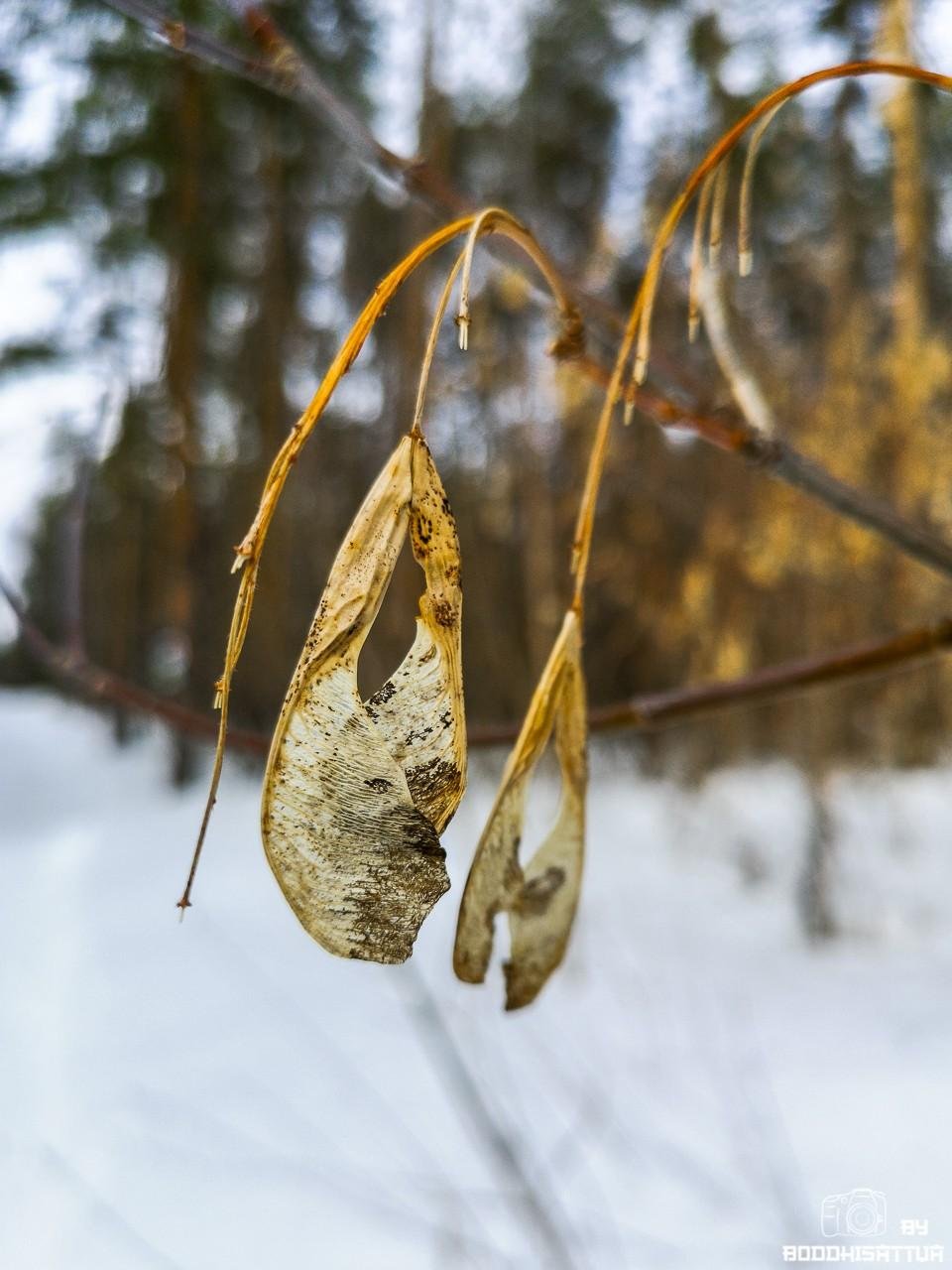 We walked forward a bit and a long gentle slope opened before us. Children immediately rushed forward on the snow scooters.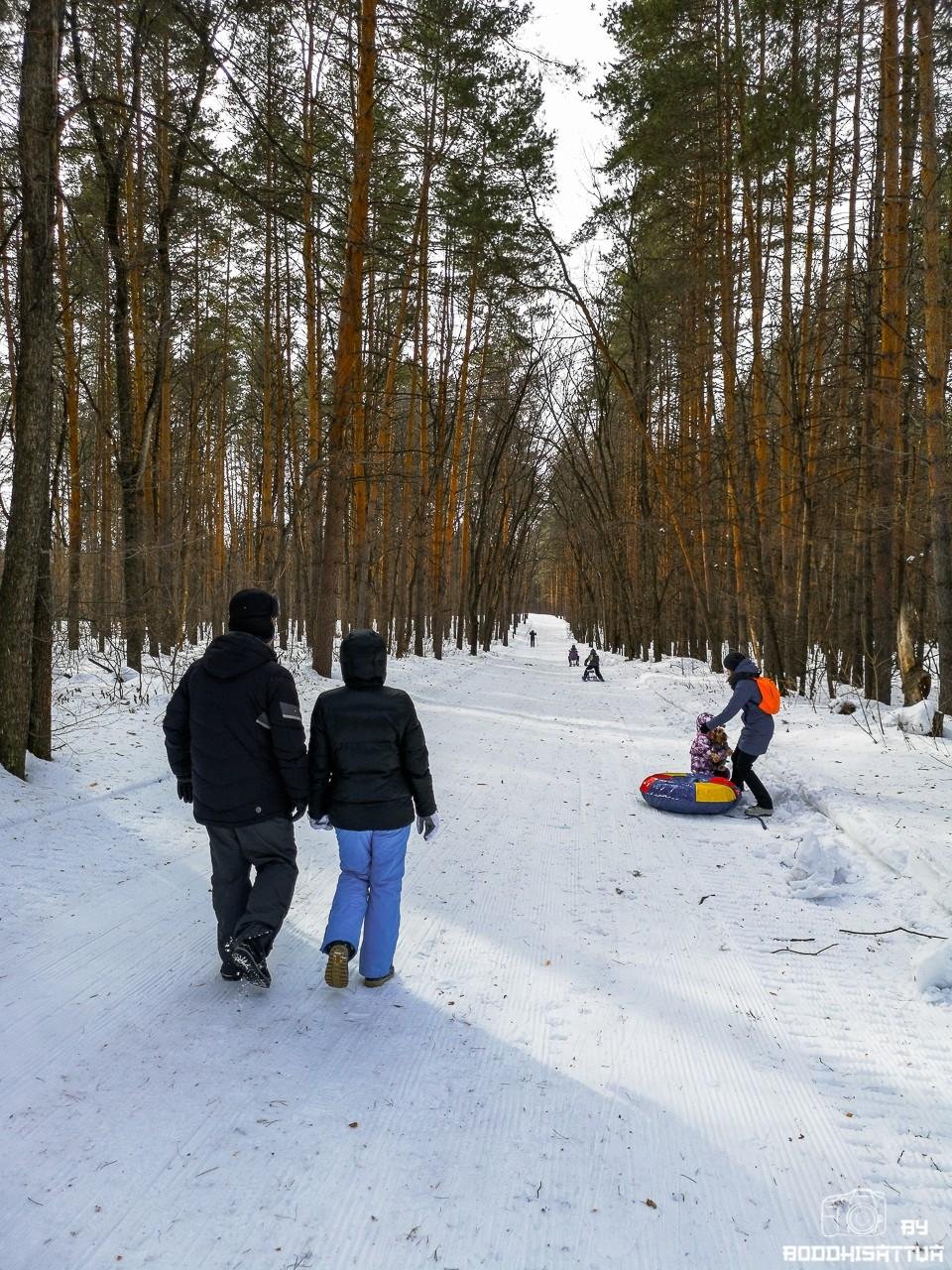 My wife decided to send a daughter on a tubing after them. This is really fun. You accelerate the tubing and it rolls itself a couple of tens of meters. The baby is happy. The dog is shocked)))))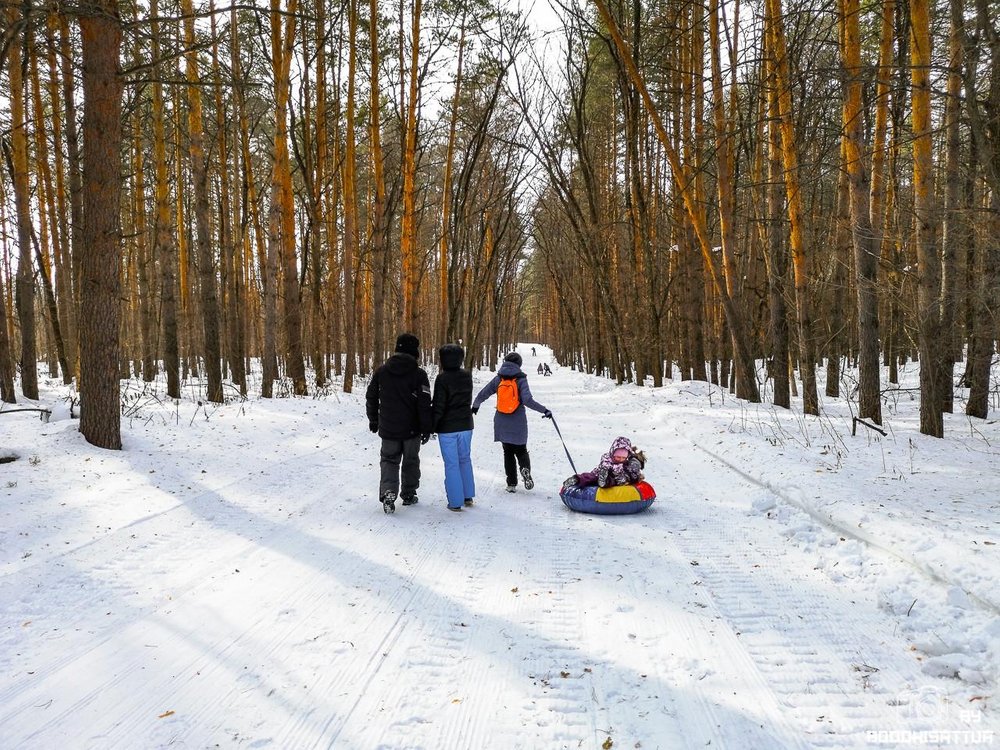 The route was long. Children were still halfway tired and we had to periodically cheer from or drive on snow-scooters and tubing. Therefore, I photographed only periodically.
Here I saw a fallen tree, which I liked. I took a shot of it.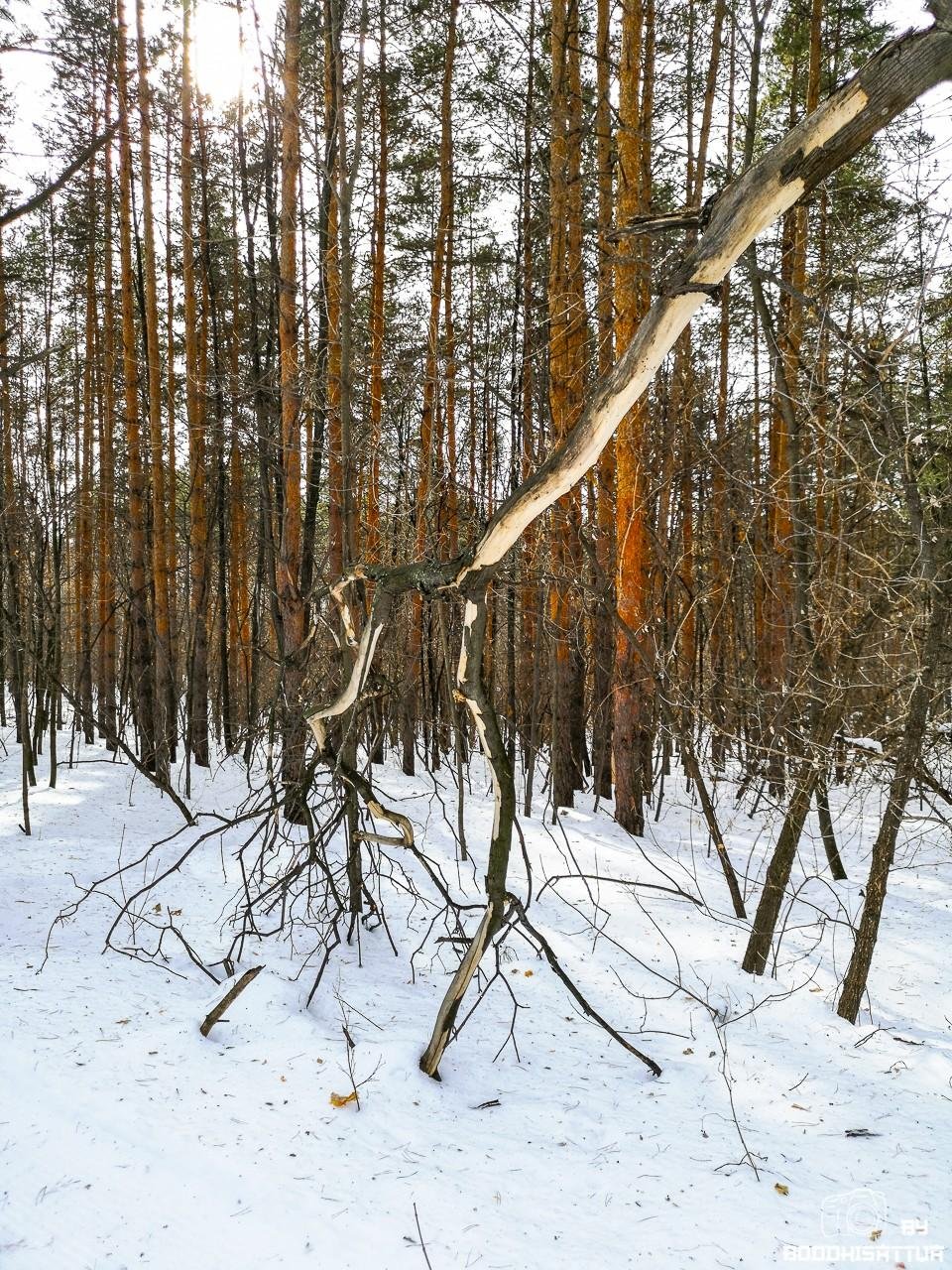 I was surprised how many paths go in different directions from the main route. Apparently here you can walk for a very long time if you know where to go. Or very easy to get lost.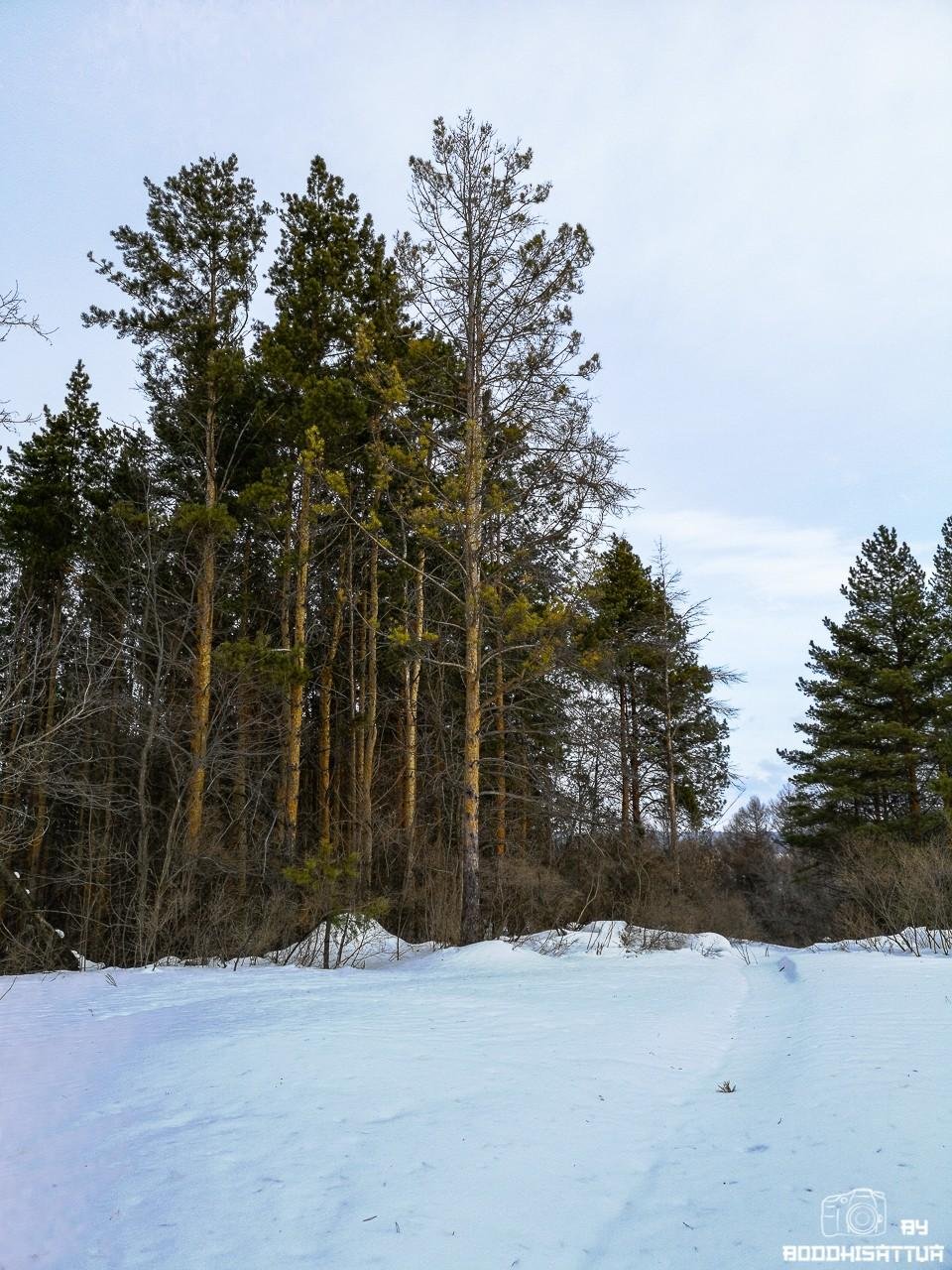 Here I saw an interesting descent on one of the side paths. But here we have not gone. Now our main goal was to quickly go back to the familiar road and from there rush to the snow scooters to our cars.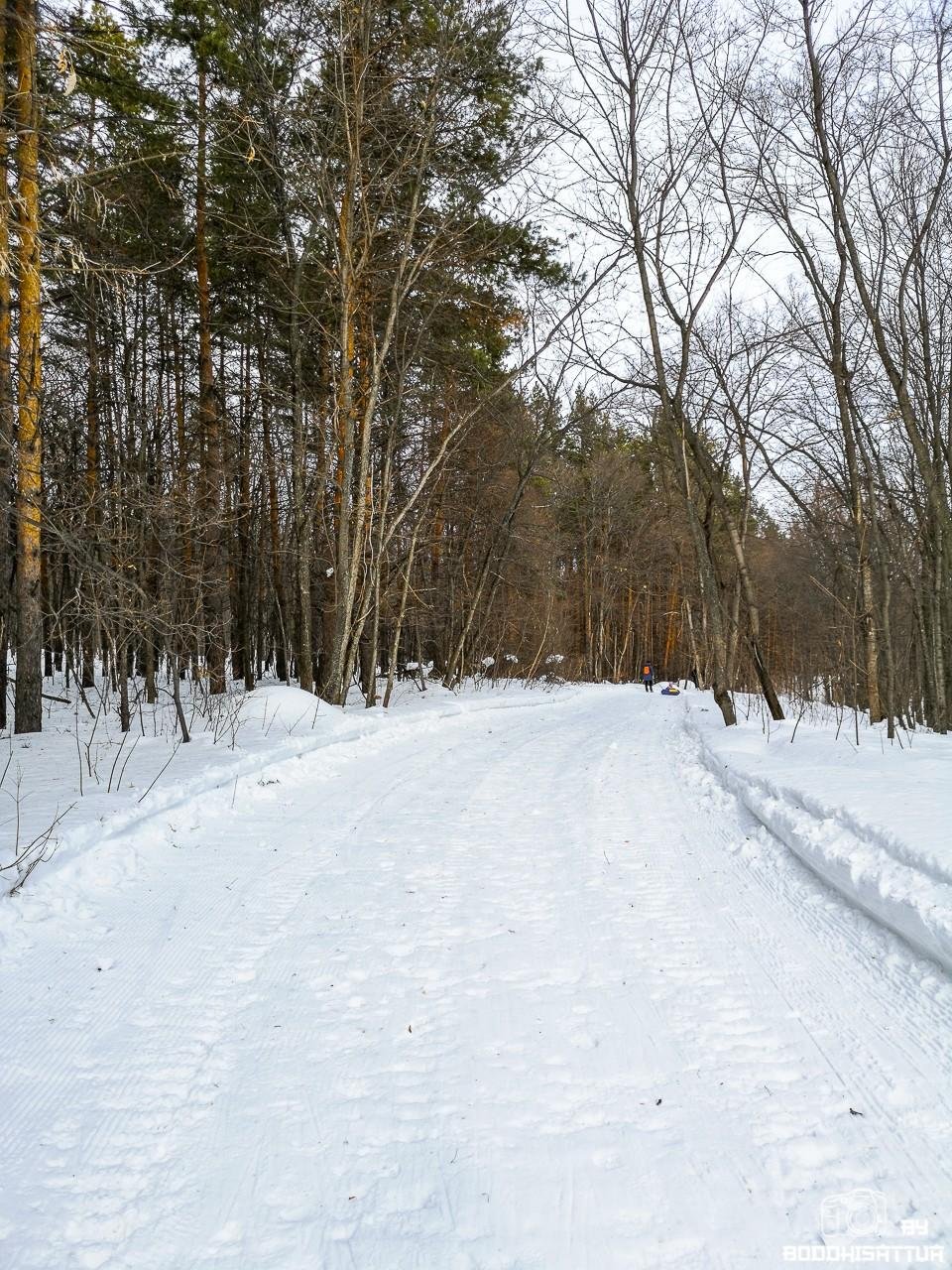 While I was taking pictures, my company went ahead.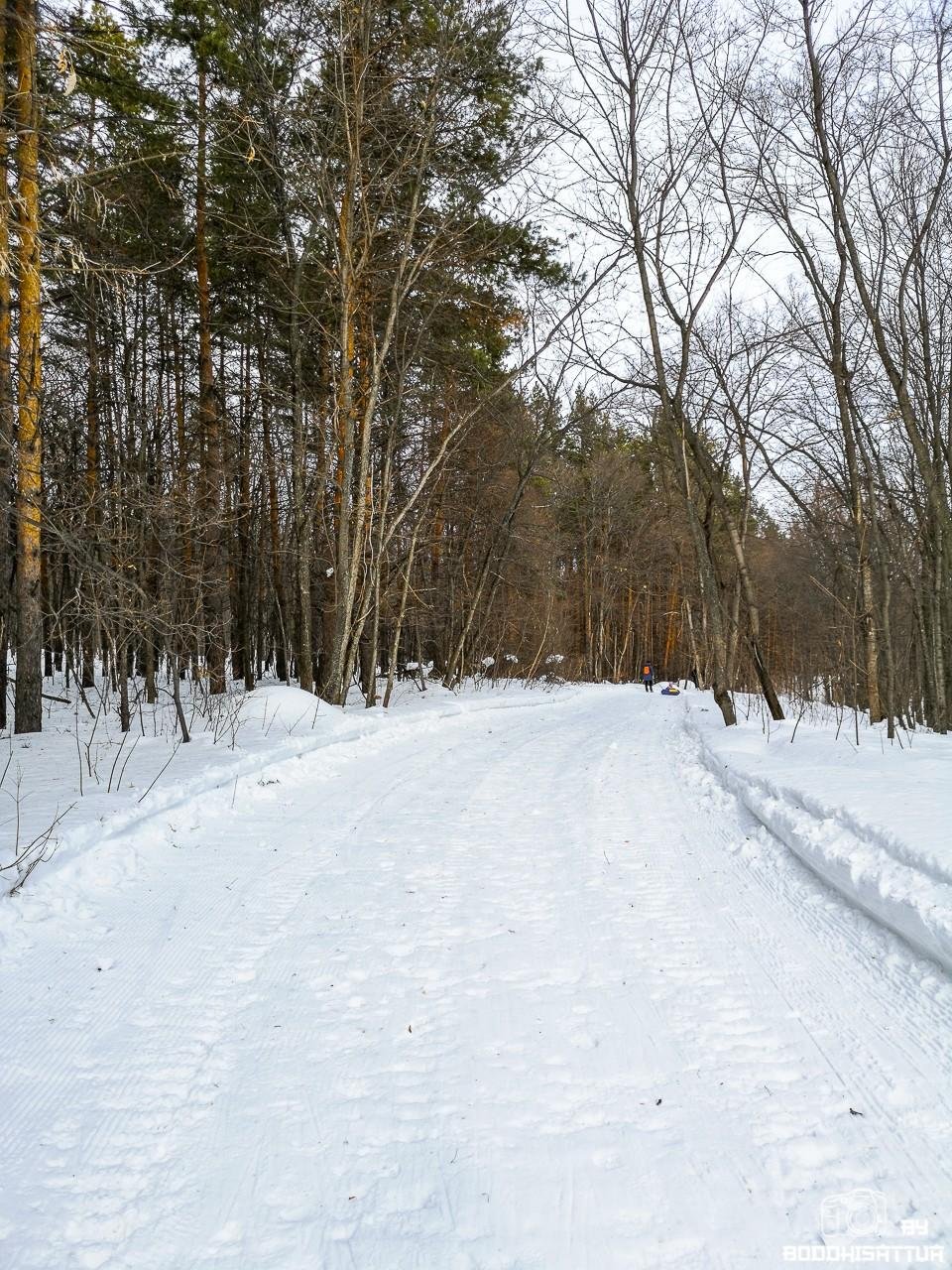 Older children are not even visible. They rush home as hard as they can ....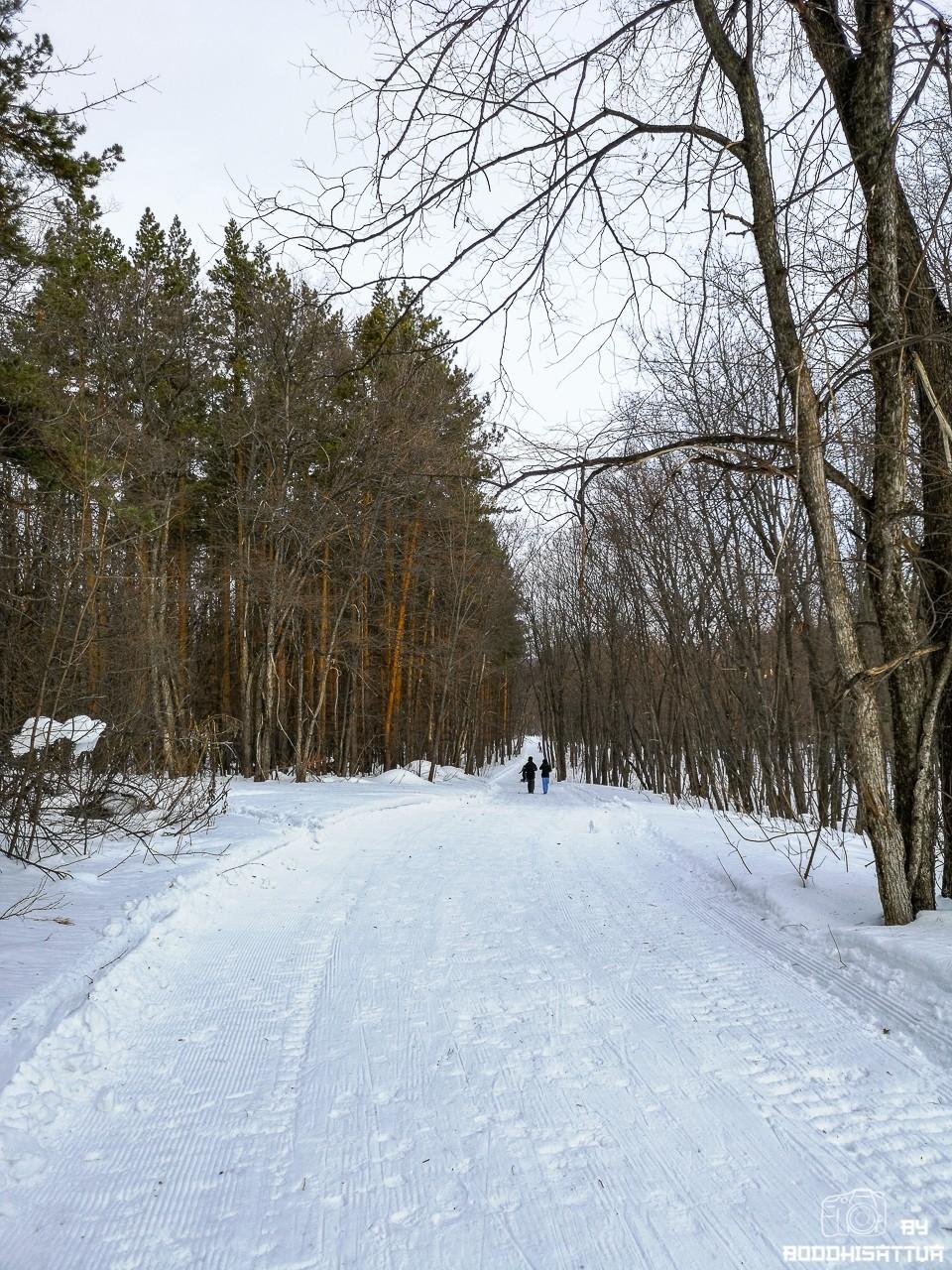 As can be seen from the previous photos, here the entire pine forest turned out to be left of us. To our right, only ordinary deciduous trees grew.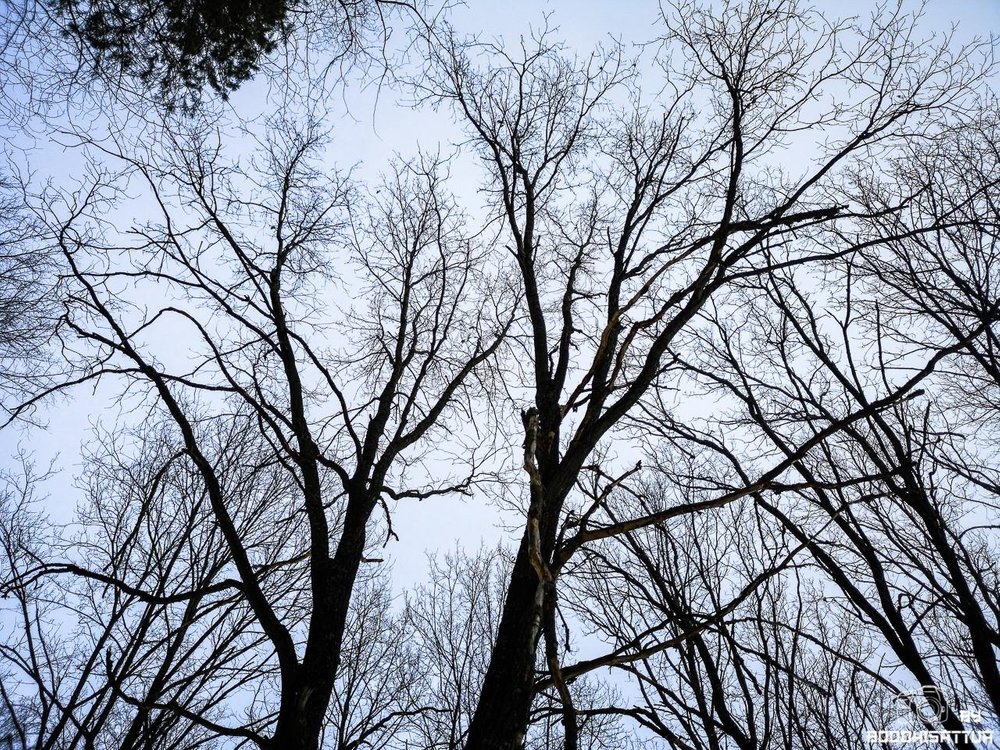 In some places, we again found ourselves in a coniferous forest. By the way, I now remembered that in this place we were overtaken by two skiers. While we passed the entire route, these two drove past us three times.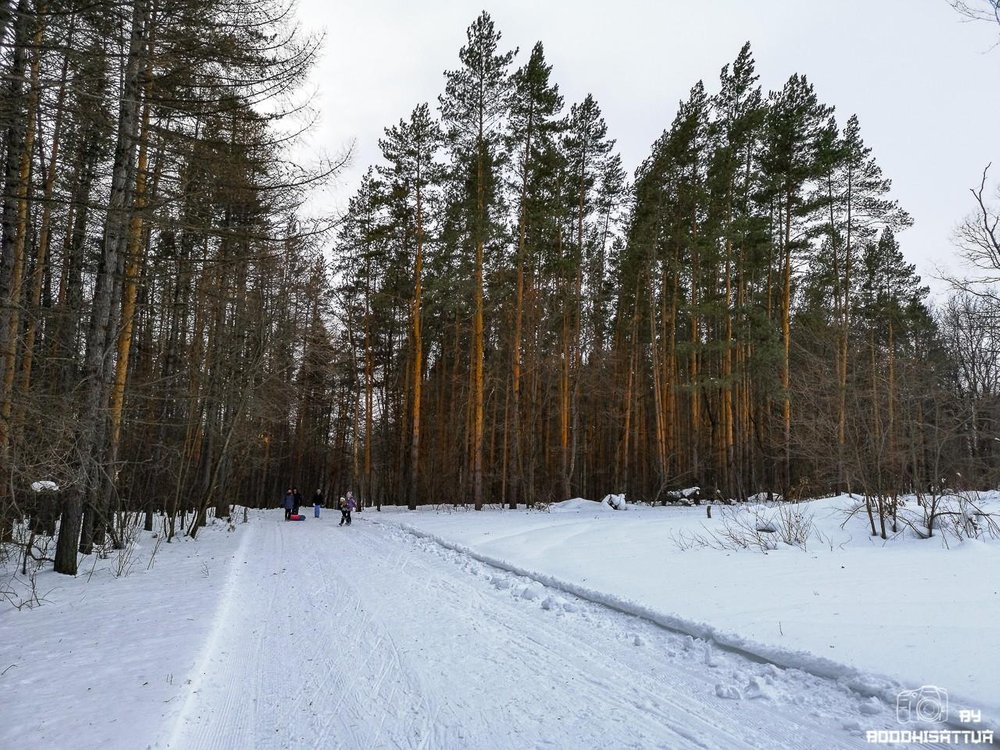 Then again we found ourself in deciduous forest.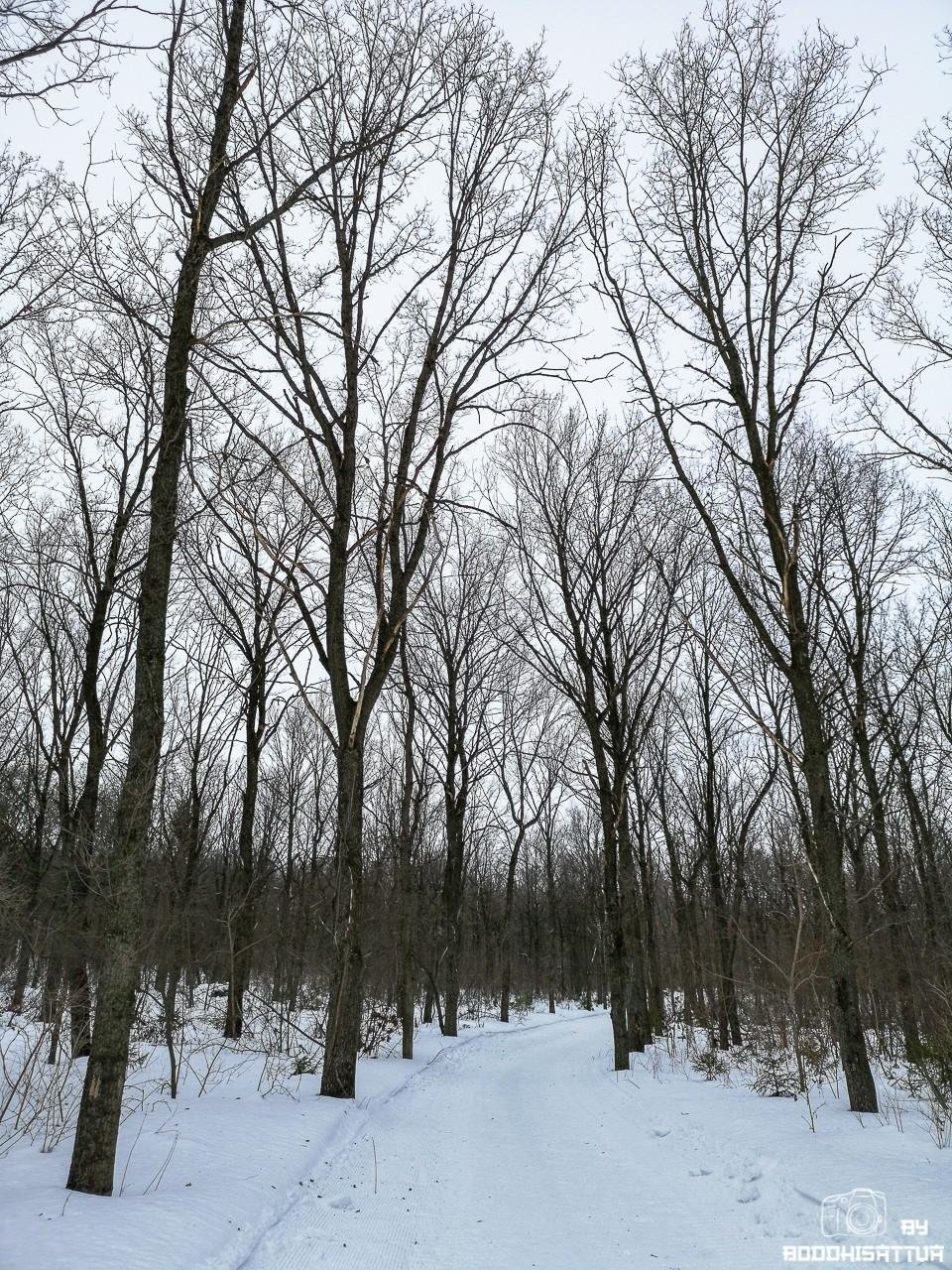 And in one place we found ourselves in a beautiful birch grove.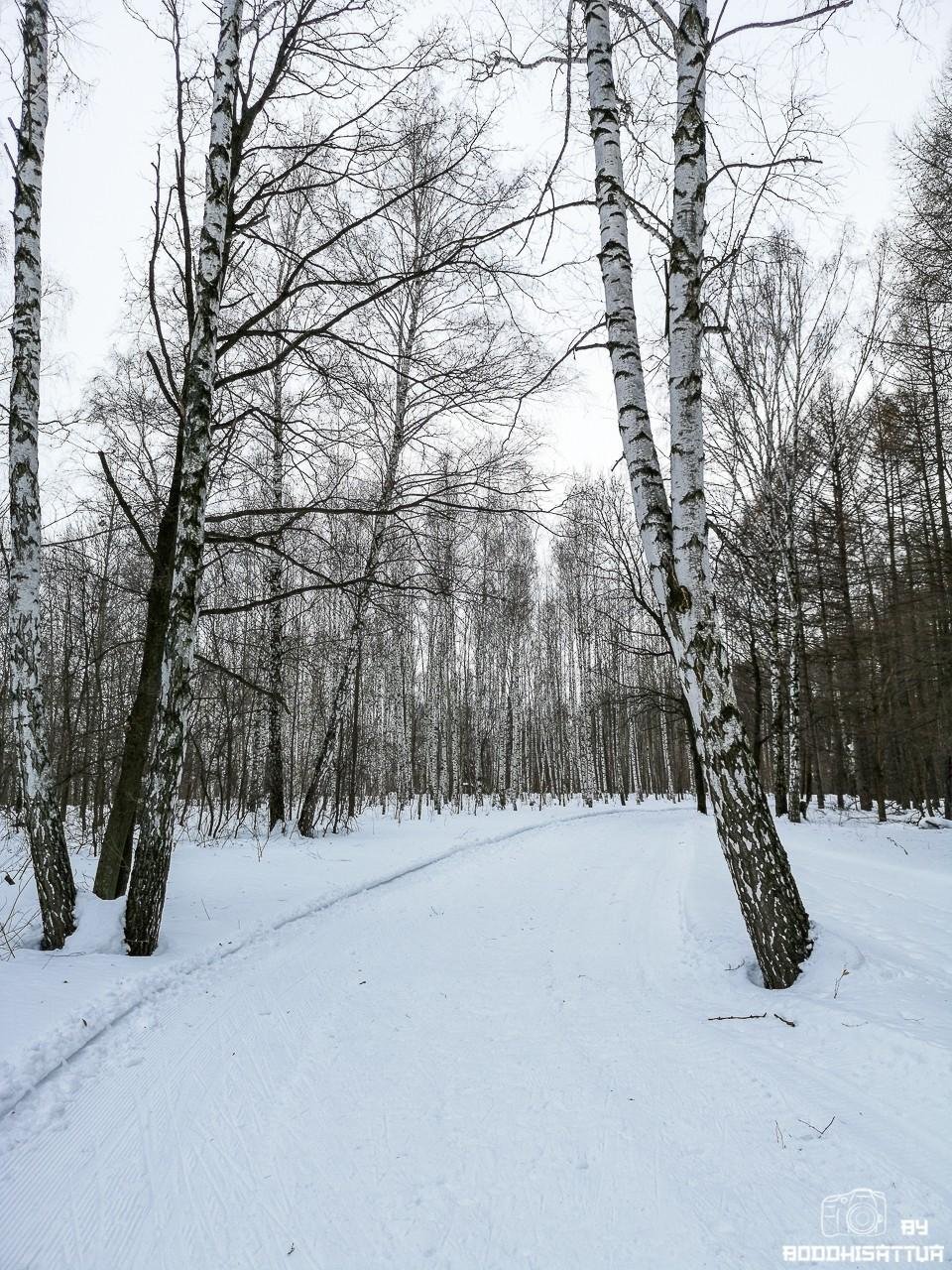 All the way we talked about how beautiful it is here. We wanted to visit here in the spring, when the trees are already green, or in the summer. I am sure that it would be very nice to ride bicycles here.
There is another interesting fact that I could not show in the photos. All pines and larches in the forest grow in straight rows. As it is not surprising, but this huge forest, apparently, is planted by people. We paid attention to this more than once. It is visible in all parts of the forest. Here is one photo from past walks. If you look closely, you can see that trees grow in a straight line in the depths of the forest. The scale of the work is amazing.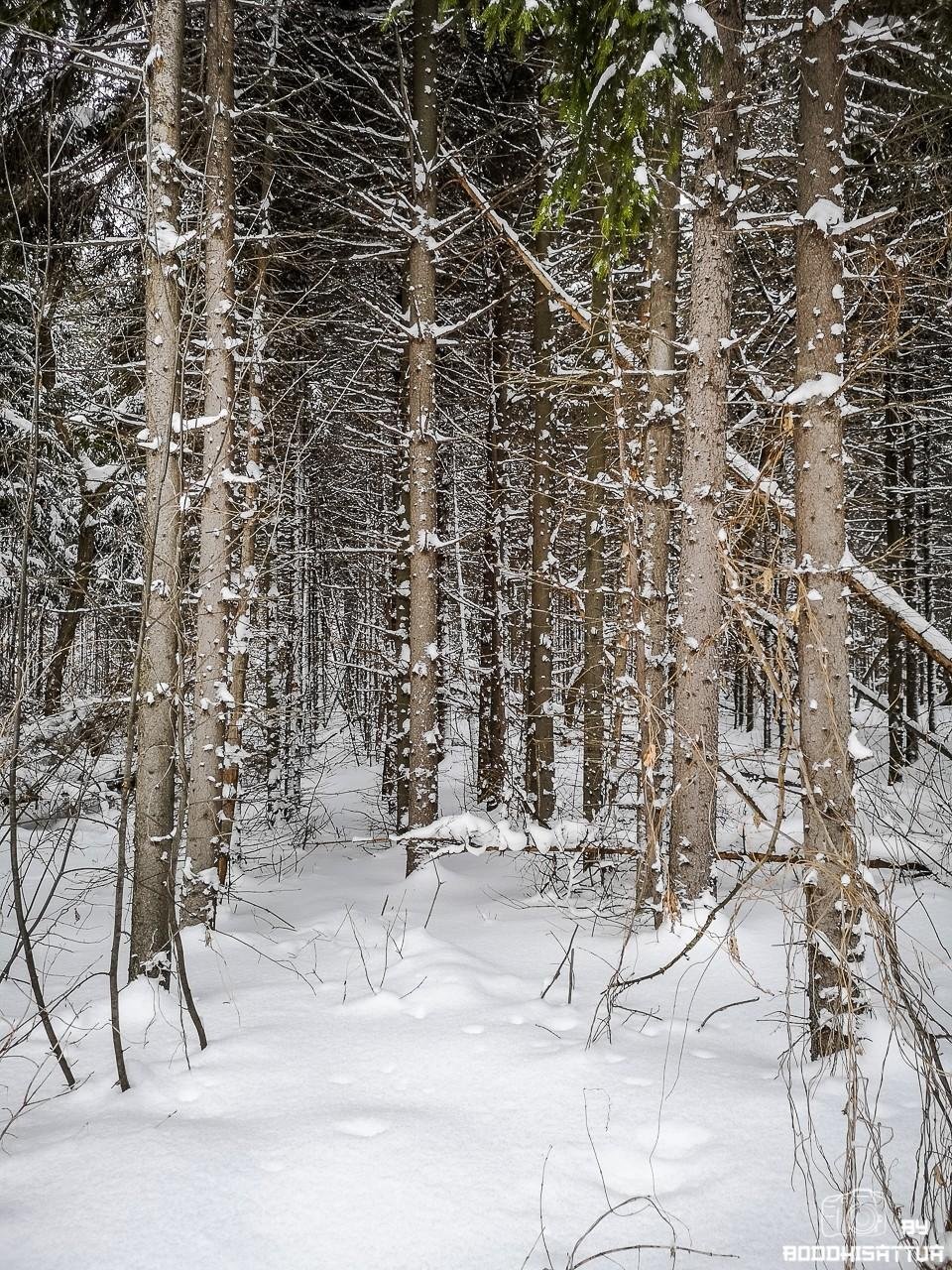 When we again went to the pine forest, I felt that it was very little left until the exit to the path we knew.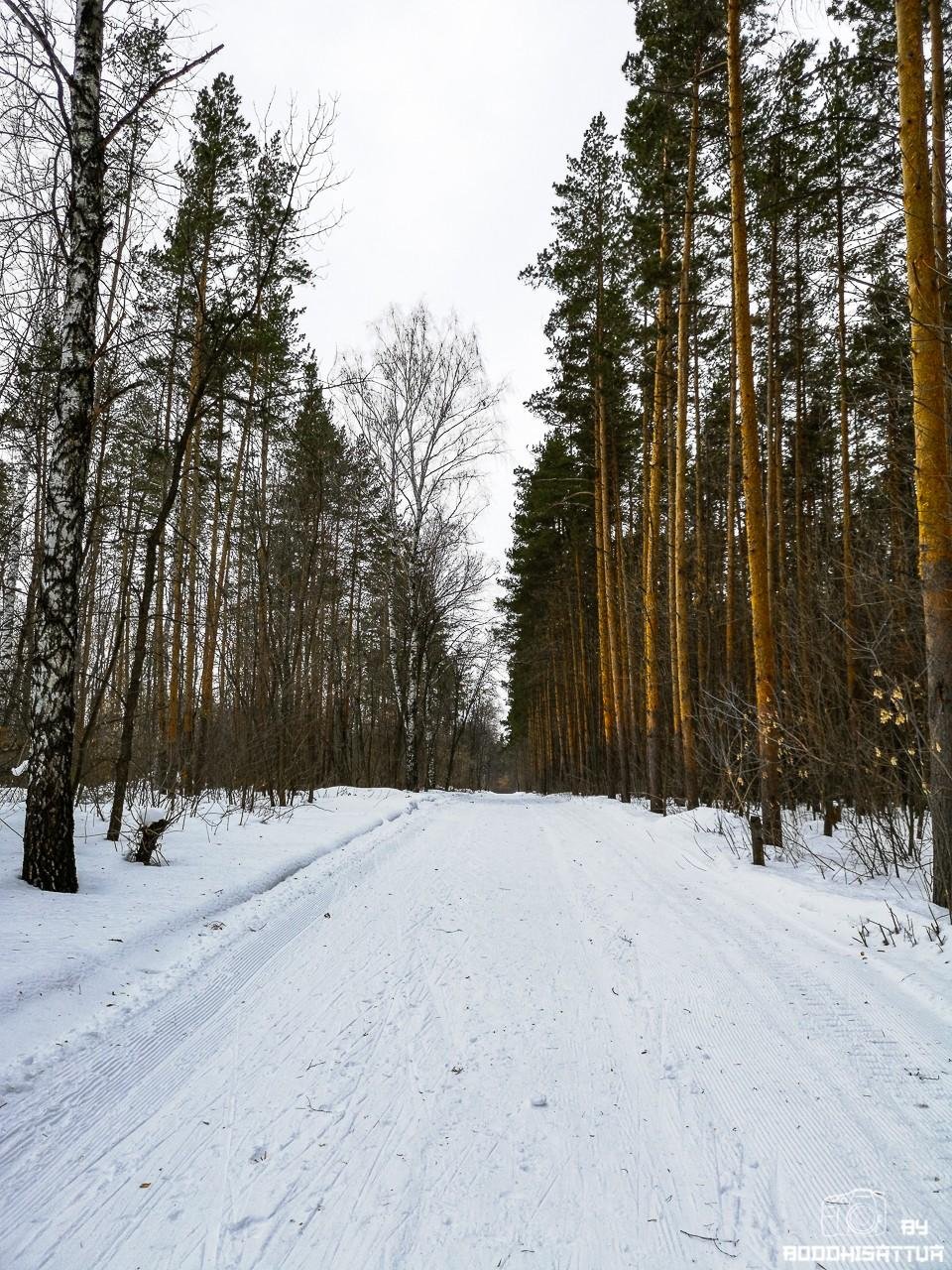 Then I put my son on a snow scooter and we rolled forward with him. From time to time I had to push a snow scooter, and when there was a lift ahead, I had to carry it with me. There was no time to take more pictures.
When we finally got to the familiar road, the joy of the whole company knew no bounds. They all stated unequivocally that they would never again take such a long route.
Then I did not even get the phone. My son and I rode to our cars on a snow scooter. Thus ended one more walk through the pine forest.
---
---
Huawei P20 Pro
---
I strongly recommend to open the photo in a separate tab to appreciate it.
---
Do you like this post? You can see more of my works in my blog @boddhisattva