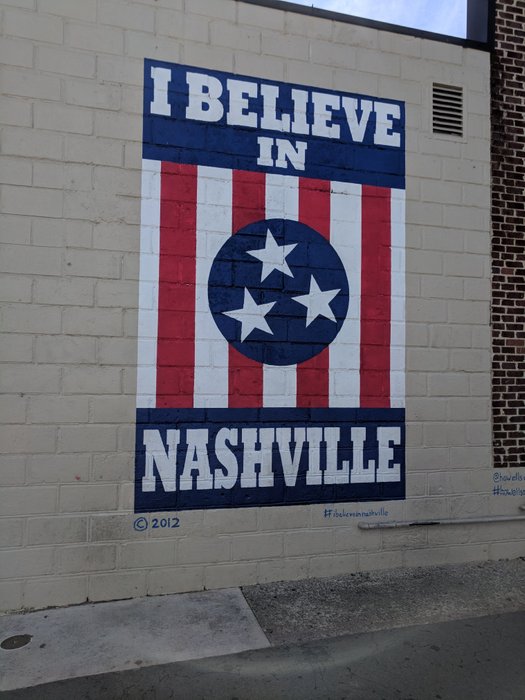 This year for Spring break my wife and I took a return trip to Nashville, TN. If you missed reading about our first day there, you can find it here.
Nashville is a very fluid town, that is especially apparent Downtown where there seems to be almost constant construction. Things are always changing/growing and our second day in Nashville was a reflection of that.
Lunch
If you remember from last time, we had a group of eight people. We decided to all do a light breakfast on our own, and meet up at one of the great places my wife and I had discovered last time we visited for lunch.
Silly me, I wasn't thinking ahead and didn't realize that getting a table for 8 people at lunch-time on a Saturday might be an issue. We all pulled up to Party Fowl and found out there would be a two-hour wait because they had a couple of corporate groups coming in. Like I said, things in Nashville are fluid, so we quickly had to reconsider where we were going to eat.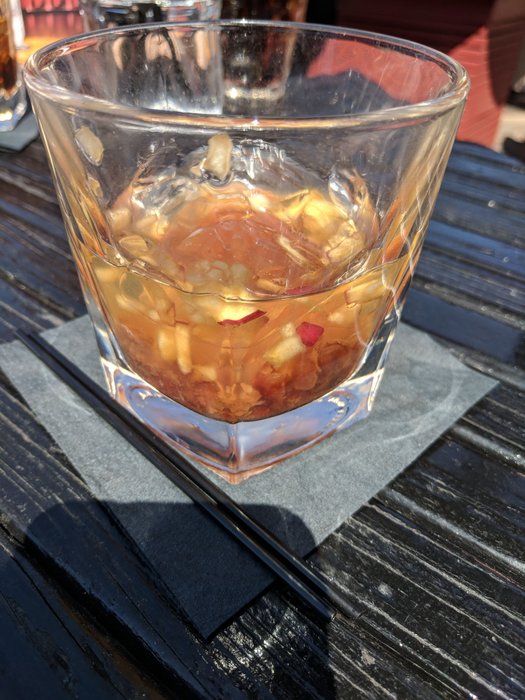 Luckily, my wife's sister and her husband were staying in a VRBO house instead of a hotel. The owner of the house had left them a list of cool places that they should check out for food/drinks.
Whiskey Kitchen was one of those places, and that is where we ended up. It ended up being a great spot located in an area near The Gulch.
It was a beautiful sunny 60-degree Fahrenheit day out and all of us being from a bit farther North, we thought it would be a great idea to sit outside on the patio. Although 60 may seem cold, it felt wonderful and about half of us actually got sunburned.
I started with the drink you see to the right here. They call it the "New Fashioned" and it is their take on the classic "Old Fashioned". It combined bourbon with apples and cinnamon to be a truly magnificent concoction.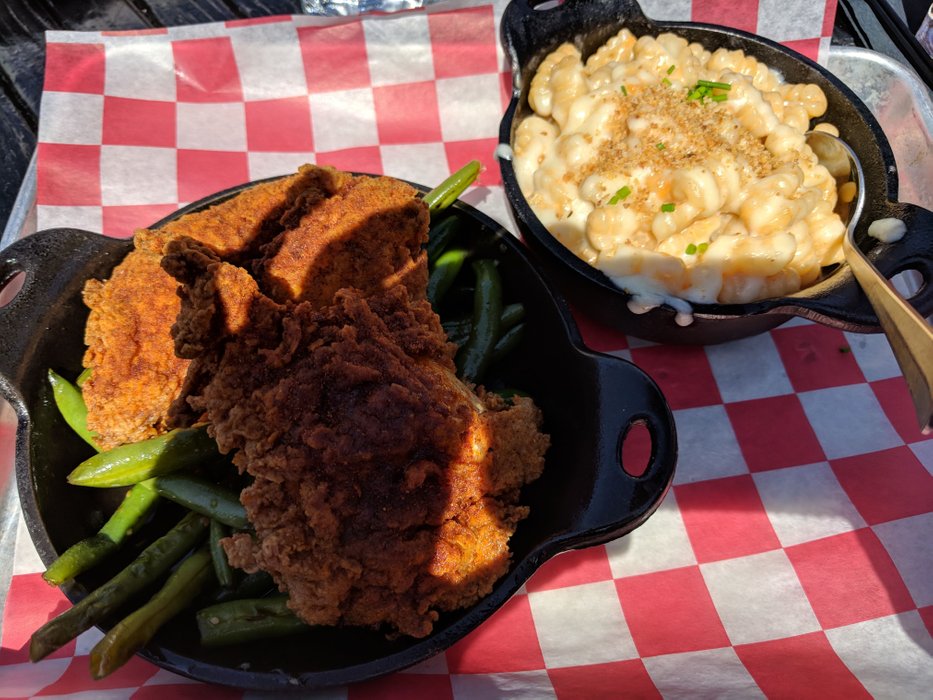 For your sake, I am not going to go through what everyone got to eat, but I am going to highlight what I had.
A little disappointed that I wasn't able to get some hot chicken from Party Fowl, I chose to try it out here. Please excuse my shadow in the picture. Like I said the sun was out and we were loving it!
The chicken here was crispy on the outside, juicy on the inside, and the heat level was not too crazy. The green beans weren't anything special, but the chipotle mac and cheese was amazing! My wife got the nachos which ended up being a huge plate and she enjoyed them as well. We would definitely stop back to this cool place.
Murals
If you have ever seen anyones pictures from a trip to Nashville, you have likely seen them standing in front of some of the famous murals that are throughout the city.
My wife had found a map on Pintrest of where they were all located and wanted to visit some of them. This one was just a short walk(uphill on the way back though) from The Whiskey Kitchen.
Be advised, if you plan on doing the murals, there is usually a line to wait once you get there. We had to stand in line for 15 to 30 minutes to wait our turn for pictures. There isn't really any shelter, so if it isn't a nice day like we had, you might want to take an umbrella.
From here, our group split up, two of our friends wanted to go to the Country Music Hall of Fame which my wife and I had already seen. Two more were going to visit a candy store and the American Pickers facility in Nashville. That left my wife, her sister, brother in law, and me to go check out some more of the murals.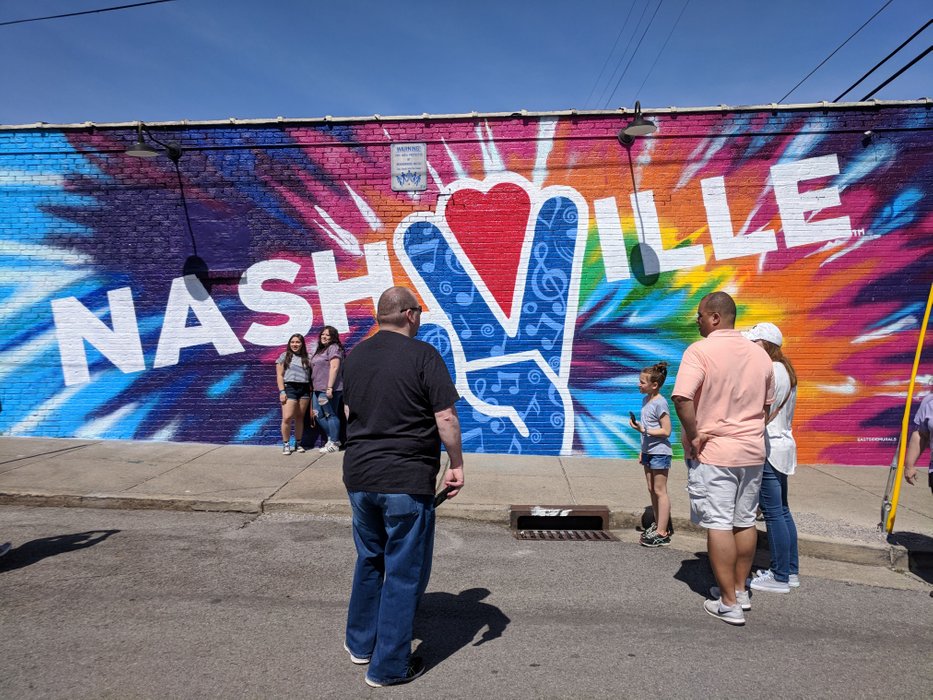 12 South
We ended up in an area called 12 South that my wife and I didn't visit on our last trip. The mural above and the one at the top of this post are located there. There are also a couple of other ones in that area, but my wife didn't really care about seeing those ones.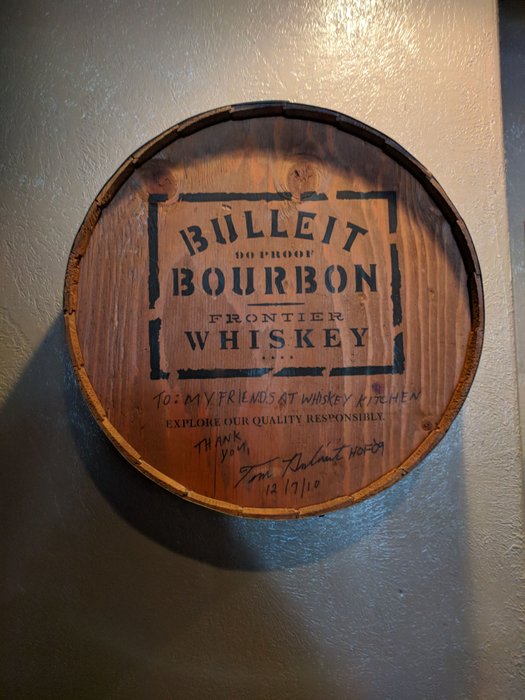 We walked up and down the street in 12 South for an hour or so. Got the picture you see above and stopped in to a tap house to have a beverage.
Since it was such a nice day, this area was packed. There were so many people out enjoying themselves at the coffee shops, bars, and restaurants.
There is a pretty famous cupcake place in this area called Sprinkles. We had to use all the self-control we could muster to not go inside.
Our brother in law did take advantage of a food truck that was parked in one of the lots and got himself a tasty looking peach cobbler.
If you make it to Nashville and you need a little change of pace from the awesome craziness of Broadway, you might want to make the short trip down to 12 South.
After leaving 12 South, we went back to our hotel to rest a little bit. My in-laws were leaving early the next morning and wanted to watch the NCAA Final Four games that were being televised that night.
The other friends we were with were still doing their own thing and didn't really care about the games so we stuck with my in-laws for the evening.
Five Points
One of the other places their host suggested was an area called Five Points. It is a spot across the Cumberland River from Downtown that has a lot of bars and eateries. I viewed it as a very eclectic/bohemian type area.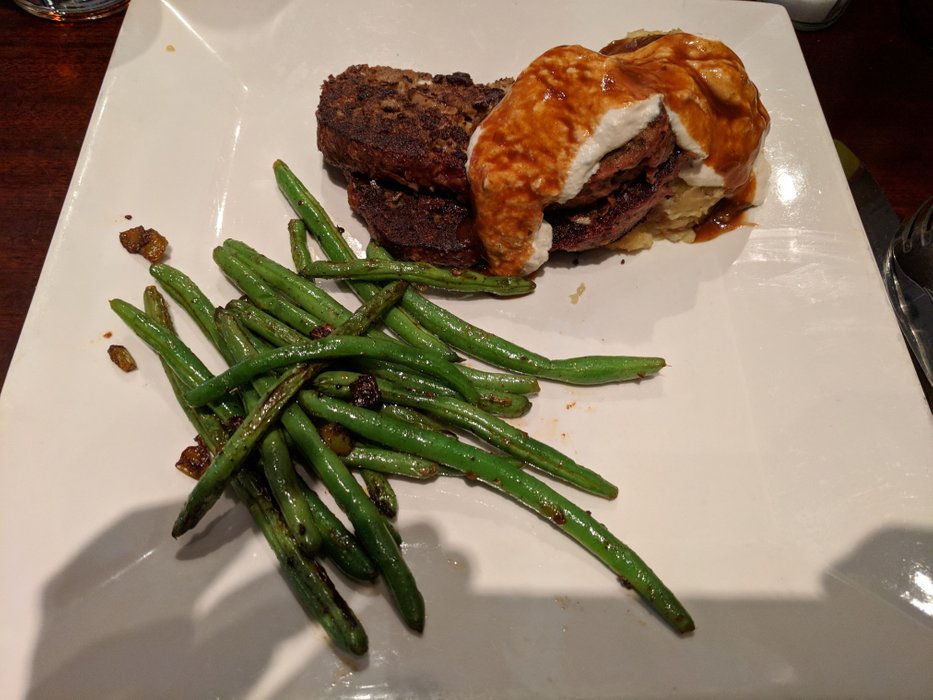 The first bar we went to allowed smoking and there really weren't any TV's to see the games. We ended up leaving, and after a short walk found ourselves at a place called Tenn 16 and it was fantastic!
We spent most of the evening there eating, drinking, and enjoying the games. My wife got a fried green tomato BLT, and I got the meatloaf. If you haven't figured it out, I am a fan of green beans, but the meatloaf and the mornay sauce were the star of this dish.
We finished watching our games and by now we were starting to hear from our other friends. They had done their own thing for dinner and were meeting up at some of the honky-tonks Downtown on Broadway.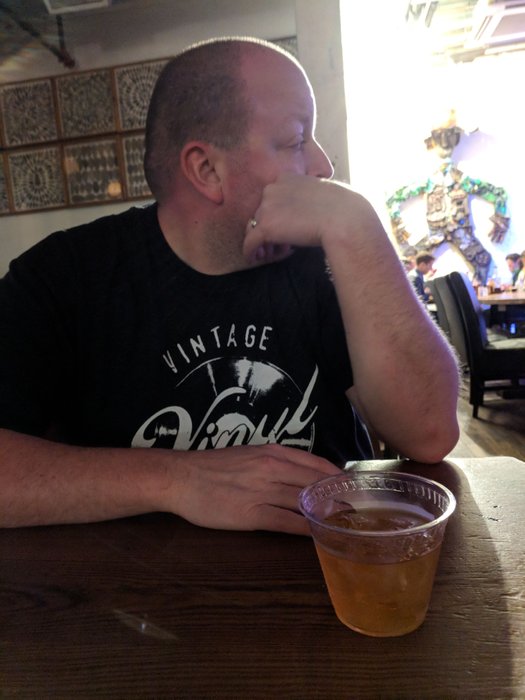 Back to Broadway
Our friends were down at the Hard Rock Cafe on Broadway. That seemed a little too "chain" to me, so we had my wife's sister and her husband drive us back down to Acme Feed and Seed which is just across the road from the Hard Rock.
We said our goodbye's, wished them safe travels, and went inside. We let our friends know that we were there and they said they would be right over.
There was a great cover band on the first level doing everything from Tom Petty, to CCR, to The Beatles.
We stayed there for a while and I enjoyed some Bulleit on the rocks before we worked our way down Broadway to a bar called The Swinging Door.
The band was good at The Swinging Door, but the place was packed. They had seating on the second floor, but just a tv monitor to watch the band from a video feed. We didn't stay there long and started making our way to our hotels because we were planning on taking a road trip the next day.
It was now down to just six of us. Make sure you come back to read about what we did for fun on Easter Sunday. Besides The Opry it was easily one of the coolest parts of our trip. Thanks for reading!
Many of my posts have been featured in The STEEMEngine and SteemRepair, check them out: