I was walking down Rue Saint-Lô in the provincial capital of Normandy - Rouen, France - when I spied something most unexpected: Legos.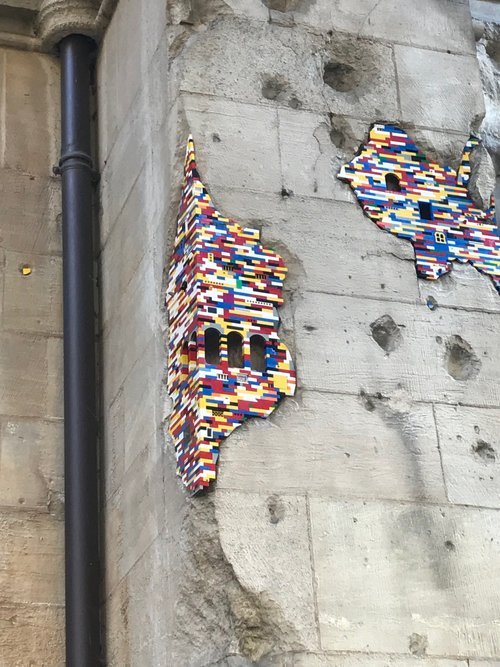 Of course, Legos themselves are not extraordinary. However, when they are wedged purposefully into the side of a hole-infested building, well, that seems relatively unusual to me. However, the first question to come to my mind wasn't about the multicolored children's toy wedged into pock-marked holes.
WHY was this building full of holes? THAT was my first question. And the answer to that question is at the center of a hotly contested modern art project in this vital French outpost on the Seine.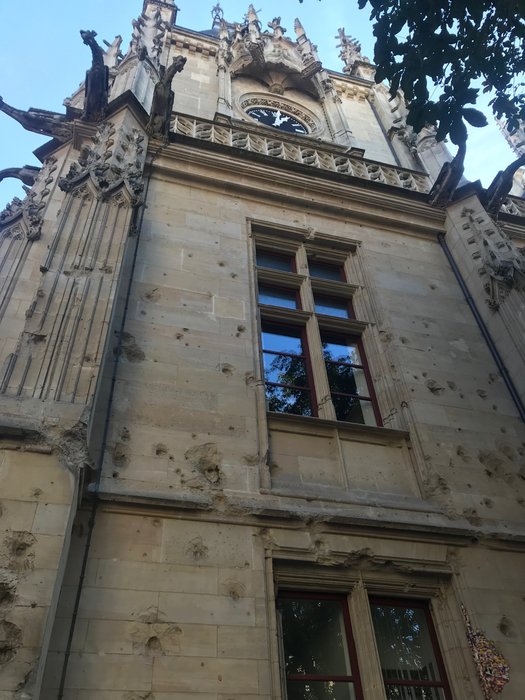 In April and May of 1944, Allied Forces were busily preparing for a massive invasion of German-occupied France. World War II was about to take a decisive turn against the Third Reich and for the liberation of the French Republic. Before this deliverance, however, France would be the recipient of one of the most harrowing bombing campaigns of the war. It was part of a strategy designed to soften up the German logistical systems and positions before the Normandy beach landings by 156,000 Allied soldiers.
For two consecutive days, April 18 & 19, American and English bombers dropped more than 6000 shells - 600 tons of explosives - onto this crucial administrative and transportation outpost of Nazi Germany.
Although the Allies were targeting military and industrial facilities, not every plan goes as designed. As an inevitable result of such a widespread and massive attack, over 1000 French civilians were killed and thousands wounded.
Between extensive bombing and rampant fires, much of Rouen was virtually destroyed. Bridges downed, roads and railways were demolished, apartment buildings, Churches, and other facilities were annihilated. And for those buildings left standing, most did not escape taking heavy damage from shells and fire.
The Rouen Courthouse featured in these photos was began construction in 1499 as a Parliament building. After the 1789 French Revolution, the building was turned into a courthouse known as the Palais de Justice de Rouen until World War II. And during the bombing of Rouen, the Palais received its share of abuse, with entire sections flattened.
After the war, as rebuilding began, a decision was made to leave the damage done to the courthouse. It was an homage to the thousands of residents killed and wounded during the occupation and bombings. The Palais is pock-marked from ground to the roof with fist-sized craters and cracks from explosives, shrapnel, and flying debris as Rouen was pounded from the air above during 48 hours of hell.
And so, THAT is why the Rouen Courthouse, the former Palais de Justice, is full of holes. It is a tribute. A dedication. A tactile history of both the ravages of warfare and a monument to the sacrifice made by Rouen to French liberation.
This brings us to 2020 and artist Jan Vormann.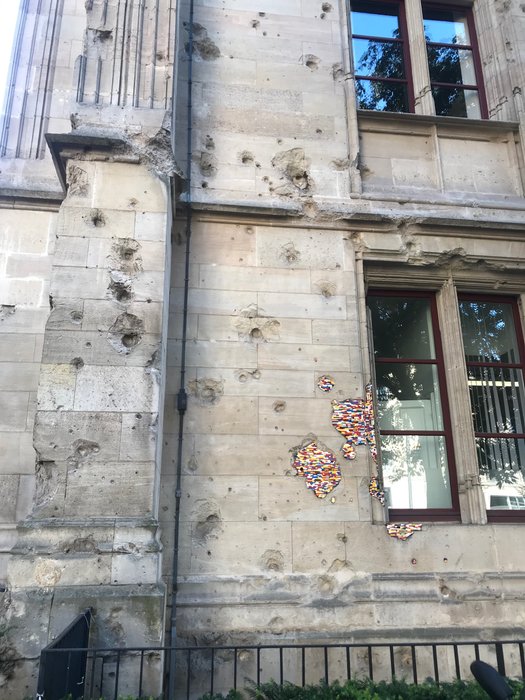 The Legos of Rouen: Toying With History?
Vormann, a German sculptor, calls the act of filling damaged buildings with colorful Lego 'Dispatchwork.' But many in Rouen call the artistic endeavor heresy. I can appreciate art, and I am a student of history.  I suppose I can understand both sides of this argument.
From my research: Vormann has traveled the globe affixing Lego to damaged buildings and decaying walls. Perhaps part art and part social commentary, it would seem fitting to imbue neglected structures with bright tiles as a way of calling attention to neglect and decay. Here in Rouen, however, the decay in the Palais was intentional and not a byproduct of neglect. To me, Dispatchwork appears somewhat trivial and out of place here in Rouen.
Nevertheless, it appears that the Lego infusion is not necessarily permanent. In his other projects that I read about, children quickly scoffed up the Legos he carefully placed to take home and construct their own artwork.
And to that, I say, touché, mes enfants!
Cheers!