Ready to get your tastebuds horny?
You're at the right place!
If this is your first time reading @Buttpacker's Mouthgasm, this is the part of the blog where we showcase the drool-and-jizz-inducing food that we often like to treat ourselves to (after spending hours drooling and jizzing over food porn ourselves). Expect copious seafood and veggie dishes!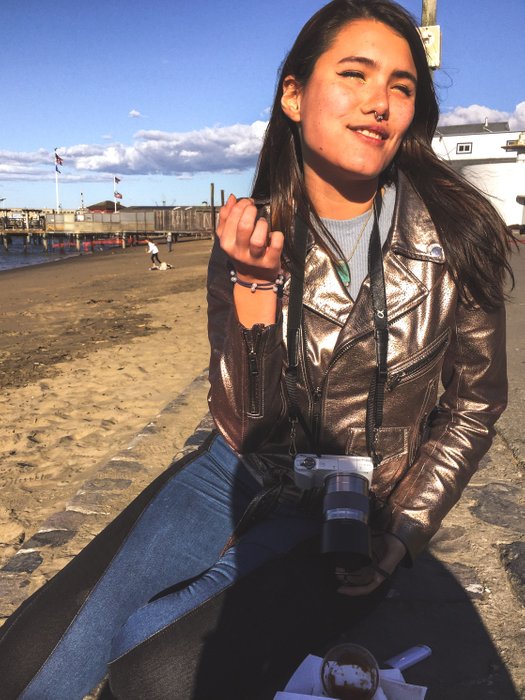 This is the definition of a jizz-face caused by food
For those of you who have read our last installment of Mouthgasm, the post ended with my panties overflowing and flooding the highway with "joy and happiness" on the way to San Francisco (thanks to the most sinful vegan burger I'd ever tasted). Luckily, there were no casualties, just a bit of traffic. What's new in LA?
So we're moving on now, and I must say, by the time I got to San Francisco, since it was the end of my trip, my bank account was alsotaking heavy damage and fast approaching 0 (a few extra upvotes wouldn't hurt lol, wink wink ). So I couldn't splurge as much as I did in LA, but... I think I was strategic at least!
Pier Market Crab Stand
- Pier 39, #103, San Francisco, CA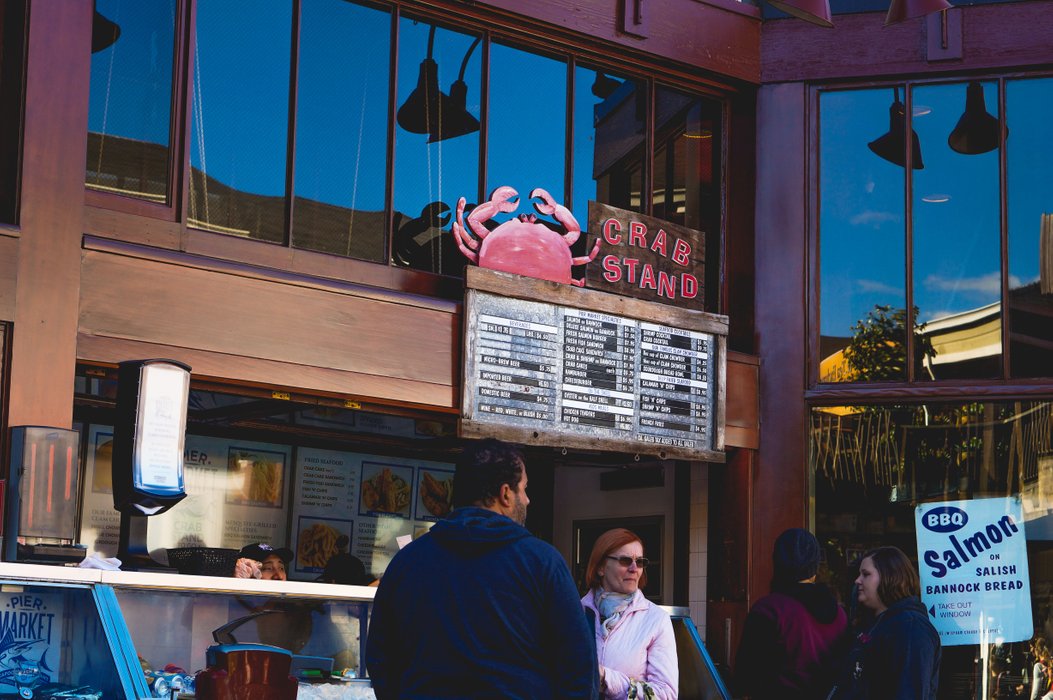 Unlike Los Angeles, I had never visited Sanfran before, so it went without saying that the usual typical touristy shit had to be done. So we walked down the pier from pier 39 along the bay, aiming for golden gate. We started off hungry, and since there were a lot of food stalls along the pier, we decided it would be a good idea to stop at one of these and grab something to eat on the go. We stopped at this Pier Market Crab Stand as my cousin said she had been there before and that it was pretty good. It was pretty much like a "chippy" anywhere else, serving fish and chips, fried calamari, scampi, and other to-go seafood dishes.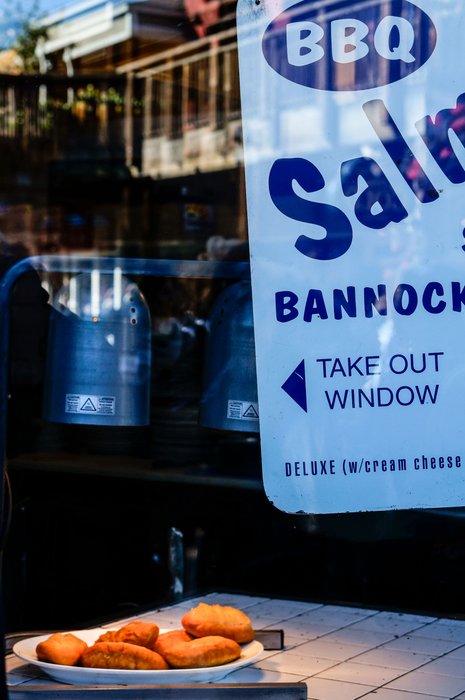 One thing that did catch my eye, was their salish bannock bread, which could be eaten with a variety of fillings such as salmon, crab or shrimp. I'm always up for trying new things, especially when visiting new places, so I went for a crab bannock ($7.95). It was pretty good, but it was kind of hard to coordinate the sauce and the bannock, and making sure it was evenly coated in sauce. And even once it was covered in sauce, fitting this bad boy in my mouth without making a mess was no easy feat (you'd think I'd have experience in this HUH?!?!)
I must say, I was expecting the bannock, which is essentially deep-fried bread, to be crispy on the outside with a softer yet quite moist bready centre. Unfortunately, it had a bit of a stale donut feel to me, but thanks to my ravenous hunger, I didn't really care. I was curious about this bannock bread, as I'd never heard of it before, but I wasn't really able to find much on this particular 'salish' type. There are bannock breads from Scotland (which look nothing like this), and there's another slightly more similar variety which was a staple of the first nations in Canada, but i'm not sure how similar/different they may be.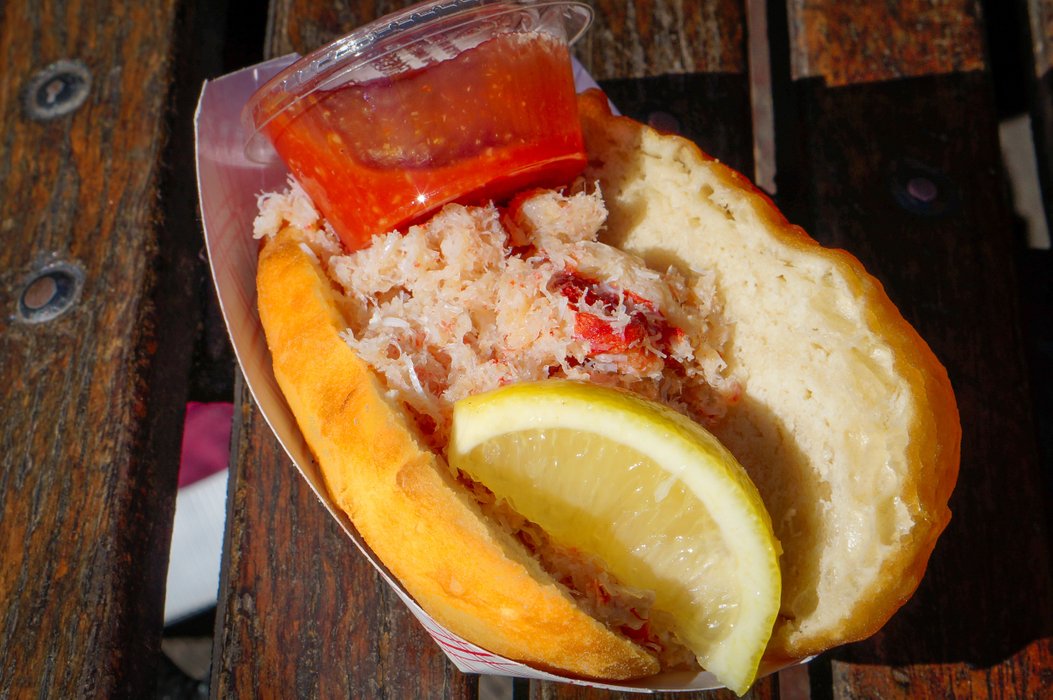 While I was in LA, I had spoken to a lot of friends and colleagues and was asking for recommendations from locals and visitors alike. One particular recommendation that stood out because practically every single person recommended it, was the clam chowder (in a bread bowl). I don't normally eat clam chowders very much, but when in Rome! Unfortunately, the clam chowder at this stand had bacon in it so I couldn't order it as I don't eat meat, but the cashier was nice enough to direct me to another stall which had meat free chowder (but as soon as she gave me directions, I forgot about them so I figured the right clam chowder would find its way to me eventually.)
All in all, a pleasant experience, and definitely a great little stand to grab a quick bite while touristing!
✾Value for money: 4/5
Overall Rating : Panties were moist - but mostly cuz I was starving!
Sabella La Torre
- 2809 Taylor St, San Francisco, CA 94133, USA
I must say I haven't had such a touristy experience in a long time, I tend to avoid the touristy places and foods, but I was so hungry and there was all this inviting (overpriced) seafood calling my name as I walked down along the piers…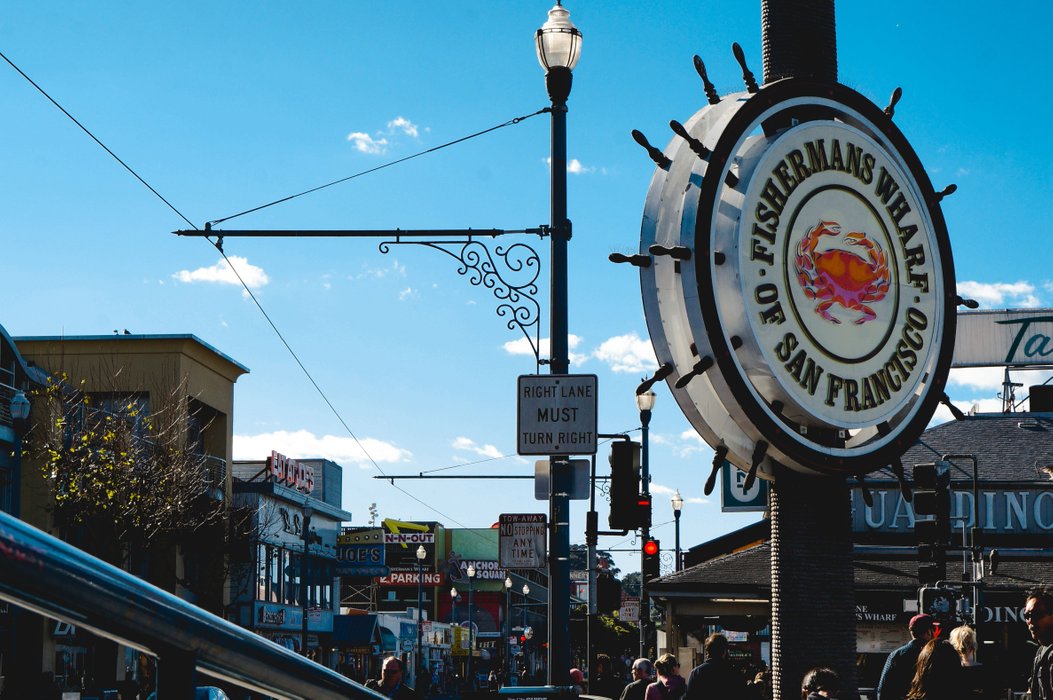 One of the things I had on my food bucket list were fried clam strips - I know super weird, I had never seen or heard of them before until I went to LA last year and ordered them at EMC Seafood (see review of their BOMB ASS UNI PASTA HERE) and they surpassed all expectations and were absolutely SUBLIME. Even though, I still struggle with comprehending how clams are cut into strips like this, but maybe it's best to live in oblivion!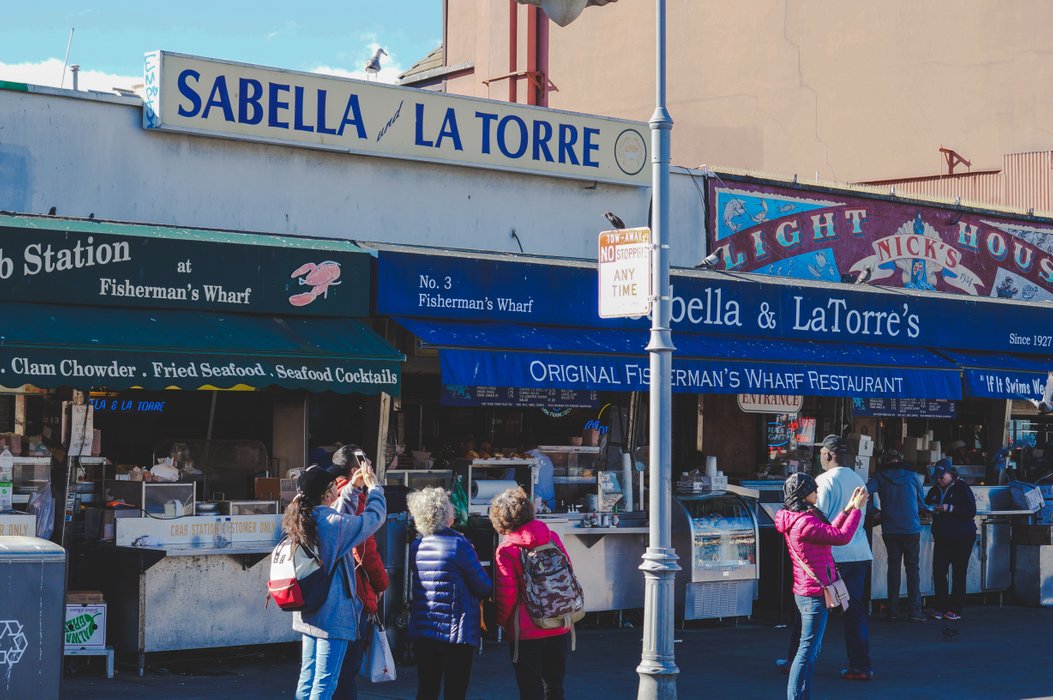 Anyway when we reached the world-renowned Fisherman's Wharf, there was a row of seafood restaurants with tempting menus and eye-watering prices. I fought long and hard with myself over whether to get these damn fried clam strips, but since I didn't get them when I was ordering that uni pasta from EMC in LA… I thought fuck it, when am I going to have this again? I must say, they definitely were not as good as the ones from EMC, mainly because I felt as if they had spices in the breadcrumbs/batter, while these didn't have that and generally tasted a little more bland. I paid about $12 for fried clam strips and fries, which imo for street food is pretty pricey, despite the huge American-sized serving, but it was nice that they were willing to give me way more clam strips than fries for the same price. Oh and the fries were curly fries, which are hands down the best type of fries!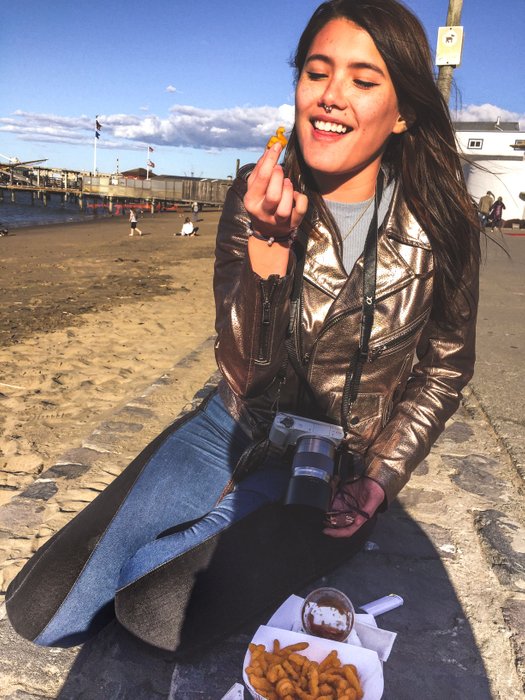 Would I have gone for them again? Probably not, they made me wait FOREVER to cook some new ones, and then once they were ready, didn't even bother to call me to tell me it was ready, so I was left standing and staring at food like an idiot. Lesson learned, avoid touristy food (especially if it's on the pricey side, it's never gonna be worth it…)
✾Value for money: 2/5
Overall Rating : Panties were lightly moistened by a few drops from...initial excitement.
Bi-rite Creamery
- 3692 18th St, San Francisco, CA 94110, USA
Looking for some amazing ice-cream to eat in Dolores park after the (legal!) munchies hit? You're in luck, as there is delicious organic ice cream right around the corner! When it comes to ice-cream, I'm always after the most unique flavours available (cuz FUCK BEING BORING!). Well this creamery made me cream my pants because there was such a wide variety of unique ice-cream flavours, that I was struggling to choose the most unique ones! THEY ALL SOUNDED SO GOOD!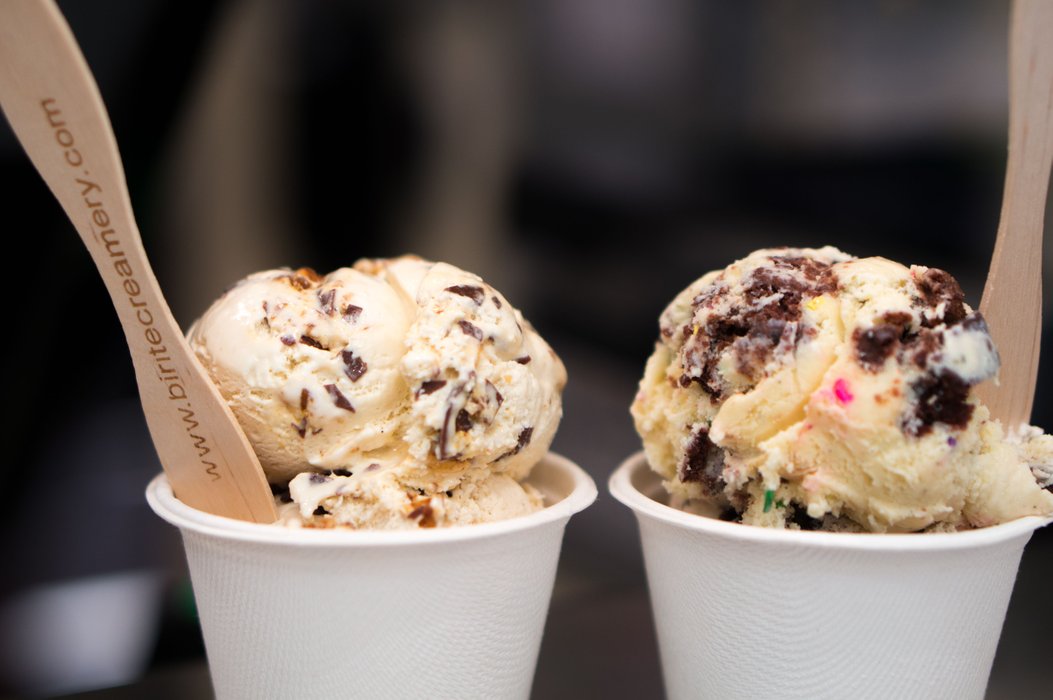 On the left, I had a scoop of malted vanilla with peanut brittle and milk chocolate pieces on top of a scoop of earl grey ice cream ($4.25). HOLY SHIT. That earl grey was too good for LIFE. Meanwhile, the ice-cream on the right was a scoop of birthday cake on top of a scoop of cookies n cream (I know, my cousin ain't the most adventurous, but it was still yummy!). Simply delicious, reasonably priced, handmade ice-cream at what seemed like a family run establishment.
Other mouth-watering flavours that I didn't get to try : rose, boozy irish cream with chocolate cake, peanut butter swirl with chocolate pearls, brown sugar ginger caramel swirl, honey lavender with sonoma honey, ricanelas, roasted banana (?!) AND SO MUCH MORE!!!
✾Value for money: 5/5
Overall Rating : I cream, you cream, we all cream (our pants) FROM ICE CREAM.
Tartine Bakery
- 600 Guerrero St, San Francisco, CA 94110, USA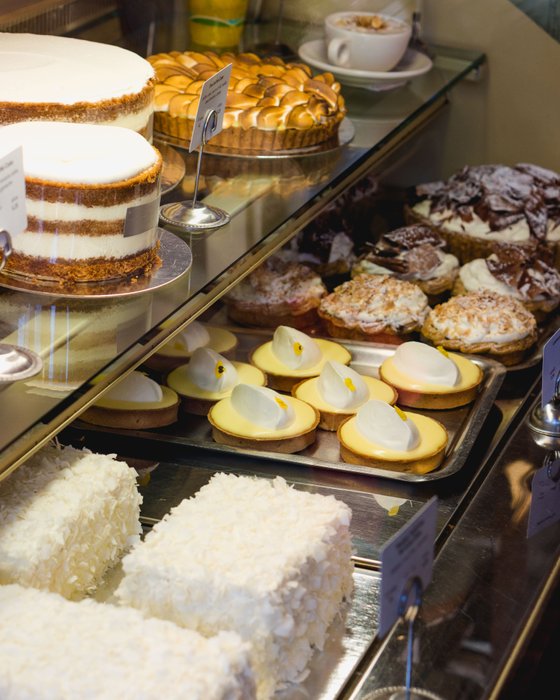 Shoutout to Tartine Bakery across the street, which made me drip with their absolutely GORGEOUS looking cakes and pastries, but unfortunately I left with their cheapest available option - a really big but thin (crispy) oatmeal and chocolate chip cookie, which was still like at least $3, but whatever, the lemon tart I wanted was was like $8. But hey, if you haven't blown your budget yet, they're meant to be famous for their french pastries and they looked super super good!
✾Value for money: 3 / 5 (I'm sure they would've been delicious, but I had to be mindful of money)
Overall Rating : A light drip from admiring the cakes (and the cookie), hot chocolate was disappointing.
Woodhouse Fish .Co
- 2073 Market St, San Francisco, CA 94114, USA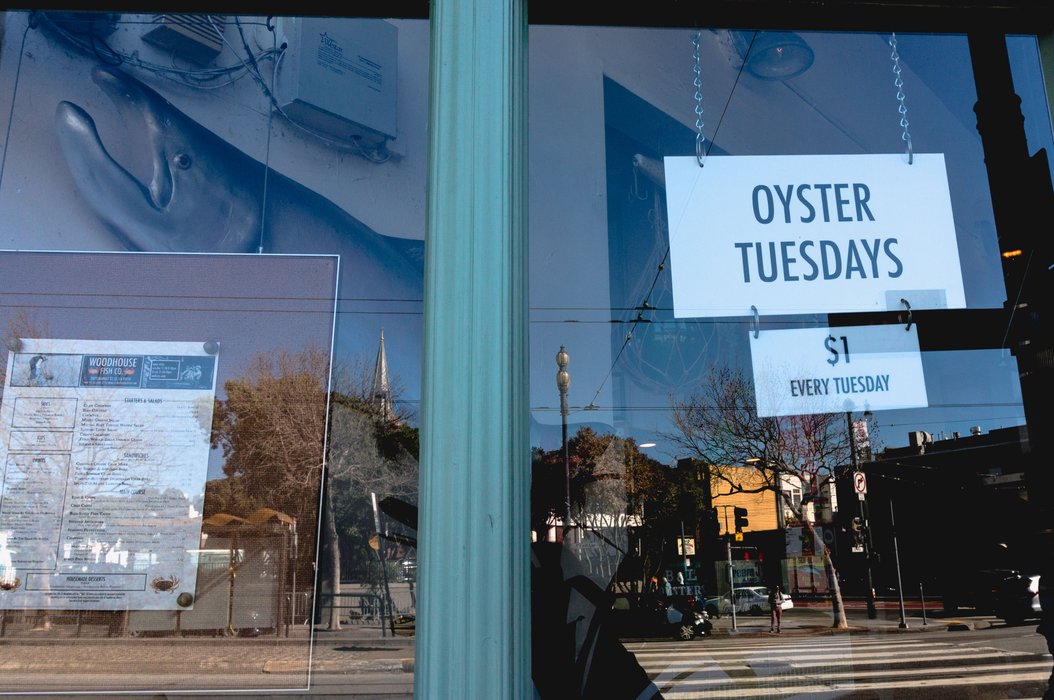 There was one item that I still had not crossed off of my list as I was soon approaching the last day of my trip. And that, was oysters - an obsession of mine since I was 5 years old. Must've OD-ed so hard on these slimy little aphrodisiacs that it fucked with my brain and now all I can crack are dirty jokes. Since I was running low on budget, I made it a point to have dollar oysters, as you can have as many oysters as you want, and at this point in my life, i'm in no position to be picky (though I LOVE KUMAMOTOS).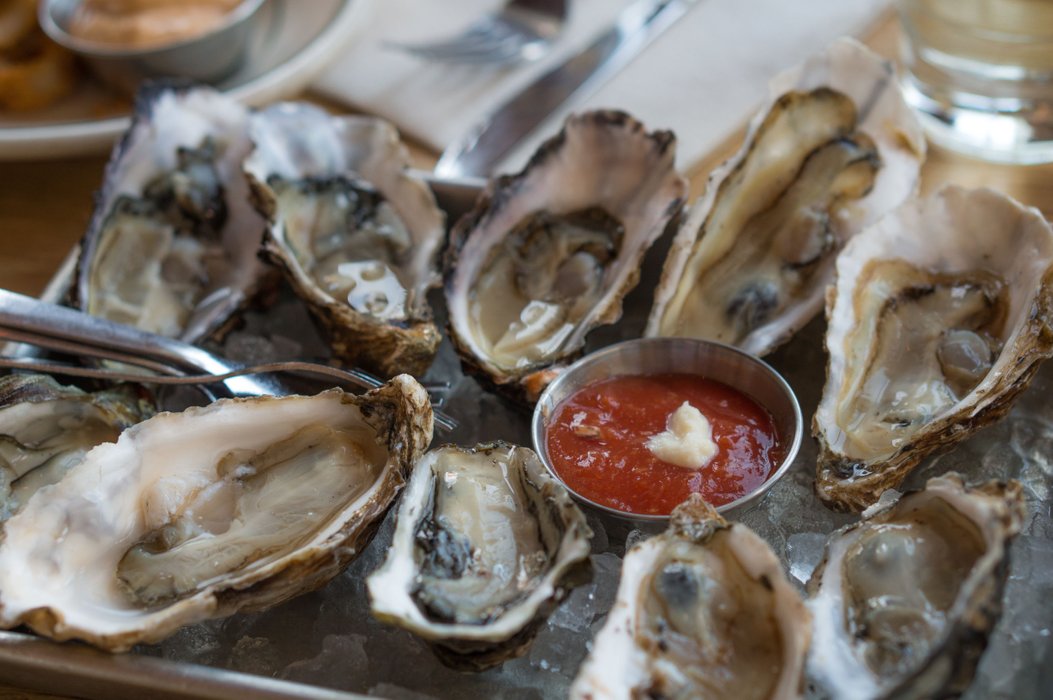 Luckily I found an amazingly long list of dollar oyster places in SF, which I was actually quite shocked by, since SF is such an expensive place. London, which is a similarly expensive city definitely does not have such a wide variety of dollar oyster options! We decided to go with Woodhouse Fish Co as it happened to be near the places we were visiting and they do $1 oysters every Tuesday (luckily it was a Tuesday)! The oysters usually cost $3 a pop!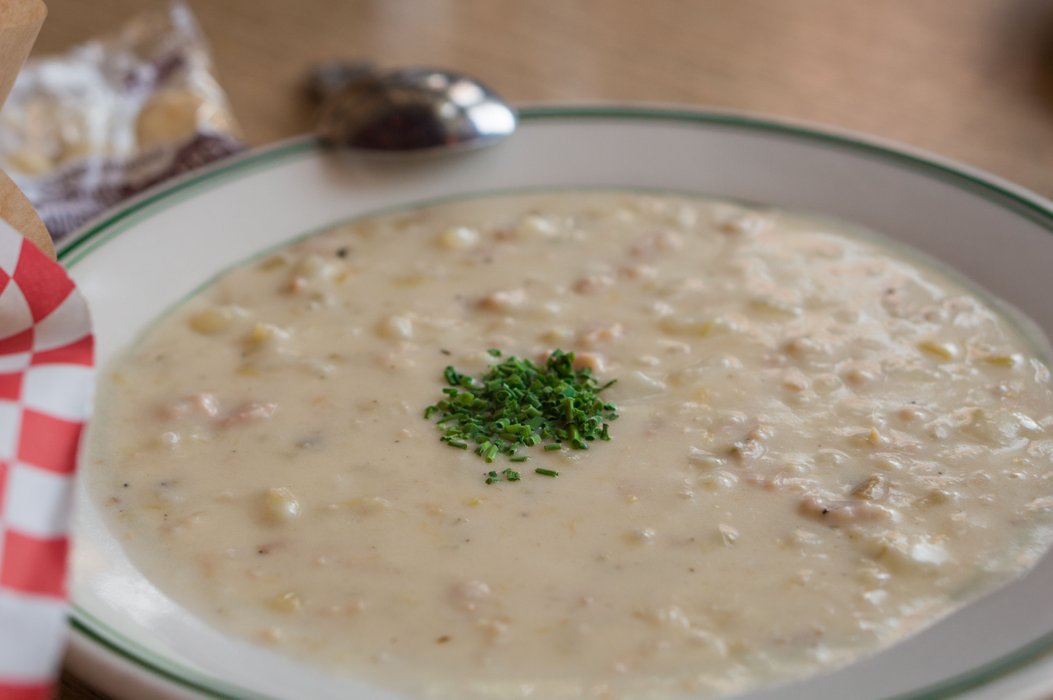 Remember how I said that the right clam chowder was going to find its way (in)to me eventually? By adopting the same mentality that I have with men with clam chowder, it actually finally happened and they serve bacon free clam chowder ($11) here ! (Pescetarians, take note!) Sadly, not in a bread bowl as I was hoping for, but it was really flavourful and yummy nonetheless. Mission accomplished - everyone told me that I couldn't leave SF without trying this creamy, clammy goodness and I finally managed to have some!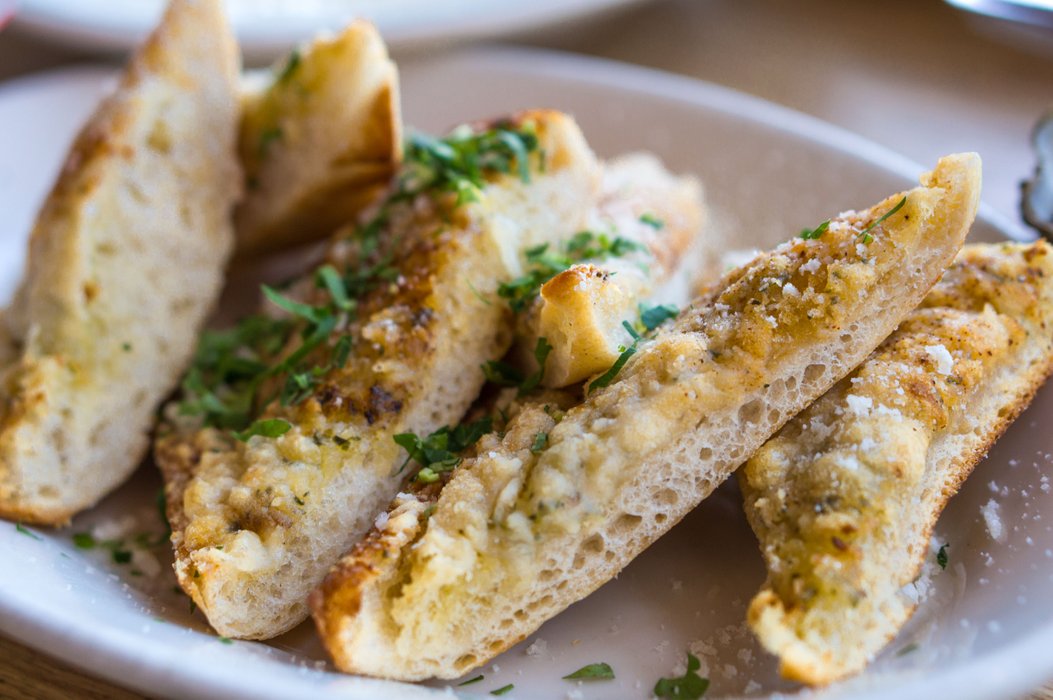 Since the oysters were only a dollar each, we all went ham on them, but got some more filling sides to go with it. In an effort to save money, we got some tasty garlic bread (which I wish came warm) and some good old fries ($7 each).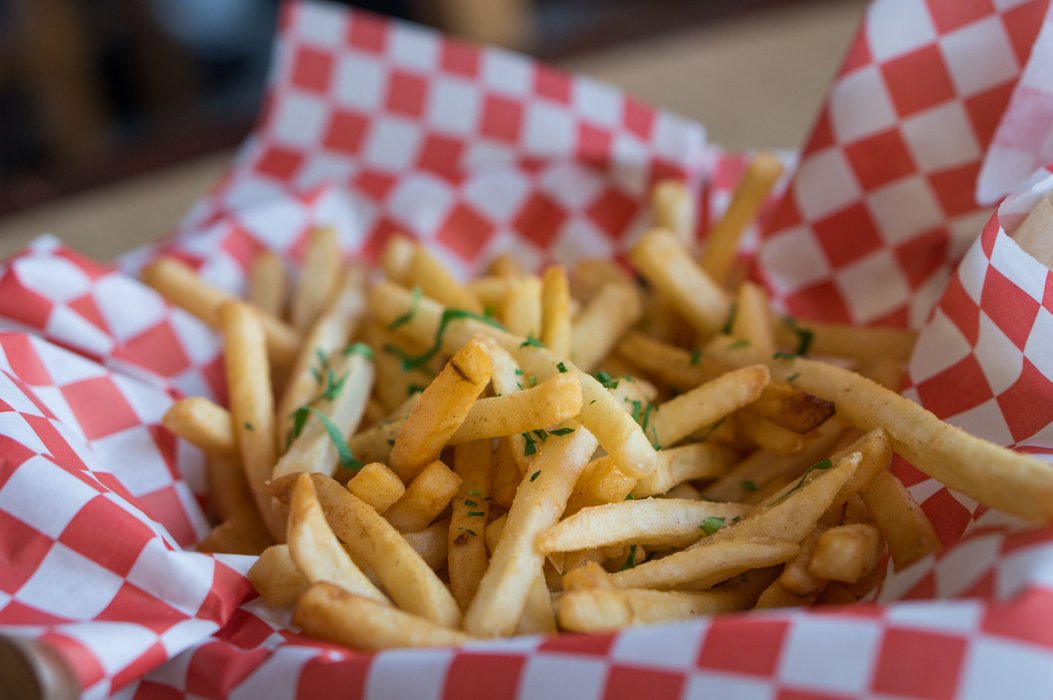 And how could we forget the calamari ($15)? Cooked to perfection. Since this was my last day, I had already gave myself a heart attack from looking at my bank account, so unfortunately I couldn't splurge too hard on the rest (although I really wanted to try some local cioppino - or seafood stew, but it was $32!) . But hey… I DID go pretty crazy back in LA (and got to expense most of that, huehue)
✾Service: 4/5
✾Atmosphere: 4/5
✾Value for money: 4/5
Overall Rating : Oysters always make my panties soaked, but if they're $1 A POP, THAT'S A WHOLE LOTTA SQUIRTING! (I get turned on by good deals just as I get turned on by good food, OK???)
The View Lounge
- 780 Mission St, San Francisco, CA 94103, USA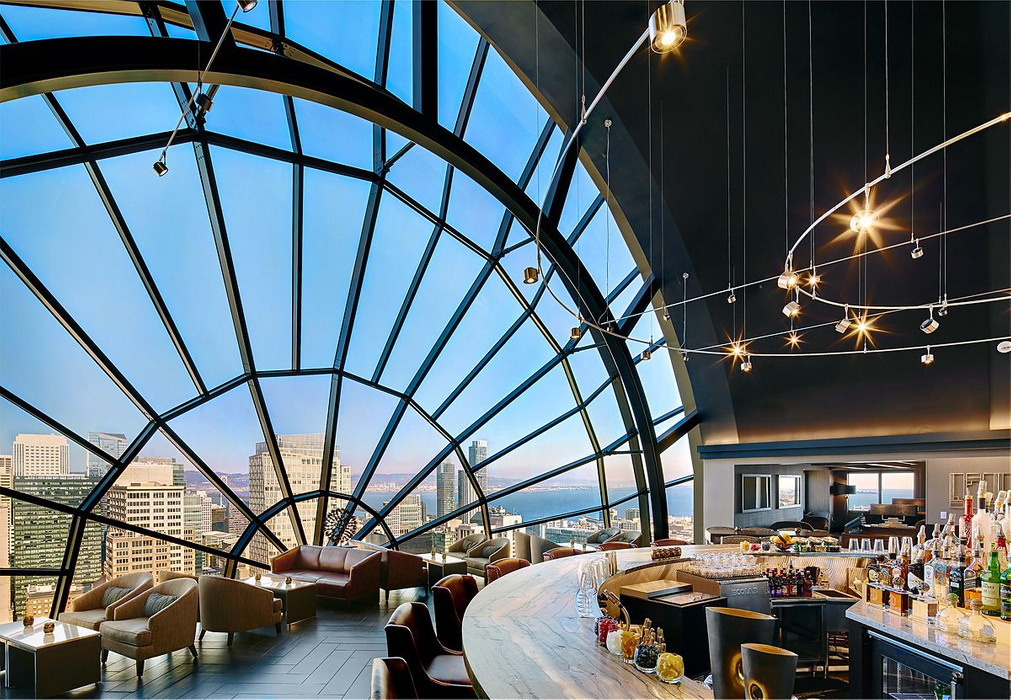 source
I actually also had a magnificent Yellowtail Poke with avocado, shiso and wonton chips ($18.50) at The View Lounge of the Marriott Marquis hotel. Not exactly one for the budget conscious, but if you have cash to splurge or a generous friend, this is the perfect place to catch gorgeous views of the city while sipping on some sexy (expensive) cocktails!
✾Service: 4/5
✾Atmosphere: 5/5
✾Value for money: 3/5
Overall Rating : Absolutely drenched - raw fish, cocktails and breathtaking views tend to have that effect....
All in all, I had a pretty great experience in San Francisco. It definitely is not a cheap city, but having lived in London for the last few years, this is something that I already am rather accustomed to. Once again, California has blown me away with it's exciting melting pot of cuisines and fresh, high quality seafood and I cannot wait to visit again to satisfy them horny tastebuds I have! (Beyond burger, you better get yo burger ass to the UK ASAP. I need to flood more roads!!!)
→ Explore with us on Instagram or Facebook
→ Watch "Moroccan Tales" on Youtube
→ A naked man tried to break into our house. 2 min of pure awkwardness on dtube
→ Feast your eyes on delicious seafood from LA in MOUTHGASM 2