I was still not off Bali but I didn't want to leave until I visited the doomed amusement park in Sanur. The Balinese people would always call it the "bad place". Their unease pique my curiosity even more. After all these temples, waterfalls and beaches, I was up for a "bad place". There was no better farewell to Bali then a visit to the unfinished and abandoned complex of Taman Festival.
Finding another soul to accompany me proved easy. Unfortunately they were all in Canggu which was a bit further out than convenient. Last minute, a trooper staying in a hotel in closeby Legian expressed her interest. Isabella and I met up and we set off before the sun could get any lower. We agreed that Taman Festival ruins would be best experienced nearing sundown.
I'd never been to Sanur, but I assumed it was relatively close given it's the main port where people ferry to neighboring island Nusa Penida and Lembongan. After well over an hour we made it to Sanura a bit later than planned but there was still plenty of sunlight left. While approaching Sanur, a large unfinished Arch could be seen in the distance. I thought perhaps that was part of Taman itself, jutting out into the sky never to be finished. I was genuinely surprised to reach the gates and discover that it was indeed the roof to the failed project.
The Taman Festival was actually build right by the beach. We passed the obvious main entrance and an eerie melodic droning could be heard. There's plenty of parking so I set the bike by the seawall. The eerie droning got louder and on the beach we discovered its source.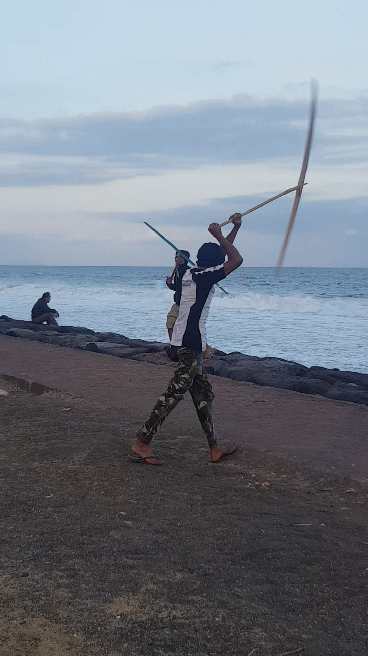 The wind was coming on strong from the sea, perfect for the kites soaring high above our heads. Even more perfect for the 10 odd or so men pushing giant propeller blades toward the sea. A few local men sat on the grass carving and sanding massive wooden propeller blades. They would look over their blades and after giving a satisfied nod, would get up and put it to work against the heavy sea breeze. The frequencies varied and produced an odd symphony that echoed in the air. We were baffled at such an amusing sight. I turned around and looked at the menacing entrance to the Taman Festival and wondered if they realized their fun was setting up such a perfect mood and tone for where we stood and planned to enter.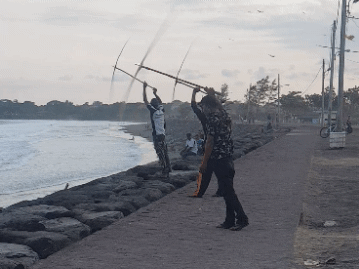 To the eerie hum of giant propellers and giggling grown men, we made our way up to the dilapidated gates. One of the gangsters I'd heard was chilling about. We tried to avoid him but he yelled at us with increasing agitation. We needed to buy tickets, tickets to the closed down and never finished park. We argued for a bit but his posse began to look on so we paid the paltry ticket price. He ripped us our copies of the "tickets" and laid right back down on his cushions.
The actual entrance gates were not manned so I flashed my ticket at the window assuming the ghost inside nodding me in. In moments I was standing n the middle of the grand entrance. I was greeted by worse for wear stone animals atop a dried up fountain. Given the detail of the fountain it was no doubt meant to be something special upon guests arrival. The statues doomed as dried up versions of their grand envisioned selves.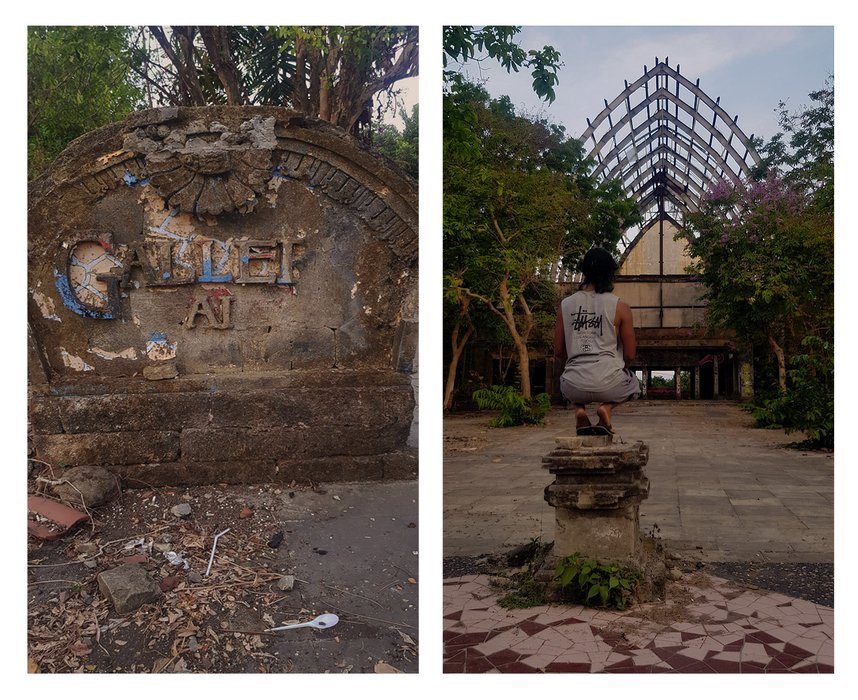 The most eye catching structure loomed over us from the entrance. I found Its bare structure was beautiful from the inside. An unfinished column sat facing the building where signs of a broken statue stood. I took pity on the guardians demise and took its post on the column. For a few moments I looked over that beautiful arch and imagined what could have been.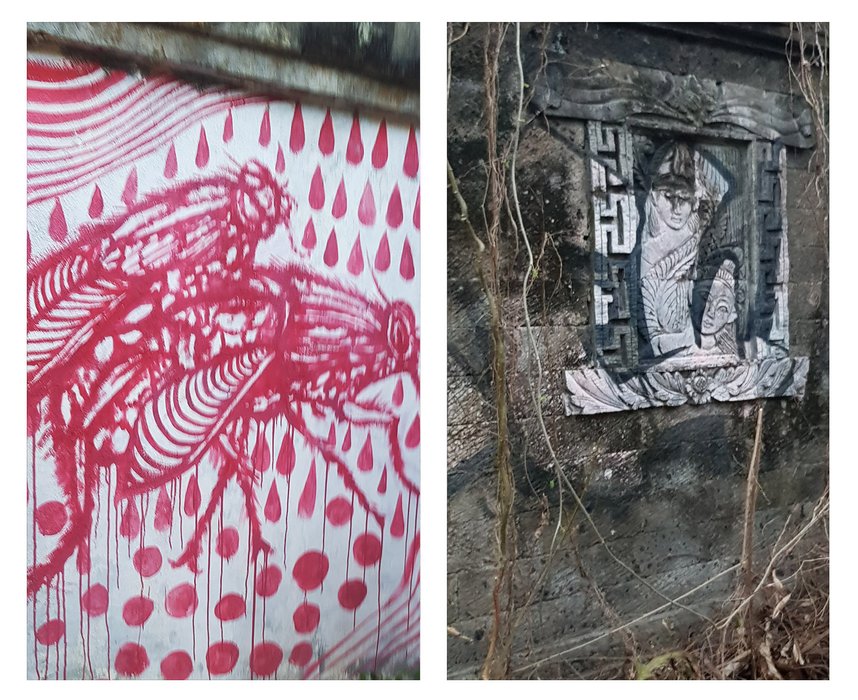 The galler seemed promising. Unfortunately half the walls were gone. Nothing remained but some monkey graffiti. We soon drew our attention to the Turbo theatre. Mango BAKE sounded like a good time.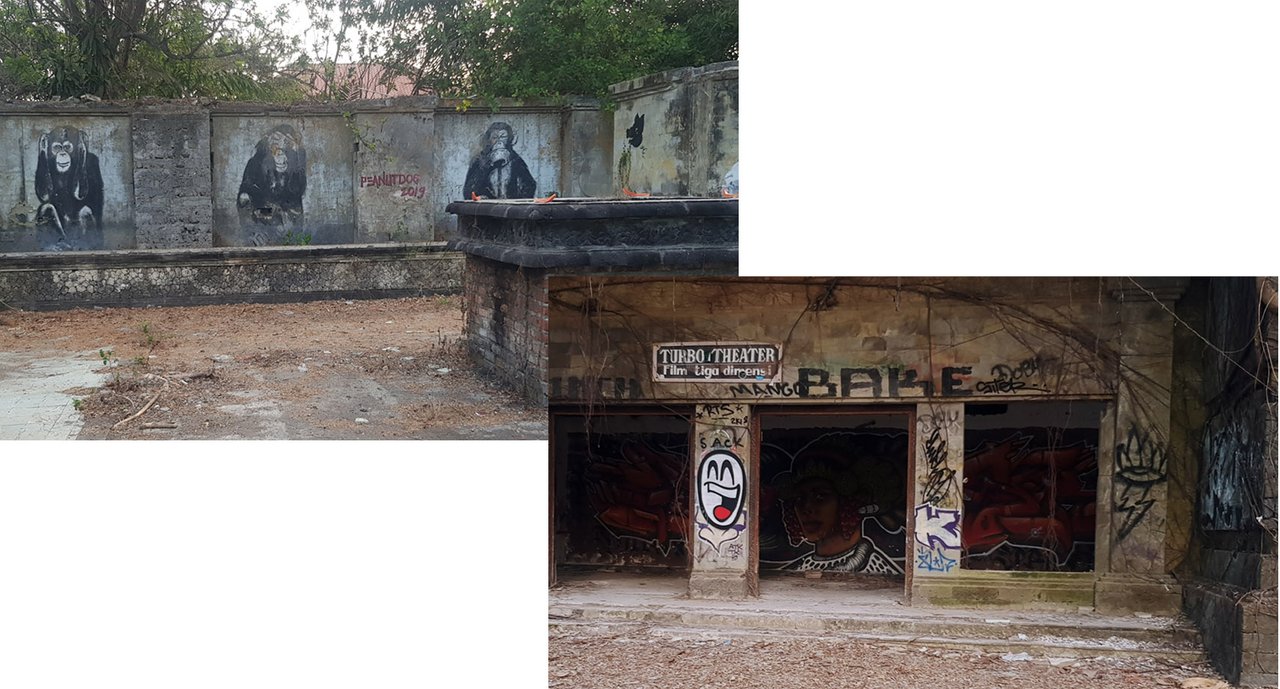 As expected the theatre was empty! The seating looked cold and uninviting. Bright sunlight was streaming through the open doors and windows. Butterflies and birds darted in and about messing with shadows. We found some stairs leading up to the projector room. Looking down into the theatre looked even more uninviting from the top. We continued exploring into deeper and darker rooms when Isabella let out a terrified shriek. She popped out from a door and I couldn't help but laugh. A dog ran out into the sun and the two took a moment to regain their composure. I wasn't looking to backtrack into the theatre so we found a back exit where I imagined kids would try to sneak in from if things had panned out differently.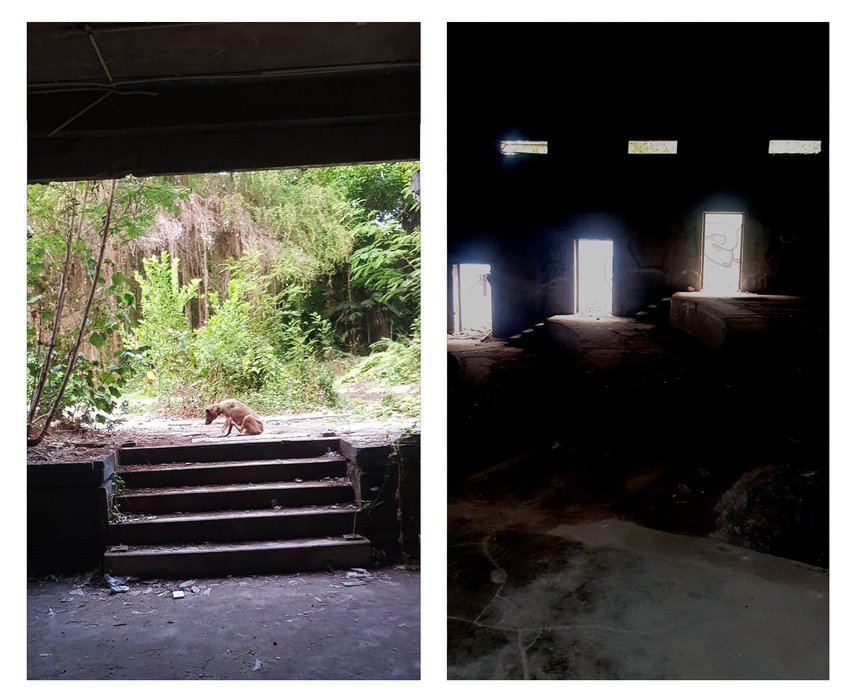 The opening was overgrown with enough vines where we had to push our way through. We must have disturbed some chickens mid shenanigans cuz they al took off into the bushes.
There was less concrete here and more jungle than ever. Dirt paths lead in all directions and more dilapidated buildings with wildflowers growing all over. The sun had began to sink further down in the sky and It became clear to us both that we had underestimated the size of this place. There was probably not enough time to explore all we wanted. With the fading light we ventured deeper still and explored the abandoned structures we found.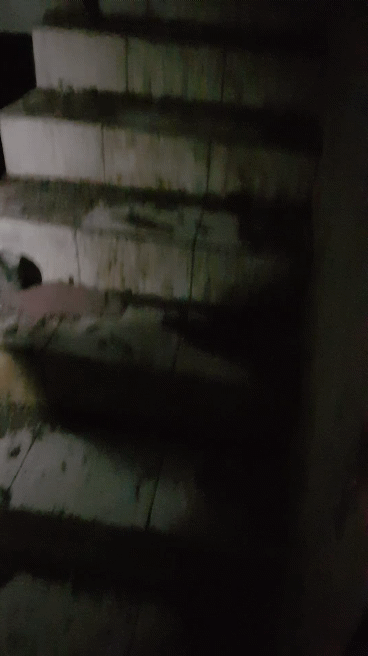 We got braver and descended down pitch black stairs. We arrived at room after room of dirty and flooded rooms. The silence and darkness made things creepier as we progressed. It didn't help that sometimes there were shadows that fluttered about. Was it a bat or a bird? Whatever it was it was silent and fast. As we reached as far as we wanted Isabella expressed her thoughts on the moment "My mom would love this, down a dark random room with a stranger I just met in some distant country." That's the beauty of travel.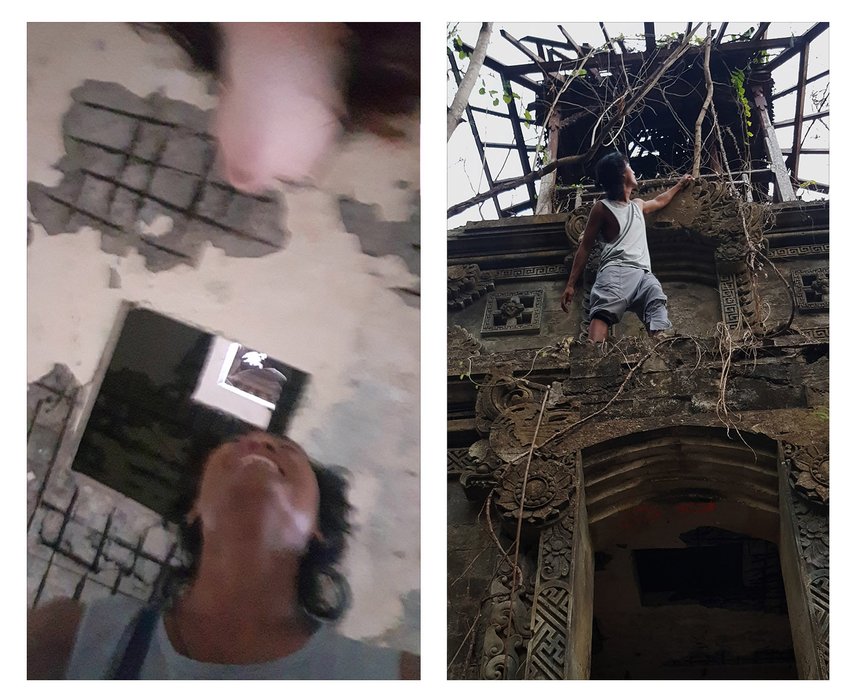 We eventually came upon a man made mountain in what I assumed was the middle of the park. There were holes and pipes running through it. At the base a T-Rex skull laid dormant for who knows how long. I wondered if he was part of the original vision or someone had later placed him there in a appropriate homage to this doomed place.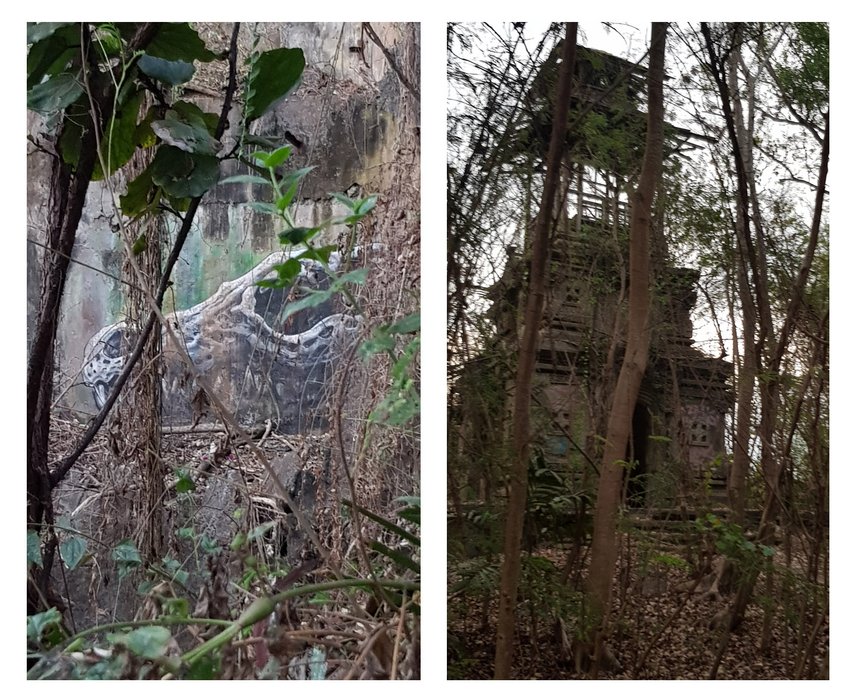 The mountain itself was tempting to climb but there was just no way it would hold together I thought. It looked like it was meant to have people though. Signs of a planned roller-coaster or viewing platforms on the mountain were present. It was hard to tell for sure. What we did know was that darkness was creeping on us fast.
The sky was turning a deep purple. We decided it was time to leave. Problem was we were unsure of where we were. We meandered about until we found ourselves in a room with a bunker style window looking out into the purple sky.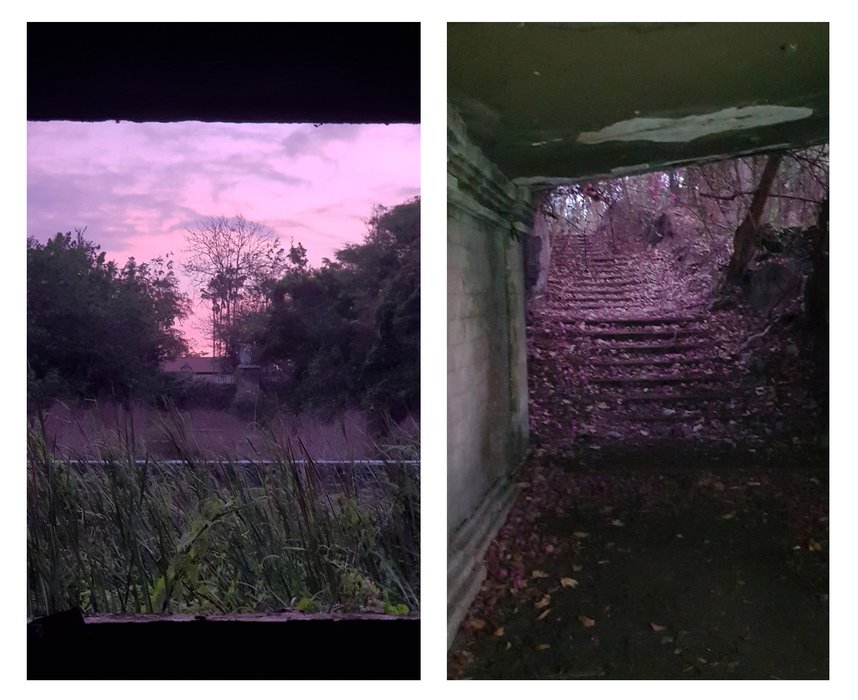 I visualized our route in our head and comparing the views, I realized we now actually stood inside the mountain. We stayed for the sunset before looking for the way out again.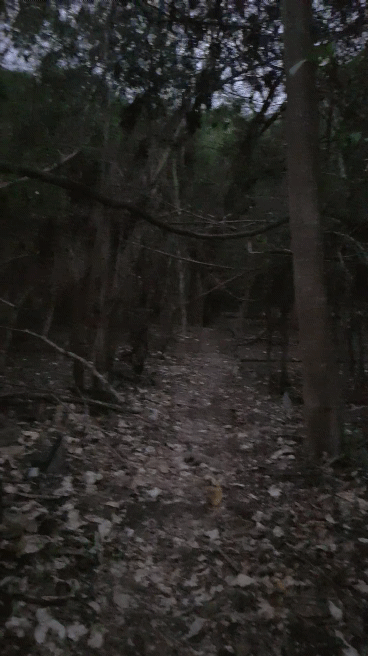 Creepier paths presented itself that really drew our curiosity. The darkness was really taking over so we needed to find an actual way out. A mossy gate caught my attention and beyond that what looked like light was shining through. There wasn't much of a path but I had a strong feeling we could leave from there.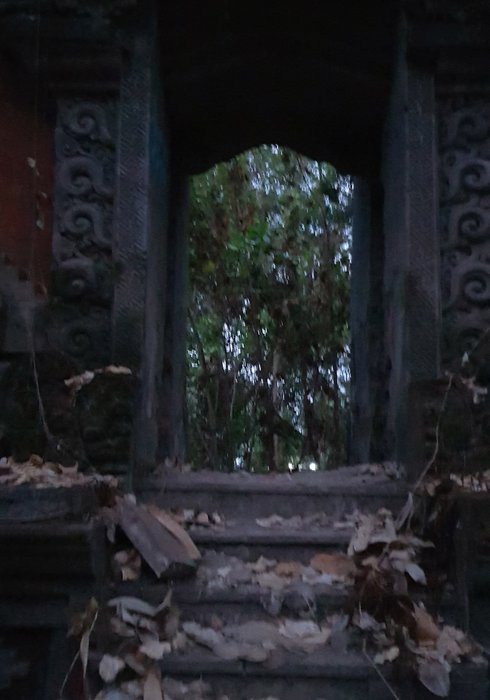 I had forgotten where we were. It felt like we were in an abandoned jungle temple rather than an amusement park in the city. Luckily through the moss gate I found an opening that lead to a large lot outside. I yelled out Isabella's name and she soon joined me in a large clearing. In the distance we could make out some glowing lights.
Like Moths to a fire, we walked towards the light. It was obvious we entered a sort of religious temple complex. We could hear the waves crashing by the sea. A glowing light out at sea beckoned us to approach. Before we made it on the boardwalk a man shouted at us and motioned us towards him. Isabella and I exchanged uneasy glances but turned around and went towards the man.
He offered us a smile and handed us some fruits. An orange and a weird thing. He turned out to be really friendly and the brother of head priestess there. He was happy to chat with us in his limited English and wanted to know more about us. There was a ceremony going on before us as a lady blessed people in a line with holy water. When she was finished our new friend called her over. She introduced herself as the priestess of the temple. She was a very lovely host to us and we hung out for a bit. Isabella had to have a picture with her. She kindly obliged. It was getting late so we thanked them for their hospitality and said our goodbyes.
Before leaving we wanted to continue to that golden glint in the ocean we were headed to before the man called us over. There was path leading to sea where a water god stood by candlelight. We took in the sea breeze and glowing moon. I thanked the statue for a fortuitous final night.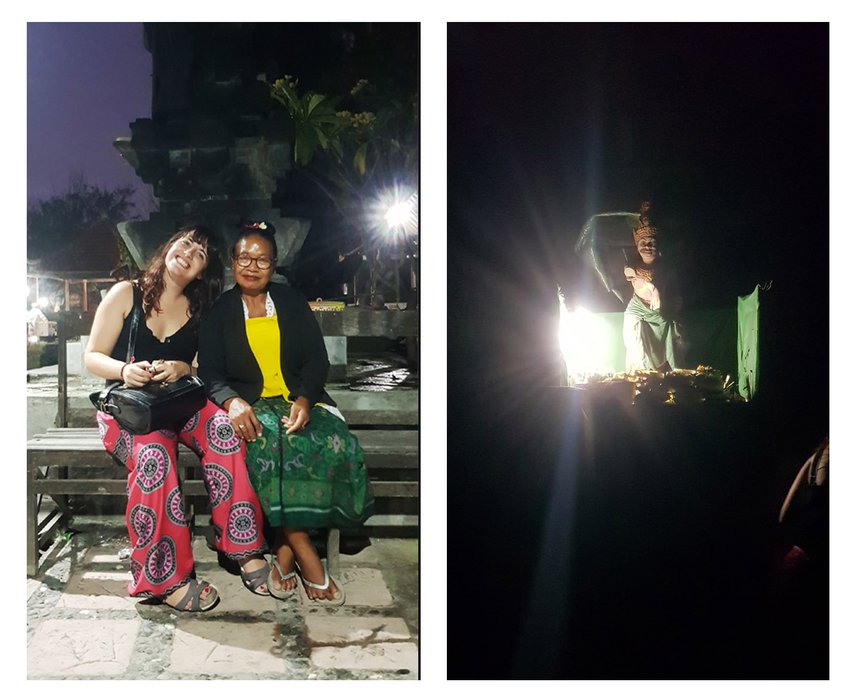 I would leave Bali the following morning by ferry in Gilimanuk towards Java island. There was a point where I felt I was going to miss Taman Festival, I'm glad it worked out. My final mission of Operation get off of Bali was a resounding success. Thank you Isabella for your assistance and best wishes for the rest of your journey. A shout out to the creepy owl in Taman, May your furrowed gaze intimidate all who choose to enter your home in the future.