The following is a review/account of whether you should attempt the ever popular Doi Suthep trail hike with or without shoes.
Captain here.
I am currently in Chiang Mai and looking to leave for Pai. Before my departure I decided today was the day to be a proper tourist and find my way to the mythical Golden temple in the hills, Doi Suthep.
Chiang Mai, for the un-initiated, is a Northern mountainous town in Thailand that features a prominent mountain range to the west. Looking up into the mountains from Chiang Mai, you can't help but be intrigued by that golden shimmering on the hill.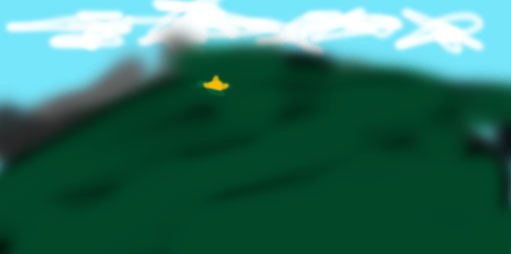 It was decided, Doi SuThep, we shall finally meet at your doorstep. Through the mysterious powers of travel(couchsurfing), I met up with three new friends who could not resist the glimmering taunts of Doi SuThep either. Shane, the Kiwi Australian from Cambodia, along with Javi, the Spanish digital nomad were conveniently both staying close to me in the Nimmanhaemin area near the mountain base. Laura, the Muay Thai Latino was close enough in old city, Chiang Mai, and was not afraid of a bit of a walk to meet up. The crew was set and the next morning we met up for a this classic must-do of Chiang Mai(New City).
The next morning I slipped on my hiking gear of flip flops and swimming shorts and headed out. My Bali flip flops didn't even make it to the meeting point before they ripped. I had a choice: desert my crew, or soldier on. I recalled a hike with my friend on an Australian island where she refused to wear her shoes. I thought why not? If she could, I can too. Hopefully I wouldn't also end up in too much pain and texting that I'm stuck up a tree.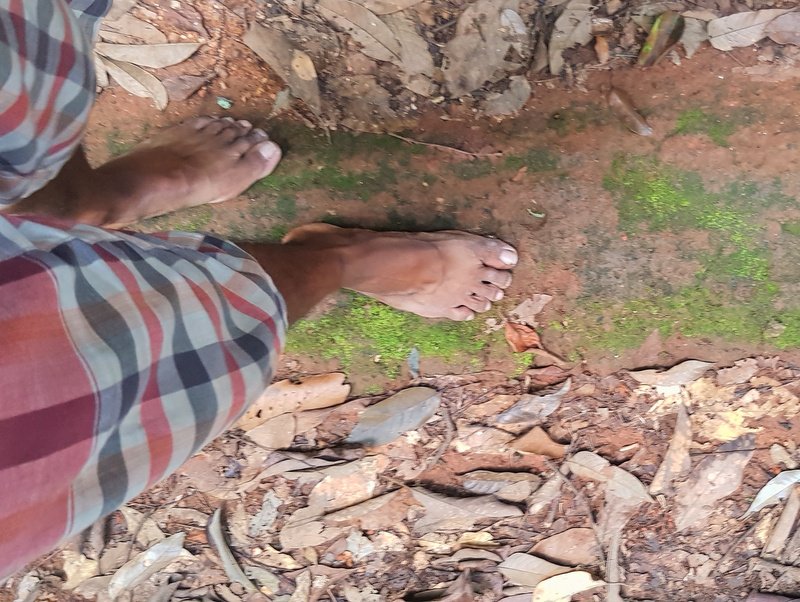 First Point, Wat Pha Lat, The Monk's Trail
By 9:20 we made it to a paved road that leads straight up to Doi SuThep but we were after the monk's path. This little trail is used by the monks to reach Wat Phra Lat. We diverted off the road to a dirt path to my relief and found a exactly what we were looking for. Two paths were marked on the sign. Naturally we choose the one that had more interesting markings. With shoes, the trail is pretty easy, without, you could still take a moderate pace. The rocks are large and smooth here. Not much pain for this initial section.
Chiang Mai is notoriously hot and humid. There's not much to be done for the latter but the thick vegetation did well in keeping us shelter and cool. Our two spanish speaking friends were soon ahead making sure to keep their hiking at a similar rapid pace to their conversation. I found myself lagging behind with Shane. I stepped on my first sharp rock and forced my self to concentrate on every step. I was worried I'd step on some sort of centipede to be honest.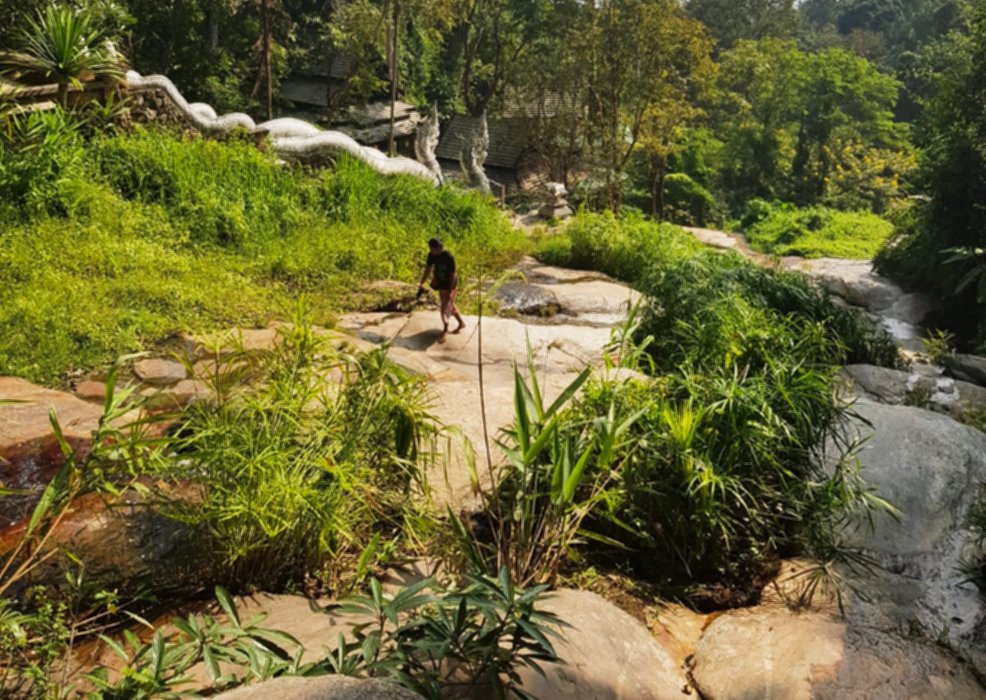 After a good hour or so, we were greeted by the sound of running water. A little waterfall bloomed into view with the sudden hit of sunlight breaching the thick jungle foliage. Sunlight struck the white stone temple and rocks it took a moment for my eyes or brain to adjust to the scenery appearing before us. The lush jungle scene transitioned into a serene temple complex in the midst of a bubbling waterfall as butterflies fluttered about.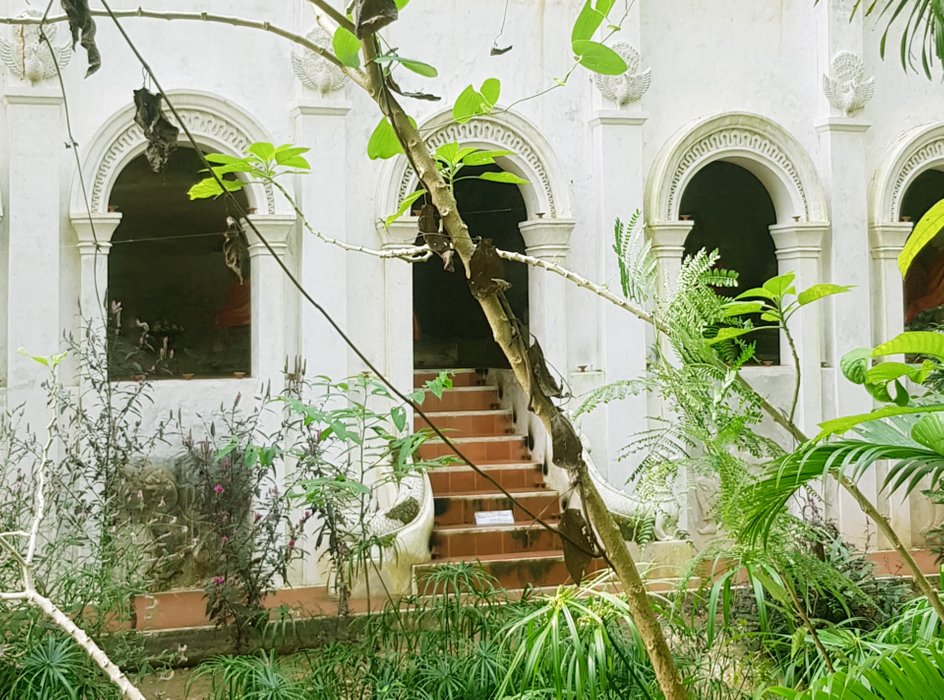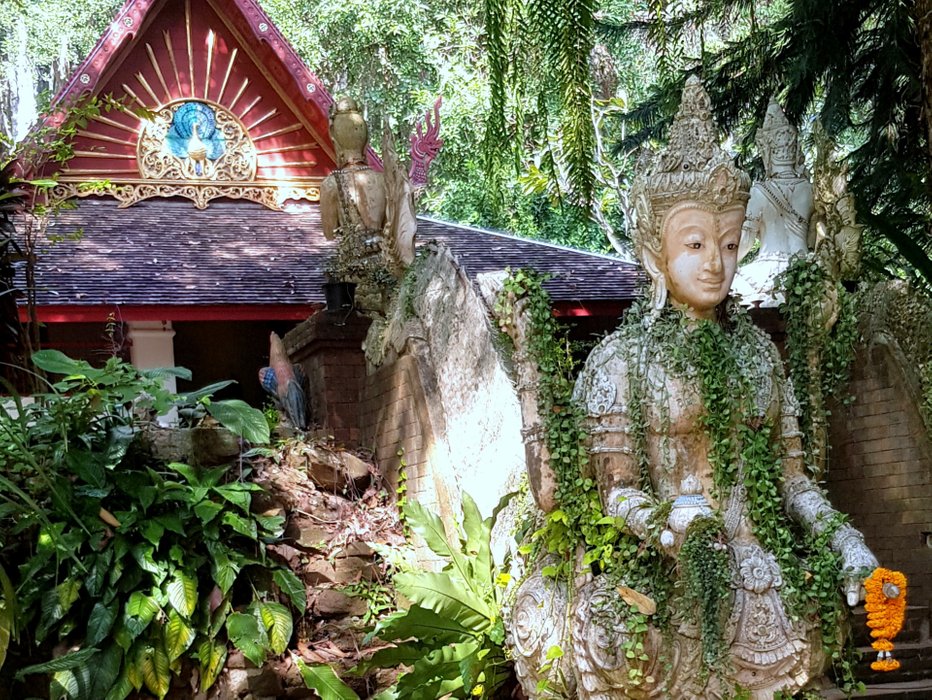 The temple itself was several floors with stairs and statue guardians flanking the entrances. Sheltered pagodas sat suspended off to the side with several monks and tourists meditating. Standing on the center rocks above the waterfall you could see Chiang Mai off in the distance and our progress. In your immediate surroundings you had a nice 360 view of the serene white temple atmosphere. Well worth the hike. Barefooted, not recommended but certainly not as bad as you'd expect. If the hike ended here, I could in good conscious recommend a bare foot hike here, but it doesn't.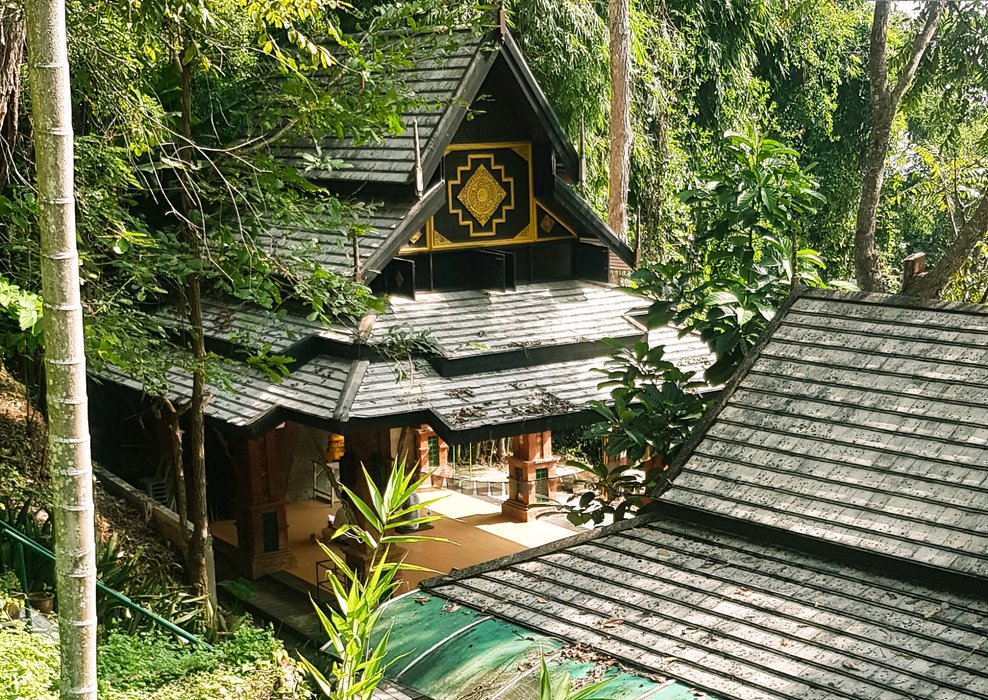 TO DOI SUI THEP
It was only another 40 mins to Doi Sui Thep. I'm going to go ahead and call that a shoe time. The rest of the way was similar to first half. You'll pass some random buildings and walkways before it's jungle again. At some parts we had to cross the road and cross workers ditching trenches along the mountainside. Again all not too bad. There were sections that we quite steep and needing high steps but with pacing it's a nice hike.
Unfortunately, as the day wore on, the famous Chiang Mai humidity was rising. My face began to sweat and drip. Two hours in and we reached teh top and found a more traditional platform to watch over Chiang Mai City below. My feet were worn and the stairs here were even less appealing to bare feet than the stones and dirt trail up here. The tiny smooth squares were fine but the evil tiny stones surrounding them were ripping my feet apart.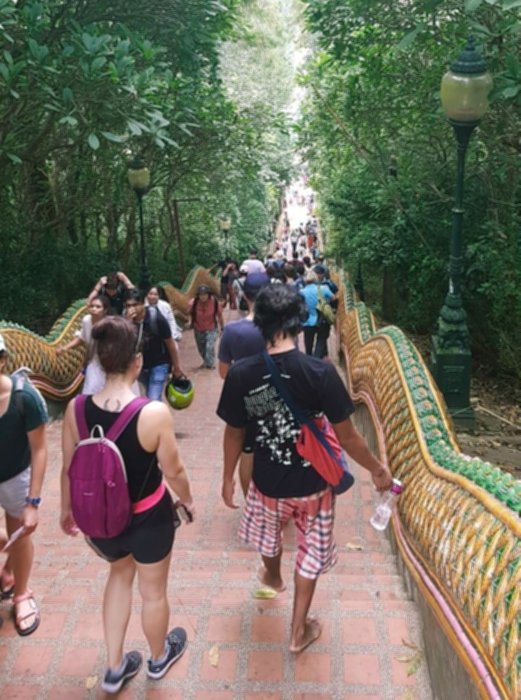 We were at the top and hungry. It was filled with tourists snapping photos. Being the terrible tourist I am I opted not to pay the 30 baht to enter the actual temple. We went to lunch instead at one of the stalls. At $50 baht a dish, it wasn't too bad. Unfortunately the portions weren't so generous and you probably don't want to trust the photos on the menus.
Energized by some nice smoothies. Laura was eager to continue and go further still. After some contemplation I agreed. I've come this far. How much worse could it get? At this point my feet were in pain, but manageable. Still feasible.
BEYOND DOI SUTHEP, to BHUBING PALACE
After going up and down the evil stairs a few more times we finally found the correct path. If you've still got energy, you can keep going past Doi Suthep and go towards Bhubing Palace. This is what we did but I'm pretty sure we went off path a few times. At this point, I highly recommend some footwear.
A short stint into our Doi Suthep overtime hike, I encountered the first real enemy of bare foot hiking. I felt a sharp pain in my foot and reeled back. A thick round bur from a plant clung to the bottom of my foot. No blood. Let's just avoid those from now on. This was not actually possible in some sections. They were everywhere and at times I found myself in a minefield unabe to move. Shane was lagging behind with me and decided to fashion smoe shoes out of banana leaves. I didn't expect much but they actually helped a little and that was what I needed to make it out.
.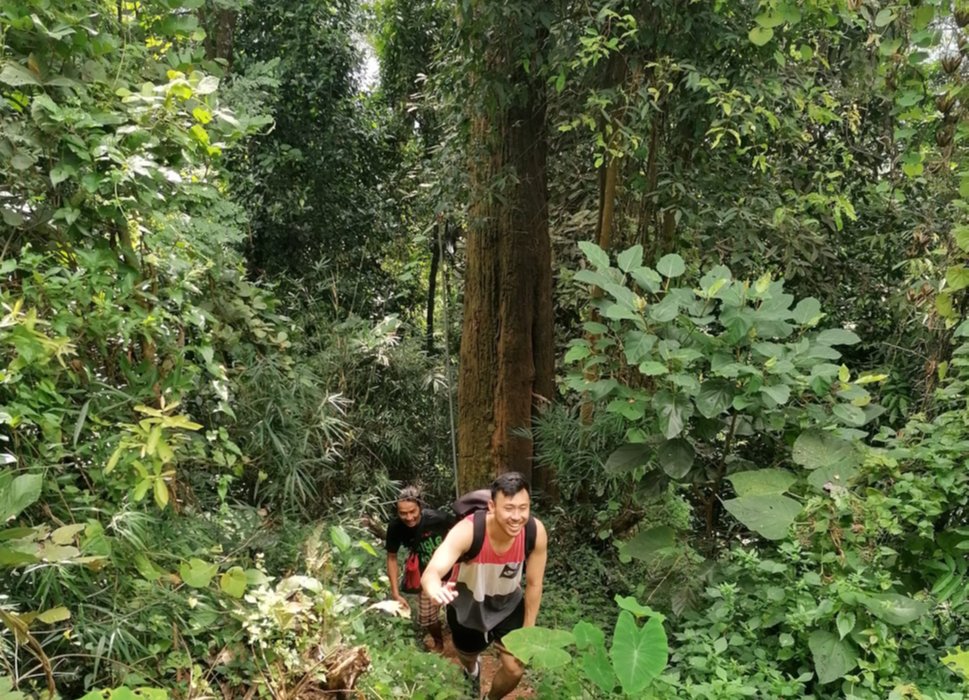 They didn't last too long and he went through many iterations until the simplest design held out the longest. It didn't help that we kept getting lost and backtracking. Eventually we found a steep trail where I tripped beside some barb wire fencing. It didn't make sense so I pulled out google maps and it turns out on the other side of the barb wires was Bhubing Palace itself. We were navigating the long way around the entire palace up the mountain basically walking around in the shape of question mark.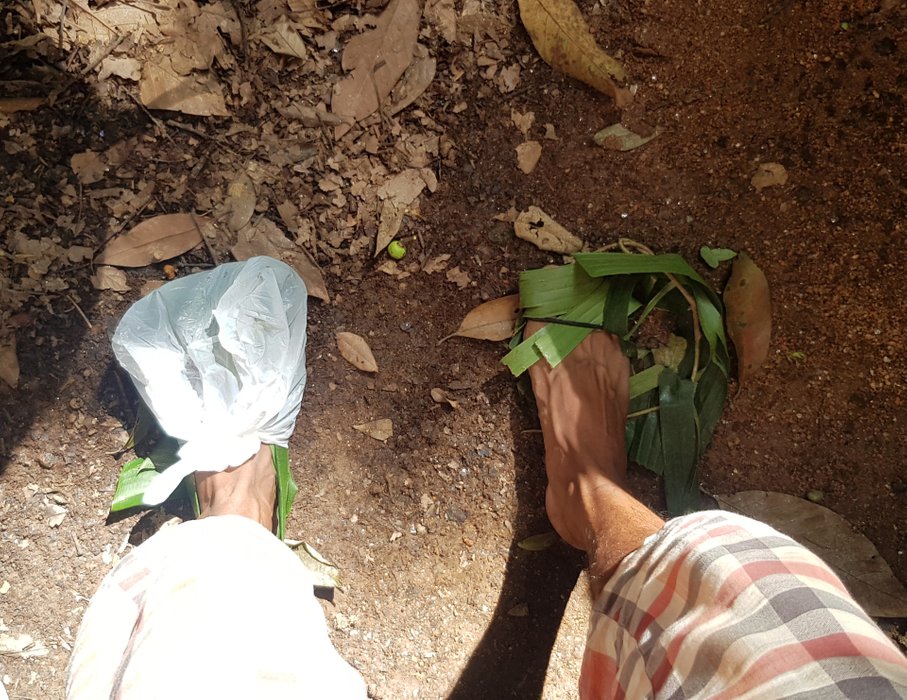 We had no choice but to continue up and around to finish our question mark path. It was more of a water runoff than a footpath but it was our best option. I think it would be quite enjoyable with shoes. It's a steep section that takes a bit of time. Just watch out for barbed wires. We eventualy arrived at the gate after taken the longest way around possible.
Javi too one look at me and said,
"Okay we'll take a red taxi down."
The palace had a strict dress code. sarongs could be rented for 20 baht and an entrance fee of $50 baht would get us in. I went to find some shoes to buy instead. An old man sat and pointed at my feet laughing and repeating some Thai words. I think he was offering to sell me his shoes. When I returned, Javi and Laura spoke to another traveler who said there wasn't much inside. We all agreed to just enjoy our last view at the top instead. We said goodbye to our new doggo friend and I waved goodbye to the old man who was ecstatic about my new kicks.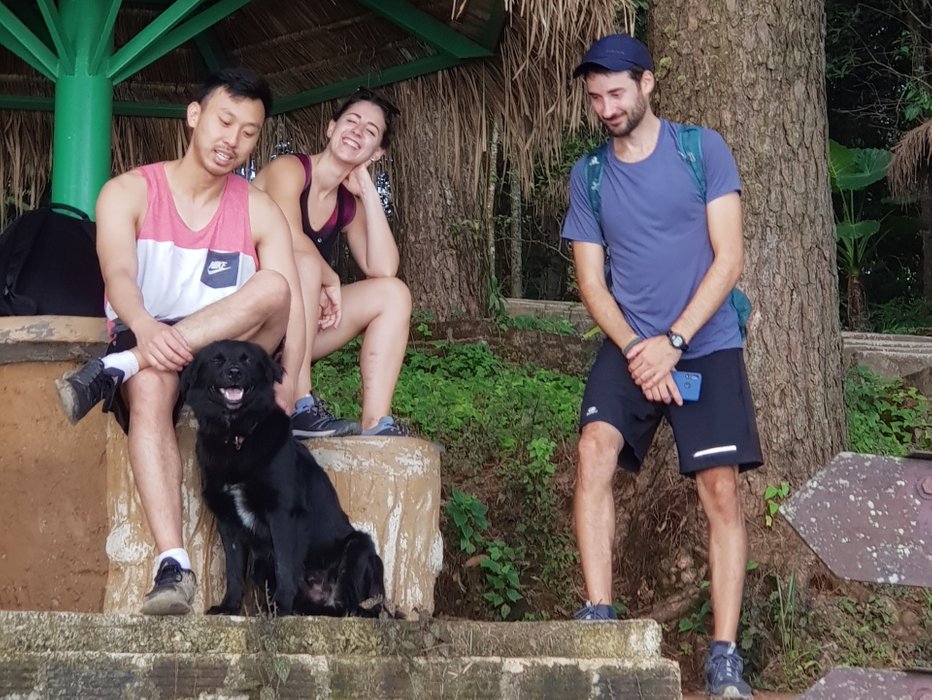 Overall, the hike is well sheltered, through nice green jungle. The steps can inclines can be rather steep but there are some easy flat sections too. The payoff to Pha Lat is nicer than reaching Doi Suthep to be honest. If you're into seeing all the temples, than 30baht isn't bad for Doi Suthep.
Bring shoes! Don't go past Doi SuiThep if you don't.