Travel diary, 7th & 8th of August 2016, Trogir-Split, Croatia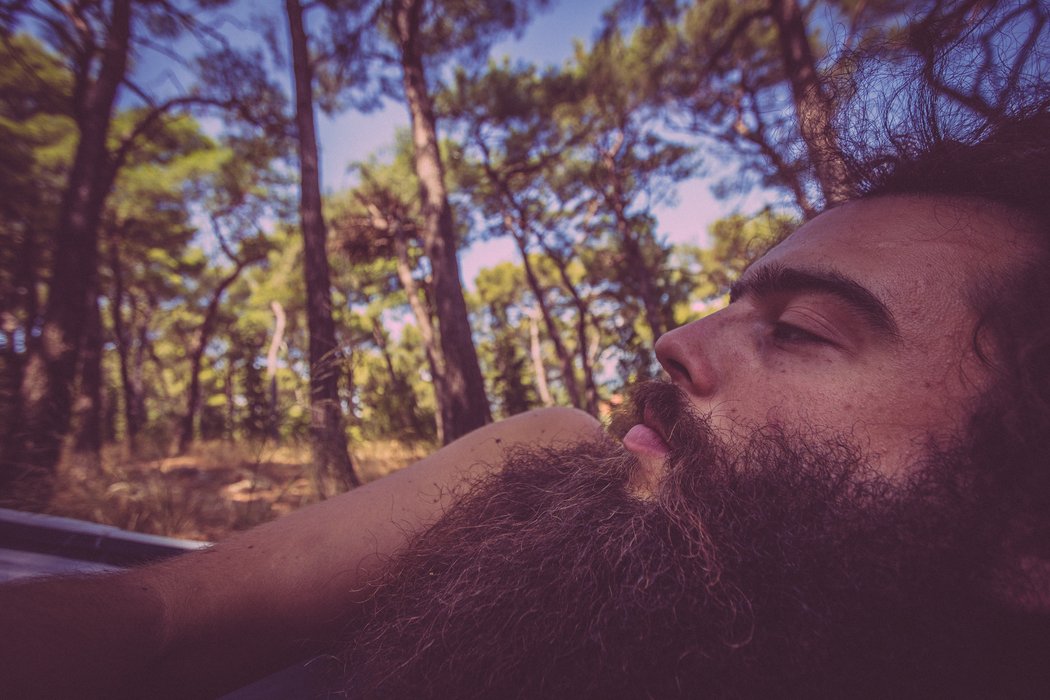 This is the 4th sequel of my travel memoirs. My 2016 travels lasted approx for 2 month alltogether but the longest period I spent in Split, Trogir & Čiovo – 15 days… This is what I wrote on the 7th of August 2016:
I'm still in Trogir. Like I've been stuck between Split & Trogir. I haven't slept well for 2 nights in a row. I don't feel so good but the coffee is slowly making me feel better. This bar Faraon, where only the locals come, has been an every morning base for me in Trogir. Bura is again strongly blowing. I slept in a pine tree forest in the North-West of Trogir, towards Primošten, hanging in the hammock. It was cozy, warm & peaceful but I still couldn't sleep. Strange, really strange. I guess my mind is full of thoughts & plans. To many inside, troubling, asking myself what to do next... I guess I'll figure it out soon! Maybe I should get some sleep in the afternoon?!
Anyway, I wanted to continue to write about what was happening after I left Pag. Before I left it I couldn't help myself not to visit the windmills on the hill above the city Pag. I have always been fascinated by the wind & it's power to move things, to make them, as much as to destroy things & also it's absolute freedom. We say: "Vjetar se vezat ne može!" ( = You can't tie up the wind! )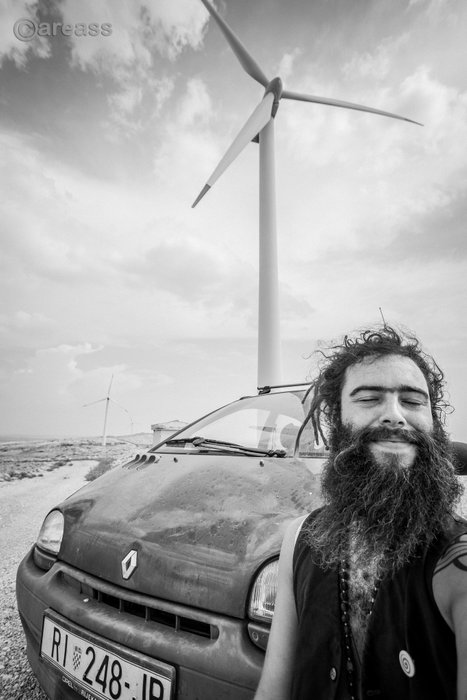 On one of these back-&-forths between Split & Trogir, Nebojša joined me, the academic artist who was also playing djembe on the street... Apparently, he was with me at the time, I don't remember anymore...
On the 8th of August we went back to Split. As I'm writing this, I'm again hanging in the hammock in the pine forest on the famous Marjan hill overlooking Split... It's early in the afternoon & I have decided to try to sell some jewelry. Yesterday I was also here sleeping in the afternoon but I weren't selling. Many people were passing by yesterday cause it was a bad weather. Today it's sunny & hot again & there are almost no people passing by. I feel good anyway. Not sold anything yet but I have time & peace to focus on writing. Maybe I'll still manage to sell something later or to catch some sleep again! I spent those 2 night in Trogir & didn't have enough sleep there. But yesterday in this forest I slept like a baby only for 1 hour - but it felt like the whole night! There is something magical with this place, I believe...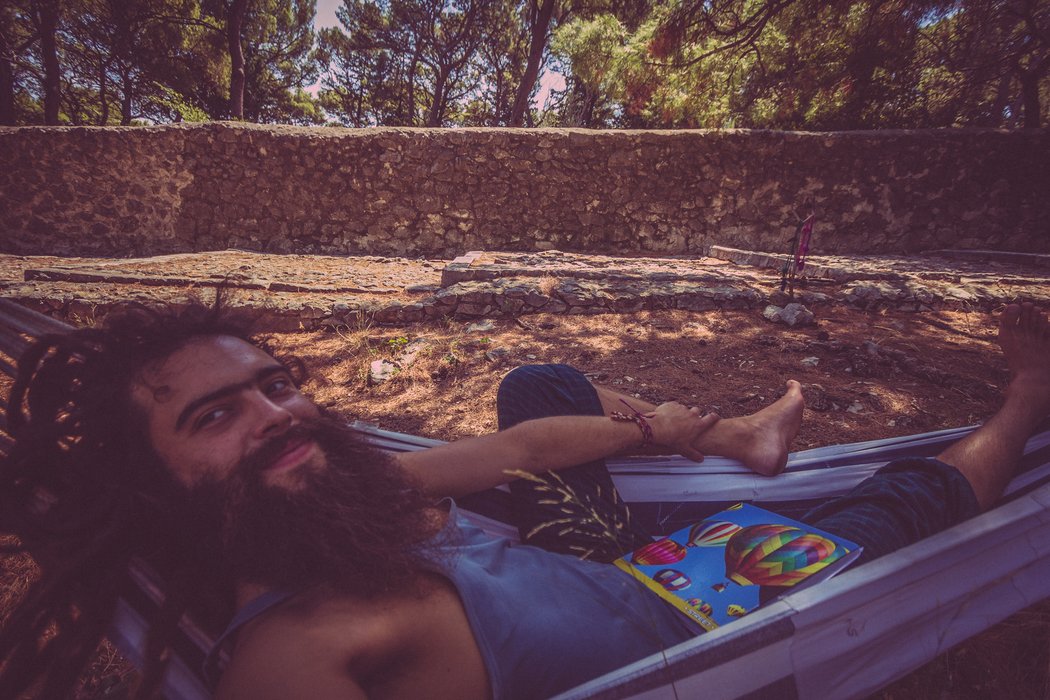 OK, let me get back to what happened after Pag: From Pag to Zadar I was accompanied with a girl who needed a ride . There are Facebook groups with Croatian names like "Tražim / nudim prijevoz". They serve for cheap travelling similar to "Bla, bla car" or "Car Pooling / Sharing". These pages are very useful for the driver & for the passenger! Use them more often! Everybody! As more you use them, more popular they'll get & the travelling will become cheaper!
I'VE JUST SOLD A PIECE OF JEWELRY - A WOODEN RING! WEEEEEEE!!!
Her name was Žana. She was nice, my passenger. Amusing. We spoke about our lives. Usual chat with some deeper thoughts too. We also exchanged phone numbers & met again for the coffee few days later in Zadar. She was very interested about my trip to India 2-3 years ago & about the clothes I brought from there... & we are still in contact today!
Ad-on from the 6th of December 2018:
I don't even remember for how long I stayed in Zadar in 2016, probably 3-5 days. I very often come to Zadar cause I really love the place! It is the most beautiful city in Dalmatia of the bigger cities.
This time I went towards Nin to visit the ex-royal Croatian city where the first Croatian kings were crowned. Between Zadar & Nin is a deserted ex-Yu military base situated which had the airport too so I entered it with ma Twingo & try it make as fast as it goes & I got the famous Red Hot Chili Peppers song playing in my mind:
& I turned it into this:
I like pleasure spiked with pain & Twingo is my airplane
Unfortunately, I didn't record a video of that... Next time!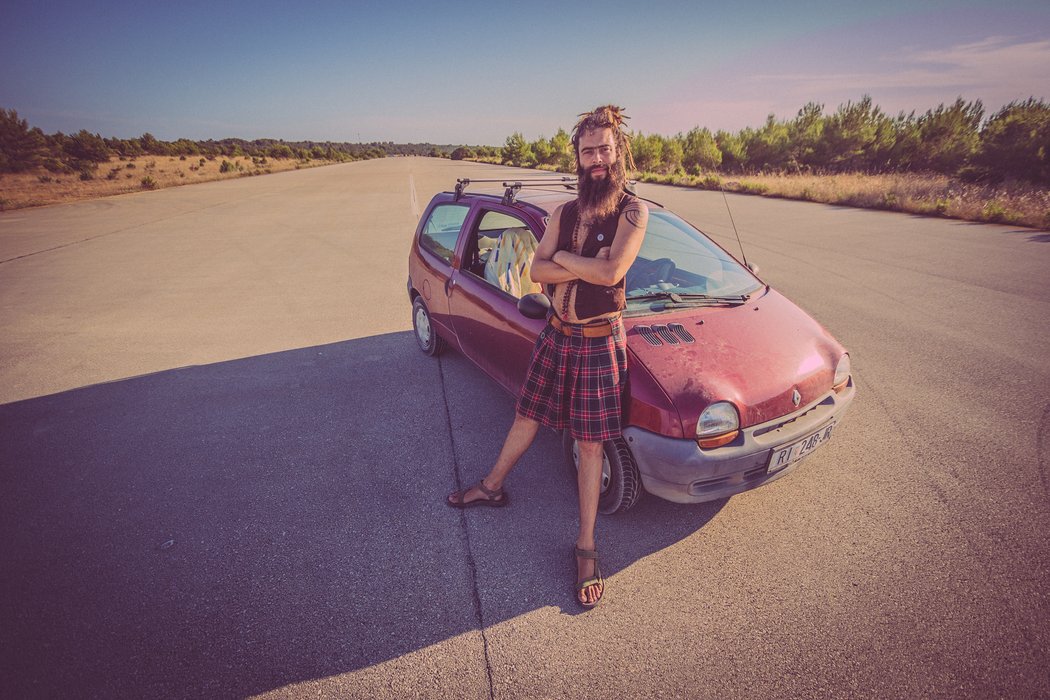 I also met some colleagues - the street performers & sellers - a couple Franko & Marta who I knew from before cause they are from the same part of Croatia where I come from. Franko is playing a guitar & Marta is selling her handmade dream catchers & jewelry. Except them I met a guy form Netherlands & another guy from Mexico & a couple from Romania - & I've forgotten all of their names but it was fun to spend time with them. The guy from the Netherlands was doing many different street shows & the Mexican played the guitar & sang but also had a handmade base drum & the Romanians joggled with fire. One or two times we got all together & done a big show. Zadar is also full of tourist & living full power 24/7 during the summer season so you can really make a living there at the time.
Almost every evening after the street performance I was taking a leisure time in the only local underground rock music bar called "Zodiac". They had a wide choice of very tasty beers & not so expansive. There the local underground intellectuals & artists get together so you have someone to talk to philosophically while drinking a tasty beer & listening to some good music... There I met Anita & Karla, but few years earlier, I believe.
There's a pizzeria in the center of Zadar old town on the main street called Kalelarga which sells pizza cuts for a very large price but it's really delicious & a large piece you get. There I went for a cut first & asked them later if I can come at the end of the working day to collect the left-overs, the cuts they didn't sell & which they would throw away anyway. They me a bag full of pizza cuts & I took it to Zodiac & gave it around to the guest randomly... It was a nice gesture from the pizzeria & the food wasn't wasted!
I met also a sweet girl travelling alone with too much staff. She was trying to make money juggling with with a crystal ball but she was too shy & not so good with it so she wasn't making a lot of money. She was kind of looking for company to travel further. So we were sitting in a small alley in the old town, very close to Zodiac, me - drinking beer & she - not drinking anything, not asking for anything, not wanting anything - a really kind of pure state of being but with a micro dose of dissatisfaction cause of thing not going according to her plan. During our chat I mentioned my back pain & a wish for a girl to make me a massage somewhere on some lonely beach where-after we would take a naked bath in warm sea... &, on my great surprise & super enthusiasm, she proposed to go to her tent & that she will give me a massage!!! I believe it was like a truly God's interference to make my wish come true! & she gave such a tender & relaxing massage & I gave her back & then we were giving much more to each other that night. It was a extraordinary night!
Next morning I was packing myself to go further when she proposed to take her with me but I felt like traveling alone & I think that she was a bit angry on my rejection & soon after stopped answering my calls... Since that I've forgotten her name too. I hope that she got everything she wished in her life, all the attention & love, & that all of her dreams came true!
I have already posted some texts, photos & videos from my 2016 trips & they are available on the next links:
- Tapan performance in the cave Vela spila on island Korčula:
Photos & text: https://steemit.com/portraitcontest/@careassaktart/another-travel-photo-post-connected-with-the-tapan-performance-in-the-cave
Video: https://steemit.com/travellingstories/@careassaktart/hqaenrav
- Some of the last moments of the trip in Macedonia:
https://steemit.com/killerpix/@careassaktart/the-end-of-summer-2016
If you like viewing my posts with photos & videos & reading the following texts, follow me please to get more!
All the comments, resteems & upvotes, are welcomed & appreciated!
Thanks for your attention!