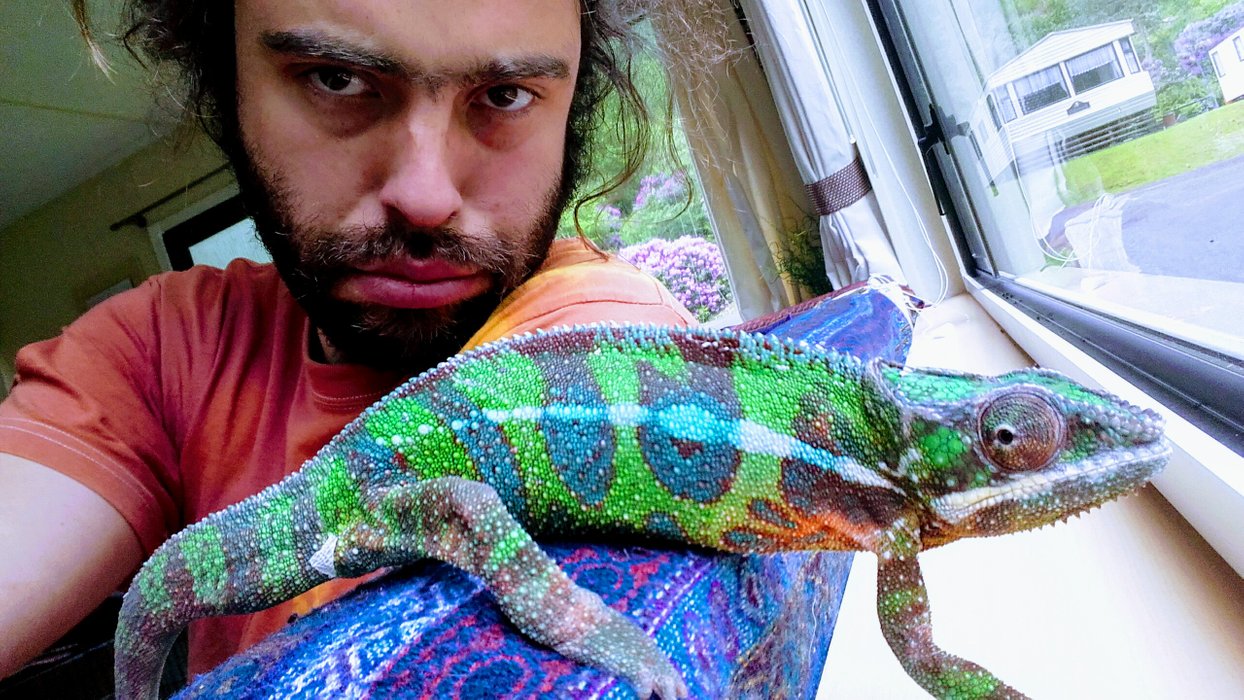 Gary The Chameleon - Jude's pet - & Me
Almost 6 years ago, I met a wonderful & a great person. It was on the 4th day my 1st visit to India. It was also the 1st flight in my life & the farthest I ever went away from home. I had a lot of problems upon my arrival & my first 3 days in India were something between Hell & horror... But on the 4th day I met Jude. She spontaneously saved me from a trouble & we spent the next 3 months hanging out & wandering around some parts of India.
After the Indian adventure, we haven't seen each other for almost 6 years. Until 3 weeks ago, when I finally visited her in Wales. We were in contact over Facebook & Skype but it's for sure not the same to see somebody in person than only speak with them over the web or phone. All those 6 years we had some plans to meet somewhere in the world but they never came true. But the moment had come. All the forces of the Universe came together so it happened. I finally went to see her. It was also my 1st time in UK too. I had a wish to visit London when I was younger. Today that wish has faded a bit cause I started not to like so much the big cities. I prefer the smaller settlements & communities. But anyway, I didn't go to see London but to see Jude & to spend some time with an old friend & to have a rest from my everyday routine. I think that every person should take a rest from his / hers everyday routine, to take a deep breathe.
I took a bus from Opatija to Pula (Croatia) to catch my Ryanair flight to London (England). Unbelievably, but the bus was more expensive than the flight! The airplane ticket to London cost me only 15 €. Then I took 2 coaches from London to Birmingham & then a train from Birmingham to Machynlleth (Wales) where Jude was waiting for me with a taxi on the train station.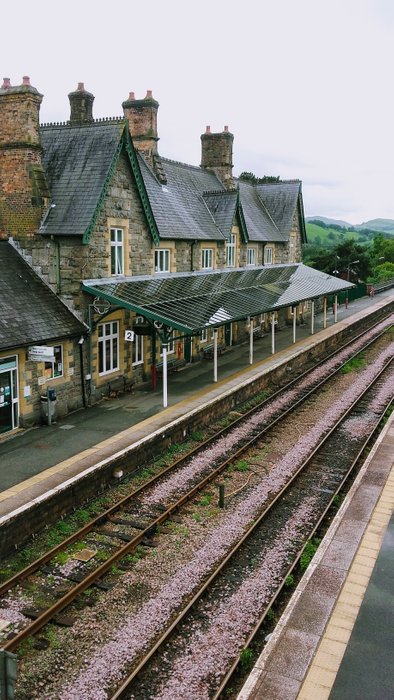 Machynlleth train station
I felt a bit strange when I landed in London around 11 PM. Stansted airport was almost empty. No checks were performed on me upon my arrival. I just passed through that huge facility to the bus station where I should have waited for something like 6 hours to catch the bus to Birmingham. I didn't care so much for the waiting cause I had some paper & a pen with me & used my waiting time to be creative. I found a cafe "Nero" where they served some fine Italian coffee & snacks & there I was drinking coffee & writing the monologue for the art documentary which I'm planning to record & edit & publish this year.
In this bar I met the staff working there & had some nice chats with them. One guy was Portuguese & the other was Polish but seemed like a great team working there. They informed me that a lot of workers are needed all over the airport but also all over UK. That was the first sign of an opportunity to change my life a bit cause Croatian economy is in a very bad shape & the working climate is awful. So, it was coming through my mind very often to grab some job opportunity if it comes to me during the trip. But it was too early to decide & it was not the 1st & the most important reason to travel there anyway.
Finally the bus came & drove me to Golders Green bus station in London & there I was waiting for 50 min for another bus to take me to Birmingham. In that time I realized again that I fucking hate travelling with buses if they don't offer the sleeping class – like the bus in which you can lie down & sleep. So, I made a firm decision (again) not to travel by bus anymore, unless it's a sleeper one!
In Birmingham I also had an hour to catch the train to Machynlleth so I used my phone & the Google Maps app to track the railway station. Fortunately it was very close to the coach station so I found & reached it very easily. Travelling by train is completely different than travelling with a bus. Trains have more space, constant speed, comfort, you can order food & drinks & it's much easier to fall a sleep even without a sleeper class. So, I have nothing against travelling by train.
When I saw my friend Jude waiting me at the station, I couldn't believe my eyes. Actually, for 2 days, I couldn't believe that I'm really in the UK. Everything seemed so unreal. I must admit that hugging & kissing Jude was also pretty unreal. I felt like flying with the airplane was some kind of a time travel & that pieces of my soul haven't yet arrived to the destination, while the body was already there. Very strange feeling. I was pretty disorientated too. I guess this state of mind is called "jet lag".
Neverminding my state, I just let myself go with the flow & trusted Jude completely & let myself into her hands. The taxi drove us to her caravan site where I stayed for the next 7-8 days. In the first few hours we immediately exchanged gifts & start reconnecting by telling life stories we missed about each other… These next few days I did almost nothing but leisure: cooking, smoking hash, laying around, sleeping, a bit of walking & cycling, checking the nearest settlements, trying the local pub beers & vegetarian food & some tourist & alternative sites.
Ceinws
It was the nearest & the smallest settlement I've been to during my visit to Wales. Maybe around 70 residents living there. This village is situated on the place where a small stream enters the river Dulas. There I hung out in the Tavern Dwynant. The owner of the place is a painter & exhibits & sells his artwork right there in the pub. Of course I tried their domestic beer! Just across the pub there was a small handmade woodwork shop. Not much to see or do in the village but still yes, something…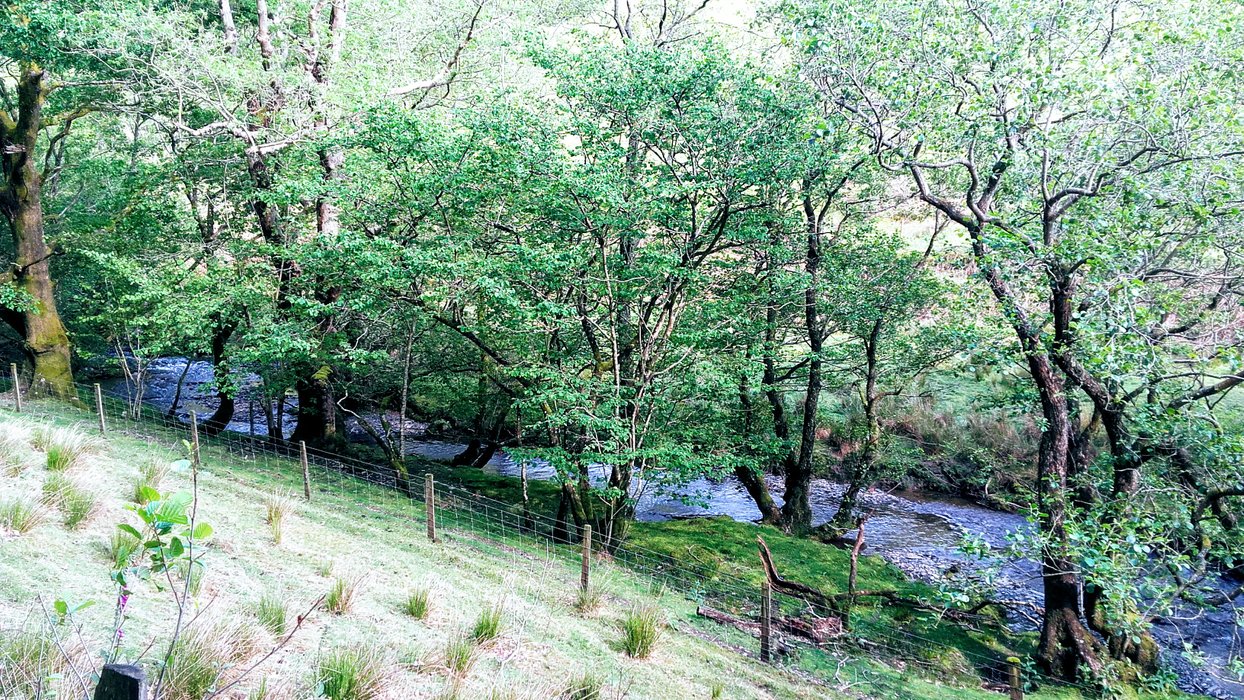 Another green-water moment on the way to CAP
In the close vicinity of Ceinws, there's CAP – Center for Alternative Technology. It was the most interesting man-made "attraction" in the area. It was built in the 60's by the participants of the hippy movement together with the locals. It is a small settlements with employees & volunteers. I believe some of them live there all year long while others only temporarily. There I've seen the photos how it looked in the beginning & I've seen the present & can only express admiration for all the effort & time invested. There are several huge facilities: kitchen & dining room – which are also opened for guests (tourists) & of course we ate there & it was delicious; dormitory – which is opened only for residents, a shop with books, hand-made & other accessories & a lot of smaller facilities of which some were opened for public & others were not. There are exhibitions all around, indoor & outdoor, as well as the gardens. It is actually the only real garden which I've seen in the area & they grow a lot of food. I've seen many plants growing there which ain't domestic for sure, even some very exotic. There's a small lake in the yard between the facilities with a fountain. To enter the Center, one need to take a ride with a lift which uses no power – no electricity & no gas! Only the weight of water – it's hydraulic – it has 2 tanks of which one is filled & the other is emptied so it can go up & down & carry the passengers. So, even in the beginning of my visit to CAP, I was thrilled. Inside their yard, there are plenty of examples how energy can be used as green, renewable & free to improve people's lives! My admiration it's hardly expressed with words! One can learn a lot from CAP! If you ever end up in Wales & you're interested in living "with Mother Nature" & not "against", I propose you to visit this Center! It can give you a lot of knowledge which you can use to improve your own life & the life of others, to teach them the right ways!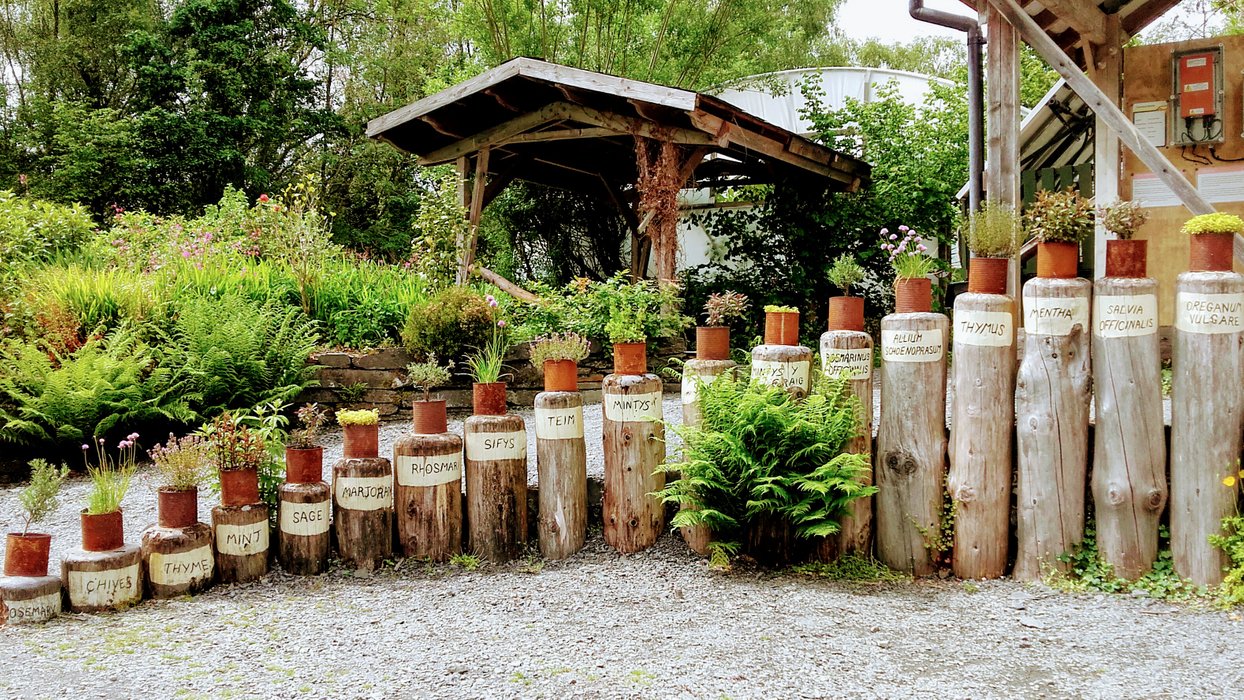 I made only one shot in CAP
The sweetest thing I saw there was an Irish girl working as a waitress in the tavern. One evening we played pool together. I got a bit drunk that evening thou. It was nice to spend an innocent hour with her! Nice memories…
Corris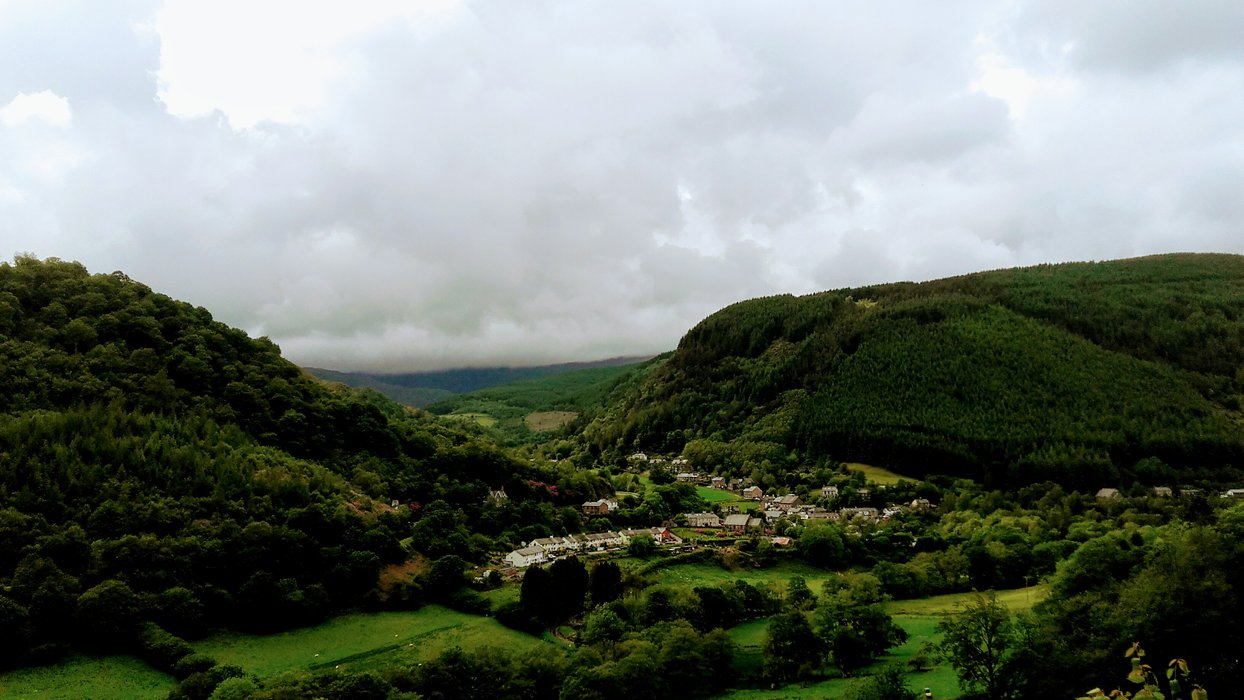 A view on Corris from the hill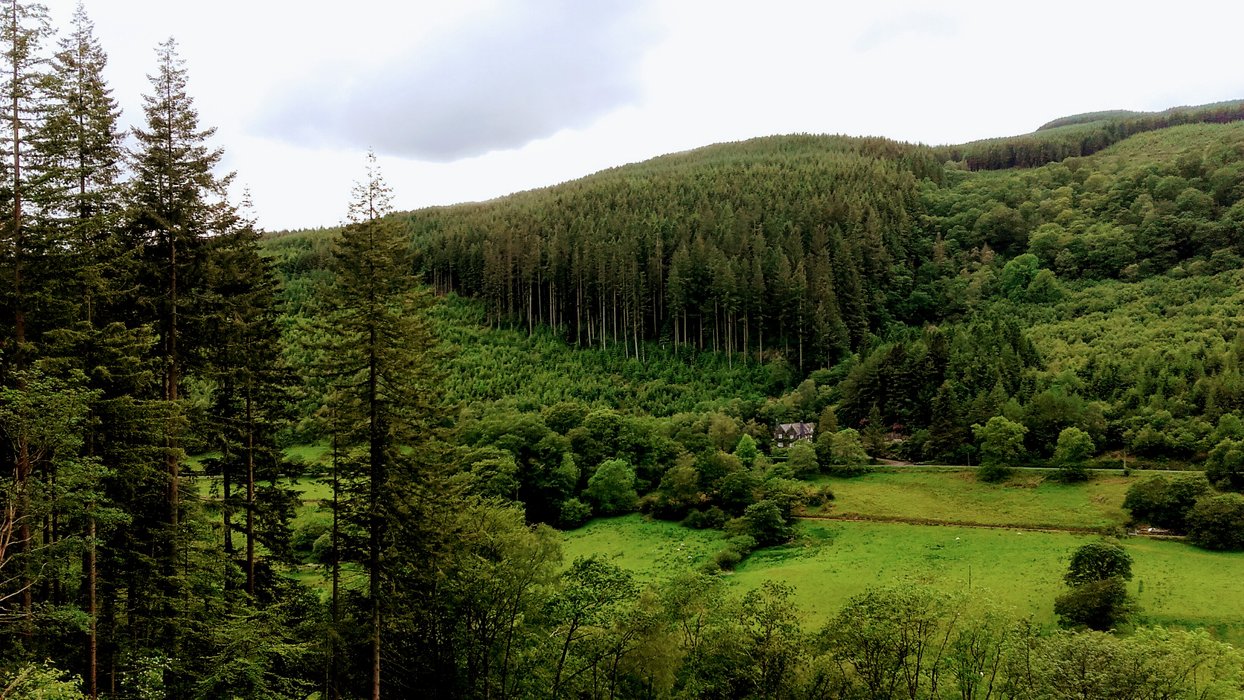 A shot from the same spot but towards the other side - there's a hotel in the green horizon - beautiful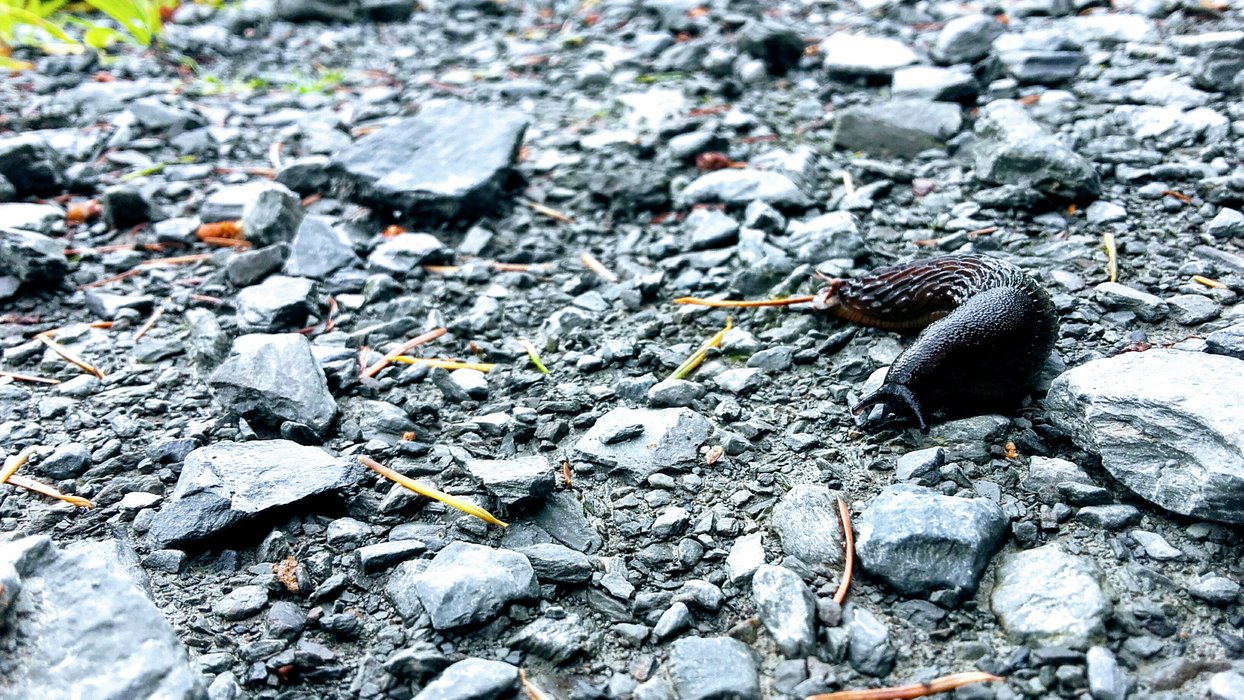 A black slug was keeping me company while I was taking the above shots of Corris & the green horizon
Corris is a bit larger than Ceinws but still small with the population of something like 200 people. It's actually a small village by the rivers Dulas & Deri, on the spot where Deri enters Dulas.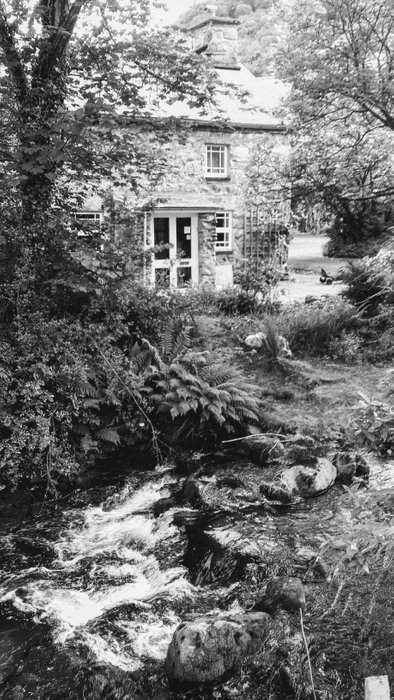 Some shots are just much better in b&w version - another Corris moment with river Deri
There were a pub & a small inn, a shop with eco-bio veg food & some handmade accessories, a post office… The only tourist attraction is on old steam railway which is still in use & it goes for few miles just for a tour. Almost all the houses are built from grey / black lime stone, same like everywhere in mid Wales & still there's plenty of lime stone scattered around. We went there often for food & beer & were regular guests in Slaters Arms & the other inn which just opened in the time I came to Wales but I can't remember its name. I really enjoyed that place. It was so quiet & peaceful, just the way I needed at the time.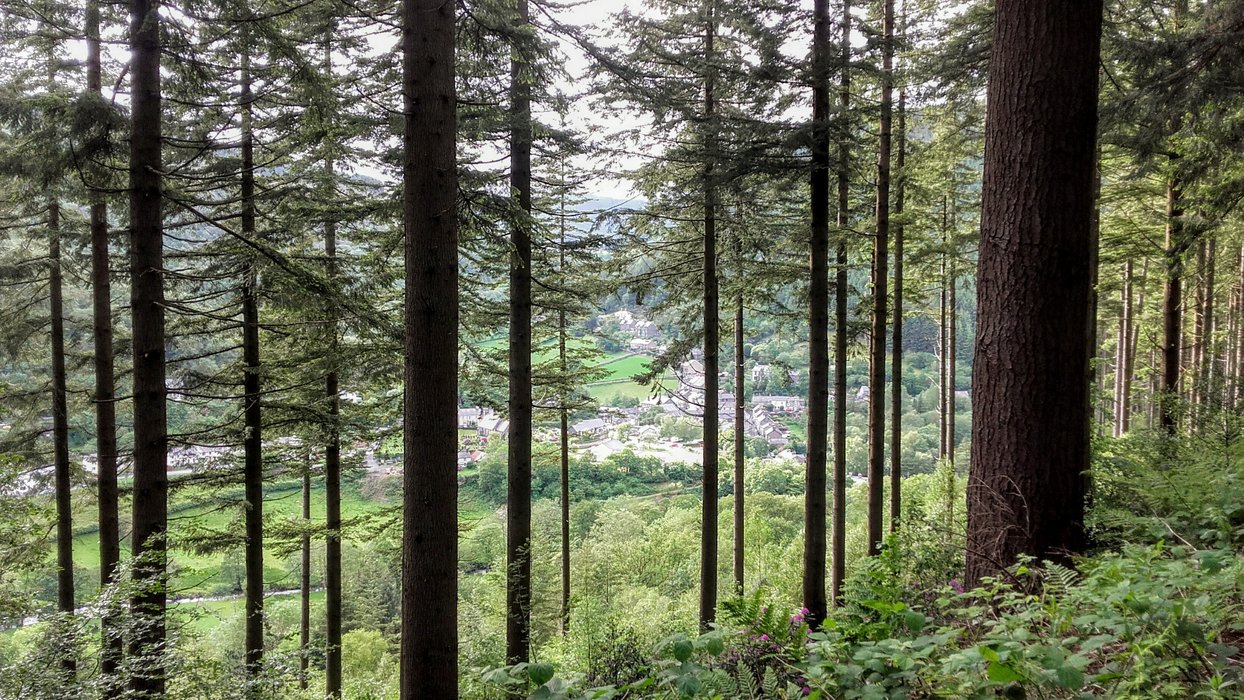 A view on Corris through the forest from the hill
I've been around the hills a bit too. One time with Jude by bikes & the other time alone on foot. It was nice. The landscapes are beautiful. The air is fresh. The water is everywhere – leaking, dropping, flowing, raining… I mostly never believe the stories of others until I see with my own eyes, but yes, it's true – it's raining almost every day in UK. I think that it hasn't been raining for only 2-3 days but I didn't mind it cause it was a mild rain. Only 1-2 days / nights were really cold & all the rest were pretty warm.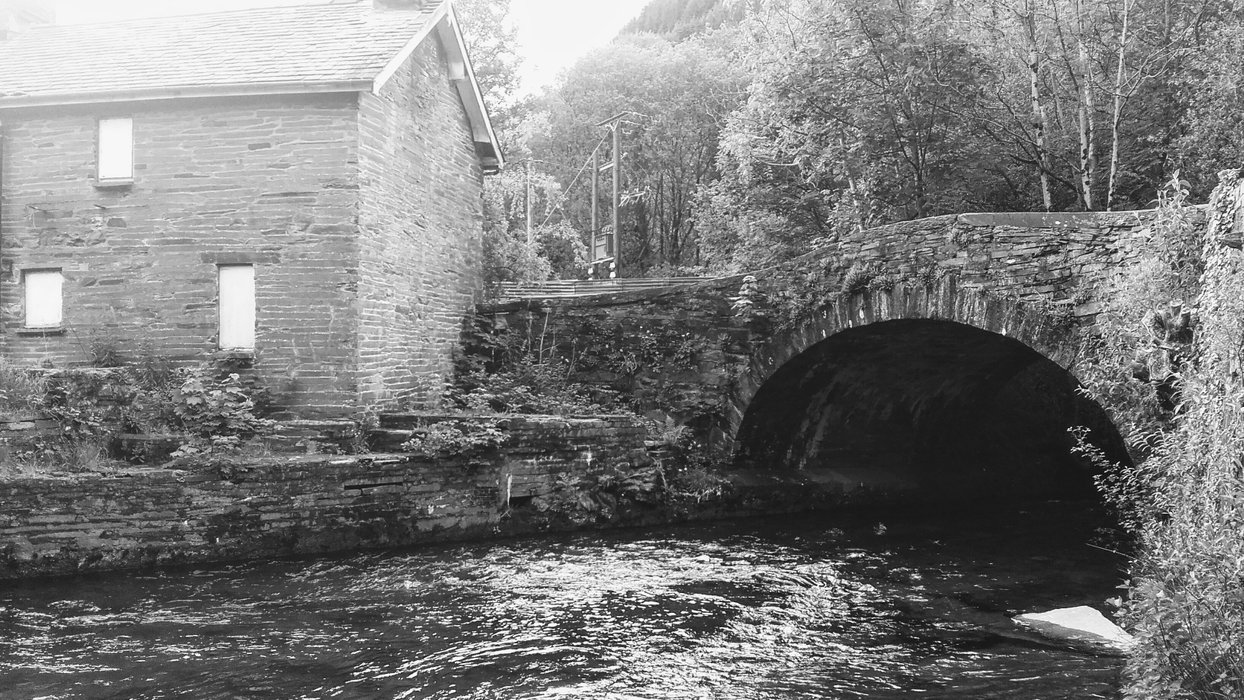 A bridge over river Dulas is aside entrance into Corris, from the hillside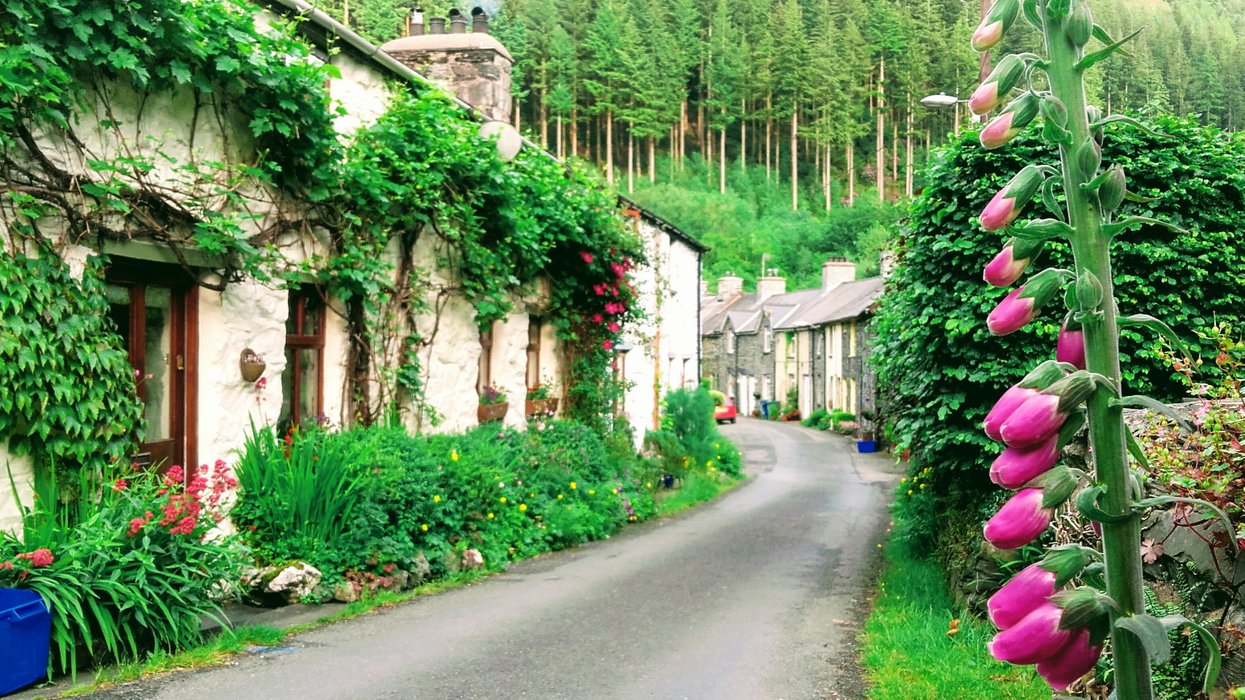 Sweet Corris houses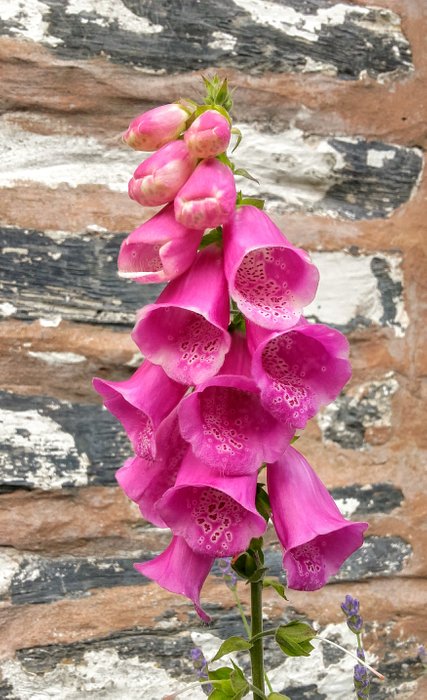 The same plant as on the photo above - I have no idea what kind of plant it is but it's real beatiful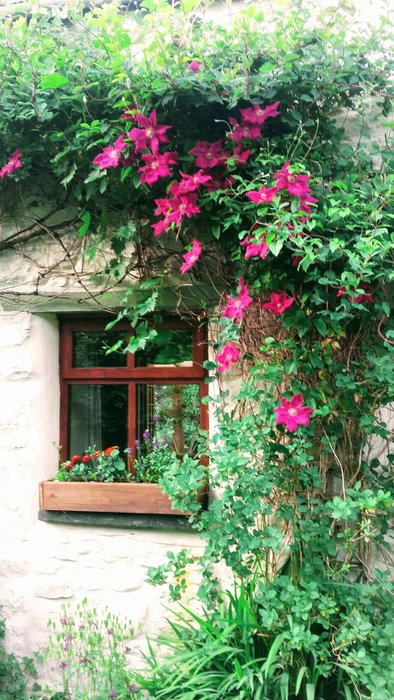 I really like how the Corris residents let plants grow over their houses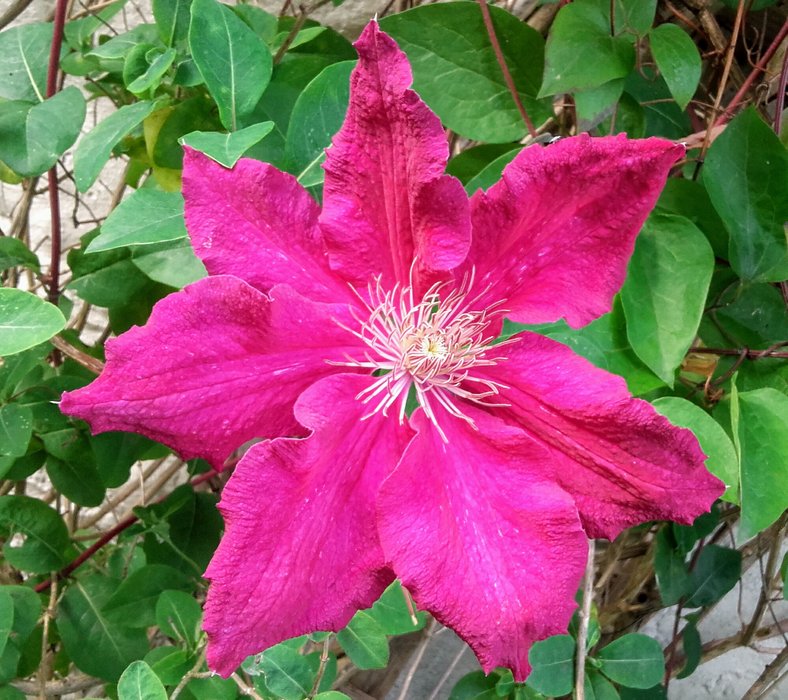 This is a macro shot of the plant above which climbs the house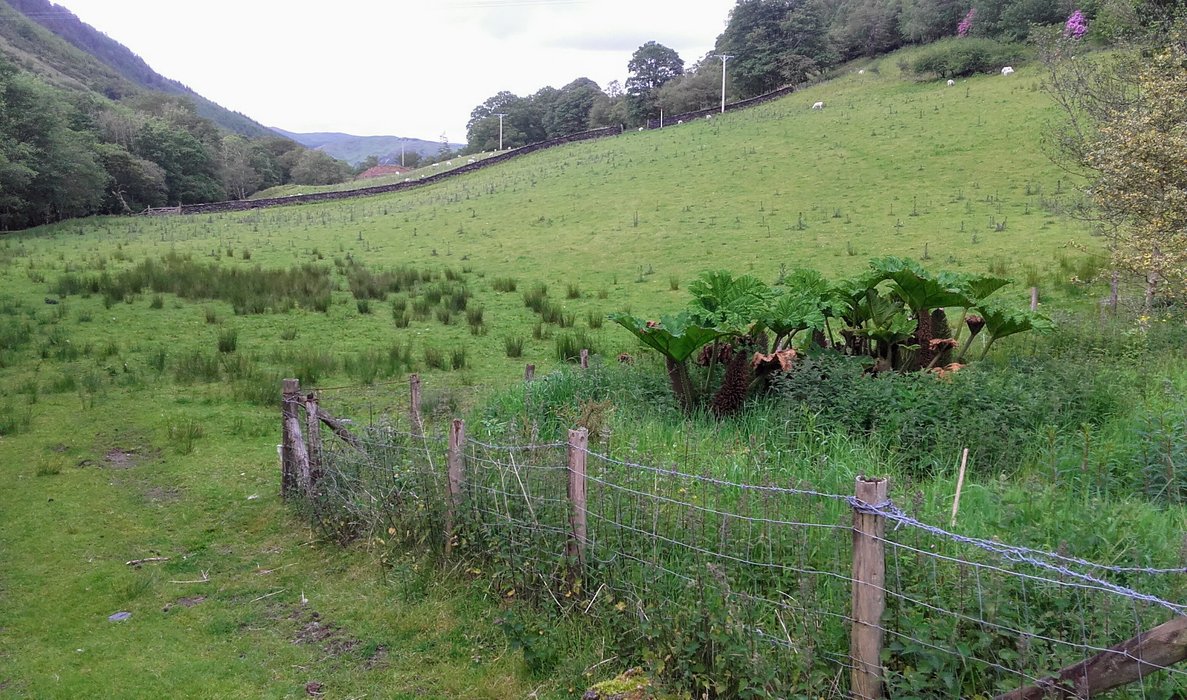 Another green horizon with the white dots - sheep - but I shot this one with an admiration to these gigantic leaves - I'm really interested in that plant name & what can it be used for
Above Corris, on the main road there was a craft center with shops where one can buy all kinds of hand-made things: jewelry, cosmetics, wood works, chocolate… Here I bought the most expensive knitting needles for my mom & quite expensive sample gin bottle for my father. It is close to the King Arthur's labyrinth which I didn't visit cause I wasn't really attracted to all the tourist attractions, even thou I visited most of them.
Machynlleth
Machynlleth is a town of approx. 2000 residents with more pubs, inns, shops, a hospital, a museum, a supermarket, a library… In this town, I visited The White Lion & tried few of their beers & stole few bites from Jude's plate. They have rooms to rent above the pub & a yard where you can smoke. It's a nice place!
A better place to eat is The Number Twenty One! There we sat for some veg food & it was delicious. The prices are not so expensive in non of these spots but they are not cheap either! Nevermind, one must spend money while travelling, especially if one wants to sense & try things around.
I also visited The Dyfi Roastery & was a very nice place too! Very comfortable, quite & relaxing. It is a place where you can order all sorts of food & drinks & where you can order meat too. I only drank a huge smoothie there. Prices are very similar to the other places.
If you want to buy some tasty, fine bread you can try to do it in The Talerddig Bakery but they also prepare & sell a lot of different cakes & biscuits which are probably delicious. I didn't try any of them but the looked delicious.
There are some kind of 2nd hand shops where one can find many interesting & cheap stuff. Part of their profit goes to charity. That's why these shops are actually called "charity shops". I bought myself a vinyl record in one of those. It was really cheap & very well preserved.
When I was leaving Wales, I passed by the Museum of Modern Art & entered it to see what's in there. It is a large facility where many fine pieces of artwork were displayed. They were all for sale but I must admit they were pretty expensive but I accept that! I believe an artist should be able to say how much he/she values its work, as well as any other profession! I really enjoyed visiting that museum & seeing all those artworks.
Finally, I went to the train station & there I was thrilled with an agricultural installation – there was a wooden box where vegetable was planted & the passengers were allowed take the fruits to eat! Fucking amazing! This kind of "actions" should be performed everywhere, in every city, especially in the public spots where a lot of people are passing by. I believe that any passenger can also plant more plants in the box too!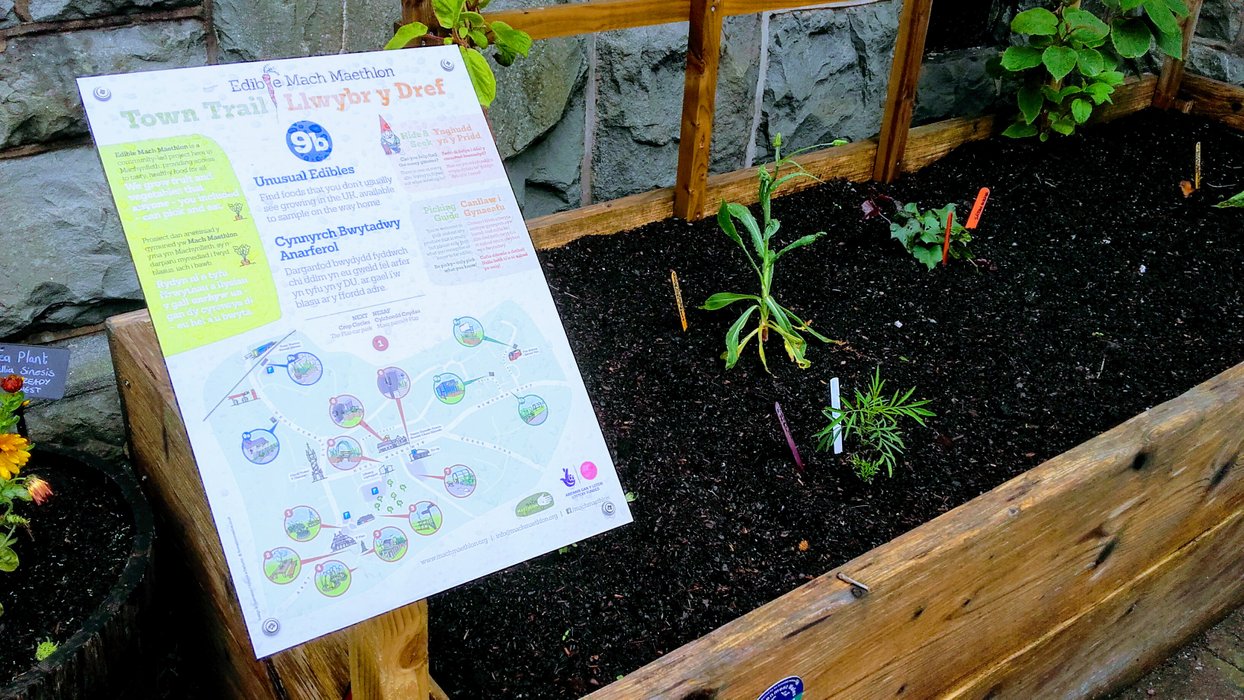 This was that wooden box with vegetables on the Machynlleth train station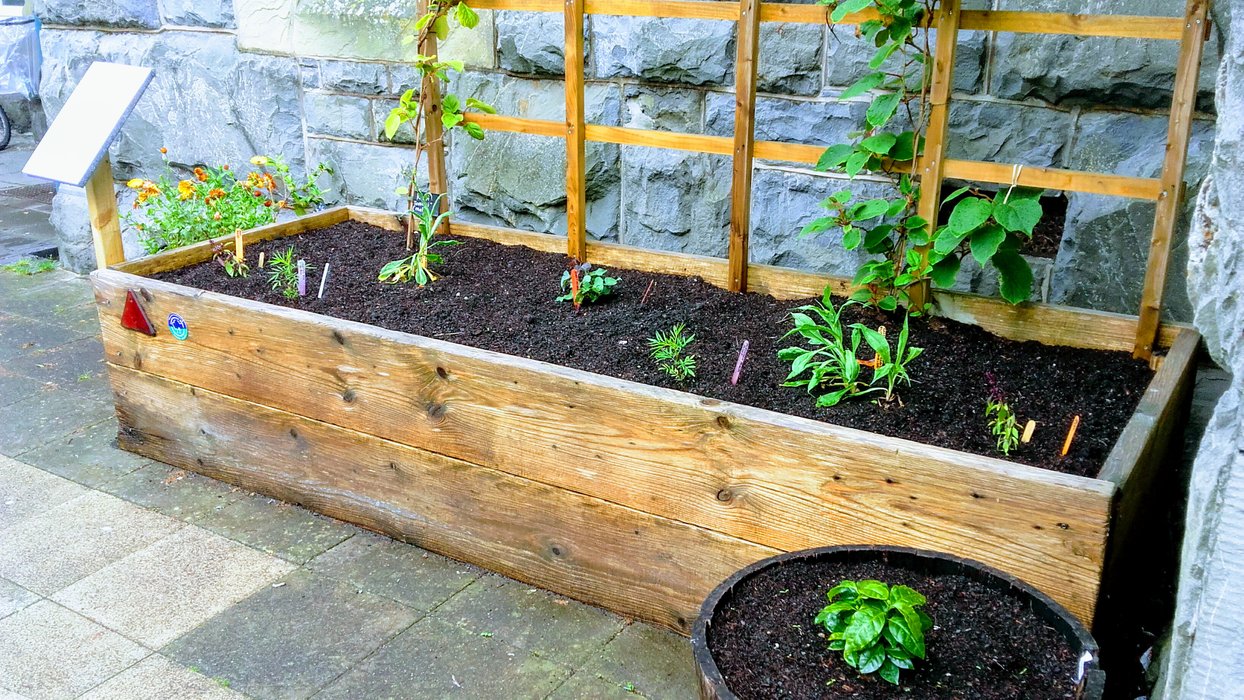 The Purple Color Of Flowers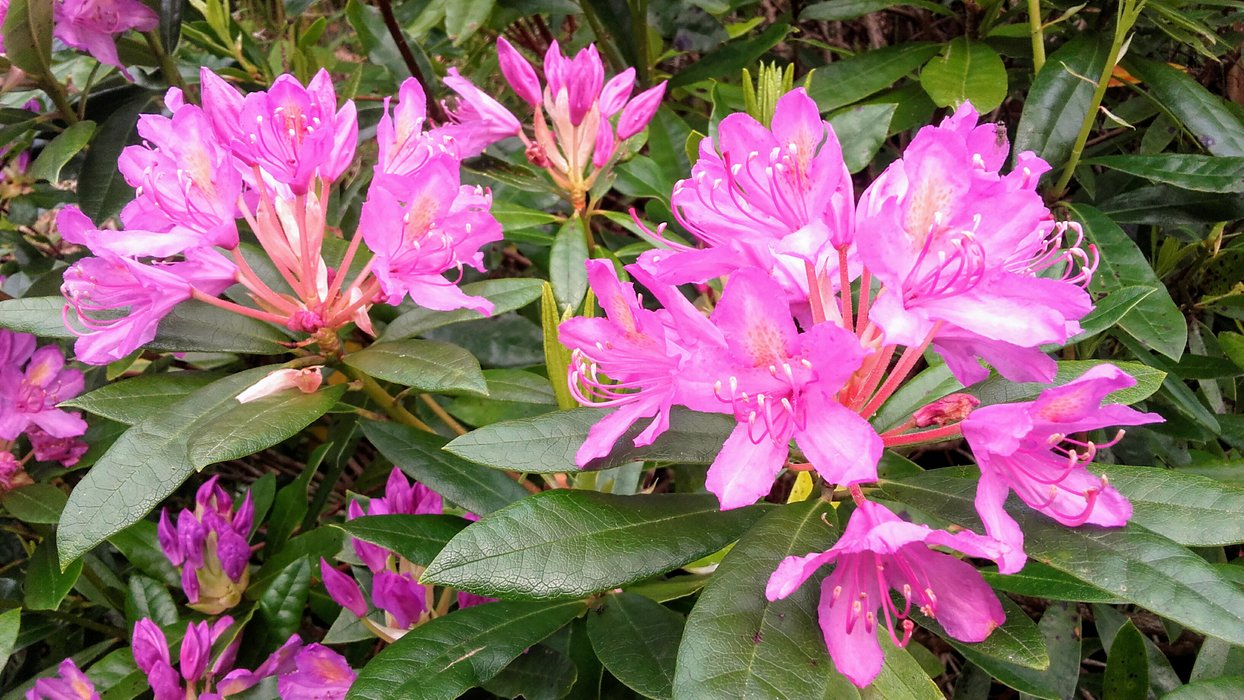 Rhododendron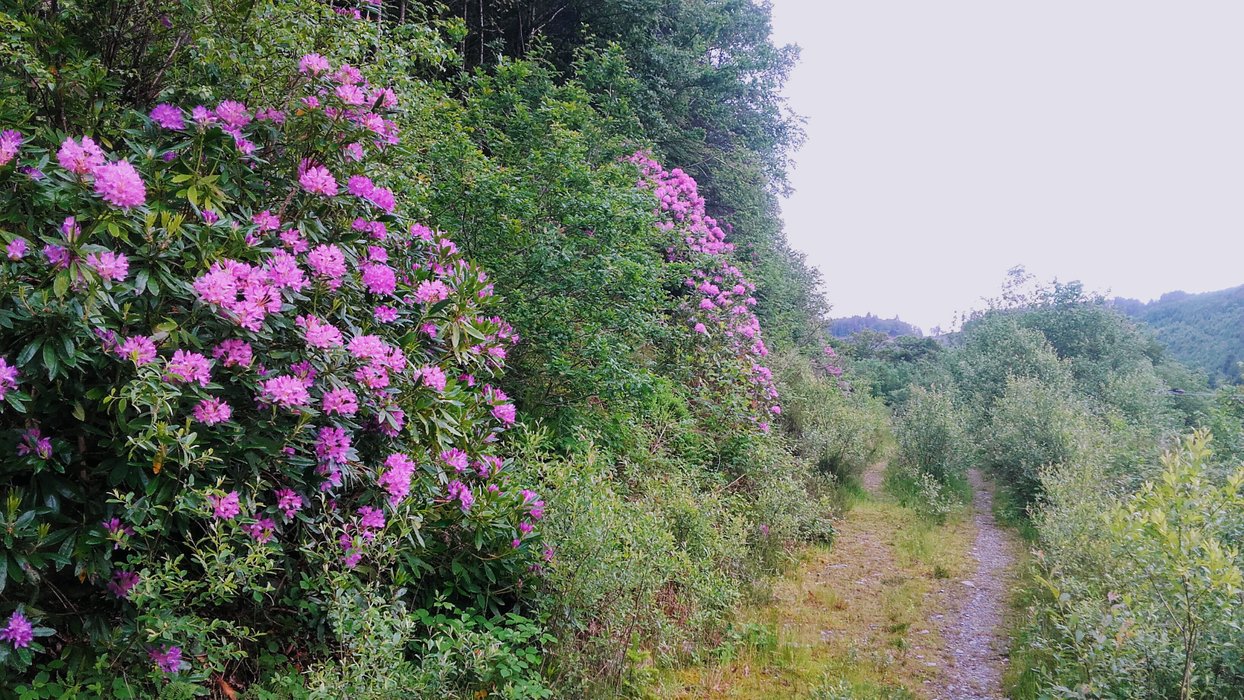 A very interesting fact is that the most of the flowers blossoming in the time I visited Wales, were purple! You've seen the 2 in the passage about Corris. There were a bit of white & yellow but the purple prevailed! It's crazy! This rhododendron is very poisonous & it is a relative of oleander which grow in my homeland - Croatia - & I saw a very similar in a documentary about the Nepalese honey:
There was another purple flower which I shot while going in the hills by the dirt road - I also don't know what specie it is. If you know the names of any of these flowers, please write in the comment. Thanks!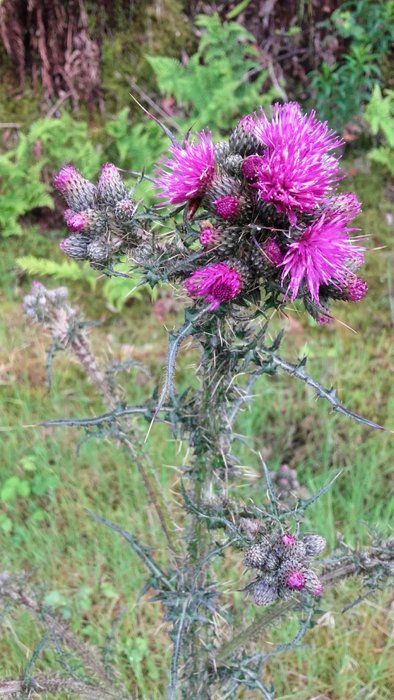 Conclusion About This Part Of Wales
It is a quiet area where people are very polity & relaxed. Everybody doing their own thing & living their lives. The people live with nature & you can't see any dirty industry anywhere around. On the green hills around, sheep are held. Many mountain bike routes pass through the area & these tracks are one of the most famous in the Europe so many come to ride & training here. I'm even thinking of coming living there for a while…
Thank you Jude!
---
If you want to know more about it, click on the shot below:
---
#Smartseem service!
This Steem-based service offers you to buy / sell your votes in return for STEEM or SBD. You can also delegate your SP to them & be getting some STEEM back. It is also connected with the #Smartmarket #bot. Very useful!
& of course, their offering the referral link with the banner:


---
---

Thanks for reading & supporting!