We made the impromptu decision
to rent a place at the Oregon coast for New Year's Eve, literally calling around the night before to see if there were any vacancies (
@dillemma
didn't know until the last minute if she actually had the holiday off). Improbably we did find a pet friendly, ocean front suite with beach access because of a late cancellation.
We had glorious sunny weather for our two days at the beach, with temperatures in the fifties despite it being midwinter. We stayed at Deane's Oceanfront Lodge in Yachats, Oregon.
Pet FRIENDLY vs. Pet Tolerant - I <3 Deane's
I absolutely loved
Deane's Oceanfront Lodge
. Chad, the chipper front desk attendant on duty when we checked in (who had a mightier beard than me!) told us they were pet friendly when other places were pet tolerant, and they totally meant it.
Deane's provided us with a pet bag containing food and water dishes, dog bed, treats, toy, large dog towel, and doggie bags. There was a doggie wash off station with water pump and hose over wood slats next to the covered patio. The grass lawn between the rooms and the beach access stairway was open to (leashed) pets, and instead of worrying about our dog making noise, we were making friends with all the other dogs who were visiting. I saw Chad the front desk guy walking his own dog later that evening :)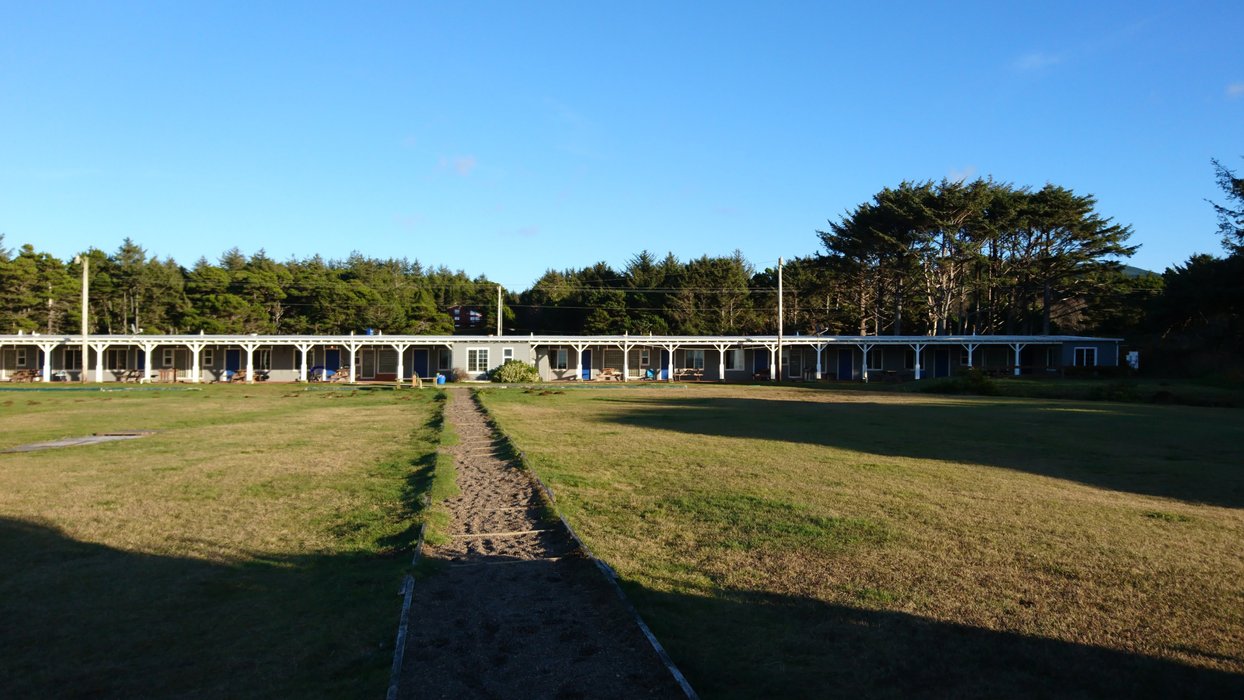 Looking back from the beach access stairway across the lawn at
Deane's Oceanfront Lodge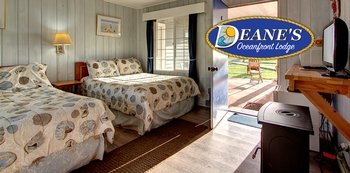 Image credit
Deane's Oceanfront Lodge website
The rooms were funky and they kept the 70's motel decor and retro feel while modernizing the beds and fixtures. We had a two room suite with a semi-detached kitchenette (range and microwave, no stove).
Deane's also provided a small grill, which I took advantage of on New Year's Eve. I marinated steak the night before and cooked marinated steak, sausages, and mushroom/onion/pepper skewers over applewood briquettes (charcoal briquettes pressed with chunks of applewood). I seared halved romaine lettuce and served us up an amazing grilled romaine salad and steak meal while the kids ate sausages and veggies.
---
Universal Public Beach Access
One of the best things about Oregon is that every beach is public property. There is no such thing as a private beach in the state of Oregon. The 1967
Oregon Beach Bill
established public ownership of all beaches from the water up to sixteen vertical feet above the low tide mark. Can we have more common sense / common good legislation around the world please? How about truly universal beach and water access? Sending a prayer out into the winds of 2019...
---
Fun on the beach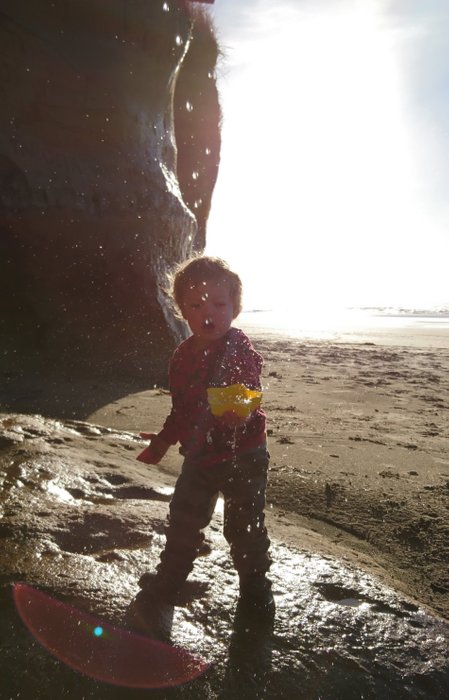 @thingtwo and the "waterfall"
@thingone and @thingtwo always have fun playing in the sand. Add in a mini waterfall (just a few drips really) spilling down a sandstone cliff into a tiny little pool and they were in seventh heaven, pushing around the beach toys that Deane's again helpfully provided.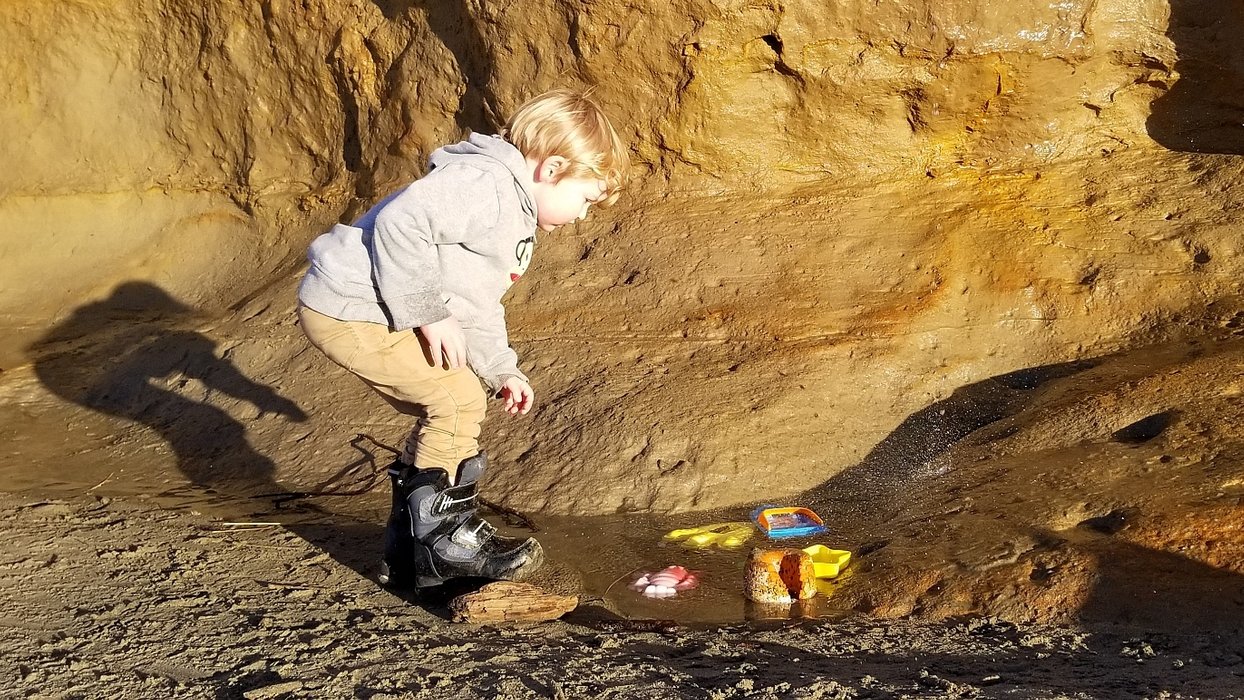 @thingone and the pool
---
She is a good girl :)
---
Gotta give @thingone credit, it took some effort and determination to drag this bull kelp around!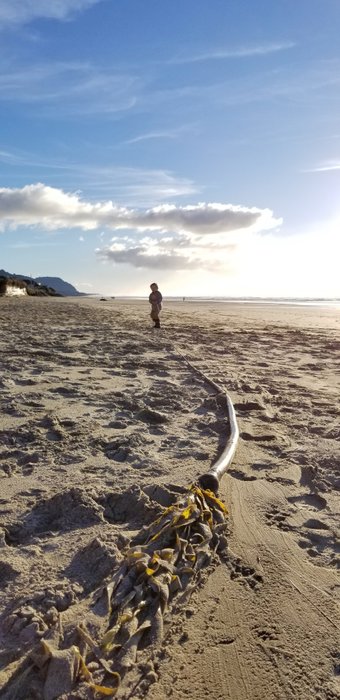 ---
Last Sunset of 2018
We went on a really lovely family walk at sunset on New Year's Eve. A low band of clouds was hanging just above the horizon, which I thought might obscure the sunset but actually just served to heighten the oranges once the sun dipped below the level of the clouds. It was low tide and the wet sand glimmered a thousand whispers of purple and violet.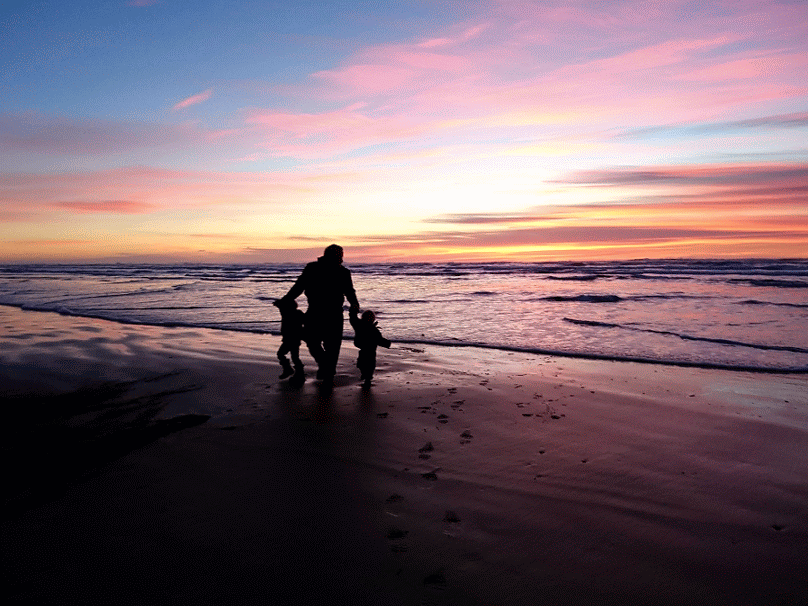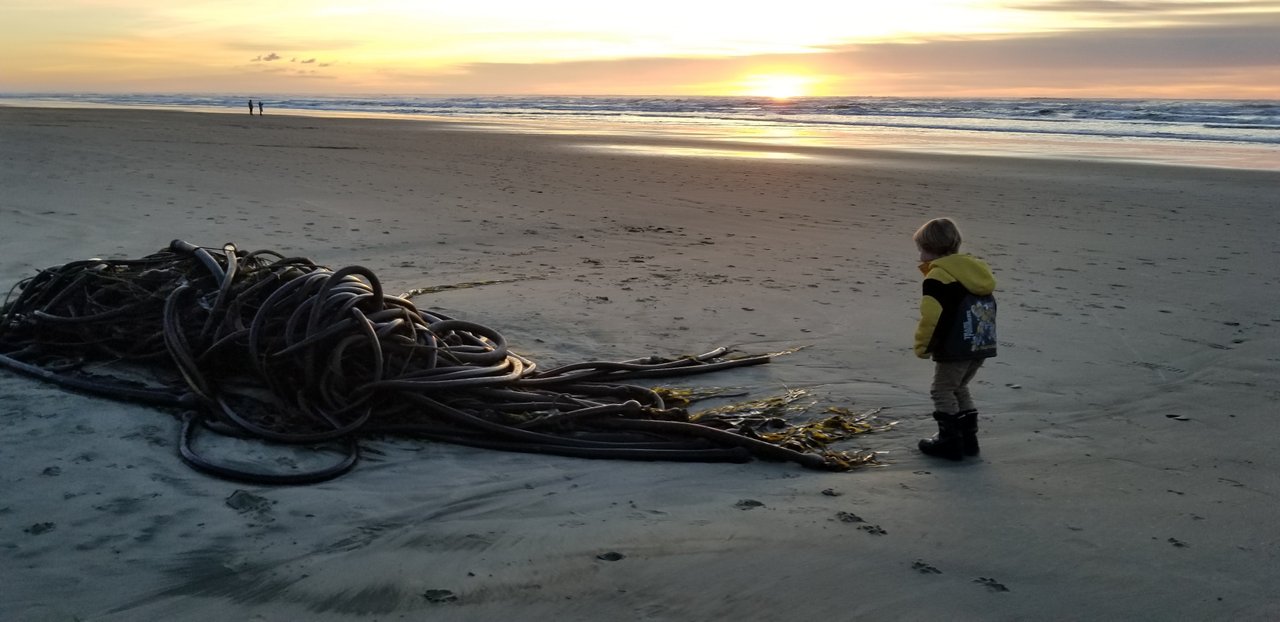 Examining a clump of bull kelp
---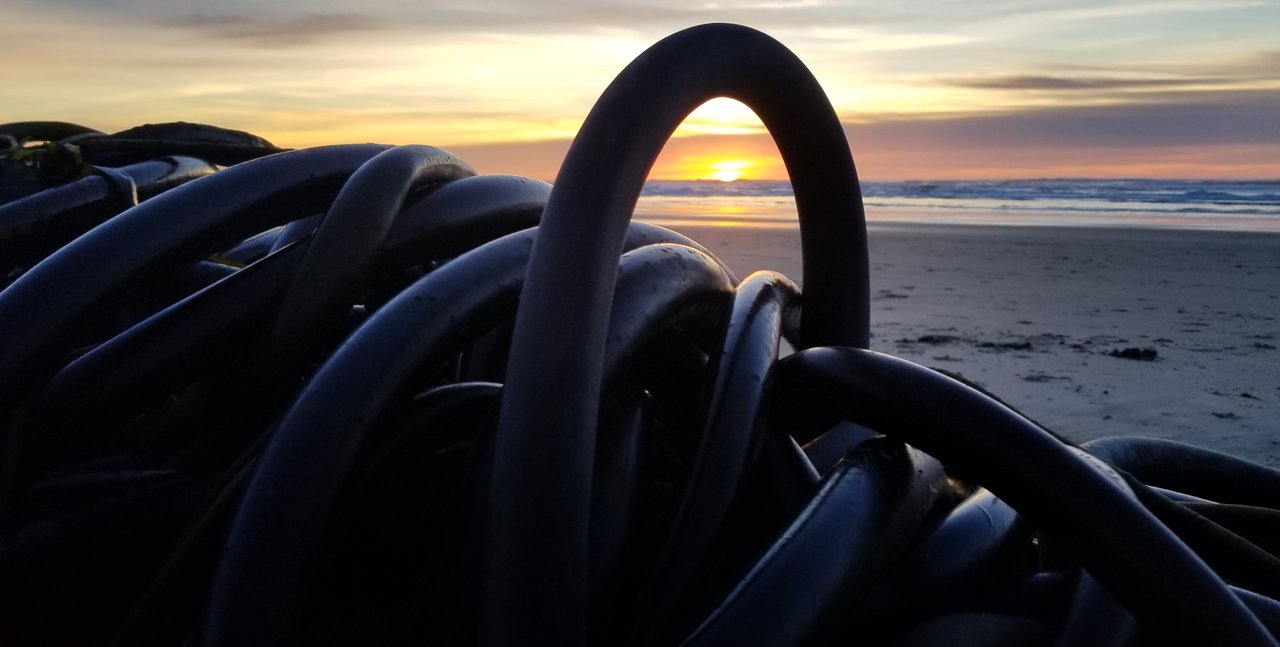 Sunset à la Cthulhu
---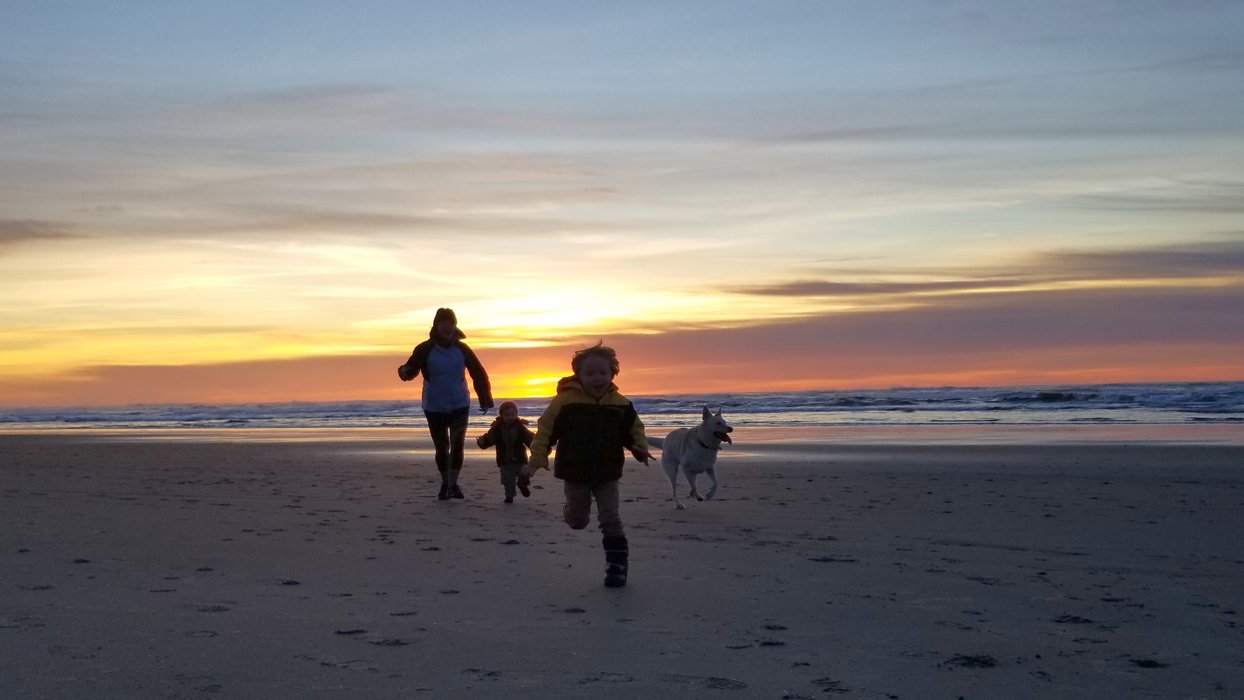 Run to me!
---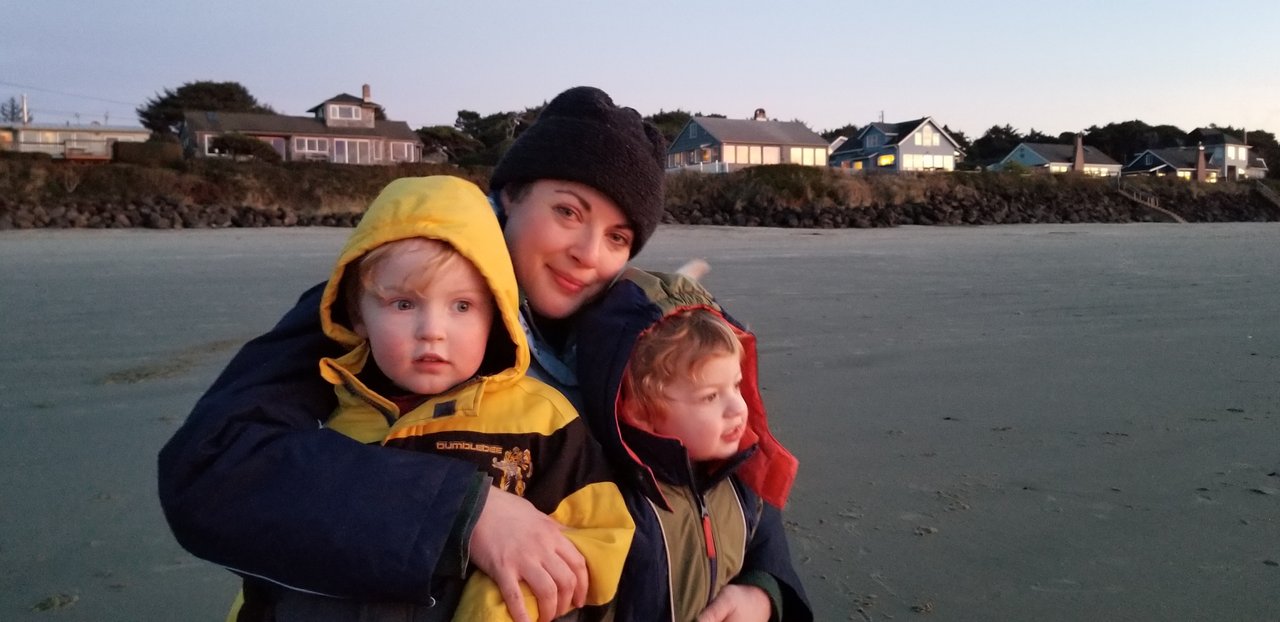 @thingone
,
@dillemma
and
@thingtwo
---
A flock of shore birds descended at dusk to peck through the wet sand. Some kind of plover, I couldn't make out their coloration to tell what kind. You can see them below.
My cell phone camera's feeble attempts at capturing the insane play of sunset reflecting on wet sand:
---
And now for something completely different...
---
Being the alien eyeball that I am, I recognized a kindred spirit in the masses of kelp we found washed up on the beach. I took a series of abstract kelp photos with the intention of turning them into alien art, as one does.
---
---
All photos, art and text original except as noted
---