We are back in Bangkok after a week in Kuala Lumpur. This is the third and last round of Bangkok on this trip. We will be here for a few more weeks than sadly we must go.
We are staying in a neighborhood that's kind of far from the thick of the action. It has a great benefit though. It's close to a weekend market called Chatuchuk. We've been before and it was pretty fun to walk around there.
The other day we set out on a leisure stroll toward the market with the plan in mind to walk through Chatuchuk park and the parks attached to it.The parks are side by side and in my opinion it seems like the same park with different names. Queen Sirkit Park and Wachirabenchatat Park. There is a small street and bridges that separates them. These Parks are next to the weekend market.
After starting out we took a short cut down some alleys where the scenery changes from the large main road that we start on, to something more authentic to Bangkok. Alleys in this city can be quite interesting. This one not so much.
What is so great about places like Bangkok is that the old and new can be mingled so tightly within the city unlike at home in Montreal where the old part of the city is quite designated.
Looking into the distance we can see tall buildings, while looking to the side we can see older homes made of wood.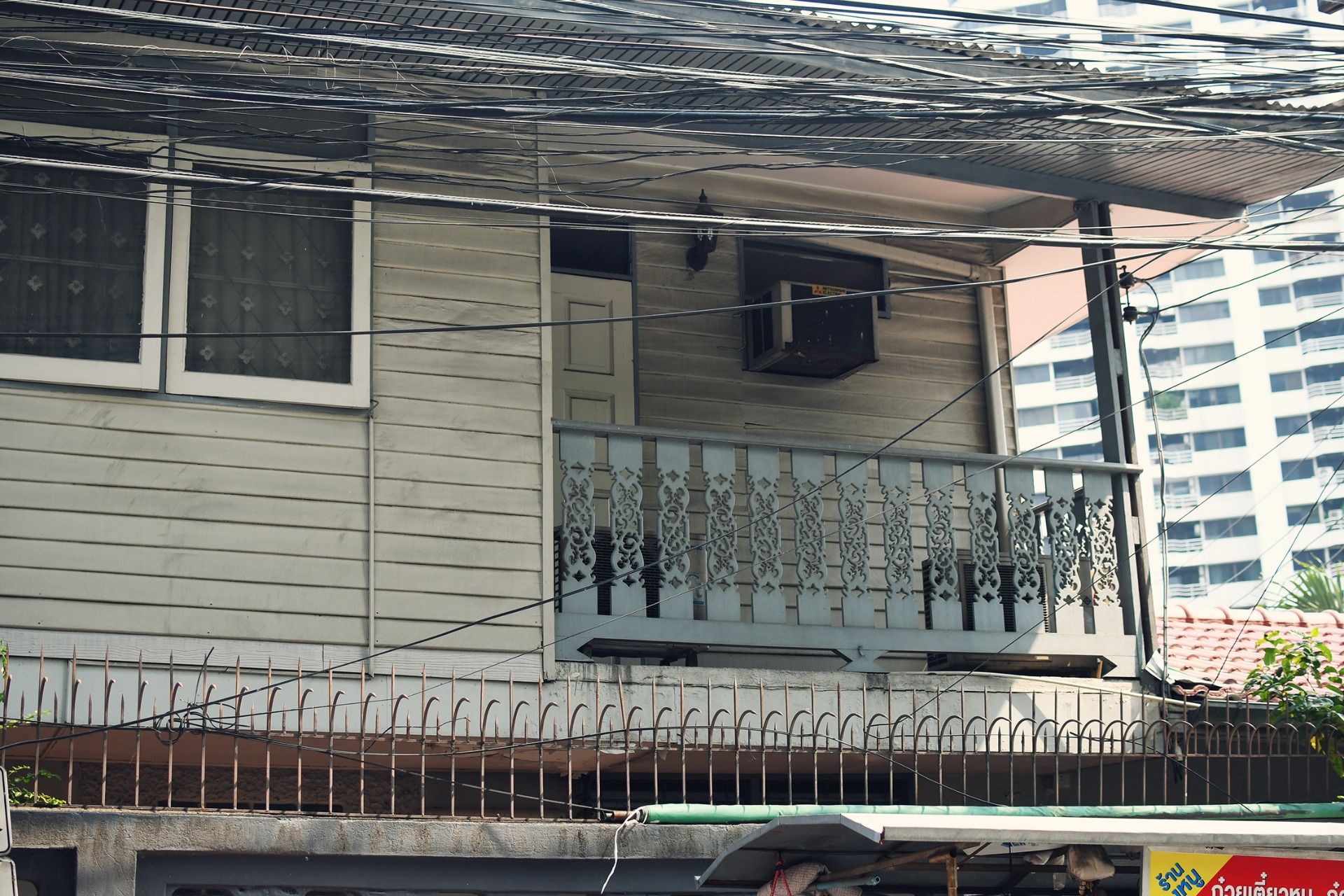 Street vendors selling food can be sitting in the strangest most random places. Doing dishes in the alley or the side of streets,after serving food is not unusual at all.
After winding through alleys we come out to a large major street, like a highway where the sky train runs and the several lanes of traffic can be quite intimidating.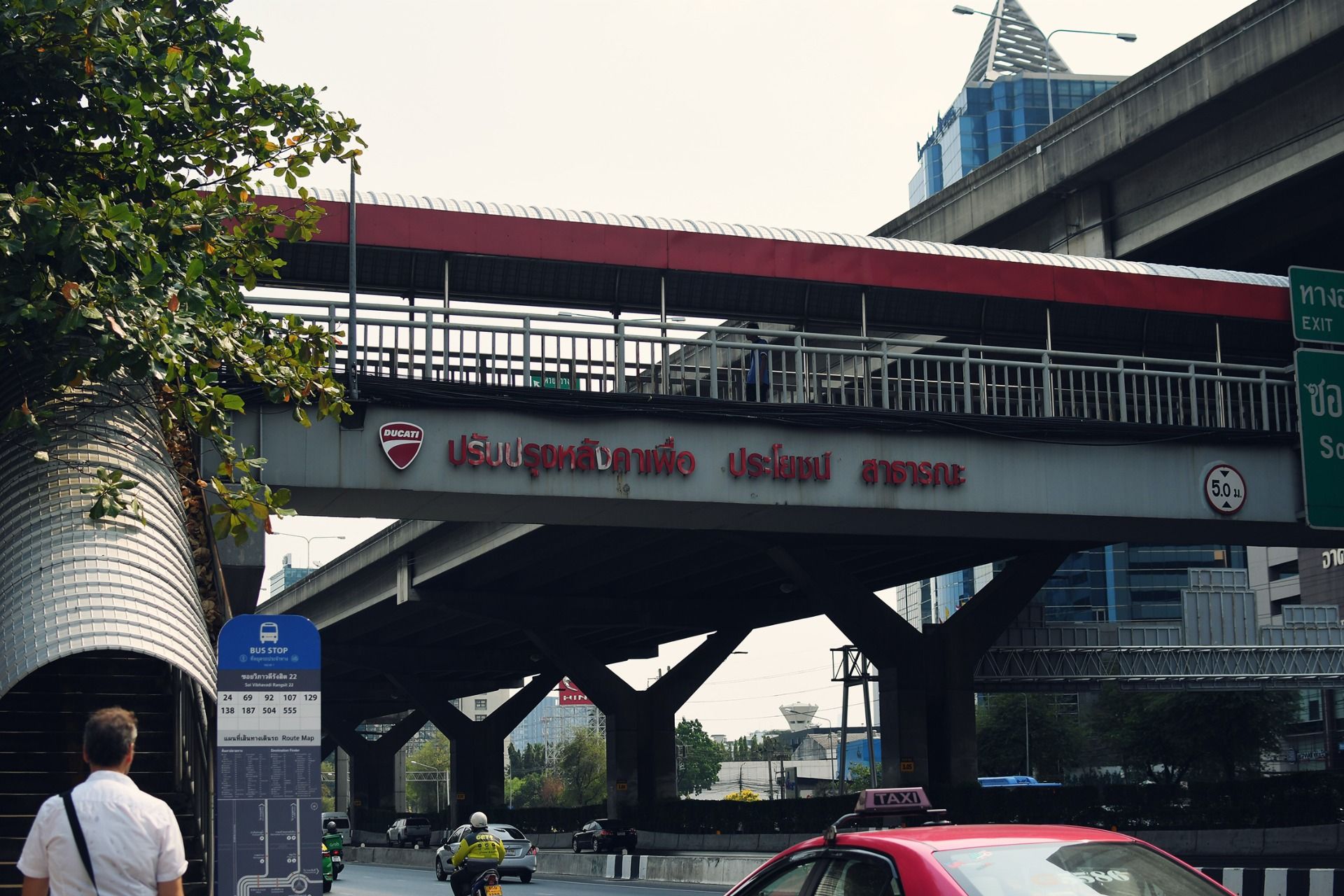 The only way to cross the multi lane highway/street, is to go over bridges that are built for people to cross and to get to the train in some parts.
Chatuchuck park and the others attached to it, are truly the most beautiful parks that I have ever seen.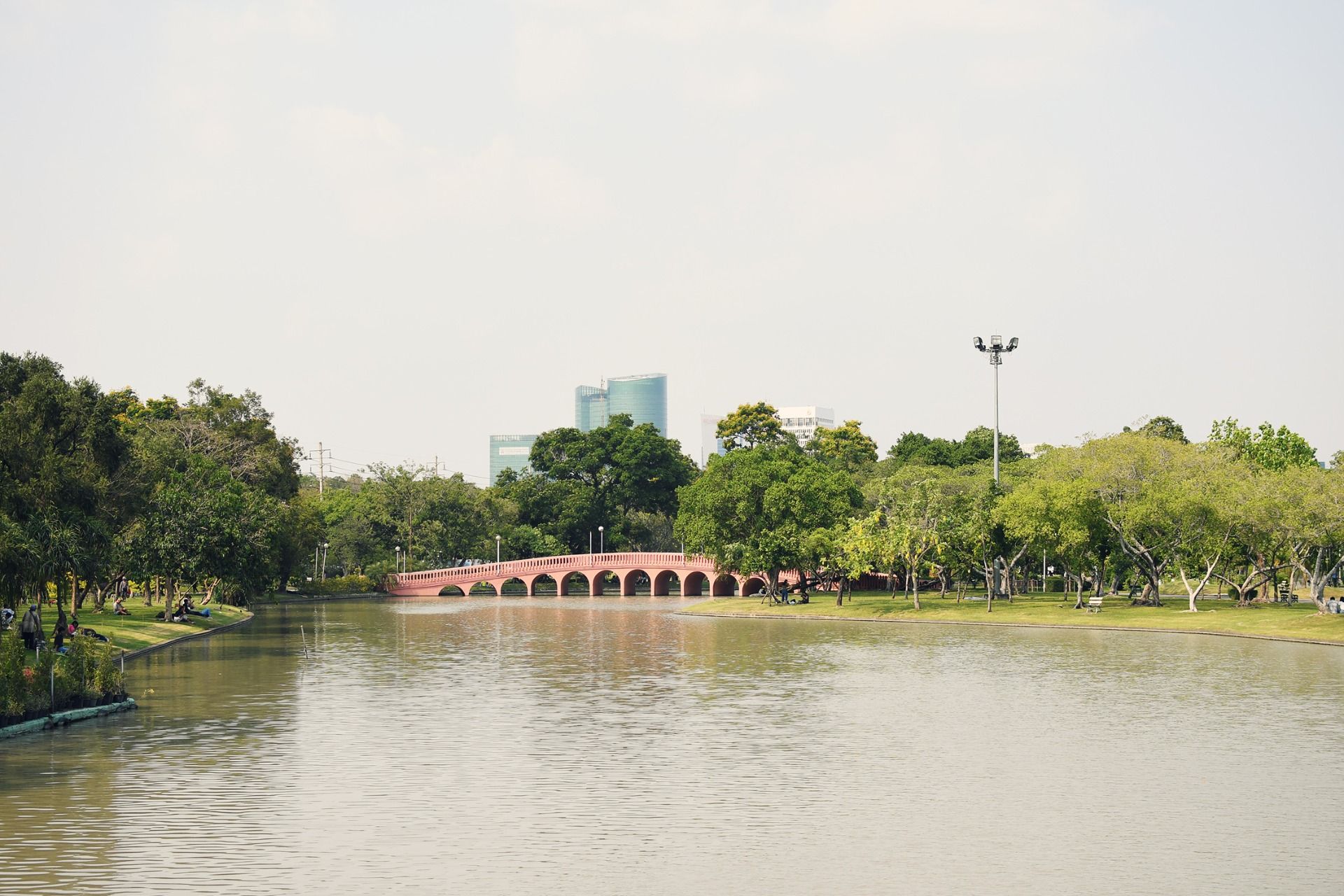 There are stretches of grassy banks under palms and other large trees where you can sit and relax by the pond and have a picnic.
As much as I love Chatuchuk park, I love the other two even more. It seems to have fewer people there. This makes sense because it's farther away from the main road and when it's super hot, people tend to end their stroll early into the walk.
Pushing through the heat and tolerating the shower of sweat dripping into the eyes is worth it for the sight of beautiful gardens,walkways, streams, ponds, fountains and flowers, while listening to a symphony of birds singing.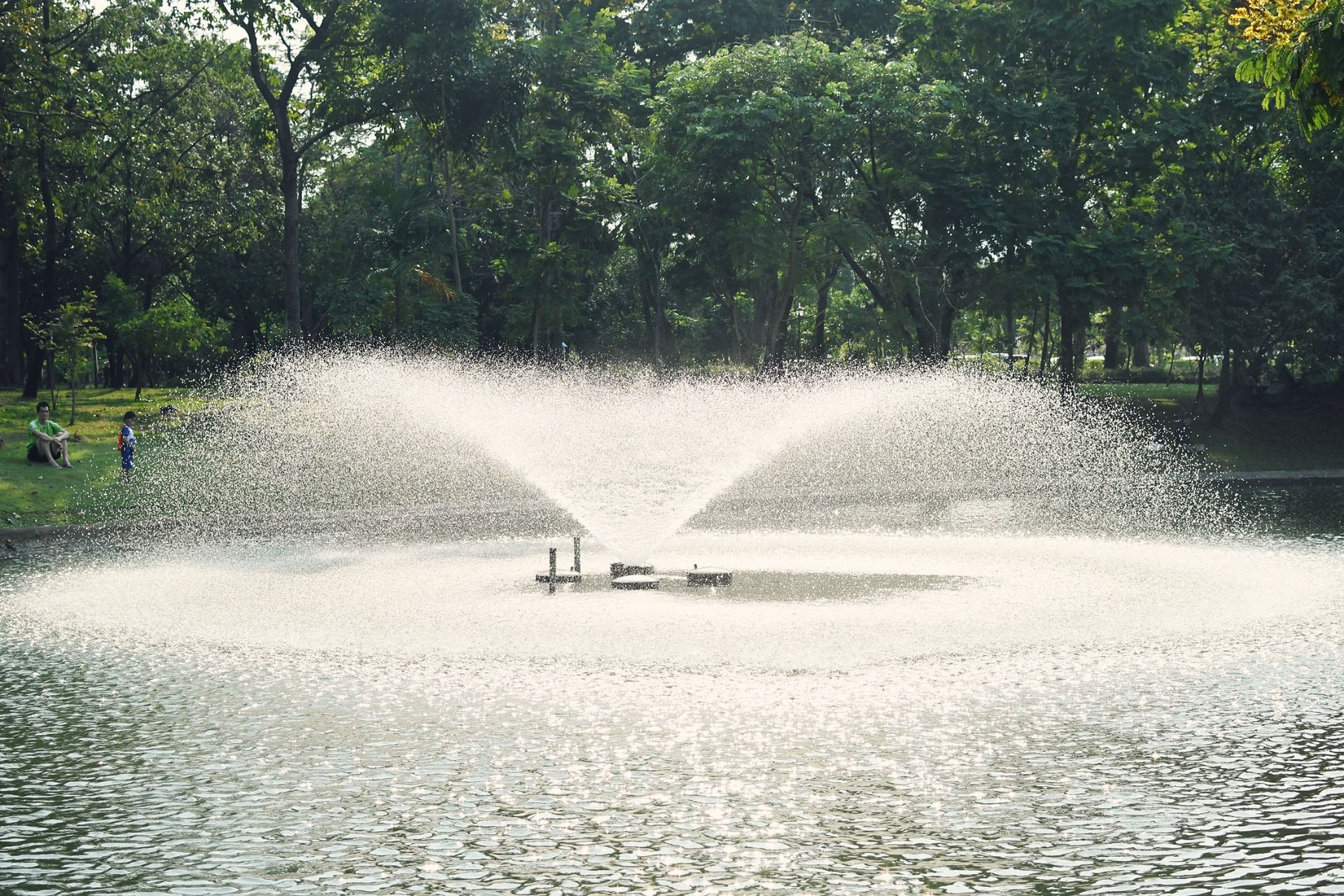 When we are in Montreal, we try to get to our parks as often as possible, and they too can be nice but the Bangkok parks are much more beautiful.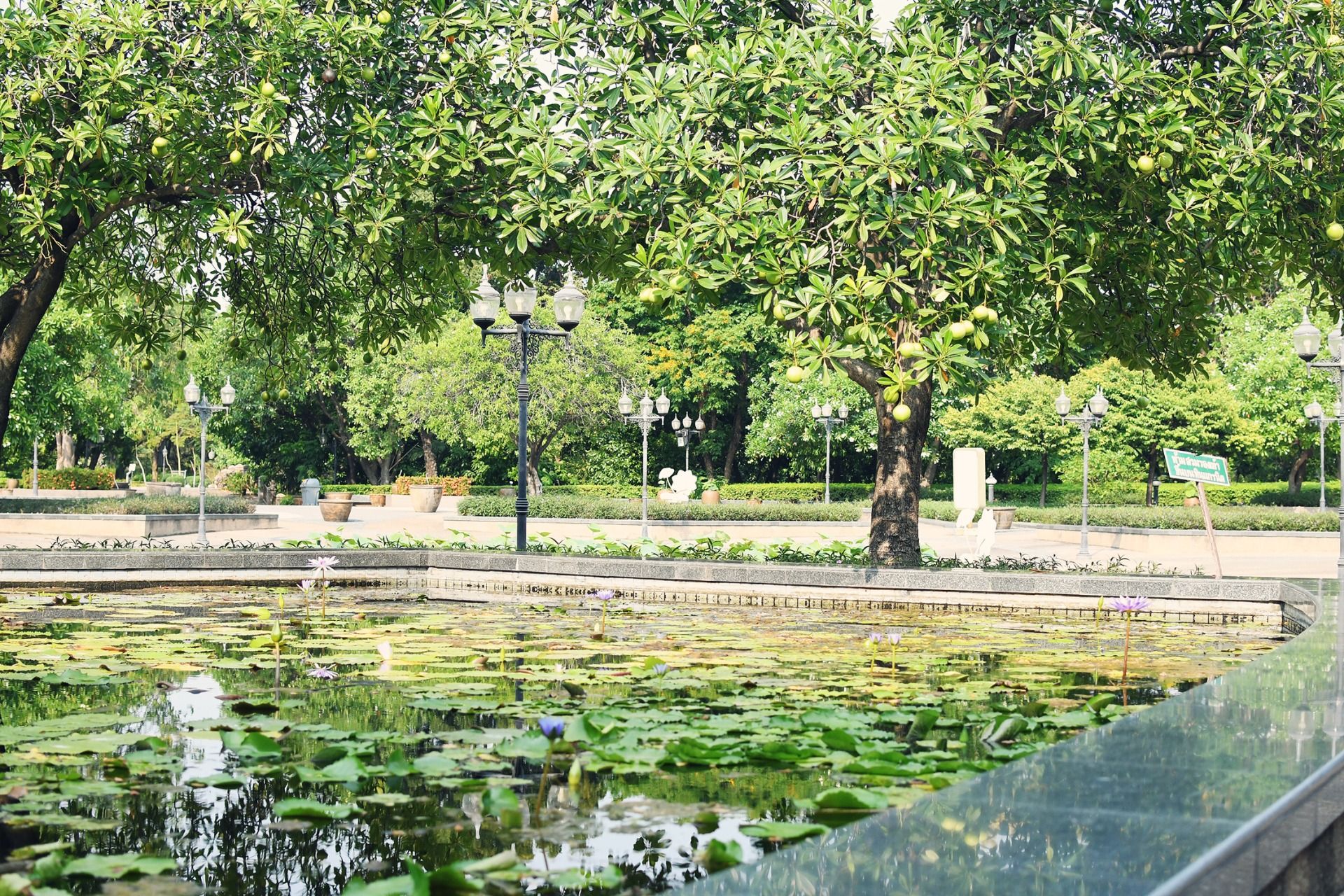 It's nice to see plants, trees, and flowers that aren't natural to the climate that we're from. Some things I can't even identify.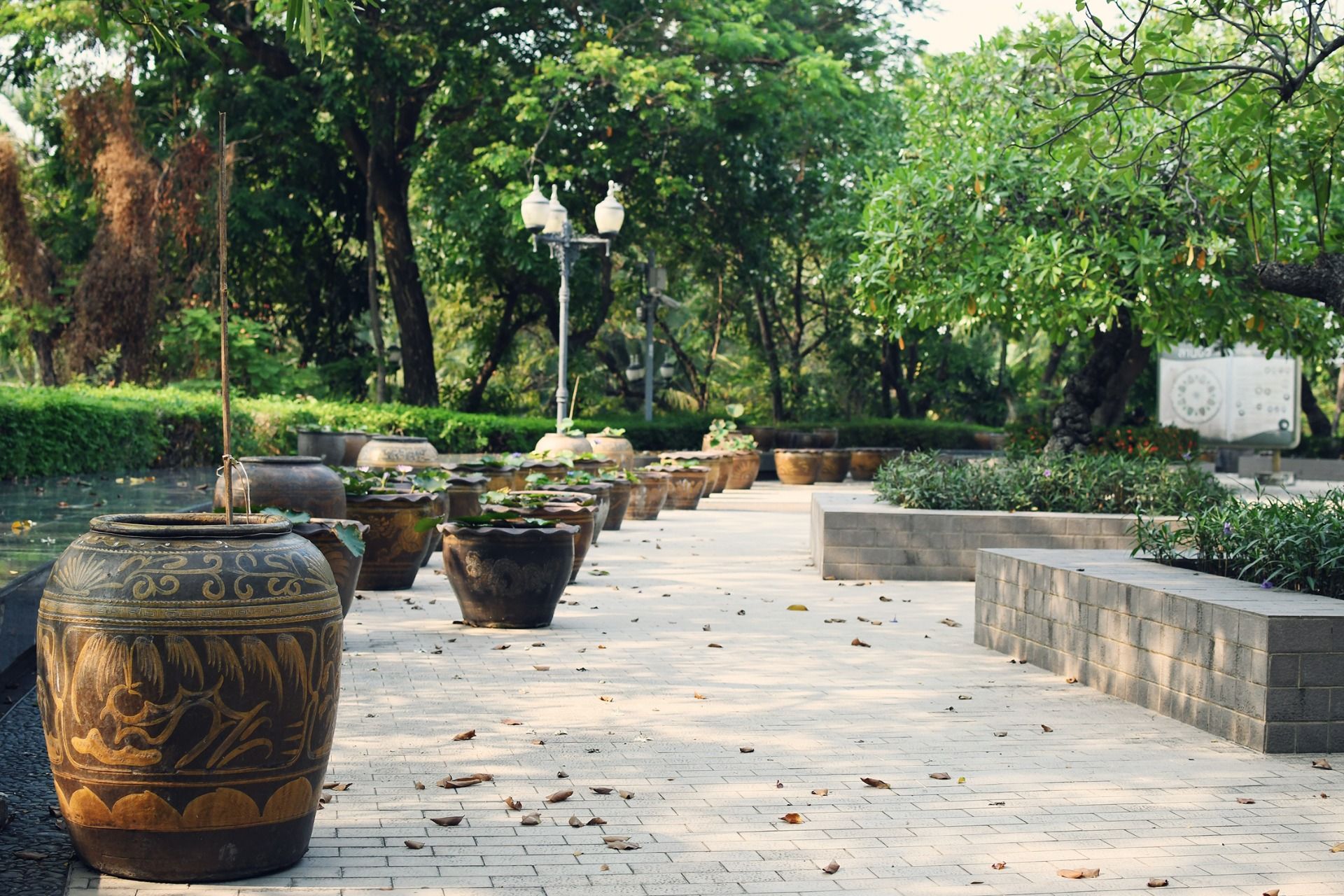 Walking in a park that has banana trees in it is a novelty for a Canadian.I know I can go to the supermarket and see bananas all the time, but it's different when you see the beauty of the whole plant. You are reminded of the gifts nature has for us.
One of the biggest thrills for me is when I see a large reptile going for a leisure stroll along the path. You just can't see this kind of stuff in Canada. I wonder if the local people take it for granted.
We saw a monitor lizard so large that Marc thought it was an alligator. It ran away while I tried to get a photo. It was a thrilling moment for me.
I managed to get a shot of this smaller one that wasn't afraid of anything.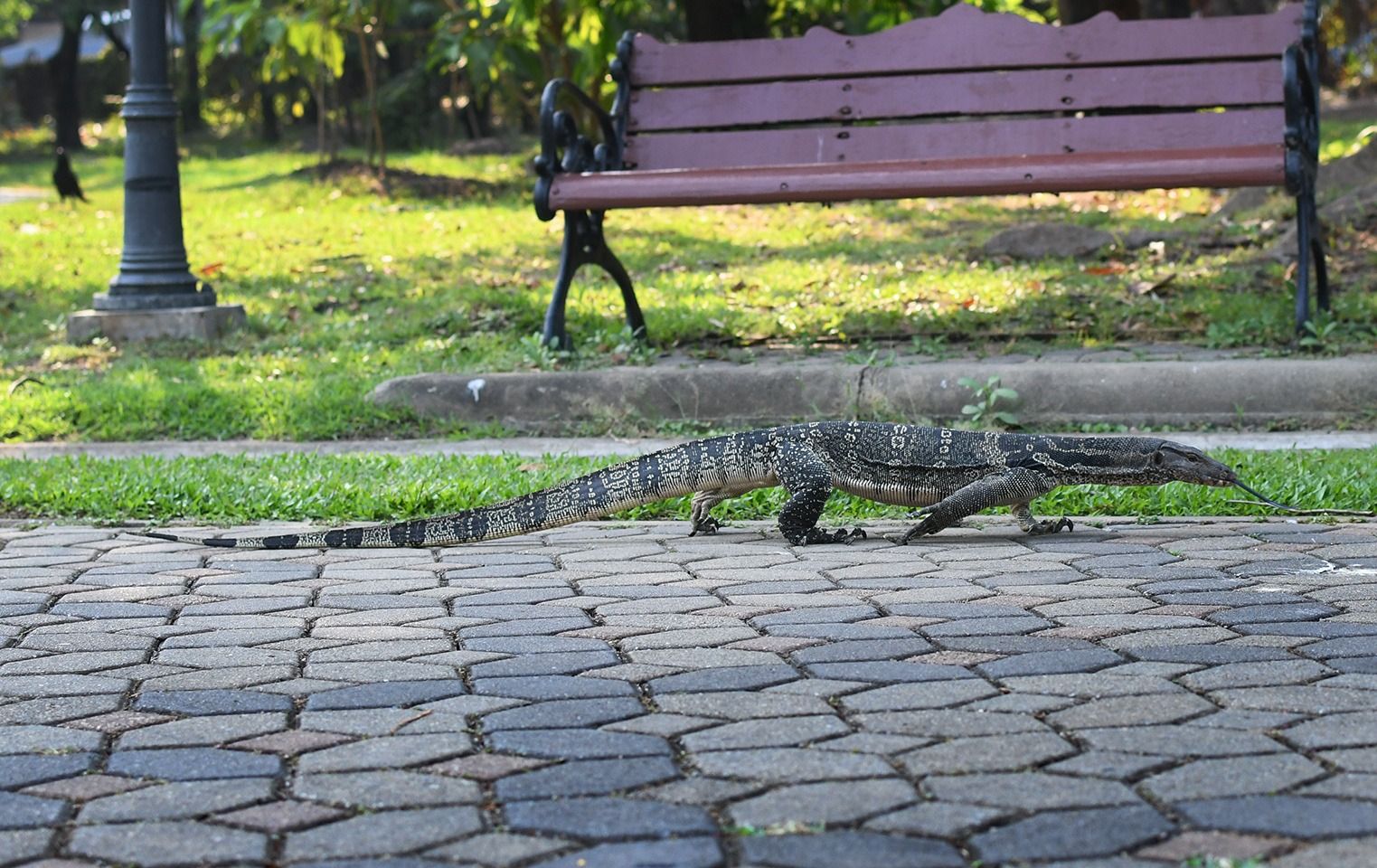 One of the many highlights of the day was to witness a crow screaming at the lizard. The lizard didn't care. He just kept on strolling.
When we got to the end of the park where the market was, their was a grassy area with a few people in it. Some were sitting and some were crouching. Upon closer inspection, I couldn't believe what my eyes were seeing.
There were what looked like gofers, but I can't be sure. They were sadly tethered to a stick in the grass and they were dressed up.
They were so darn adorable but my heart was broken. How could they be tied up in the hot sun for so long and covered with cloth.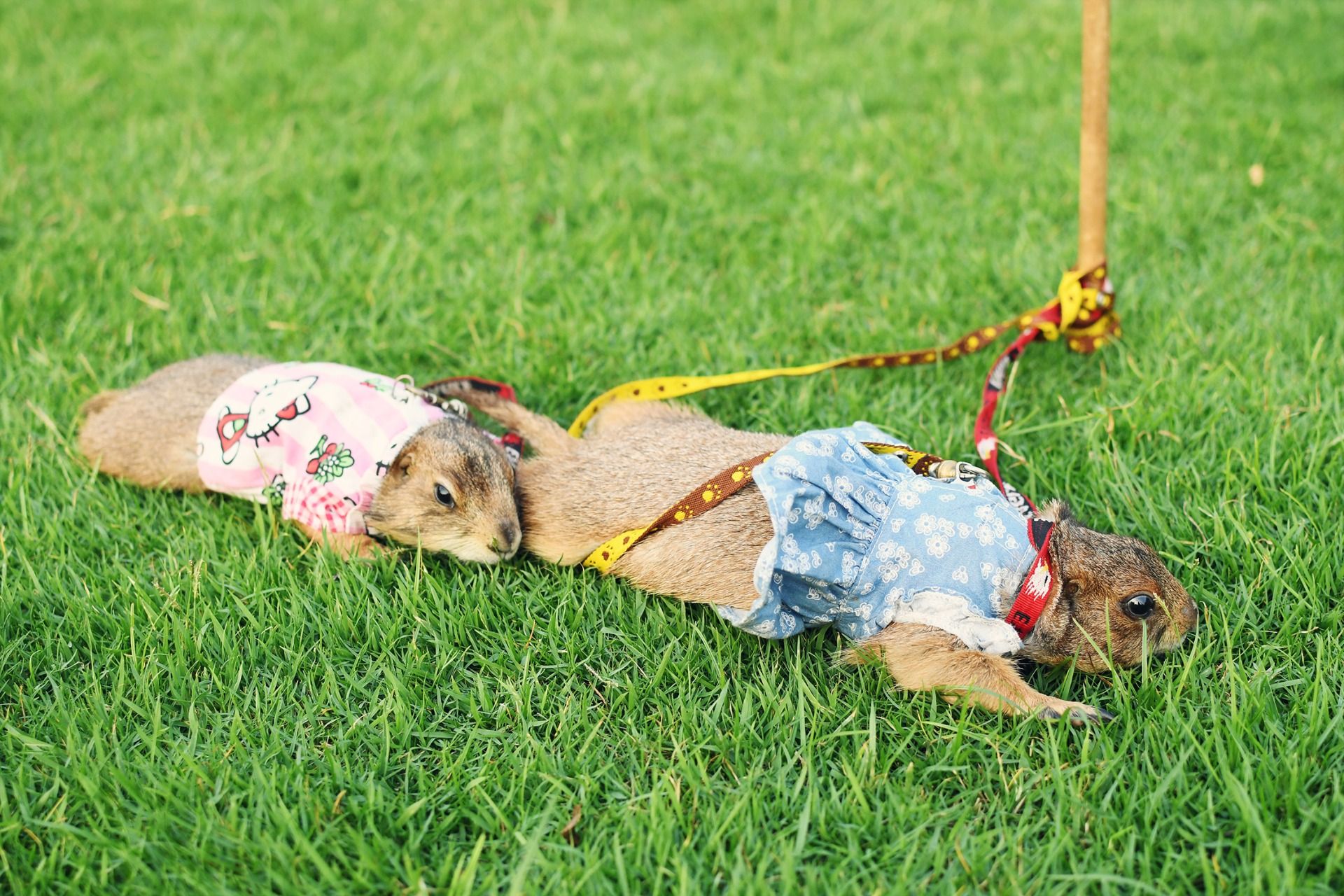 There was a Thai man that was sitting in a chair in the distance that seemed to be the owner or caretaker. He had a couple of these creatures go to him to snuggle.
I had such mixed feelings but I had to get some photos to remember the extreme levels of heartwarming cuteness.
I finally pet one of them thinking he would be shy but he rolled over like a cat and seemed to enjoy being touched.
I looked in the distance and saw Marc waiting for me to get my cuteness overload. It was time to get going to the market.
Chatuchuk market opens on the weekends starting Friday at around six p.m. or when the vendors finish setting up.
The last time I was there it was much busier but now you could walk through quite easily.
It seems that tourism has slowed down due to the travel restrictions in China. The Chinese are some of Thai tourism's biggest customers.
The prices are reasonable at the market and you can haggle it down further for most of the items. Some vendors have signs saying that the price that's written is final.There is just about everything there that you could ever want to buy.
It's the place to buy clothing, shoes, decorative items for the house, and kitchen ware.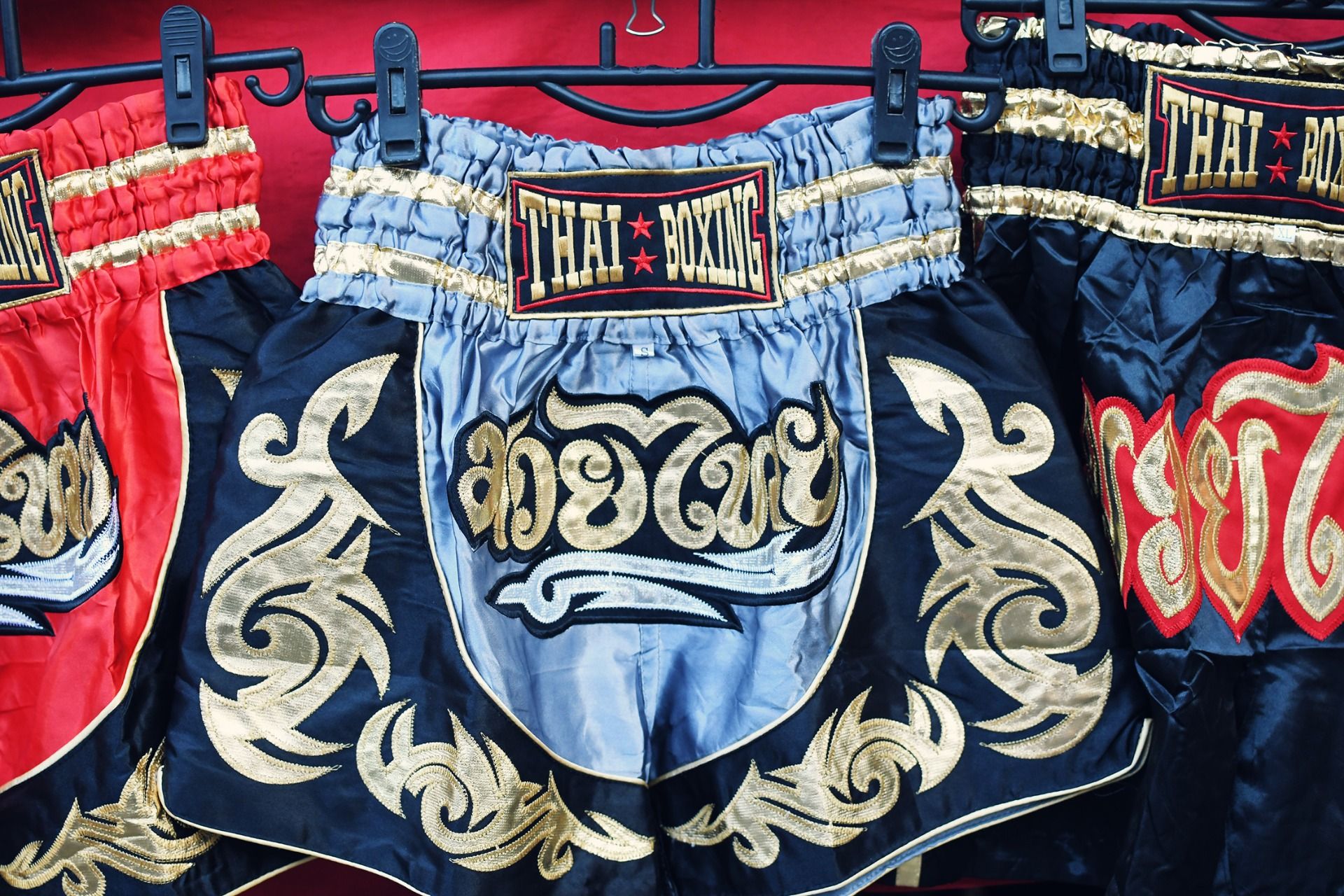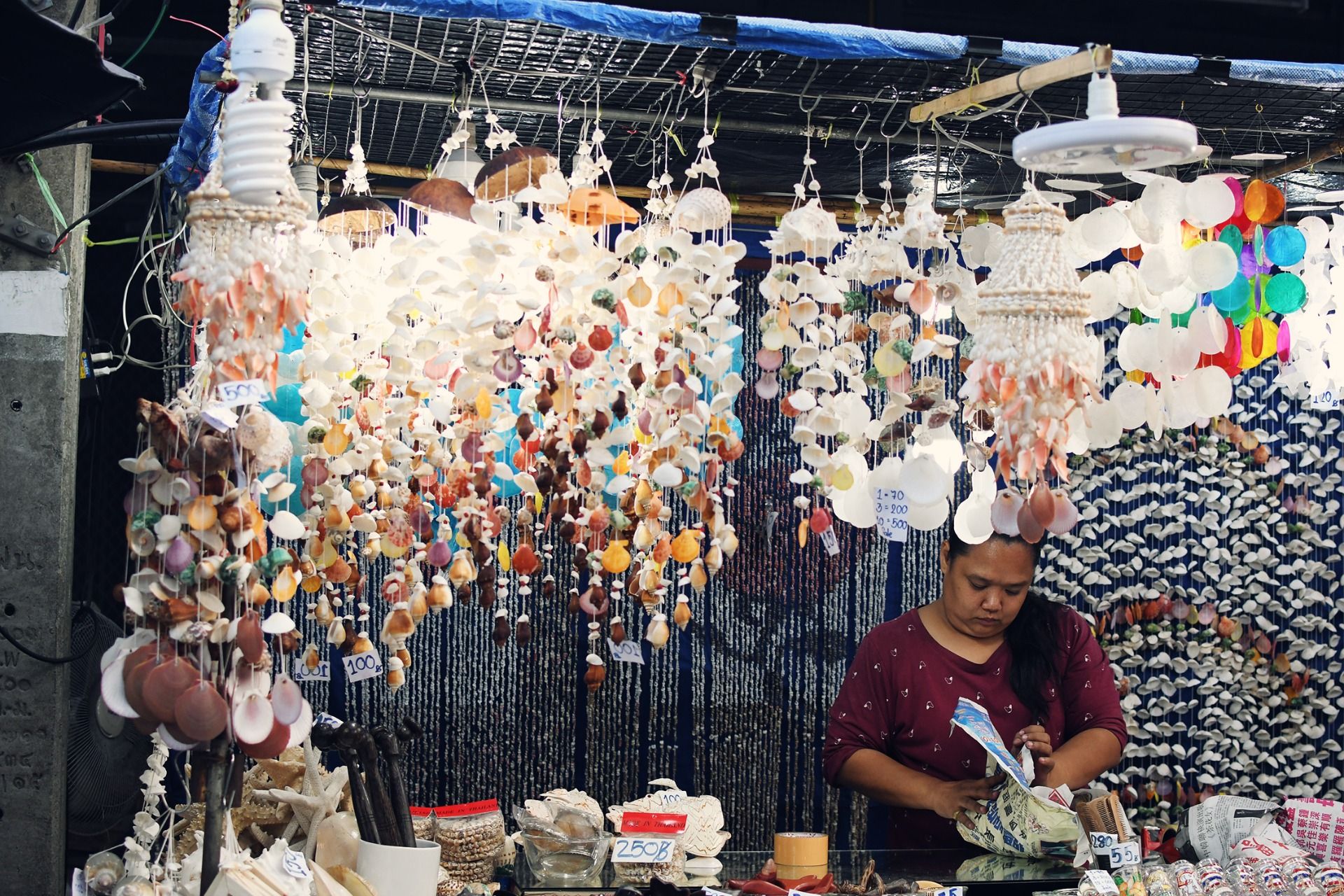 If you are in the market for a throne, this is the place to go. I know that's where I will get my thrones when I need them.
If you want a break from buying things or looking, you can put your bags down and get a massage. There is no shortage of masseurs in Asia.
If you are not into massages, you may want to get a temporary tattoo while being entertained by a musician.
We never buy anything but cold drinks. We travel light and we don't have a place to live in Montreal when we get back. We just stay at Marc's parents house until we figure things out. They have no room for "stuff" but I may bring something light for them if I can think of anything at all.
After a very long day we walked back home which took a good half hour. On the overpass we took one more look at the streets that are alive but not nearly as much as three months ago.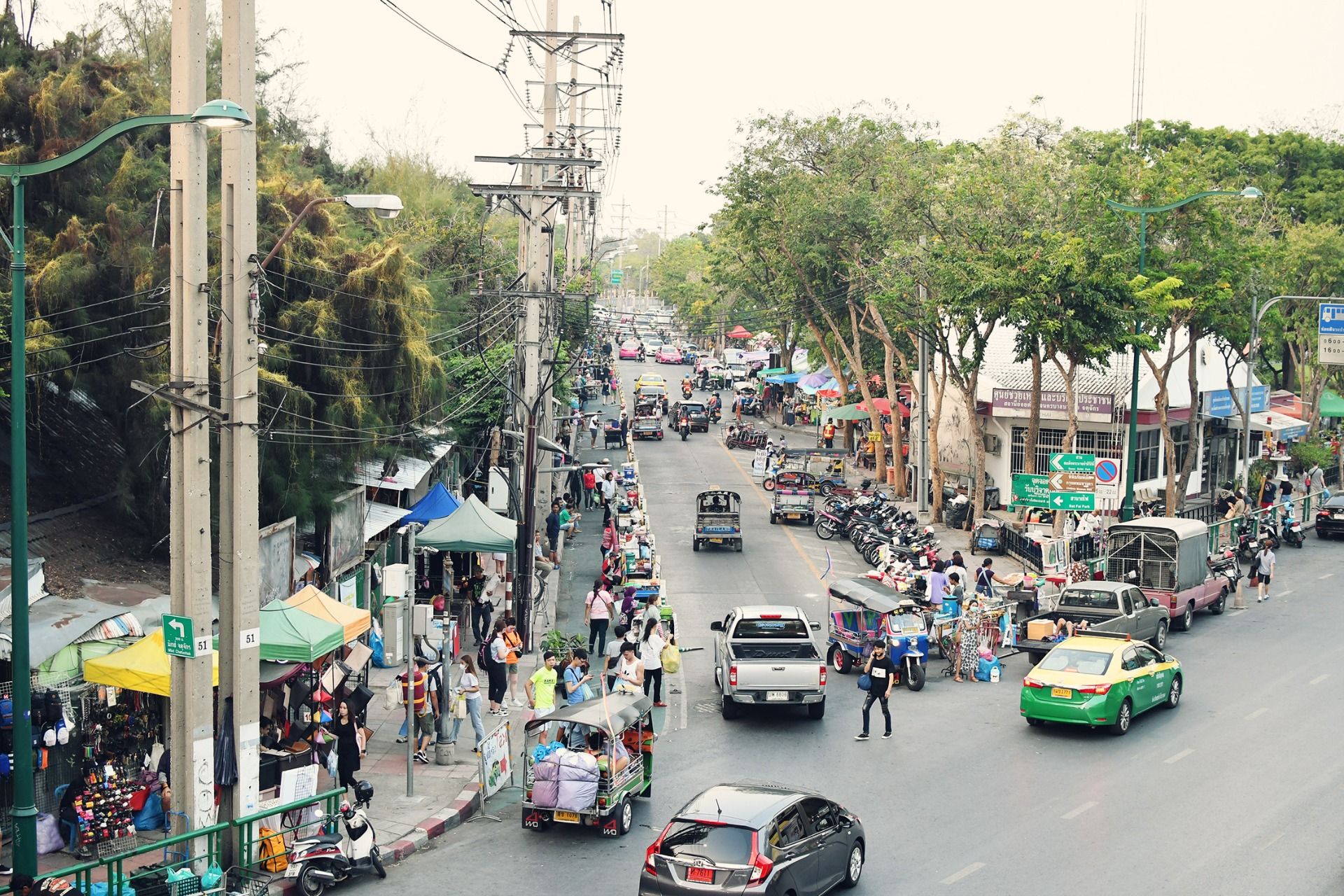 We got to the other side of the overpass and decided to take a slightly different street to get back. This led to an area that appeared to be like a slum.
It was interesting and in some way kind of beautiful. I was burning with curiosity as to how these run down homes looked inside and how life was for the inhabitants.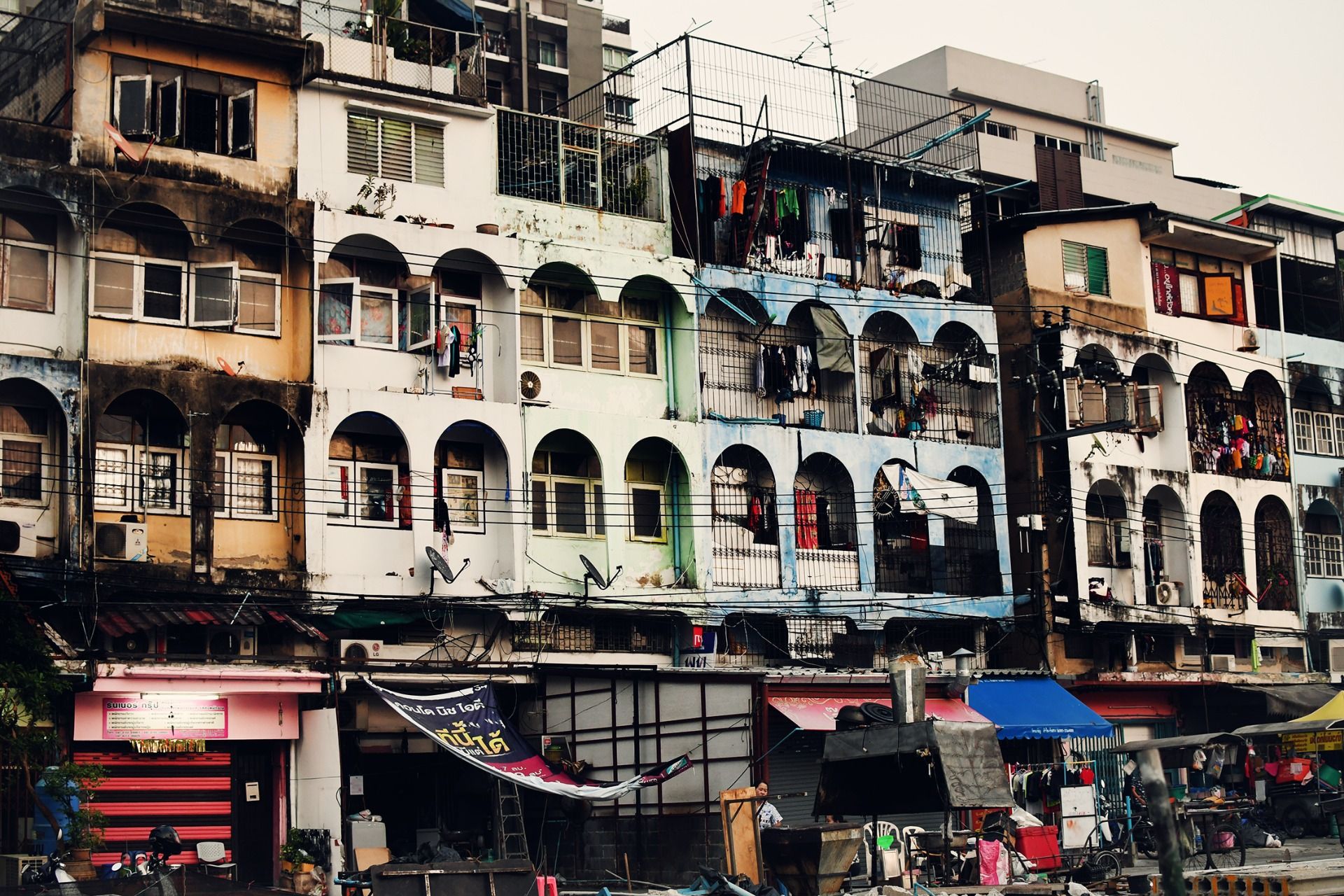 I couldn't help but wonder if my mother and I ever lived in places like this. I was born in Bangkok and lived here until the age four.
My mother passed away when I was young and I just never asked my dad questions while he was alive. I will always wonder and most likely never ever know.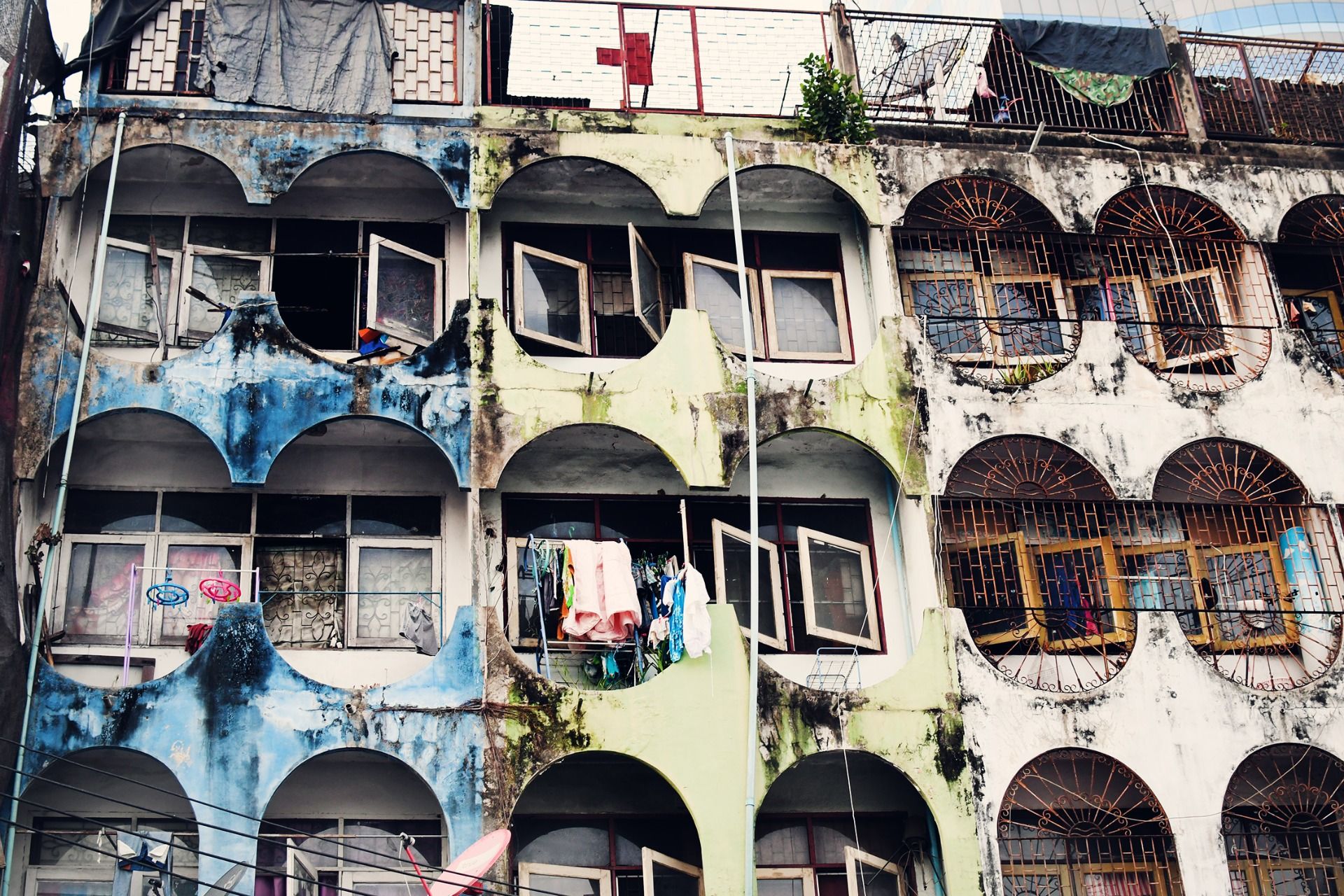 Did I once walk these streets as a child? Am I staring at a former home? Are any of the people living in those homes related to me?
There is always something in Bangkok to discover even when you think you've seen and done it all.
Perhaps someday somehow I will discover the answers to my questions.