Guess, where I am at the moment?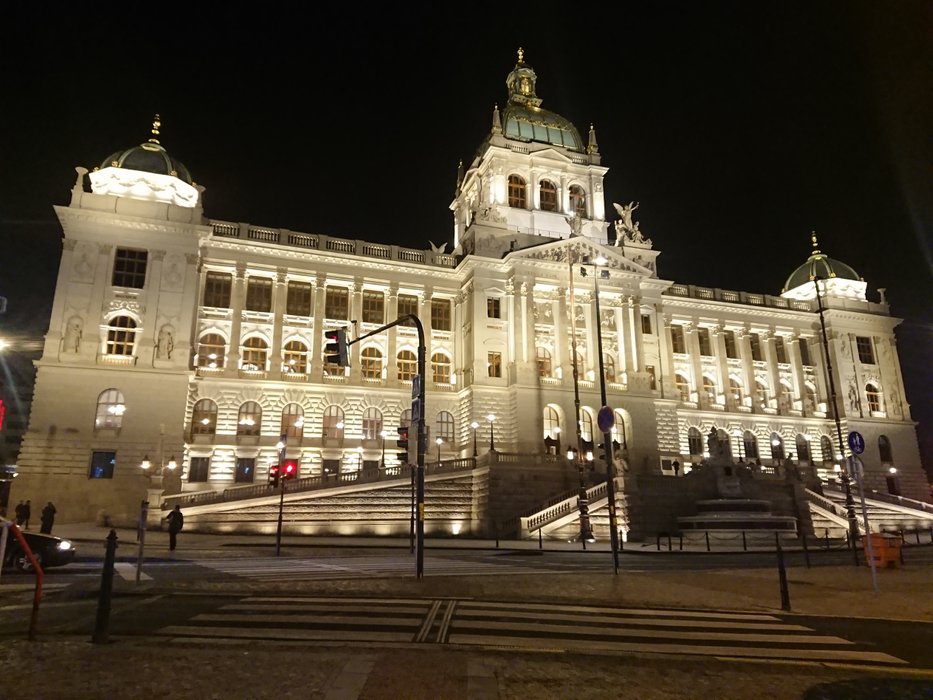 In case you didn't know, it's from Prague. Don't know - this time either - what the building's called.
The last 36 hours have been quite intense, since I've traveled 1200 kilometers, on land. Just two days ago, I was hiking on top of a hill in Braşov, Romania (more on that later) and after 24 hours, I arrived in Prague, Czech Republic.
I took an overnight train (really efficient to maximize time for day, but not so for maximizing quality sleep) from Braşov to Oradea, from where I managed to get a lift all the way to Vienna, Austria, only after thumbing for five minutes. I was super lucky and grateful - I anticipated only to get around Budapest.
From Vienna, my plan was to continue to Prague via Bratislava, because it's a more likely route to catch a ride further away - that's what Hitchwiki says at least.
My driver left me on a place where I supposedly would find a lift to Bratislava. Though Czech or Germany (towards north) would've been good, too. But I had no luck - either everyone was going to Hungary or Romania, or those going Czech or Germany were completely filled with luggage. Some people rejected me before I even got to say where I was going. I even tried stopping a truck with a "D" (Deutschland) license plate just leaving the station by blocking the way, but the driver just waved "no, no" without even slowing down, so I stepped out of the way.
Emotional Resilience
With hitchhiking there's no room for entitlement attitude, because it only leads to disappointment when facing countless rejections. It is the non-monetary price one has to pay when relying solely on the kindness of other people: uncertainty and potential emotional stress. However, what I've also learned is that in order to receive, one has to ask, and accept that most people are not ready to give.
But experiencing "no"s isn't bad at all, because it builds emotional resilience and resiliency (albeit distinct meaning, they correlate quite strongly). Simply put, the more rejection you experience, the better you will be able to take it not personally, hence, you won't get (as) miserable over the end result, which furthermore helps to keep up a good spirit. And if you didn't yet realize, that is really important if you want to make an impression, hitchhiking, or with anything else.
In the end I did manage to find a lift to a better position in Vienna - out of the petrol station - which allowed me to take a reasonably priced train to Prague on the same evening.
FOMO vs. Priorities
There's a lot to see in the city, I'm sure, but I've seen so much things already that I don't feel like missing out on anything anymore. Well, I kinda do, but I'm also learning what is it that I actually want: it's more about the people than the places. I'm quite picky when it comes to my company, but I've noticed there's a much higher concentration of people among travelers that I enjoy. And the reason why I'm going to Germany, is because of one guy I met earlier on my travels. You might or might not guess who, but I'll reveal it later.
However, there is one place here I am interested to visit, but that I will talk about later, too.