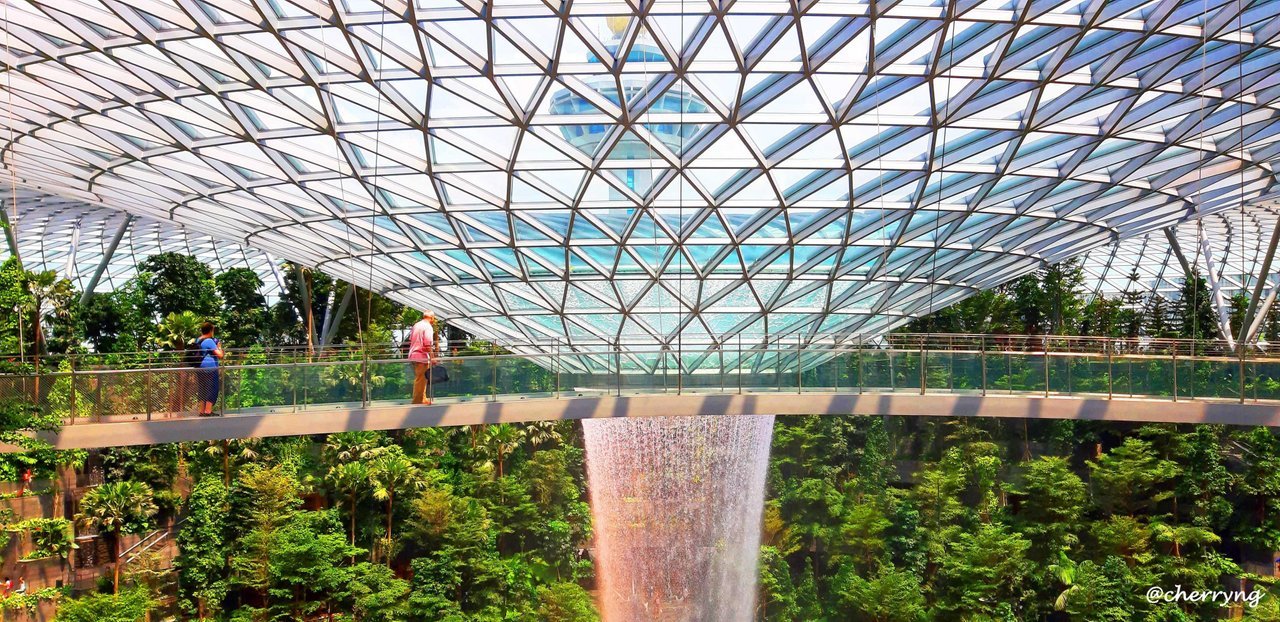 Hello dear Steemians,
Jewel Changi Airport was finally opened since last month. This is worth 1.7 billion Singapore dollars to build Jewel Changi Airport, which attracts many people to visit. In my previous post, I shared with you the landscape design of the base floor of Jewel Changi Airport. Today I would like to share with you the Canopy Park at top floor of Jewel Changi Airport.
大家好!
上个月星耀樟宜终于隆重开放。这耗资17亿新币打造的星耀樟宜,吸引很多人到此一游。上一期和你们分享了的星耀樟宜底楼的景观设计,今天我想和你们分享星耀樟宜的顶楼星空花园。过来一起看看顶楼的星空花园吧!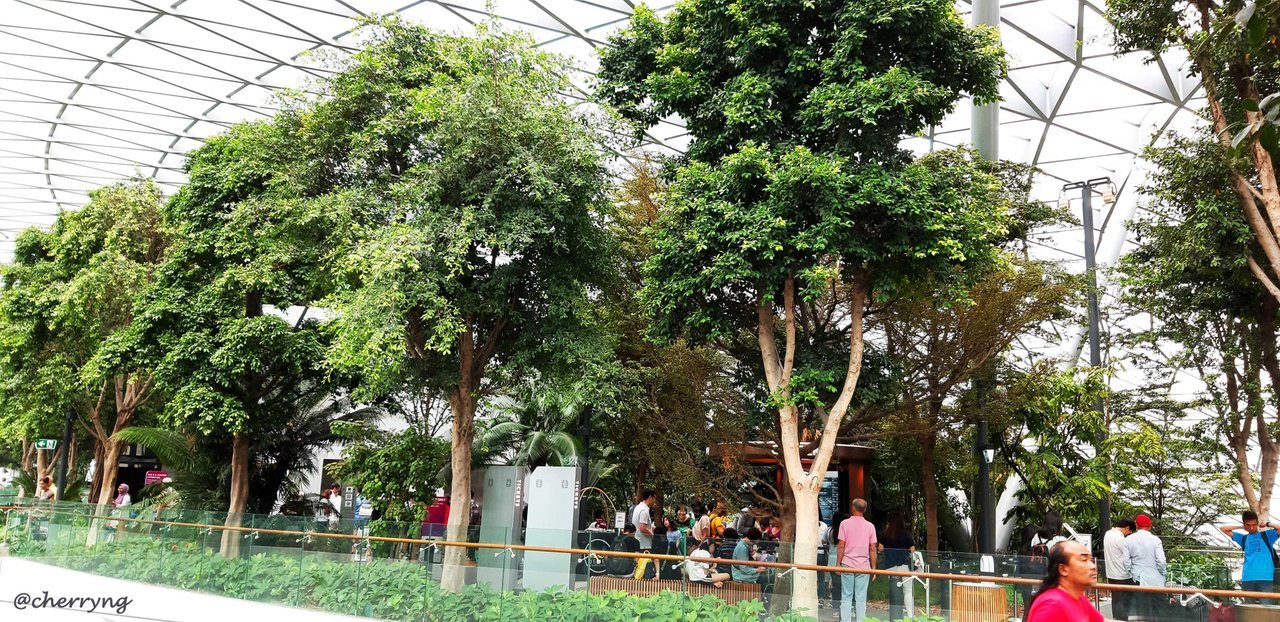 We took the escalator to the top floor, which is the fifth floor. I saw lots people once I reached top floor. The environment of top floor is like a beautiful park or garden at ground floor. The new planted trees are lush, bushy and big sizes.
乘搭自动扶梯来到了顶楼,也就是五楼。一上来就看到很多人潮。在这里一点也不感觉是顶楼,种植的树木都茂盛粗大。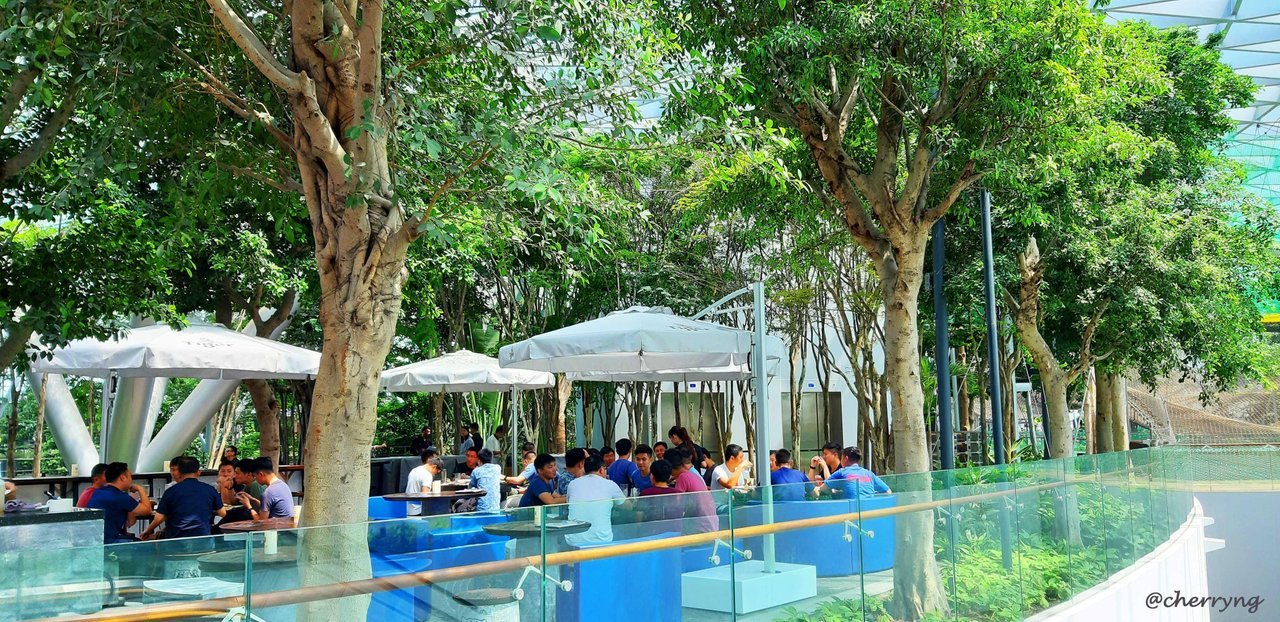 There are a collection of international cuisine, variety of food choices at top floor. Diners enjoy the spectacular views of canopy garden while having their food.
这里可说是汇集了国际美食,有很多餐厅供你选择。食客一边享用美食,一边享受顶楼星空花园的壮观美景。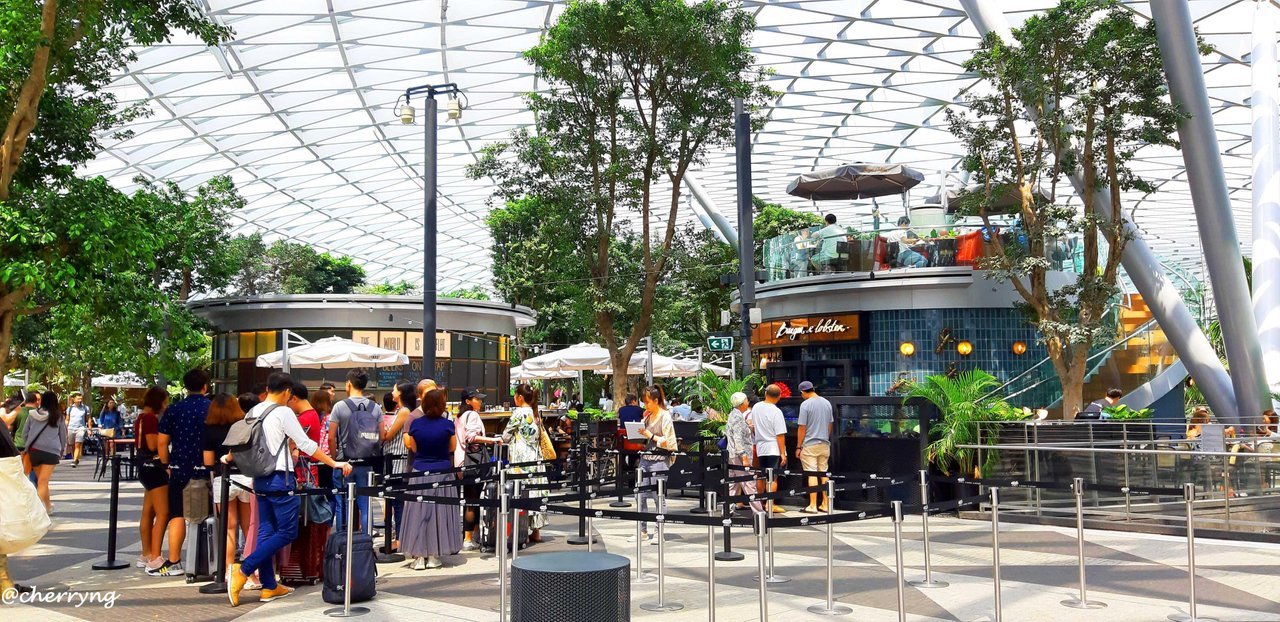 I didn't know what they were lining up for, so long queue. In fact they queued for ordering the food at Burger & Lobster.
不知道他们为了什么在排队,长长的队伍。。原来是这家Burger & Lobster 吸引了很多食客。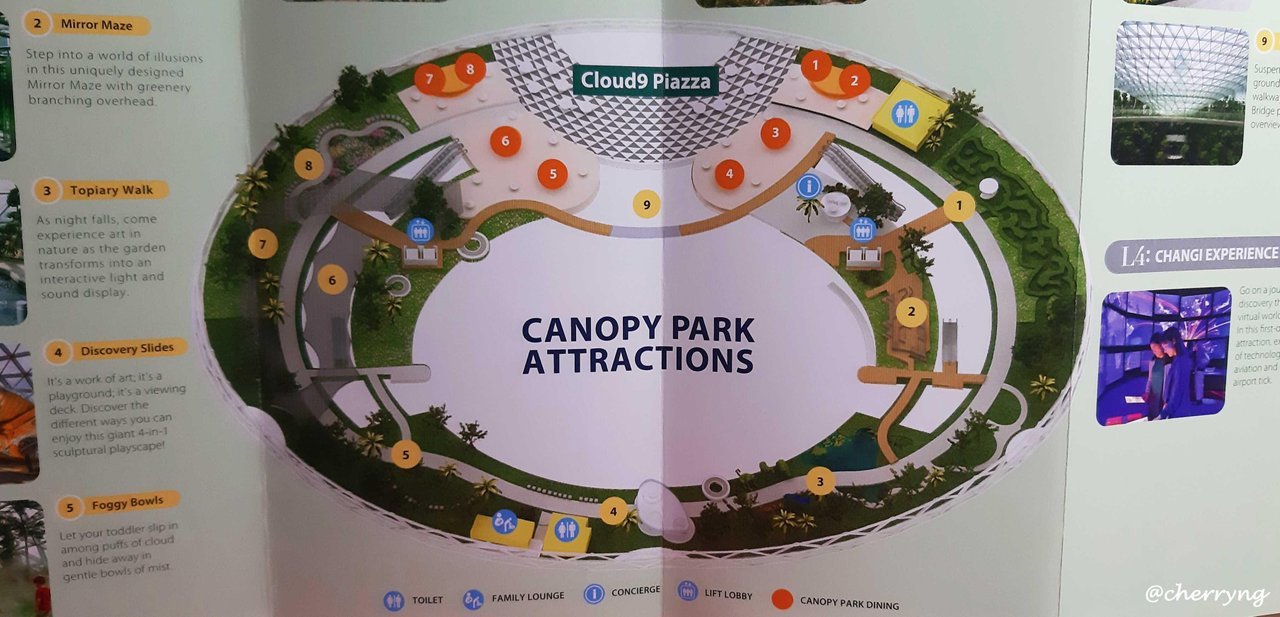 Above is a map of Canopy Park attractions. There are 3 main play zones, such as Maze world, Discovery slides and Sky Nets. Additional Canopy Bridge.
上面是顶楼的星空花园的地图。共有三个游乐设施,如迷宫世界,天空之网,奇幻滑梯,还有天雪桥!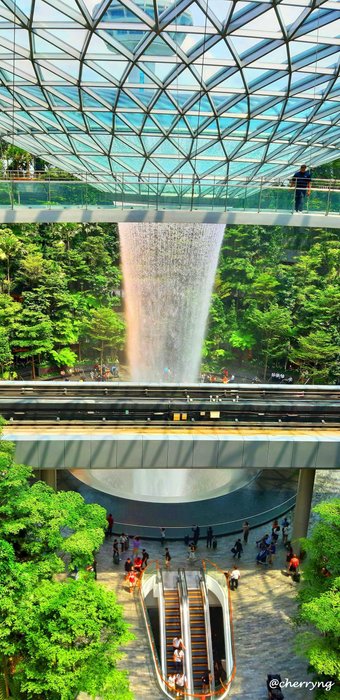 An elevation view of the waterfall rain vortex thru the Canopy Bridge, sky train track and ground floor escalators to basement.
这是瀑布雨涡的正视图通过天雪桥,下面天空火车轨道和地下有自动扶梯到底楼。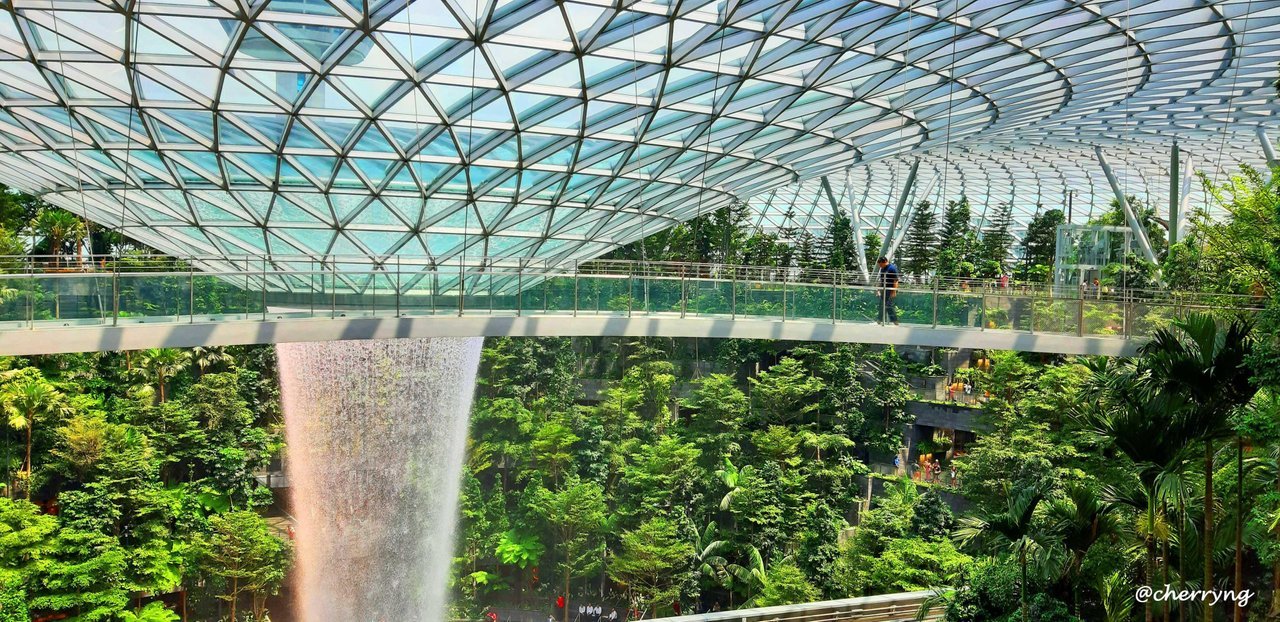 The bridge is 23m above ground, with glass-bottomed walkway at the centre. The people can see thru bottom botanical gardens and many visitors. It is really a masterpiece that stunning the world.
这座桥距离地面23米,中间是玻璃走道。人们可以往下看底层的植物园林和人潮。真的是惊艳全球的佳作。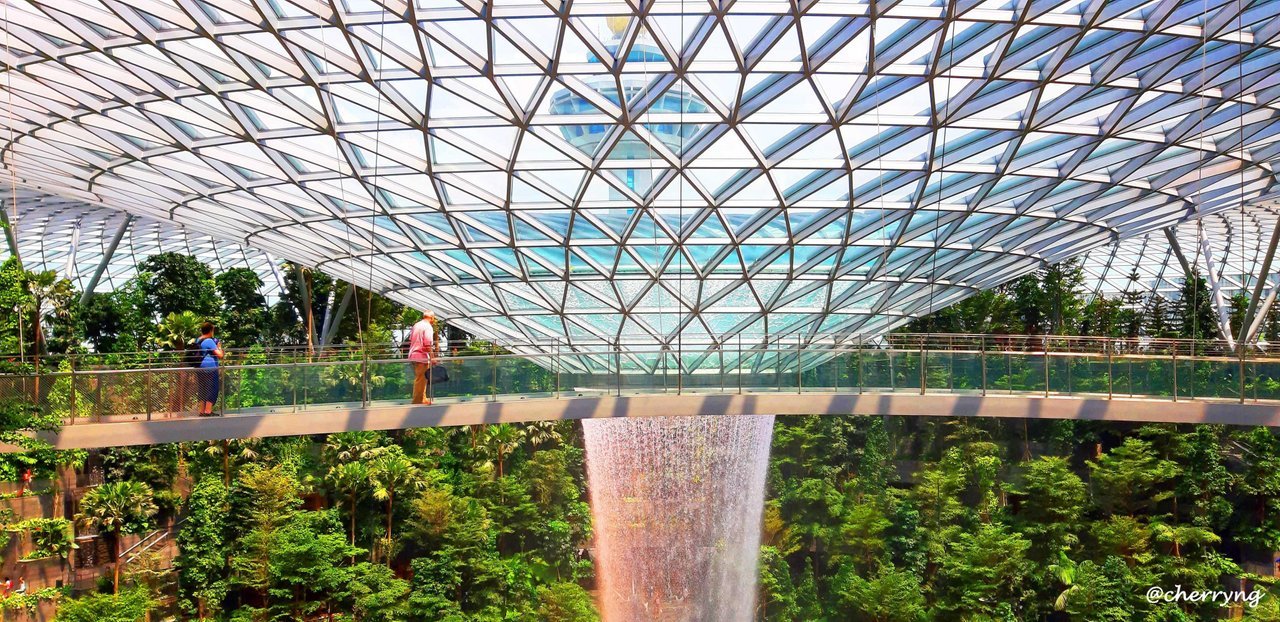 The Canopy Bridge provides a breath-taking overview of Waterfall Rain Vortex.
天雪桥和瀑布雨涡形成令人叹为观止的景观!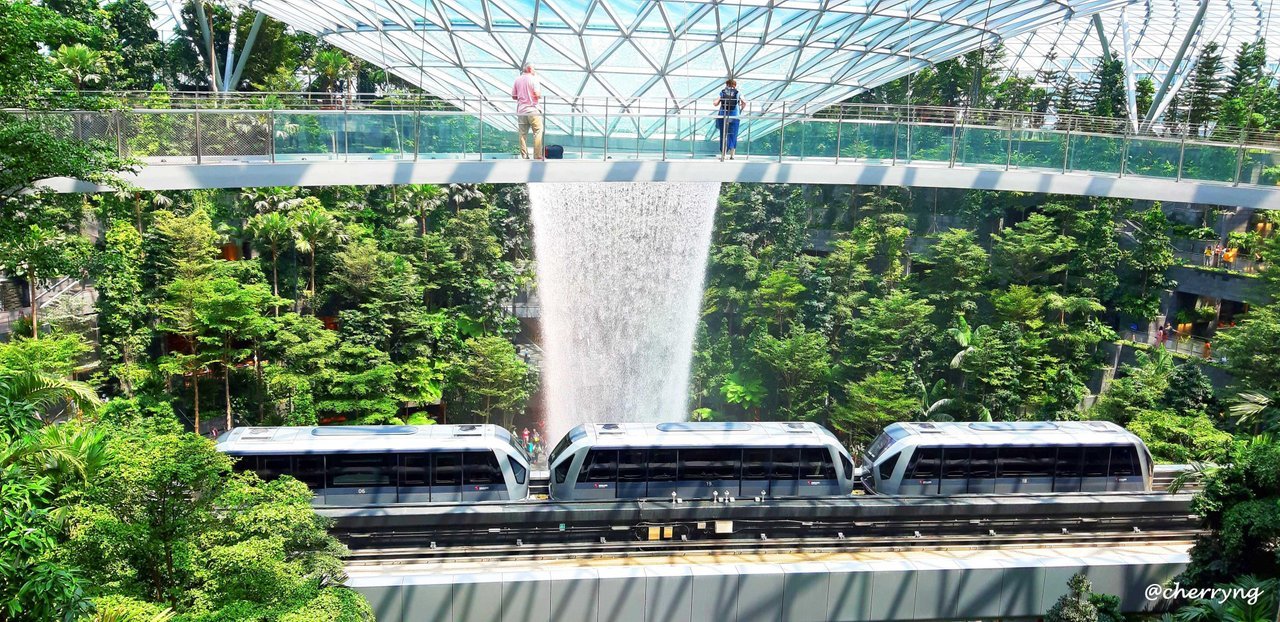 I was so lucky to see the Sky Train was crossing over when I captured the view.
当我在捕抓美景时,天空火车徐徐越过。。太幸运了!
Above is the ticket prices for Canopy Park. For standard rate, the ticket of Canopy Park is S$5.00 and Canopy Bridge is S$8.00.
以上是星空花园的门票价格。一般参观者,星空花园的入门票是S$5.00新元。天雪桥的入门票是S$8.00新元。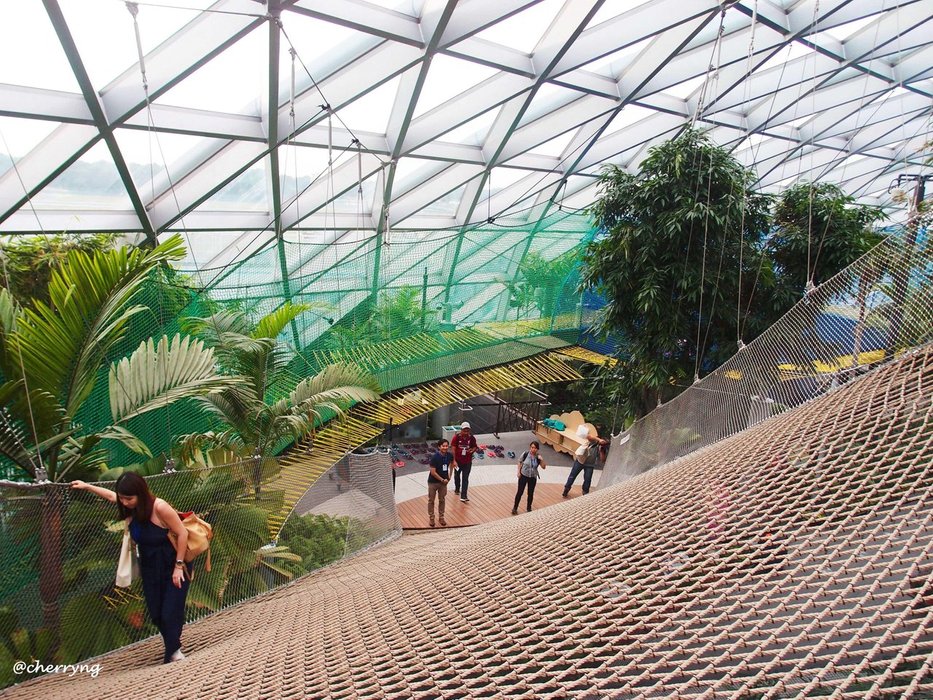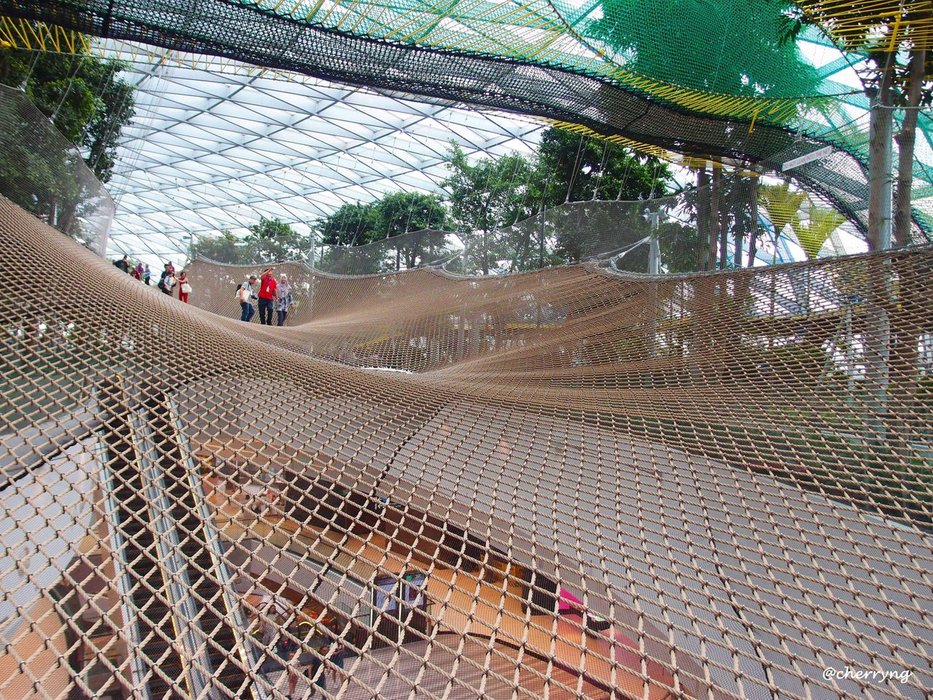 These are Sky Nets. This zone is quite challenging for people with Acrophobia (fear high) as they need to walk thru the nets hanging on top floor and can see ground floor. For standard rate, the ticket of Sky Nets – Walking is S$15.00 (Adult) and S$10.00(Children/ Senior citizen).
这是天空之网。对于那些有惧高症的人来说,这个区域是非常具有挑战性的。因为他们必须走过悬挂在顶层的网,而且看得到底层来往的人潮。天空之网的入门票是S$15.00新元(成人),S$10.00新元(小孩和老人)。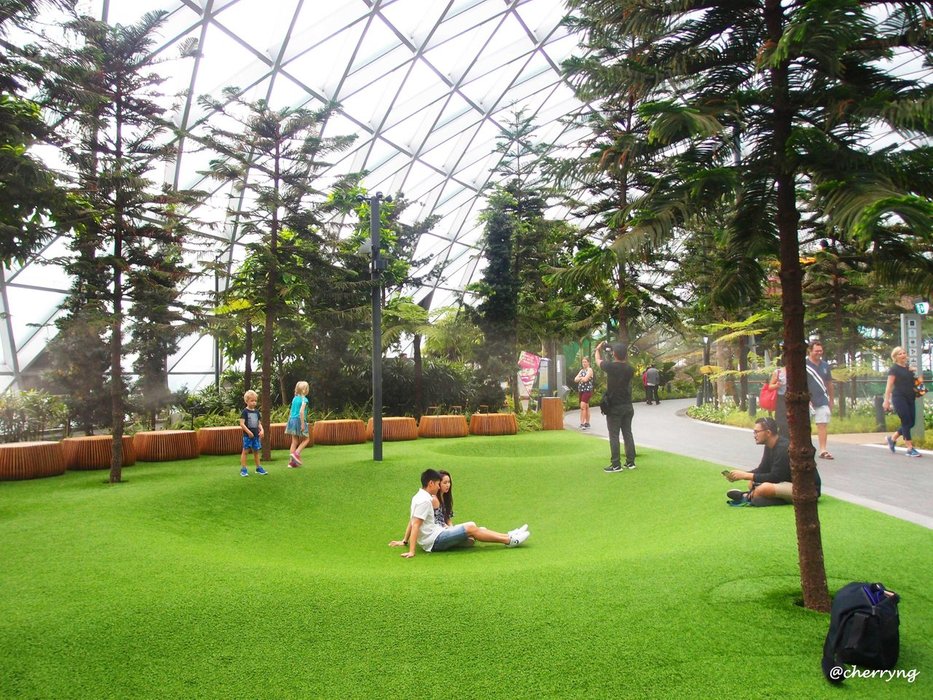 After that, we came to this zone called Foggy Bowl. The uneven green lawn with gentle slope attracting people to lay down or sit down to rest a while.
之后,我们来到了这个名为Foggy Bowl的地方。平缓的绿色草坪,缓坡,吸引人们躺下,还是坐下来休息片刻。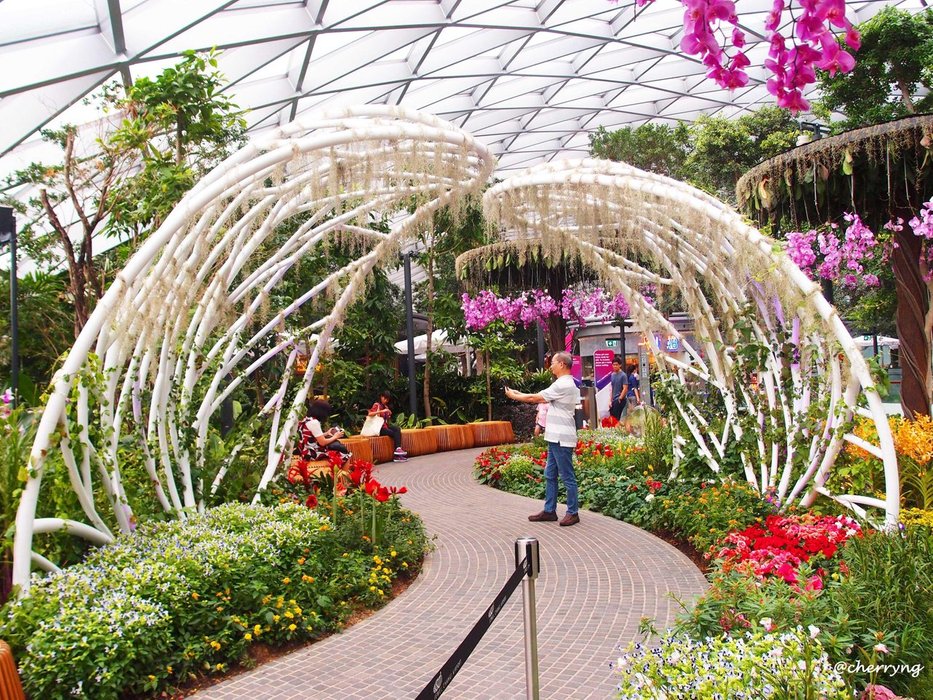 The petal-shaped structure in Canopy Park. There are many beautiful and colourful flowers.
星空花园里花瓣造型结构体。里面有很多美丽的花朵,五颜六色。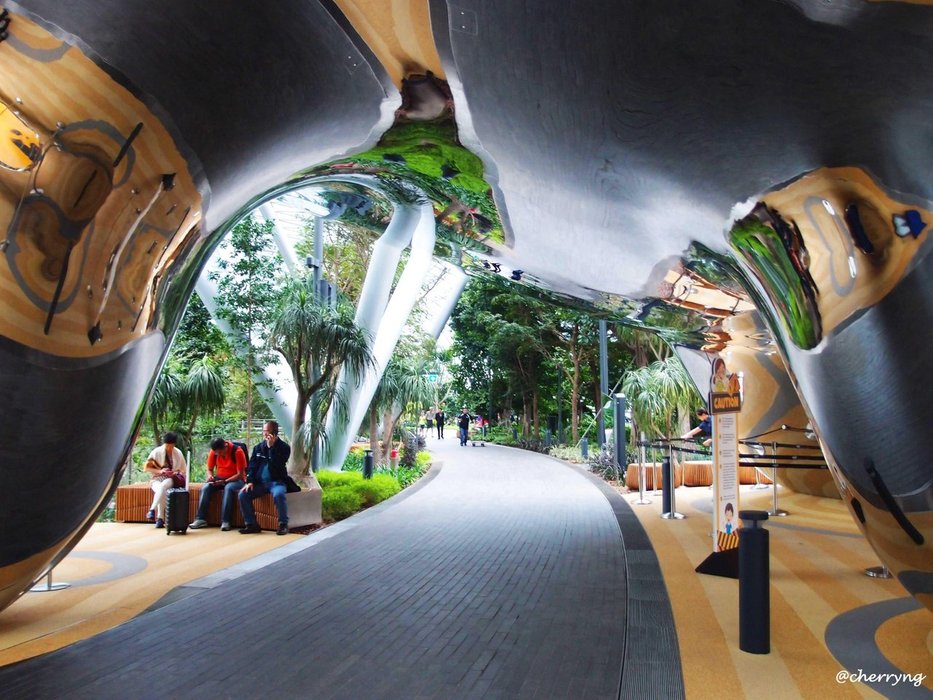 The fancy design of gateway from one zone to another zone.
这里处处可以看到奇特设计,这个门槛分隔一个区域和另一个区域。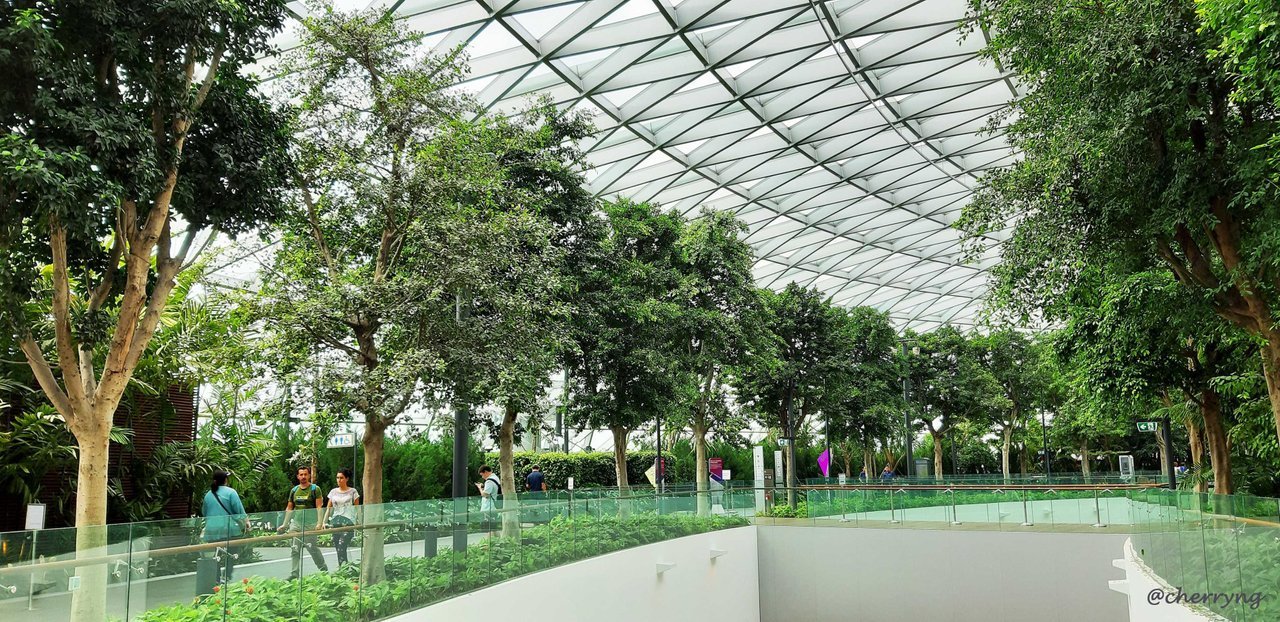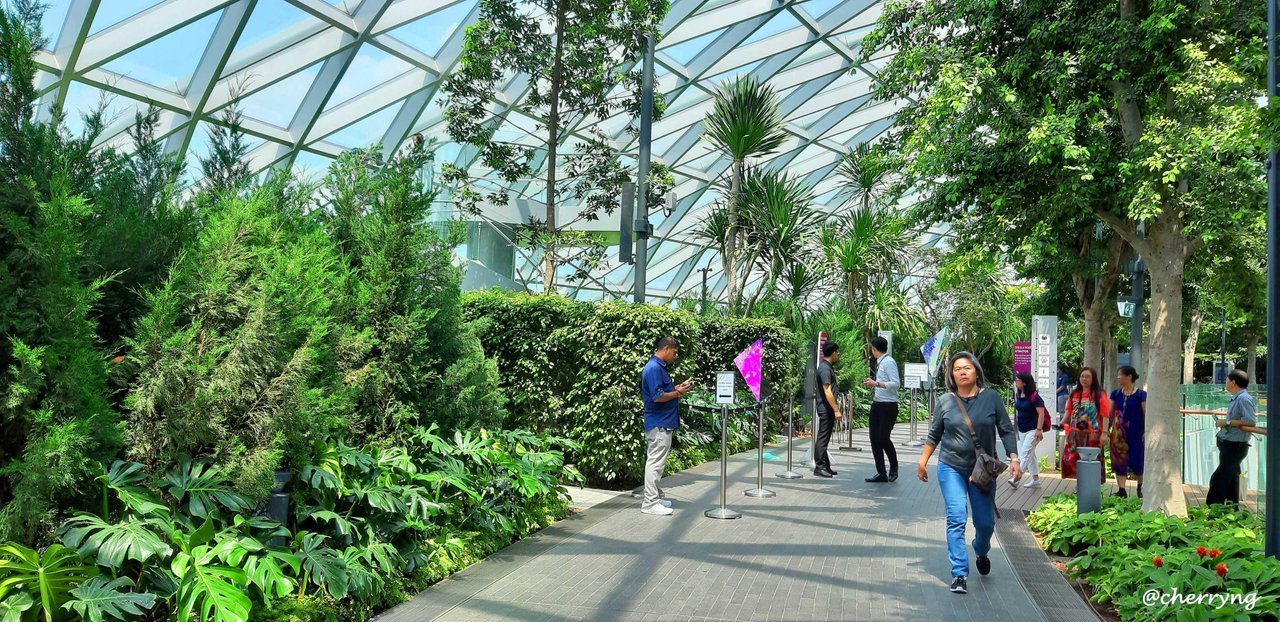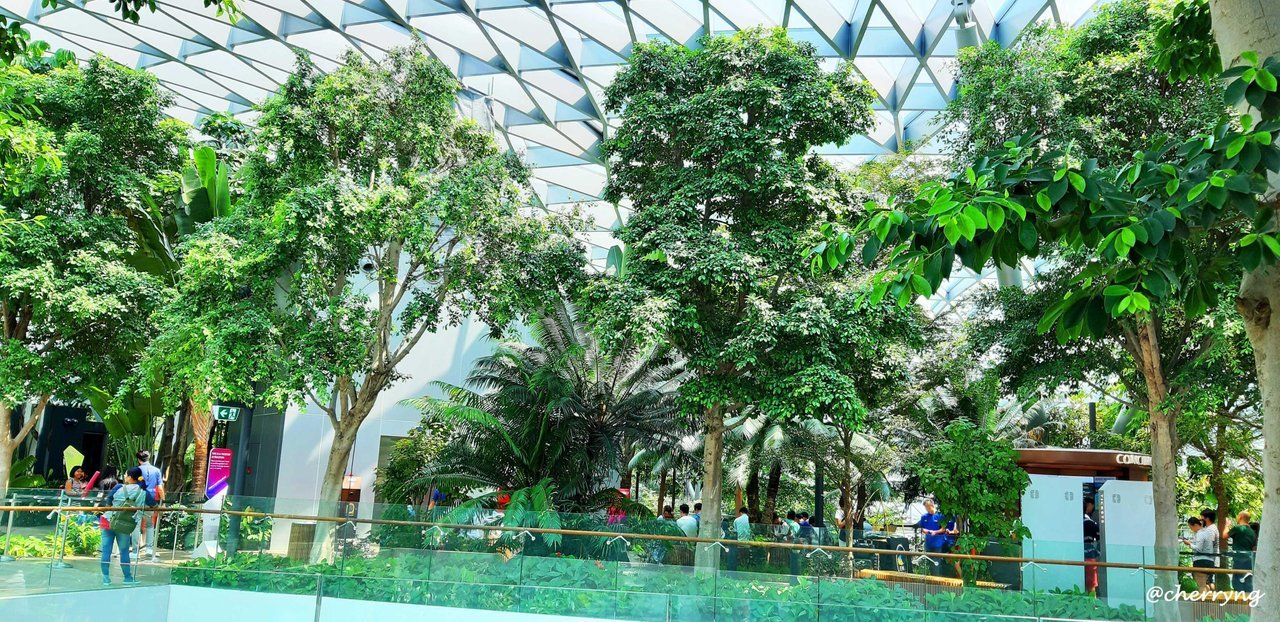 There are a lot of tall green trees and shrubs, feeling not like a top floor garden.
处处是绿悠悠的大树和灌木,一点都不像身处于顶楼花园。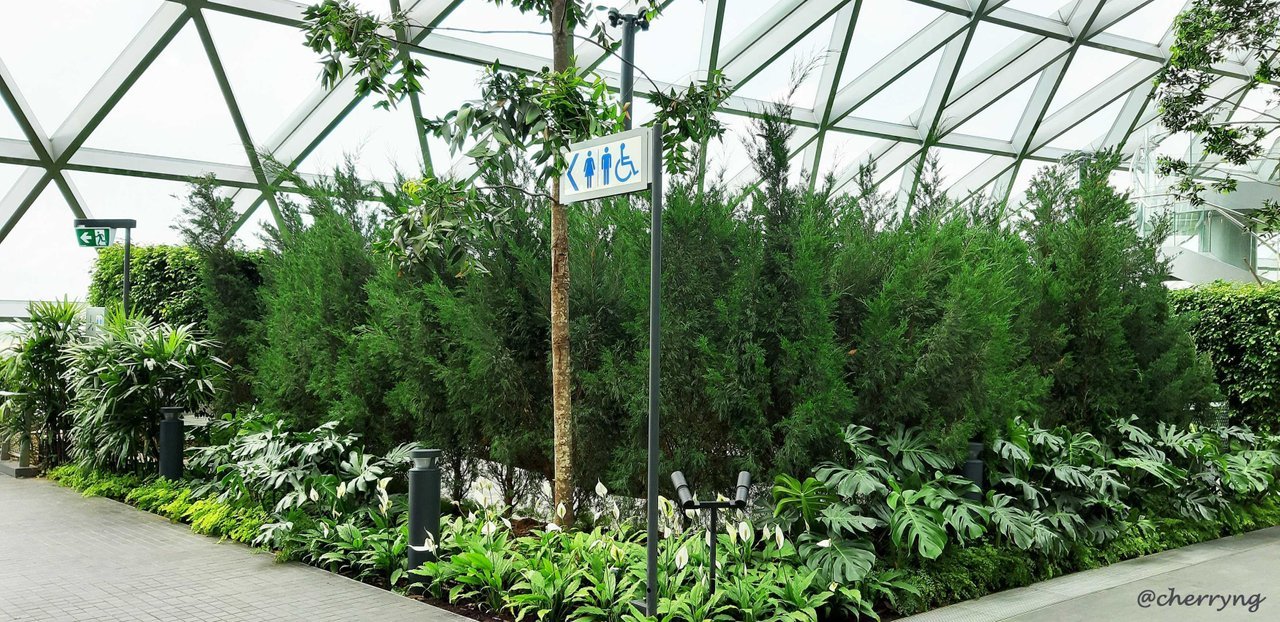 I came to this junction, there was a signage of wash room.
来到了这个入口,看到厕所的标志,去一去它的厕所。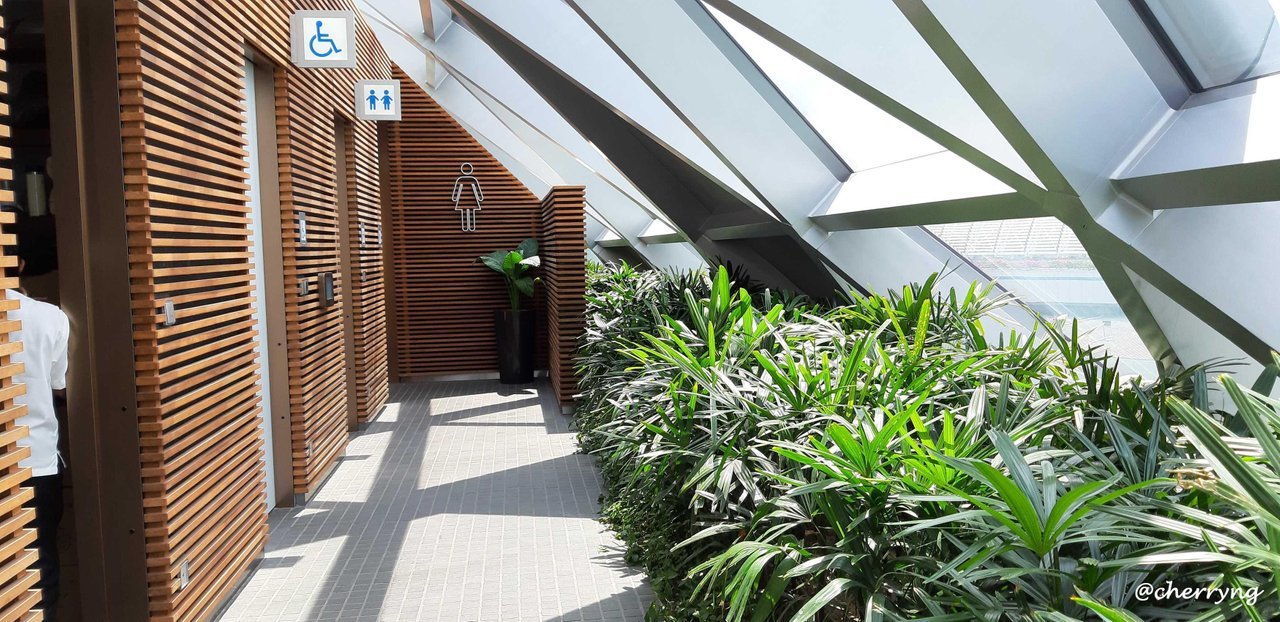 We can feel the warm sunshine in the air-conditioned room. It is neither cold nor hot, very comfortable.
在有空调的室内还能感受到温暖的阳光。不冷也不热,很舒服。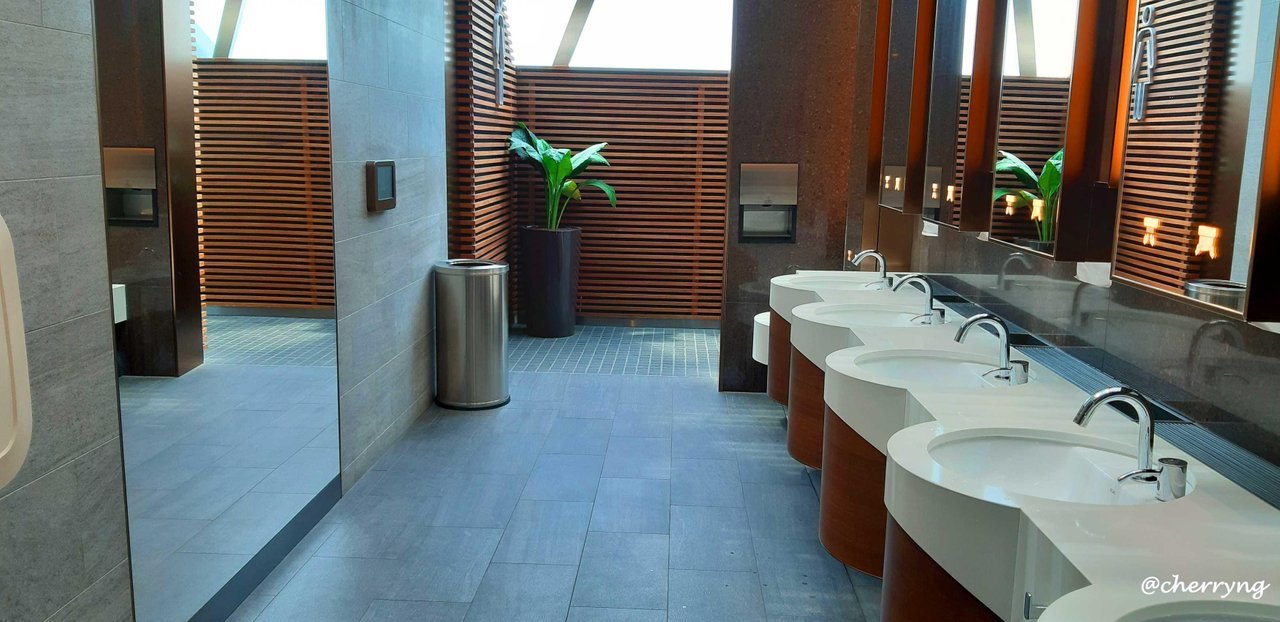 The wash room on the top floor is very clean and neat.
顶楼的厕所很干净,大方,也整齐。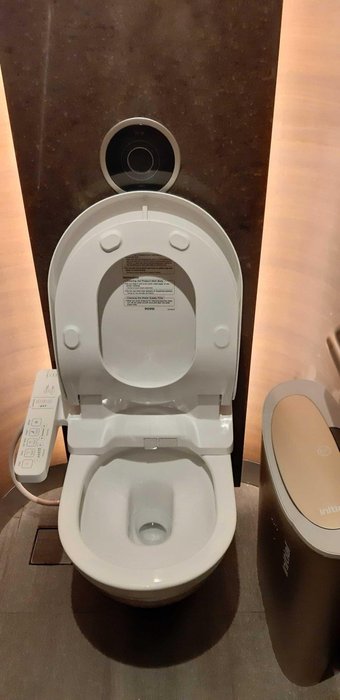 Even the toilet bowl is brand new and clean with auto-washing, flushing and temperature facilities. Five-star experience..
马桶很新,很干净,还有自动冲洗和温度设施。五星级的体验喔。。
Thanks @tattoodjay initial #wednesdaywalk. Hope you all enjoy @wednesdaywalk and have fun always.