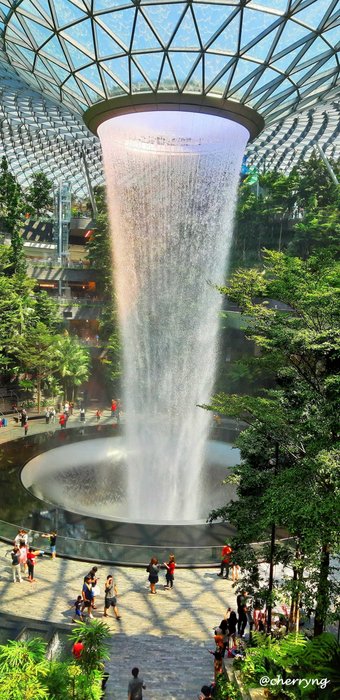 Hello dear Steemians,
Jewel Changi Airport has been opened grandly for one month that attracting many people to visit there. Especially for those who come to Singapore or want to go abroad. Recently I went to the airport to fetch my family, just enjoy this sensational tourist attraction in Singapore.
大家好!
星耀樟宜已经隆重开幕1个月,吸引了许多人到此一游。尤其让那些来新加坡游玩或要出国的人必去的景点。
最近我到机场去接机,刚好可以去看看这轰动新加坡的旅游景点!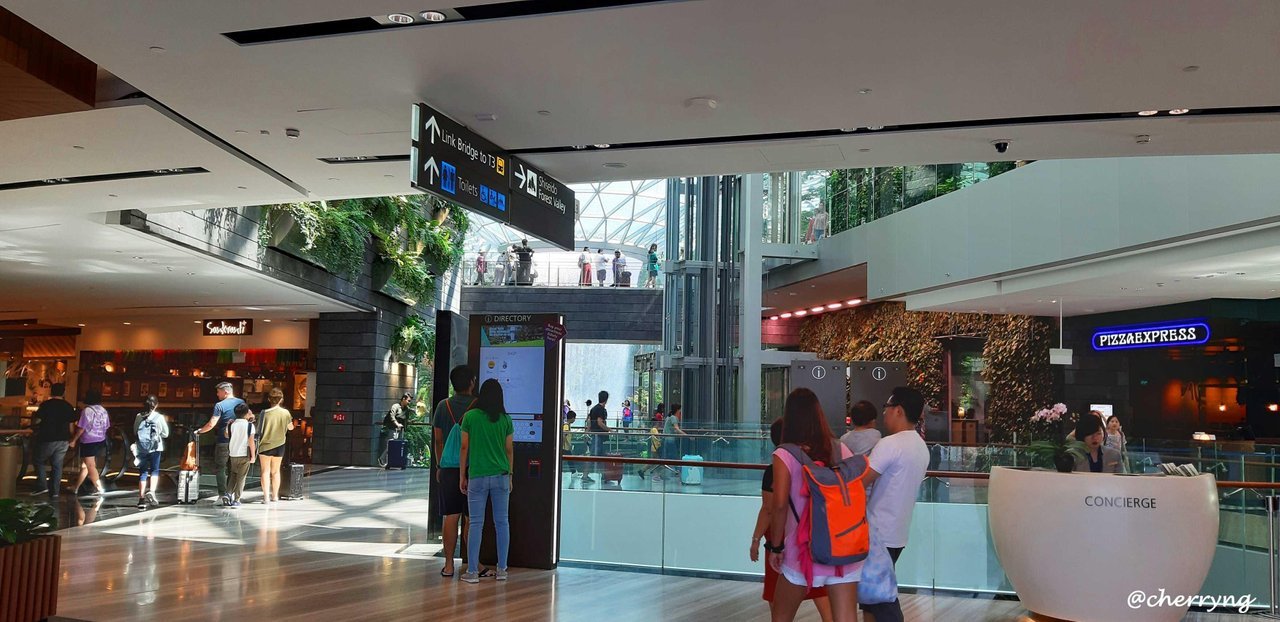 I took MRT to Changi Airport and followed the signboards to the 3rd floor of Jewel. The middle of the entire building is a huge indoor botanical garden.
搭地铁到樟宜机场,沿着告示牌走到星耀樟宜的3楼。整个星耀樟宜建筑物的中间就是室内乐园。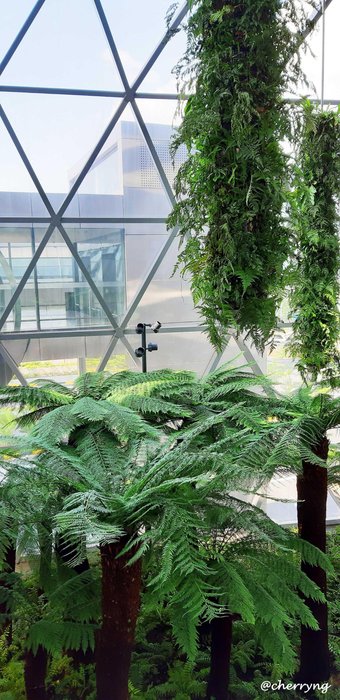 When I reached the third floor main entry, I saw there are many ferns hanging plants on top, and many fern trees are planted from ground floor.
到达三楼大门就可以很多链束植物悬挂着,和种植在两旁。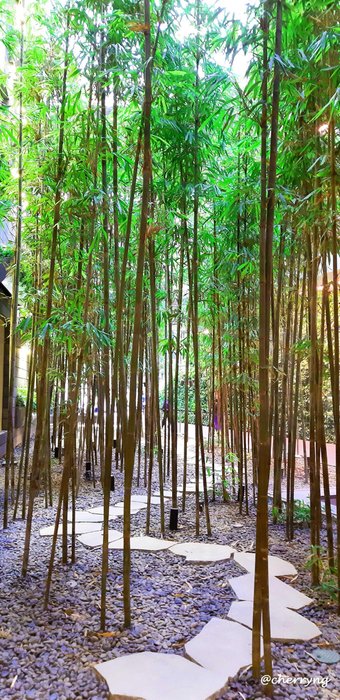 A cluster of tall bamboo trees are planted at indoor landscape area that create sense of peaceful and calm.
清雅大方的竹子耸立着室内的园林种植地区。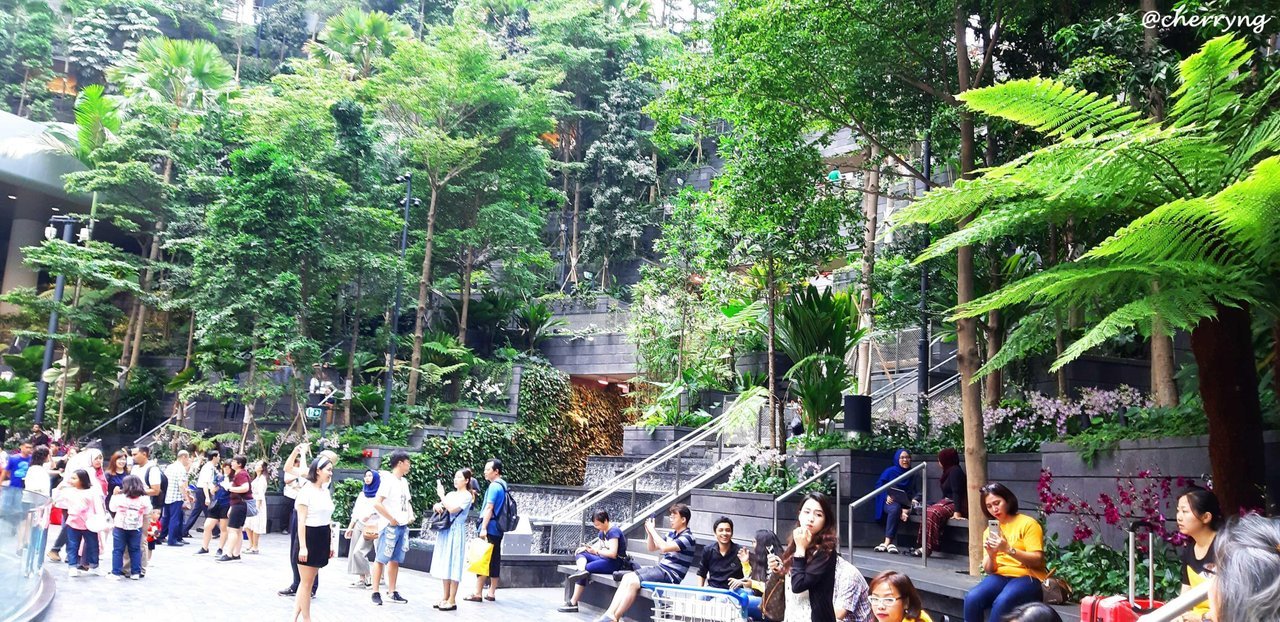 Stepped into the stunning world's tallest 40-meter indoor waterfall rain vortex, the water straight down from the rooftop. It is amazing view!
走入令人赞叹的世界最高,达40公尺的室内瀑布雨漩涡, 从5楼高的顶端直下。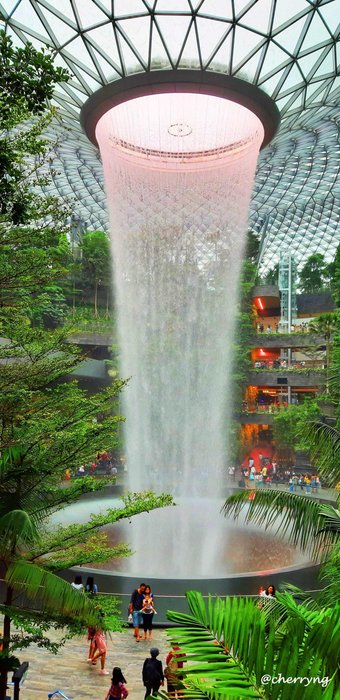 In the evening, the waterfall rain vortex presents a colourful musical light show.
到了晚上,瀑布呈现缤纷亮丽的音乐灯光表演。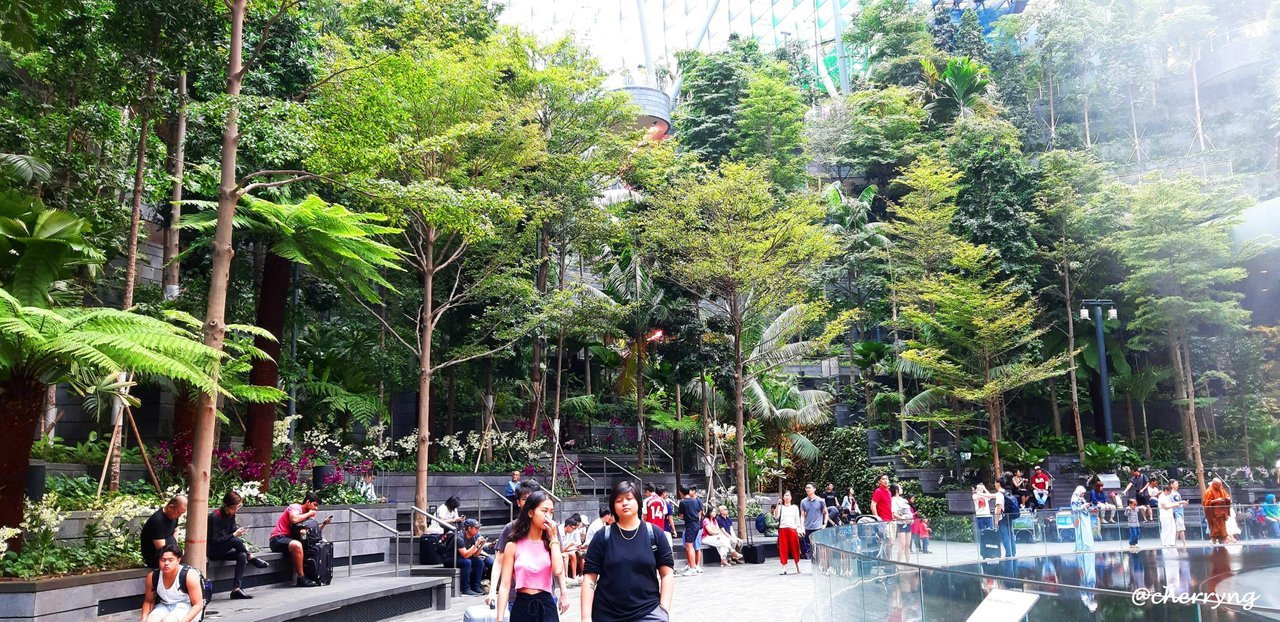 The waterfall rain vortex is surrounded by a four-storey landscape, the Shiseido Forest Valley is also the largest indoor botanical garden in Singapore with the largest variety of plant species.
周围围绕着四层楼高的景观资生堂森林谷,也是新加坡规模最大,植物种类最多的室内植物园。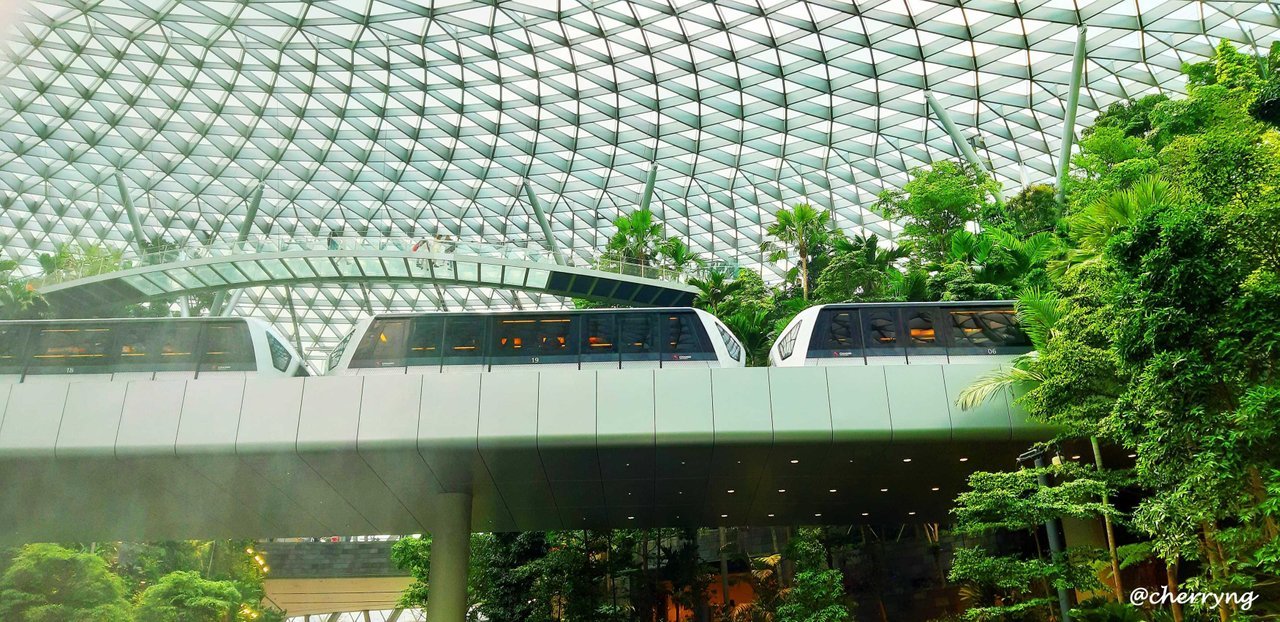 Looked up, I saw the train slowly crossing the waterfall rain vortex.
抬头看上去可以看到火车徐徐越过室内瀑布雨。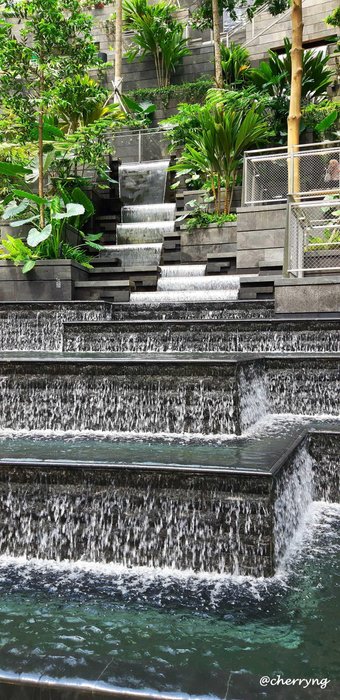 The layering water fountains flow down from the upper layer to lower layers, the modern design is very eye-catching.
一层一层的水景喷泉,从高处慢慢流下,大方又前卫的设计,令人眼前一亮。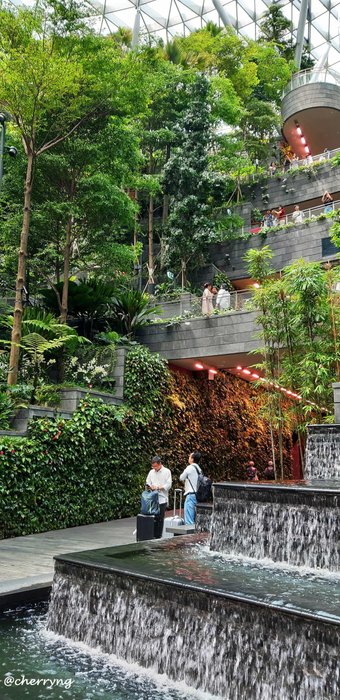 There are many green plants and green walls in this indoor botanical garden.
处处是绿色植物,处处有绿色墙壁。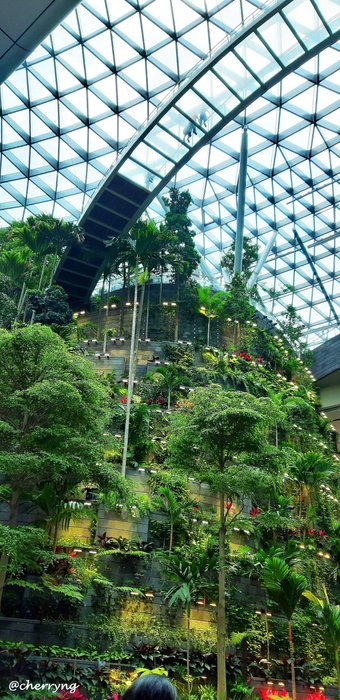 Looked up from the first floor, I saw a glass flooring bridge that allow visitors to look down to the garden. I think people who are afraid of high disease may not dare to try.
从一楼望上去,可以看到一条华盖步行道,跨过高空中,有惧高症的人可能不敢尝试,中间一段可是透明玻璃造成的。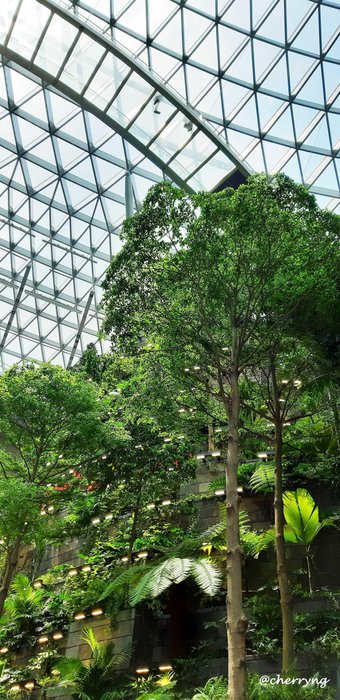 Layers of planting area including trees, palms, shrubs, climbers, creepers, ferns etc are planted together into a spectacular indoor botanical garden.
一层一层的种植区,有乔木,棕榈植物,灌木,攀藤植物等等,拼凑成壮观的室内植物园。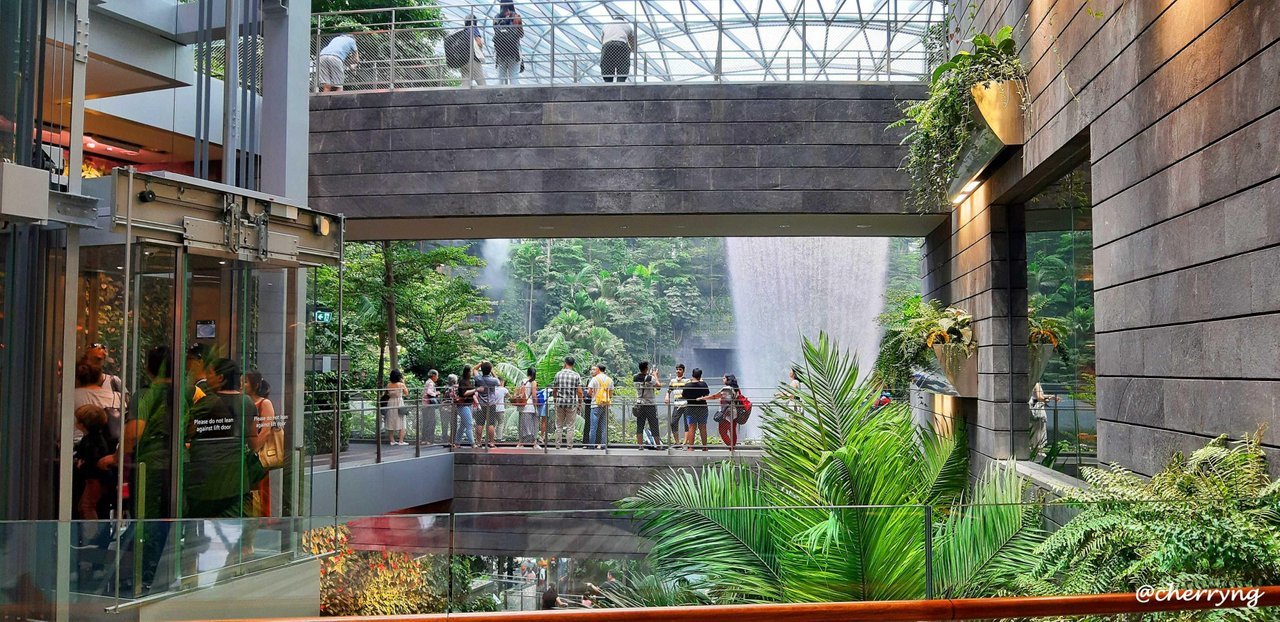 Walked to the elevator on the 4th floor and looked at the indoor waterfall rain vortex. Almost every floor has crowd of people. This unique indoor landscape is driving the business of this building.
走到4楼的电梯,望向室内瀑布雨漩涡。几乎每一层楼都有人潮,这独特的室内景观设计,真的是带动了这一带的生意。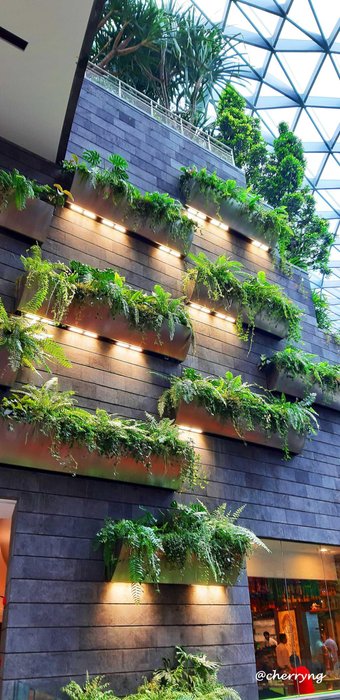 In addition to fix green walls and planting on ground, there are some creative planter boxes tied to the walls.
除了种植在地面的植物和绿色墙壁,还有系在墙壁而富有创意的种植箱。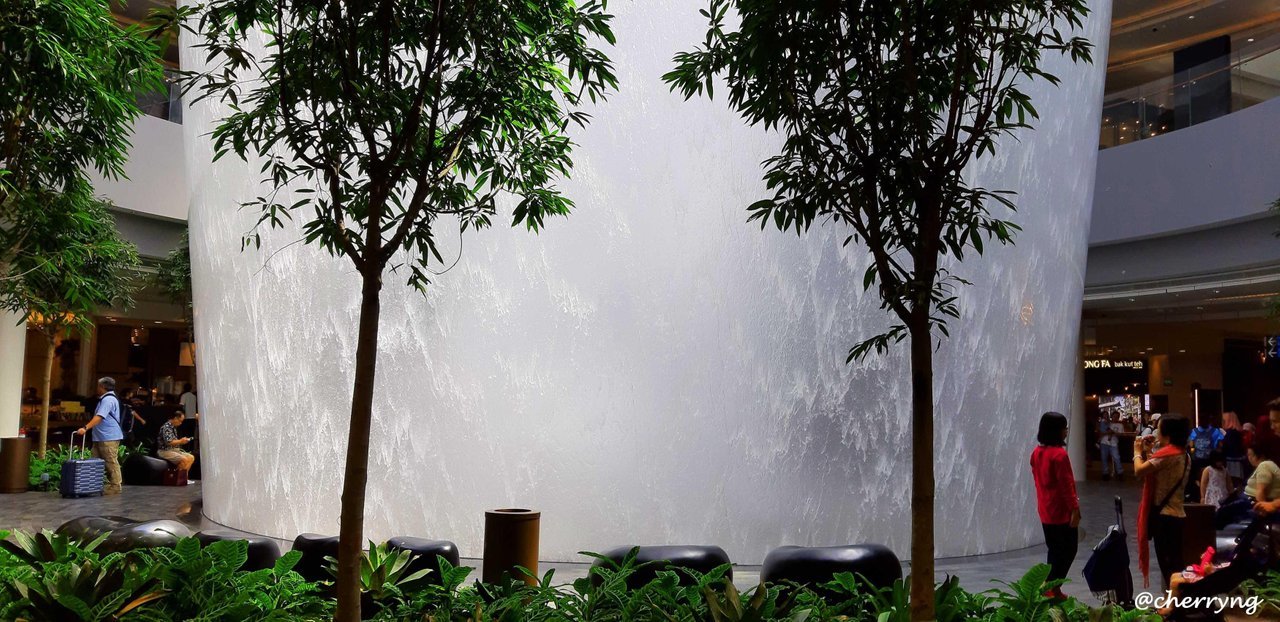 Took escavator to basement, I saw the tempered glass waterfall rain votex, where the water collection place.
来到底楼,我看见玻璃保护层包围着瀑布雨,很特别又很美观!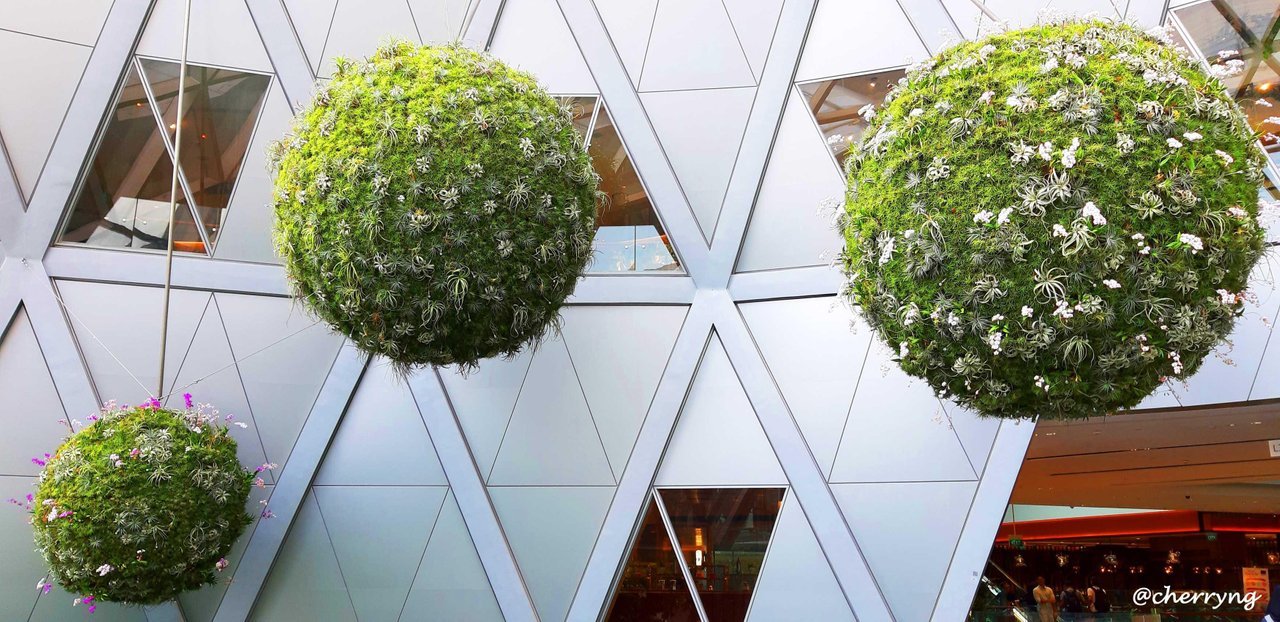 Walked thru to another entrance, some gorgeous large floral balls were hanging in the sky, creating sense of welcoming to visitors. If you planning to visit Singapore, I recommend you to take a walk at Jewel Changing Airport. This is the newest and open 24 hours tourist attraction in Singapore.
Thank you.
走着走着,走到另一个入口处,这美丽的大型花球悬挂在天空中,欢迎每位到访的人。如果到新加坡游玩,一定要去星耀樟宜走走,这可是新加坡最新,开放24小时的旅游景点喔!
谢谢。
Thanks @tattoodjay initial #wednesdaywalk. Hope you all enjoy @wednesdaywalk and have fun always.