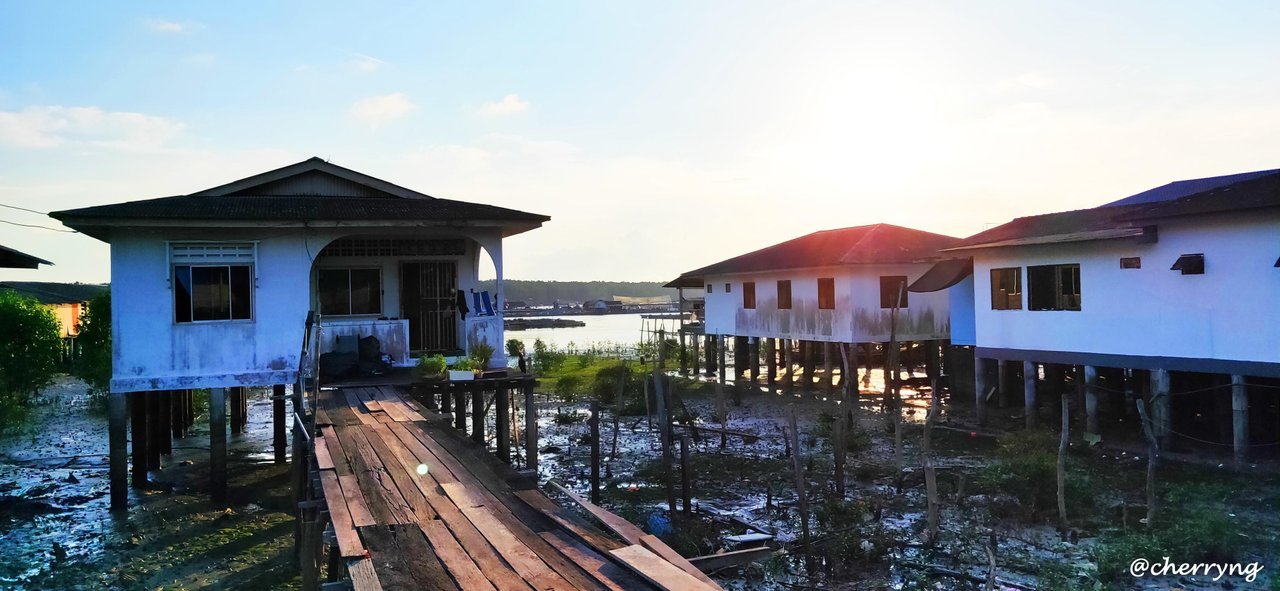 Hello dear Steemians,
Kukup Water Village is located at Southern of West Malaysia, Pontian, Johor State. It is a holiday and seafood paradise. Many Singaporeans like to visit and stay over the weekend to enjoy the tranquillity of water village.
大家好!
龟咯水上村位于西马的南边,笨珍,柔佛州。它是一个吃新鲜海鲜的美食和度假天堂。很多新加坡客喜欢周末到来住上一天,享受这水上村的纯朴的宁静。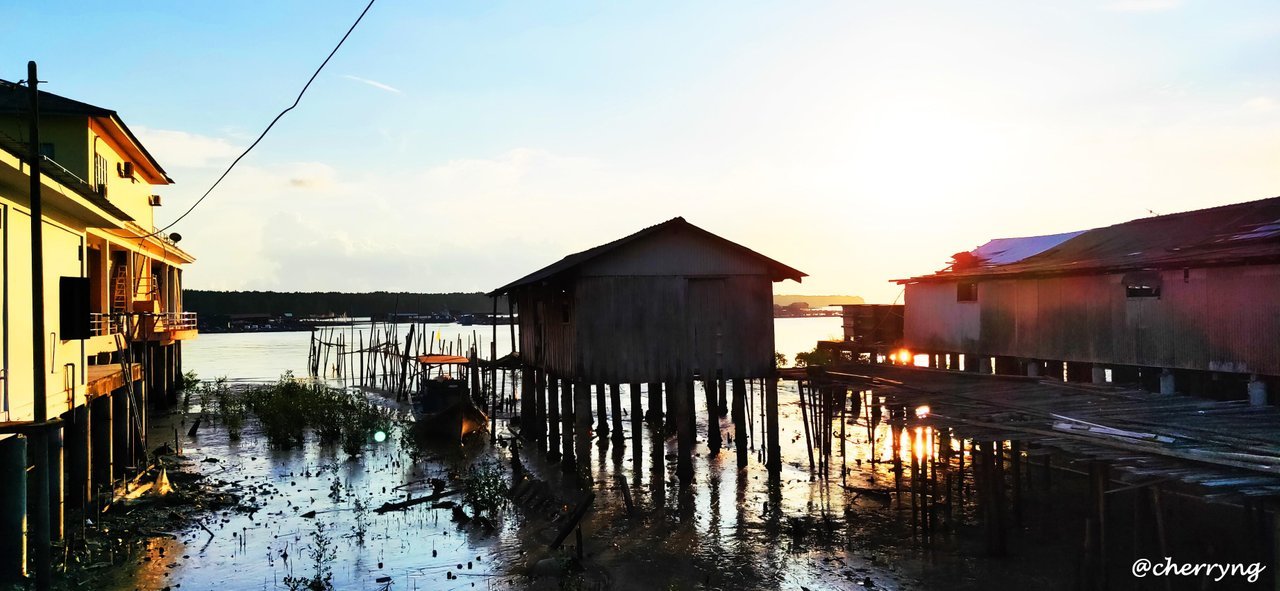 There are many type of accommodation here, such as resorts, chalets, hotels and homestay. Usually seafood barbeque and boating activity are provided if you booking for chalets or resort.
这里水上度假村,有度假屋,有酒店,也有民宿,供你选择。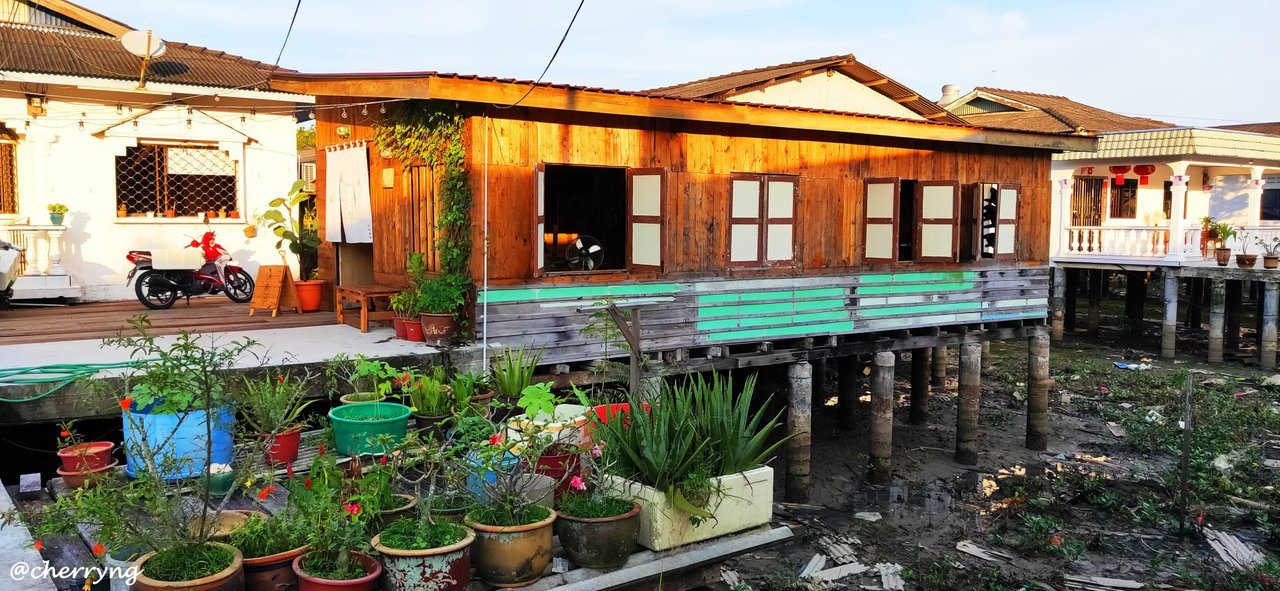 Last week my family decided to pay a visit to Kukup during the weekend. Let me bring you to this water village to have a look!
上个星期,家人一时兴起,中午到龟咯水上村走走。今天让我带你们到这水上村去看看。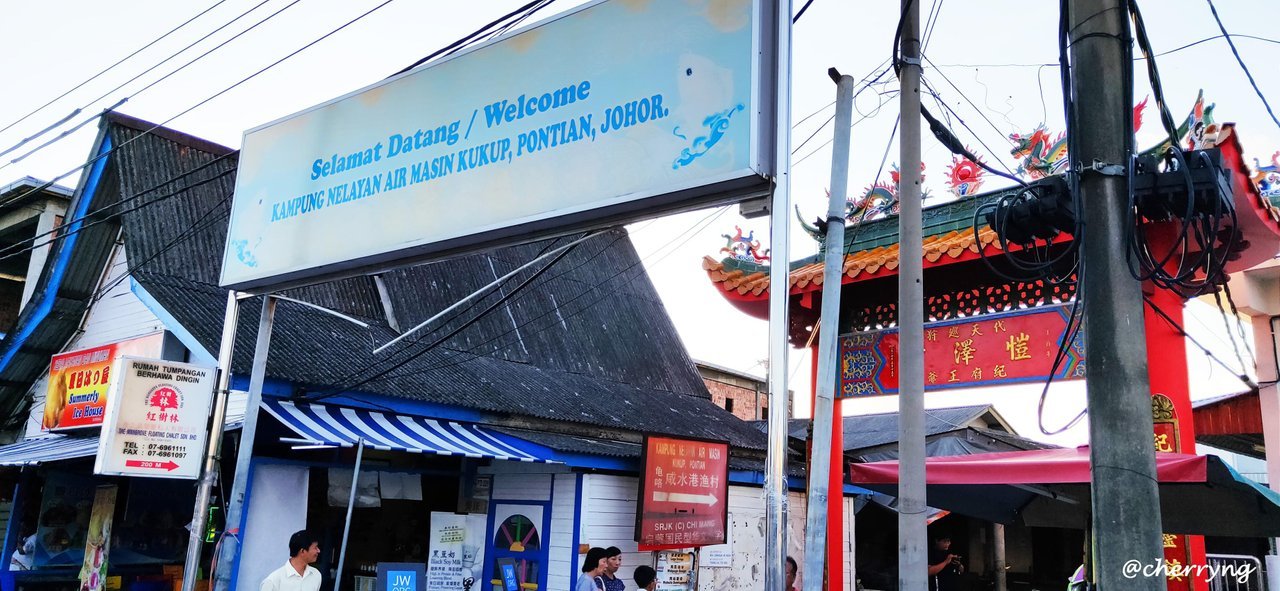 This is the entrance to the Salt Water Port of Kukup.
这是龟咯水上村咸水港的入口处。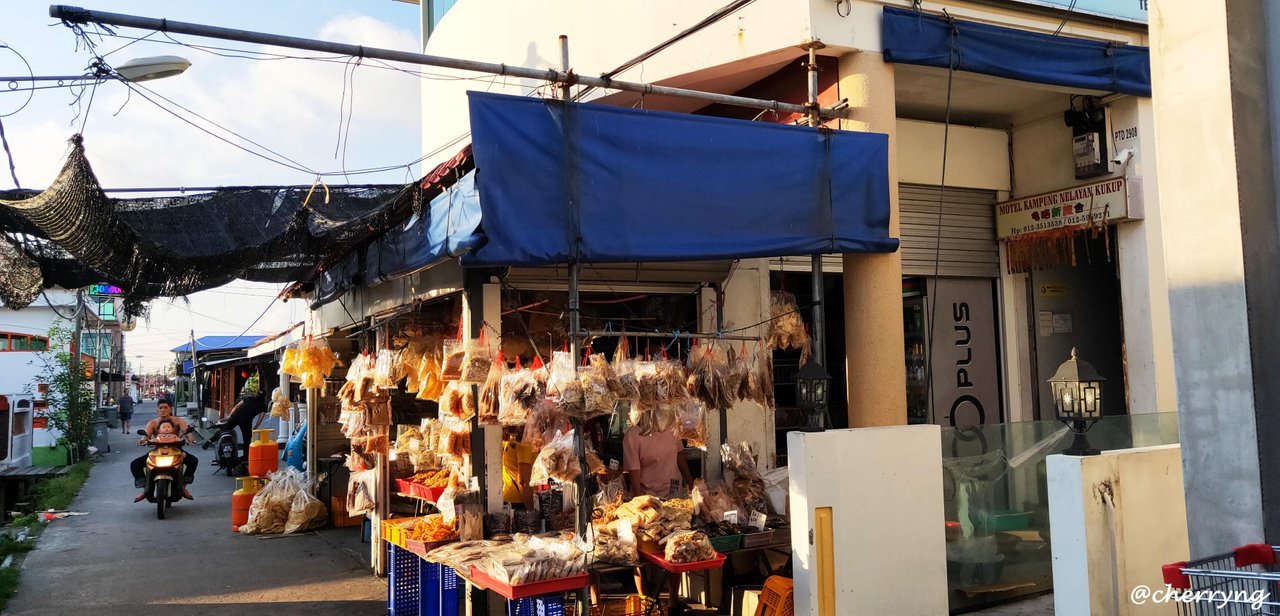 At the beginning of long walkway, you can see many local products such as small dried fishes, salted fishes, shrimp paste, dried squid, seaweed, fish skin and so on.
一入口就看到很多当地土产,例如江鱼仔,咸鱼,虾酱,鱿鱼丝,海苔,鱼鳔等等。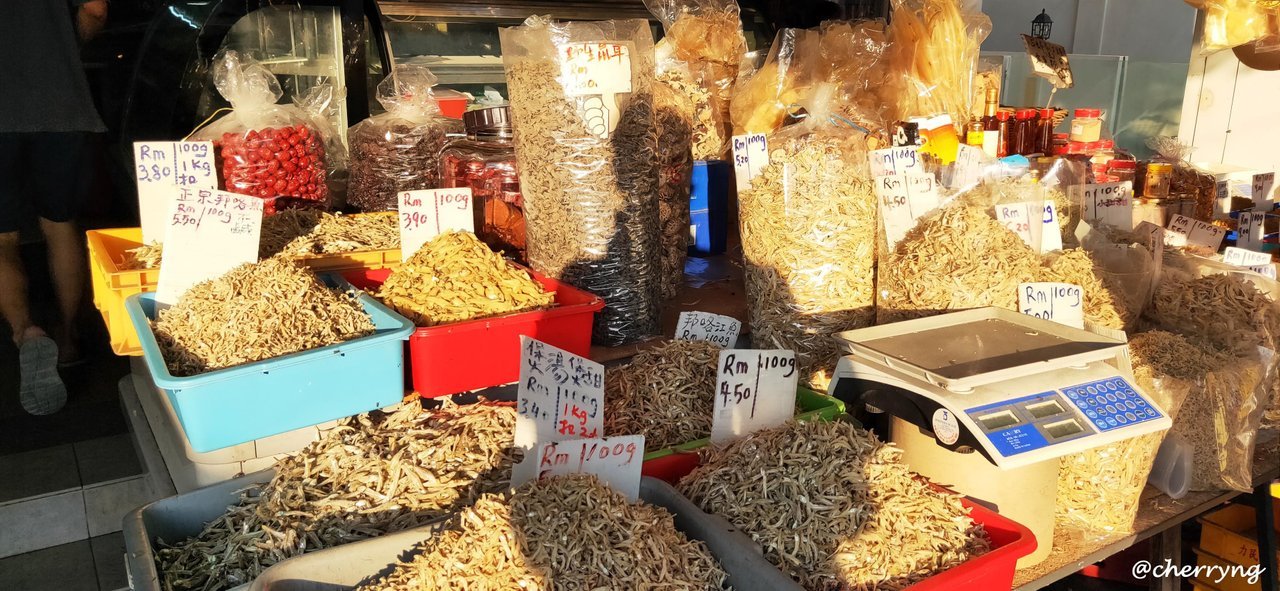 Compared to normal supermarket, the local sea products here are all fresh and delicious. My Grandma likes to buy the dried fishes to boil soup because it is super tasty, fresh and sweet.
比起一般超市买的,这里的土产比较新鲜,美味。外婆最喜欢买这里的江鱼仔煲汤,因为特别甜,特别好喝。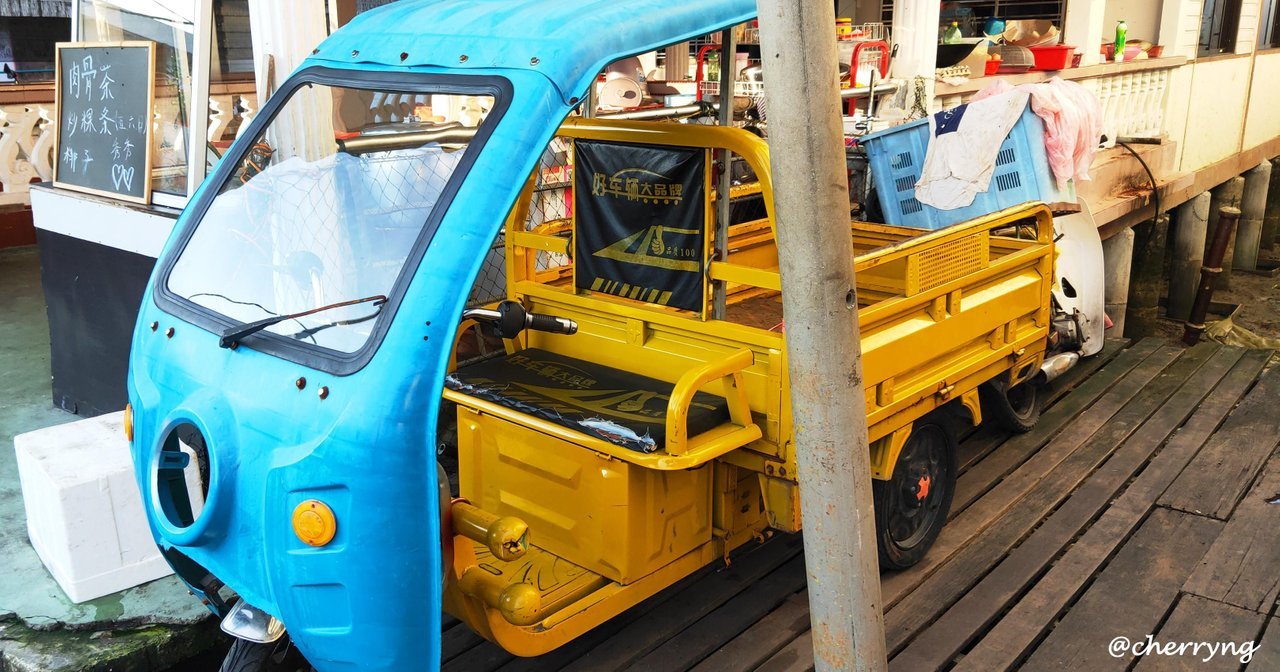 Resident-modified motorcycles to carry guests to the resorts or chalet. A bit like Thai Tuk Tuk right? Very cute.
这里居民改装的摩托车,可载送度假村的客人。可爱吧?有点像泰国的嘟嘟车。。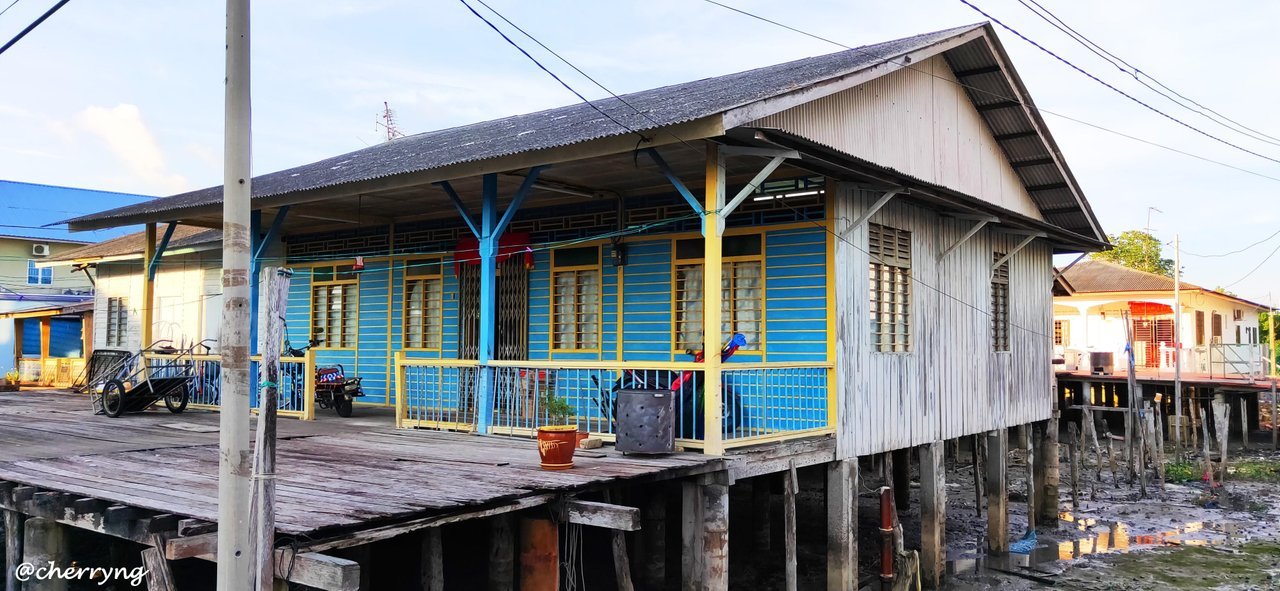 This is the exterior look of the normal houses in water village.
这是一般水上村的房屋外形。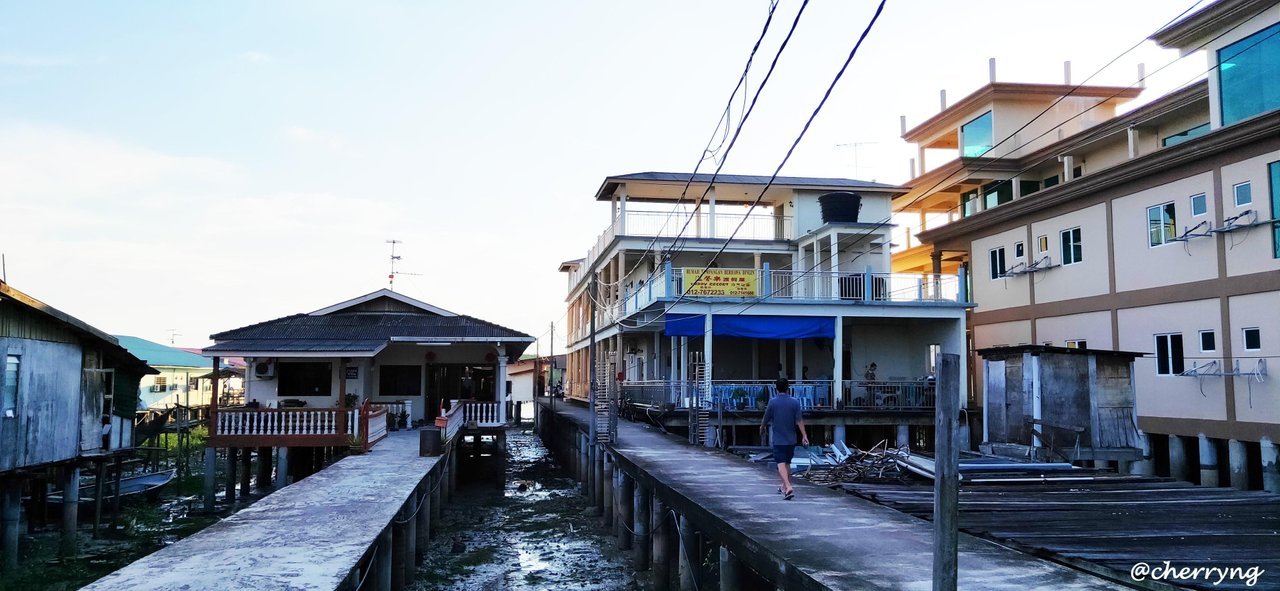 The walkway here is about 1-2 meters width without handrails. Sometimes we have to give way to the motorbikes. I felt scary to walk when the motorbikes passed by me.
这里的走道大约一到两米宽,没有扶手,有时还得让路给摩托车行走,不是这里的居民,走起路来真的有点战战兢兢。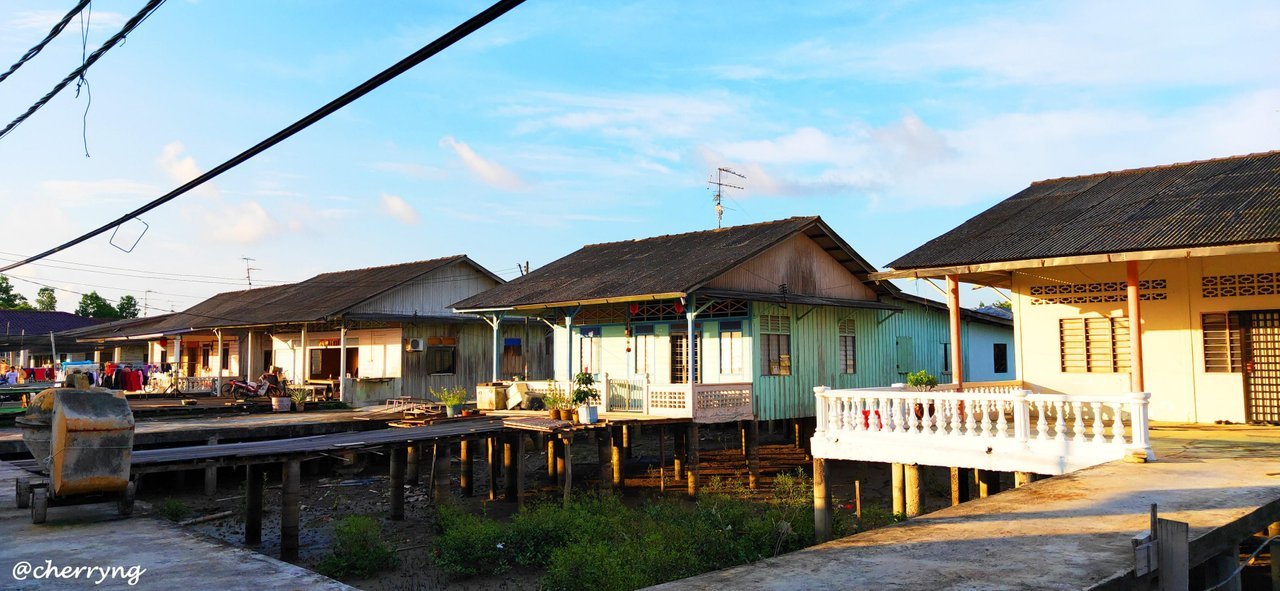 Most of houses have long walkway at the entrance.
多数水上村的房屋都有长长走道的入口。

In between of the houses is the swamp area.
屋子和屋子中间就是沼泽地。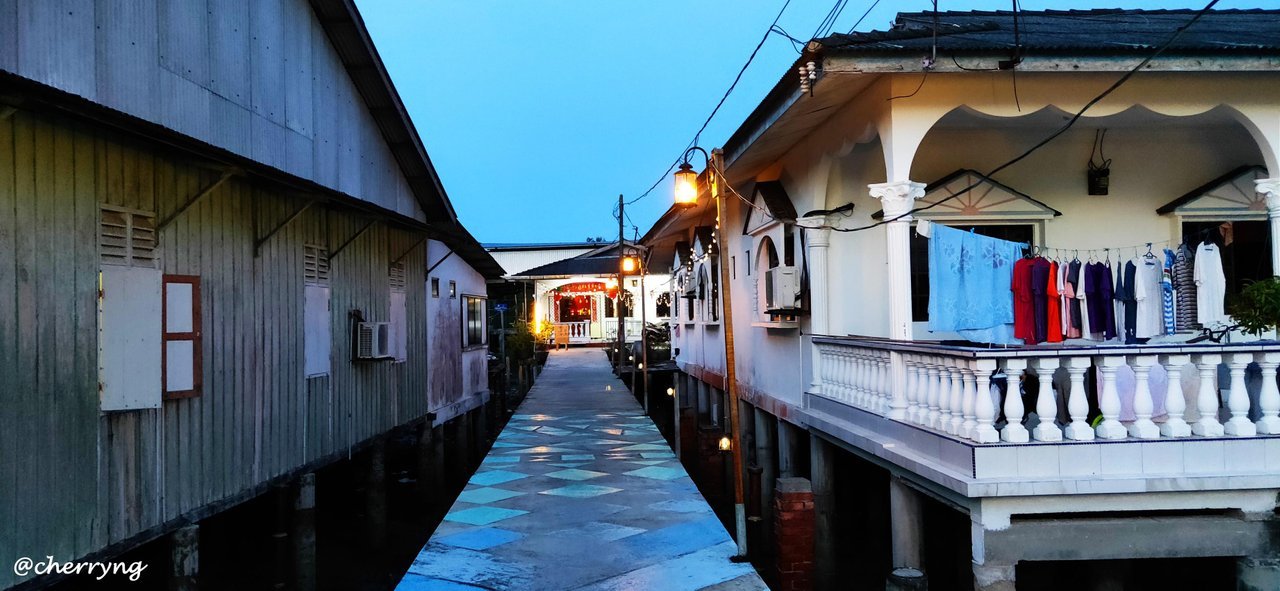 Their toilets are open air and toilet flushes directly into the swamp. It is retaining the original architectural features.
他们的厕所是露天的,马桶冲水直接到沼泽地。保留原有的建筑特色。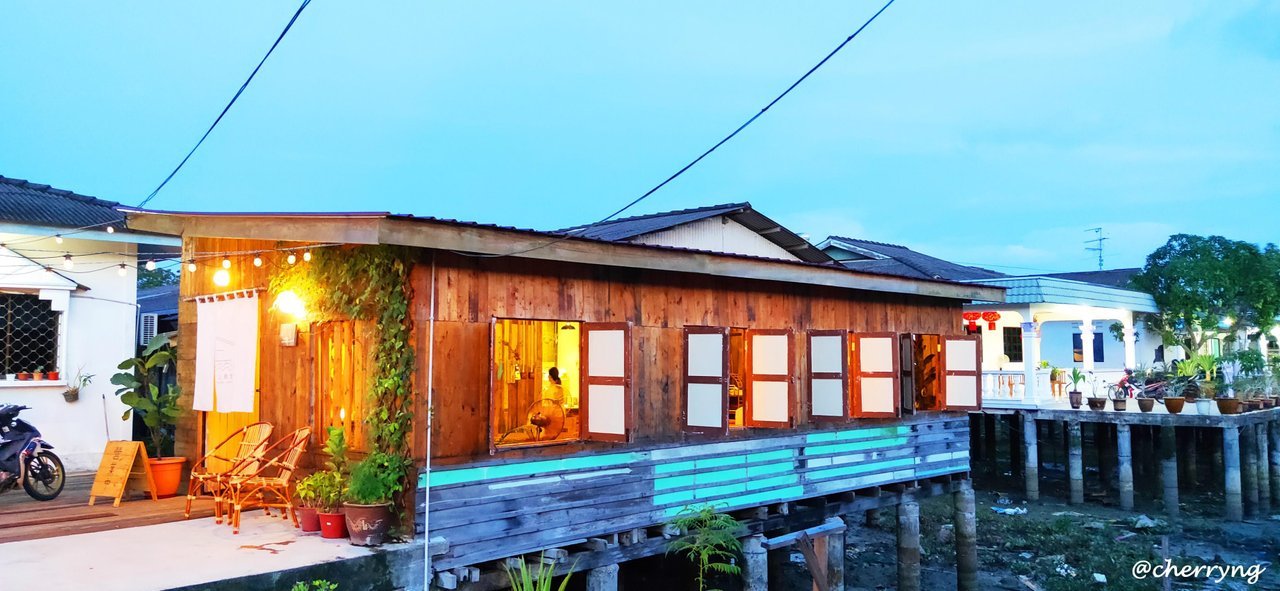 Continued our journey, we walked to a water floating restaurant.
走着走着来到这家水上餐厅。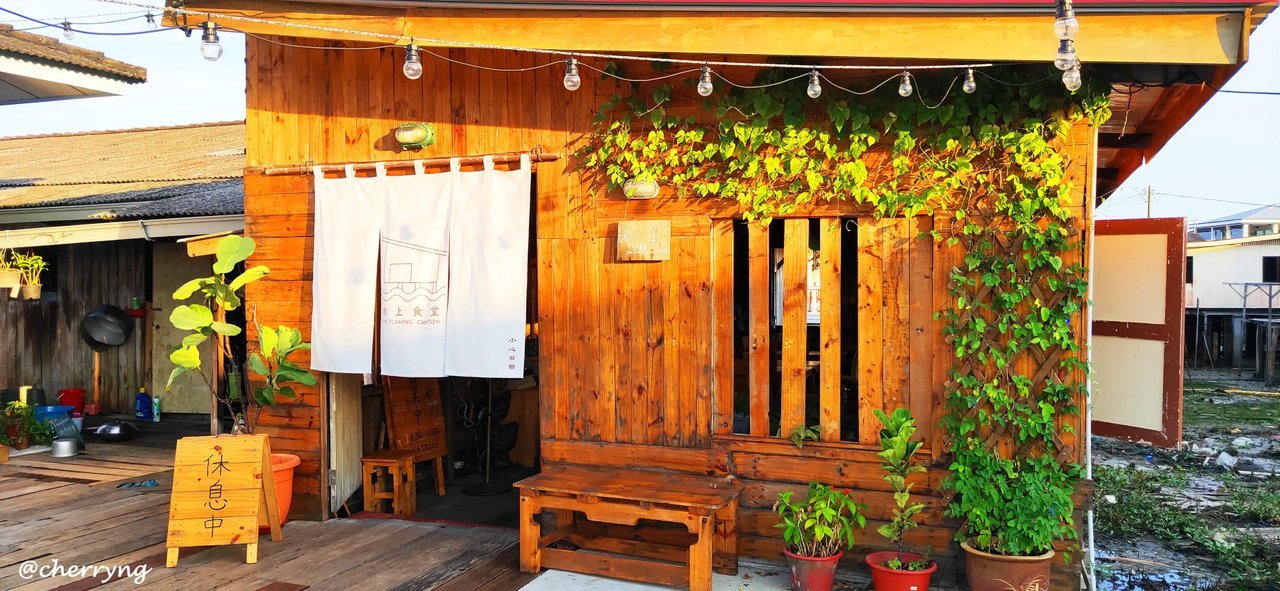 The exterior is very retro and refined. I heard the owner is an interior designer who personally participated in the design and construction works for this restaurant.
外形很复古,精致。听说店主是名室内设计师,自己亲自参与设计和建筑。
Let's come in and see what the restaurant selling.
进来看看,这餐馆买什么好料。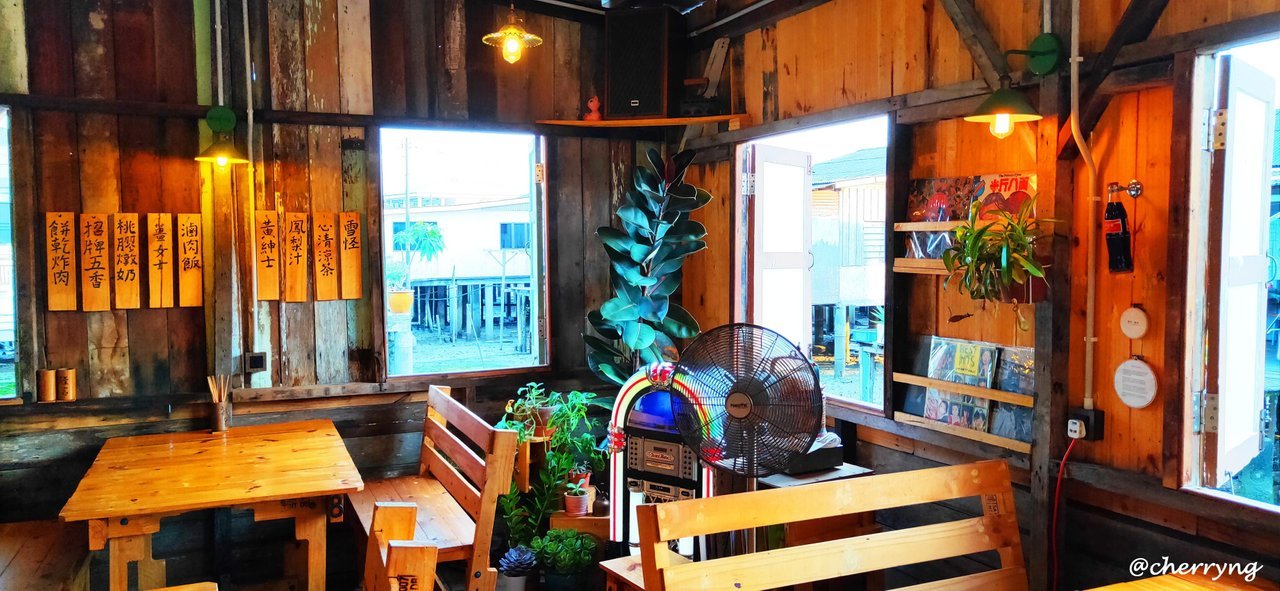 There were wooded furniture and seats inside, and also played old songs from the 70s, and variety of old vintage decoration. It seems like goes back to past time 70s.
里面都是木质的家私和座位。还有70年代的老歌,和种种复古的装饰等等。好像时光倒流回到70年代。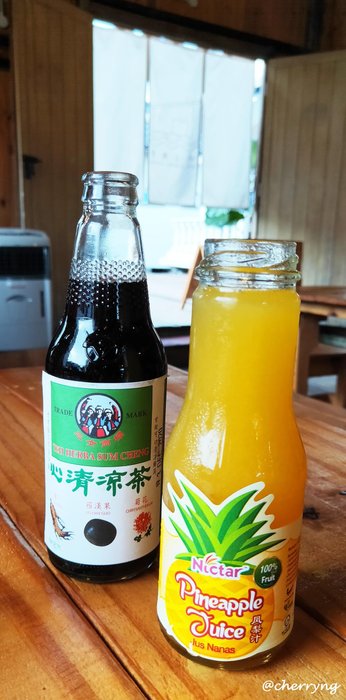 We ordered the homemade herbal tea and pineapple juice which we only can have it here.
我们点了道地的凉茶和自制凤梨汁。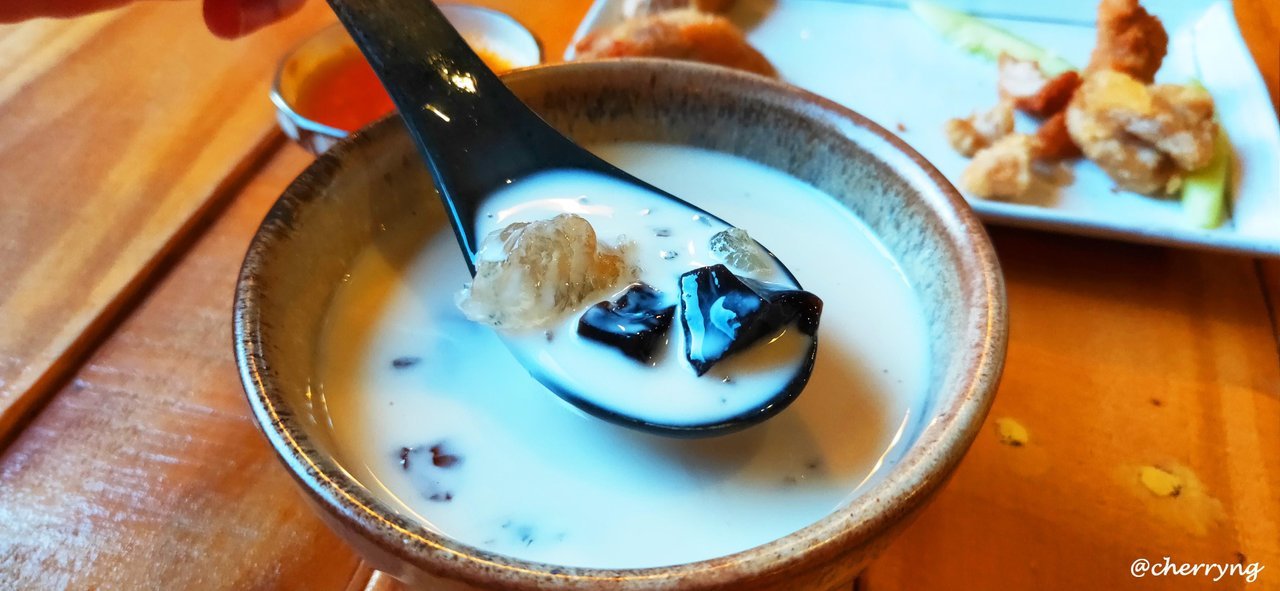 Next order was peach gum stewed milk. Taste good, but it is a bit less and small bowl.
还有桃胶炖奶,味道不错,只是料有点少。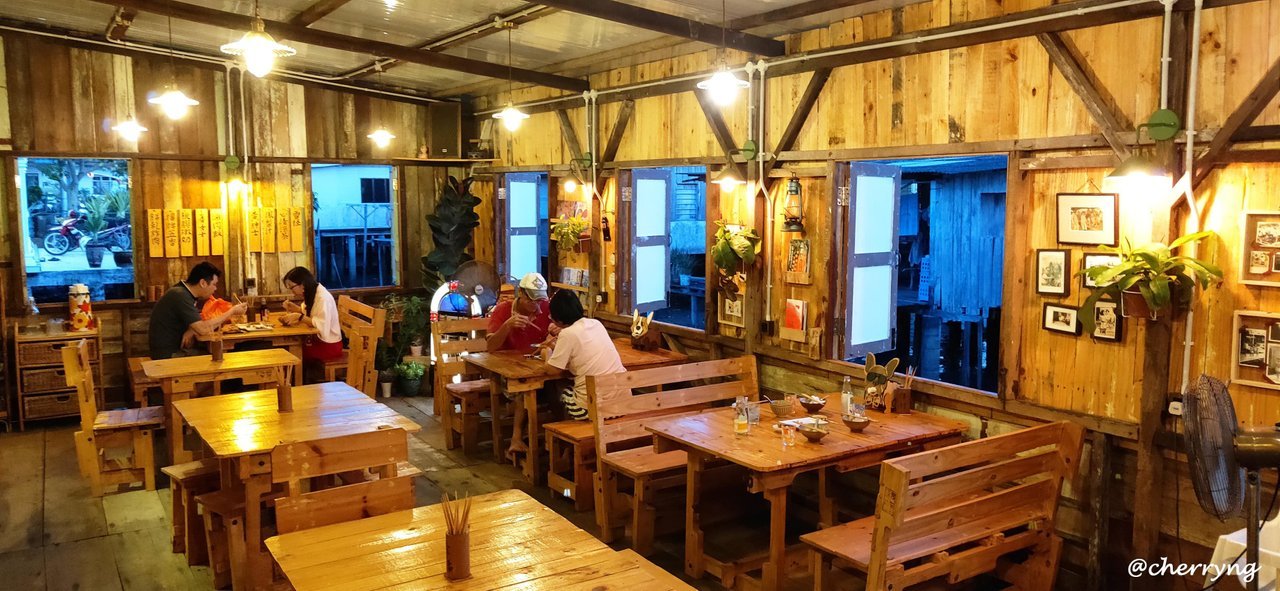 After the break, we continued to walk to a brand new wooded holiday chalets which's got double-storey and the exterior architectural look was so adorable.
休息后,我们继续走,来到一间全新的木质度假屋。有两层楼,外形很可爱吧。。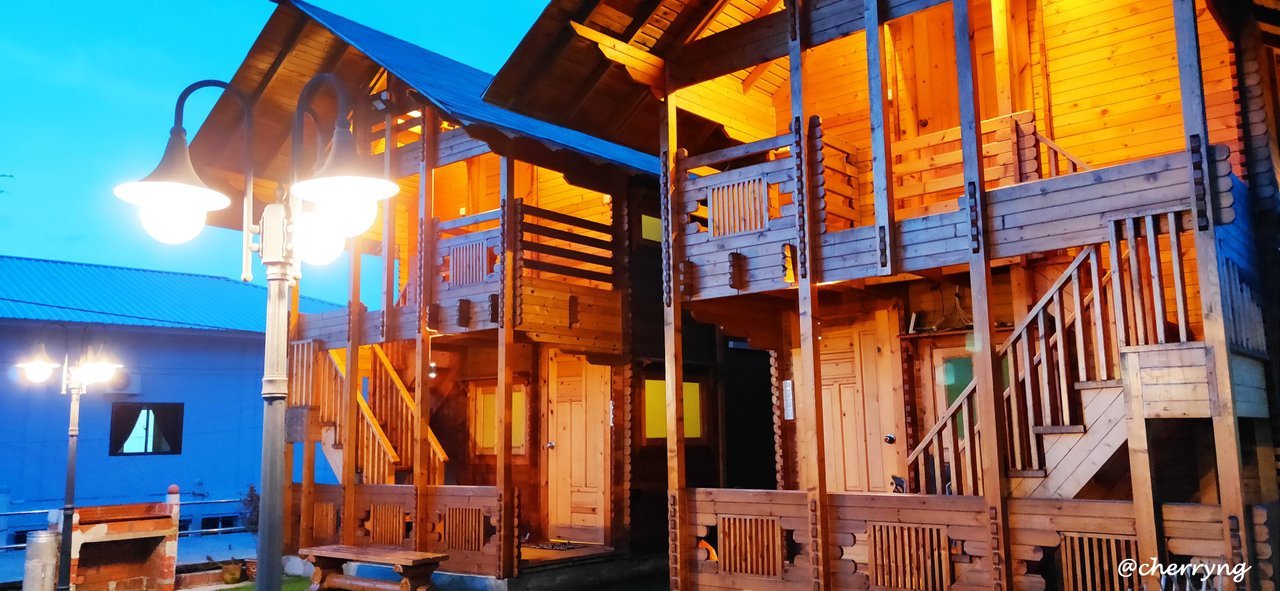 Most of residents are Chinese. There are many temples, they prayer for Guanyin Bodhisattave, TokPekGong, Guan Gong, and Xuantian God.
这里多数是华人居民,有很多神庙,例如拜观音菩萨,大伯公,关公,玄天上帝,大二爷伯等等。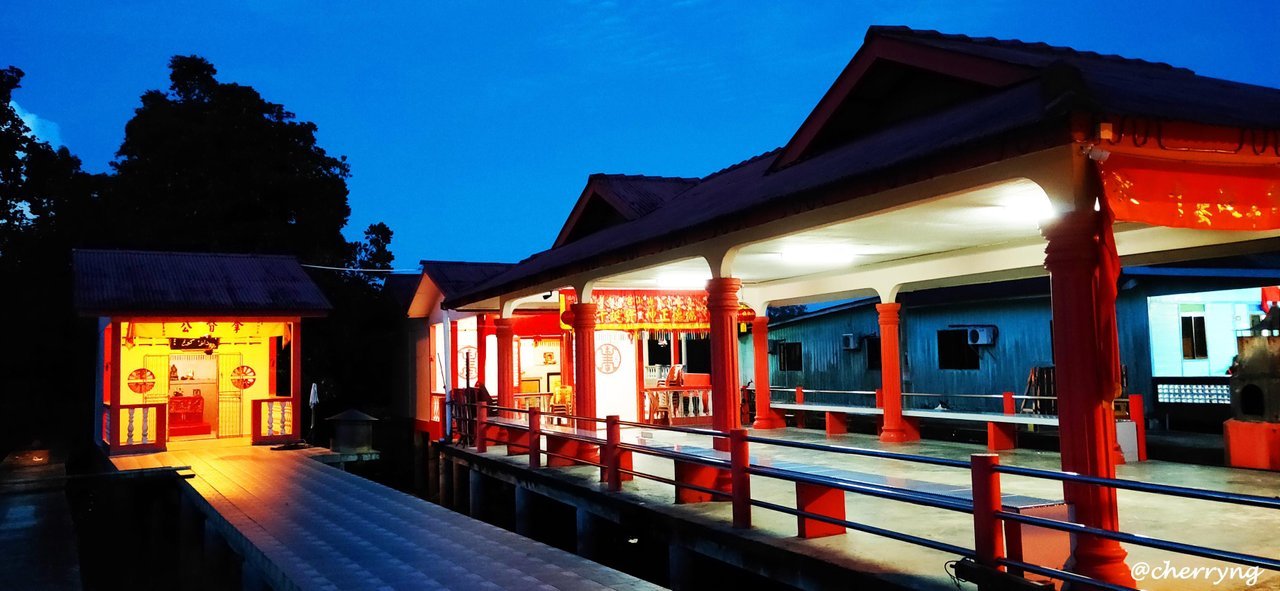 Kukup is a village that we can feel strong human touch and the residents here have a strong cohesiveness. When someone meet accident, the residents will lend a helping hand. Therefore compared to other places, Kukup is safer and have the better security.
Thanks for reading.
Thanks #wednesdaywalk and #makemesmile.
龟咯水上村是个很有人情味和纯朴的地方,居民的凝聚力很强,一有人出事,居民一定伸出援手。所以比起其他地方,这里的治安还算不错。
谢谢!