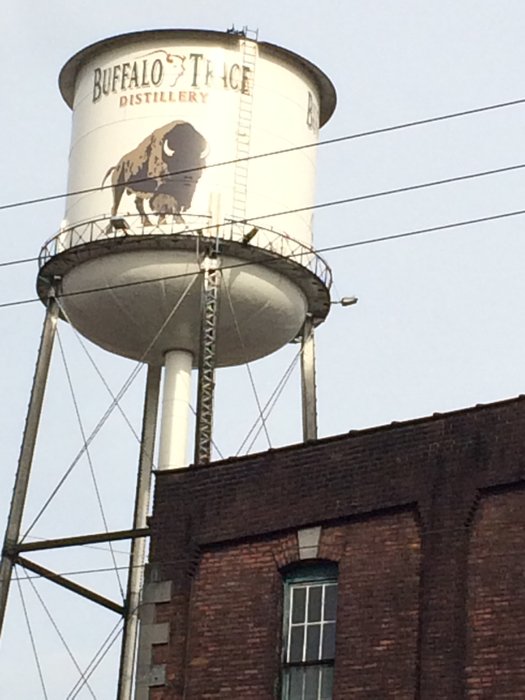 The Buffalo Trace Distillery is located at 113 Great Buffalo Trace, Frankfort, KY 40601, KY 40601. Buffalo Trace is home to my two favorite bourbons, Buffalo Trace and Blanton's. Well, two of my favorites. Believe it or not, I'm not a huge fan of Pappy Van Winkle. At least not the 12-year. During a visit to Kentucky last year, I managed to swing by my favorite distillery for a tour.
A friend of mine, a fellow bourbon drinker, tagged along. He had been on the tour before but was willing to tough it out for a second trip. A former employee of the Buffalo Trace family served as our tour guide. He was exceptionally knowledgeable about his craft, describing the whiskey making process, the difference between whiskey and whisky, the requirements for a bourbon to be considered straight bourbon, the different grain percentages and more. He was an encyclopedia of information.
Note: For those of you under thirty, an encyclopedia is a book or set of books that have information on numerous topics. Before the internet and Wikipedia, information had to be researched by looking in an actual book. Now, back to our tour...
Our guide pointed out the different rack houses and described the process for rotating barrels, which types of whiskey were likely located in which buildings and which building housed the granary and distillery. We went on the Trace Tour, so we were not able to enter the actual distillery. Instead, we headed to one of the rack houses where we were seated in pew-like benches to watch a short video on making bourbon. A mock up cut-away barrel was also available for demonstrative purposes.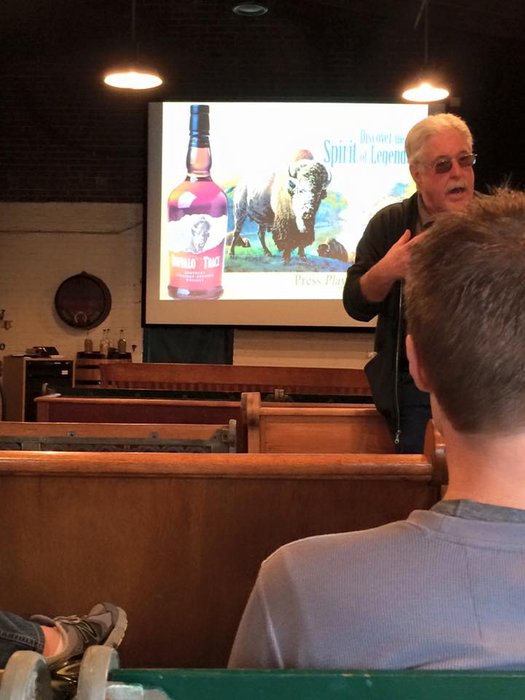 After watching the video, we entered the warehouse. The warehouse was stacked floor to ceiling with aging barrels. The wonderful wafting bourbon air was sensational. The bourbon permeated the air with close to a contact high. Our guide took us to a barrel and showed us how the barrels seep a bit and form small clots over minute openings in the barrel staves. It looked like bourbon candy to me, but we weren't allowed to eat it. After finishing in the warehouse, we went to a bottling area that was located near the building where our tour started.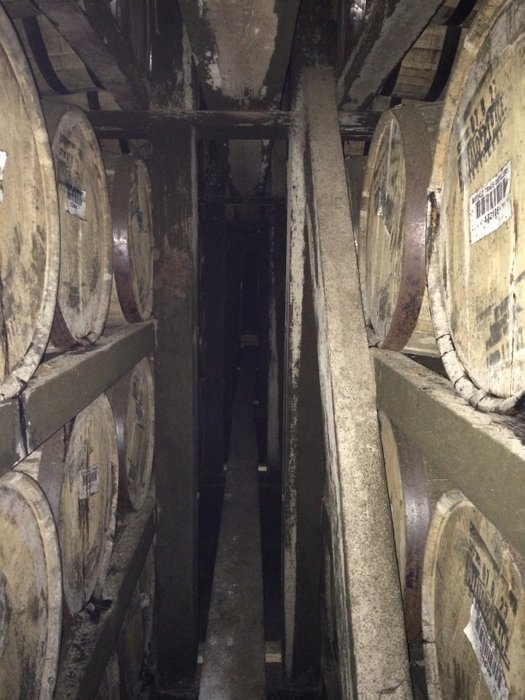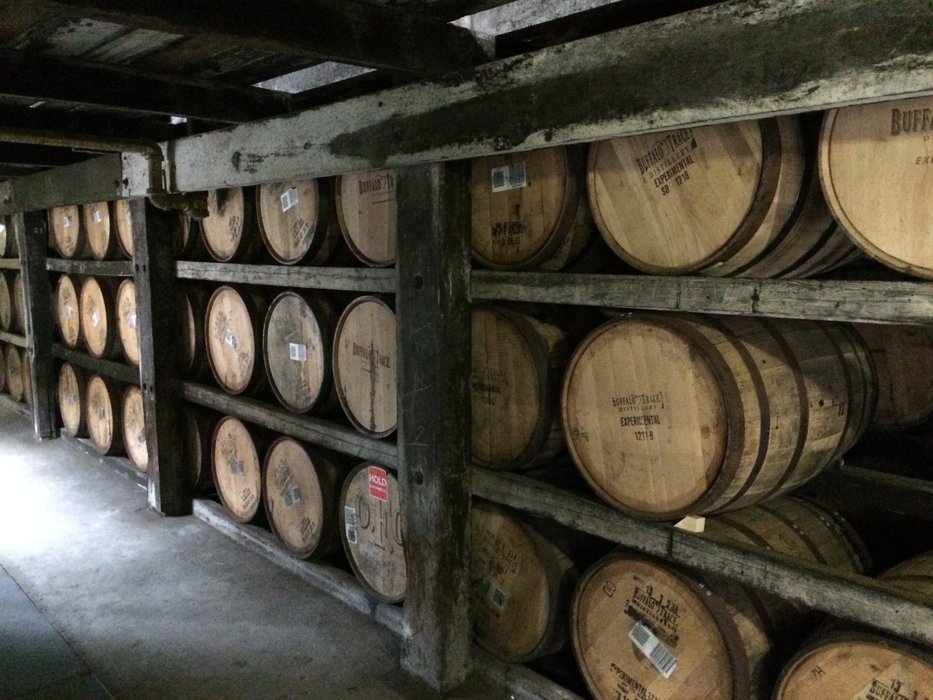 I can't find my photos of the bottling process, but they were bottling my favorite that day. Blanton's. Blanton's is single barrel. Where many bourbons are blended to create a combined flavor profile, Blanton's comes straight from the barrel into the bottling line. The line was simple but impressive. The signature bottles started at the end near the barrels. Hoses drew the bourbon out into two filling lines where the bottles were labeled and filled and a signature horse placed atop. There was a box of horse bottle toppers near the entrance. Our guide treated us each to a topper. Each of the bottle toppers has a letter that corresponds with BLANTONS (the two N's are different) with a horse in motion. In sequence, they should give the impression of a running horse. Some people place these in specially crafted staves designed to hold the toppers. Of course, they are available in the gift shop.
After finishing the tour, we were taken to the gift shop building where we visited the bar on the second floor. Here, we were treated to a sample of several flavors. Two bourbons and their vodka, which I believe is distilled seven times. I'm not much of a fan of vodka, and blanton's was not on the tasting menu...but the Buffalo Trace was spot on, as was the other bourbon, which may have been Eagle Rare, but I can't recall. To cap it off, we were treated to bourbon chocolates that were a-maz-ing. No other way to describe them. Not liquor-y at all. Just delicious. I had to buy some to take home.
We finished in the gift shop, where I grabbed a bottle of hard-to-find Blanton's. I should have grabbed two bottles. I also picked up a bottle of Buffalo Trace and the bourbon candies as well as a couple of small gift packs for friends back home. The tour was fun, informative and finished with a sampling. And it was free...unless you count the money I spent in the gift shop on the way out. Money well spent.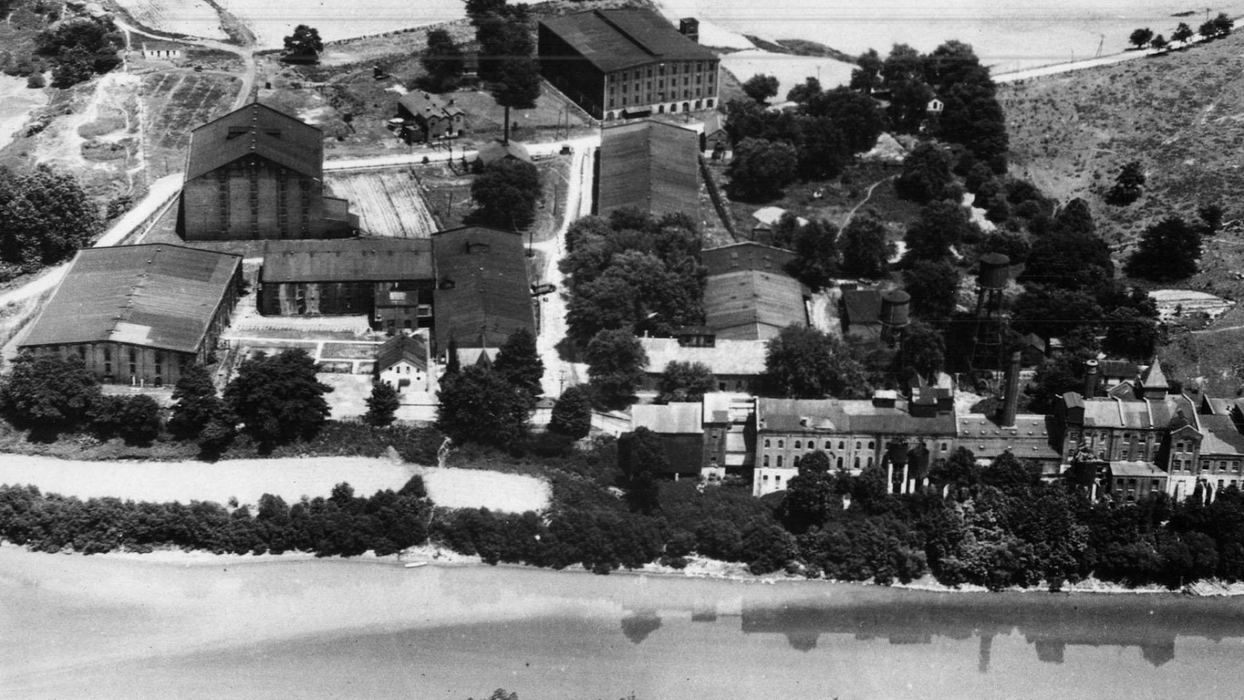 Source
Our tour was called the Trace Tour. It leaves on the hour, but more frequently if needed. We arrived at a slow time and were only in a group of five for our tour. Needless to say, it was hourly at that point. Tours run Mon-Sat: 9 a.m. - 4 p.m. and Sun: 12 p.m. - 3 p.m.
Duration: 1 hour
There is a tour called the Hard Hat Tour that we did not go on. I wish I had, but it was not available when I arrived and normally requires reservations. It takes a closer look at the distilling process more than the aging process we observed. Tours run Mon-Fri: 10:30 a.m. & 1:30 p.m. and Sat: 10:30 a.m.
Duration: 1 hour
There is a history tour called the National Historic Landmark Tour that only runs Mon-Fri: 11:30 a.m.
Duration: 1 hour
There is a Bourbon Barrel Tour that only runs Mon-Fri: 9:30 a.m.
Duration: 1 hour
There is a Ghost Tour that runs Thurs-Sat: 7 p.m.
Duration: 1 hour
The final tour is the EH Taylor Tour which runs Mon-Fri: 2:30 p.m.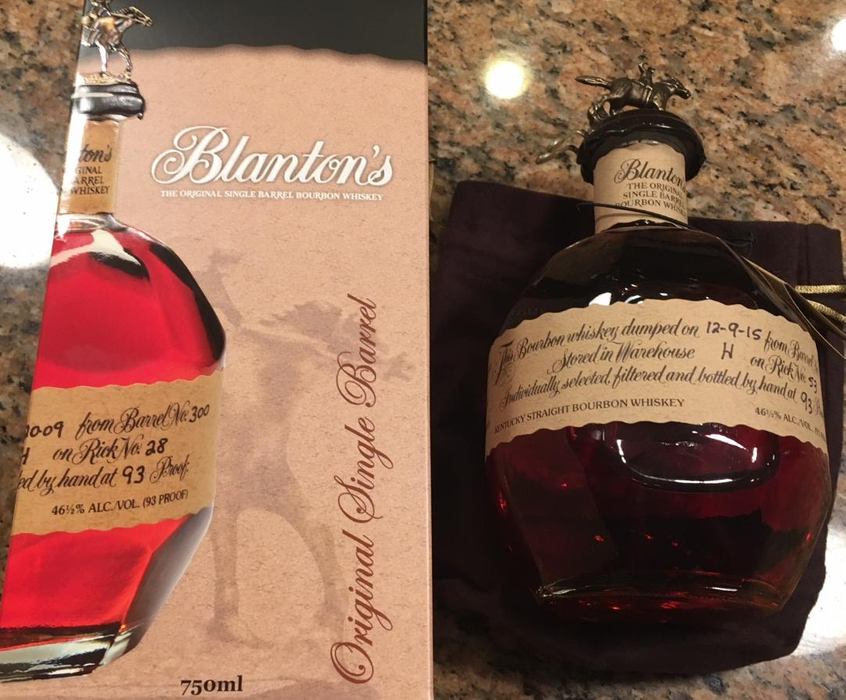 This is the actual bottle of Blanton's I purchased on that tour. No, it has not been opened.
All tours are complimentary and finish with a tasting like the tour I went on. The latter tours all require reservations. So, if you just show up at the distillery, you are likely going to get the Trace Tour. Unless you are able to sign up for a time for one of the others while you are there (if the timing is right).
If you are a fan of Bourbon, this is a tour that should not be missed. Any of them. The tasting is worth the time, alone. And getting my hands on some Blanton's was a bonus.
All photos except the one marked are my own. They may be reproduced with prior permission.