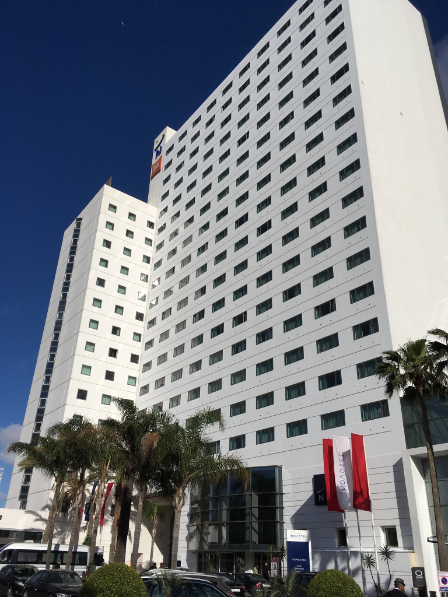 The final hotel we visited on our two week tour of Morocco was the Hotel Novotel Casablanca City Center. The hotel was conveniently located near a bank and several restaurants with a small market one block away. It is a modern hotel with European styling. The hotel opened into a large lobby with the check-in desk located to the right as you enter. The elevators were next to the check in desk and the bar and restaurant located straight ahead as you enter.
We were with a decent sized tour group. There appeared to be a miscommunication with the bellhops regarding the luggage, which ended up left in the lobby rather than taken to our room. We retrieved our luggage with no issue. However, one of our fellow travelers had to have his luggage replaced after it was damaged by hotel staff. My understanding was that the hotel made good on it and replaced the bag.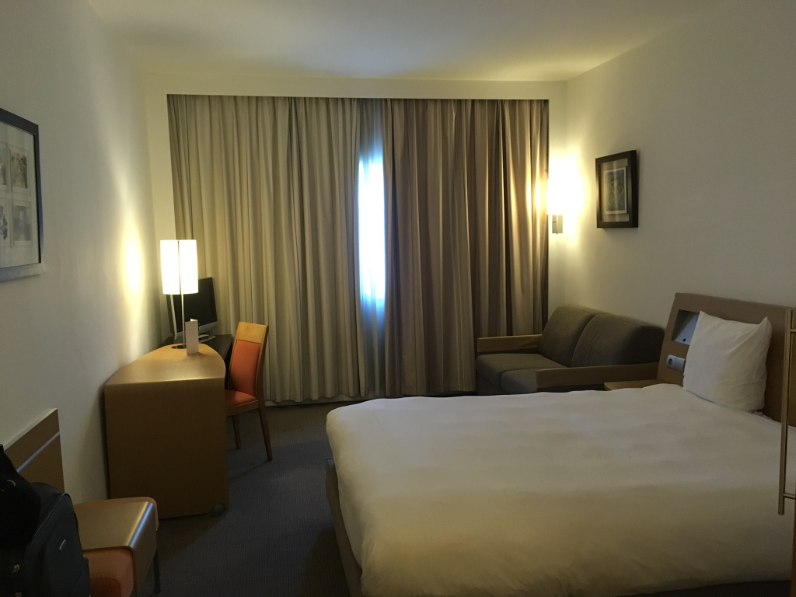 Our room was tight, but immaculate. It was designed for convenience and appeared to be in an excellent state of repair. The entire hotel seems newer than some of the other hotels we stayed at, so there were no signs of wear or aging. The room had an interesting design, with a small hallway leading to the main room and a corner-entrance shower. The toilet was located in its own small room to the right as soon as you enter the hotel room. A closet was located to the left followed by a small refrigerator and safe.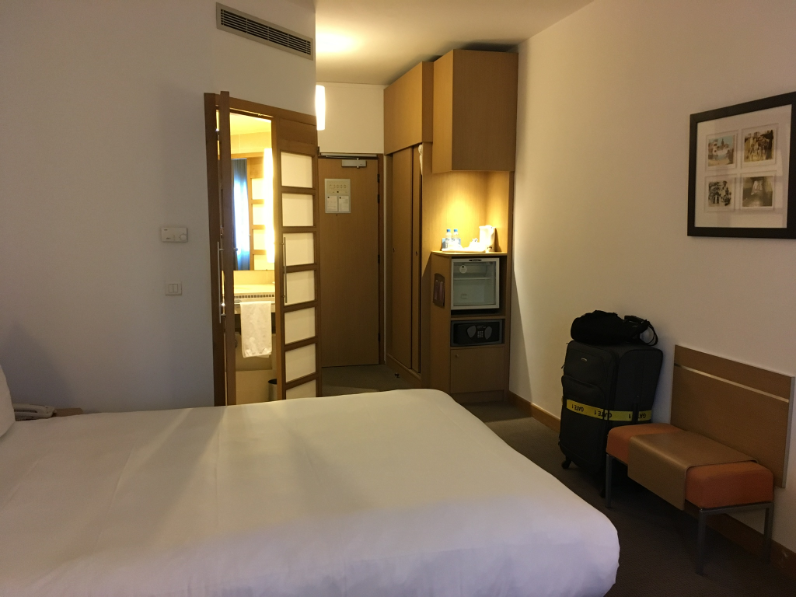 Our room overlooked the rooftop and didn't offer much of a view. The hotel is located in the middle of a business area, so there are plenty of tall buildings nearby. Most importantly, the room was clean and comfortable. The bed was a bit softer than some of the other beds we slept in during our trip to Morocco. That was a nice break for our final night in Morocco. We had a super early flight the following morning. We ate lunch and dinner down by the water, which was not close enough to walk. But guests can eat at the hotel or walk just a block or two away to fine several places to eat. The location was fairly convenient.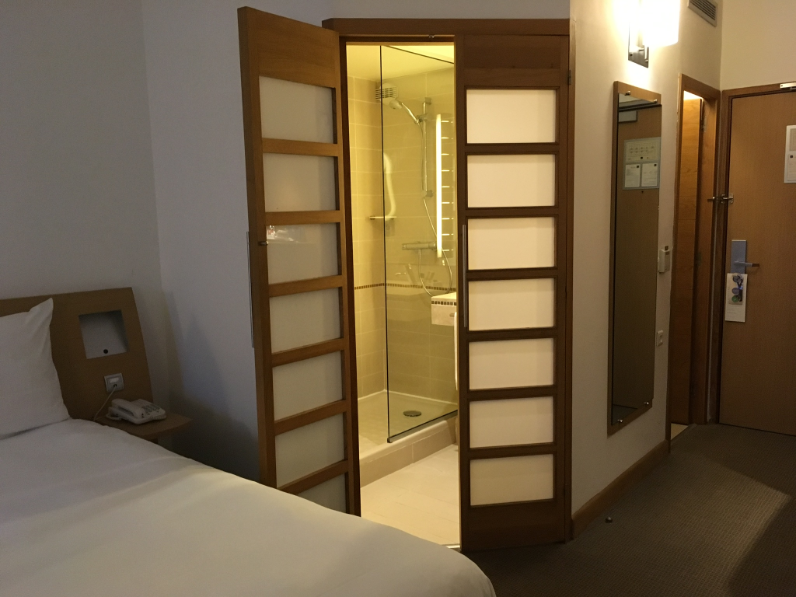 We didn't spend much time in this room. We spent most of the first day touring Casablanca, arriving back late at night. The hotel put out an early breakfast for us, which was very well received. We left for the airport at 4am. For a hotel to cater to about six of us and have breakfast ready was surprising. While we didn't have a full breakfast menu, there was plenty to choose from. Most importantly, fresh coffee. During the brief time we were in the room, the wifi signal seemed adequate for light use (checking email).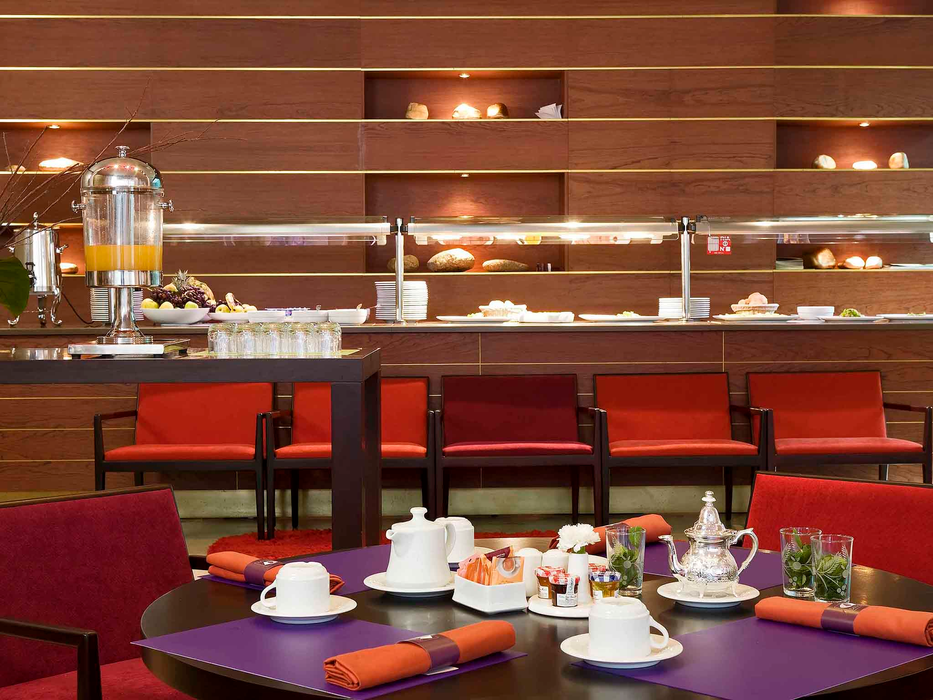 Source
Hotel Novotel Casablanca City Center is located at Address: Angle Zaid Ouhmad, Rue Sidi Belyout, Casablanca 20190, Morocco. Phone: +212 520-480001. Rooms at this hotel currently appear to be selling around $135. The lowest price I have seen was in the range of $91, although there may be restrictions at that price. The hotel was conveniently located, had friendly staff and clean, comfortable rooms. The price appears to be average for the area this hotel is located. The hotel went above and beyond to accommodate us by preparing breakfast at 4:00 am. That was definitely unexpected and a bit extraordinary. I spend between 75 and 100 nights per year in a hotel and have never had a hotel put out breakfast that early for six travelers. Kudos for that.
All photos except the last are my own. They may be reproduced with prior permission.