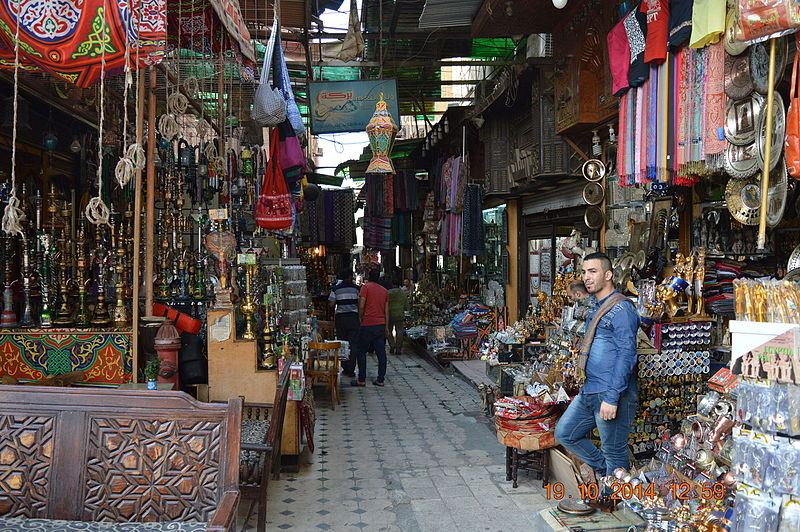 Source
Any visit to Egypt should include an obligatory trip to Khan al-Khalili (aka Kan el-Khalili or Khan el-Khalili). Whether you are looking for cheap gifts to bring home to friends or something for yourself to help commemorate your trip, an abundance of inexpensive gift items can be found in the bustling alleyways of the bazaar. Khan Al-Khalili is located off of Shari al-Azhar road and covers an immense area surrounding the Mosque of Sayyidna al-Husayn and the Al-Azhar Mosque.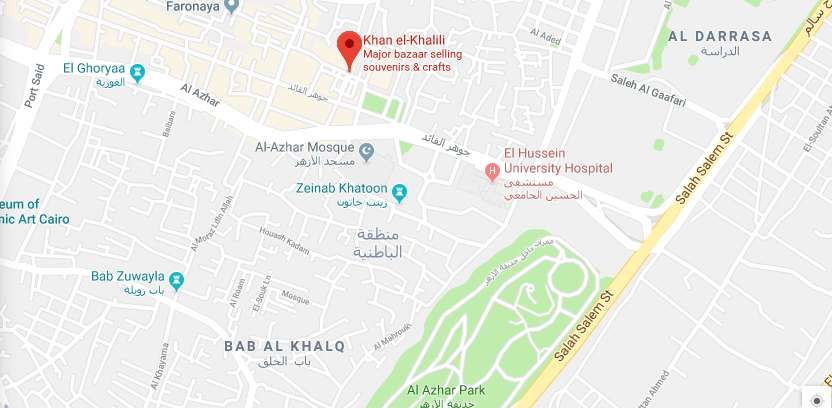 Google Maps
I will begin my exploration of the bazaar with a firm warning. The market is full of "guides" who speak whatever language it is you speak. Some are polyglots, others look for visitors who they think speak the language they know before moving in for the kill. Americans are a fairly easy target. We like to wear advertisements all over our clothing. I made it a point not to wear any logos, insignia or even clothing with English writing on it, but was still easily targeted as an American. We have a look, a walk, a style that is easily spotted (as diverse as we are). I was surprised at how easily I was able to tell Americans apart from the other visitors to the Bazaar...it doesn't take much practice.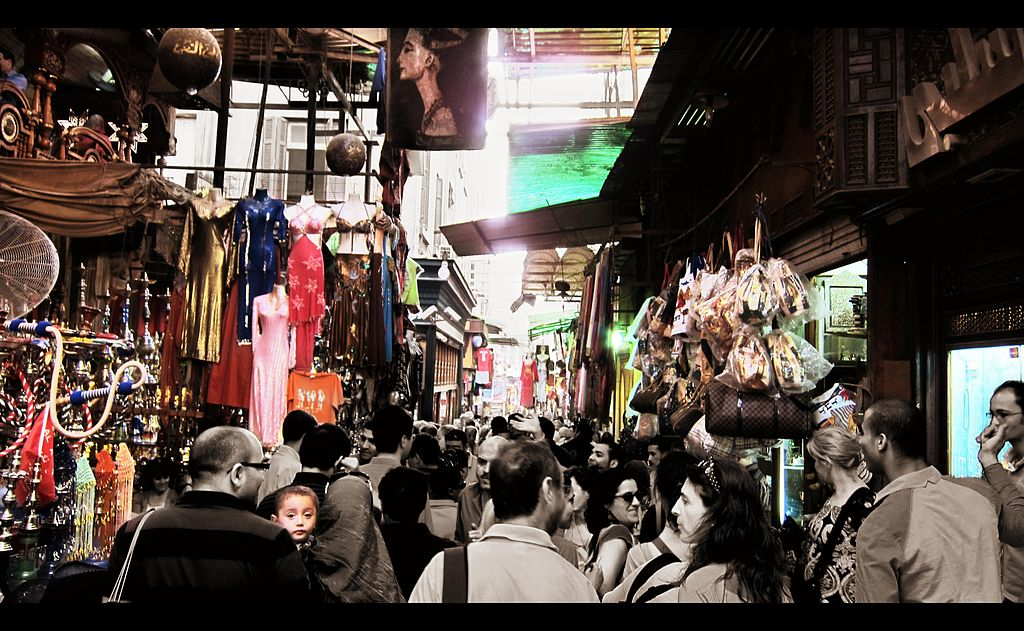 Source
So what is a "guide?" They are vultures who will try to befriend visitors by claiming to have a family member (most likely in New Jersey) in America. They speak English fairly well and want to help you navigate the market. What they are after is a commission. They will tell you that they own several shops or that their family owns different stores and they can help you get the best price. You won't get the best price with a guide, because the shop owner has to figure in the inevitable commission he will have to pay your guide. Your best bet is to learn how to be rude and tell them to go away or that you prefer to shop alone. They are persistent, so you must be as well.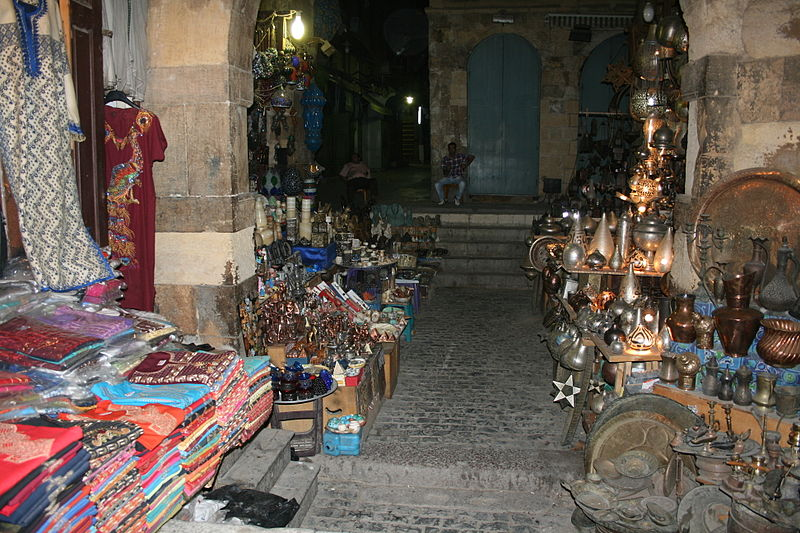 Source
What kind of gifts are available at Khan el-Khalili? If it has ties to Egypt, you will find it at the bazaar. The bazaar is filled with inexpensive papyrus paintings, scarves, t-shirts, perfumes, blown glass, miniature mummies, Egyptian style clothing, jewelry (especially gold and silver), amber, applique, baskets, musical instruments, sheesha pipes, hand-made chess sets or wooden boxes, spoons, bottle openers, perfume bottles and much, much more.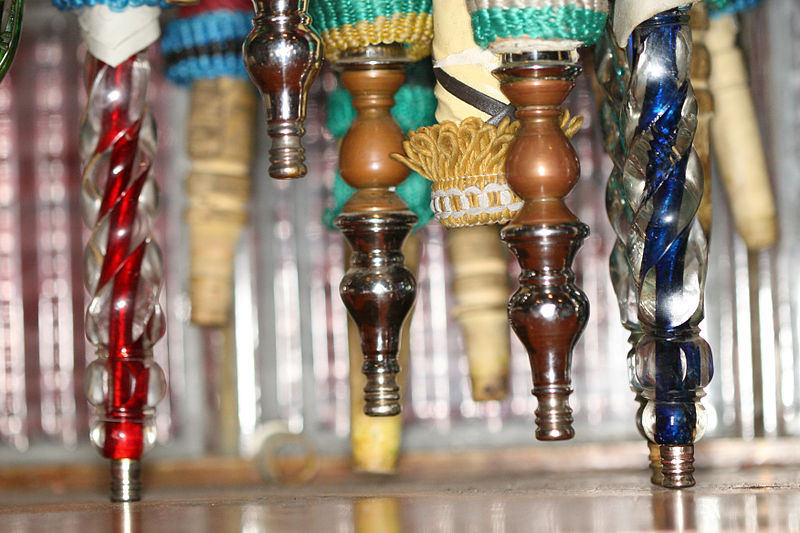 Source
What kind of quality are these gifts? When you are shopping in the bazaar, you should be aware that the quality is going to be reflected in the price. The initial price you are offered will be substantially inflated to allow for dickering, which is encouraged in the bazaar. If you are buying a bottle of perfume, you might be able to get it for as low as around four dollars for 50 ml. This same bottle might cost 20 US Dollars at a perfume shop...the reason for the discrepancy in price is the quality of the perfume. The bazaar merchants mix the perfume with oil to stretch it out. These cheap versions smell just as good as the original but are less potent. They make excellent gifts for family, but buy your own at the perfume shop. The same rule goes throughout the bazaar. Use your eyes to determine the quality and then pay a price that you think is fair for what you are seeing. Following are some examples of things to look for: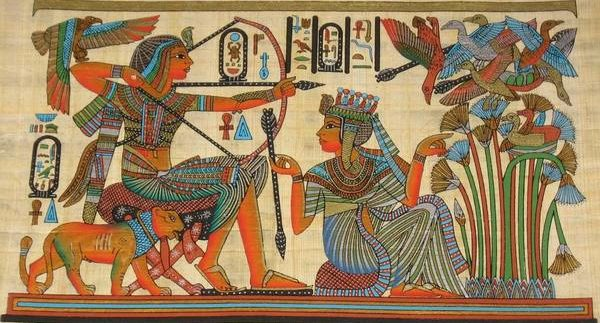 Source
Papyrus. Papyrus paintings are a rediscovered art in Egypt. If you go to a government shop, you will be treated to a demonstration on how papyrus paper is made. It is a fun experience that I would recommend. The government shops provide certificates of authenticity for the paper and paintings which come from a variety of local artists (many from the University). They normally depict actual scenes taken from ancient tombs, but also include variations. The quality of the artwork is subjective and the prices fluctuate drastically. You can pay as much as one thousand dollars for a large papyrus painting from an established artist. In the bazaar, the paintings are often on banana leaf instead of papyrus. The art can be found for as little as a quarter, but these are stamped and not painted. I purchased some certified art that was hand-painted for my home...I paid 72 dollars for two paintings...so the prices can be reasonable for hand-painted art, but not necessarily "cheap."
Perfume. As mentioned earlier, the perfume in the bazaar is cut with oil. I purchased some of the cheap perfume to give as gifts. However, I visited a certified government shop for my own fragrances. The certified fragrance is not cut with oil and a little bit goes a long way. These wholesalers make the notes that are used by the major fragrance manufacturers. The shops offer basic single notes that have a variety of health benefits when used as aromatherapy. There are also blends that are intended to be used as perfume (or cologne). It takes exactly one drop to keep you smelling nice all day. The scents fade near the evening time but have surprising potency and staying power. 100 ml runs around 40 US Dollars. Not cheap, but not cheaply made, either. The video is a generic youtube video that gives you an idea of the experience visiting one of the shops. It is not my own video.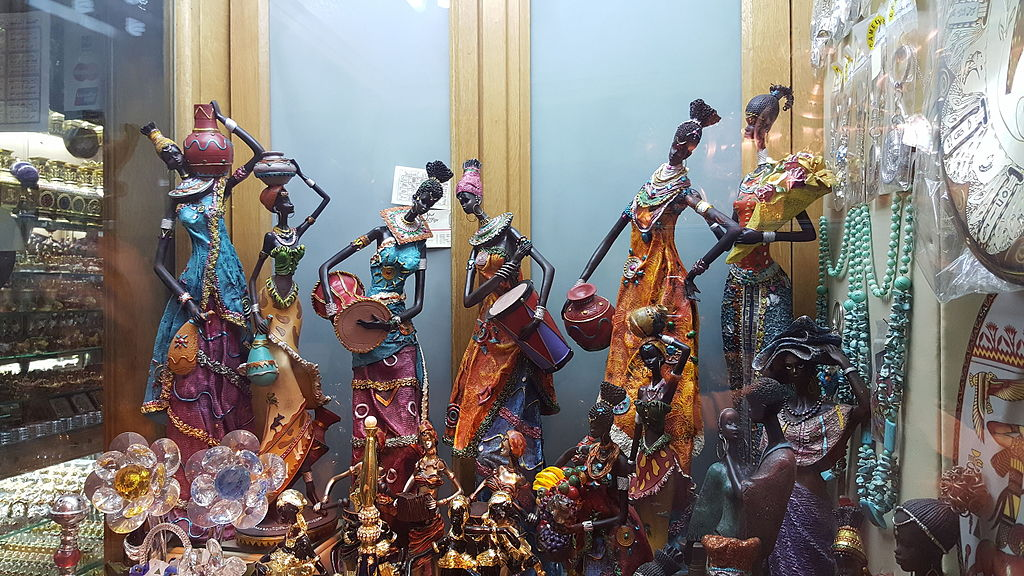 Source
Woodwork. Khan Al-Khalili has plenty of magnificent wood products that demonstrate the incredible artistry of the local population. A wooden chess set colored with in-laid mother-of-pearl can be had for around 40 dollars. You can dicker the price down a bit from there. The chess sets double as a backgammon board, which is a very popular game in Egypt. There are also small wooden jewelry chests which are decorated with Muslim and Christian designs which can be had for as little as five dollars US. I would recommend picking up an inexpensive piece of woodwork if you appreciate that type of art. The quality differs from piece to piece, so examine them closely for missing bits of mother-of-pearl or uneven varnish.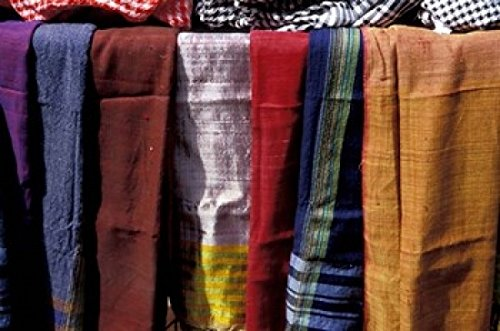 Source
Scarves, T-shirts and other Textiles. I am not a textile expert and cannot address the authenticity of the products available at the bazaar. I saw some baubles in a few of the shops that had "Made in China" stickers on them. I would tend to believe that some of the textiles may draw their origins to China, even though Egypt is known for her cotton. The T-shirts all have tags in them that read "100 percent Egyptian Cotton" but I would take any claim like that with a grain of salt. The scarves vary from cotton to pashmina to cashmere. Again, I can't say whether or not these products are what they claim to be, but I can speak to the prices. A pashmina scarf can be had for a song. They will normally start you out around ten USD (or higher) but will normally settle for less than three US dollars. The cashmere scarves are larger and heavy duty and will start quite a bit higher. I bought a nice cashmere scarf for men (with camels on it) for just over seven dollars. It is worth that price regardless of the material it is made of. I did not buy any of the traditional Egyptian garb because I find it highly unlikely that I will ever wear it (I didn't want to tote back the extra clothing just to wear for Halloween).
Hand-Blown Glass. The quality of the hand-blown glass also varies greatly. I believe some of it borders on plastic. These ornate glass bottles are excellent containers for the perfume that you will inevitably purchase. I bought a couple of nice bottles and a tea candle aromatherapy device for around three dollars per item. I bought some cheaper small perfume bottles to use as gifts. They came in a set of five for less than two dollars (a very inexpensive gift)...filled with the cheap perfume, they still only set me back a couple of buck each (and were very well received). On the higher end, I visited a glass shop where I purchased a crystal perfume bottle. It was an amazing piece of glass with evident artistry. I paid just over twenty dollars for this piece, but felt it would easily cost closer to one hundred dollars back home. If you get a chance to visit a perfume store, you may be treated to a glass blowing demonstration, which is great fun to watch!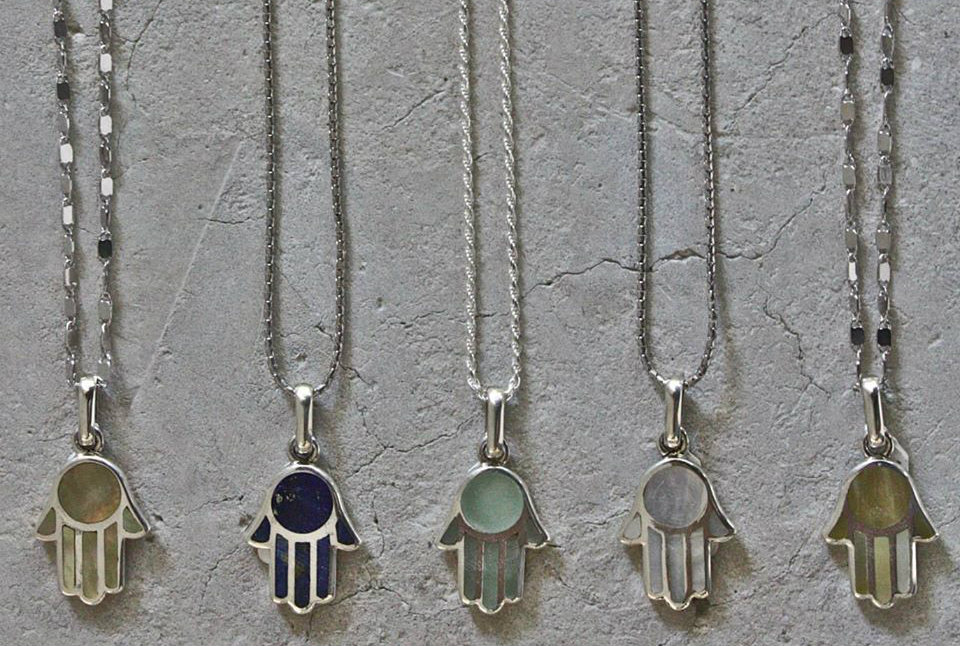 Source
Jewelery. This is another area where I would be cautious. It is hard to know what you are getting in Egypt and tricksters abound. I would definitely try to stick to established vendors to prevent being taken. In Egypt, one of the popular pieces of jewelry for tourists is called a cartouche. The cartouche has an oblong shape with the owner's name on it, commonly found in Egyptian tombs. The hieroglyphics correspond to English letters, so you can have your name placed inside a cartouche to wear around your neck. A silver cartouche runs as low as thirty dollars. I bought one with an ornate outer edge and 18K gold letters for just over forty dollars. I also purchased a .925 silver ring with silver letters for slightly less. For an 18K gold cartouche, I was quoted just under one hundred dollars. Not a bad price, but more than I wanted to risk for an unknown metal. I would easily have paid forty dollars for my ring even if I was told it was made of steel. I believe it actually is silver, though.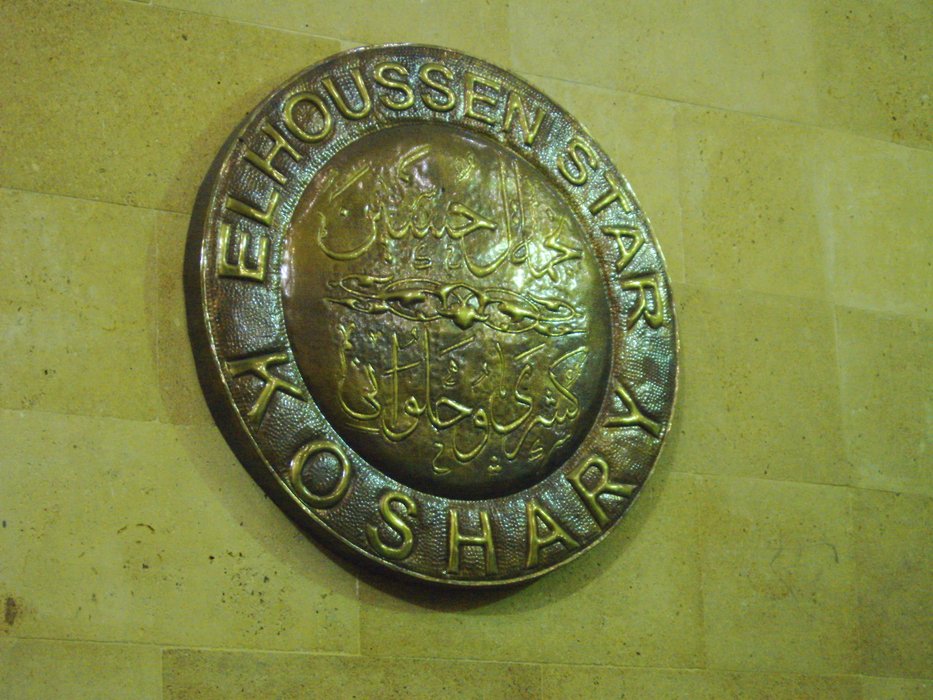 This is my own image. It may be used with prior permission.
Are there any eating establishments nearby? Yes. Along the front side of the bazaar, facing the Mosque of Sayyidna al-Husayn are a row of restaurants that aggressively pursue passers-by. There are about half a dozen restaurants that all appeared to serve traditional Egyptian fare. There are two or three more restaurants and a sheesha shop or two located within the bowels of the bazaar. The bazaar has security check-points at most of the tourist entrances that perform cursory searches. It is mere window dressing as the far entrances have no security whatsoever. The check-points are not difficult to navigate. I would suggest venturing out of the more secure bazaar area to experience some great Egyptian food. There is a Koshary just beyond the bazaar that has great food for a fraction of the bazaar prices. There is also a juice shop just beyond there were a plastic cup of fresh juice is merely fifty cents.
If you have the opportunity to visit Khan Al-Khalili during your trip to Egypt, you will be given plenty of opportunities to stock up on cheap gifts for friends and family as well as nicer gifts for yourself. There are a few ATMs located in the bazaar in case you find yourself running short. You can take a meal and enjoy the bazaar at a leisurely pace. However, be aware of the constant barrage of vultures who want to take advantage of you. They are rampant in the bazaar and will cause you grief. The best advice I can give you is to be polite but firm when dealing with these "guides" who pretend to like you. If you show any sign of weakness they will exploit it for all they can. Enjoy the sights, sounds and smells of the bazaar and come away with bags and bags of trinkets and baubles to commemorate your trip!