![](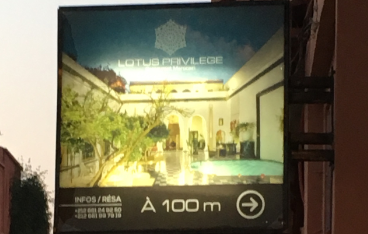 )
Tucked away down a narrow alley in the Marrakech Medina is a hidden secret. It is an opulent private residence that has been converted into a restaurant. Guests are guided to Lotus Privilege by a guide who stands at the intersection of the alleyway and the nearby road. A sign at the corner assures guests that they have arrived at the correct location, pointing down the alley with an indication that they are only 100 meters away. It was nice to have someone waiting for us as well, because it is incredibly easy to miss. One would never guess at the affluence hidden behind the plaster walls of the otherwise seedy-looking alley.
![a32.png](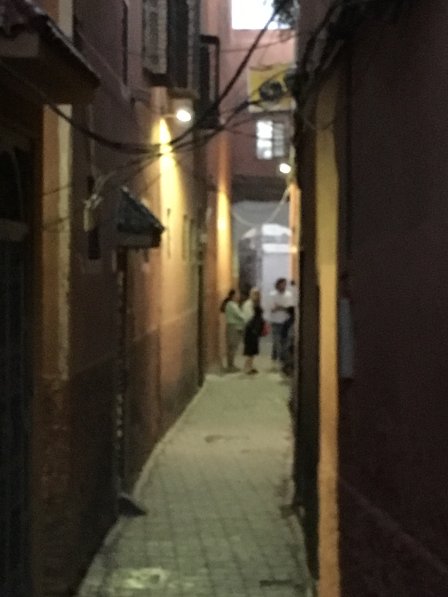 )
Walking down the alley, I had no concept of the beauty and extravagance that was only steps away. As we rounded the corner into Lotus Privilege, we were greeted with an immense garden with lush vegetation within a private courtyard. This was just the beginning. As we navigated the walkway, the personal touches were everywhere. From a large "gong" to small bridges over the water. It was peaceful and serene. I did not realize at the time that this was a private residence.
As we passed through the garden, we entered a large foyer with art covering the walls. Minstrels greeted us with traditional music. We were provided cocktails as we enjoyed our introductory entertainment. Complete with hats with twirling tassels that we had seen at other stops along our journey. It was a lively way to begin our evening. After the introductory music, we were guided down a hallway where a staff member poured hot water from a silver urn onto fresh wash cloths so we could freshen up before our meal.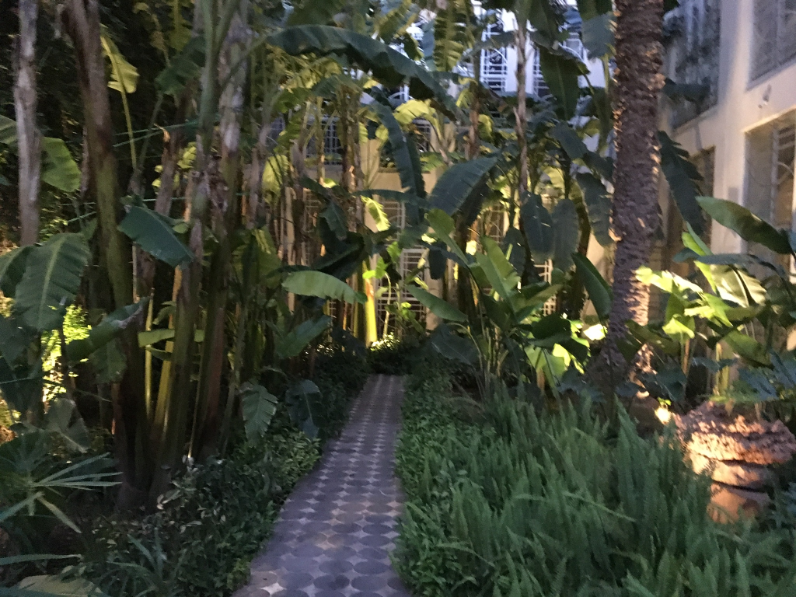 Because this is a residence, the dining options are divided up into a series of private dining rooms. The first hallway led us into the indoor pool area, which also had seating for guests. We were in a private room just off the pool area. There was an exterior door that led into another garden with a bar area directly opposite our dining room across the garden. We had two large tables set up, where we were provided with a prix fixe menu with several selections for dinner and dessert. The appetizers were a variety of Moroccan vegetables.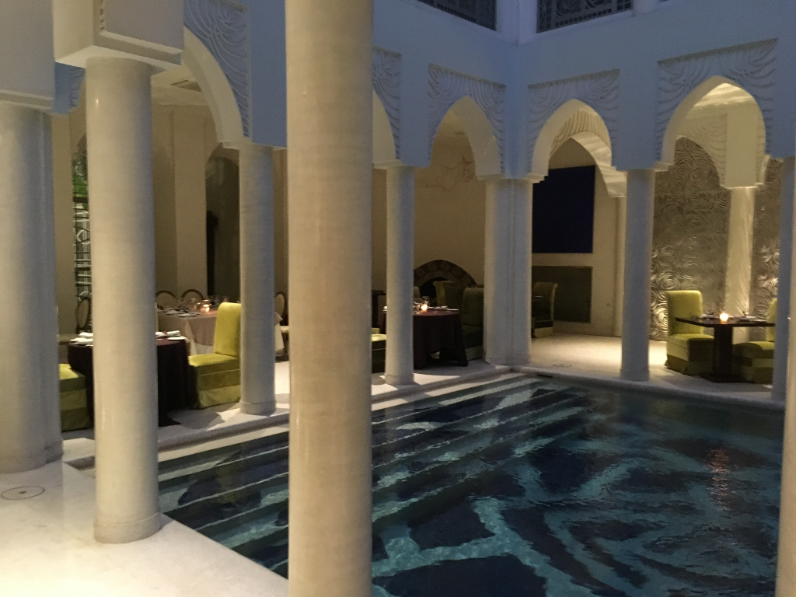 Our menu consisted of Moroccan salads and briwate (cheese, vegetables and beef) for starters. The briwate are like small filled pastries. I think some were coated in honey and rose or orange water. The entree selections included chicken tajine, royal veal tajine with dried fruits and John Dory fish with atlas vegetables. I don't eat fish, but several of my fellow travelers described John Dory as a delicacy. I will take their word for it. I went with the tajine. The desserts were pastilla with light cream and almonds, pastilla with fruit or orange slices with cinnamon and dates. I went with the strawberries and cream pastilla.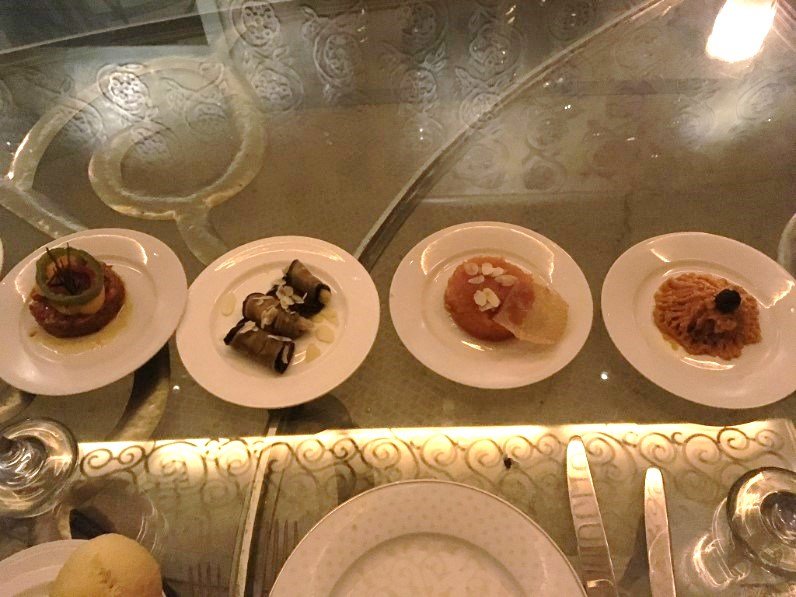 The appetizers came out in sets of five for every three guests (one is missing from my photo). That was a pretty healthy serving of vegetables. They included rolled eggplant, carrots, squash and a couple of other dishes. I can't recall what the individual vegetables included. I really liked the briwate, which reminded me of baklava, but not very sweet. We were also treated to some excellent local wine or beer. I opted for the beer, while my wife went with the wine. The wine was locally produced. My wife said the wine was excellent, but it doesn't appear you can get this wine in the United States.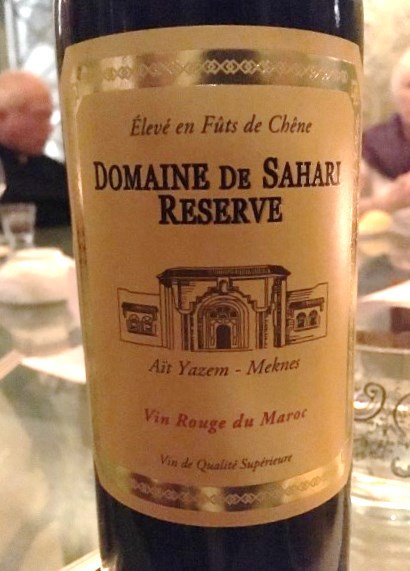 I opted for the veal tajine, while my wife went with the traditional chicken tajine. The main courses had good flavor, but did not look as appetizing as we had experienced at other restaurants. That was surprising to me as the average price for an entree at this restaurant is around thirty dollars. The appetizers and desserts run an additional ten dollars or so each. This is a fine dining establishment and the prices reflect it. While the appetizers and dessert looked exquisite, the entrees seemed a bit dull and uninviting. Luckily, the flavors prevailed.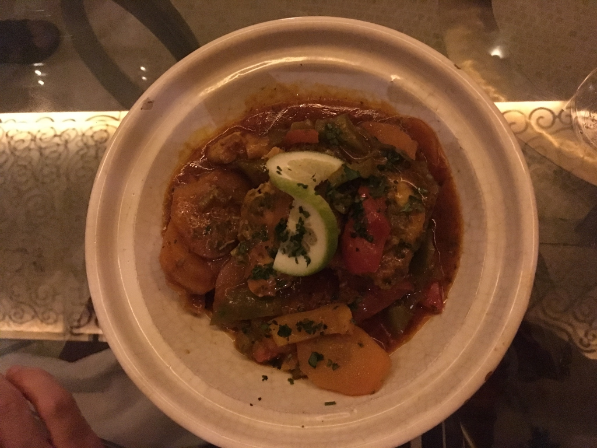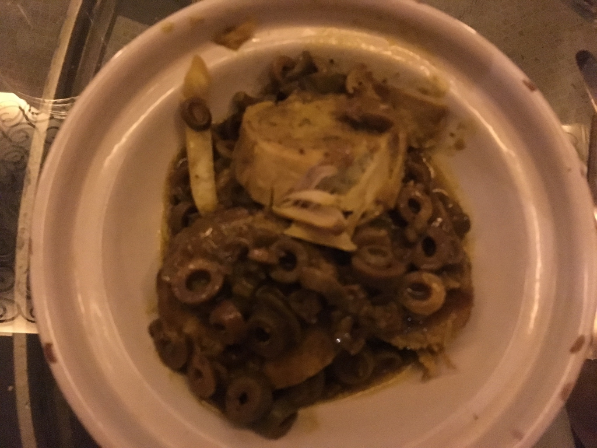 While we enjoyed our meals, we were treated to intermittent entertainment. Two musicians arrived in our private room and serenaded us with traditional Andalusian music. They both played instruments and sang, creating a very nice atmosphere. It was intimate and enjoyable.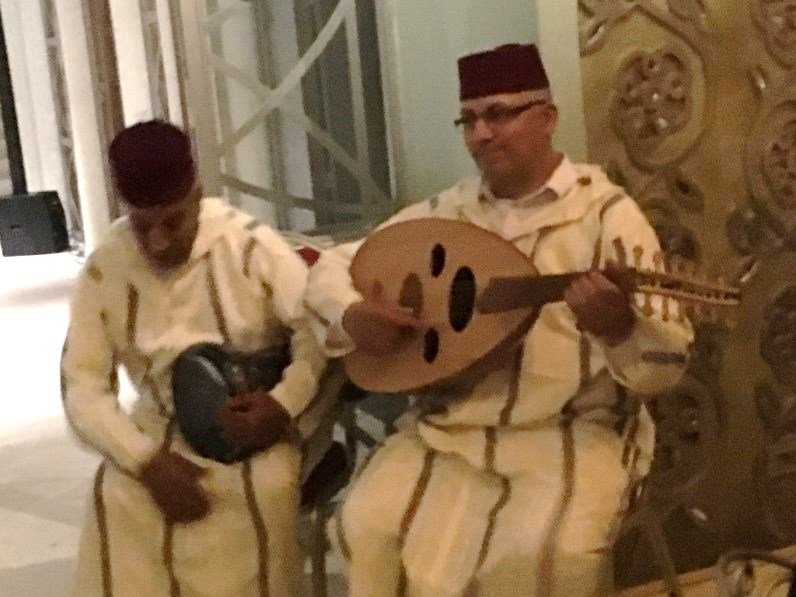 For dessert, I opted for the strawberries and cream, while my wife went with the cream and almond pastry. We were pretty much gorged by the time dessert arrived, but it was just light enough that we were able to squeeze it in. Or maybe we just engaged in a bit of gluttony. Either way, the desserts were delicious. They were delicate, but layered with light flavors. The strawberry dessert I had was a refreshing way to cap off an exquisite meal.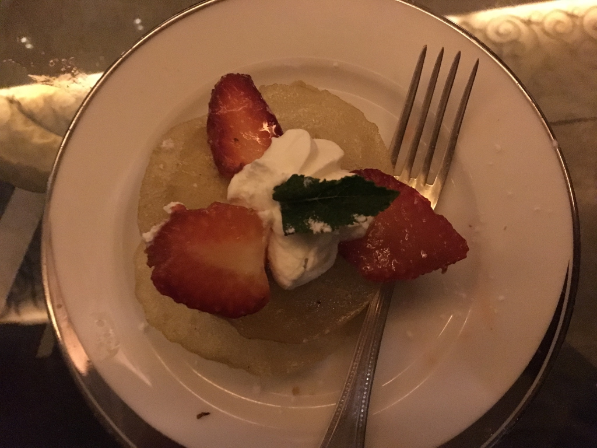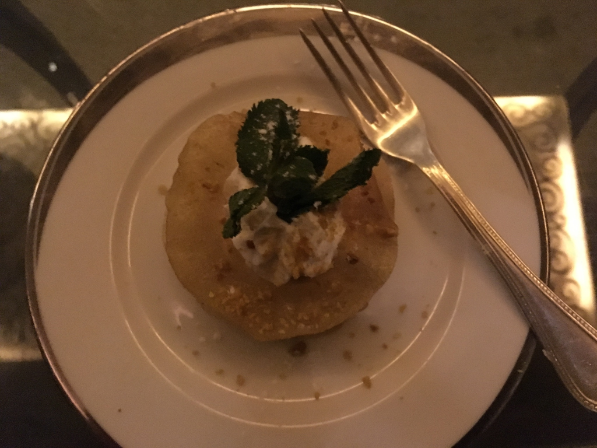 We were provided several more bottles of wine than what we actually paid for, likely because of the size of our group. We dropped well over a thousand dollars on this meal and entertainment, as a group. We were able to enjoy our desserts and wine with some additional entertainment with the arrival of a belly dancer. Our belly dancer was from Ukraine and was utterly mesmerizing to watch. Her performance was a great way to finish our evening. It was dark outside and our room was dimly lit, so my camera and iPhone didn't snap the greatest photos. But I will share the rest of them with you anyway, to give a bit more feel of the opulence of this residence restaurant.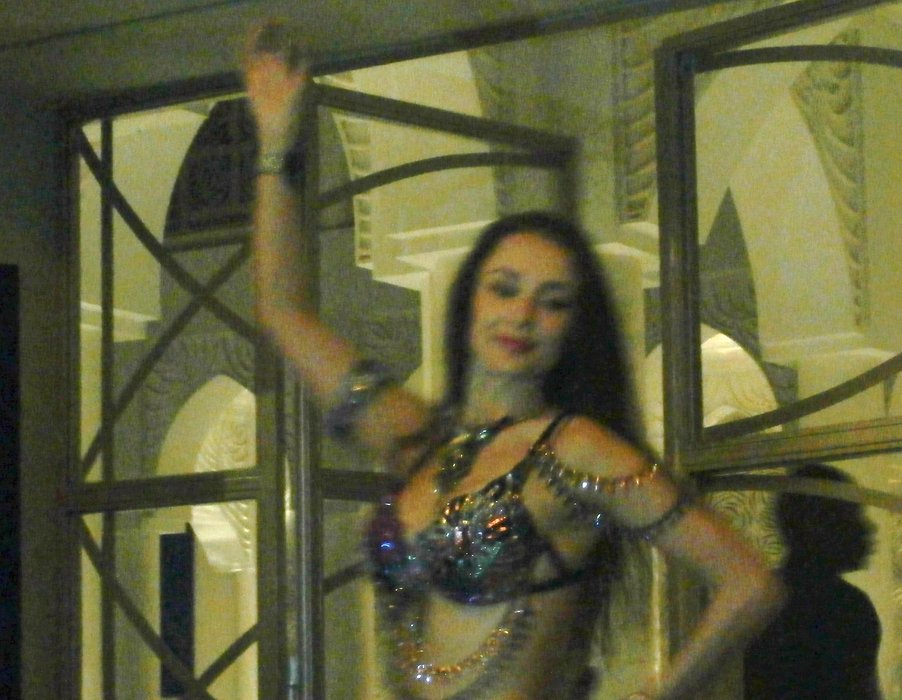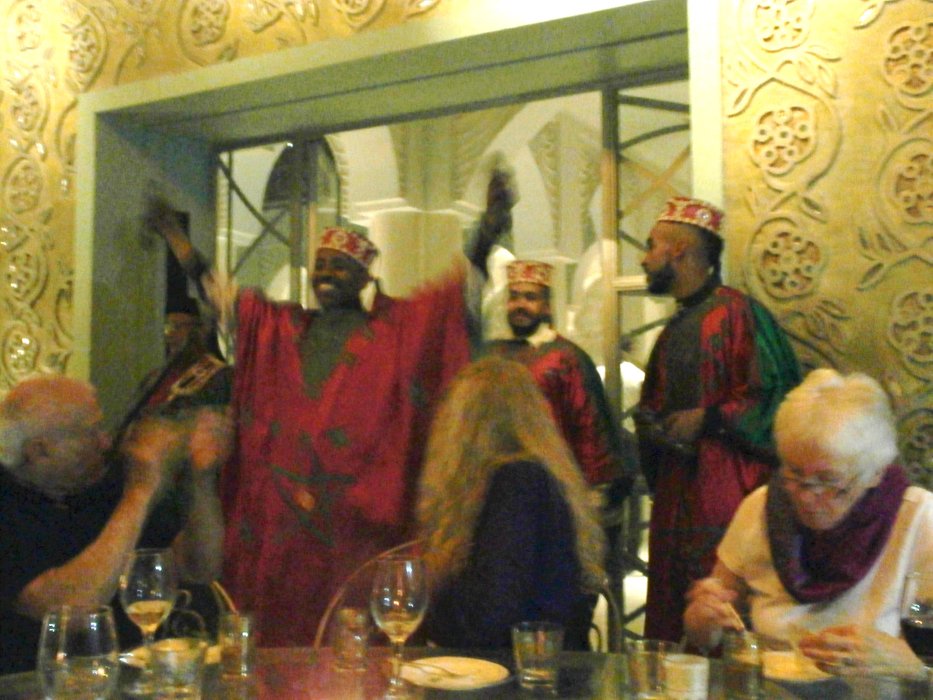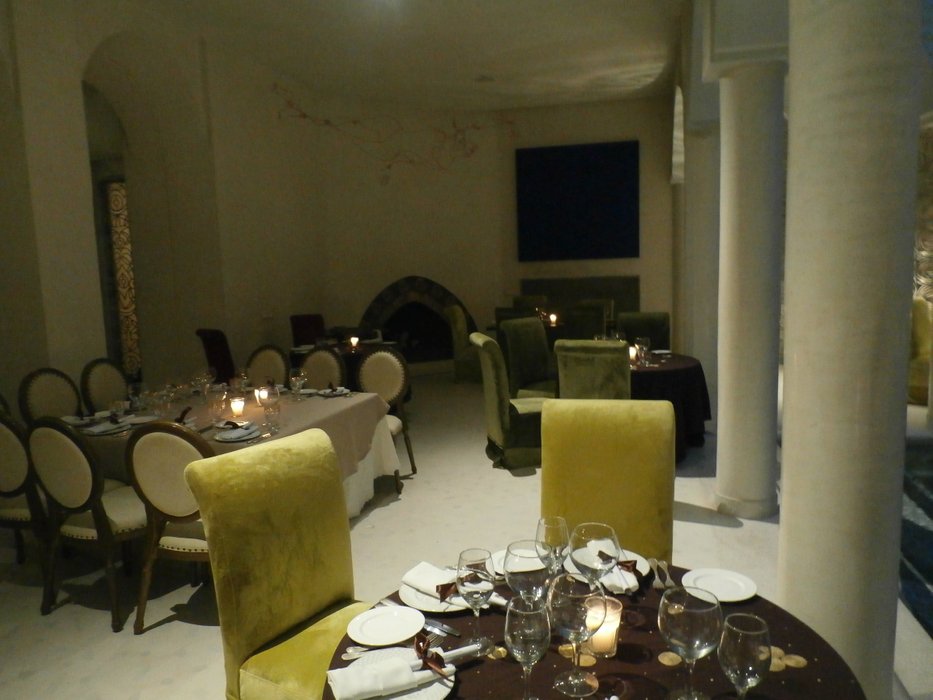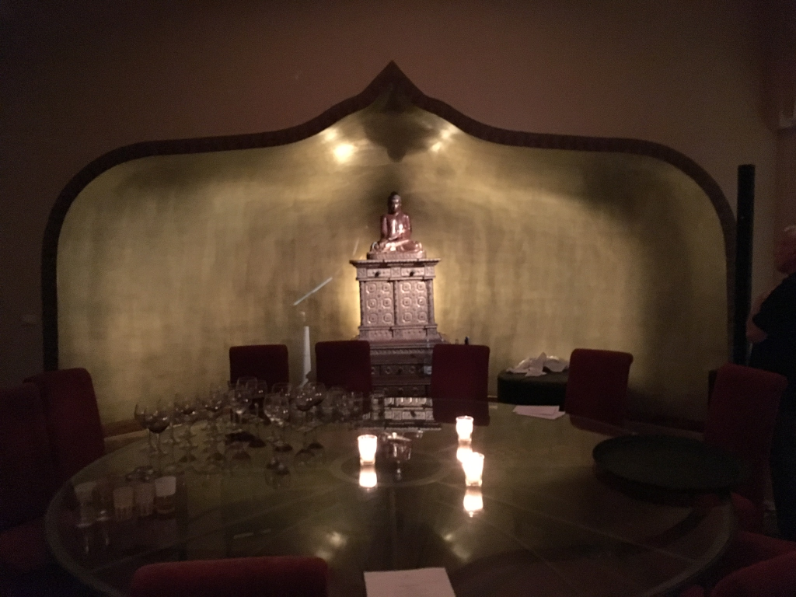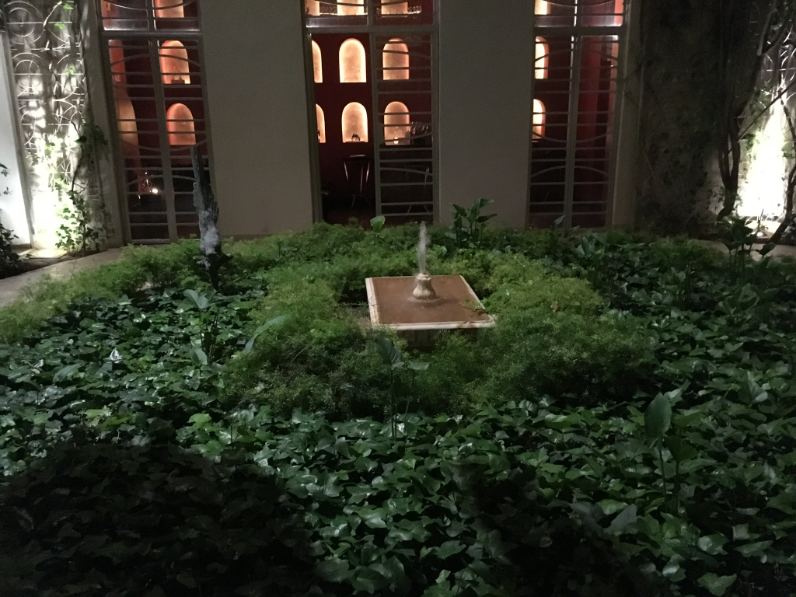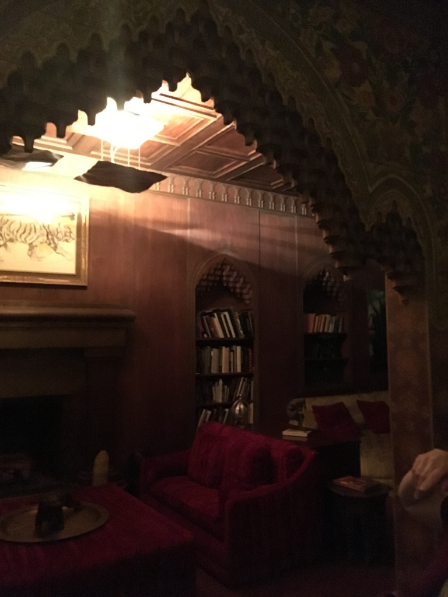 Lotus Privilege is not an inexpensive experience. I would not normally spend fifty dollars on a meal, but I normally don't drink alcohol with my meals, either. With the alcohol included, this experience was likely cheaper than your average chain bar back home. The tips were included in the price, so it ended up being somewhat reasonable. When you add in the entertainment, the food quality and the overall atmosphere, it was an enjoyable evening that was worth the money. If you don't mind splurging a little bit, this is an evening well worth the money. All things considered. And it was a fun time bonding with our fellow travelers as well.
Lotus Privilege is located at 9 , Derb Sidi Ali Ben Hamdouch,
quartier des antiquaires Dar El Bacha,
Marrakech - Maroc
Portable: +212 (0) 6 61 99 79 19
Fixe: +212 (0) 5 24 38 73 18
Email: [email protected]
All photos are my own. They may be reproduced with prior permission.