So I had been intending to do a nice long post on my adventures and had been refraining from posting until I had it done but that just turned into a good excuse for procrastination. My traveling companion convinced me that breaking it down and getting something posted was probably better than that so I guess this is part one.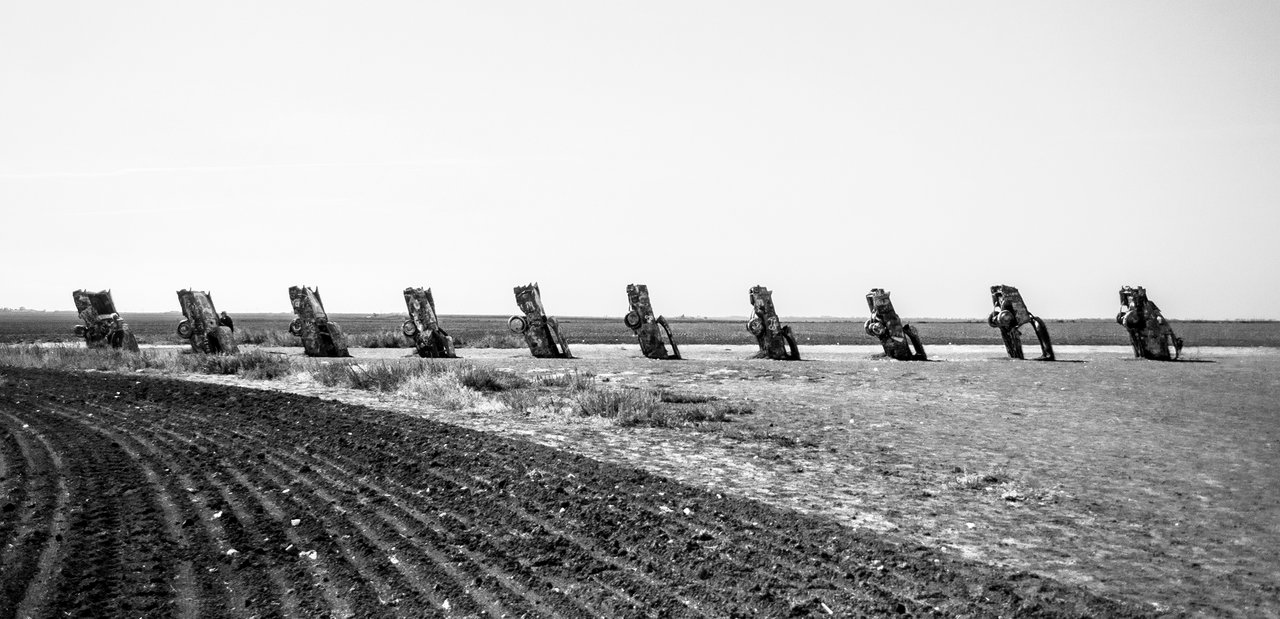 Amarillo, Texas was the first place we stopped in that we had the time to do a little exploring. Although we only spent a single night there we still had enough time for a bit of adventuring, wandering Route 66 and visiting Cadillac Ranch. Our airbnb was only a block away from the historic Route 66 so after getting settled we went out and wandered it for a while.
Route 66 was once a major US highway, running from Chicago to California and eventually became something of a cultural icon ( Check out Nat King Cole singing about it).
However, with the coming of the interstate system Route 66's fate was sealed. To this day the name still calls to mind images of that bygone era and as we wandered along it in Amarillo it almost seemed as if we'd entered a time warp. Nearly all the buildings we passed looked unchanged (and unrepaired in many cases) since the 1950s. We passed a seemingly endless stretch of used car lots and little else before we came to the more active and preserved section still surviving on nostalgia and tourist dollars.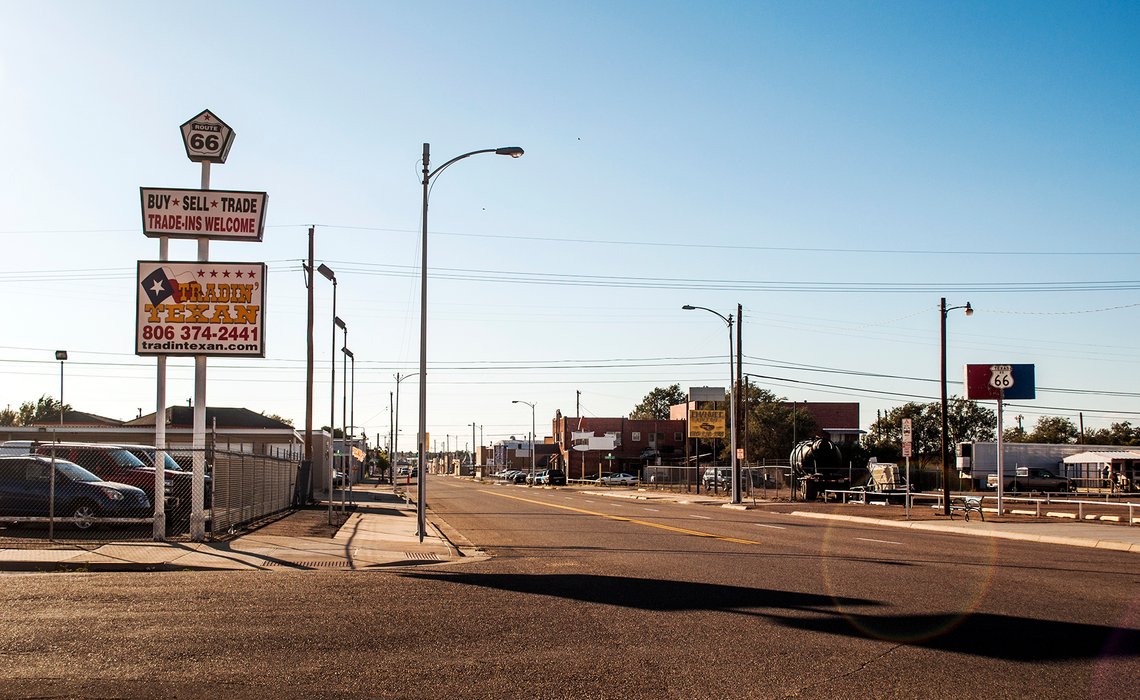 Our first look at Route 66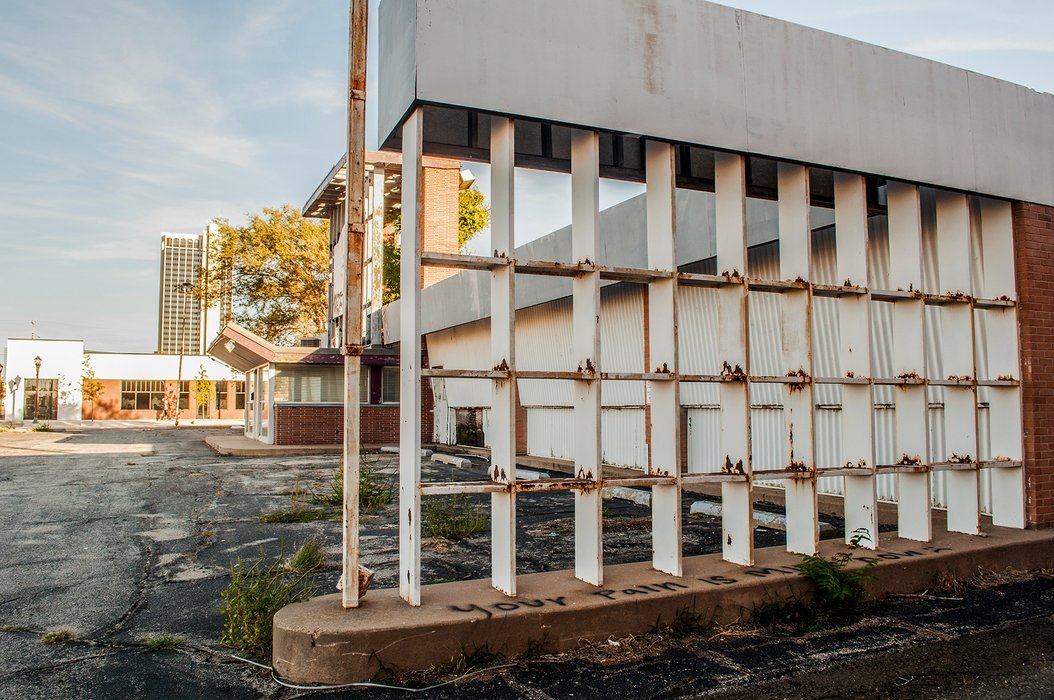 "Your pain is mine now :("
One of the many dilapidated and seemingly abandoned buildings we passed. I think it was a car lot in a past life
We had to walk for a few miles before we made it to the stretch of Route 66 that was still alive and active. If it hadn't been for the almost complete absence of people along those miles it would have seemed a rather sketchy area to be in but we encountered no problems (the cops stared at us though). By the time we made it to the tourist-y part of Route 66 it was starting to get late and most of the stores were already closed but the restaurants weren't. All that walking had caused us to work up a powerful hunger and so we stopped in the Golden Light Cafe for supper. It was a greasy spoon type place with some good hamburgers and absurdly large portions of fries (the two of us didn't even eat half of a small order) that made the claim to being the oldest continuously operating restaurant on Route 66. I don't know how accurate that was but their hamburgers were definitely worth the walk.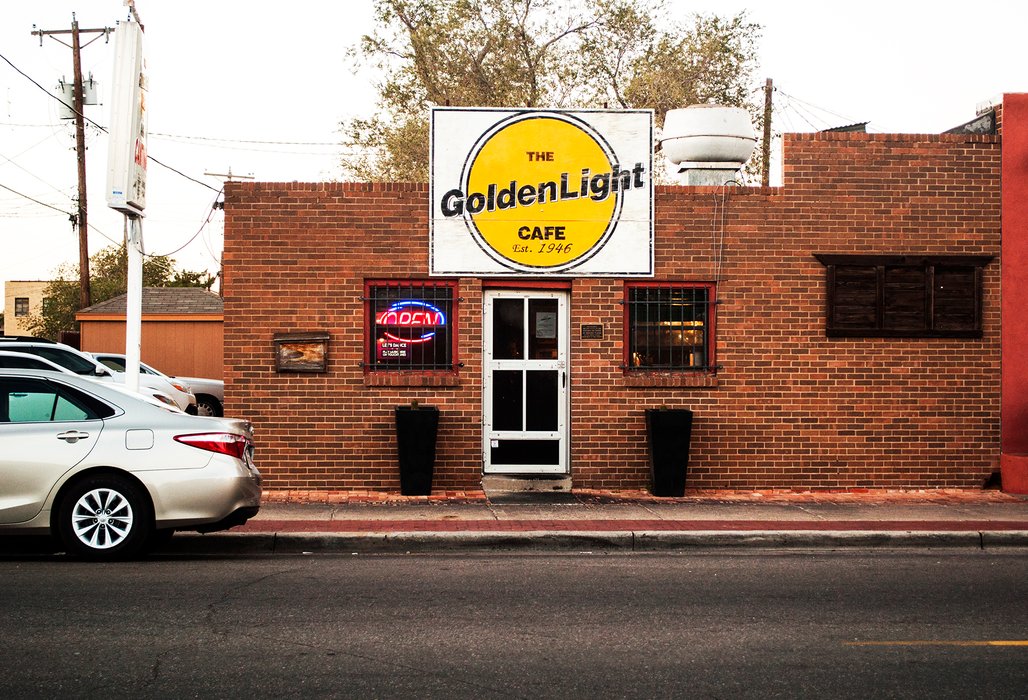 By the time we were done eating it was getting dark so we headed back to get some rest for the next day's adventure, Cadillac Ranch.
Cadillac Ranch was the brainstorm of 3 artists who eventually found someone wealthy and eccentric enough to help them pull it off. It consists of 10 old Cadillacs half buried in a field right off I-40 outside Amarillo. Although it is technically on private property it is open to the public (you just park on the shoulder of the I-40 frontage road outside the field) and anyone can bring their own spray paint and help decorate the Cadillacs (just don't expect it to last too long).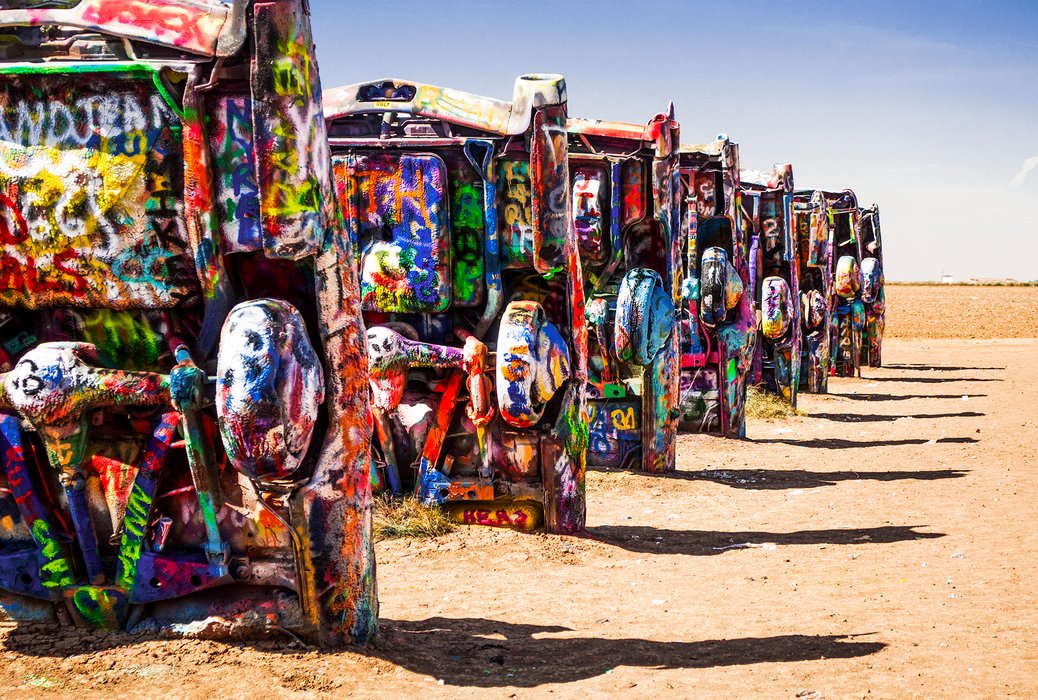 I've never been much count with spray paint so I contributed a quick circle-A (see photo below) and then got to work taking photos.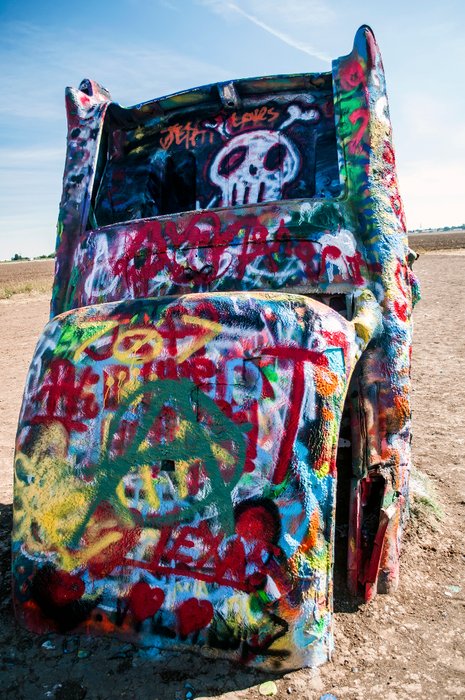 This next shot features my favorite bit of art at the ranch (it's Kermit!) along with my traveling companion making her contribution to the installation.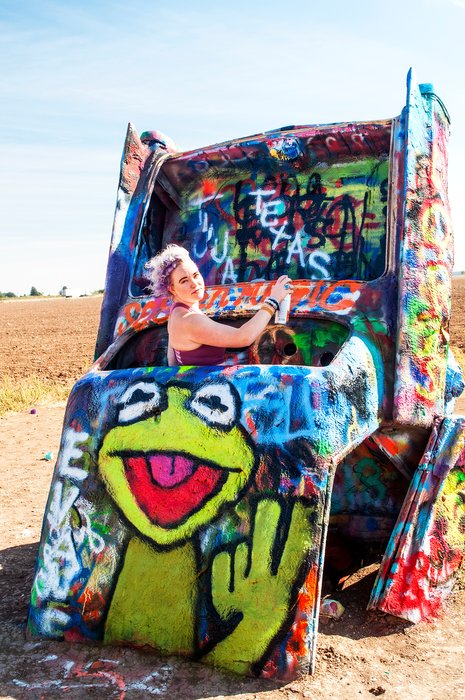 I couldn't pass up the opportunity to climb up on them and take a few photos (photo courtesy of my companion Christine)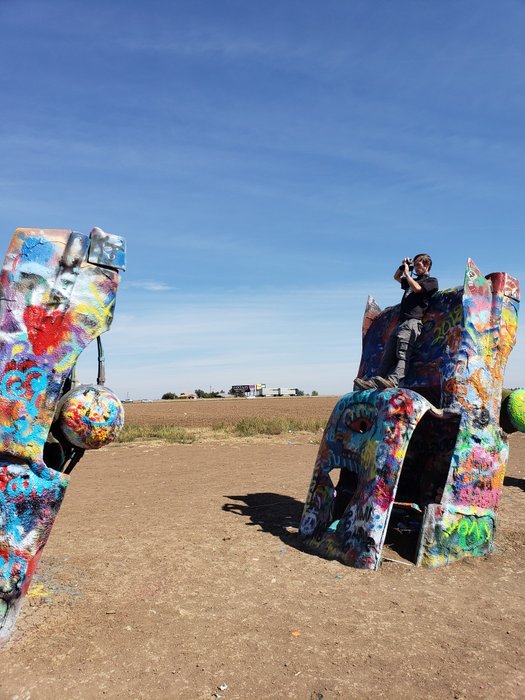 We wound up losing track of time and spending a few hours there, shooting and spray painting. We didn't actually bring any paint with us but people would give us theirs when they were done so by the end of our time there we had quite a collection. If you're ever crossing Texas on I-40 you should stop and visit, it's quite fun and is definitely something to see.