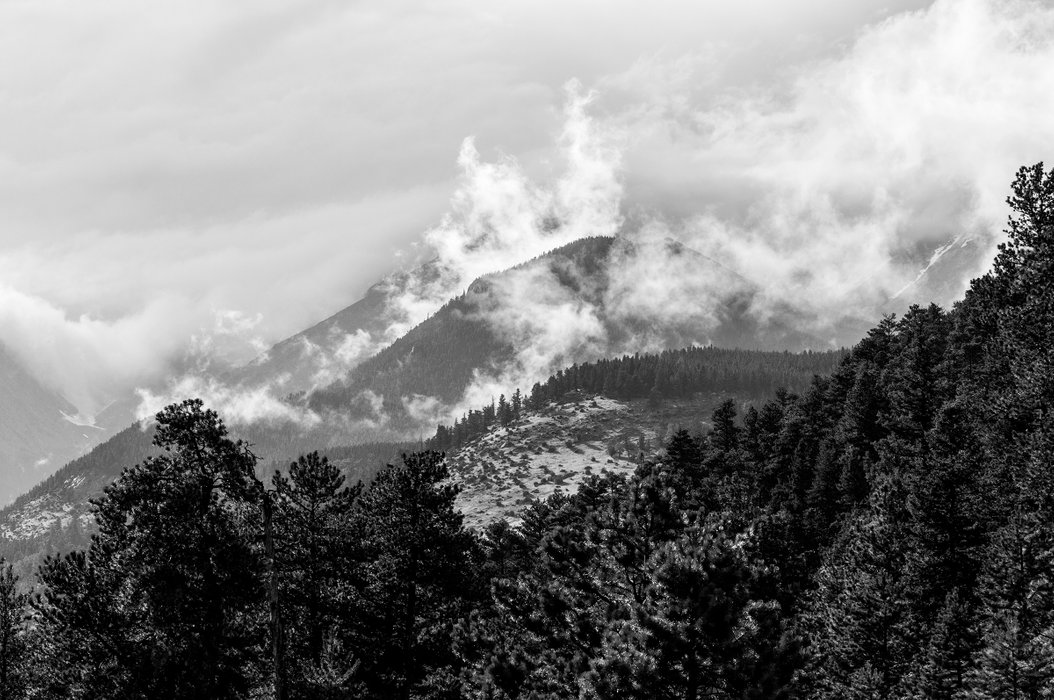 Steemy Mountains -- Rocky Mountains following an afternoon thunderstorm
Rocky Mountain National Park (RMNP) is probably my favorite national park that I've visited in the United States. As some of you may have noticed, I tend to post a good deal of stuff from there (for good reason, it's amazing!) so I thought it was high time I covered it in more depth than my usual photo & a story. I spent a couple weeks camping and hiking as I explored the park last summer, I could easily spend ten times that and not come close to seeing all the park has to offer.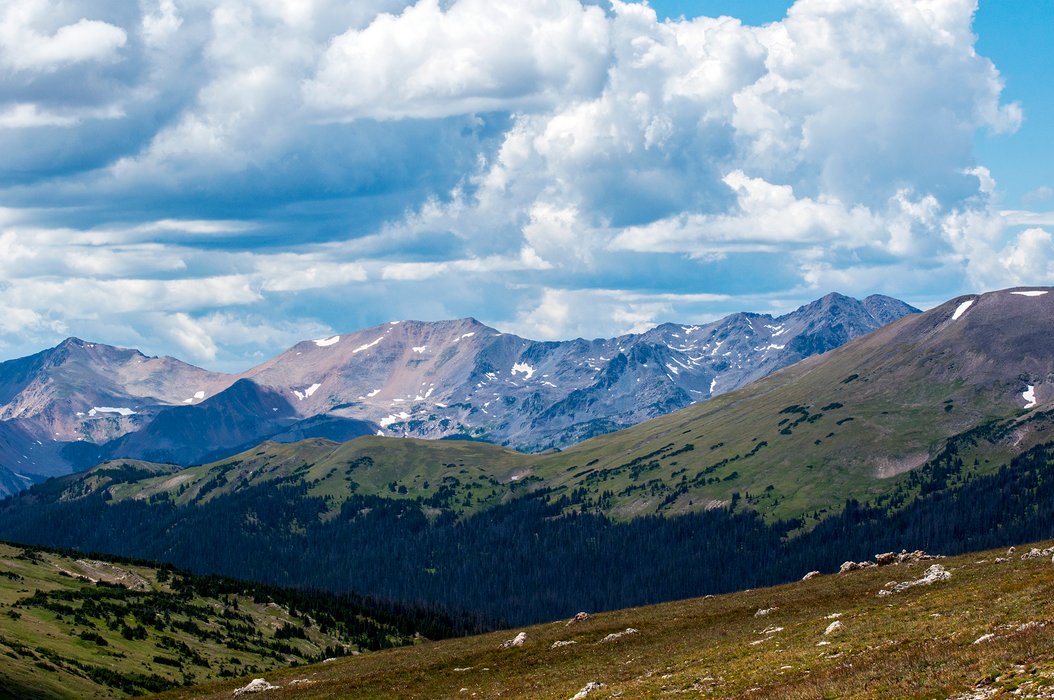 Up Above Treeline -- One of the views from Trail Ridge Road near the Alpine Visitor Center
History & Background
RMNP is located in the state of Colorado (USA), about an hour and a half's drive northwest of Denver. While the Rocky Mountains are one of the world's longest mountain ranges the park itself only preserves a small but important portion of the range. The park has three main entrances, one on the western side at Grand Lake, and two on the eastern side by Estes Park. US-36, the highway that you take from Denver to get to the park, passes through Boulder and a few small mountain towns before reaching Estes Park and RMNP and ending at Trail Ridge Road. US-34 is the other highway that runs through the park, entering in Estes Park before becoming Trail Ridge Road and traveling all the way across the park to the western exit at Grand Lake.
Relatively young on a geologic time scale, the Rocky Mountains are 40 to 70 million years old. They're actually the third set of mountains to occupy the location, the other two having eroded away long before this current bunch arose. Much of the landscape in the park has been sculpted by the ebb and flow of glaciers over millennia. Although the park gets plenty of snow each year, higher summer temperatures since the 1990s have caused the glaciers to melt back. There is still some there but the ones I saw didn't live up to what I had in mind when I thought of glaciers (It's still amazing to see snow in the middle of summer though).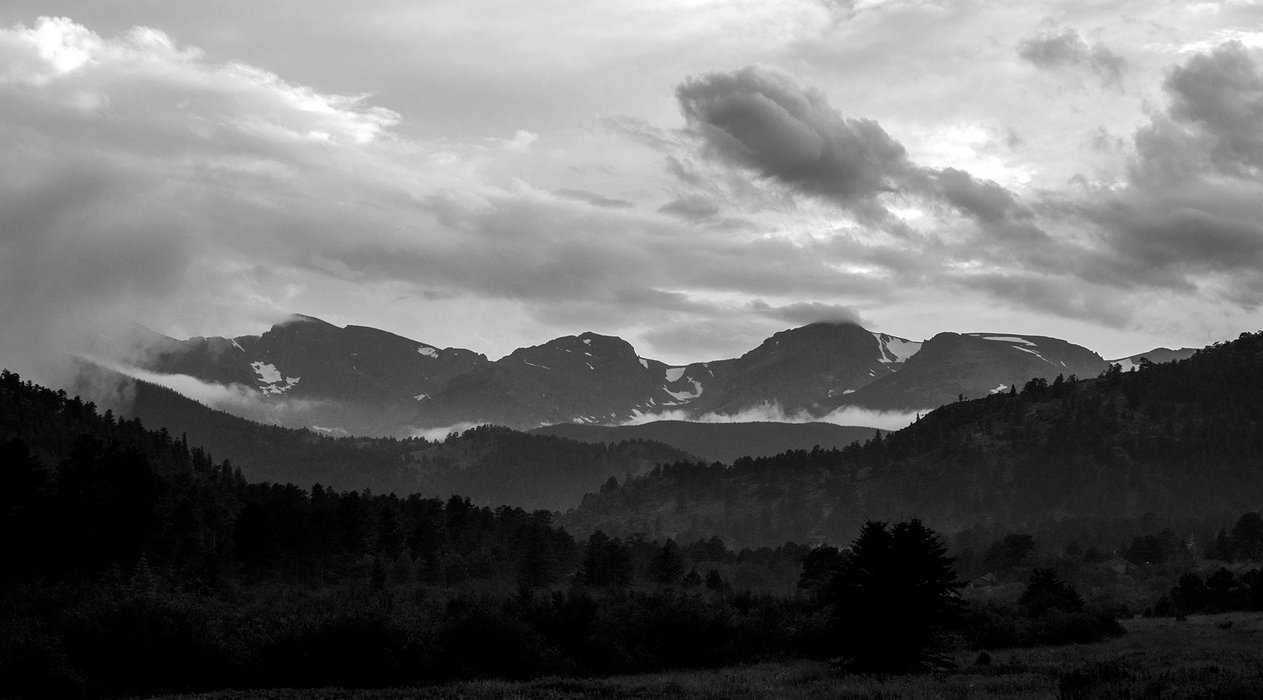 Looking into RMNP from Estes Park, Colorado
Lodging
Finding a place to stay while visiting the park is one of the big challenges (and expenses). Unlike many of the other national parks I've been to, RMNP has no lodges or other forms of accommodation aside from camping. Estes Park has plenty of places to stay, you're just going to pay plenty for them.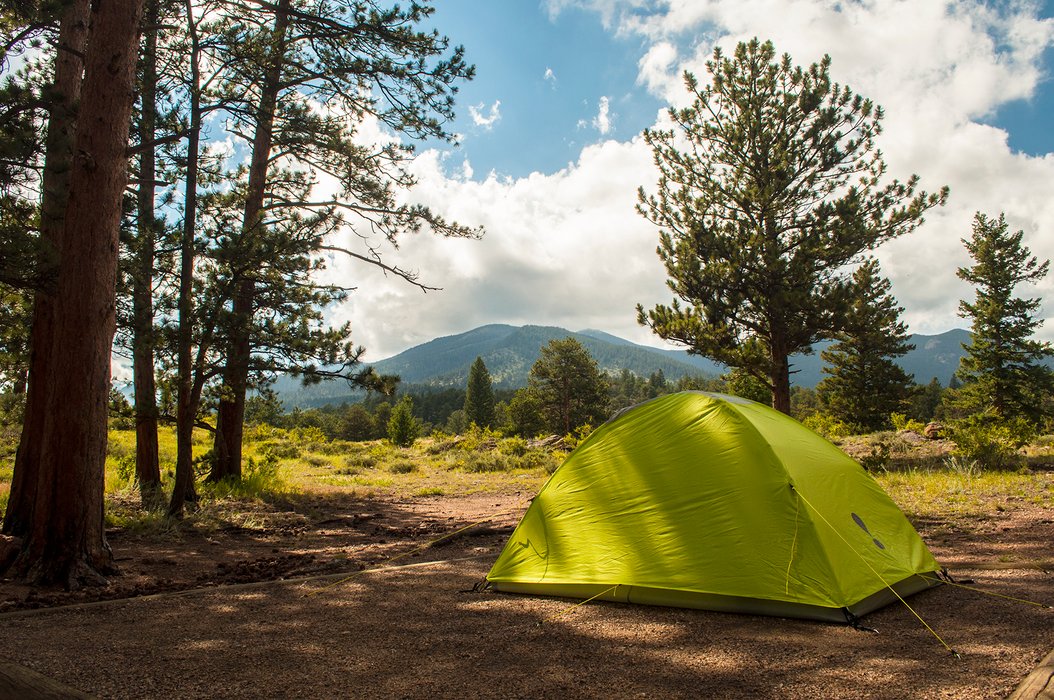 A look at one of my campsites and the view from it
There's three major campgrounds on the east side of the park and one on the western side, along with backcountry camping and a few smaller, out of the way campgrounds. Since I was on a road trip (and a budget) I camped the entire time I was in the park, staying in all three of the eastern campgrounds at one point or another. The Moraine Park campground has a facility for using solar showers (still gotta bring your own though) but aside from that Estes Park is the nearest place to get a shower while there. The Aspenglen Campground got wiped out back in 1982 when a dam high in the mountains gave out and unleashed a flood of water downhill, which eventually hit Estes Park as a six foot high wave of water. It has since been rebuilt but the river that runs by the campground is still littered with boulders left behind by the raging waters. Two of the campgrounds, Moraine Park and Glacier Basin, have stops for the shuttle bus that runs from Estes Park to many of the trailheads and lakes on the eastern side of the park. This comes in extremely handy when it's the busy season and you can't find a parking spot after 8 am.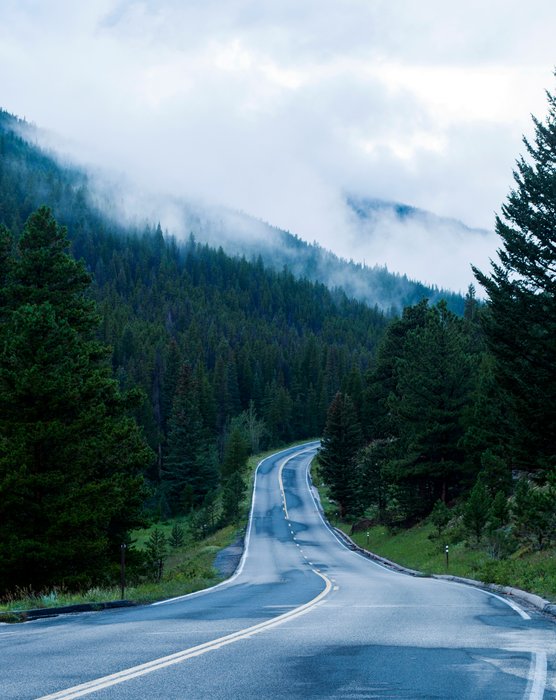 Looking up Trail Ridge Road near where it begins
Attractions & Activities
There are far more things to do in RMNP than anyone could manage to fit in in a single trip. If it is open, Trail Ridge Road is a must for any visit to the park, especially if you're limited for time. It is closed during the winter and reopens in late spring or early summer and stays open until fall, depending on snowfall. At its highest point the road is 12,183 feet above sea level (3,713m), which puts you well above treeline in the alpine tundra and gives you some spectacular views of the Rocky Mountains.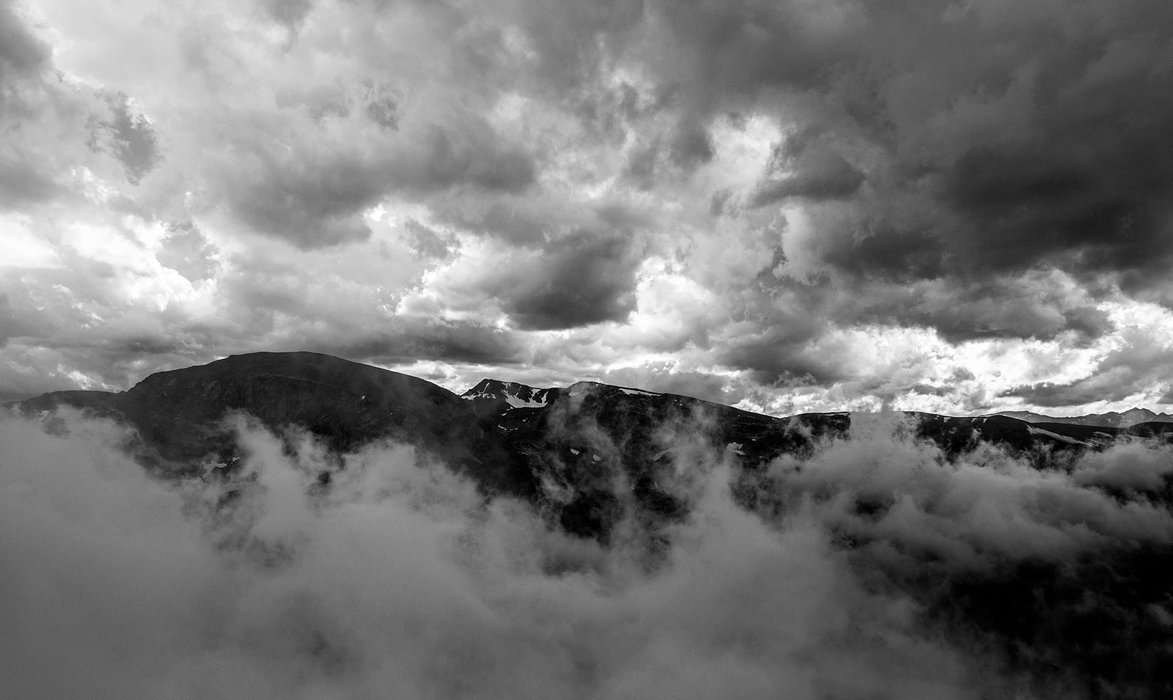 The mountains (and occasionally the road) like to play hide and seek with the clouds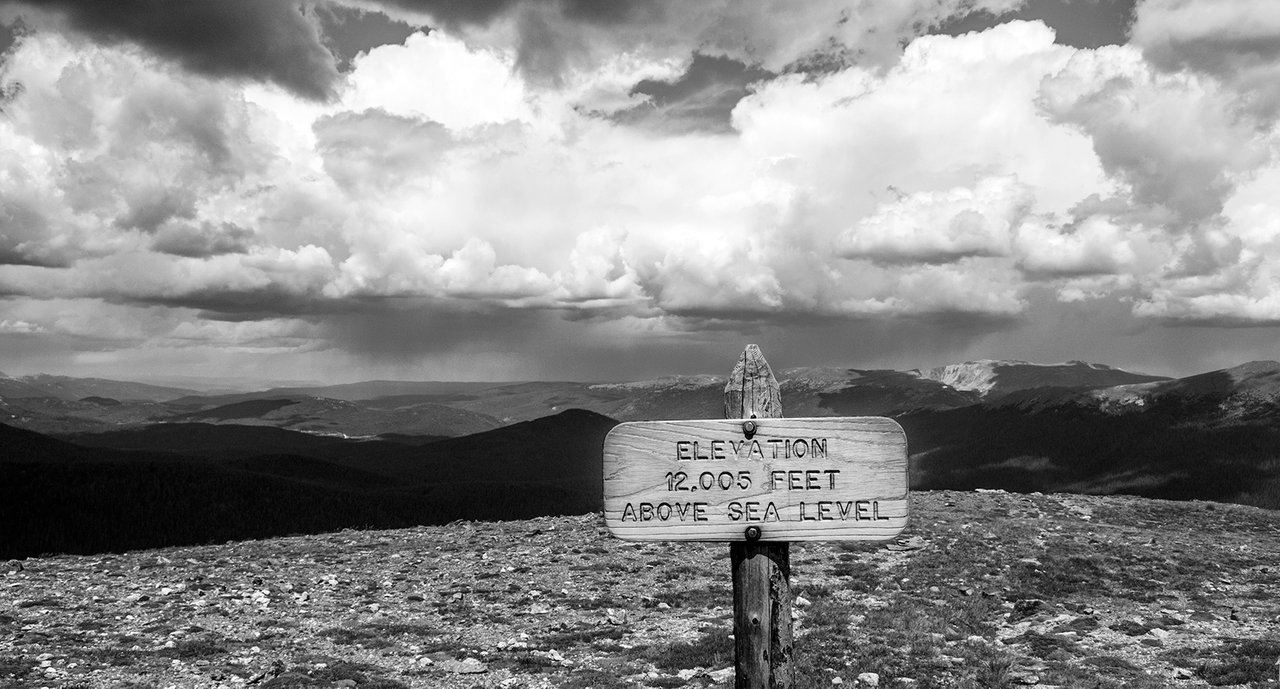 Looking out from Huffer's Hill near the Alpine Visitor Center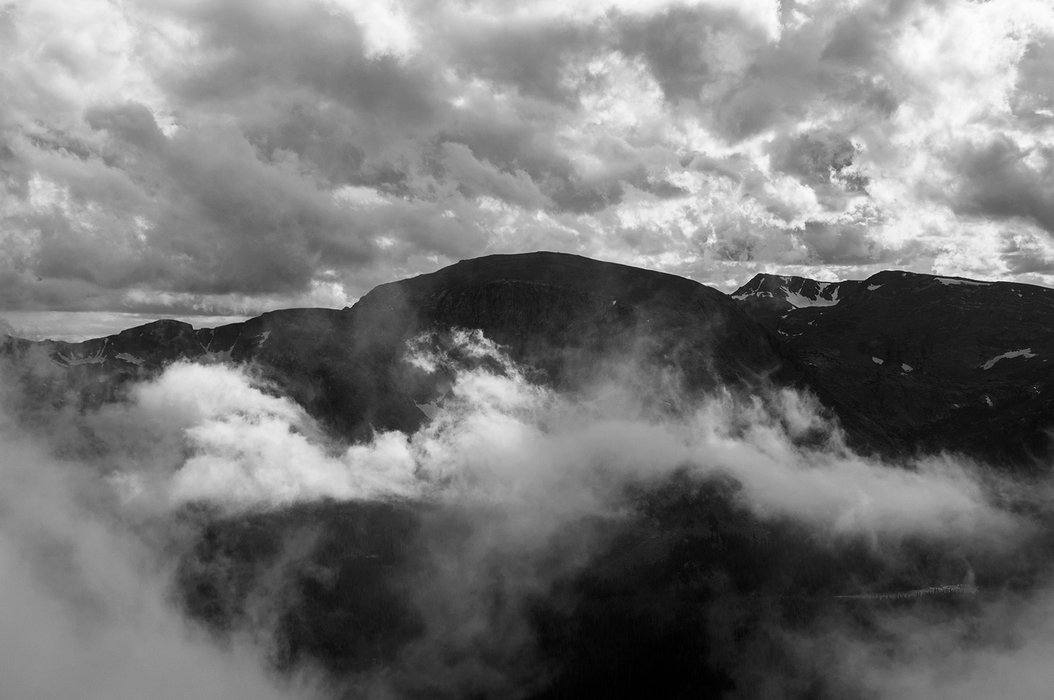 More mountains playing with the clouds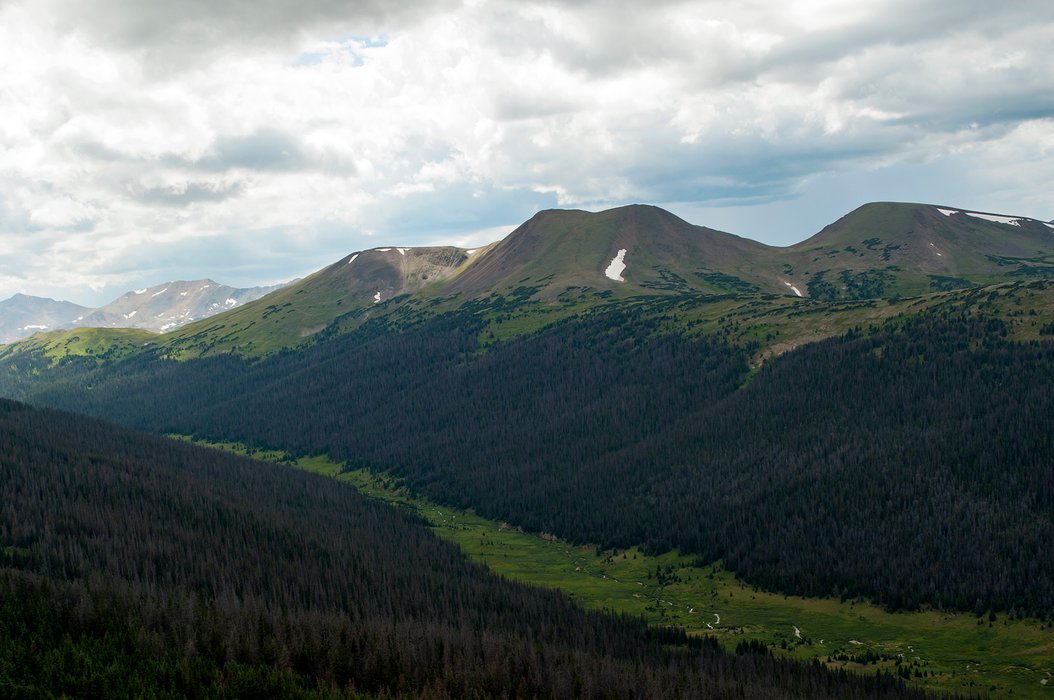 View from Trail Ridge Road as you start the descent to the western entrance of the park

Even during the summer it's quite chilly along Trail Ridge Road, especially when the wind gets to blowing so dress warmly when you go. Be sure to check out the Alpine Visitor Center too, although finding parking can be difficult, it's best to get there early in the day. Also, if you're lucky or you time your visit right, seeing the alpine wildflowers in bloom is a sight to behold.
Once you've had your fill of the high country there is still plenty to see and do at the lower elevations. There's more hiking trails than I could even hope to list as well as numerous glacial lakes to visit (and fish in if you jump through all the right hoops). Conveniently, many of the trailheads for the hikes are at or near these lakes.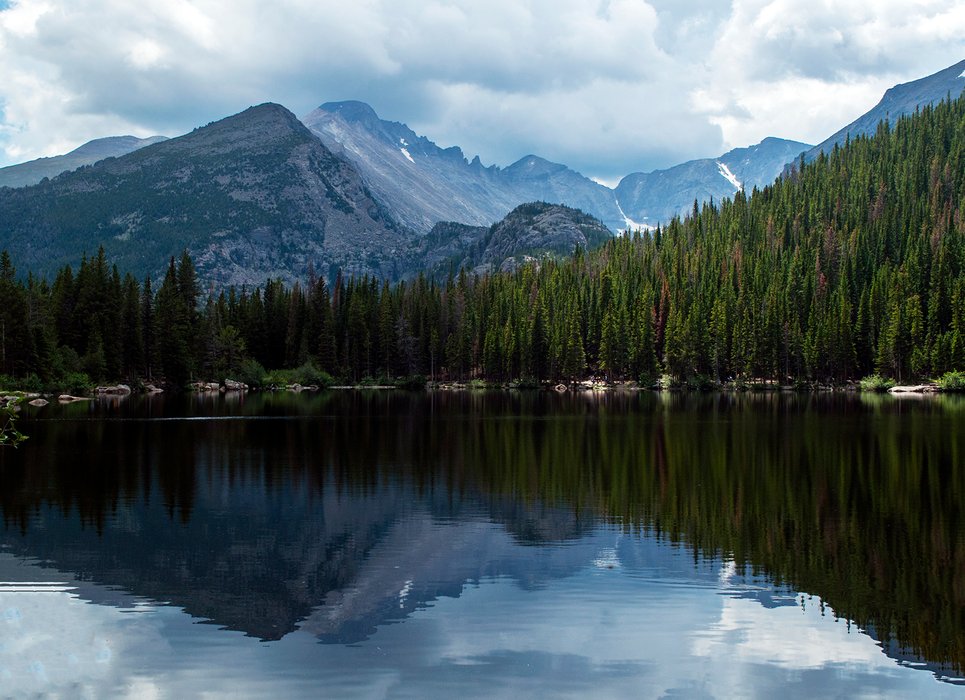 Bear Lake, one of the most popular lakes in the park (no fishing allowed here)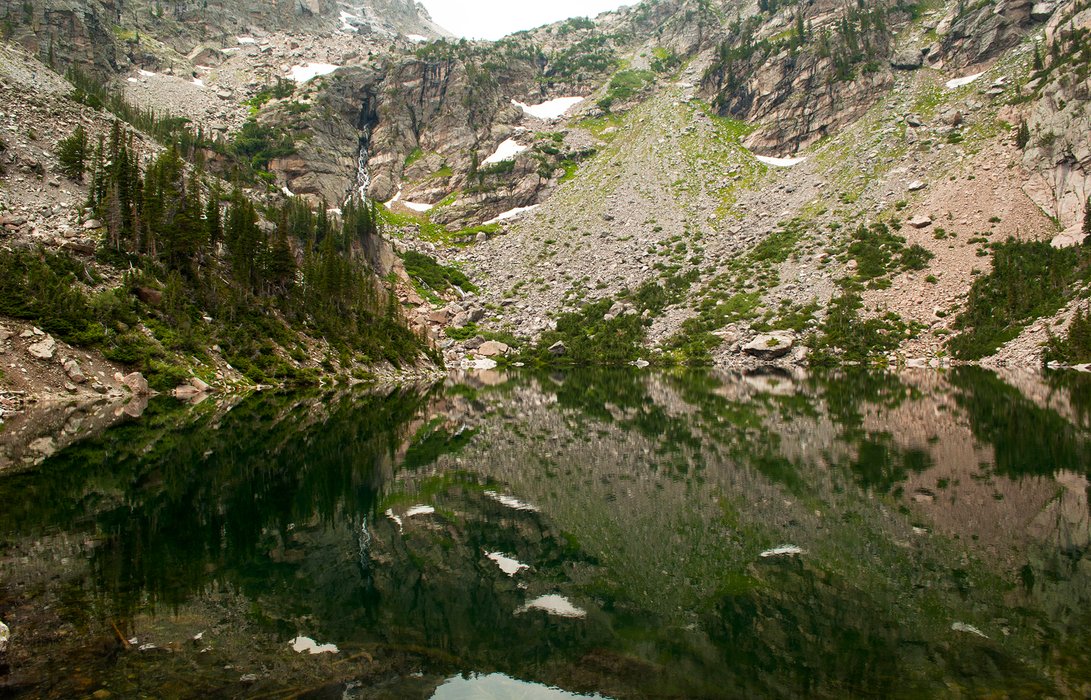 Emerald Lake, located at the far end of one of the trails originating from Bear Lake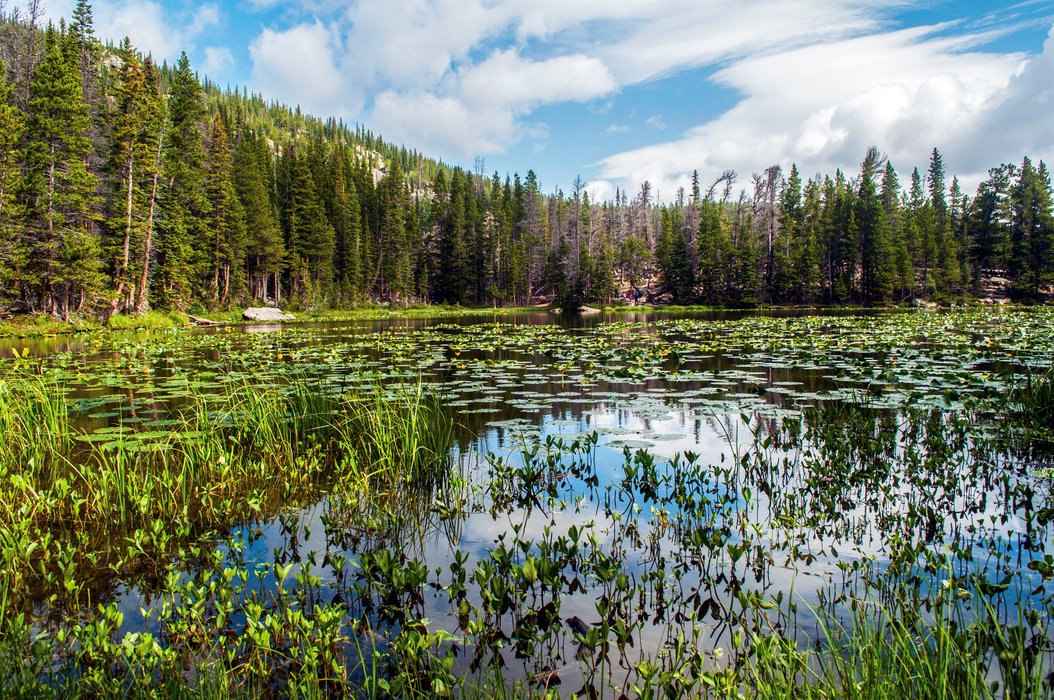 Lake with a name I've forgotten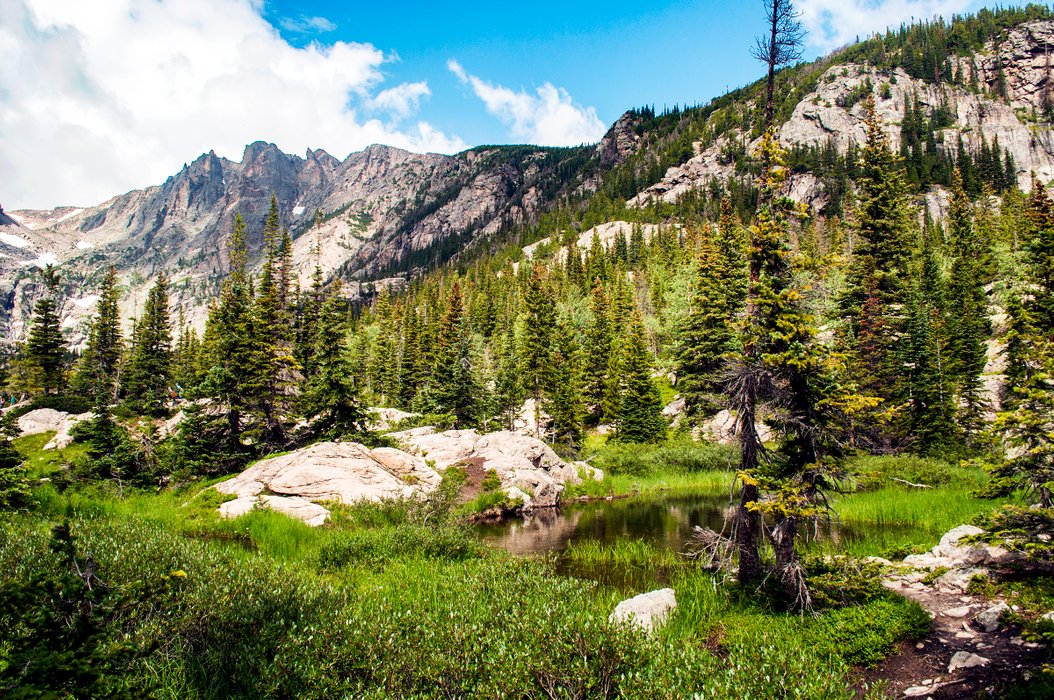 Another forgotten name lake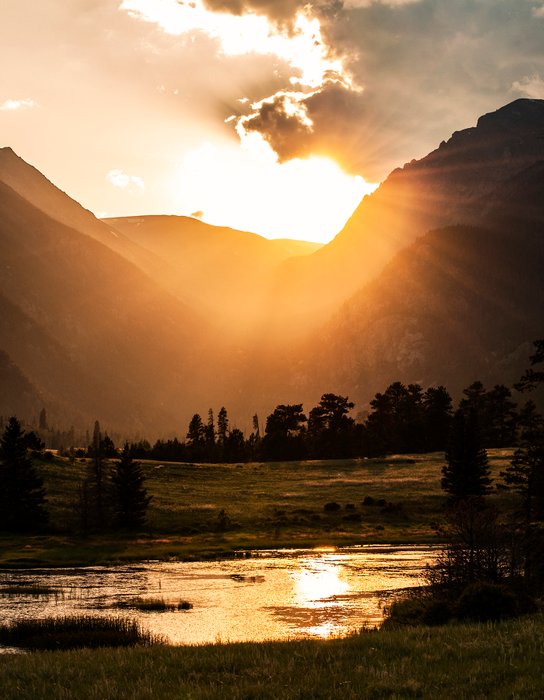 Sheep Lakes, area where bighorn sheep come to graze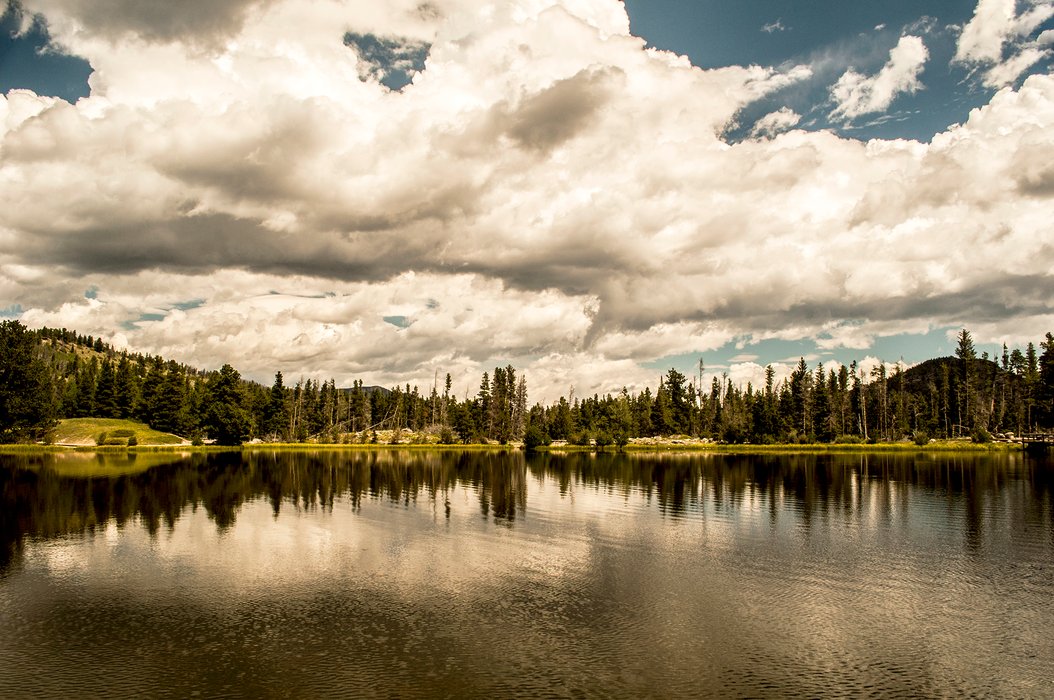 Sprague Lake, near the Glacier Park Campground

If you get bored of looking at mountains, there's plenty of wildlife to be seen (just don't feed them, please!). Although present in the park I didn't manage to catch a glimpse of any bears or moose (one bear was wandering around a campground I was staying at but I was out hiking and missed it). There's a plethora of colorful birds, with magpies, Steller's jays, and Clark's Nutcracker being quite common. I also heard owls on several occasions but never quite laid eyes on them. The coyotes you hear more often than you see but they still occasionally put in an appearance. Elk and mule deer are plentiful, I encountered herds of at least 20-30 elk at various elevations on numerous occasions. Mule deer get their names from their ears, which resemble a mule's, tended to be found in smaller numbers but will often get quite close to humans. One day upon returning from a hike I found two bucks standing guard at the entrance to the campground. Later that night one wandered through my campsite passing within a few feet of me and the campfire. There's three kinds of chipmunks/ground squirrels in the park and they are everywhere! Watching them fight with the birds for the tourist handouts can be quite entertaining...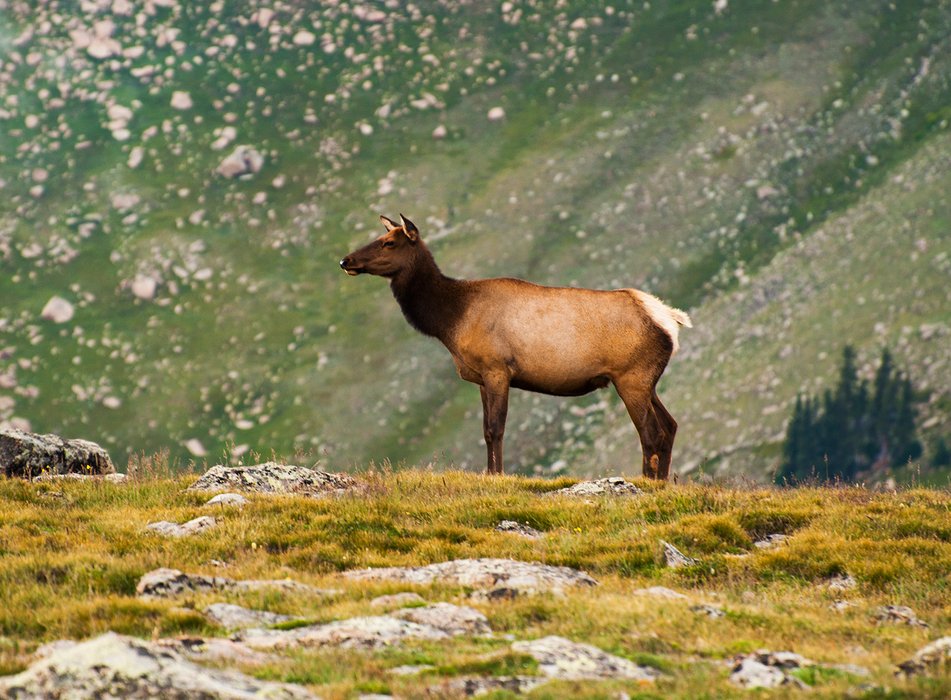 Elk in the alpine tundra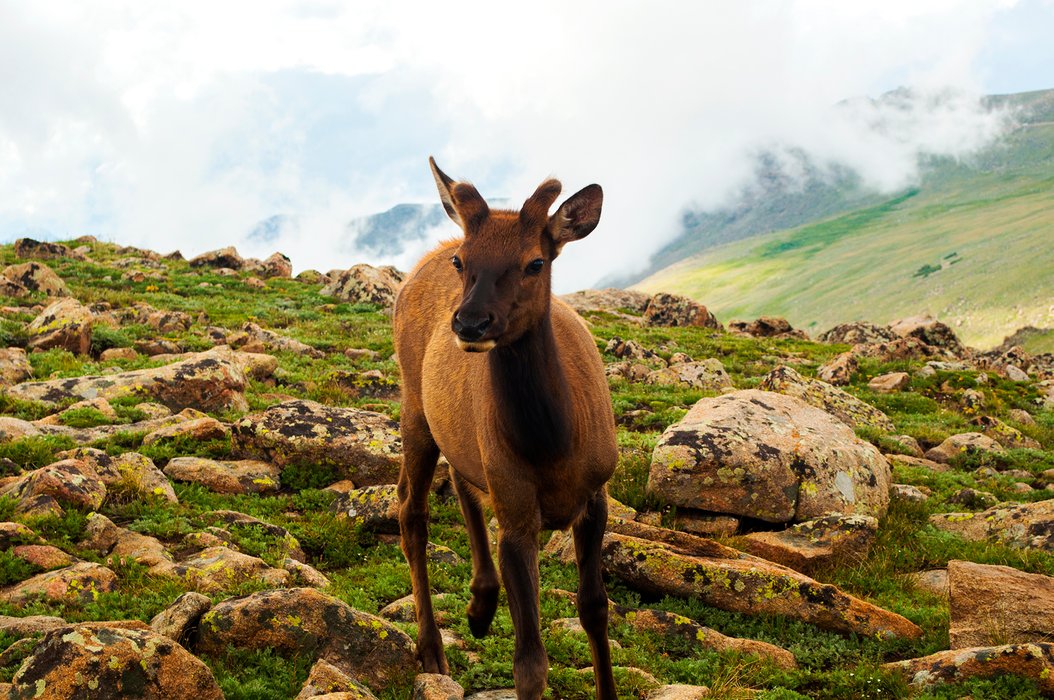 Younger elk, also above treeline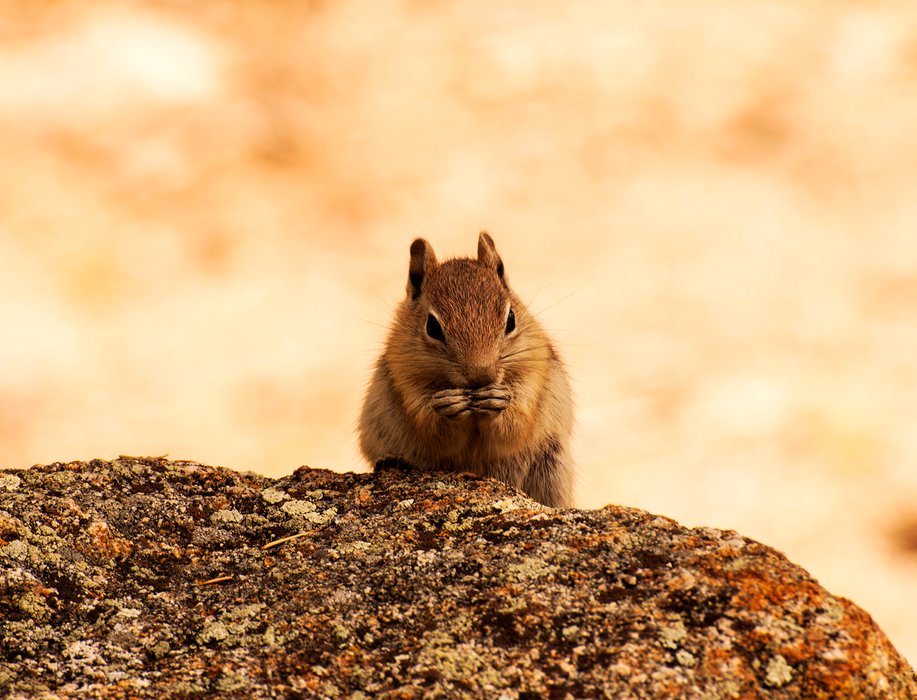 Golden Mantled Ground Squirrel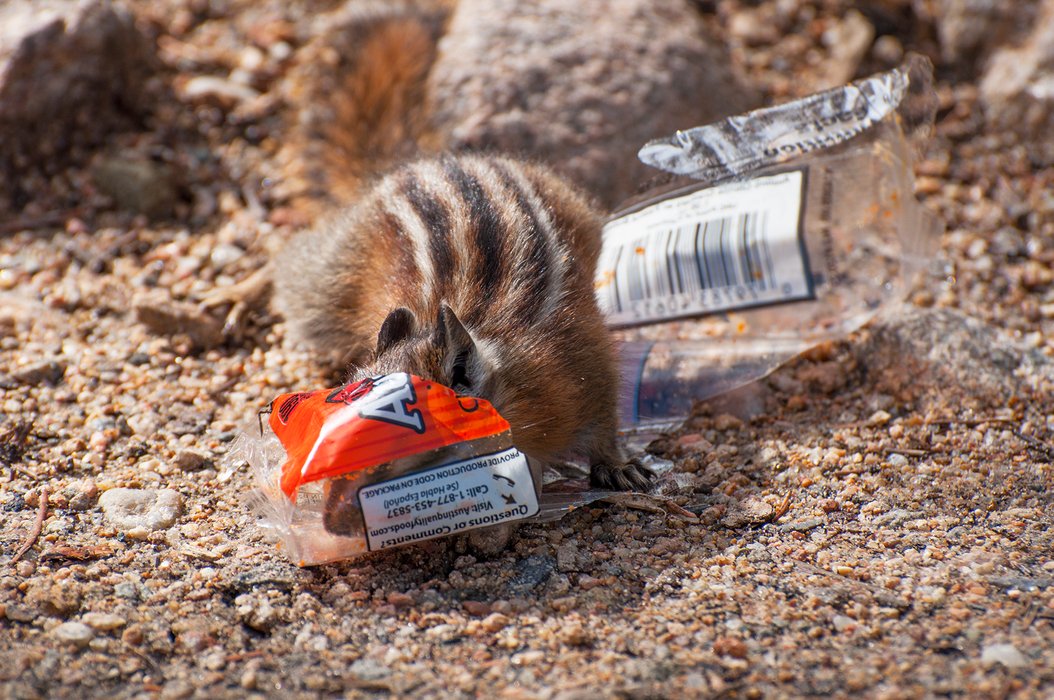 Least Chipmunk snacking on someone's trash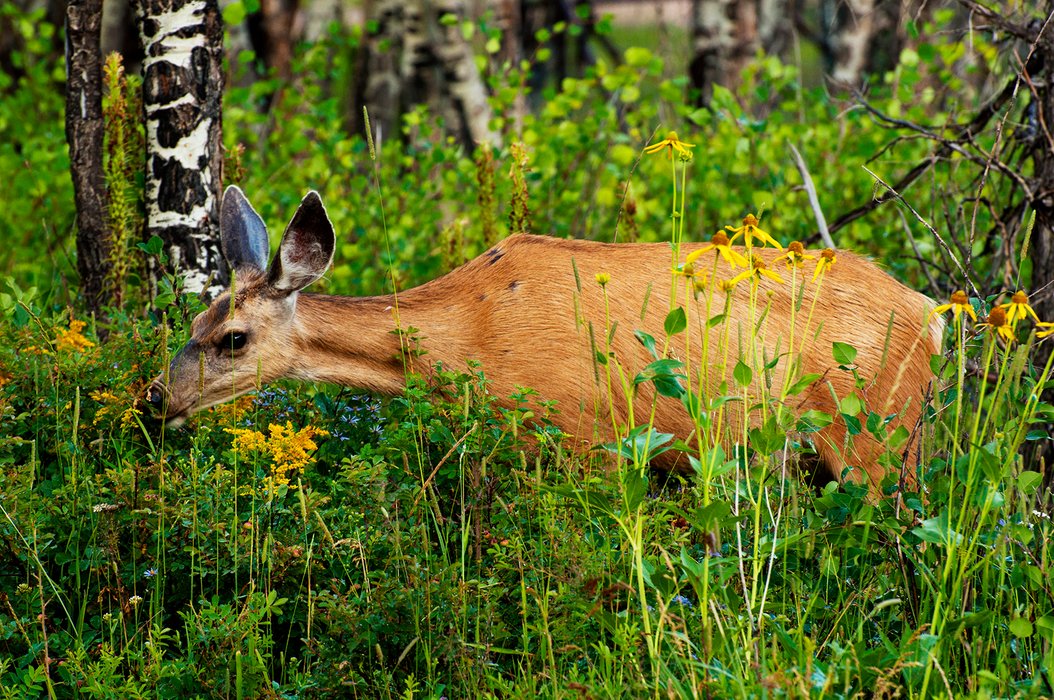 Mule deer that insisted on ignoring me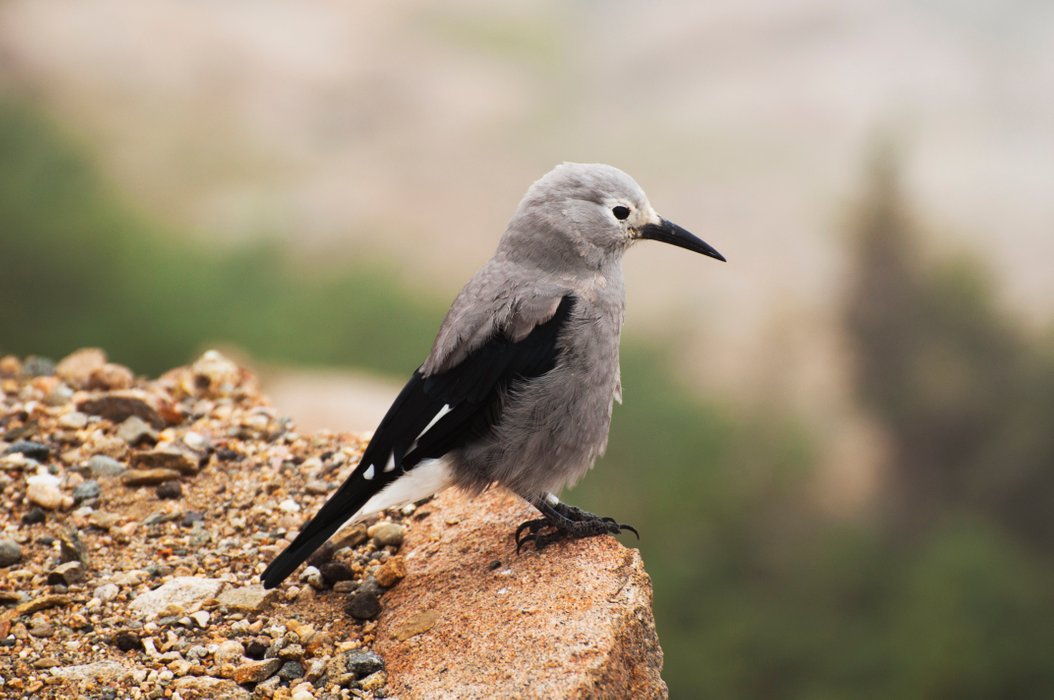 Clark's Nutcracker

The dam that broke and washed away the campground I mentioned earlier also left behind what's known as an alluvial fan. This massive jumble of boulders extends a good ways up the mountainside and if you are fond of bouldering/climbing it can be lots of fun (it's almost like you're climbing up a waterfall).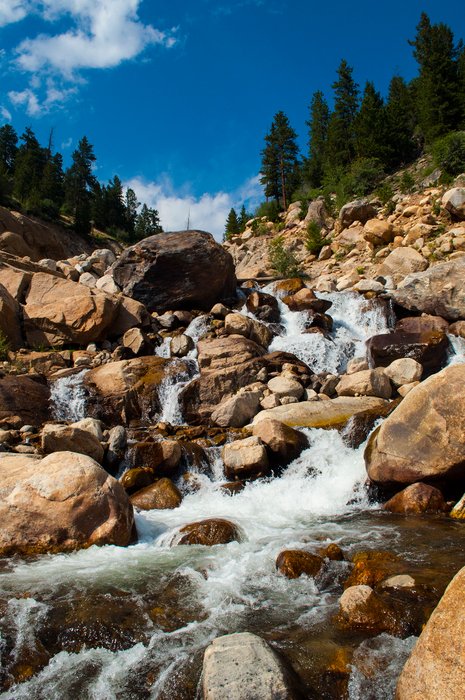 Small part of the alluvial fan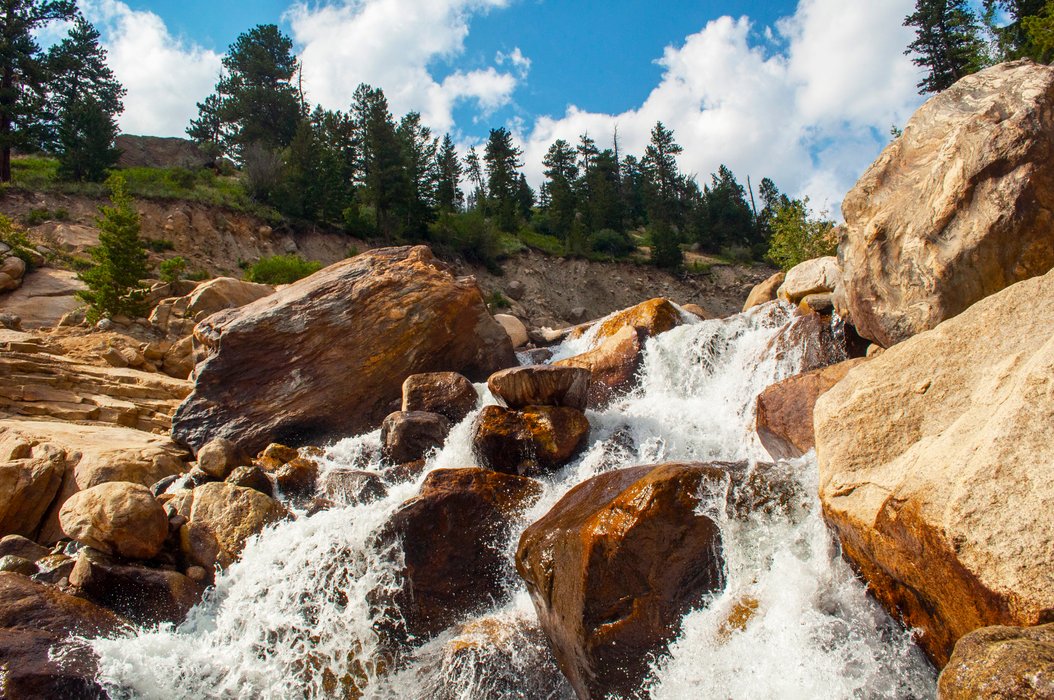 Another bit of the alluvial fan

The lower levels of the park (below 9,000 feet) are considered a montane ecosystem. Much of the eastern side of the park, including the campgrounds are located in this region. Here you will find meadows and moraines (ridges pushed up/deposited by glaciers), aspens, beavers, and otters. While I was there I also saw numerous rainbows including the first one that I've been able to see both ends of (no sign of a pot of gold though).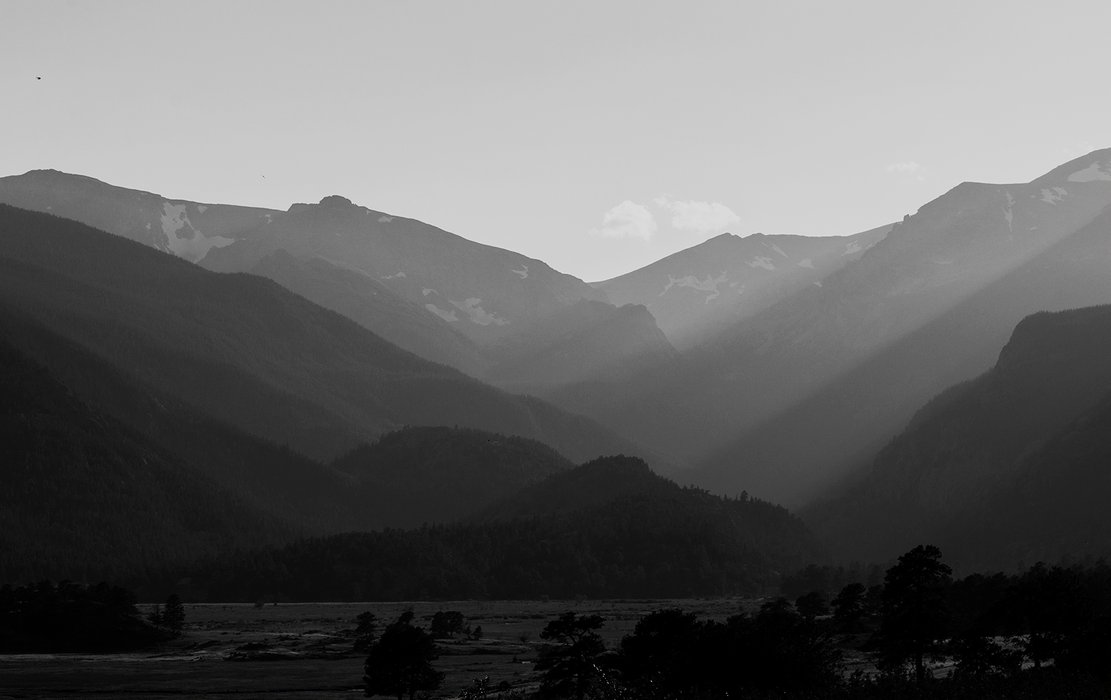 View looking towards the Moraine Park area. The campground is located slightly to the right of this photo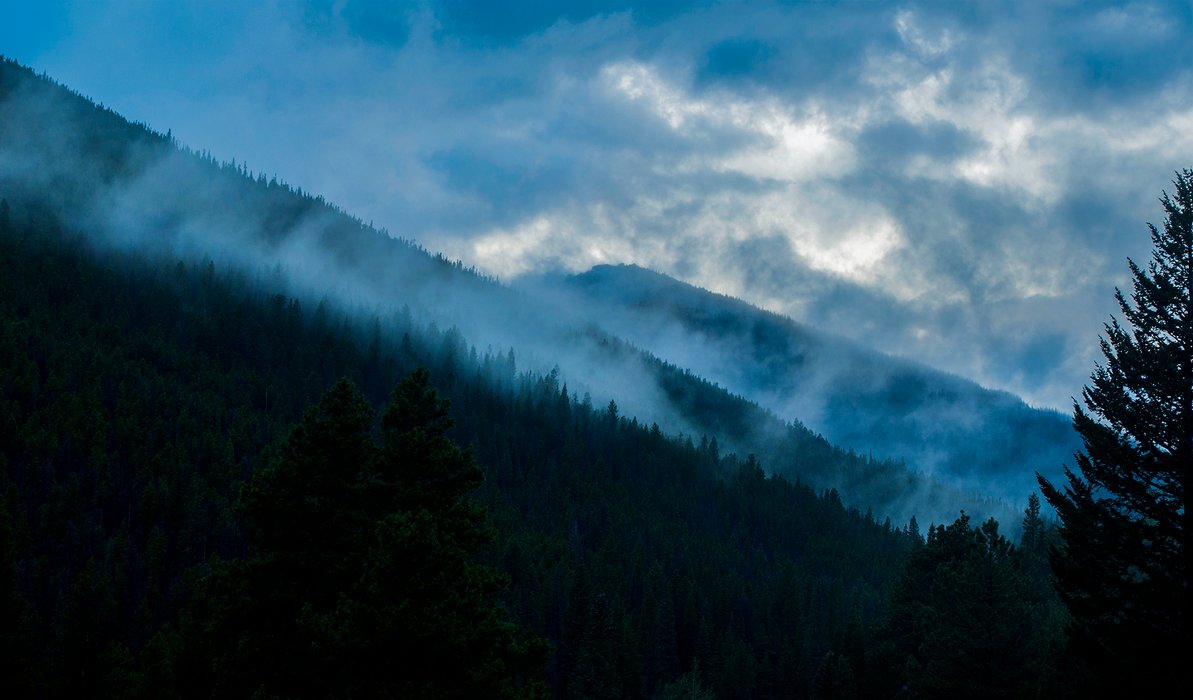 Although taken from Trail Ridge Road, this area is still low enough to count as montane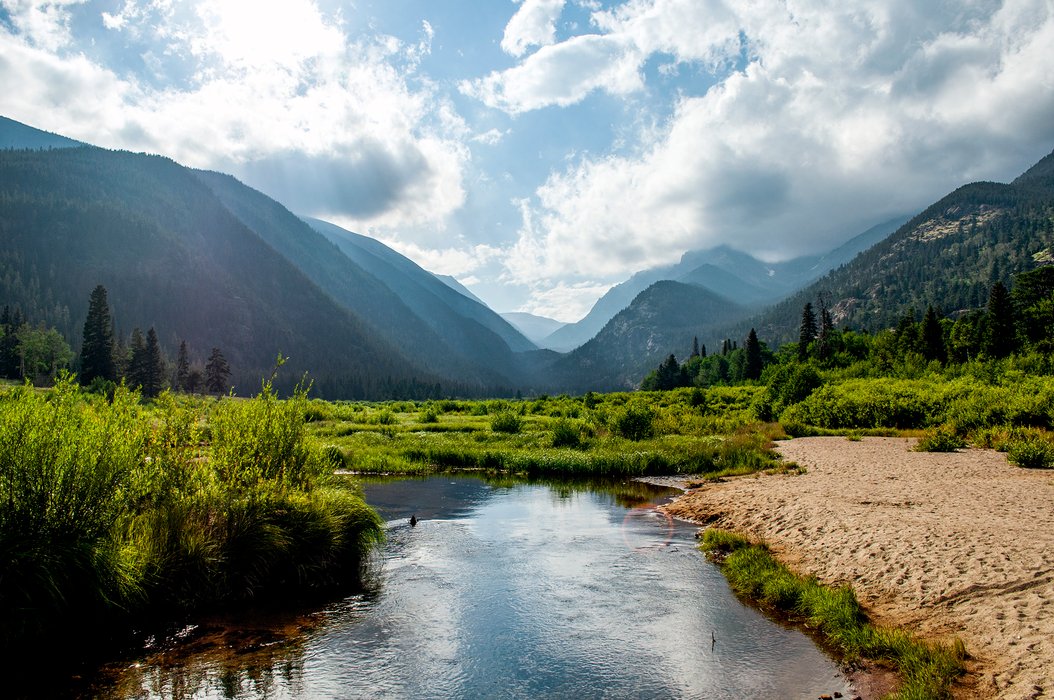 View of a meadow that is just to the left of the alluvial fan


Stand of aspens. Did you know that each clump of aspens are actually one organism, all connected underground?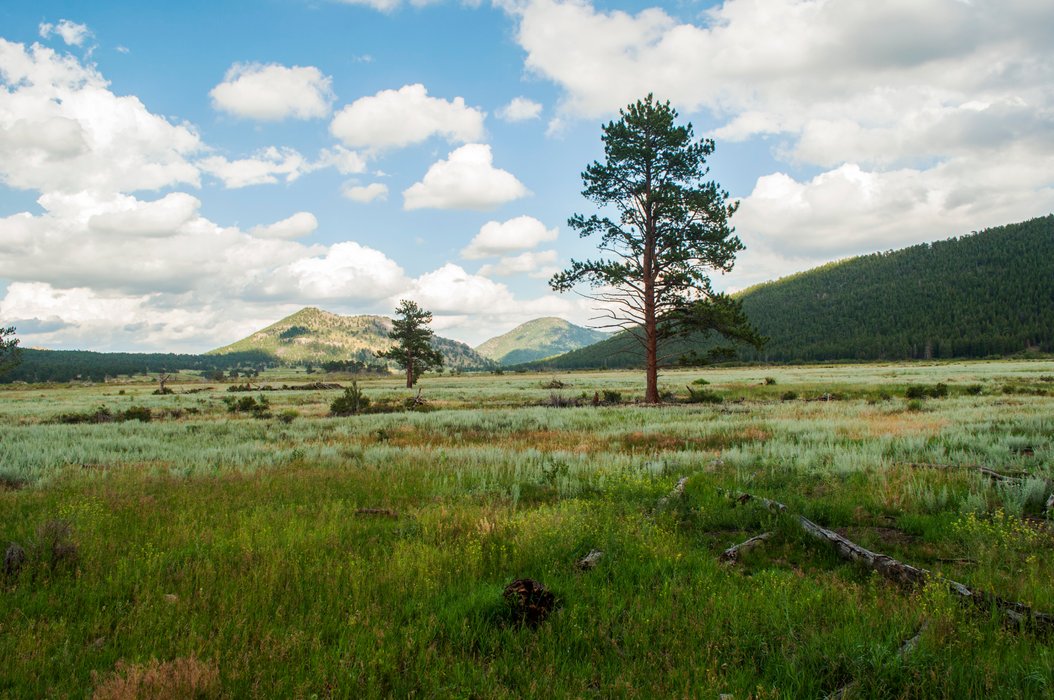 Another montane meadow. The ridge on the right side of the photo is a moraine

One last thing to consider doing in RMNP is driving the Old Fall River Road. This one lane dirt road is only open from July to September and it's only one way, uphill. The speed limit on it is only 15 miles per hour but nobody seemed to be in a hurry to exceed that for some reason (I'm sure drop offs and switchbacks had nothing to do with that). Driving it was one of my favorite experiences of my visit to the park and there's a perk from taking that way. During the busy season the rangers will often close the entrance to the Alpine Visitor Center, however, Fall River Road ends in the parking lot of the Center so they can't exactly close it, which allows you to get into the parking lot and eventually find a parking spot and explore.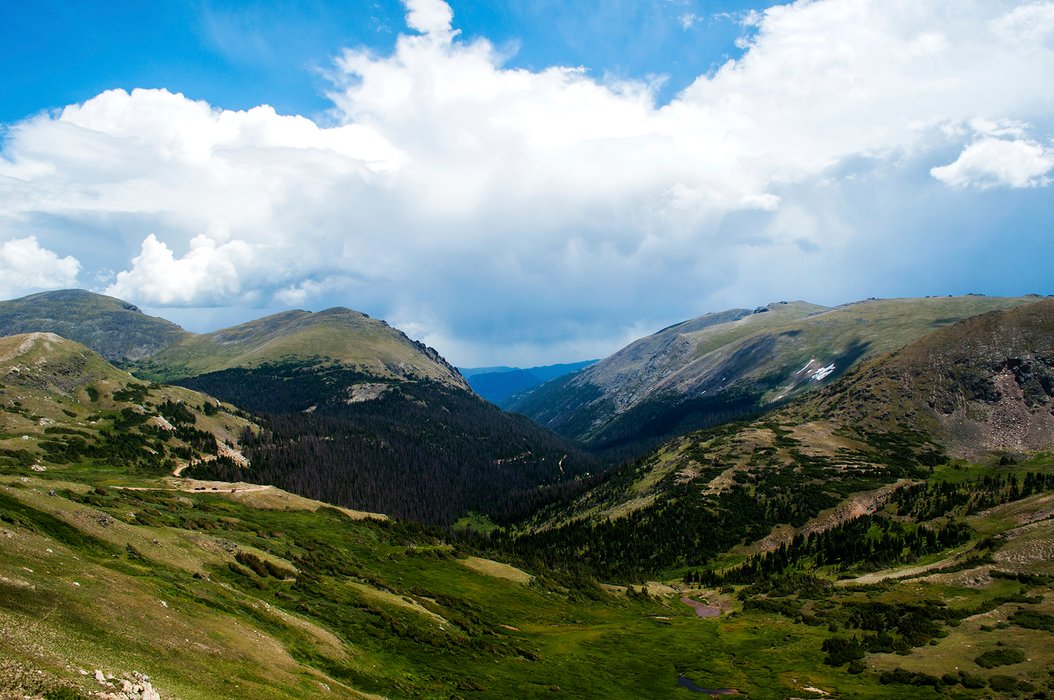 Looking back down from near the end of Fall River Road. You can faintly make out the road snaking its way up through the trees and the on up the mountain on the left

Although I could probably write and post photos of the park indefinitely, that's enough for one post.
Warnings & Advice
This last section is some of the things I learned that might be useful to know before visiting the park. Be aware of elevation! Take it easy until you've had a few days to acclimate or else you'll end up light-headed or with a headache or worse. One simple rule to follow is hike high and camp low, always go up a little higher than you plan to camp. This allows your body to adjust to the higher elevation and then you have less problems with elevation in camp. Bring sunscreen! The air is thinner at higher elevations and thus blocks less of the sun's rays. I hate sunscreen and didn't do this so my nose was sunburnt and peeling the entire time I was in the park.
The wildlife is wild. Although this should go without saying I saw way too many people demonstrate that they didn't understand this. Bears will attack you under certain conditions (mostly they're curious rather than aggressive though) and will break into your vehicle/tent/gear if you don't secure your food properly. Moose have been known to charge people getting too close and especially don't like dogs (dogs aren't the best idea in the park, they're only allowed where motor vehicles can go). Feeding the animals doesn't do them any favors, their bodies don't get all the right nutrients from our food and come wintertime this can prove fatal for them.
Finally, bring rain gear and plenty of warm clothing. Even during the summer it doesn't get especially warm and the higher you go the colder and windier it gets. Plus, once the sun goes down it gets cold fast. Thunderstorms are an almost daily afternoon occurrence during the summer, it usually rained multiple times each day while I was there.
Alrighty, that about does it for me, thanks for reading! Questions, concerns, things to add, just leave me a comment!
Author's Note: Some info in this post was sourced from the park service guide map. Some photos have been posted before but have been included to help illustrate the post.