If anyone ever needs help with procrastinating, just give me a holler and I'll be more than happy to help (later of course), I'm an expert at it. I've been doing an excellent job of it with this post, which is part two of my adventures from my recent road trip. I finally managed to drink enough coffee to rediscover my motivation so here it is.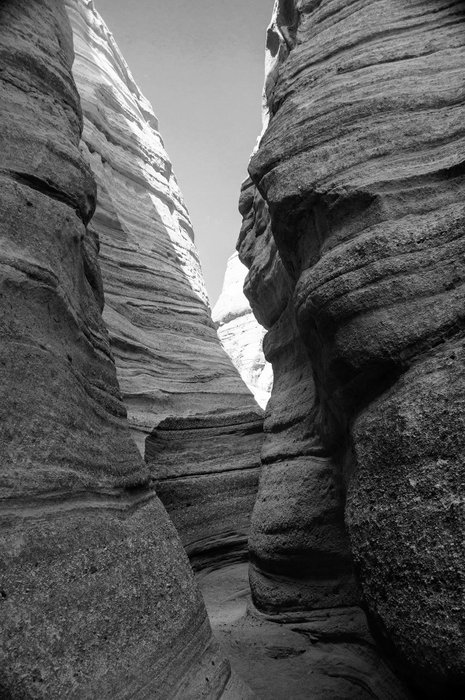 Slot Canyon--Tent Rocks
After our adventures in Amarillo, Santa Fe was our next destination. We rolled into town in the middle of a gullywasher, some of the streets were doing good imitations of creeks, but by the time we were ready to go adventuring the weather had cleared up. The first place we explored in Santa Fe was a place called Meow Wolf. (All my photos from Meow Wolf were taken with a smartphone, my apologies for the quality)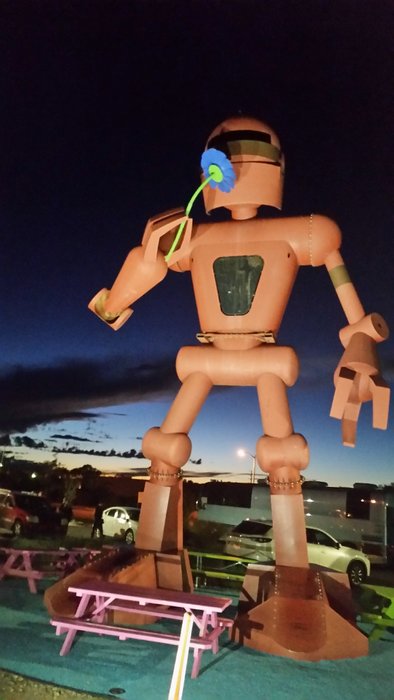 "Parking Lot Attendant"
Meow Wolf is a massive, immersive, and quite trippy art installation with a sci-fi/mystery/horror theme running through it (just don't ask me to explain it, it's one of those that you have to experience to understand). Technically, the installation is called House of Eternal Return, Meow Wolf is the name of the artist collective/organization that created and runs it.
Upon entering the installation you are greeted by a seemingly ordinary house but once you go inside and begin to explore you realize all is not as it seems. Ordinary, everyday objects conceal entrances and passageways to 'secret' rooms and areas.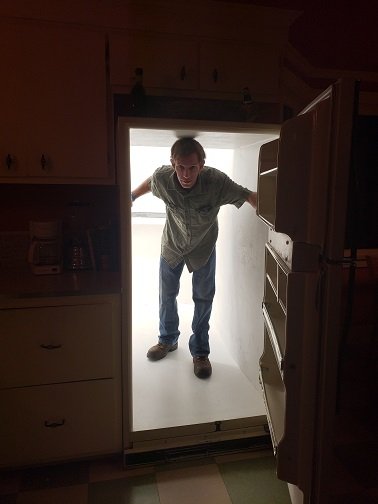 "Chillin' in the Fridge"
As you explore you find clues that help to explain the storyline and give a little understanding of the surreal sights you come across. There's bad guys and "the Anomaly" and multiple dimensions/realities and it's all clear as mud, I'm still not sure I have the story straight.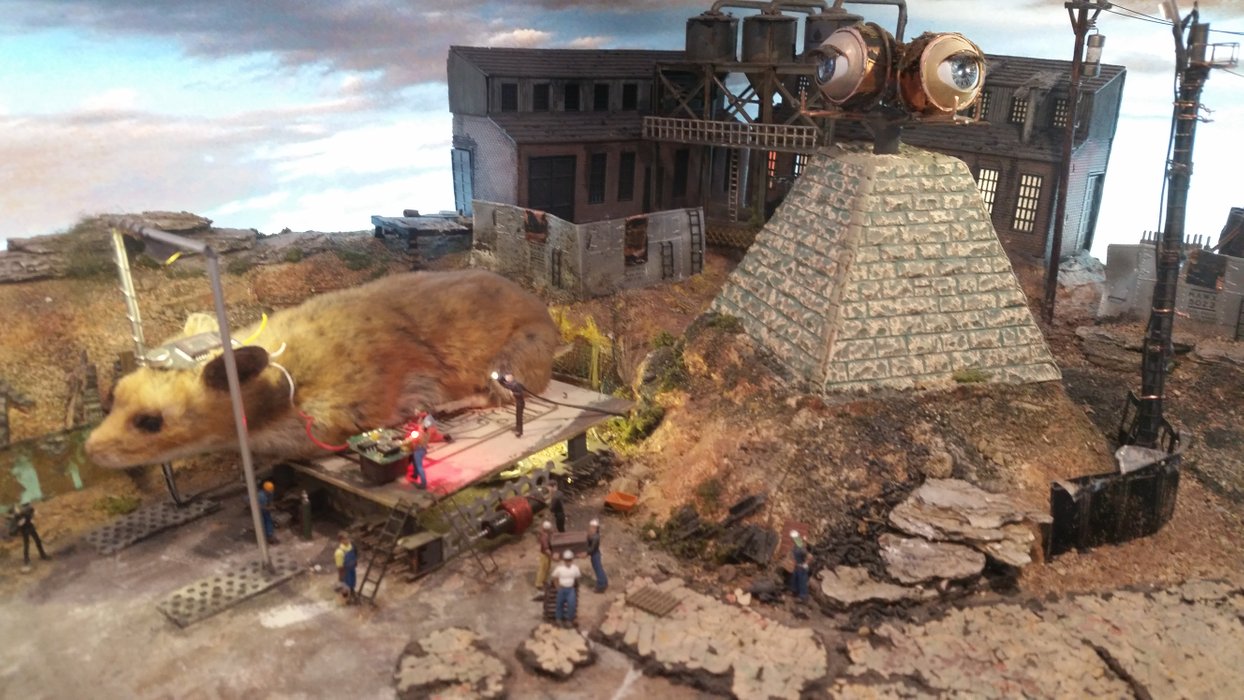 It's Alive!
Several of the rooms reminded me of old school black and white cartoons although I never did figure out how they connected with the storyline.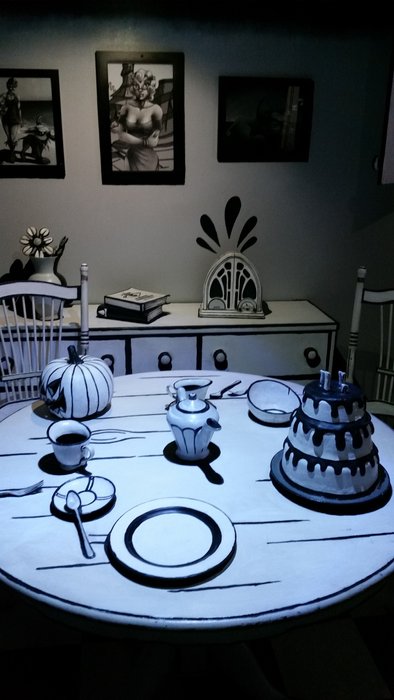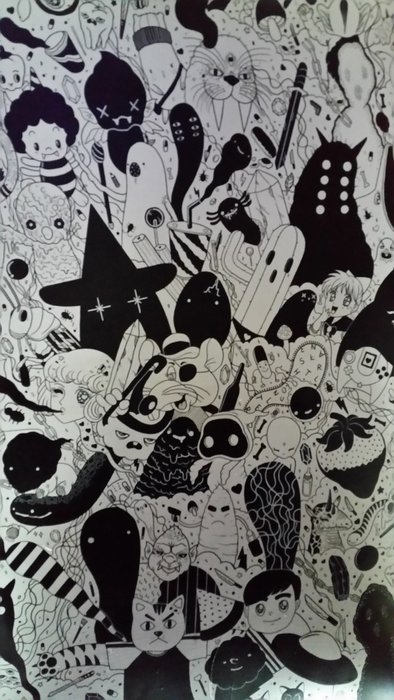 There was also an arcade with some rather interesting and unusual games as well as a laser harp (whenever you broke one of the laser beams it played a note) and a room where sitting in different spots made the lights change color (much of the installation is interactive). After several hours of exploring I was ready for a change of pace so we took a break for some food truck quesadillas and then I headed to the historic plaza downtown to explore.
Santa Fe is one of the oldest continuously occupied sites in the Western Hemisphere (at least according to Wikipedia), the Spanish made it to Santa Fe in the early 1600s and proceeded to establish themselves there. Even today you can still see much of the Spanish and Native American influences, particularly in the architecture (lots and lots of adobe!). Santa Fe will quite literally take your breath away, it's located more than 7000 feet above sea level so the reduced oxygen takes some getting used to.
The Santa Fe Plaza where these next few photos were taken is the traditional center of town and a good example of Spanish colonial architecture/layout. Adobe structures abound and there is plentiful shopping opportunities (if one is so inclined, not my cup of tea) including handmade, traditional Native American art and crafts, as well as a variety of restaurants.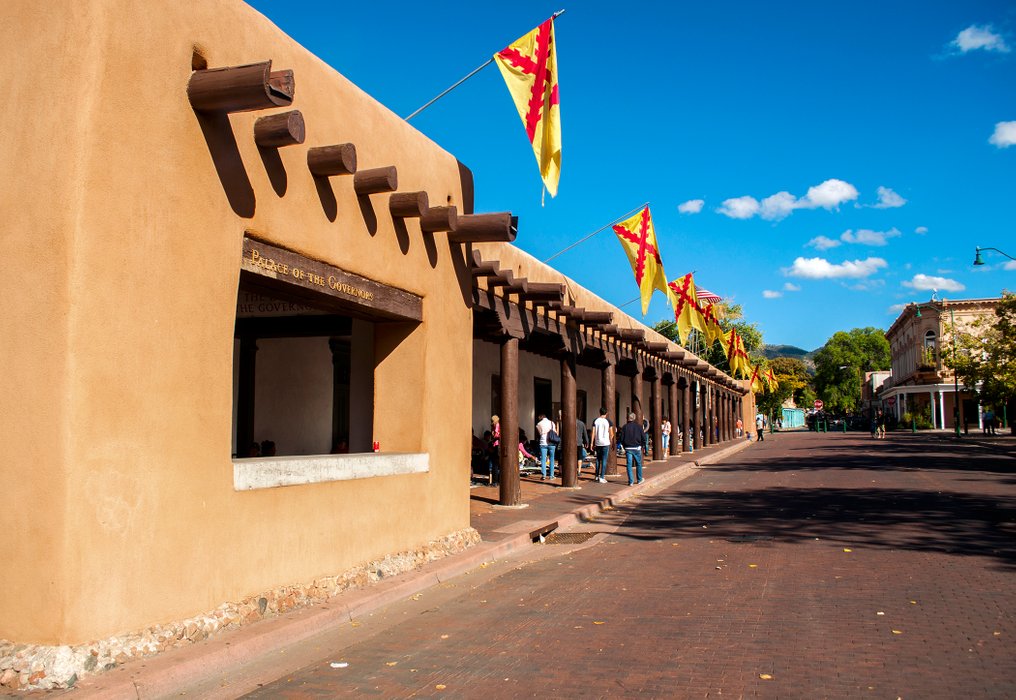 Palace of the Governors, one of the oldest public buildings in the United States. Vendors display their wares on blankets under the porch/awning to sell to the tourists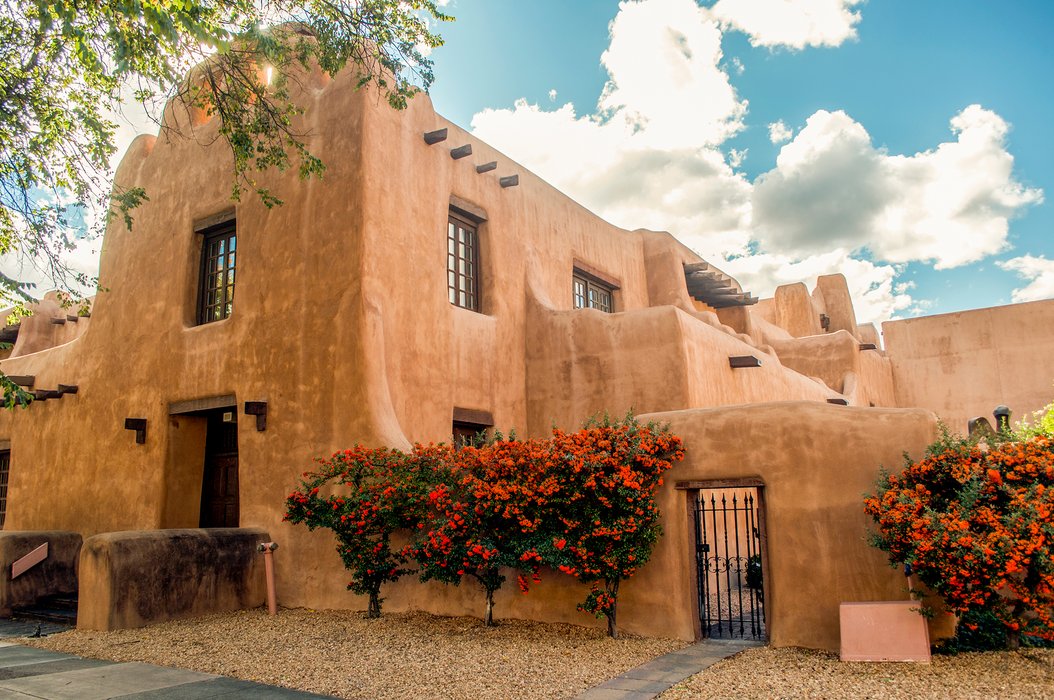 Good example of the soft, rounded lines of many of the adobe structures I came across. I forget what this building is however...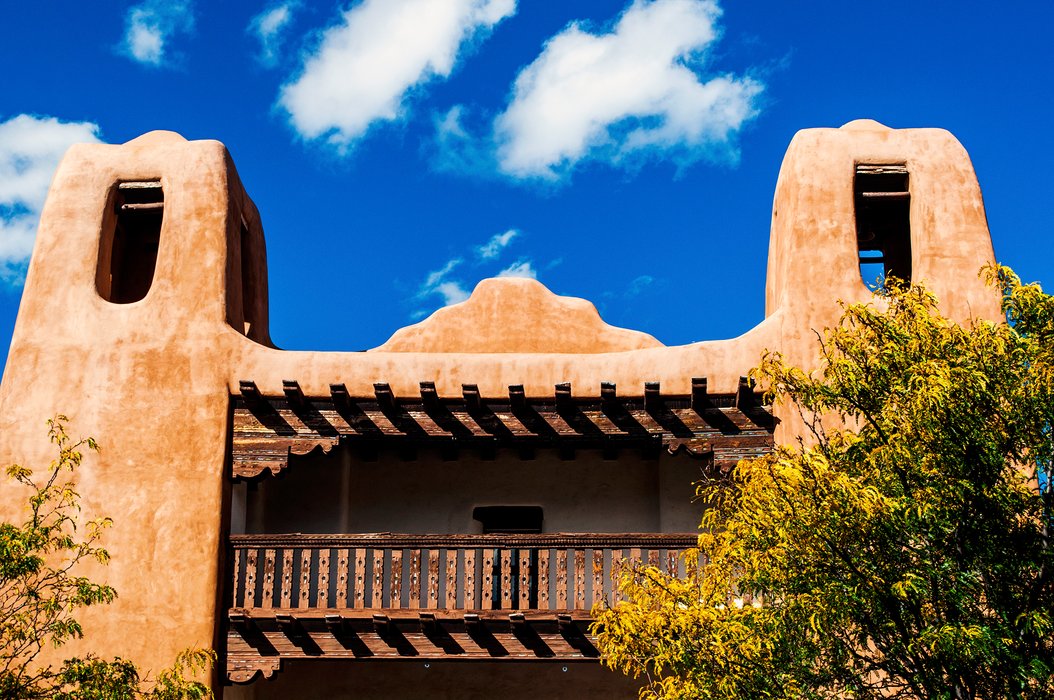 Apparently adobe buildings only come in one color...
Eventually I ran out of light and so it was time to head back to Meow Wolf for the main event (or the next one at least), the Houndmouth concert. One of the main reasons for our trip was to see the band in this particular venue and boy was it worth it (well, we got in free but that's a whole other story). With a capacity of only 350 and all the trippy art around it made for a great place for a show, I recommend catching one there if you get the chance.
The next day, with ears still ringing from the night before, we got up and made our way down to the Kasha-Katuwe Tent Rocks National Monument. Located about 45 minutes southwest of Santa Fe down I-25 on a reservation (if you go bring your own supplies, there's not much to be had in the area), Tent Rocks is famous for its geologic features. Formed from the repeated eruptions of at least 20 volcanos and then shaped and sculpted by wind, water, and geologic upheavals and faults, Tent Rocks was unlike anything I've come across in my travels.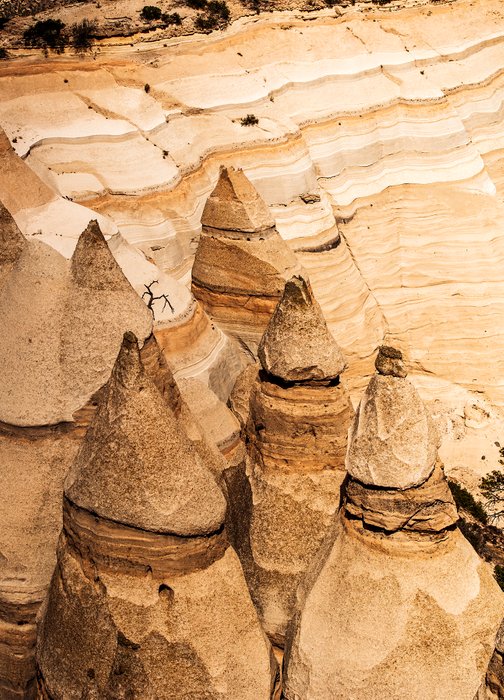 Some of the "Tent Rocks" also known as hoodoos
It was a fee free day when we got there so we didn't even have to pay to get in! Since it is located on reservation land you can't really get out and wander except where the trails are. There's a loop trail that runs along the base of some of the cliffs/mountainsides where the tent rocks are. It also passes by a cavate, a small manmade carved out of the rock.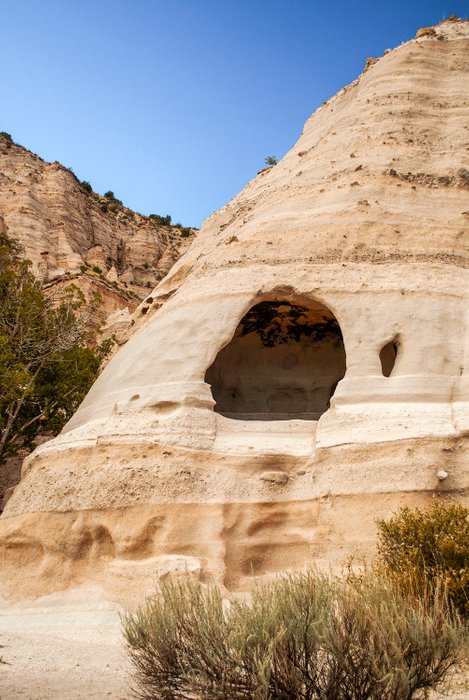 Cavate on the loop trail--you can see the soot/burn marks inside from old fires
We hiked the loop trail until we came to the slot canyon trail which surprisingly enough takes you through a slot canyon to a lookout point above the tent rocks. It's quite narrow in some parts (see the first photo of this post) and rather steep in others but the views are well worth the effort.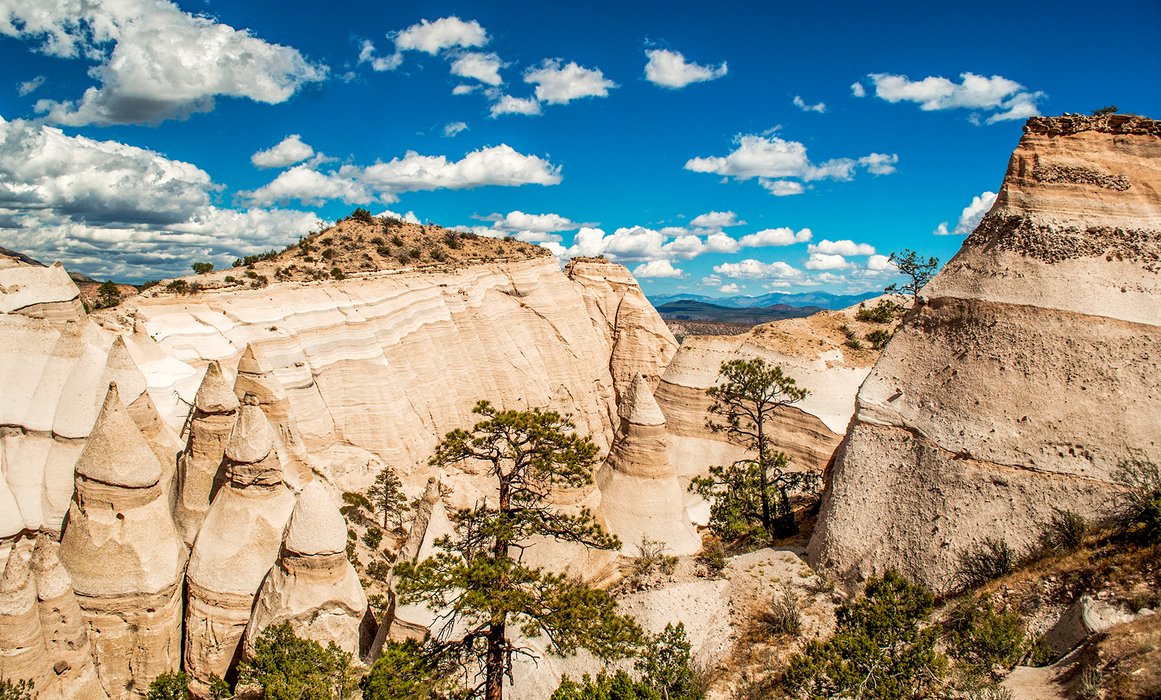 View from the slot canyon trail
Walking through the slot canyon you can see some of the faults in the rocks as well as where water is wearing the rock away, it's quite neat. Much of the rock has the appearance of old, bad concrete that is slowly crumbling although I think it is slightly more sturdy than that.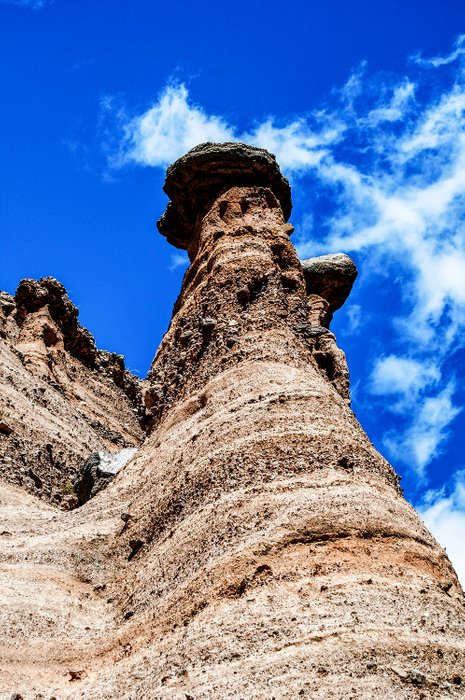 See? Concrete!
By the time we made it to the top we were out of breath and rather thirsty (bring lots of water, you'll need it!) but quite glad we'd made the hike. From the top we could see for miles in all directions and even look down on the tent rocks from above (they look even more odd from that angle).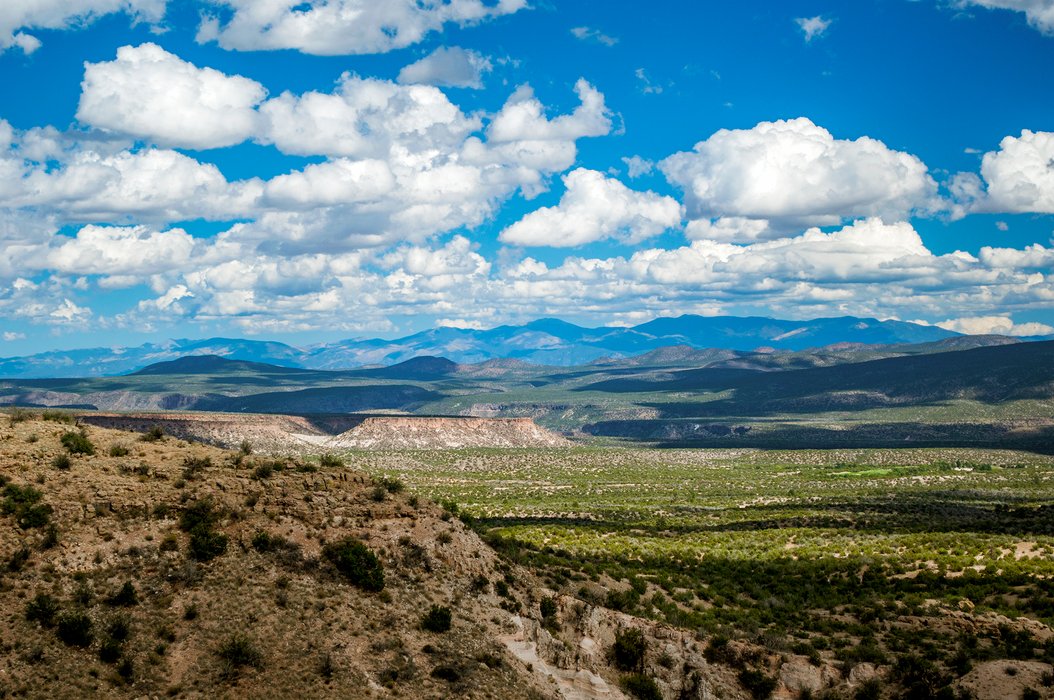 I can see for miles and miles!
We spent as much time as we could meandering and taking photos before we had to head back down (the rangers start running everybody off when it gets close to closing time). We made it back to the loop trail in time to finish it up before we had to leave, and while it didn't have quite the same views the "Beware of Snakes" signs almost made up for that.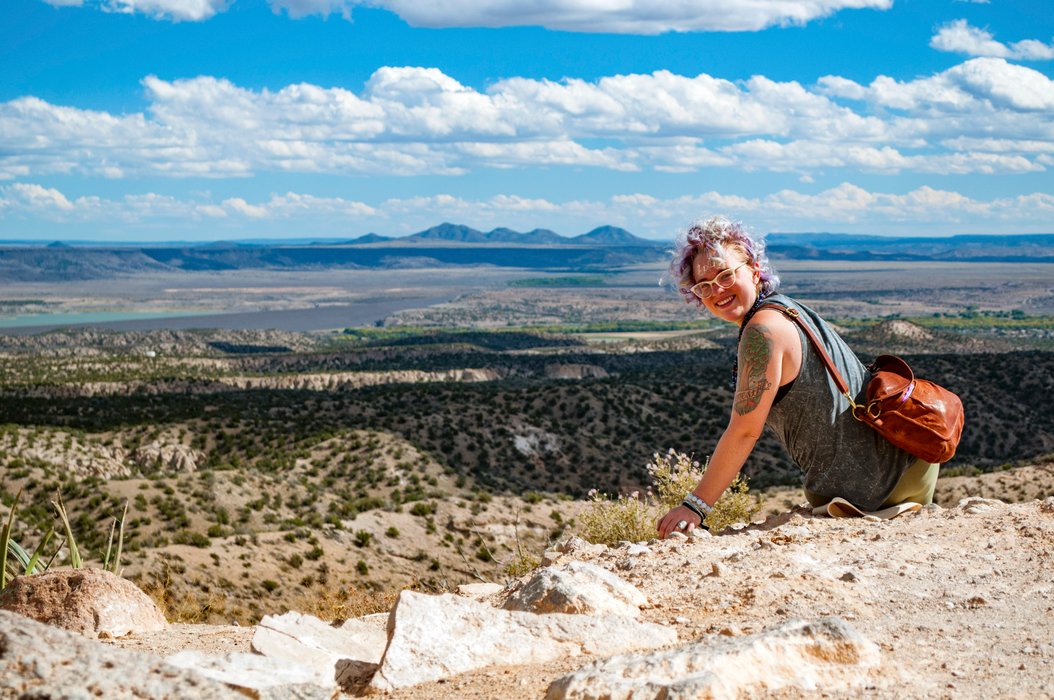 Scenery to smile about!
After leaving Tent Rocks we went on an unplanned adventure exploring the backroads of the reservation before returning to Santa Fe and then heading for home. Thanks for reading!