Calling this a guide might be a bit of an exaggeration but I like the sound of it. I initially planned this as one long post but I've gotten tired of writing so I'm breaking it up into a couple parts. Anyways, last year I decided that if I wanted to do photography full time I needed to expand my portfolio considerably and that the best way to do that was to travel. I saved up some money, quit my day job, packed up my car and hit the road, embarking on what ended up being a 79 day, 10,000+ miles long journey. Along the way and even more so once I returned home I heard numerous variations of "That's a trip of a lifetime" and "I wish I could do something like that" so I'm writing this as an answer to that, to say "You can too!" and pass on some of the tips, tricks, and info I picked up along the way. (This just pertains to the United States, unfortunately I've yet to road trip elsewhere)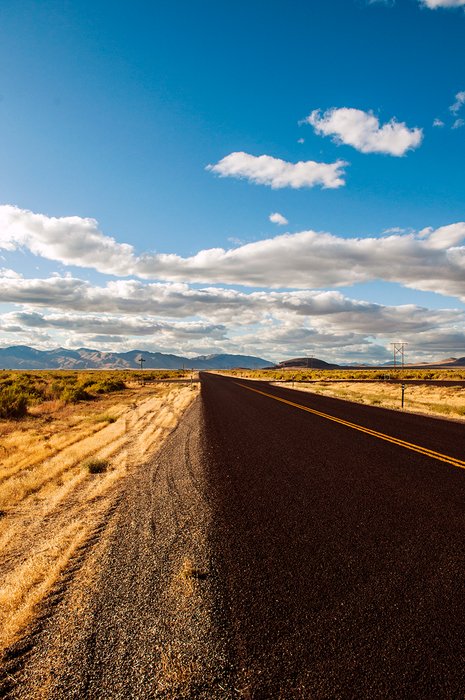 Highway in the middle of nowhere, Nevada
Now I know individual circumstances vary and that not everyone can hare off for 12 weeks on the road but most of this should prove useful even for short trips. The majority of expenses on a road trip tend to be lodging, food, and fuel, so I'm going to start there (Just lodging for Part 1, I'll get to the others next time)
Traditional lodging on a trip (motels & hotels, lodges and resorts) are a bit expensive and can quickly eat up your travel budget. If you don't mind limited creature comforts, camping is a great way to conserve money on a trip. On Bureau of Land Management and National Forest land (and some of the wildlife areas) you can do what is called dispersed camping for free. This is just basic primitive camping, usually set back a ways from roads/trails/bodies of water. If you're passing through an area with a good deal of federal land (western states have lots of this, east of the Mississippi River there's not as much) stop in at a ranger station and they're usually quite happy to point out (and give directions to) good places to camp.
I did dispersed camping in Wyoming for the solar eclipse last year, drove past quite a few people paying $100 USD a night to camp in identical conditions on private property while I camped for free just a couple miles up the road. The only catch with dispersed camping is that it tends to be a bit off the beaten path so you need to allow for more travel time getting to and from your campsite.
Campgrounds are another lodging option. I know they don't sound quite as adventurous but they're more convenient. Most federal land and a good deal of state parks have campgrounds you can use for a small fee. (The most I ever paid was $32 a night in Yellowstone National Park but that included two hot showers a day) Facilities available can vary considerably but at a minimum they have a tent site, fire ring, picnic table, potable water, and vault toilets (glorified outhouses that don't smell the greatest but are usually fairly clean). Most of the campgrounds in the national parks had flush toilets and sinks, and a few even had showers.
If camping isn't your thing or you want a break from being in the field, hostels and airbnbs are some other budget friendly options. Before my last trip I'd never stayed in a hostel and had plenty of reservations about them but now that I have I love them and try to stay there whenever possible. They're cheap ($12 a night was the cheapest I stayed in, $50 was the most expensive) as well as great places to make new friends and meet people from a wide range of backgrounds and experiences. Don't expect anything too fancy, they're generally just a few sets of bunk beds to a room, you get a bunk and a locker (bring your own lock) and share a bathroom. Most have private rooms as well, for a higher rate and a good number of them provide at least some small bit of breakfast. If you just need a place to lay your head in between adventures, hostels are perfect.
Hostels can sometimes be difficult to find, Google wants to show you hotels and isn't very helpful. They can also be a little scarce outside your larger towns although that's not always the case. One trick I found was to look on airbnb for them (they often list on there as well) and then call, they often give you a better rate if you book directly with them rather than going through airbnb. A few of my favorite hostels were Seaside International Hostel in Seaside, Oregon, Adventure Lodge in Boulder, Colorado, and the Lazy Lizard Hostel in Moab, Utah. I recommend them if you're ever in the area and need a bunk.
Last but not least, airbnb is another lodging option to consider. When I first heard of it I was rather dubious of staying in strangers' houses but in the dozen or more times I've used it I never had a bad experience. Airbnb has stuff for all price ranges but you can get pleasant accommodations for far less than the price of a hotel. Most of what I stayed in were spare bedrooms in 2 bedroom houses/apartments but I also stayed in a tiny house as well as had an entire floor of an old Victorian house. Pay attention to location though, sometimes they aren't conveniently located. Also, you pay when you book, I tried to book early because prices sometimes change but had no issues booking a week or less in advance.
Well, that's all for now, hope you enjoyed it and/or learned something useful. Stay tuned for more and leave me a comment if you think of something I should include.