Hiking during Winter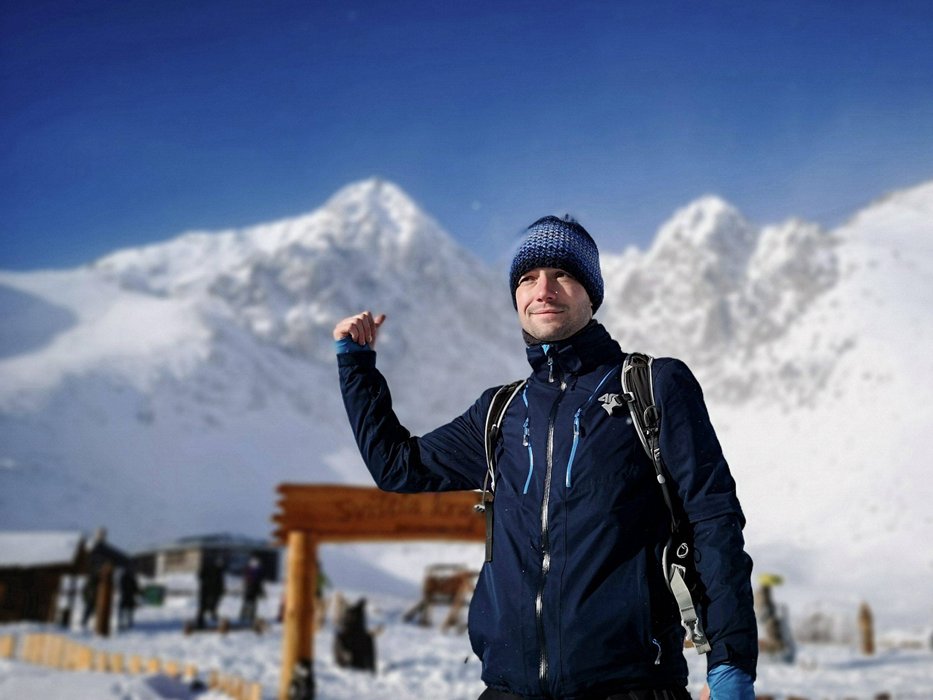 Winter… Winter has come. As the temperatures drop, so does the number of people willing to spend their time outside. Despite that, some of us are still going to seek out the great outdoors. It is not that easy just to stick around in the cities throughout the whole winter pretending like there is nothing better to do because that's definitely not true Nature doesn't stop calling, never mind the season.
When it comes to hiking in subzero temperatures, it is not a question of natural tolerance to cold, rather a question of pure will, motivation and decent levels of know-how. The first two I cannot teach, but the latter I can share and that is exactly what this article is all about. Winter wonderland hiking guide for beginners in the majestic Tatra mountains.
The Winter Capital of Poland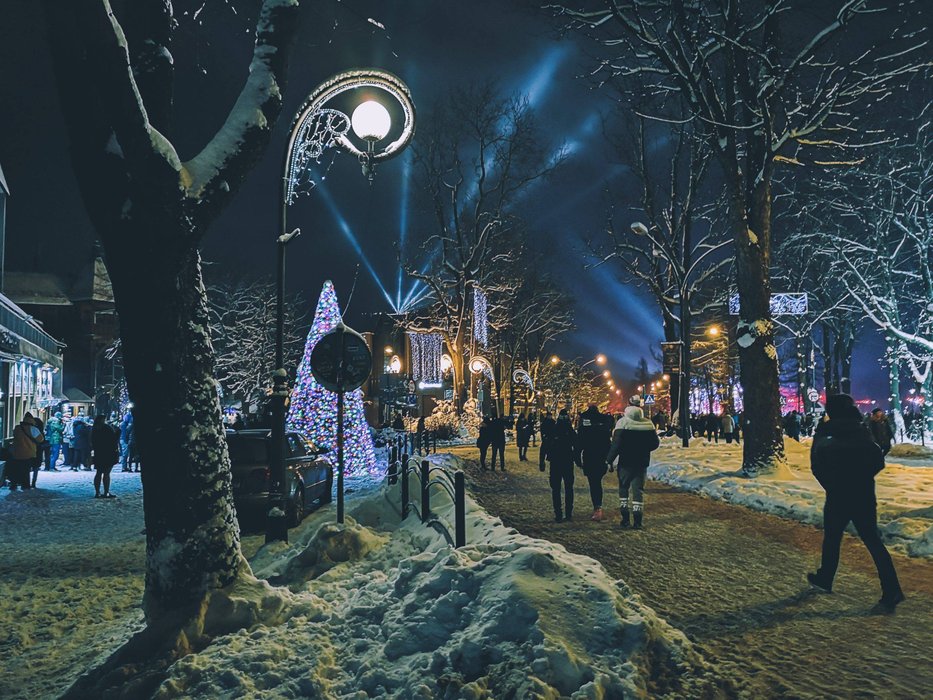 Sought mostly for skiing, Tatra National Park has an unexpectedly good infrastructure for hiking, which was built mainly for the summer season. Nevertheless, some of the routes remain open throughout the year and Zakopane is called the winter Capital of Poland, not without a reason. It is a fully-equipped all-year-round resort town, filled with various ranges of accommodations, restaurants, shops and all the other facilities possible to fit in the limited area. If you never been here, it might sound suspicious, but every country has its own favorite resort town, and in Poland, Zakopane is just exactly that.
Why Gear is Important?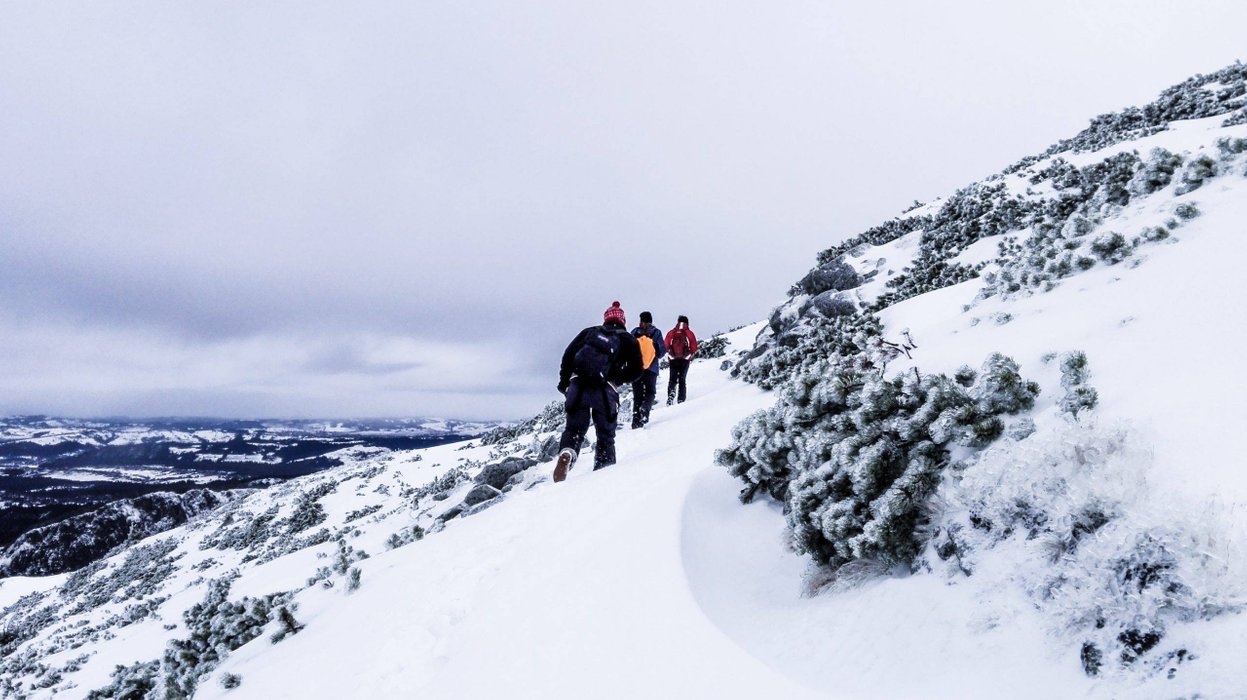 The most important part of winter hiking is finding the right gear for you. In subzero temperatures, we have a natural feeling to dress as many layers as possible, just to keep us warm. That is a common mistake for any winter hiking beginners. Layering is not only unnecessary but, in fact, might be even harmful. It doesn't matter how cold it is, a moving body will radiate heat, which will be captured underneath the layers of clothing. We all know that our bodies start to sweat once it gets too hot and that is precisely what must be avoided in the subzero temperatures.
Day 1 – Climbing Nosal Mountain 1,206m

Picking the right gear might be difficult even for experienced winter hikers, so on the first day, before any real challenge, I recommend doing a short walk just to test the gear. It would be hard to find a more obvious candidate for the hike in Zakopane, than a mountain standing needless, right on the edge of the town. Even its name – Nosal (eng. The Nose) – suggests that climbing the mountain is not a difficult hike. We all can climb a nose, ain't we? It is not like climbing shoulders or head after all.Read more about the winter hike to Nosal mountain.
Alternative: Siklawica Waterfall 1,129m
Day 2 – Hiking to Morskie Oko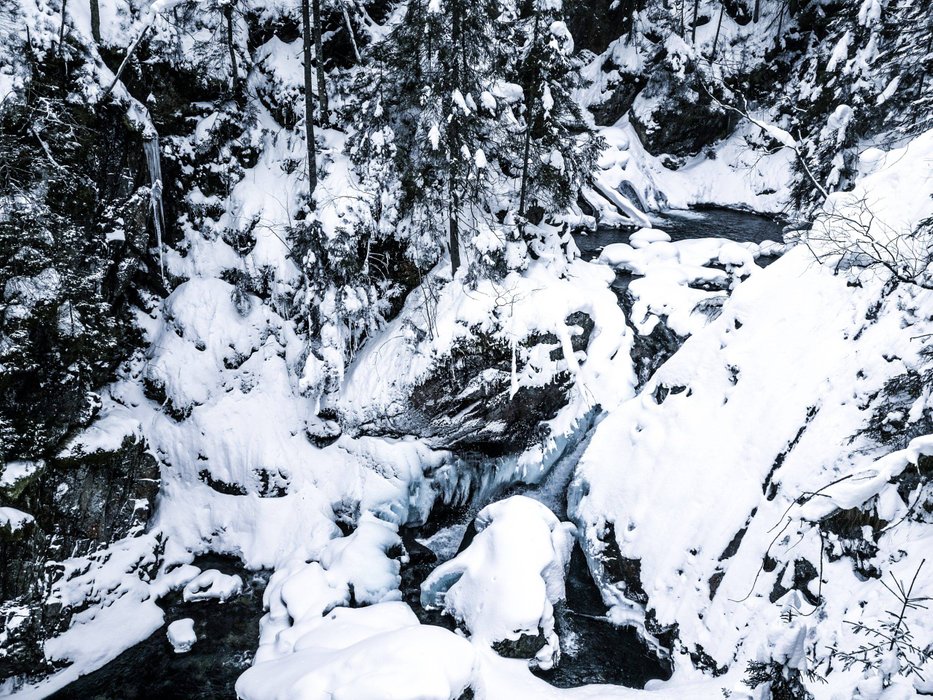 Morskie Oko is one of the most popular, if not the most popular location, in the whole Tatra National Park. The constant flow of visitors doesn't stop even in winter as the relatively flat hike could be completed by many. Morskie Oko inspired generations of artists and nature lovers, even John Paul II fancied visiting the place. Its name is proof that the lake sparked the human imagination for ages. "The eye of the sea" is somewhat a strange name for a lake in the middle of a range of mountains, but old tales have an explanation for that. You can find the legend and more information on the Morskie Oko winter hike in the article linked below. Detailed information about the winter hike to Morskie Oko.
Day 3 – Resting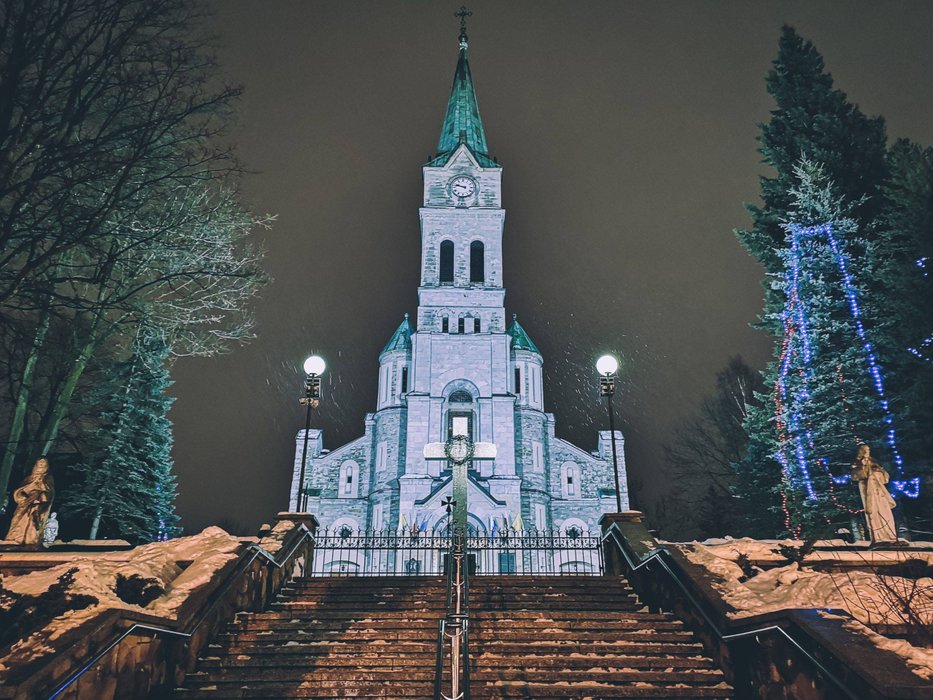 Though the hike to Morskie Oko is not that technically difficult, but it is long. Being for longer spans of time out in the subzero temperatures will draw a lot of energy from your body, thus before the next hike, I would highly recommend taking a break. Believe me, you'll need all the energy to climb a decent mountain in winter.
Despite that, I wouldn't suggest sitting around, not doing anything. There is much to do in Zakopane even without winter hiking or skiing. So far, my favorite one was visiting Belianske Tatras and Belianska Cave just across the border in Slovakia. You'll love the view of twin peaks, Havran and Zdiarska Vidla, in Belianske Tatras. It is probably the most picturesque landscape in the entire Tatra National Park. You can enjoy the view from a parking lot near Zdiar.
The Belianska Cave is located near Tatranska Kotlina and is probably the most visited show cave in entire Slovakia. Just Have in mind that in order to reach the entrance to the cave, you'll need to hike 1km with 220m ascent. Also, check if the Belianska Cave is open during the desired day of your visit.

There is no better way to rest your muscles than in any of the natural hot springs of Zakopane. There are plenty of them in the area, I marked them on the map below.
Day 4 – Climbing Kasprowy Wierch 1,987m
Now that we got our well-deserved rest, while it is still fresh, we should put our new experience to a test. I just have to warn you, climbing Kasprowy Wierch during winter, is no easy task for most of us. Leave your children at home. Getting to the very top of the mountain is almost a 1k climb. Given the short day time, the limited possibility of making breaks, and all the other difficulties winter could cause, it almost feels like climbing Kasprowy Wierch is not worth it.
Maybe it is a better idea to take a cable-car to the top of it. Just have in mind that queues can take longer than climbing the mountain yourself, but if you insist be sure to order your tickets online. For the rest of us, we all know that it is the journey, not the destination, that matters. I guarantee you, winter hiking to the top of Kasprowy Wierch, easily could be one of those experiences, which you'll cherish for a long long time to come. Read more about climbing Kasprowy Wierch.
Alternative: Czarny Staw Gąsienicowy (eng. Black Caterpillar Pond 1,628m)
Other Places to Consider in Tatra National Park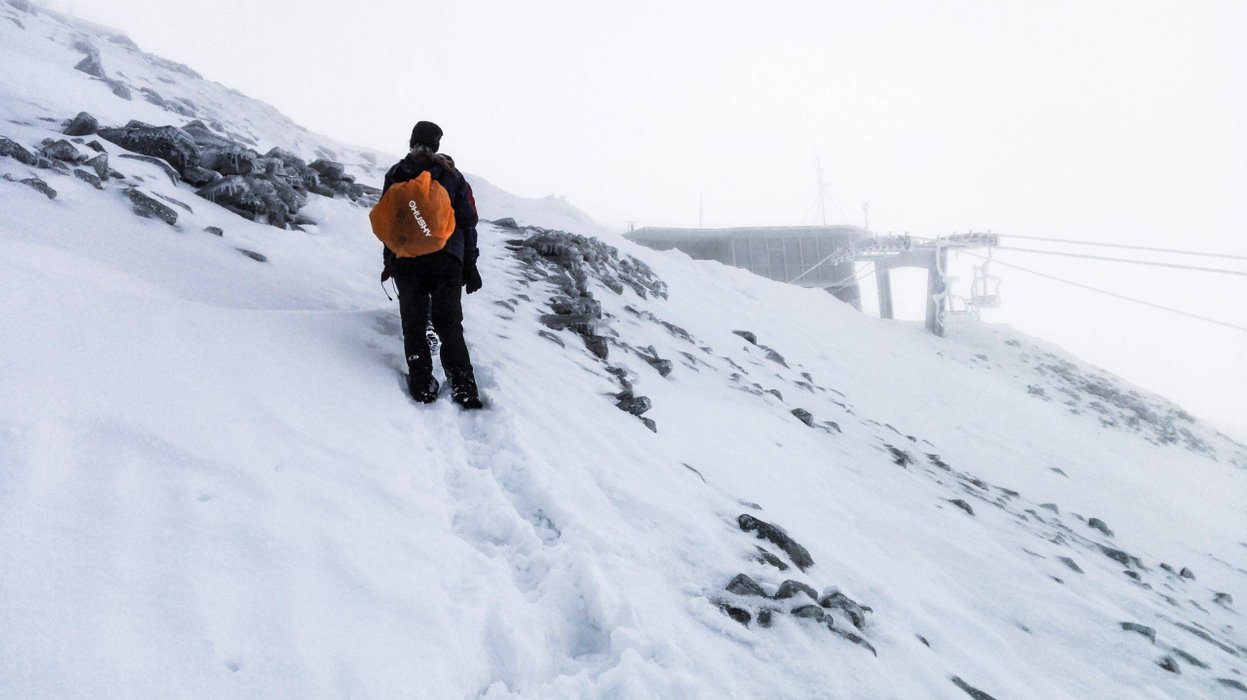 High Tatra mountains are a natural border between Poland and Slovakia, but instead of separating the countries it actually brought them closer. Both states cooperated together to make a joint park to protect the unique biosphere found in the Tatra mountains. Along it, came an infrastructure for the visitors of the park, which is an important leisure destination within both countries. No doubt there are plenty more to see in Tatra National Park, even in winter, when some of the routes are closed for the season.
Without mentioning the same alternative destinations in Poland, I would also suggest getting to Slovakia and trying out these routes: Strbske Pleso – Vodospad Skok; Strbske Pleso – Popradske Pleso; Vysoke Tatry – Zamkovskeho Chata; Tatranska Lomnica – Skalnata chata, or even Lomnicky Stit.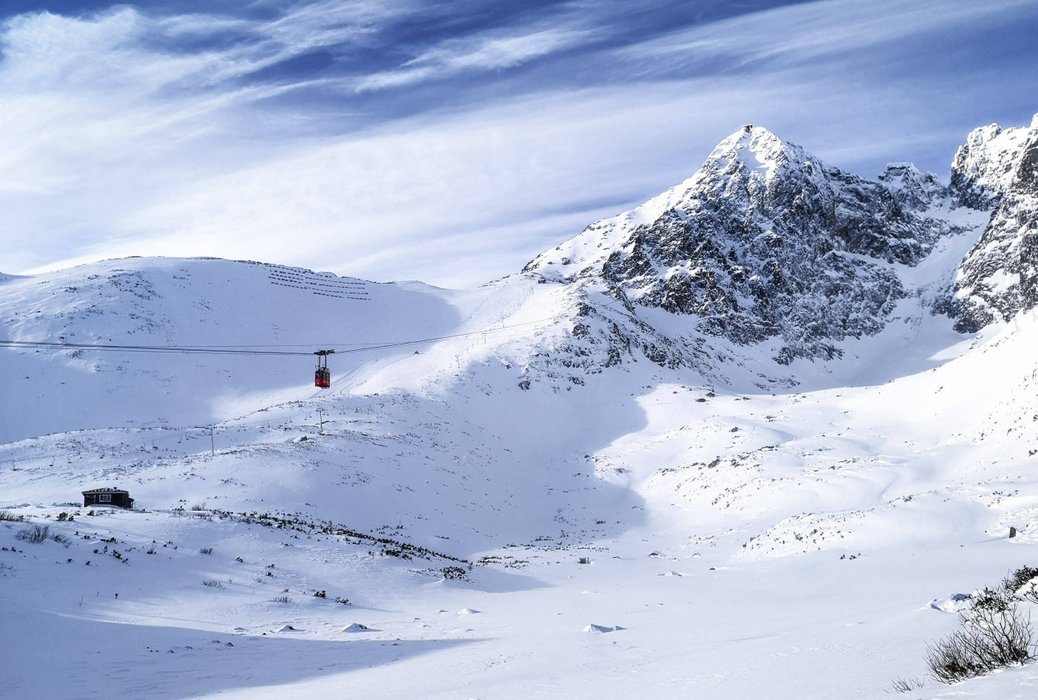 Winter Wonderland of Tatra Mountains
It doesn't matter which route you choose, I'm pretty sure you'll be surprised by the natural beauty of winter wonderland, found in Tatra National Park. From the foot of the mountains, where even the smallest mountain creeks get animated by the gravity, to the frozen worlds above the treelines. At these heights, even the time seems to have stopped. So, pack your gear, invite your friends and venture forth to experience the unparalleled beauty of subzero nature. Winter hiking has a lot to offer.
---

Originally published at https://ctdots.eu on December 4, 2019.
Newsletter Subscription
As some of you might have noticed, I don't post very often and my blog might be a bit hard to follow. Fort this reason, I created a subscription lst for anyone who is willing to get a notice once I publish a new blog post. You can subscribe to it by clicking here
Want more of this?
Any given post entry of any given place takes me around 20h to complete. This includes writing, researching, photo editing, creation of graphics and actual post. Nobody pays me to do it, therefore I must do it on my free time. I have many interesting ideas of how to put an interesting information into an easy way to digest it, like maps, infographics and other cool stuff, but what I lack is time. If you appreciate my work and happened to be in a position where it wouldn't hurt you, it would mean a world to me if you could gift me an extra hour on Patreon.