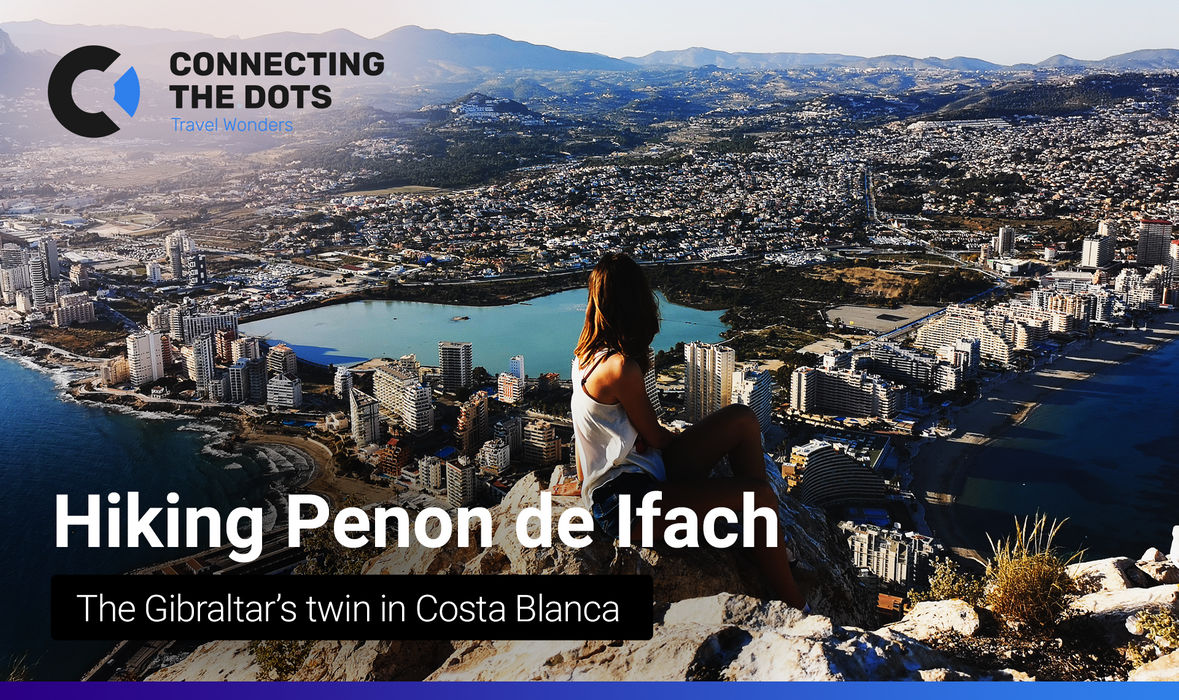 From everything I've ever seen, there is only one place like legendary Gibraltar. Take away the strategic importance with its historical significance from Gibraltar, and add remote beauty of the wild nature, you get Penon de Ifach. Located on the tip of Calp City, it is separating the urban area's beaches into two. Having in mind the Les Salines, a salt lagoon located in the middle of Calp City, the beauty of views from the top of Penon de Ifach is somewhat iconic on Instagram.
Difficulty
Regular people: Hard – Unless you are fit, not recommended.
Experienced people: Intermediate - Could be marked as easy, depending on your experience.
Duration
Regular people: 3h+
Experienced people: 2-3h

Penon de Ifach
Rising 332m above the sea level, which is right next to it, Penon de Ifach is a hard-to-miss wonder of nature of Costa Blanca. With a size of approx. 45 hectares or 62 soccer fields, the Natural Park of Penon de Ifach is the smallest regional park in Spain and one of the smallest in the whole of Europe. Nevertheless, it attracts more than 100,000 visitors each year. Due to its uniqueness, the rock creates many microhabitats perfect for rare specialized plants. If it is safe, be sure to smell various flowers growing around the path.
Penon de Ifach is also a nesting site for many birds and for that reason it has some path restrictions from 1st April to 30th June. Even though you can meet some of the semi-domesticated cats in the park, during the mating season, it is the sea birds which will drive you crazy with their catlike sounds for seducing a partner. No matter how many tourists come here, there are more seagulls than anybody else. It is their rock, respect that.

History of Penon de Ifach
It is not surprising that I'm not the first to notice the similarity between Penon de Ifach and Gibraltar. Around 4.000 years ago, Phoenicians, the best sailors in the World at that time, called Gibraltar and Penon de Ifach – the Southern Rock and the Northern Rock, respectively. It served as a landmark for mariners ever since.
From 4th to 3rd century BC, the rock was a place for Iberian settlement as it proved to be an outstanding strategic place to observe the shores of the surrounding areas and spot approaching pirates. But as technology advanced, the attacks from the sea became unbearable. Villagers had to move deeper into the land, somewhere where the modern Calp is.
For more than a century, the area of Penon de Ifach has been privately owned and only in 1987 it was declared a public regional park after the Generalitat Valenciana Authority bought it.

Getting to Penon de Ifach, Calp
By bus
Calp is connected to any major city around. ALSA buses come and go from Valencia, Denia, Altea, Benidorm, and Alicante every day. You can find more information here: https://www.busbud.com/en/bus-calpe/c/snb5c5
By car – N-332 or AP-7 roads
Like most other coastal cities in the region, the easiest way to reach Calp by N-332 road. The main problem with this road is traffic. The road goes through every town where it runs into the traffic lights, roundabouts and all the other stuff you can imagine to find in urban areas.
Calp can be also reached by the Autopista del Mediterráneo, also known as AP-7, a tolled motorway running along the Mediterranean coast of Spain. If you approaching Calp from the South, exit AP-7 road to N-332 near Altea, or to Bonaire if you are coming from the North.
Parking at the Natural Park of Penon de Ifach
There are some parking spaces just next to the information center of the Natural Park of Penon de Ifach, but it seems to be closed. Instead use the parking down below, at the entrance to the park, or simply put the car anywhere in Calp and walk your way the information center of the Natural Park of Penon de Ifach, where the hike starts.

Is it hard to hike to Penon de Ifach?
The hike could be divided into two parts: the First one being really easy and recommended for everyone passing by; And the second should be attempted only by those who are fit and know what they are doing.
The road quality, from the information center of the park to the rock, won't change a bit. It is easy to walk and has plenty of places to take your breath and enjoy the amazing views. There are no steps just an uphill stone-grounded path.

Both parts of the hike are separated by a tunnel, which gives you a good taste of what is ahead in a safe manner. You'll get to taste how good are your shoes for slippery stones and how comfortable you are holding onto the chains. Please note that there is no light in the tunnel. If you are afraid of the dark, I am sorry, but if you are afraid of the heights, enjoy while you can. Once you reach the light at the end of the tunnel, the steep cliffs down to the ocean won't leave your sight for a second. From here on, the road up to Penon de Ifach will turn into a tough challenge for any regular person without any major experience in rock hiking.

The hard part of the hike
The second half of the hike couldn't be more different from the first one. Instead of a man-made path, the hike will continue on slippery rocks with some chains to hold on. The road is marked with red paint, but sometimes you should consider a safer option next to the main path. There are way fewer people after the tunnel on the road, but with time, the long-lasting rocks have seen a lot of them. The hikers had grinded the surface of the stone like it has spent most of its life in the ocean. The main tips for hiking to the top of Penon de Ifach goes as it follows:
High hiking shoes with a deep sole are really useful here;
Always look where to put your feet;
Enjoy the views only when standing still;
Leave enough time to climb down before it gets dark or take a headlight.
Where the road is narrow, let incoming people pass it first;
Don't go alone.

If you will continue walking with a hope that the road will get any easier – DON'T. The hike to the top of Penon de Ifach will remain challenging right up to the peak. And it won't be a pleasant walk. You have to remain conscious of the high probability that any miss-step might result in bye-bye-your-life all the time.

The problem of modern selfie-photography hiking
I might be exaggerating a lot, but I've seen plenty of people on this hike who shouldn't be there, and they didn't look very happy. If you are one, I want to scare you away and save you some nerves. These days it is a common thing that people die trying to take a cool selfie or simply doing a hard hike trying to get to a beautiful vista. Some places are just simply not for everyone, but the motivation behind the possibility of rewarded attention on social media pushes some people beyond their capabilities. Personally, I enjoyed the hike a lot, I love climbing and hiking on rocks and it is really sad that after some misfortune incidents wonderful hikes like this gets closed.

Of course, the real tragedy is the loss of life which could be avoided if the people get informed correctly in front. Instead, there is not much official information to be found in English, which is substituted by some random comments on TripAdvisor. Something like "The hike was challenging but totally worth it", could mean many things, one of them is that somebody after reading a comment like this won't get home. Better safe than sorry, right? That is the reason for my description being so harsh. In short - be smart, take that Instagram selfie before the tunnel, and get back home in one piece.

Facilities by Penon de Ifach
This hike leads to the top of the rock 3xx meters above the sea level, which is next to it. Obviously, there is not much of a space for cafes or bathrooms. The last bathroom is at the start of a hike, in the information center of the Natural Park of Penon de Ifach.
There is a tap for water at the start of the hike, but I don't recommend drinking from it. It is mainly to clean your hands after the walk, as you'll definitely get your hands dirty during this one. If you are reading a guide for the hike, you'll probably going to take at least 3 hours to complete it. Be sure to take your own water and snacks as the hike up will be exhausting and energy consuming.

Is it worth to visit Penon de Ifach
It is definitely worth to visit Penon de Ifach, but climbing it to the top is a totally different topic. The views are amazing and worth seeing, but you can see almost the same from the area just before the tunnel without any unnecessary misery. If you are going for beautiful views and shots, getting to the tunnel is enough for you. If you are interested in a difficult and dangerous hike with rewarding views at the end of it, take a shot. With some luck on a beautiful day, you might get even to see the Balearic Islands from the top of Penon de Ifach.

My impressions of visiting the Penon de Ifach
In Costa Blanca, one thing is for sure, you can hardly find any refuge from the noise and the crowds. Even in the off-season, late in the day, the hike was really crowded. Penon de Ifach literally stands out as an obvious thing to do if you are in a region. Many inexperienced hikers might misunderstand the challenge. Never-ever I heard so few "Thank you" when you let somebody coming from the opposing direction to cross a difficult part. Of course, I'm not complaining about the people being not polite, the problem here is a lack of understanding of the cooperation on a dangerous road.
Nevertheless, I really enjoyed the hike, the views are amazing, and the road is very interesting. Attached chains will help you to keep safe, but the rocks are really easy to hold on as well. Rock climbing enthusiasts will be as pleased just as I was. Overall, if you'll stay careful with the tourists wandering around, tolerate the birds who occupy the rock, you will appreciate what this unsung hike has to offer.


---

Newsletter Subscription
As some of you might have noticed, I don't post very often and my blog might be a bit hard to follow. Fort this reason, I created a subscription lst for anyone who is willing to get a notice once I publish a new blog post. You can subscribe to it by clicking here
---
Author: Mantas Ališauskas
Photography: Mantas Ališauskas
Design: Mantas Ališauskas
Blog: Connecting the Dots
---
Want more of this?
Any given post entry of any given place takes me around 20h to complete. This includes writing, researching, photo editing, creation of graphics and actual post. Nobody pays me to do it, therefore I must do it on my free time. I have many interesting ideas of how to put an interesting information into an easy way to digest it, like maps, infographics and other cool stuff, but what I lack is time. If you appreciate my work and happened to be in a position where it wouldn't hurt you, it would mean a world to me if you could gift me an extra hour on Patreon.